Slow cooker BBQ brisket is the ultimate comfort food. It's perfectly seasoned and slow-cooked all day in the crock pot making it tender and packed with sweet and smoky flavor. Enjoy the melt-in-your-mouth brisket on sandwiches or on its own!
For more easy beef crockpot recipes try my Crockpot Steak Bites or this tasty Crockpot Chili with Ground Beef.
I'm a huge fan of slow cooker recipes that require minimal effort but give maximum flavor, and this great recipe for crockpot beef brisket does just that.
With super simple ingredients and just a few minutes of prep, you can cook up a tender, juicy brisket that's a great option for a family meal or for entertaining. Plus, the broiling option adds an extra layer of flavor and texture to make this taste better than any oven-baked version.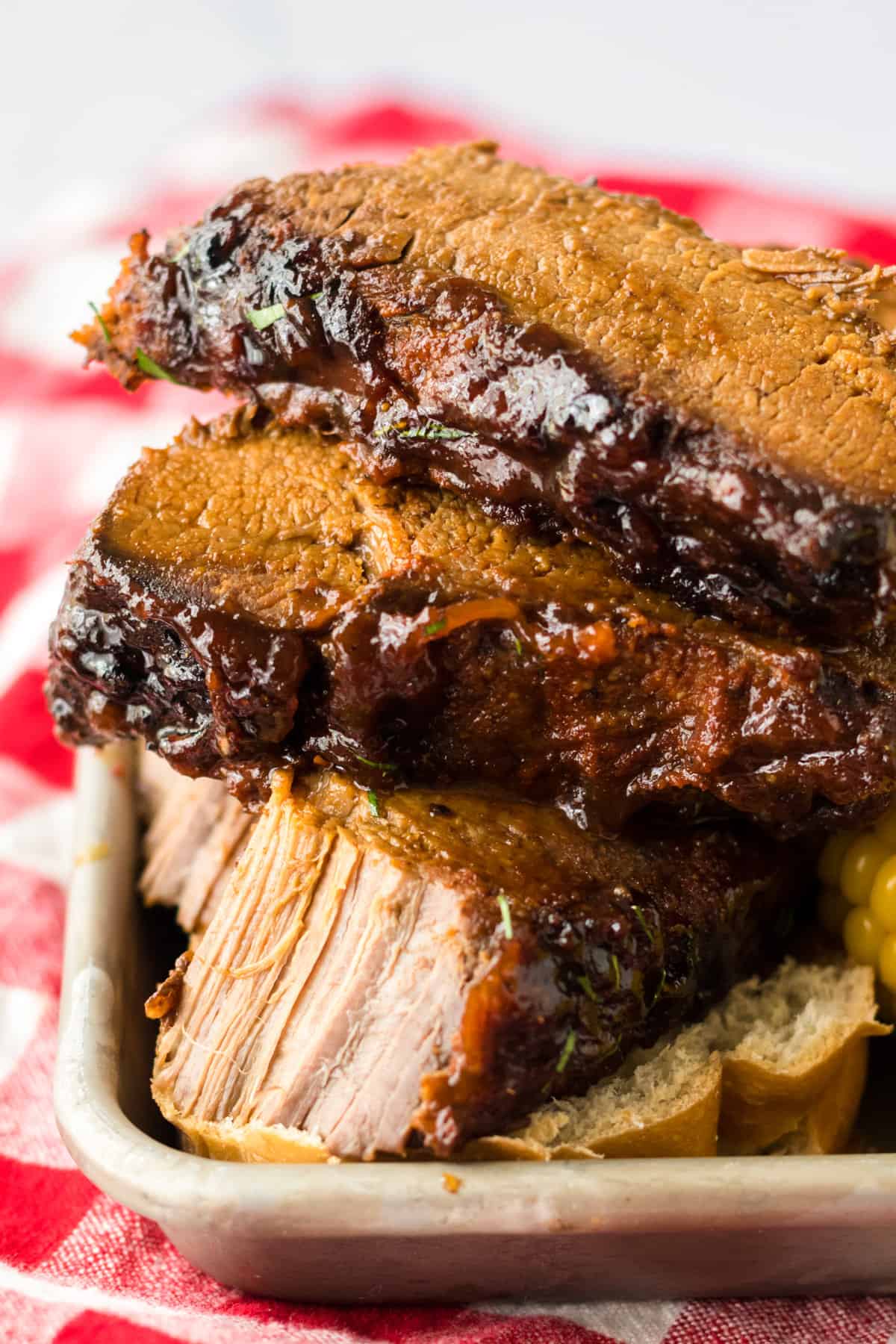 But the best part about this crock pot brisket recipe? It's incredibly versatile.
Serve it up with your favorite sides for a classic comfort meal, use the leftovers for delicious sandwiches or tacos, or freeze them for a quick and easy meal later.
With this slow cooker recipe, you'll be able to enjoy delicious brisket any time you want without the hassle of smoking it or cooking it in the oven.
Ingredients for Crockpot Brisket
This section includes ingredient notes and substitution options. Get all measurements, ingredients, and instructions in the printable recipe card at the end of this post.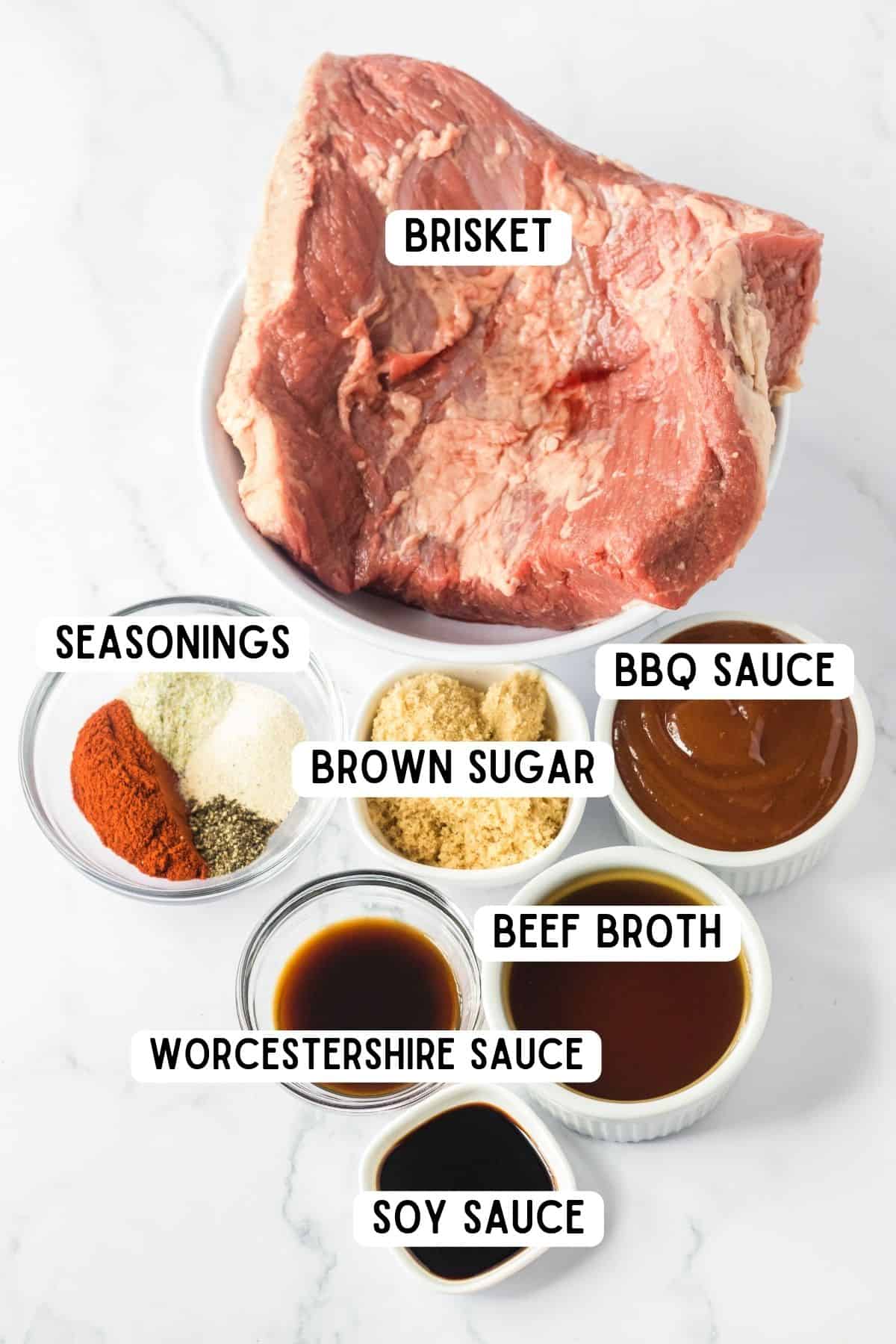 Beef Brisket — Brisket is available in two cuts the first cut (aka flat cut) and the second cut (aka point cut). For this recipe, I recommend using the first cut. This cut of beef brisket is leaner and has a nice balance of meat and fat. I like to trim the layer of fat on the top before cooking, but you can trim the remaining excess fat after cooking if you prefer.
Beef Broth — Chicken broth or beef stock would work, too.
Worcestershire Sauce — Enhances the flavor profile and cuts through the sweetness of the brown sugar to balance the taste.
Soy Sauce — I always choose a low-sodium soy sauce.
Seasonings — Smoked paprika, onion powder, garlic salt, and black pepper.
Brown Sugar — Just a few tablespoons sweetens up the barbecue sauce and helps create that delicious crust on the exterior of this slow cooker BBQ beef brisket.
BBQ Sauce — I use Sweet Baby Ray's but you can use your favorite brand or even a homemade barbeque sauce.
Parsley — Optional garnish. I like how it adds a pop of color to brown foods like barbecue brisket.
Equipment
Grab the following kitchen tools to make this tender slow cooker beef brisket recipe:
mixing bowl
cutting board
How to Cook Brisket in the Slow Cooker
This section shows you how to make the recipe with step-by-step photos and instructions. For the full printable recipe, see the recipe card below.
Step 1: Place brisket in the slow cooker, fatty side up.
Step 2: Combine the beef broth, Worcestershire sauce, and soy sauce; pour the sauce ingredients into slow cooker.
Step 3: Top with brown sugar, seasonings, and ½ cup of barbecue sauce.
Tip: Try using the seasonings as a homemade spice rub and rubbing it onto both sides of the brisket before placing it in the slow cooker.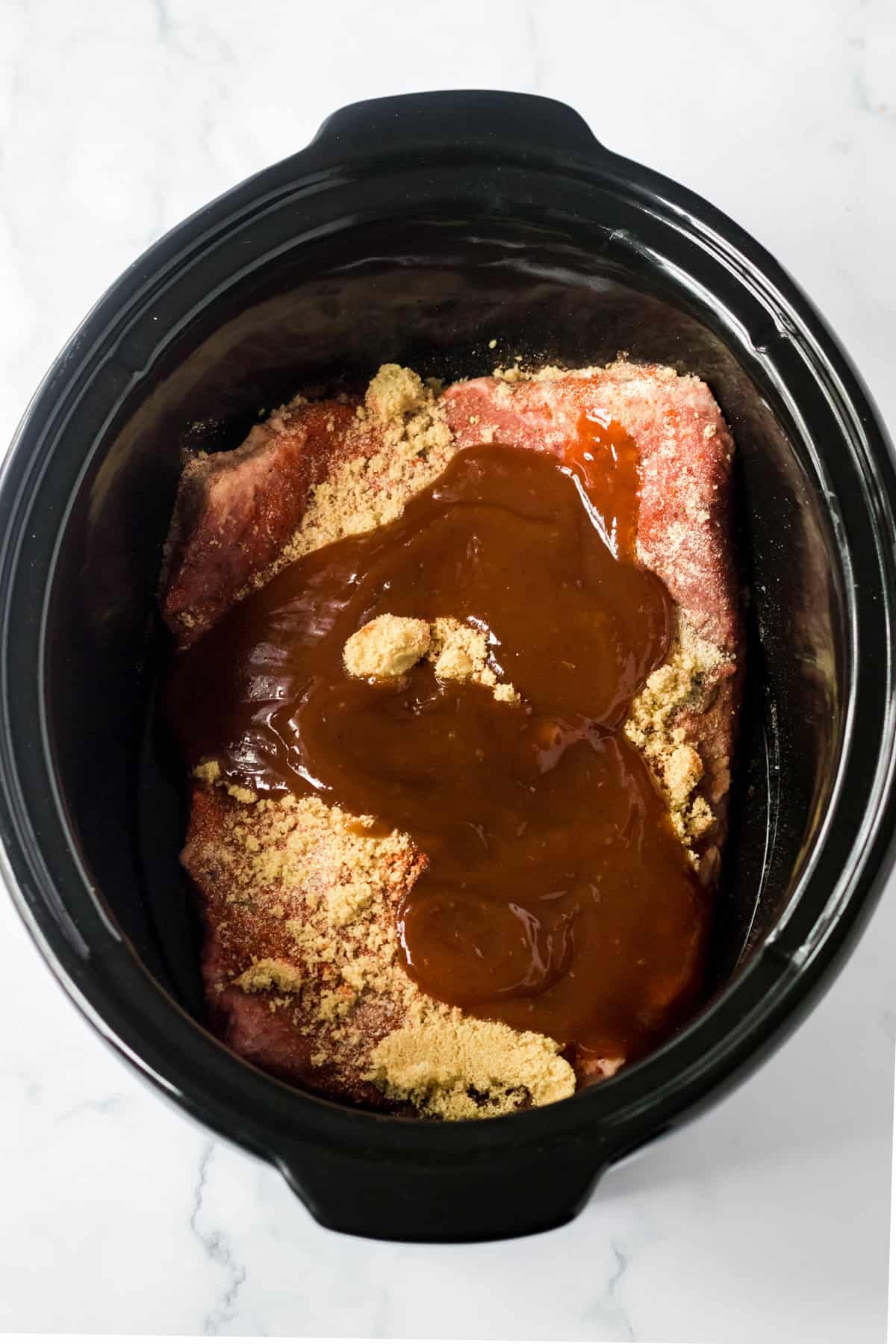 Step 4: Cover the crockpot and cook the brisket on low heat for approximately 8-10 hours.
Cooking times will vary depending on the size of the brisket and the specific slow cooker. If you find the meat isn't tender and cooked through at the end of 8 hours, add an extra hour or two.
Step 5 (optional): Transfer the brisket to a baking sheet lined with foil. Brush with the remaining BBQ sauce over the top and broil it in the oven for just a few minutes, until a caramelized crust forms on the outside.
Step 6: Cover the brisket with aluminum foil and let it rest for 15-20 minutes before slicing and serving.
Serving Suggestions
Crock pot brisket is delicious sliced or shredded. Slice your brisket against the grain to serve sliced or shred it with two forks if you want for pulled BBQ brisket.
Spoon sauce from the crockpot over before serving, if desired. Or serve with additional BBQ sauce.
Enjoy your brisket on its own or use it to make:
BBQ brisket sandwiches on brioche buns
loaded baked potatoes
brisket tacos
Pulled BBQ brisket nachos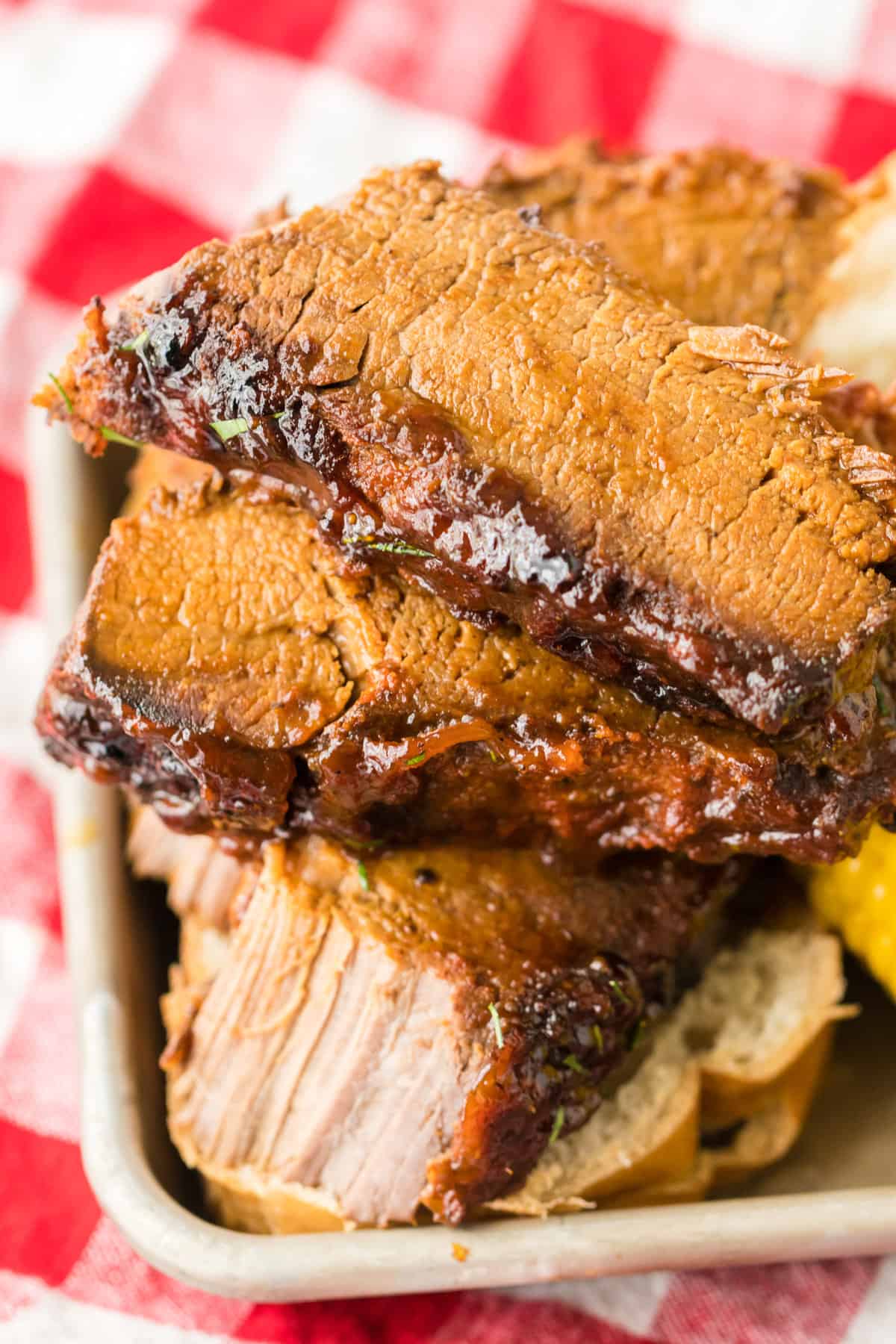 Side Dishes to go with Slow Cooker BBQ Brisket
Pair some traditional down-home side dishes with this slow cooker barbecue beef brisket to round out a fantastic meal. Here are a few that I recommend:
Storage and Freezing
Refrigerator: Store leftover brisket in an airtight container in the refrigerator for up to 3 days.
Freezer: You can freeze the brisket for up to 2 months. Wrap the brisket tightly with plastic wrap or foil and then place it in a freezer bag to prevent freezer burn.
Thawing and Reheating: Thaw frozen brisket in the refrigerator overnight and warm in the microwave, the crockpot, or a skillet. When reheating leftover brisket, avoid using high heat. This can cause the meat to become dry and tough. Slow and gentle reheating is the key to maintaining the tenderness and flavor of the brisket.
Crock Pot Brisket Recipe Tips and Tricks
Use a meat thermometer to ensure doneness. The internal temperature of the brisket should reach 195-205°F in the thickest part of the meat for optimal tenderness.
Broil the brisket in the oven once it's done in the slow cooker. This is optional but recommended to give it a nice crust on the outside.
Let the meat rest before serving to help it retain its juices. Take the brisket out of the slow cooker and cover it with foil. Let it rest for about 15-20 minutes before slicing and serving.
Spoon some of the sauce from the crockpot on top of the sliced brisket before serving for added flavor.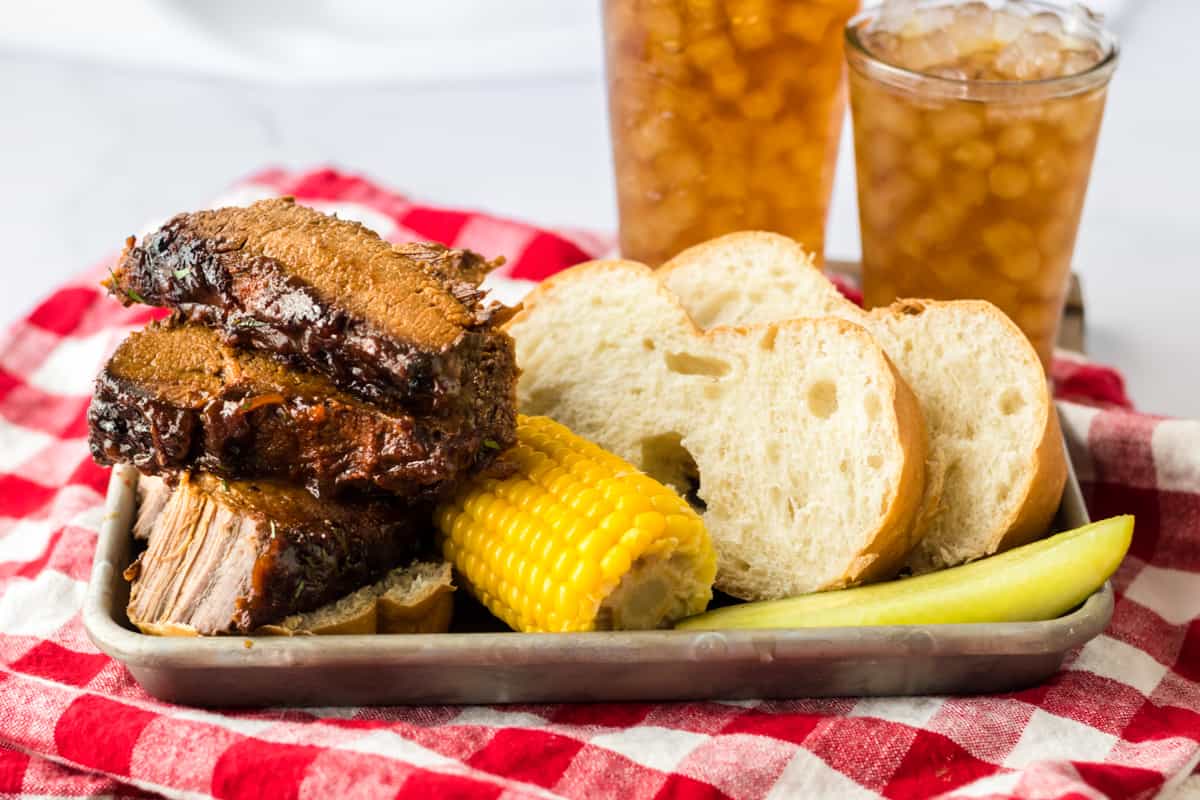 Additions and Variations
Make it spicy. Add some red pepper flakes, cayenne, or chili powder to your BBQ sauce to give it some spice. Use as much or as little as you'd like!
Make it a beer-braised brisket: Substitute some of the beef broth with your favorite beer for a unique flavor twist.
Change up the sauce: Try using a different type of BBQ sauce each time you make BBQ brisket in the crock pot. Try a sweet barbecue sauce or one with a spicy or smoky flavor. You could also make your own homemade BBQ sauce from scratch.
Add liquid smoke: A few drops of liquid smoke can really help you achieve that flavor that you get from brisket cooked in a smoker.
Use garlic powder: You can substitute the garlic salt with 1/2 teaspoon of garlic powder and 1 and 1/2 teaspoon salt.
BBQ Slow Cooked Brisket FAQ
Which side of the brisket goes up in the slow cooker?
I'd recommend cooking the brisket fat side up in the slow cooker to allow the melting fat to drip down into the meat below. This will tenderize the entire brisket and add loads of flavor.
Should I trim the fat off the brisket before cooking?
It's recommended to trim excess fat from the brisket before cooking to prevent excessive greasiness. However, leaving a thin layer of fat can help keep the meat moist and flavorful during the slow cooking process.
Should I sear the brisket before putting it in the slow cooker?
Searing the brisket before slow cooking is not necessary, but it can enhance the flavors and create a nice crust. It's a personal preference, and you can choose to sear it in a skillet before transferring it to the slow cooker.
Do I need to completely cover the brisket with liquid?
No, you don't have to completely cover the brisket. The liquid poured over the meat in the recipe is enough to provide sufficient moisture for cooking. As the brisket is slow cooking, it will release its own juices, which will mix with the liquid in the crockpot.
Why is my brisket tough in the slow cooker?
Brisket is a tough cut of meat but slow cooking should make it relatively tender. If your brisket is tough it could be because you didn't cook it long enough, the heat was too high, your specific brisket was extra lean with little marbling, or you didn't let it rest before slicing.
More Slow Cooker Recipes You'll Love
Your crockpot is your best friend on busy nights or lazy weekends. Try some of my favorite easy recipes to get dinner on the table without spending all your time in the kitchen: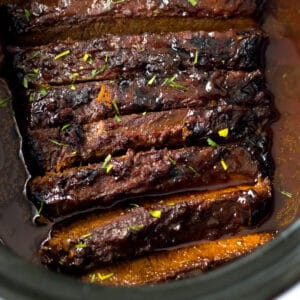 Slow Cooker BBQ Brisket
This Slow Cooker Brisket is melt-in-your-mouth delicious! Tender brisket cooks all day in the slow cooker until it is tender and juicy. Using the slow cooker is a surefire way to make the most fabulous brisket that comes out perfect every time.
↑ Click stars to rate now!
Print
Pin
Save
Saved!
Rate
Ingredients
4-6

pound

brisket

1

cup

beef broth

2

Tablespoons

Worcestershire sauce

1

Tablespoon

low-sodium soy sauce

3

Tablespoons

brown sugar

2

Tablespoons

smoked paprika

1

Tablespoon

onion powder

2

teaspoons

garlic salt

1

teaspoon

black pepper

1

cup

bbq sauce

,

divided

parsley

,

optional garnish
Instructions
Place the brisket on the bottom of the slow cooker.

In a medium bowl, whisk to combine the beef broth, Worcestershire sauce, and soy sauce. Add the liquid to the slow cooker.

Sprinkle the brown sugar, smoked paprika, onion powder, garlic salt, and pepper over the top of the meat. op with ½ cup of BBQ sauce.

Cover and cook on low for about 8-10 hours, or until the brisket is cooked through and tender.

Optional: Remove the brisket from the slow cooker and place on a foil-lined baking sheet. Brush with the remaining bbq sauce and broil in the oven until a brown crust is formed.

Remove the brisket from the slow cooker, cover with a sheet of foil, and allow it to rest for 15-20 minutes before slicing and serving. Top with sauce from the crockpot or BBQ sauce before serving, if desired.
Notes
You can use the seasonings as a dry rub instead – simply rub them onto both sides of the brisket before placing it in the slow cooker.
To check for doneness, make sure the brisket reaches an internal temperature of 185 to 200

℉

in the thickest part.
Broiling is optional but gives the brisket a nice crust.
Slice your brisket against the grain or shred it with two forks if you are going for more of a pulled BBQ brisket-style.
Store leftovers in an airtight container in the fridge for up to 3 days.
Nutrition
Calories:
533
kcal
|
Carbohydrates:
22
g
|
Protein:
60
g
|
Fat:
21
g
|
Saturated Fat:
7
g
|
Polyunsaturated Fat:
1
g
|
Monounsaturated Fat:
10
g
|
Cholesterol:
176
mg
|
Sodium:
1416
mg
|
Potassium:
1134
mg
|
Fiber:
1
g
|
Sugar:
17
g
|
Vitamin A:
947
IU
|
Vitamin C:
1
mg
|
Calcium:
45
mg
|
Iron:
6
mg
The nutritional information provided is automatically calculated by a third party and intended to serve as an estimate only. The accuracy of nutritional information is not guaranteed.
DID YOU MAKE THIS RECIPE?
Please rate the recipe and leave a comment on the blog or share on social media and tag @crayonsandcravings!