Slow Cooker Tater Tot Casserole
Posts may contain affiliate links, meaning that I may earn a commission if you use a link provided.
This delicious Slow Cooker Tater Tot Casserole is a family favorite. Ground beef, onion, corn, cream of mushroom soup, sour cream, milk, and seasonings come together with yummy tater tots and a generous sprinkle of gooey cheese. It's a real crowd pleaser that'll have your family coming back for seconds (and maybe even thirds)!
Want your food faster? Make this easy tater tot casserole in the oven in just under an hour! For another meal that really hits the spot when your stomach is growling, try my Crockpot Salisbury steak.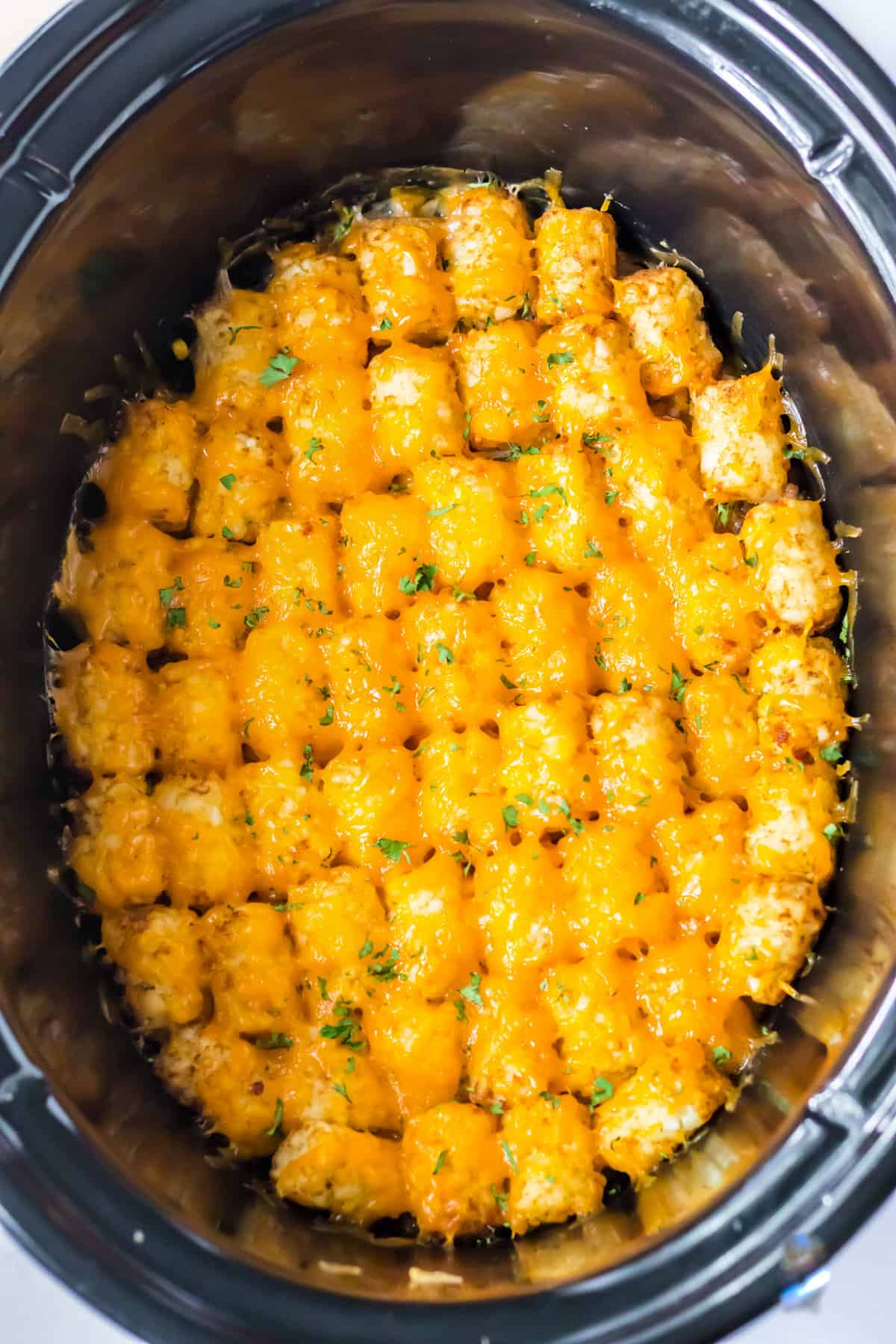 When school is in session, an easy slow cooker recipe can really save the day. This dish fits the bill nicely and is one the entire family will love, even down to your pickiest eaters. Who can resist a meal that includes tater tots and melted cheese? Not me!
This crock pot tater tot casserole is delicious, filling, and super budget-friendly. It's made with ingredients you probably keep on hand at all times — ground beef, cream of mushroom soup, tater tots, cheddar cheese, milk, onion, frozen corn, a little Worcestershire sauce, and seasoning. It's the perfect weeknight meal.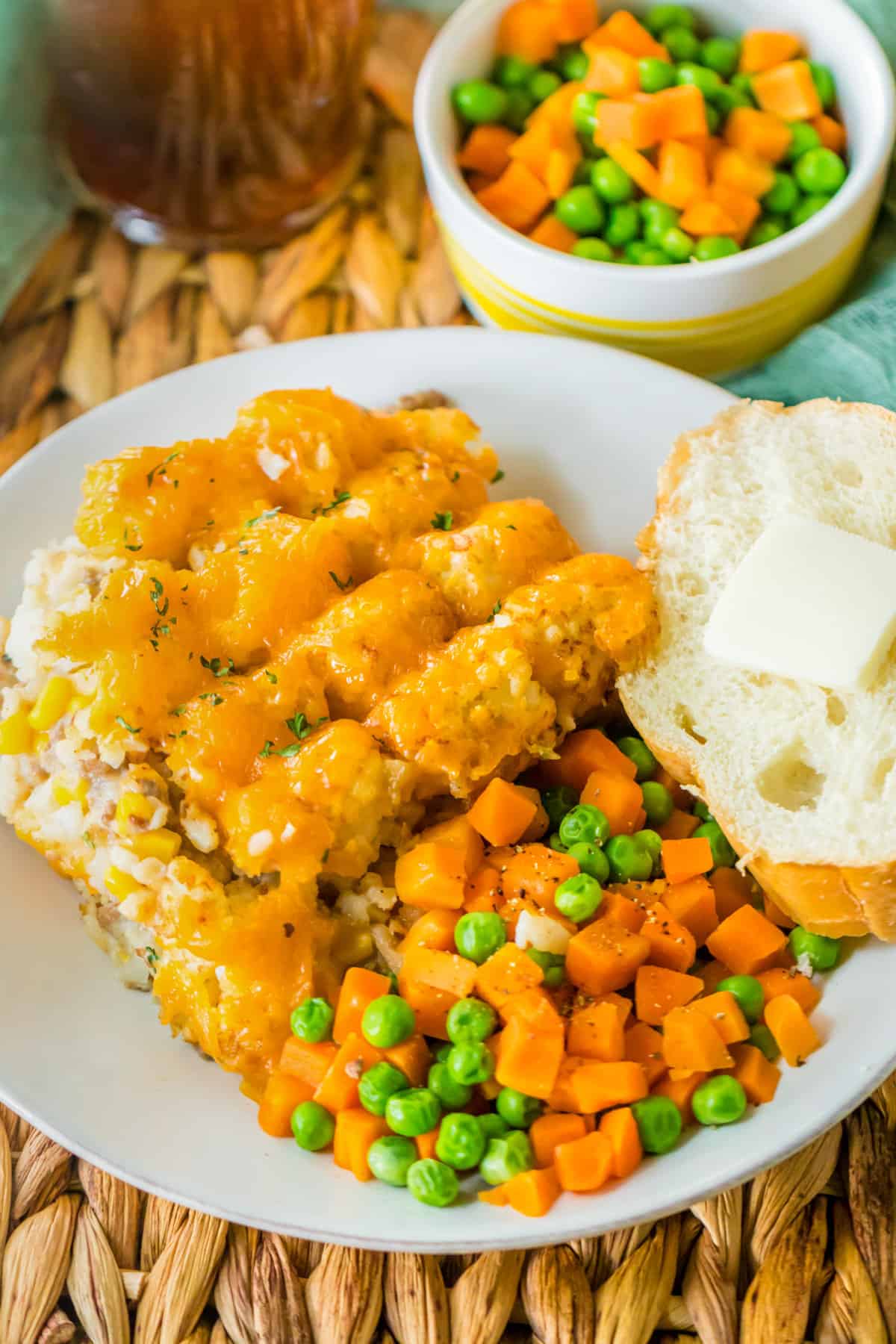 The best part is that the recipe is easy to switch up. You can swap out the ingredients based on whatever you have on hand, and it'll still be delicious every time. Use ground turkey instead of ground beef; try green beans instead of corn. You can even swap out the type of condensed soup you use. With all the possible combinations to try, your family will never get bored with it.
Ingredients for Crockpot Tater Tot Casserole
This section includes ingredient notes and substitution options. Get all measurements, ingredients, and instructions in the printable recipe card at the end of this post.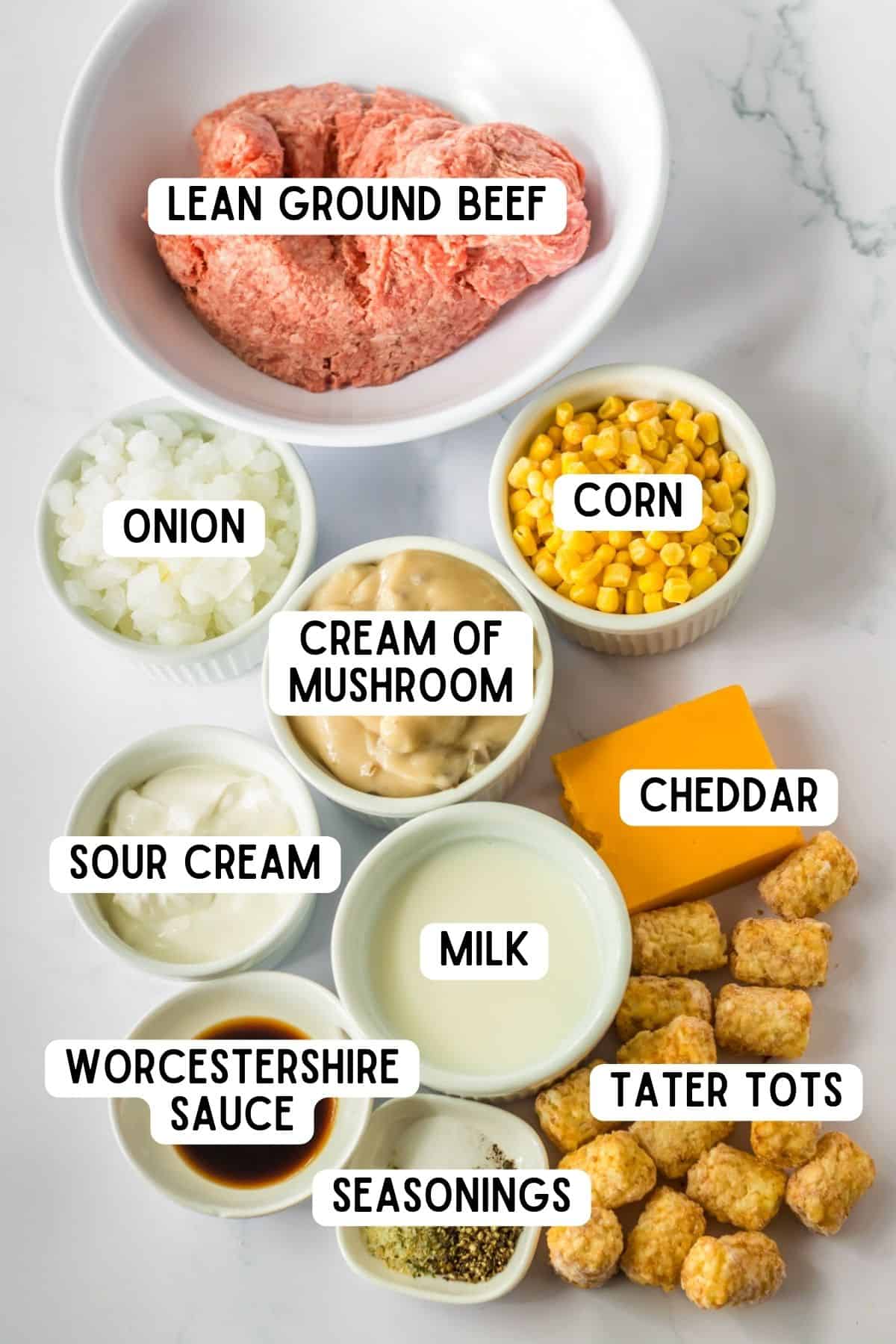 Ground Beef — Use lean ground beef to cut down on fat and calories and save yourself from having to drain it. Ground turkey is a great choice, too.
Onion — I recommend white or yellow onions for casseroles.
Corn — I used frozen corn, but canned corn (drained) also works.
Cream of Mushroom Soup — This is the base for the creamy sauce. You can also use cream of chicken soup if that's what you have on hand (or your husband hates mushrooms like mine does).
Milk — This helps thin out the soup and makes the casserole nice and creamy.
Sour Cream — Adds tangy, rich flavor and extra creaminess.
Worcestershire sauce — This sauce tastes meaty and adds a savory, umami flavor to the dish.
Seasonings — Garlic powder, salt, and pepper are used in this recipe, but Creole seasoning would be great if you like things spicy.
Tater Tots — Frozen tater tots are the best part of this casserole. Add them to the top for that yummy potato flavor and texture.
Shredded Cheddar Cheese — Sharp cheddar is my go-to for this casserole, but if you like mild cheddar or a cheese blend, go for it!
Equipment You'll Need for Crock Pot Tater Tot Casserole
To make this easy casserole, grab the following kitchen tools:
slow cooker
large skillet (for browning the ground beef)
measuring cups
measuring spoons
cutting board and knife
cheese grater (optional, if shredding block cheese)
How to Make Slow Cooker Tater Tot Casserole
This section shows you how to make the recipe with step-by-step photos and instructions. For the full printable recipe, see the recipe card below.
Step 1: Brown ground beef and onions together over medium-high heat in a large skillet. Stir often. Drain off the grease if needed, and pour the meat mixture in the bottom of the slow cooker.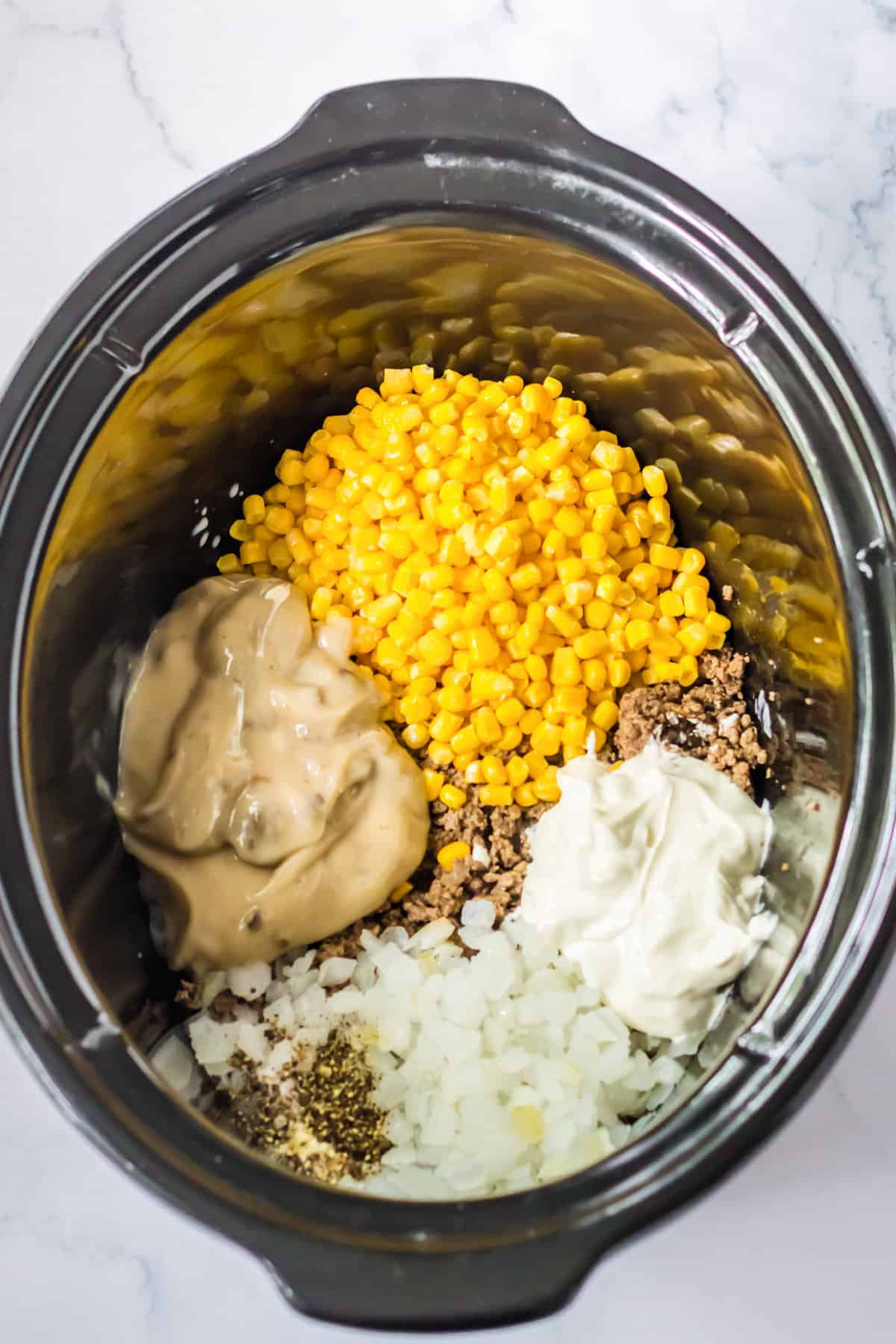 Step 2: Add the frozen corn, cream of mushroom soup, milk, sour cream, Worcestershire sauce, garlic powder, salt, and pepper to the crockpot. Stir to combine.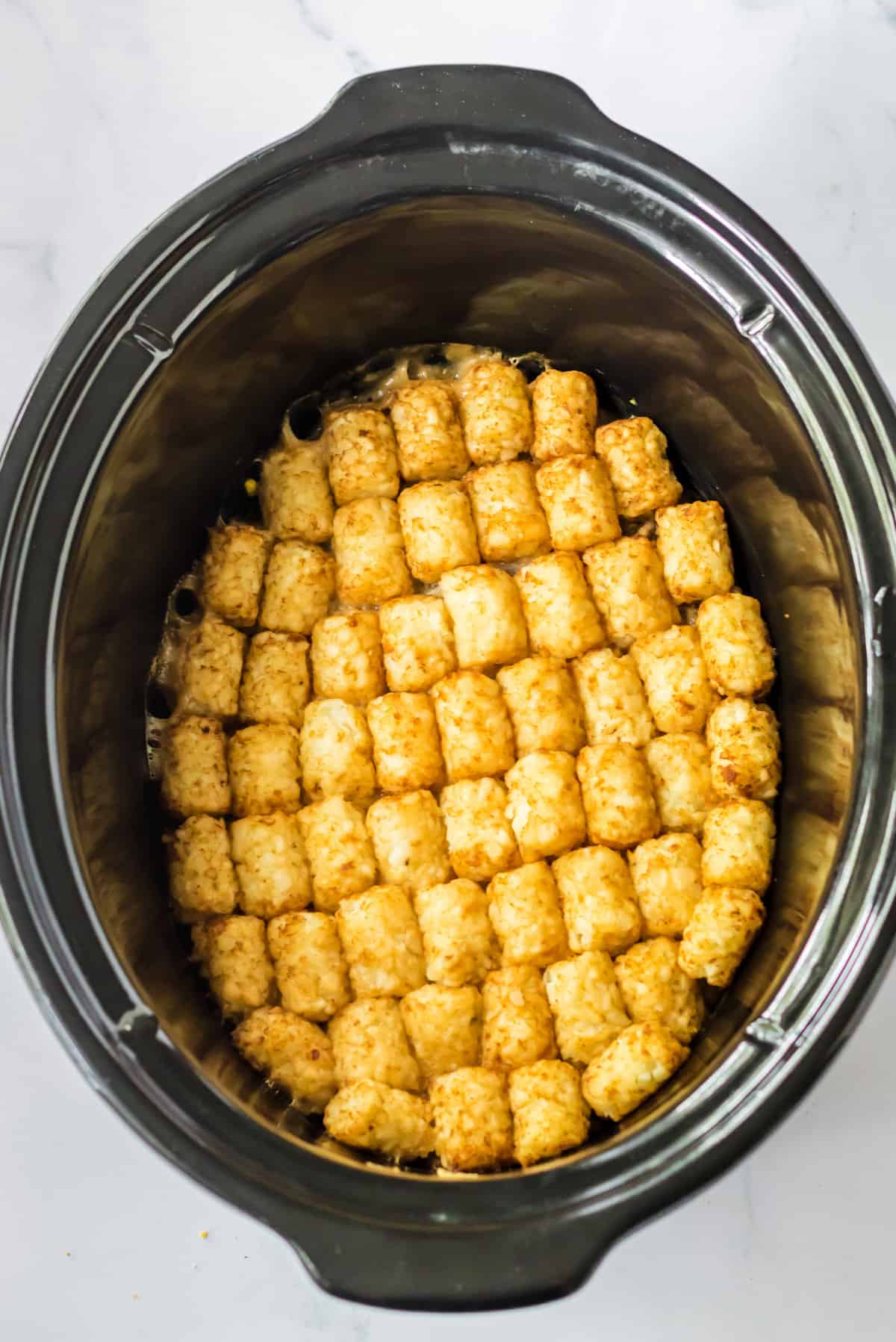 Step 3: Place a single layer of tater tots on top.
Step 4: Put the lid on the slow cooker and cook the tater tot casserole for 4-6 hours.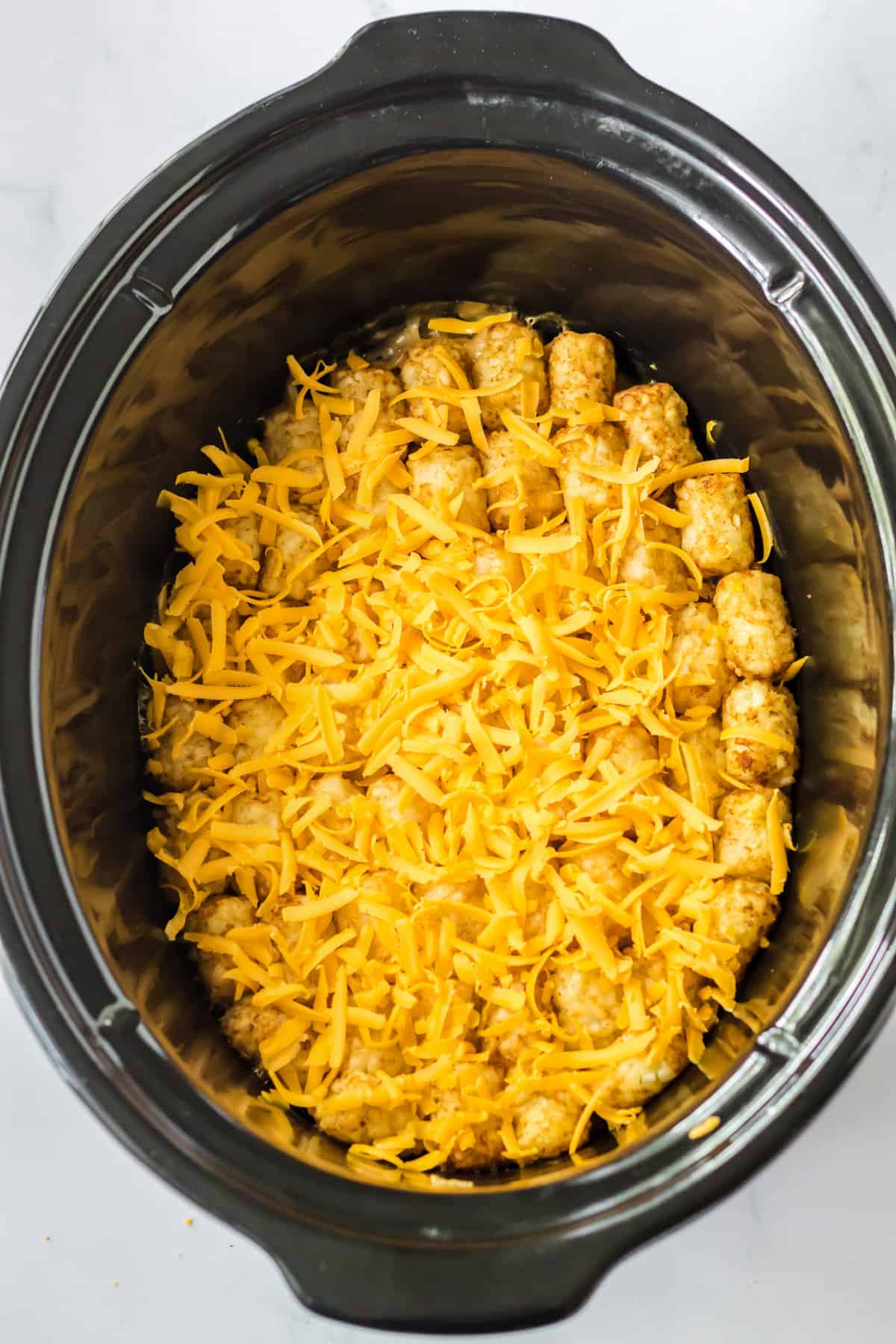 Step 5: Add the shredded cheddar cheese to the crockpot 10 minutes before you plan on serving. Cover the casserole and let it cook for 10 minutes or until the cheese is melted.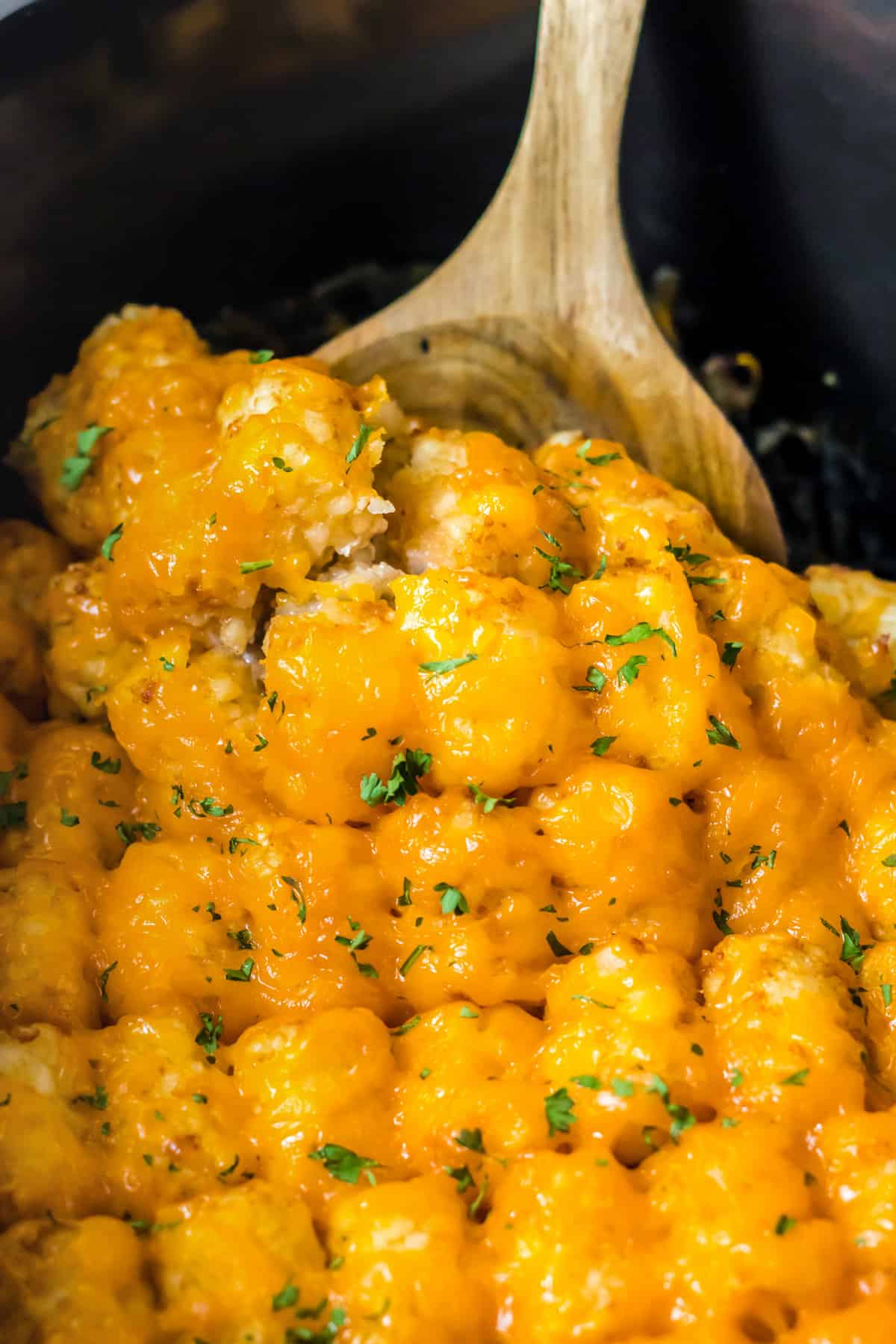 Serving Suggestions
Wondering what to serve with tater tot casserole? While it's a complete meal all on its own, you can definitely stretch the meal by adding some delicious sides to it. Veggies like creamed spinach or broccoli salad are a great choice.
If you want something easier, we like to pair ours with mixed vegetables and a side of crusty bread (or a cornbread muffin or dinner roll) to soak up every last bite.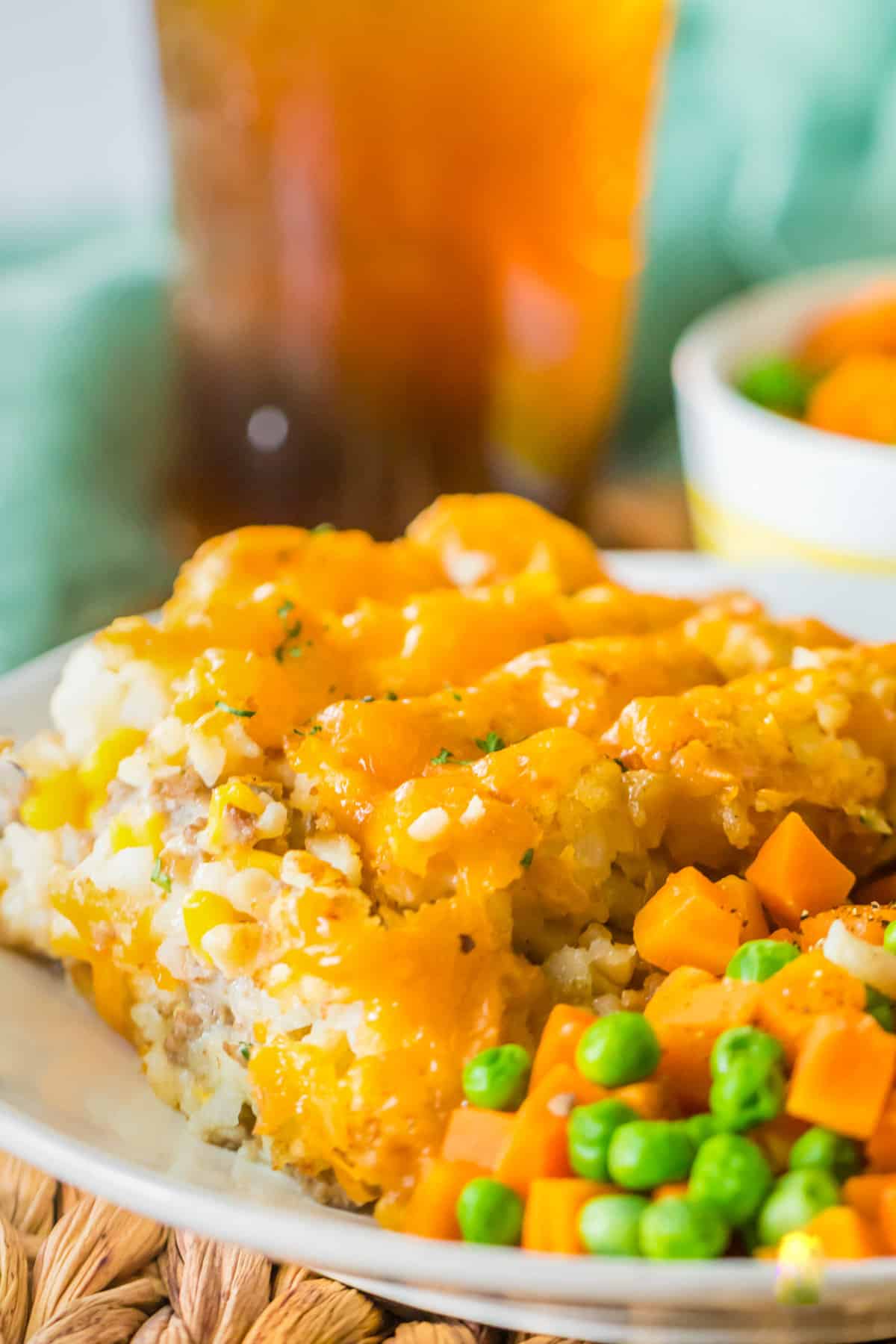 Storing Cheesy Tater Tot Casserole
Refrigerator: Store leftover tater tot casserole in an airtight container in the fridge for up to 3 days.
Freezer: While you can technically freeze leftovers, I don't recommend it since freezing and then thawing would affect the texture and consistency of the tater tots and the ingredients that have dairy. Plus, we never have enough leftovers to freeze because this gets gobbled up quickly!
Tips and Tricks for Crock Pot Tater Tot Hot Dish
Spray your crockpot with cooking spray or use a slow cooker liner to make cleanup easier.
You can pre-bake the tater tots for about 10 minutes before adding them to the slow cooker. This helps them stay together better in the casserole, and they'll have a touch of crispness to them. It's totally optional, though.
Lighten up this recipe by using reduced fat condensed soup, milk, sour cream, and cheese.
Want even more tater tots? Try adding a bottom layer AND the top layer. You really can't go wrong with more tots.
Cooking time may be a little less if your slow cooker runs hot. The ground beef gets cooked before it's added to the crockpot, so whenever your tater tots are cooked, it's safe to enjoy.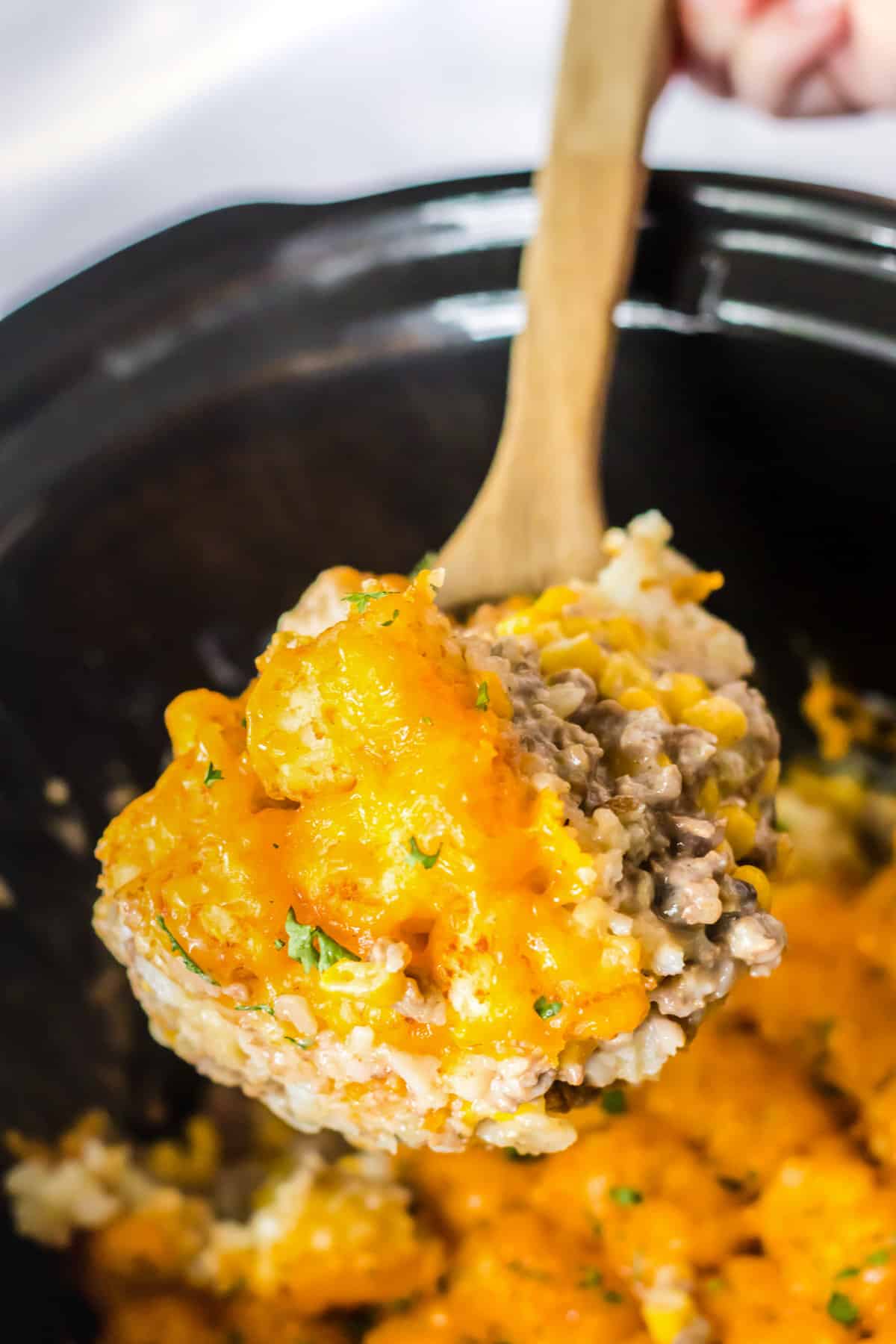 Additions and Variations
Try a different meat. All out of ground beef? No problem. Swap it out with ground turkey instead. You could also sub a pound of ground chicken or shredded chicken for the ground beef to make a yummy chicken tater tot casserole.
Swap out the veggies. Instead of corn, try carrots, peas, green beans, or broccoli. Bell peppers would be tasty in a southwestern version of this dish.
Use a different "cream of" soup. Although we use cream of mushroom, cream of chicken soup or cheddar cheese soup works just as well.
Add toppings. Sprinkle some fresh green onions or crumbled bacon over the top right before serving for a delicious finish!
Spice it up. If your family enjoys a little heat, add a dash of cayenne pepper or some diced jalapeños to the beef mixture. Taco seasoning could work, too.
Make it cheesier. Add extra cheese or swap out the type of cheese you use for this casserole to get different flavors. Pepper jack cheese would be a fun kick of spice. A Mexican blend or triple cheddar blend would also be delicious.
Go vegetarian. Use a meat substitute crumble and/or black beans in place of the meat. Make sure you use vegan-friendly Worcestershire sauce and cream of mushroom soup as well.
Make a breakfast tater tot casserole. Swap out the ground beef for ground breakfast sausage. Yum!
Crock Pot Tater Tot Casserole FAQ
Why is my tater tot casserole soggy?
You may have added a little too much liquid, but in any case, you shouldn't expect the tater tots to get crispy in this slow cooker recipe. They'll be on the softer side, though still delicious.
Can I use canned or fresh corn instead of frozen corn?
Yes, both of those options work. For canned corn, make sure it's drained well. If you're using fresh corn, weigh out 12 ounces on a food scale or measure out a little over 2 cups. Two medium ears of corn will yield about 2 cups or 10 ounces of corn kernels, per The Spruce.
What goes with tater tot casserole?
A fresh green salad, steamed veggies like green beans or carrots, or a side of bread pair wonderfully with tater tot casserole.
What is tater tot hotdish?
Tater tot hotdish is basically a Midwestern name for the casserole. A hotdish is an easy recipe that typically has a starch (like tater tots, rice, or pasta), frozen or canned veggies, meat, and canned soup as the primary ingredients. Cheese is always welcome, too.
Can I use a different kind of canned soup?
You sure can. Cream of chicken works well for this recipe.
Do I need to add water to the canned soup?
No, you shouldn't add water to the condensed soup. Instead, this recipe calls for adding a bit of milk to thin it out a little, and sour cream is also added. That's plenty of liquid for the recipe.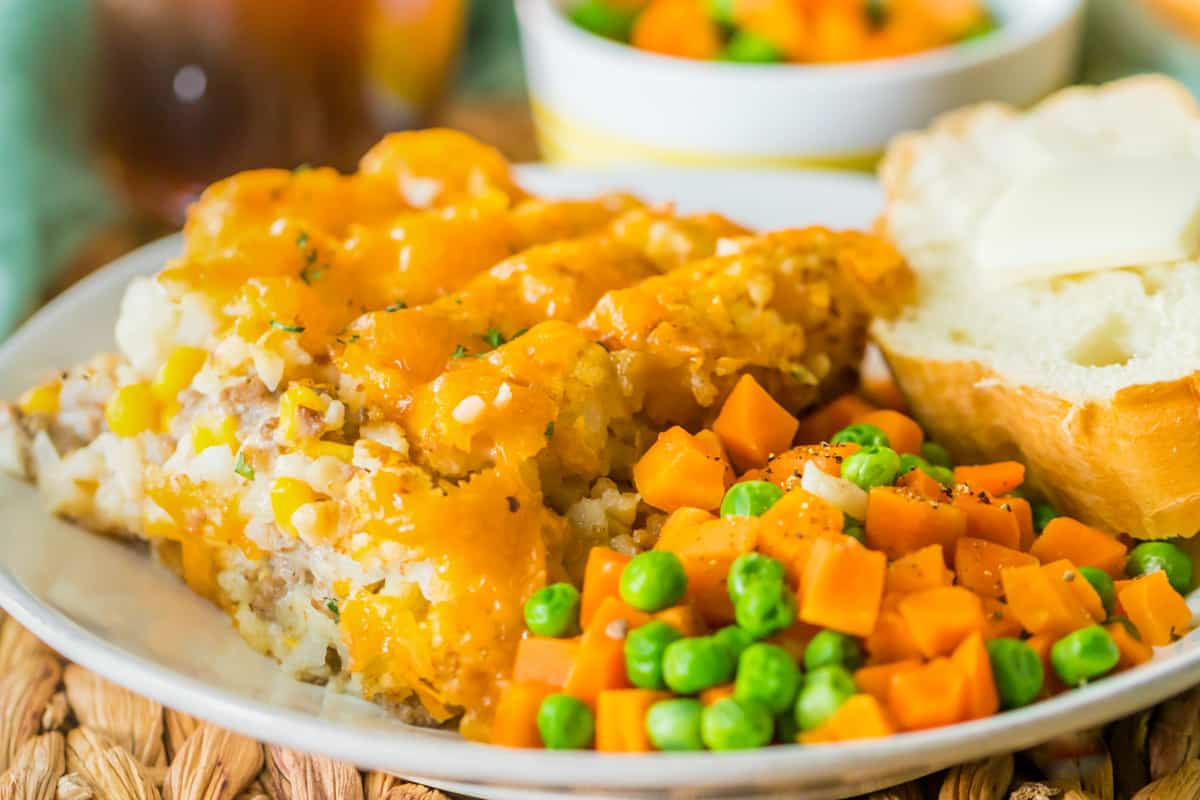 Crockpot Recipes for Busy Nights
Use your slow cooker to get a homecooked meal on the table even when you're super busy. Try one of these family favorites for dinner this week:
Recipe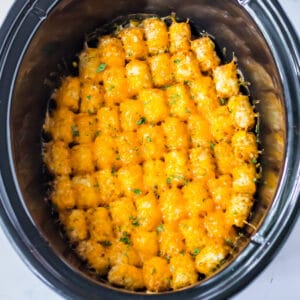 Recipe
Slow Cooker Tater Tot Casserole
Slow Cooker Tater Tot Casserole (aka tater tot hot dish) is easy to make and will be a hit with the whole family. Ground beef, corn, cheese, and tater tots are topped with melty cheese in this tried and true family favorite.
Ingredients
1 pound lean ground beef
1 small onion diced
12 ounces frozen corn
10.5 ounce cream of mushroom soup (1 can)
½ cup milk
¼ cup sour cream
1 tablespoon Worcestershire sauce
½ teaspoon garlic powder
½ teaspoon salt
½ teaspoon pepper
20 ounces frozen tater tots
1 ½ cups sharp cheddar cheese shredded
Instructions
Add the ground beef and onions to a large skillet. Cook, stirring often, over medium-high heat until meat is browned. Drain off grease (if necessary) and transfer to your slow cooker.

Add the corn, cream of mushroom soup, milk, sour cream, Worcestershire sauce, garlic powder, salt, and pepper to the slow cooker and stir to combine.

Top with a single layer of tater tots.

Cover and cook on low for 4-6 hours.

Sprinkle shredded cheese over the top of the tater tots 10 minutes before serving. Replace the lid and allow to cook for 10 minutes, or until the cheese is melted.
Notes
You can mix in additional veggies such as carrots, peas, or green beans.
Cream of chicken soup can be used instead of cream of mushroom.
This recipe also works great with ground turkey.
Store leftovers in the fridge for up to 3 days.
Nutrition
Calories: 519kcal | Carbohydrates: 45g | Protein: 30g | Fat: 26g | Saturated Fat: 10g | Polyunsaturated Fat: 4g | Monounsaturated Fat: 8g | Trans Fat: 0.3g | Cholesterol: 85mg | Sodium: 1268mg | Potassium: 844mg | Fiber: 4g | Sugar: 2g | Vitamin A: 372IU | Vitamin C: 12mg | Calcium: 264mg | Iron: 3mg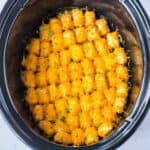 Did You Make This Recipe?
Share it with me on Instagram @crayonsandcravings and follow on Pinterest @crayonsandcravings for even more!