Slow Cooker Salisbury Steaks
Posts may contain affiliate links, meaning that I may earn a commission if you use a link provided.
Looking for a cozy meal the whole family will love? Try these Slow Cooker Salisbury Steaks! Tender beef patties are cooked in a rich brown gravy and served over a big pile of mashed potatoes or rice. Comfort food at its finest!
Need more easy dinner ideas for the crockpot? Try my Crockpot Steak Bites (kids love them), these Slow Cooker Philly Cheesesteak Sloppy Joes, or some Slow Cooker Swedish Meatballs.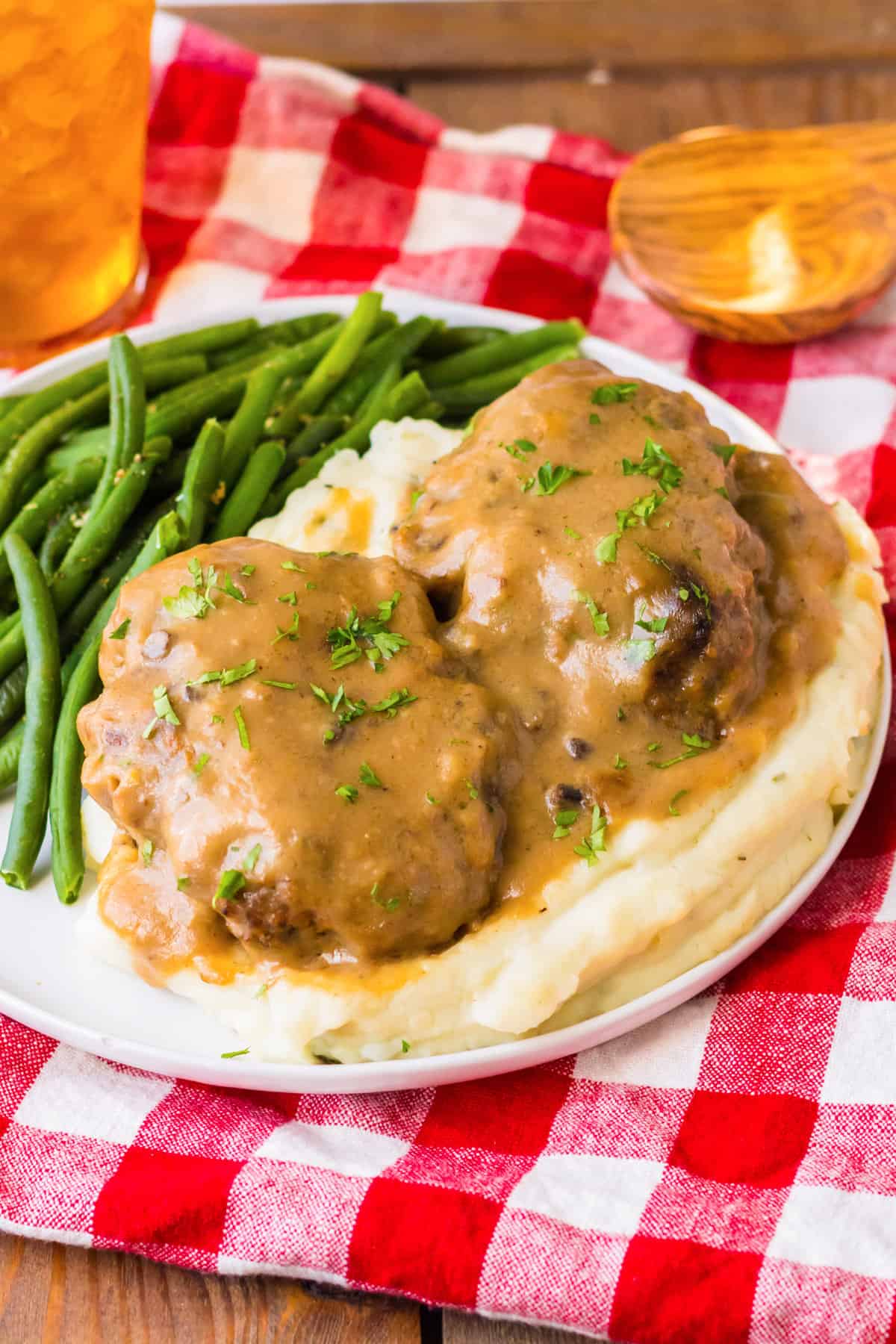 Have you ever realized the day is halfway over and you still don't have a plan for dinner? It happens to me more often than I'd like to admit. This recipe for Crockpot Salisbury Steak, however, is the perfect meal for this scenario.
Unlike other slow cooker meals, you only need 3-6 hours to cook it instead of all day long. Put the hamburger steaks in the slow cooker in the early afternoon, and dinner will be ready when you walk through the door from errands and after-school activities.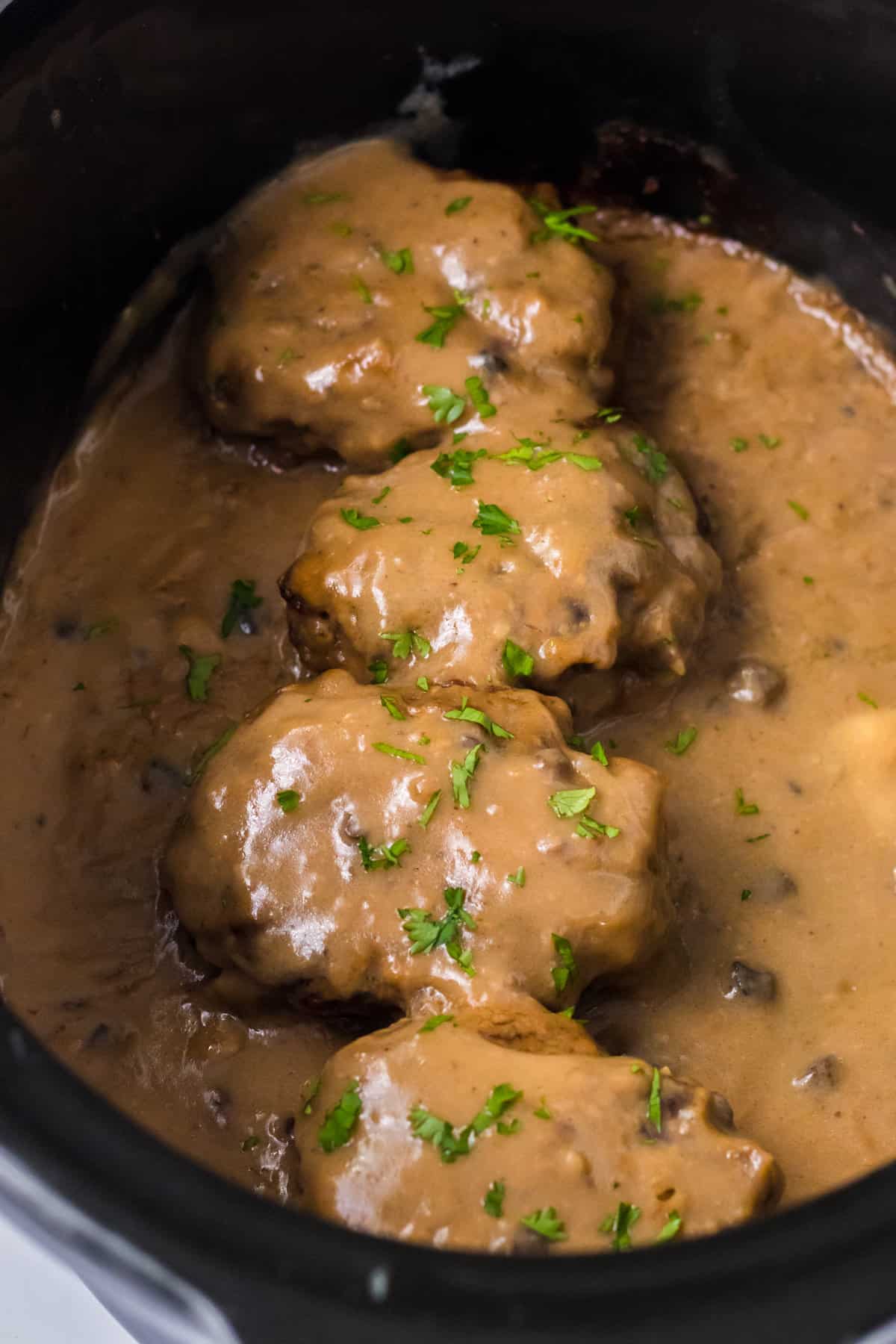 To prep this dish, you'll make homemade hamburger patties that are packed with flavor from the dry onion soup mix, Worcestershire sauce, and steak seasoning. Then, you'll add them to the slow cooker and pour a rich gravy made with cream of mushroom soup and brown gravy mix over the top. Give it a few hours, and just when the smell becomes irresistible, they're ready to put on the dinner table.
Ready to start on dinner? Here's what you'll need for this delicious Salisbury steak recipe.
Ingredients for Slow Cooker Salisbury Steak
This section includes ingredient notes and substitution options. Get all measurements, ingredients, and instructions in the printable recipe card at the end of this post.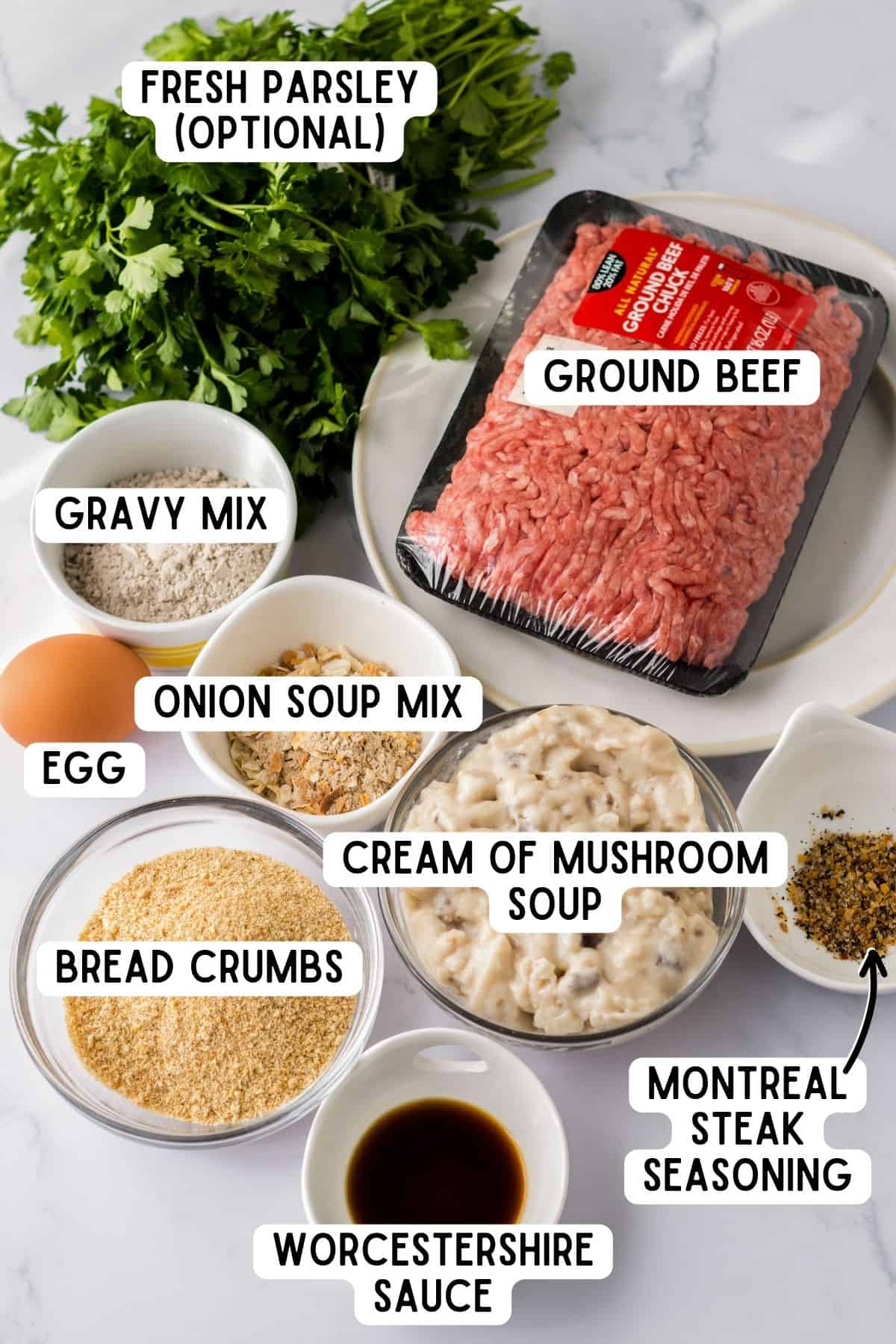 Ground Beef — Using lean ground beef for this recipe is very important. It will minimize how much the patties "cook down" and will prevent your gravy from getting greasy as the meat finishes cooking in the crock pot.
Onion Soup Mix — I use Lipton onion soup mix (the beefy onion soup is delish), but use whatever brand you like. A homemade onion soup mix works, too.
Worcestershire Sauce — This sauce adds savory, umami flavor to the ground meat.
Steak Seasoning — Montreal steak seasoning is made up of garlic, black pepper, salt, coriander, cayenne pepper, and dill. It tastes great on beef.
Eggs — You'll need one egg to add to the beef mixture to bind the meat and breadcrumbs together.
Breadcrumbs — Add plain or seasoned bread crumbs to the mixture to hold the meat together.
Cream of Mushroom Soup — The mushrooms in this condensed cream soup add some texture and extra flavor to the gravy. However, you can sub cream of onion soup or cream of chicken soup if you prefer.
Water — Just a cup to combine with the gravy packet and soup to create the gravy.
Brown Gravy Mix — Use your favorite brand of gravy mix. If you are sensitive to salt or want to cut back on salt I recommend using a low-salt gravy mix.
Parsley — It's optional, but parsley adds a beautiful pop of green color when used as a garnish.
Equipment You'll Need for Crockpot Salisbury Steak
To make this easy Salisbury steak recipe, you'll need the following kitchen items:
a slow cooker
mixing bowls
a whisk
measuring spoons
measuring cups
How to Make Slow Cooker Salisbury Steak with Gravy
This section shows you how to make the recipe with step-by-step photos and instructions. For the full printable recipe, see the recipe card below.
Step 1: Add the ground beef, onion soup mix, Worcestershire sauce, steak seasoning, egg, and bread crumbs to a large mixing bowl.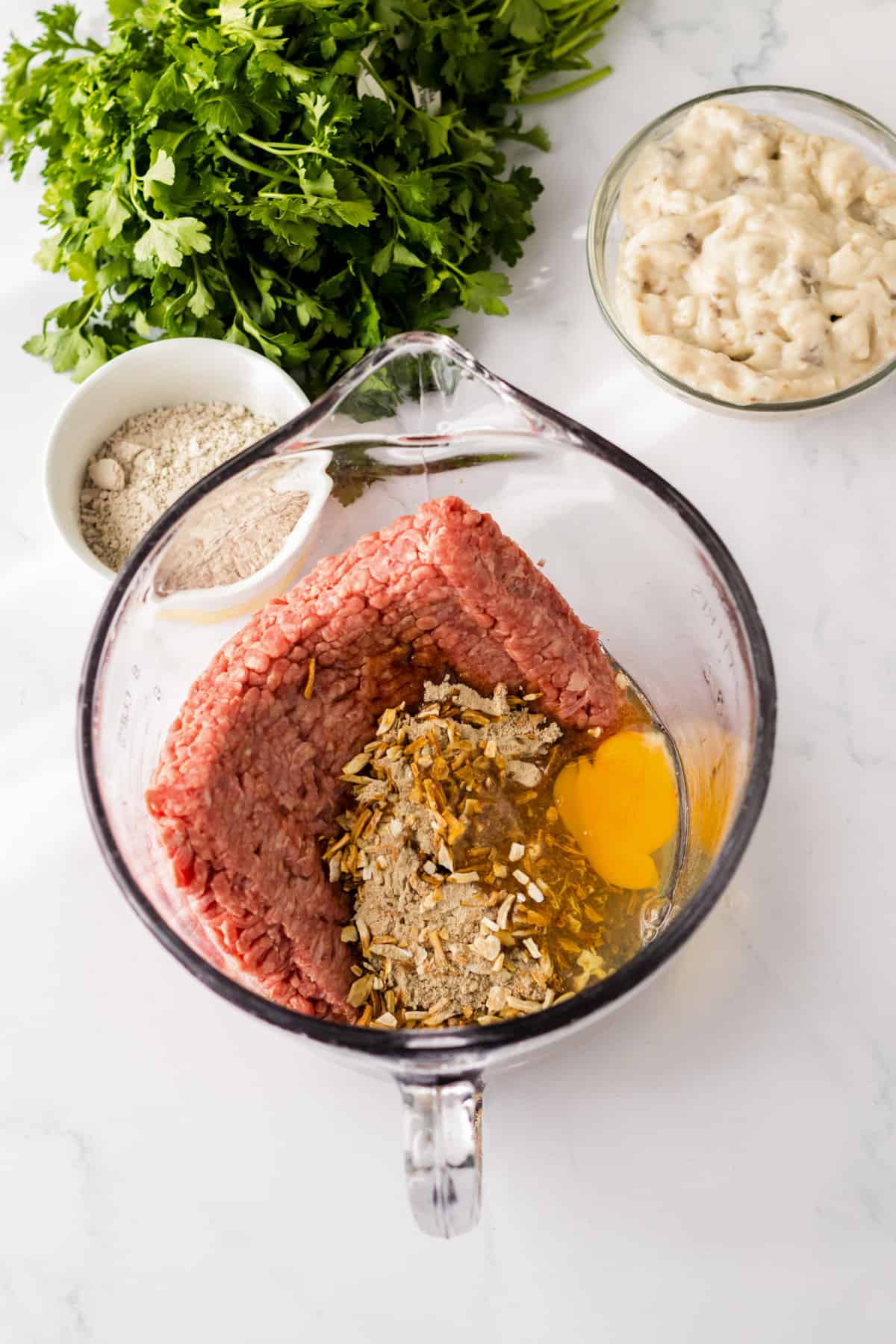 Step 2: Using your hands, combine the ingredients (but don't overmix), and divide the meat mixture into 4 patties of equal size.
Step 3: Brown the beef patties in a hot skillet over medium-high heat for 2-3 minutes on each side. You do not need to cook them through, we are just browning them a bit on each side.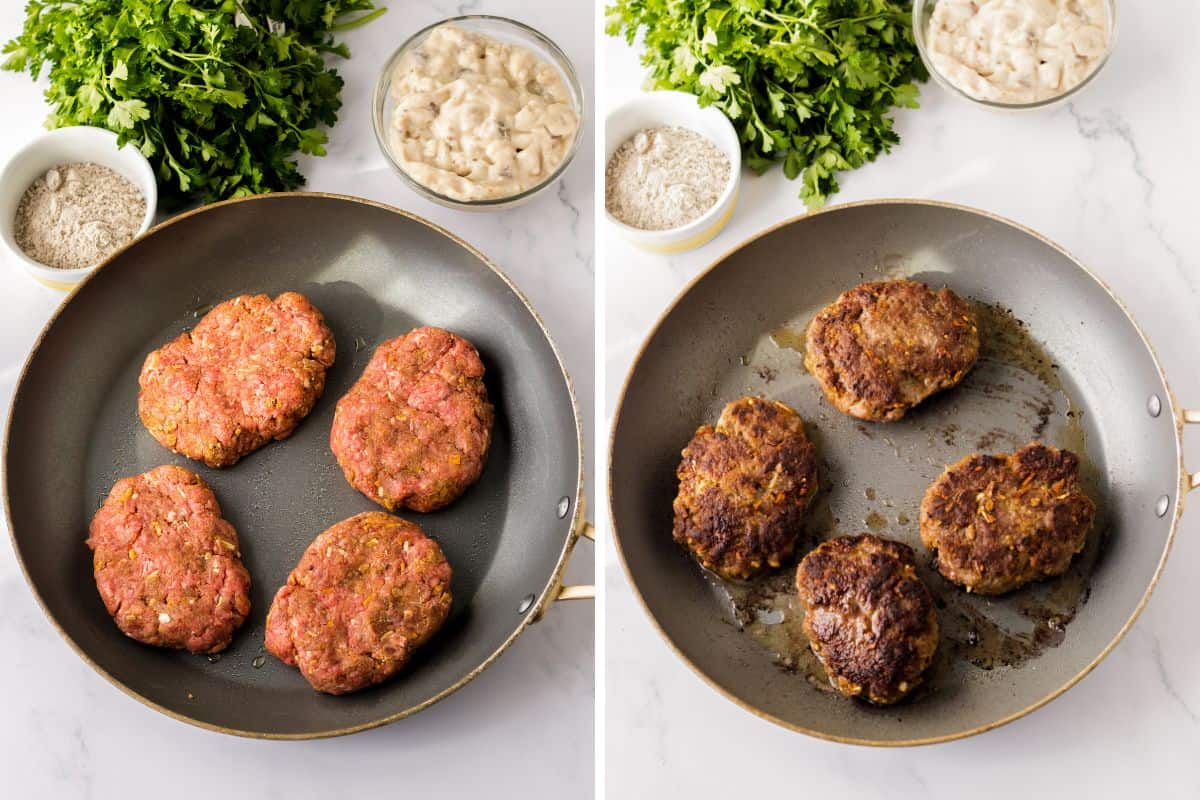 Step 4: Place the browned beef patties in the slow cooker.
Tip: Spray the crock pot with non-stick cooking spray to make for easier clean-up.
Step 5: In a medium mixing bowl, combine the canned cream of mushroom soup, a cup of water, and the brown gravy mix. Stir with a whisk until mixed well. Pour the gravy over the beef patties in the slow cooker.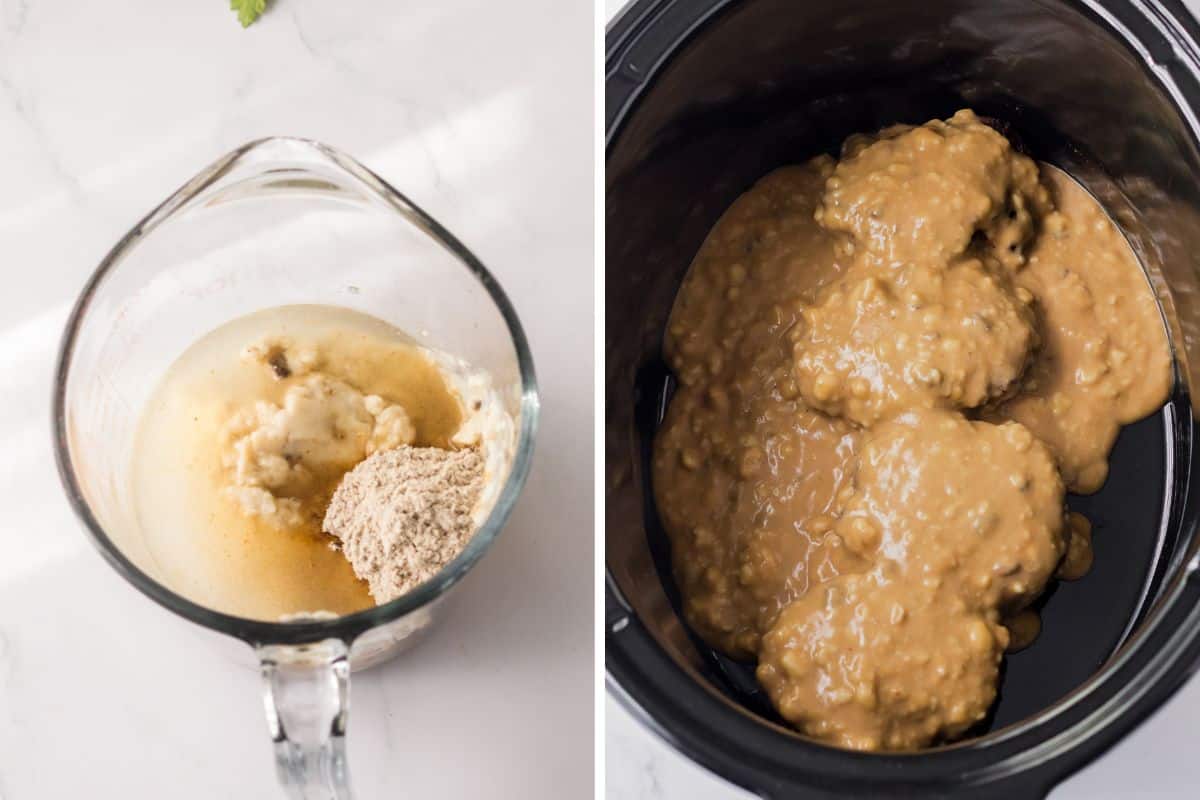 Step 6: Put the lid on the slow cooker and cook the Salisbury steaks on high for 3-4 hours or on low for 5-6 hours.
Step 7: Serve the steak patties warm over mashed potatoes or rice, topped with gravy and garnished with fresh parsley, if desired.
Serving Suggestions
To round out this easy slow cooker recipe, serve your smothered hamburger steaks with a big pile of mashed potatoes, egg noodles, or rice along with some rolls, biscuits, or cornbread, and a couple of these tasty sides: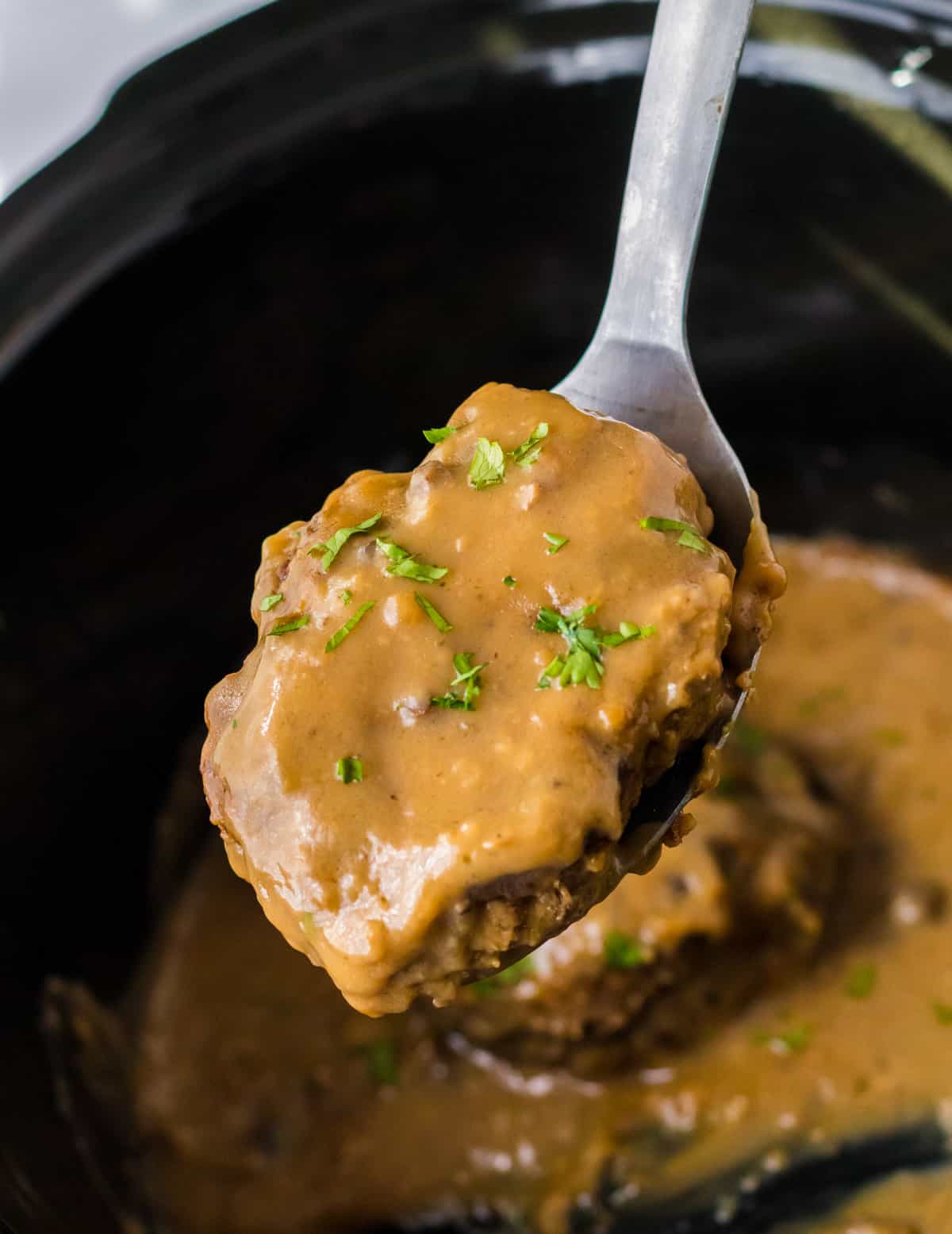 Storage and Freezing
In the fridge: Store leftover Salisbury steak patties in an airtight container in the refrigerator for up to 3 days.
In the freezer: You can freeze this fully cooked for up to 3 months. Thaw overnight in the refrigerator, and reheat in the microwave, in a skillet, or in the slow cooker.
However, you can also prep the ground beef patties and freeze them (uncooked) to speed this recipe along at a later date.
Slow Cooker Salisbury Steak Recipe Tips and Tricks
Double the recipe so you'll have leftovers. Trust me; you'll want to have it again ASAP! It's sure to become a family favorite.
If the gravy is too thin for your liking, make a cornstarch slurry of 1 part cornstarch to 2 parts water to add near the end of the cooking time.
Gravy too thick after refrigerating? Add a splash or two of water or beef broth and stir it in to thin the gravy out a little.
Substitute low-sodium beef broth for the water for extra flavor in the mushroom gravy.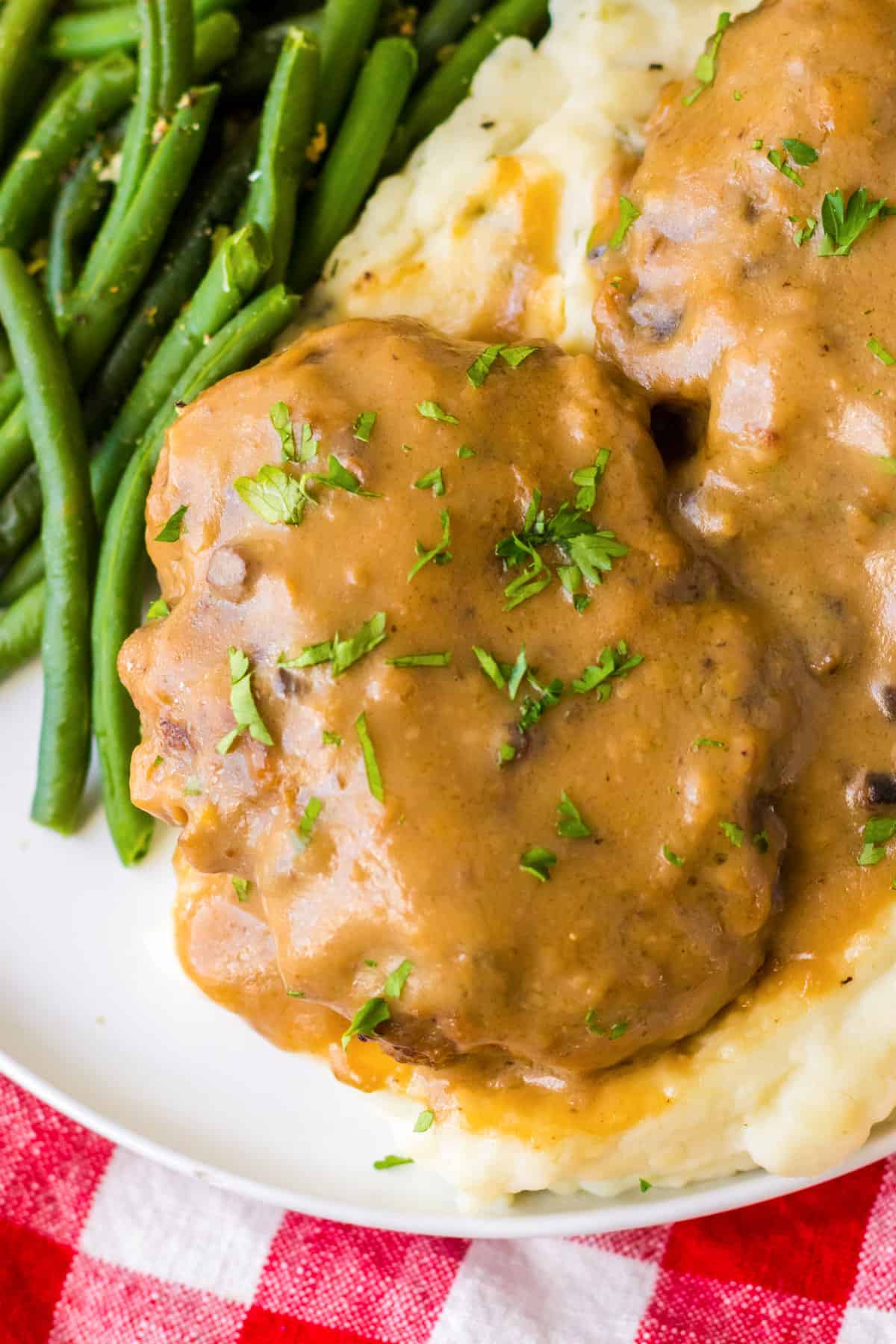 Additions and Variations
Try a different condensed cream soup. You can get slightly different flavor variations by switching up the soup you use. Cream of onion soup or cream of chicken soup are good choices to try.
Make it with ground turkey. Trying to cut back on red meat? Use ground turkey for this recipe instead. Mix in some minced celery with the ground turkey to give it a Thanksgiving sort of flavor. You'll also need to change the brown gravy to a turkey gravy. Yum!
Add fresh mushrooms and onions. This recipe is the quick and easy version, but adding fresh ingredients only takes a few extra minutes. Place the sliced mushrooms and onions in the bottom of the slow cooker before adding your beef patties, and cook everything together.
Use frozen beef patties instead of making your own. It won't be quite as flavorful, but if you have some frozen patties in your freezer already, why not use them up?
Flavor with a little liquid smoke. Add a couple of drops of liquid smoke if you enjoy your beef with a little smokiness to it.
Serve over egg noodles. Instead of mashed potatoes or rice, try pasta! Cooked egg noodles or macaroni would be amazing.
Salisbury Steak FAQ
How do you keep Salisbury steak from falling apart in the slow cooker?
The key to a Salisbury steak that stays together is using the correct ratio of ground beef, eggs, and bread crumbs. If you use more meat, for instance, you'll need to increase the breadcrumbs and perhaps add another egg as well.
What cut of beef is Salisbury steak made from?
Salisbury steak isn't actually steak! It's made with ground beef combined with egg, breadcrumbs, and other ingredients to flavor.
Are Salisbury steak and country fried steak the same thing?
No, they're quite different. Salisbury steak isn't a true steak — it's made with ground beef shaped into patties. Country fried steak is made using top round or top sirloin that's been tenderized, breaded, and fried.
Why is my Salisbury steak tough?
This can happen when you overmix the meat. You shouldn't knead the meat like you do with bread dough. Mix long enough to combine the ingredients, and that's it. Also try not to press your patties together too tightly.
What to serve with Salisbury steak?
It goes with so many side dishes! Mashed potatoes, savory rice, cooked carrots, roasted veggies, sauteed greens, baked potatoes, green beans, asparagus, mac and cheese — you name it! It's pure comfort food.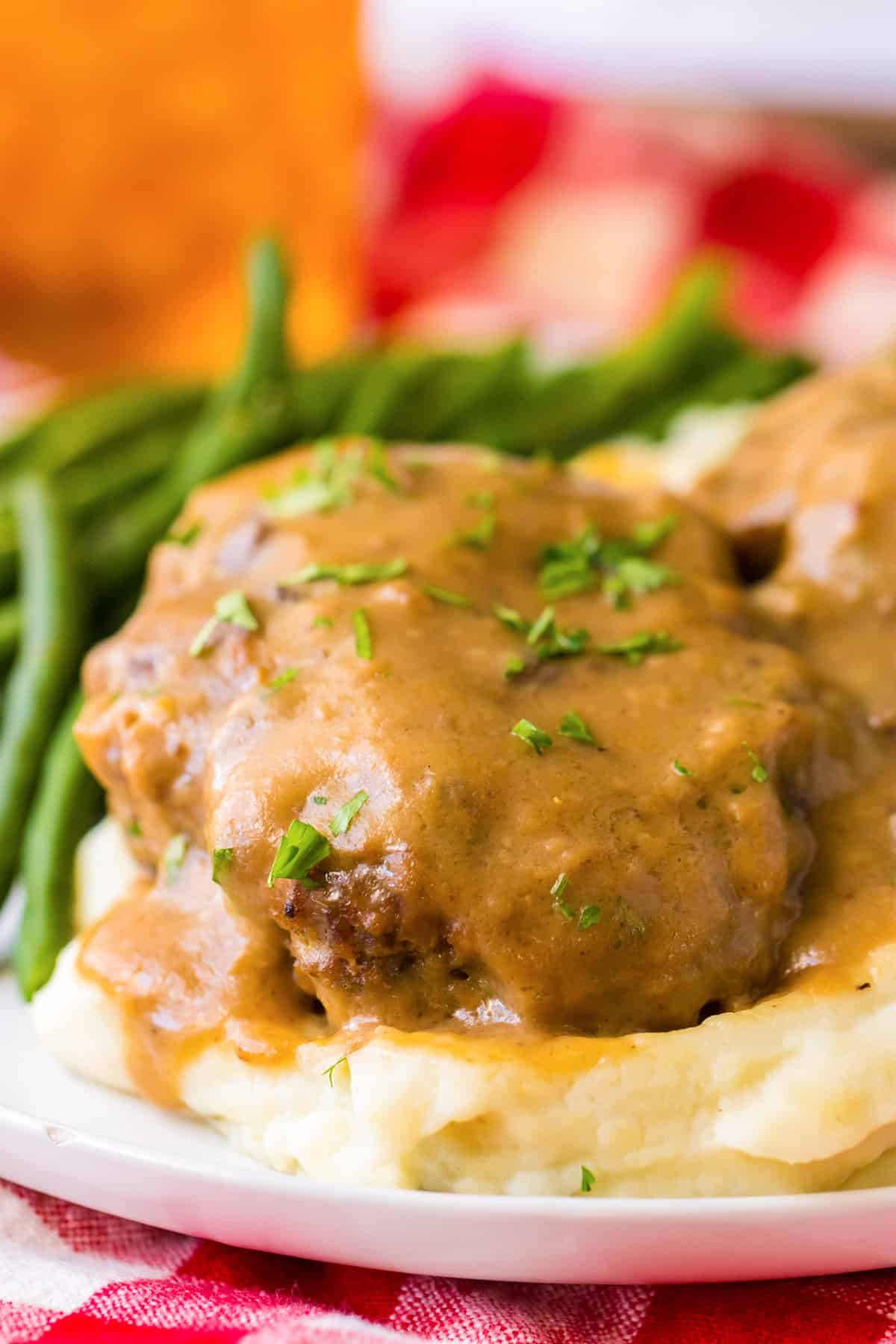 More Easy Crock Pot Recipes
Cooking with your crockpot makes dinner so much easier. Here are some of my favorite slow cooker meals for busy weeknights:
Recipe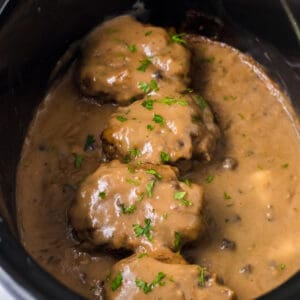 Recipe
Slow Cooker Salisbury Steaks
These Slow Cooker Salisbury Steaks are such a great family-friendly weeknight meal. Ground beef, onion soup mix and seasonings mix together to form flavorful patties that cook up in a delicious gravy. It's fabulous over mashed potatoes, rice, or noodles!
Ingredients
1 pound lean ground beef
1 packet onion soup mix 1 ounce
1 Tablespoon Worcestershire sauce
1 teaspoon Montreal steak seasoning
1 large egg
½ cup bread crumbs
1 can can cream of mushroom soup 10.5 ounces
1 cup water
1 packet brown gravy mix 0.87 ounces
parsley for garnish optional
Instructions
In a large bowl combine the ground beef, onion soup mix, Worcestershire sauce, steak seasoning, egg, and bread crumbs.

Mix until combined and divide into 4 patties.

In a skillet, brown beef patties over medium-high heat (about 2-3 minutes per side).

Once browned, place beef patties in the bottom of your slow cooker.

In a bowl, combine the cream of mushroom soup, water, and brown gravy mix. Mix well. Pour the gravy mix over the beef patties.

Cover the slow cooker and cook on high for 3-4 hours or on low 5-6 hours.

Serve warm, garnished with fresh parsley, if desired.
Notes
Serve over mashed potatoes, egg noodles, or rice. Ground turkey can be used instead of ground beef. Cream of chicken or cream of onion soup can be used in place of cream of mushroom soup. To cut down on the salt use a low-sodium gravy mix packet. Store leftovers in an airtight container for up to 3 days.
Nutrition
Calories: 325kcal | Carbohydrates: 25g | Protein: 32g | Fat: 9g | Saturated Fat: 4g | Polyunsaturated Fat: 1g | Monounsaturated Fat: 4g | Trans Fat: 0.4g | Cholesterol: 115mg | Sodium: 1891mg | Potassium: 651mg | Fiber: 1g | Sugar: 2g | Vitamin A: 77IU | Vitamin C: 1mg | Calcium: 74mg | Iron: 5mg
Did You Make This Recipe?
Share it with me on Instagram @crayonsandcravings and follow on Pinterest @crayonsandcravings for even more!