Posts may contain affiliate links, meaning that I may earn a commission if you use a link provided.
Brimstone cookies are easy-to-make cake mix cookies that are a Halloween party hit. The striking contrast of red velvet cookies coated in black cocoa powder creates an eye-catching red and black crinkle cookie look.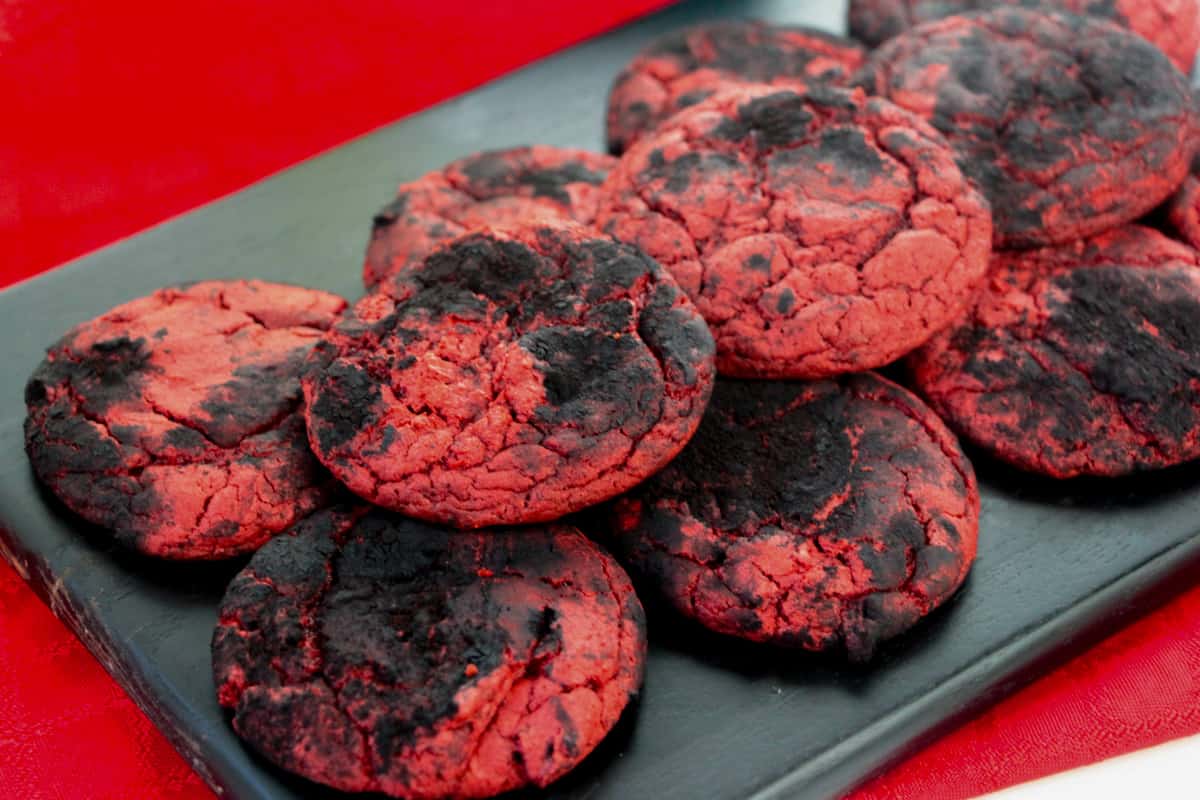 If you find these cookies fun, you'll absolutely love my candy corn cake mix cookies and Halloween cake mix monster cookies! All three of these Halloween cake mix cookie recipes promise to be the stars of your spooky celebrations.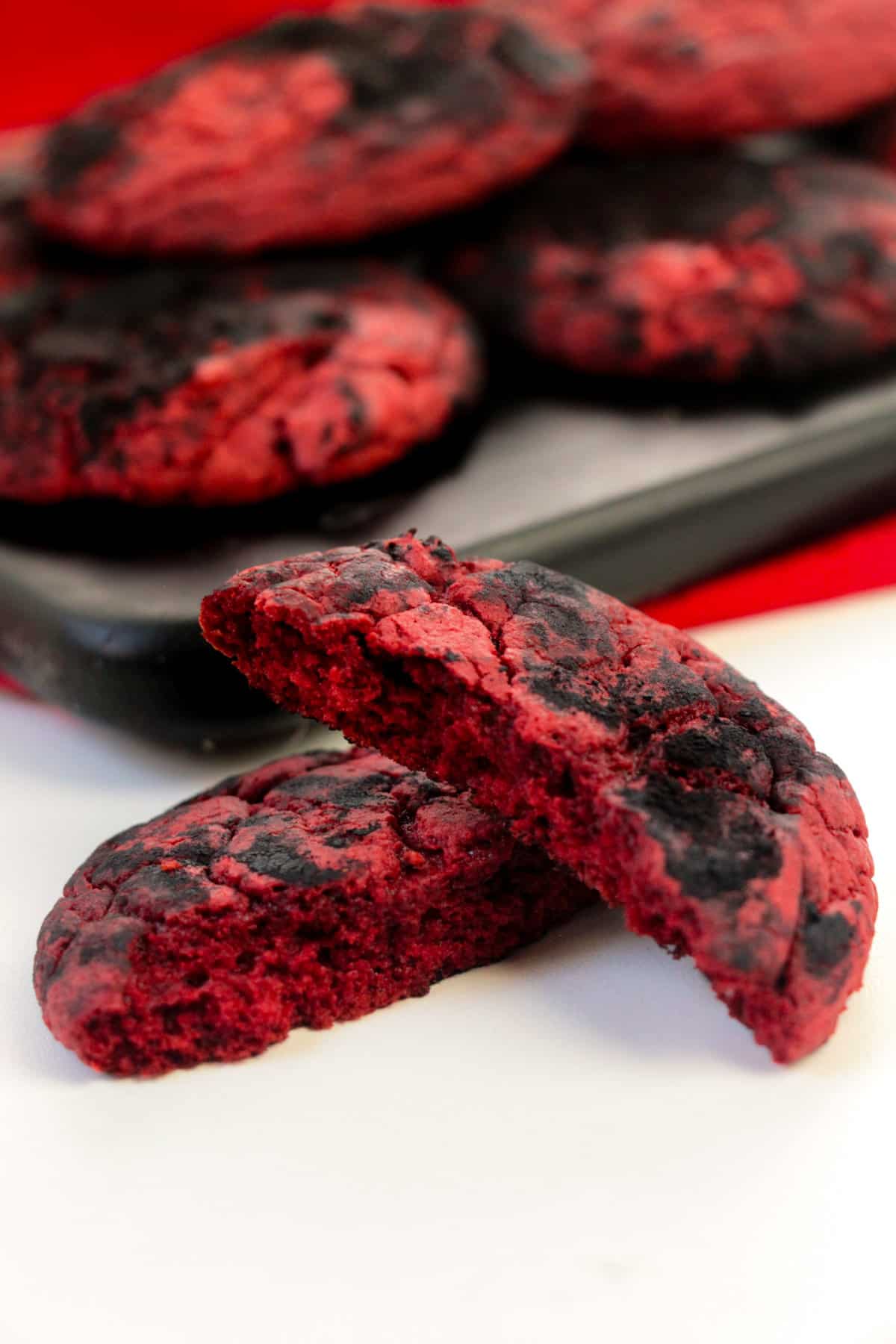 Making these cookies is a breeze. Whether you're new to baking or a seasoned pro, the simplicity of the recipe guarantees success. So, gather your ingredients and let's create some spooktacular memories!
Ingredients
This section includes ingredient notes and substitution options. Get all measurements, ingredients, and instructions in the printable recipe card at the end of this post.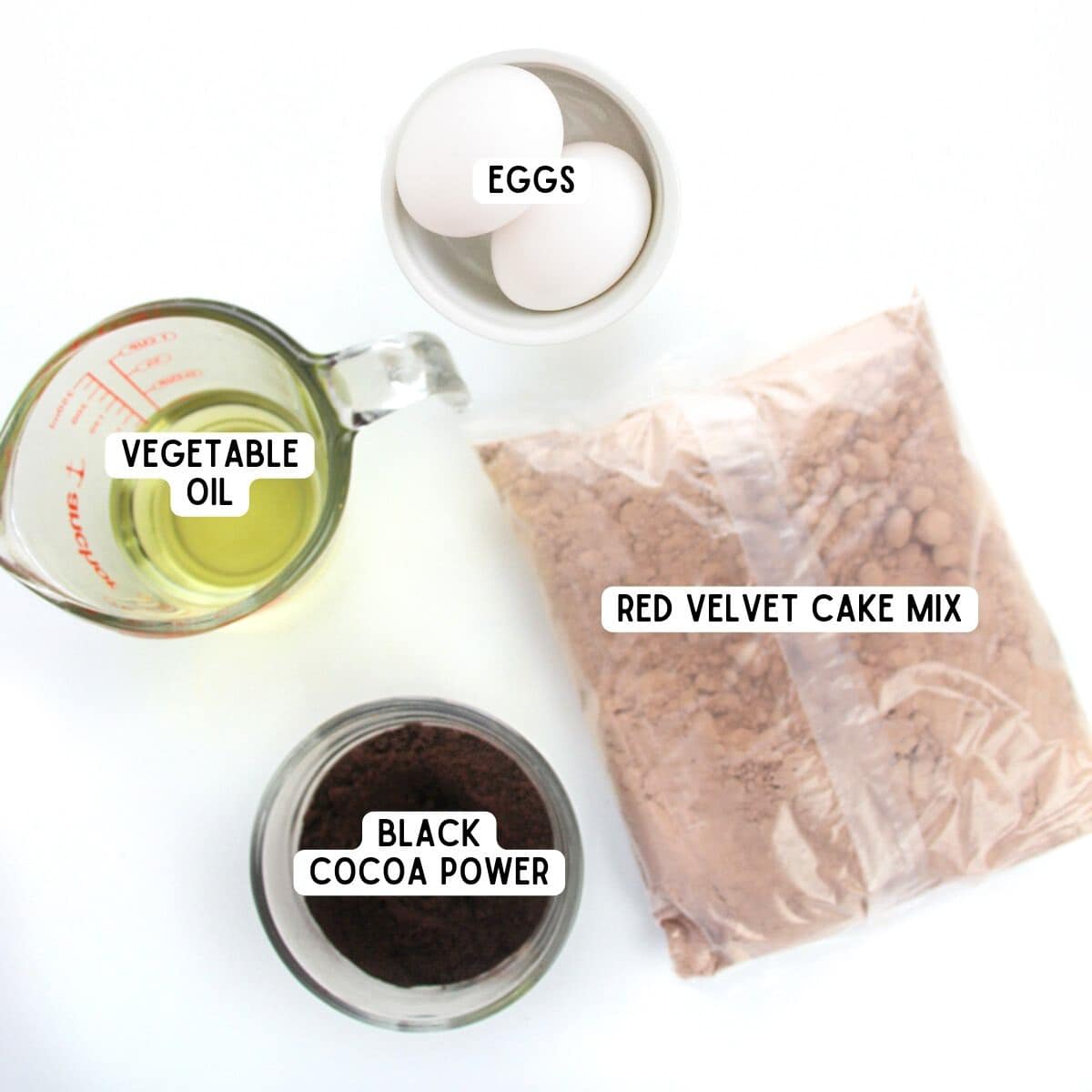 Red Velvet Cake Mix – Feel free to use your preferred brand, and always check the expiration date for the freshest taste.
Eggs
Vegetable Oil
Black Cocoa Powder – While black cocoa powder is ideal for achieving the dark contrast with the red cookies, extra dark or regular cocoa powder can be used if necessary.
How to make Red Velvet Brimstone Cookies
This section shows you how to make the recipe with step-by-step photos and instructions. For the full printable recipe, see the recipe card below.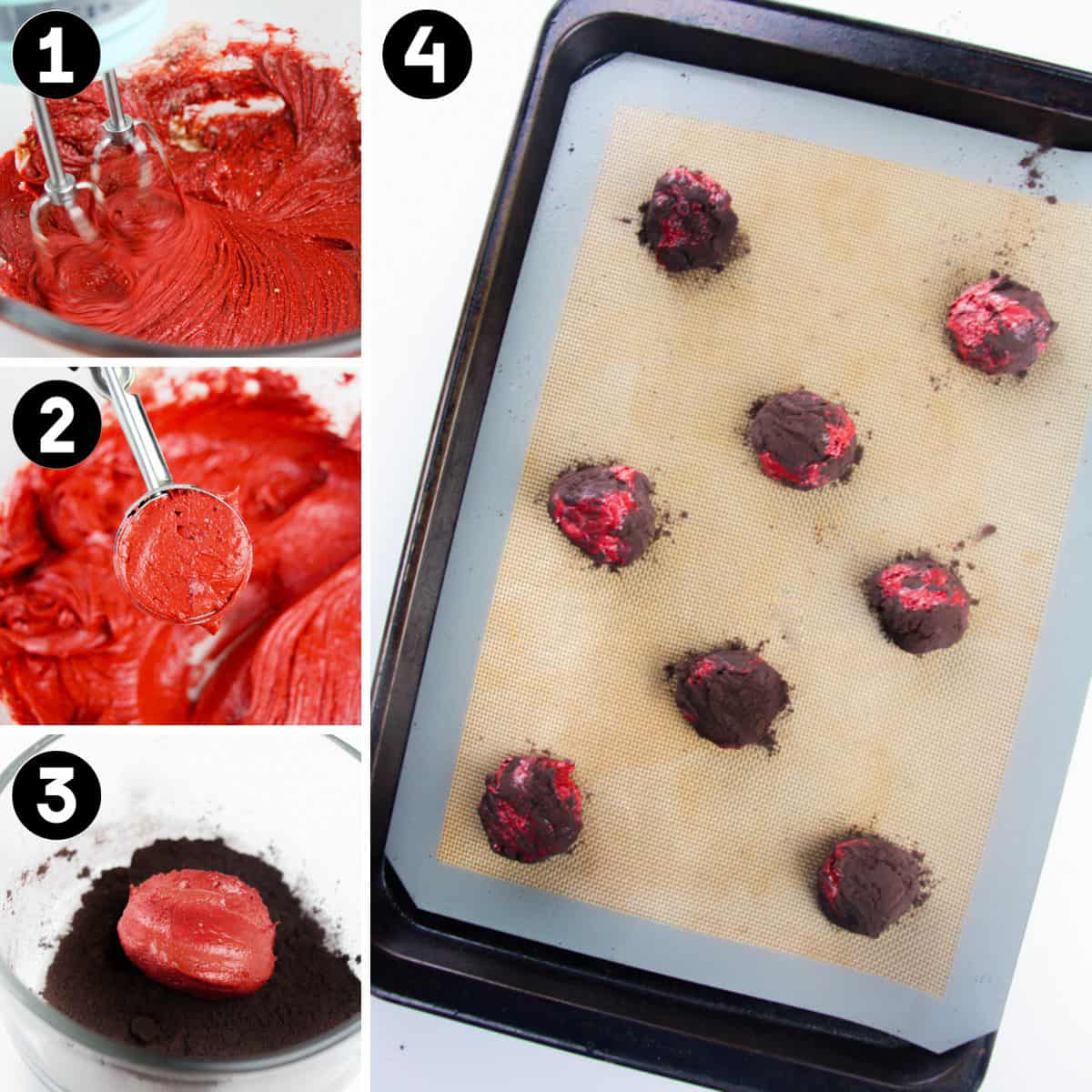 Step 1: Beat the cake mix, eggs, and oil together until well combined.
Step 2: Scoop dough out and roll it into a ball.
Step 3: Coat with black cocoa powder.
Step 4: Bake as directed in the recipe card below.
Storage
Store the cookies in an airtight container at room temperature for up to 5 days. For longer freshness, you can also freeze them in a single layer before transferring to a zip-top bag, where they'll last up to 3 months.
Helpful tips
Use a cookie scoop: When rolling your dough into balls, try to ensure each one is of uniform size. This ensures even baking. Using a cookie scoop can help achieve consistently sized cookies.
Dealing with sticky dough: If the dough is too sticky to handle or roll into balls, chilling it in the refrigerator for 30 minutes should make it easier to work with. If needed you can also mix a bit of extra flour into the dough.
Don't overbake: Cake mix cookies are best when they retain a slightly soft center after baking. It's better to slightly under-bake than over-bake. They will continue to firm up as they cool on the baking sheet.
Brimstone Cookies FAQ
What is brimstone?
Brimstone is an Old English term for sulfur. Literally meaning "burning stone," the term has been associated with folklore and mythology, often linked to the imagery of fire and brimstone in depictions of the underworld. In the context of these cookies, "brimstone" is used more for its dramatic connotations, adding a touch of mystery and allure to the recipe, especially for events like Halloween. It doesn't refer to an actual ingredient in the cookies.
What is black cocoa powder, and how does it differ from regular cocoa powder?
Black cocoa powder is an ultra-dutched cocoa powder that's been processed to neutralize its acidity. It gives baked goods a very dark, almost black color and a milder chocolate taste compared to regular cocoa powder. It's often used in "Oreo-style" cookies and is responsible for their distinctive dark appearance.
Can I use butter instead of vegetable oil in this recipe?
Yes, you can substitute melted butter for vegetable oil. However, the texture might be slightly different. Butter tends to make cookies more flavorful and slightly crispier on the edges, while vegetable oil gives a softer texture overall.
More Halloween Party Recipes
Recipe
Recipe
Brimstone Cookies
These eye-catching red and black Brimstone cookies are easy to make with just 4 ingredients and are the perfect treat for Halloween celebrations.
Ingredients
15.25 ounce red velvet cake mix (1 box)
2 large eggs
⅓ cup vegetable oil
½ cup black cocoa powder
Instructions
Preheat the oven to 350°F. Line baking sheets with parchment paper or silicone liners and set aside.

In a large bowl, beat to combine the cake mix, eggs, and vegetable oil.

Scoop 1 1/2 Tablespoons of dough and roll into balls.

Place each ball of dough individually in the black cocoa powder and coat as desired. Cover completely for a full crinkle cookie look or coat sections for more of a brimstone look.

Place each cocoa-coated dough ball at least 2" apart on the prepared cookie sheets.

Bake for 10-12 minutes. Allow the cookies to cool for about 5 minutes on the baking sheet before moving to a cooling rack to cool fully.
Nutrition
Calories: 136kcal | Carbohydrates: 17g | Protein: 2g | Fat: 8g | Saturated Fat: 2g | Polyunsaturated Fat: 3g | Monounsaturated Fat: 2g | Trans Fat: 0.03g | Cholesterol: 16mg | Sodium: 185mg | Potassium: 110mg | Fiber: 1g | Sugar: 8g | Vitamin A: 24IU | Calcium: 38mg | Iron: 1mg
Did You Make This Recipe?
Share it with me on Instagram @crayonsandcravings and follow on Pinterest @crayonsandcravings for even more!