Brussels Sprouts with Bacon and Balsamic
Posts may contain affiliate links, meaning that I may earn a commission if you use a link provided.
Brussels sprouts with bacon and balsamic reduction makes a delicious and easy side dish. These are seriously the best brussels sprouts ever.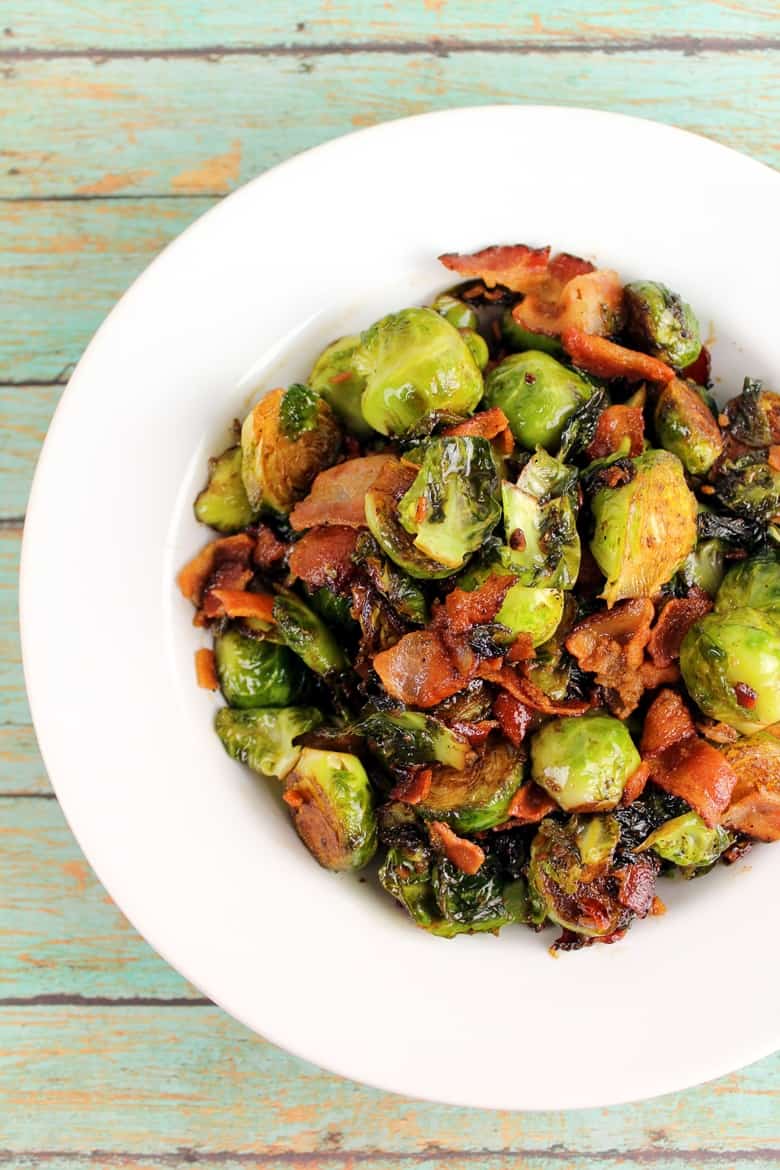 Are you looking for a side dish that's a bit fancier than what you normally make? Perhaps even something that you don't grab from the freezer and microwave (no judgement, this is how we make veggies most nights)?
If you ready to kick your side dish game up a notch, I have the perfect recipe for you.
Brussels Sprouts with Bacon & Balsamic
These crunchy brussels sprouts with bacon and balsamic reduction make for a wonderful side dish to accompany any meal.
Related: Pan Seared Asparagus with Soy Sauce and Garlic
Like creamed corn, I love making this brussels sprout side dish for special occasions and holiday meals. Whether you're serving spiral ham, turkey, or standing rib roast, this side dish will compliment it perfectly. The dish is also great for bringing to a holiday potluck.
Don't get me wrong though — Brussels sprouts with bacon are great as an everyday side dish as well.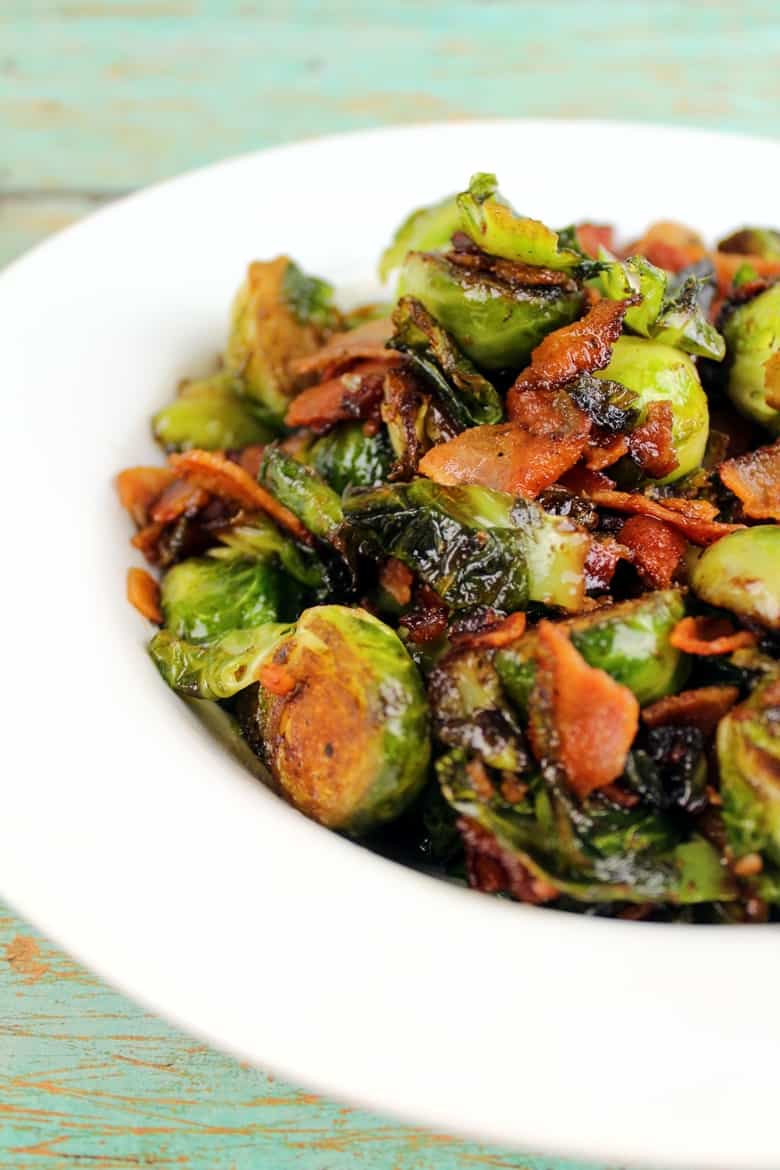 What makes these bacon brussel sprouts something that your family is really going to enjoy is that special ingredient — bacon!
Bacon makes everything better.
Everyone loves the salty, smoky flavor of bacon. Plus, it can be a great way to help change up the flavor of the brussel sprouts. By the way, have you tried adding bacon to egg salad sandwiches? So yummy!
The balsamic reduction also adds a tangy, slightly sweet addition that really makes the dish pop.
The real key to this recipe is to not overcook the brussel sprouts. Not only do Brussel sprouts taste better when they have a bit of crunch left, but you need to avoid overcooking them or their flavor will be too strong.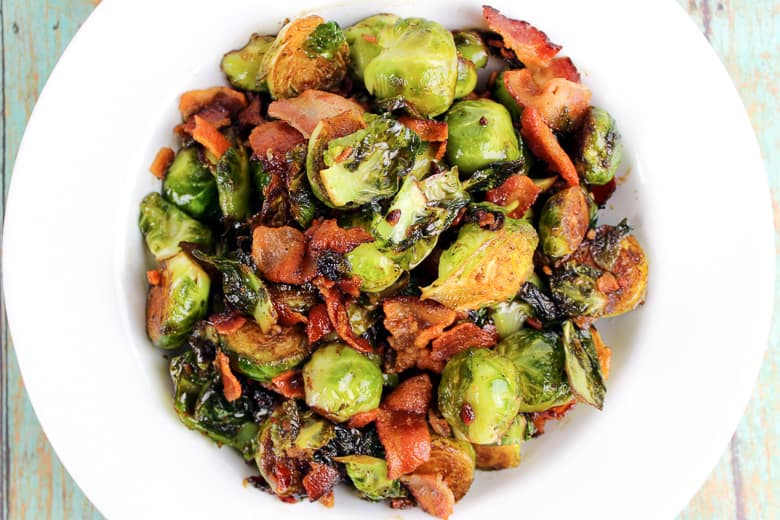 I hope that you and your family enjoy this amazing side dish recipe!
For more tasty side dish ideas, try our corn casserole and sweet potato casserole recipes – you will love them!
Recipe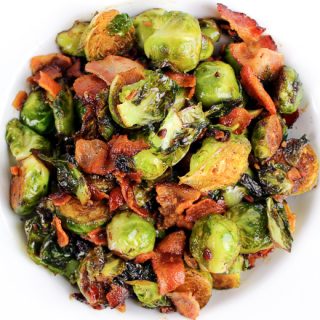 Recipe
Brussel Sprouts with Bacon and Balsamic Reduction
Brussel sprouts with bacon and balsamic reduction makes a delicious and easy side dish, perfect for holiday dinners and potlucks.
Ingredients
For the Balsamic Reduction:
8 ounce balsamic vinegar
¼ cup granulated sugar
pinch of salt
For the Brussel Sprouts:
8 slices thick-cut bacon chopped
24 ounce brussel sprouts trimmed and halved
1 tsp parsley
½ tsp salt
¼ tsp black pepper
Instructions
Prepare the balsamic reduction by adding balsamic vinegar, sugar, and a pinch of salt to a medium-size saucepan. Cook over medium heat until the volume reduces by half. Remove from heat and set aside.

Cook bacon in a cast iron skillet until crisp. Use a slotted spoon to remove bacon. Set bacon on paper towels and allow some of the grease to absorb.

Add brussel sprouts to the rendered bacon fat. Add parsley, salt, and pepper. Stir to combine.

Cook brussel sprouts until they are tender on the inside and crisp on the outside.

Drizzle desired amount of balsamic reduction over brussel sprouts. Stir gently to combine.

Crumble the bacon and add to the brussels.
Nutrition
Serving: 1g | Calories: 182kcal | Carbohydrates: 23g | Protein: 9g | Fat: 6g | Saturated Fat: 2g | Polyunsaturated Fat: 4g | Cholesterol: 16mg | Sodium: 518mg | Fiber: 3g | Sugar: 16g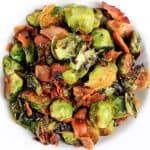 Did You Make This Recipe?
Share it with me on Instagram @crayonsandcravings and follow on Pinterest @crayonsandcravings for even more!
Pin for Later: