Posts may contain affiliate links, meaning that I may earn a commission if you use a link provided.
An easy stabilized whipped cream recipe that makes a perfect cool whip replacement. Use it for topping pies or in your favorite no-bake dessert recipes.
Did you forget to pick up a tub of Cool Whip at the grocery store? Or maybe frozen whipped topping isn't available in your area? Either way, making your own homemade Cool Whip couldn't be easier. All you need is 5 minutes and 4 simple ingredients.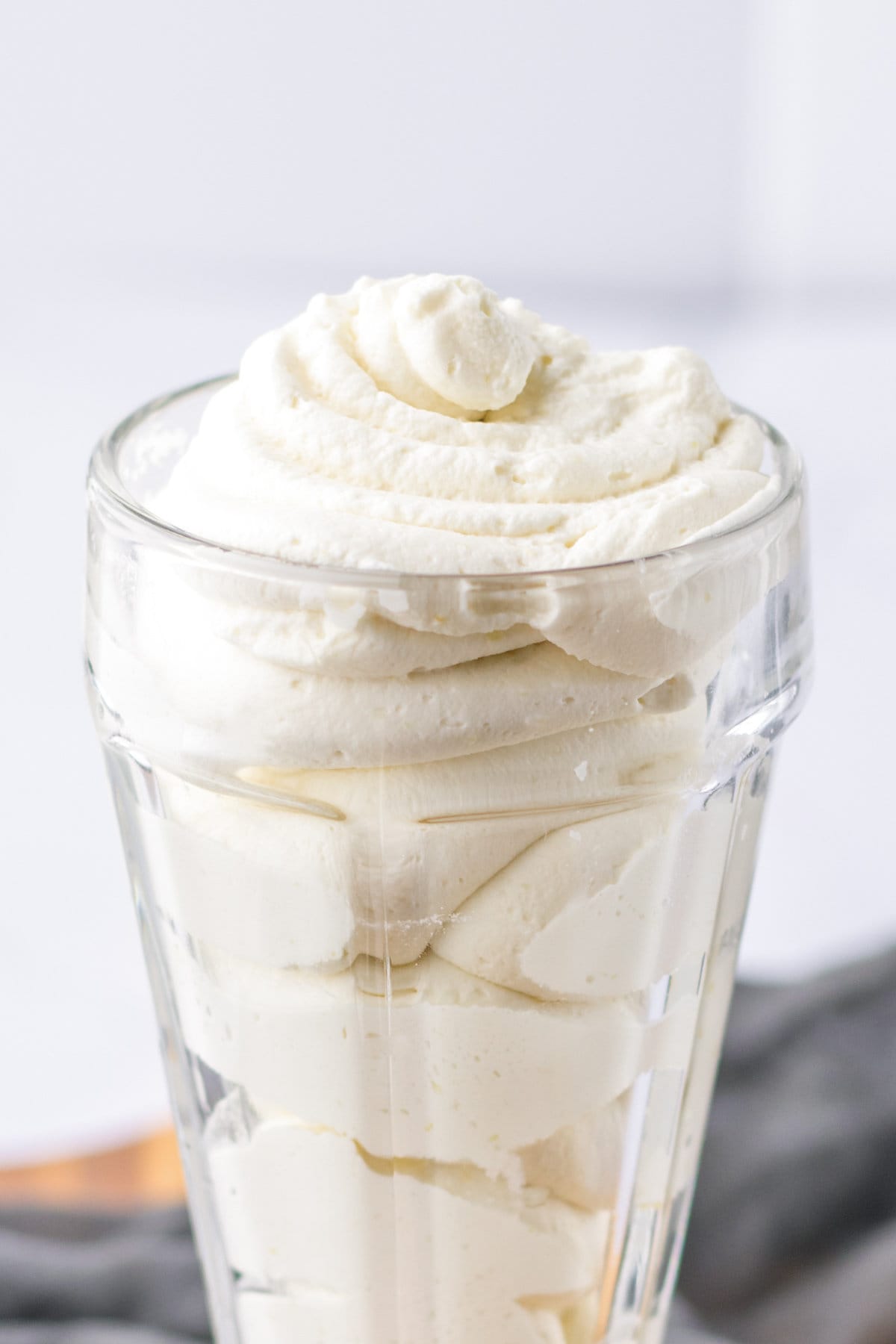 If you are looking for a recipe for stabilized whipped cream without gelatin or cream cheese, you have come to the right place. This recipe uses vanilla instant pudding mix to stabilize my whipped cream instead.
Use this easy homemade Cool Whip recipe to make layered desserts such as blueberry yum yum, cool and creamy dessert salads like strawberry fluff salad, or Kool-Aid Pie and other no-bake pie recipes. It is also a perfect topping for all your favorite desserts, hot drinks like hot cocoa, or enjoying with some fresh fruit.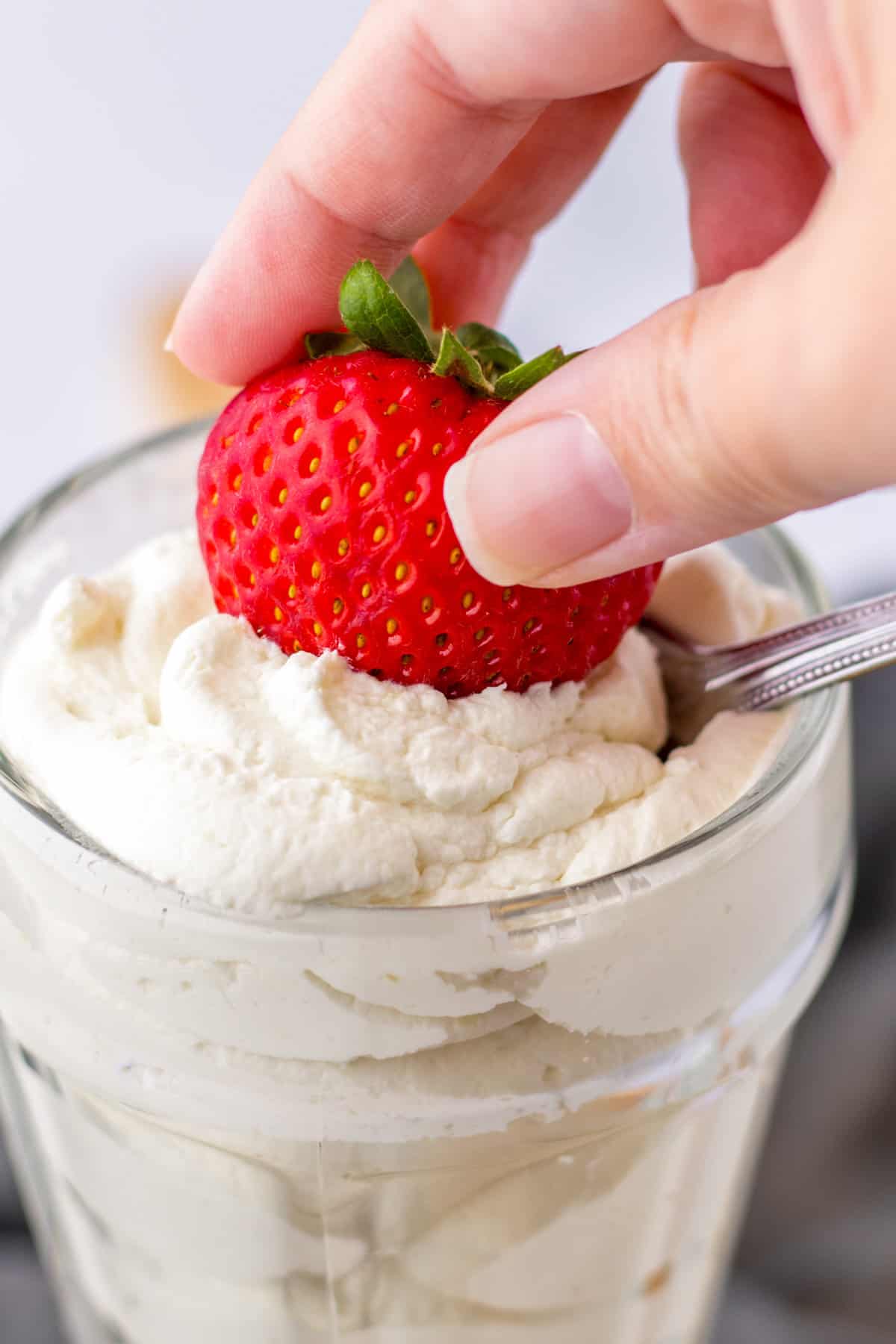 The best part is that homemade whipped topping tastes just as good if not better than the store-bought stuff. And it is just as light and fluffy as well!
Ingredients for Homemade Cool Whip Substitute
This section includes ingredient notes and substitution options. Get all measurements, ingredients, and instructions in the printable recipe card at the end of this post.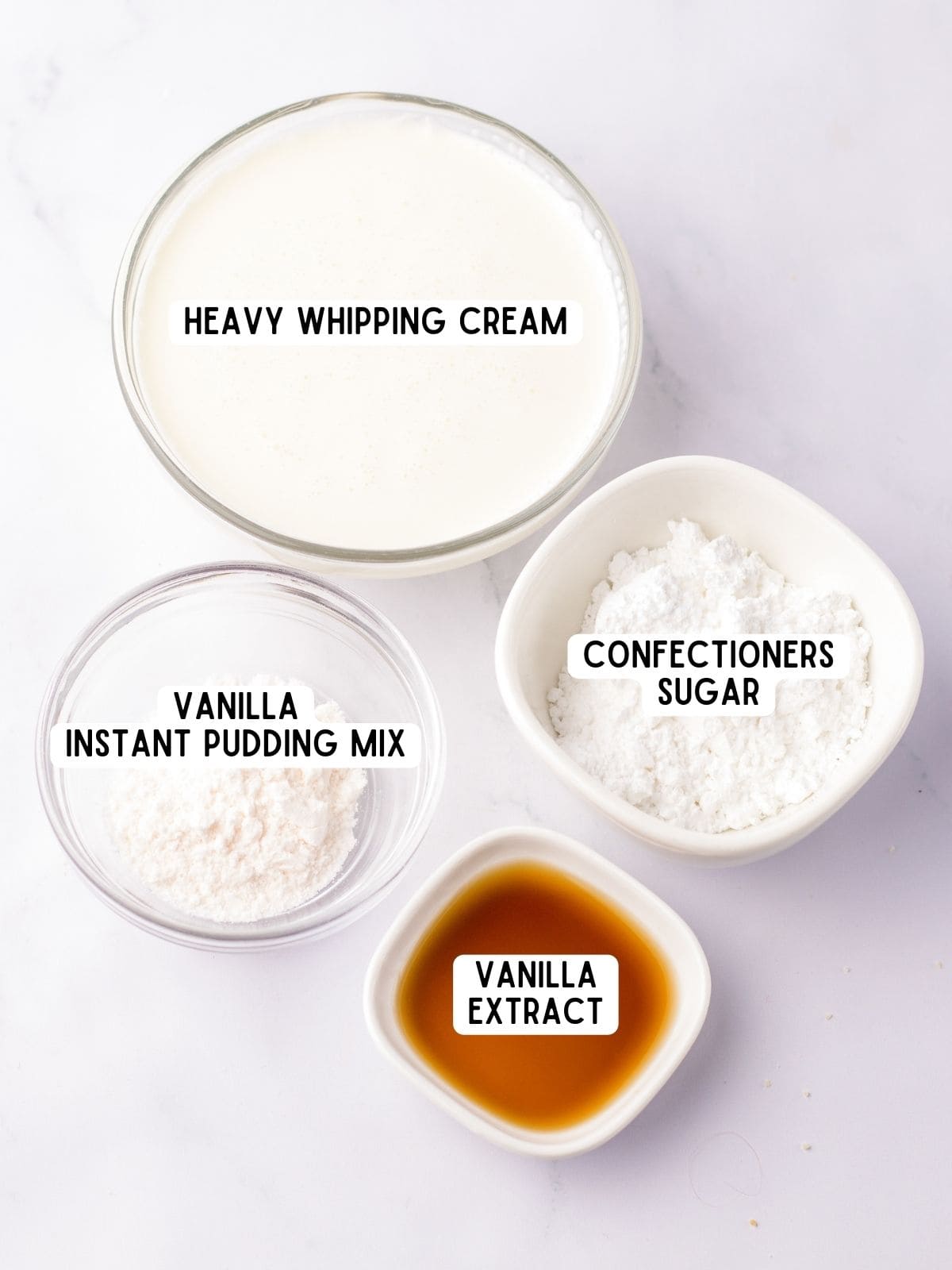 Heavy whipping cream — Also known simply as heavy cream, this is the base of the stabilized whipped cream recipe.
Confectioners sugar — The smaller grains of confectioners sugar (aka icing sugar or powdered sugar) dissolve more easily than regular granulated sugar.
Vanilla instant pudding mix — The vanilla pudding adds a hint of vanilla flavor and helps to stabilize the whipped cream to keep it from deflating. Make sure it's instant and not the heat-and-serve pudding mix.
Vanilla extract — For extra vanilla flavor! Did you know that fresh whipped cream sweetened and flavored with vanilla is called chantilly cream?
Equipment You'll Need to Make Stabilized Whipped Cream
To make your own homemade version of Cool Whip, grab these kitchen tools:
stand mixer with whisk attachment or hand mixer and large mixing bowl
airtight container for storage
How to Make Cool Whip
This section shows you how to make the recipe with step-by-step photos and instructions. For the full printable recipe, see the recipe card below.
Step 1: Add cold cream to a chilled bowl. Use an electric mixer to whip all the ingredients together on medium-high speed until medium peaks form. You are aiming for somewhere in between soft peaks and stiff peaks, similar to the consistency of Cool Whip.
Step 2: Use immediately or store in an airtight container in the refrigerator for up to 3 days.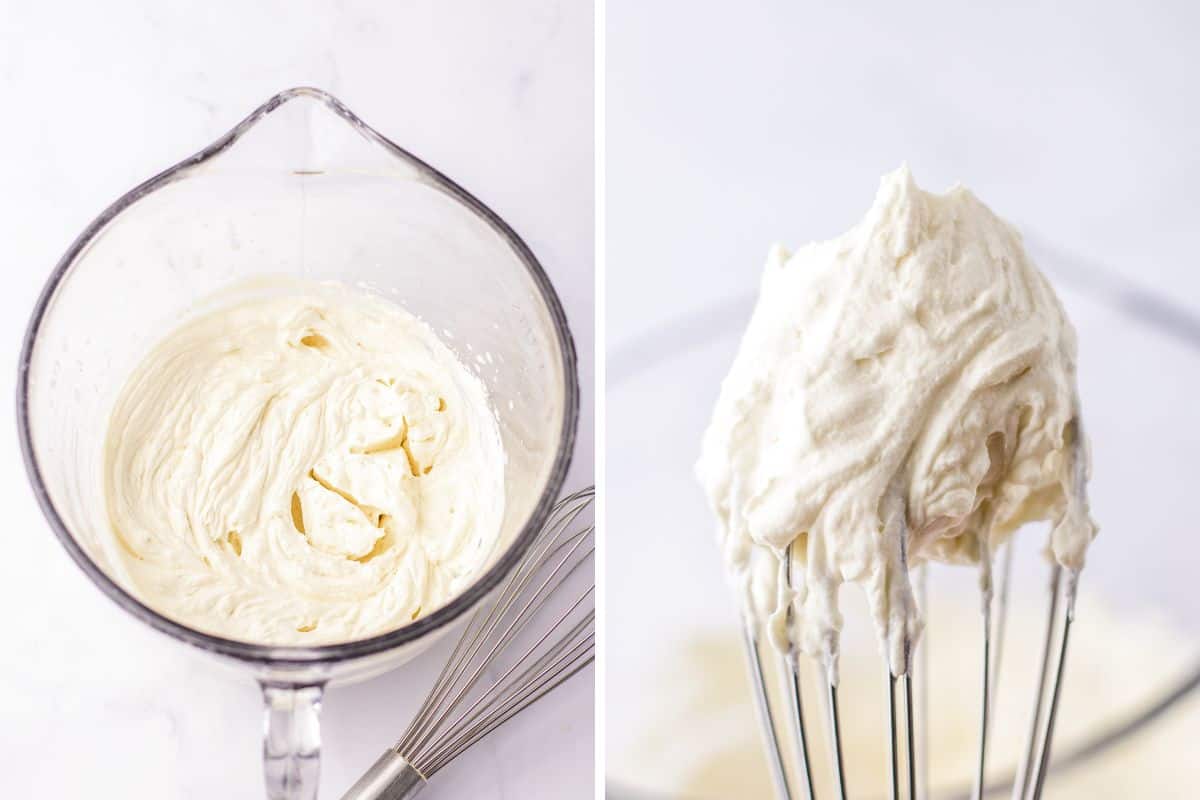 Serving Suggestions
Top your favorite desserts. It makes a delicious addition to pumpkin pie or strawberry shortcake.
Use 1:1 as a Cool Whip replacement in any recipe that calls for Cool Whip whipped topping. It's the perfect substitute!
Enjoy with some fresh fruit such as strawberries or peaches.
Storage
Store in an airtight container in the refrigerator for up to 3 days or freeze in an airtight freezer-safe container for up to 1 month.
Homemade Cool Whip Tips and Tricks
Be sure to use cold heavy cream. Room temperature cream will have difficulty whipping.
Chill your bowl and mixer attachments for 15-20 minutes before beginning to help the cream whip quickly.
Once the cream has whipped, stop the mixer and lift your beaters out of the bowl often to check the consistency of the whipped cream. The cream should stand upright and just droop a bit at the tip.
Avoid overwhipping the mixture, as this will produce homemade butter instead of whipped cream.
This recipe for stabilized whipped cream makes enough to replace an 8-ounce tub of store-bought Cool Whip.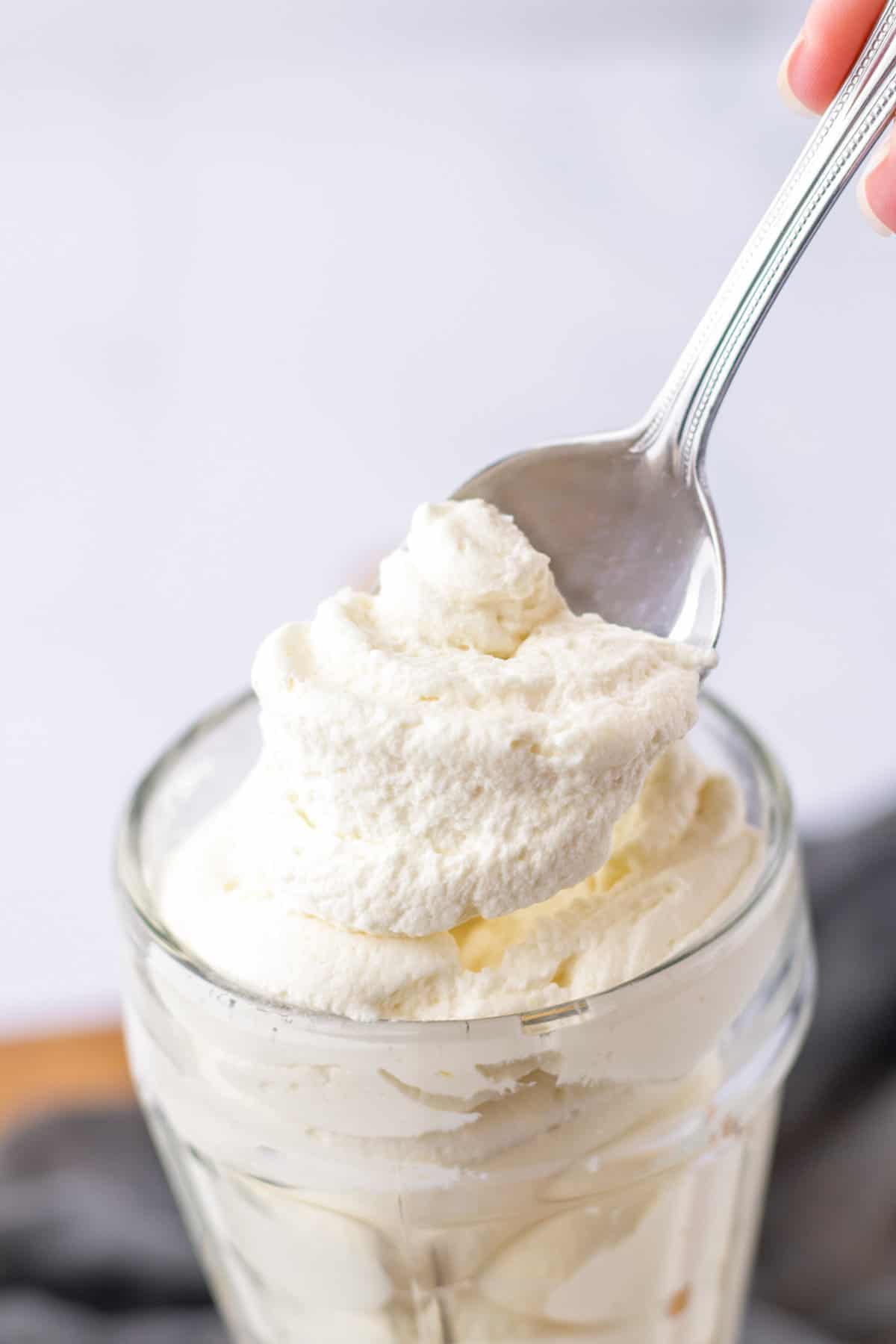 Additions and Variations
Try a different flavor. Instead of vanilla extract, substitute a different one like almond extract or peppermint extract to make a whole new flavor of whipped cream.
Make it dairy free. Swap out the heavy whipping cream with coconut cream. Make sure it's chilled before whipping.
Add warming spices. Top your fall and holiday desserts with spiced whipped cream made with cinnamon or nutmeg.
Make chocolate whipped cream. Try substituting some of the powdered sugar with unsweetened cocoa powder. For best results, sift the sugar and cocoa powder together to avoid lumps.
Homemade Cool Whip Recipe FAQ
Is Cool Whip the same as whipped cream?
No, Cool Whip and whipped cream are not the same. Cool Whip is a brand of whipped topping that is sold in frozen form and is made with ingredients like water, hydrogenated vegetable oil, high fructose corn syrup, and skim milk. Whipped cream, on the other hand, is made by whipping heavy cream until it becomes light and fluffy. Whipped cream has a richer taste and creamier texture due to its high-fat content, whereas Cool Whip has a lighter, more stable texture.
Why is my whipped cream runny?
This usually happens if the cream isn't whipped enough or if the ingredients and equipment weren't sufficiently chilled. If it's runny, pop the bowl in the fridge for 10-20 minutes and try whipping the mixture again.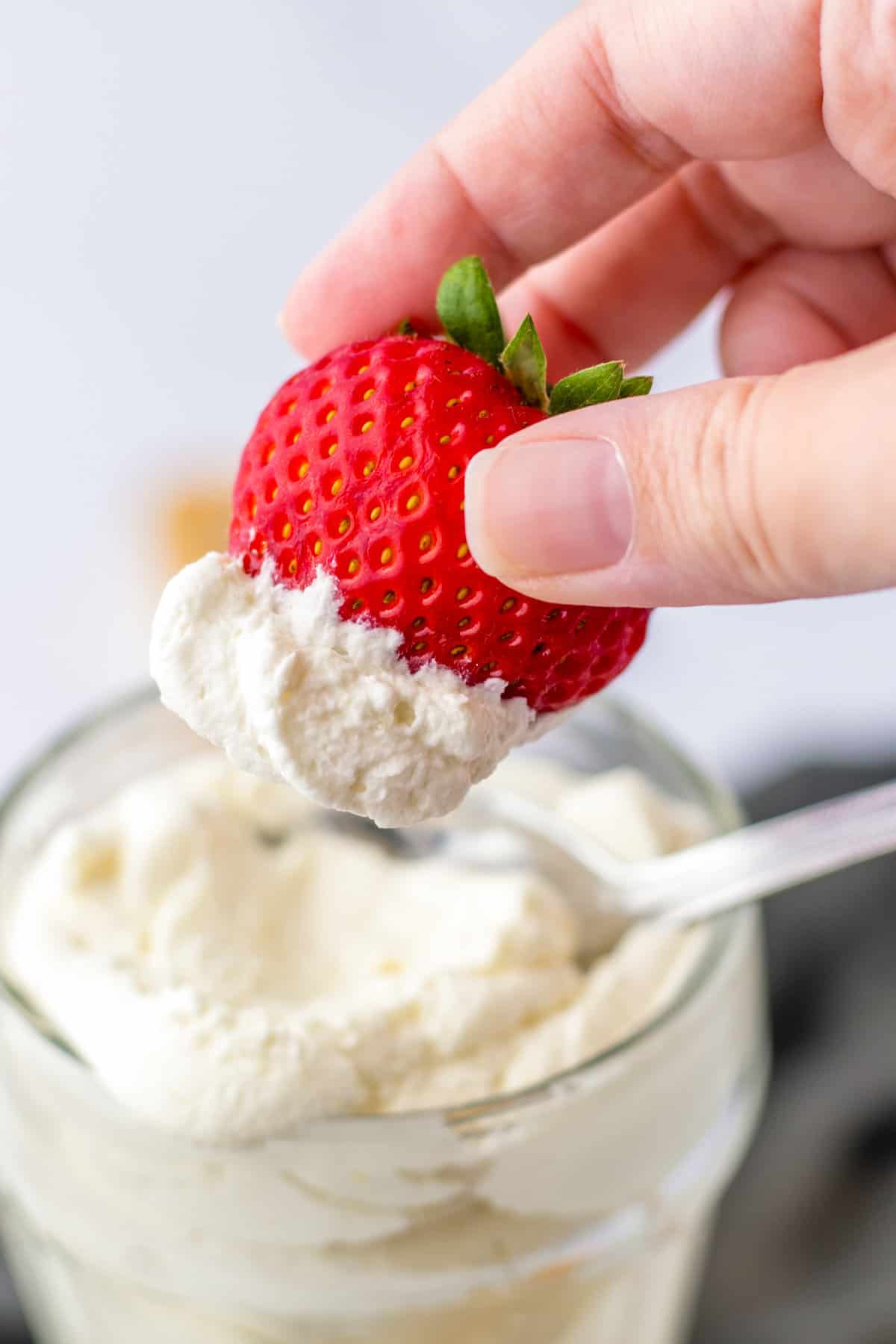 Recipes to Serve with Homemade Whipped Cream
Looking for ways to use this 4-ingredient homemade Cool Whip? Here are some of my favorite desserts and sweet dips to try it with.
Recipe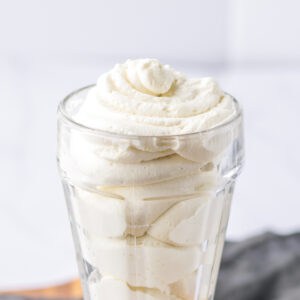 Recipe
Homemade Cool Whip
This homemade whipped topping is perfect for using in place of cool whip in all your fluff, dessert dip, no-bake pie, and icebox cake recipes. It takes minutes to whip up and tastes so delicious and fresh! Great for making whipped cream that will hold for frosting a cake or making whipped cream a day ahead of time.
Ingredients
1 pint heavy whipping cream 2 cups
½ cup confectioners sugar
2 Tablespoons vanilla instant pudding mix
2 teaspoons vanilla extract
Instructions
In the bowl of a stand mixer fitted with the whisk attachment, or in a large bowl with a handheld mixer, beat the ingredients together until medium-stiff peaks form.

Use immediately or store in the refrigerator for up to 3 days.
Notes
Store in an airtight container in the refrigerator for up to 3 days.
This recipe will yield enough to replace an 8 ounce tub of Cool Whip, which is about 3 cups.
Chill your bowl and mixer attachments first so that your cream will whip faster.
Do not overwhip and accidentally make butter.
Nutrition
Serving: 2tbsp | Calories: 79kcal | Carbohydrates: 4g | Protein: 1g | Fat: 7g | Saturated Fat: 4g | Polyunsaturated Fat: 0.3g | Monounsaturated Fat: 2g | Cholesterol: 21mg | Sodium: 13mg | Potassium: 19mg | Fiber: 0.01g | Sugar: 4g | Vitamin A: 278IU | Vitamin C: 0.1mg | Calcium: 13mg | Iron: 0.02mg
Did You Make This Recipe?
Share it with me on Instagram @crayonsandcravings and follow on Pinterest @crayonsandcravings for even more!