Crockpot Sweet Potato Casserole
Posts may contain affiliate links, meaning that I may earn a commission if you use a link provided.
Crockpot sweet potato casserole with a marshamallow and peacan topping is a delicious Thanksgiving side dish made right in the slow cooker. Just a few simple ingredients are all you need for this easy recipe.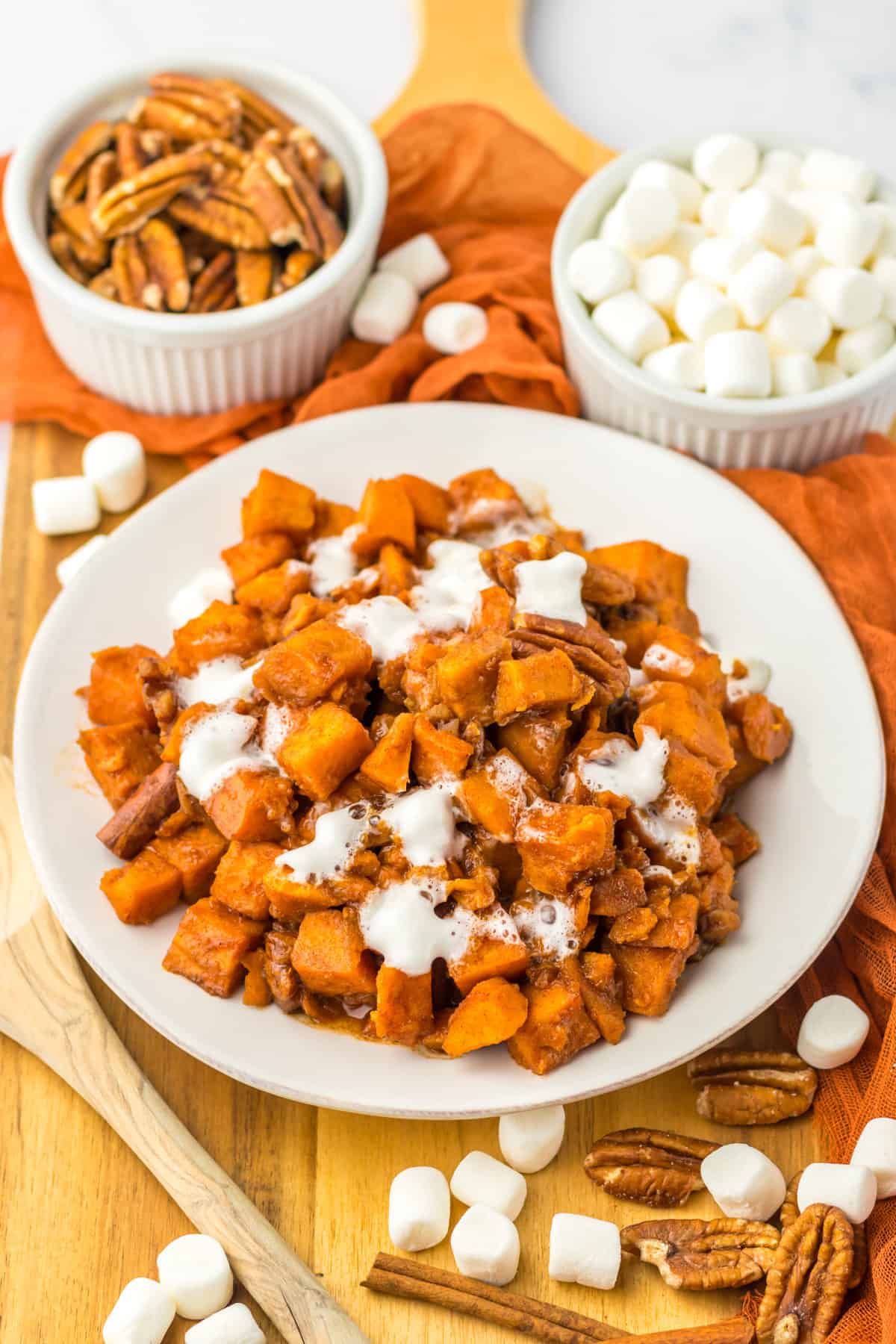 During the holidays, your oven gets enough use, so free up that valuable oven space by making this sweet potato casserole in the crockpot instead. Diced sweet potatoes are tossed with a mixture of butter, cinnamon, and vanilla and topped with pecans and marshmallows for the perfect side dish for your Thanksgiving dinner.
This slow cooker sweet potato casserole recipe would also be delicious with some classic Thanksgiving sides like these fluffy potato dinner rolls, a spoonful of fresh creamed spinach or a heaping helping of my red skin potato salad recipe. And if you're serving turkey for your big holiday meal, it doesn't get much easier than my 5 minute gravy to drizzle over the top. Yum.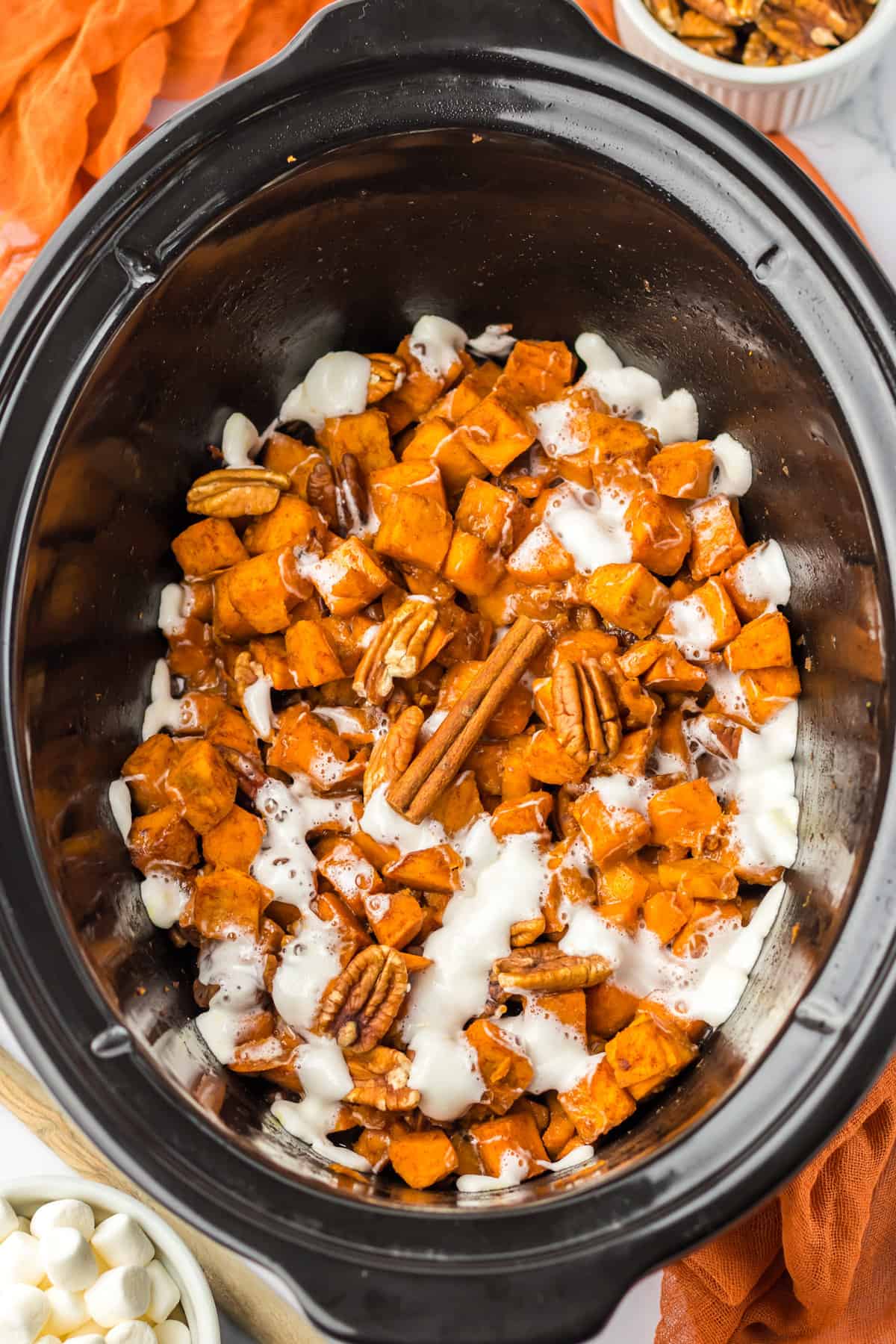 For traditional Thanksgiving side dish made in the oven, try my baked sweet potato casserole. But if, like me, you want to save that precious oven space for something else, this slow-cooker version is the way to go.
So, let's get to the crock pot recipe!
Ingredients
This section includes ingredient notes and substitution options. Get all measurements, ingredients, and instructions in the printable recipe card at the end of this post.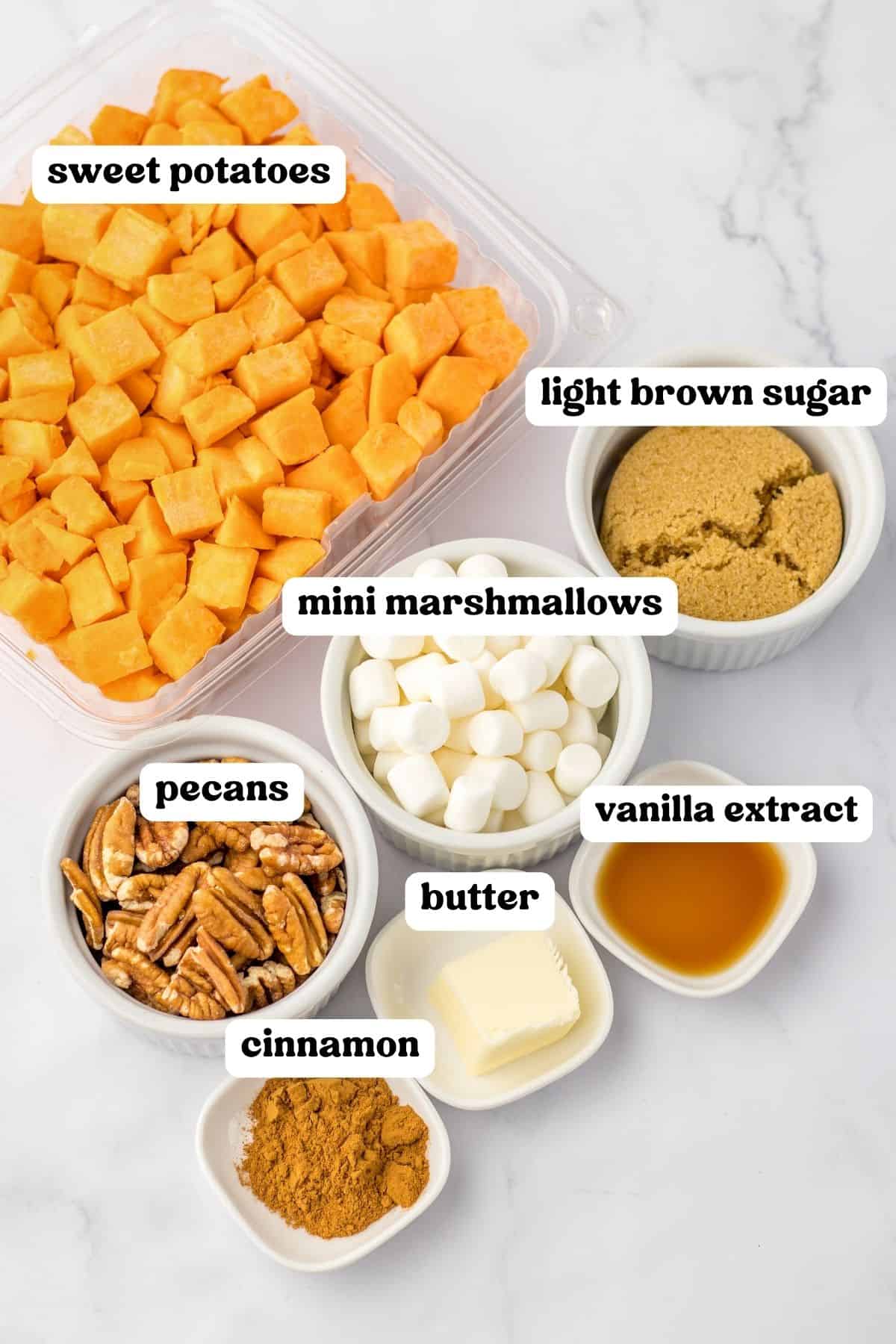 Fresh Sweet Potatoes — Peeled and dice into 1/2-inch cubes.
Brown Sugar — Light brown sugar is added to enhance the sweetness of the potatoes. You can use dark brown sugar if that's what you have on hand — it has a deeper molasses flavor than light brown sugar. White sugar works in a pinch, but it won't have that same rich caramel flavor.
Butter — I used unsalted butter, but salted butter is fine, too.
Cinnamon — Ground cinnamon is the perfect spice to pair with sweet potatoes. Yum!
Water — Just a little water is all you need to combine with the butter, sugar, and cinnamon to make a sauce to pour over the potatoes.
Vanilla Extract — Pure vanilla extract makes the sweet potato casserole smell and taste heavenly!
Pecans — To add some nutty flavor and crunch to the top. They're a nice contrast to the soft potatoes. I used pecan halves, but you can use chopped pecans if you prefer. Walnuts could work, too.
Mini Marshmallows — Soft, gooey, melty sweetness over the top of your sweet potatoes.
Equipment You'll Need
To make this easy sweet potato casserole for your Thanksgiving menu, you'll need the following kitchen tools:
How to Make Sweet Potato Casserole in a Crock-Pot
This section shows you how to make the recipe with step-by-step photos and instructions. For the full printable recipe, see the recipe card below.
Step 1: Dice about 4 large sweet potatoes (2 pounds worth). Spray your slow cooker with cooking spray to prevent sticking. Place the diced sweet potatoes in the bottom of the crock pot.
Step 2: Mix together the brown sugar, butter, cinnamon, vanilla extract, and water in a microwave-safe bowl. Heat it in the microwave for 30 seconds, or until everything is melted.
Step 3: Add the melted butter and sugar mixture to the slow cooker, and stir to combine everything. Top the potatoes with half of the pecans.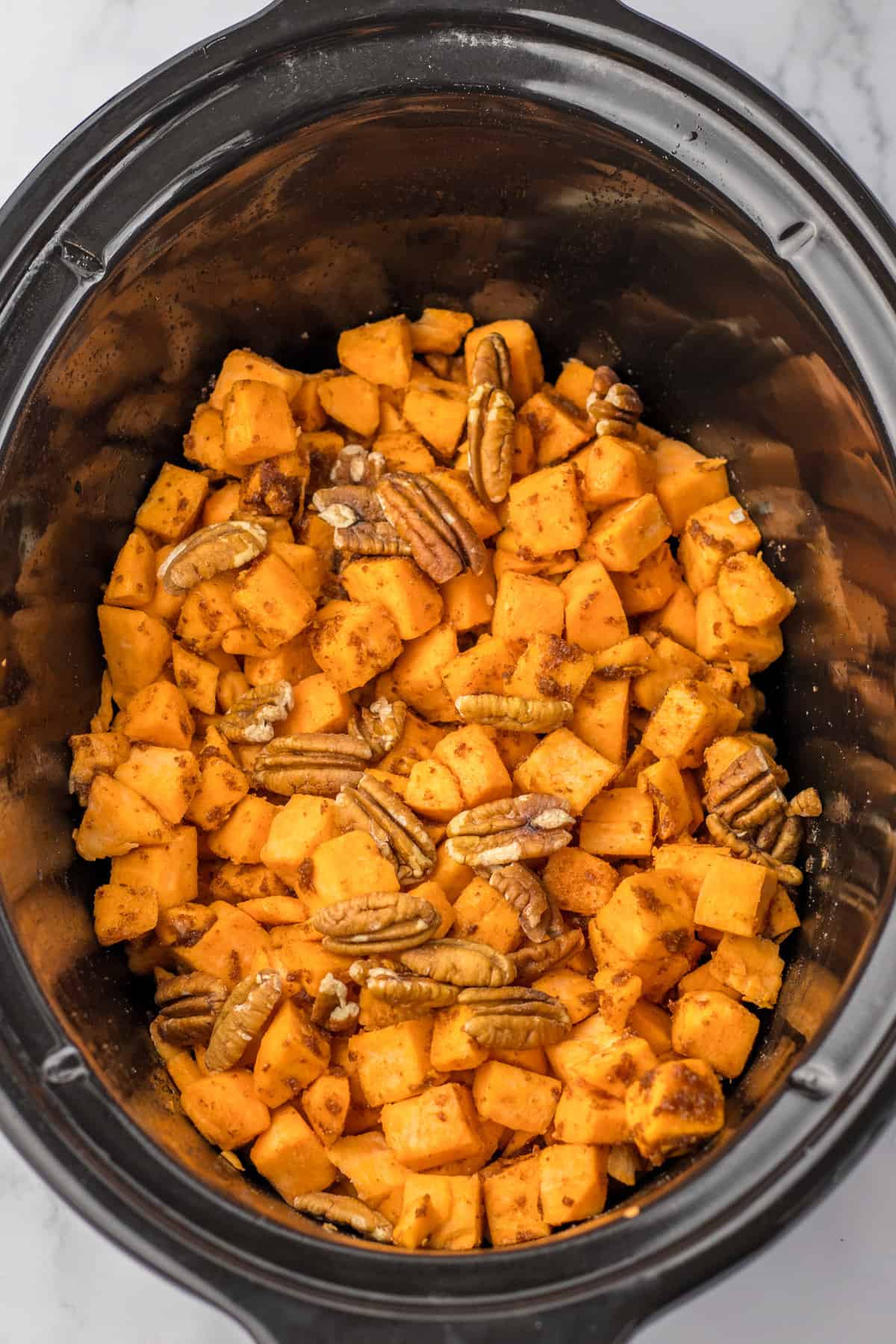 Step 4: Cover and cook on low for 5 to 7 hours or on high for 3 to 5 hours, or until potatoes are fork tender.
Step 5: Stir the sweet potatoes. Then top with a cup of miniature marshmallows and the remaining pecans. Cover again for just a few minutes to melt the marshmallows. Serve warm.
Serving Suggestions
Serve these crockpot sweet potatoes along with your favorite Thanksgiving side dishes, like green bean casserole, creamed corn, and stovetop mac and cheese. They all pair perfectly with turkey breast or pecan praline glazed ham to round out your meals this holiday season.
Storage and Freezing
Refrigerator: After your Thanksgiving meal, store leftover sweet potato casserole in an airtight container in the refrigerator for up to 2-3 days.
Freezer: While best enjoyed fresh, you can also freeze this side dish for up to 3 months in a freezer-safe container or freezer bag. Thaw overnight in the refrigerator and reheat on the stovetop or in a 350°F oven until heated through.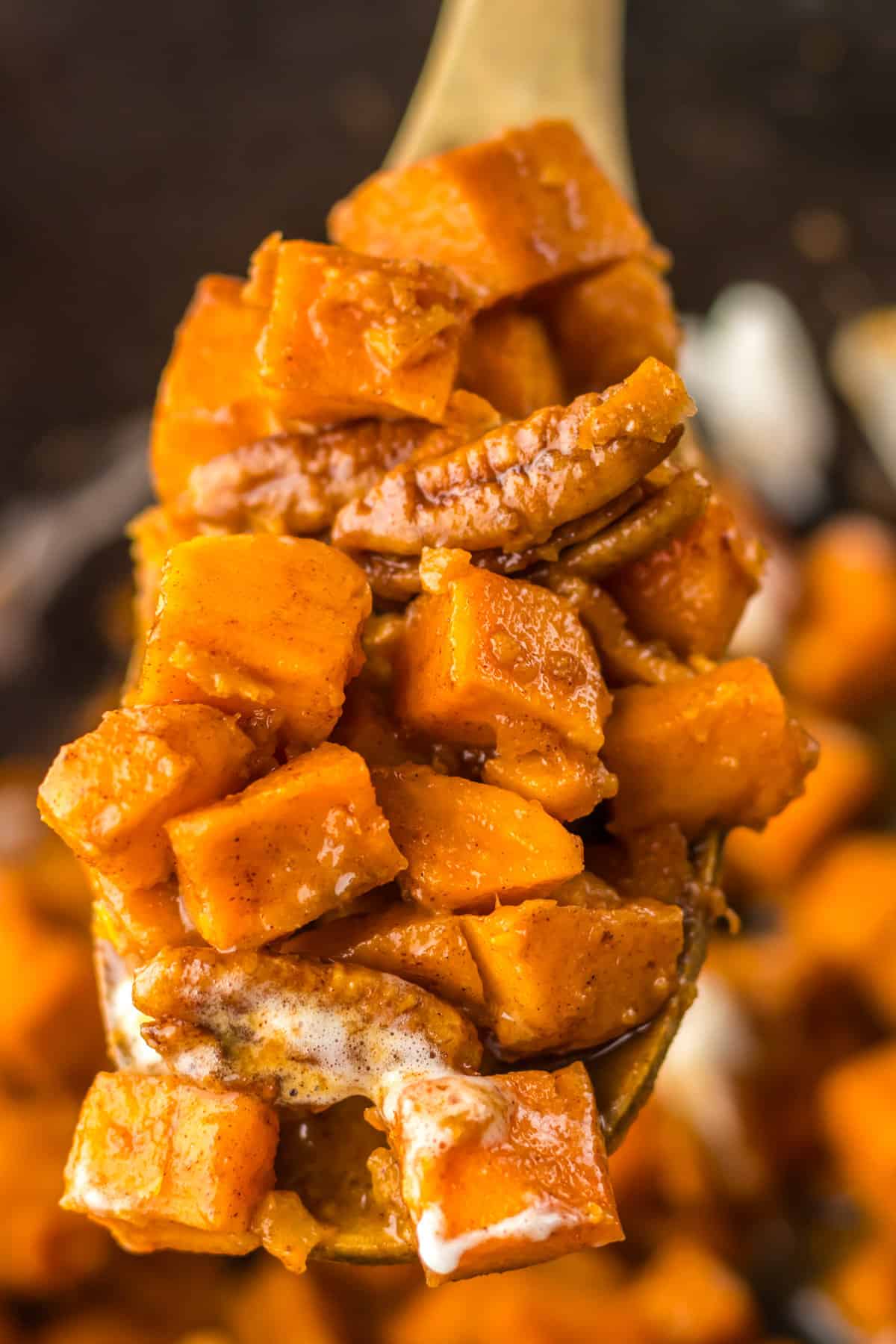 Crock Pot Sweet Potato Casserole Tips and Tricks
Spray your slow cooker with cooking spray or use a crockpot liner to make cleanup easier.
You can heat the butter and sugar mixture on the stovetop instead of in the microwave if you prefer.
Love toasted marshmallows? Pop the casserole under the broiler for a couple of minutes or use a kitchen torch to get them nice and golden.
This delicious side dish recipe is super easy to double if you're feeding a large group. The original recipe works great in a 4-quart slow cooker, but you will need a larger one (6-quart or so) if you're doubling the recipe.
Additions and Variations
Swap nuts with granola. Does someone in your home have a nut allergy? Swap the pecans with a nut-free granola for a variation on the crunchy topping.
Add extra spices. A pinch of nutmeg or ground ginger would be delicious. The cinnamon could also be swapped out for pumpkin pie spice, which contains all three!
Mash them up. Prefer mashed sweet potatoes? No worries! You can use a potato masher to mash them up after slow cooking and right before adding the mini marshmallows and the rest of the pecans.
Drizzle with maple syrup. It's a scrumptious pairing with sweet potatoes. If you go this route, you may want to cut back on some of the brown sugar in the recipe so that it isn't overly sweet.
Crockpot Sweet Potato Casserole FAQ
Do I have to peel the sweet potatoes first?
Yes, I recommend peeling the potatoes. The skins are thick and will get chewy when slow cooked. The texture will be much better if they're peeled and diced so they can cook evenly.
Why does sweet potato casserole get watery?
This can happen as the sweet potatoes release water during the cooking process, especially if you've added too much liquid. This recipe uses minimal liquid, so the texture should be perfect.
How do you know when a sweet potato casserole is done?
This casserole is done when the potatoes are tender. For traditional sweet potato casserole, it's done when it sets up and is firm in the middle.
How long can you leave sweet potato casserole out after cooking?
Per the USDA, you shouldn't leave any perishable food out for more than 2 hours.
More Crockpot Side Dishes
Have several crockpots you want to use when cooking for Thanksgiving or Christmas? Here are a few more of my favorite slow cooker side dishes for your holiday table.
Recipe
Recipe
Crockpot Sweet Potato Casserole
Delicious slow cooked sweet potatoes with marshmallows and pecans are easy to make and perfect for Thanksgiving- or any day!
Ingredients
2 pounds sweet potatoes peeled and diced into 1/2-inch cubes
½ cup light brown sugar packed
1 ½ Tablespoon butter
½ Tablespoon ground cinnamon
½ Tablespoon water
½ Tablespoon vanilla extract
1 cup pecans
1 cup miniature marshmallows
Instructions
Spray slow cooker insert with cooking spray. Place the diced sweet potatoes in the slow cooker.

In a microwavable bowl, combine the brown sugar, butter, cinnamon, vanilla, and water. Microwave for 30 seconds, or until everything is melted together.

Pour the butter mixture over the sweet potatoes and stir to combine. Top with half the pecans.

Cover and cook on low for 5-7 hours or high for 3 to 5 hours, or until potatoes are tender.

Uncover, stir, and top with the marshmallows and remaining pecans. Re-cover and slow cook on low for just a few minutes to allow the marshmallows to melt.
Notes
Prefer mashed sweet potato casserole? Use a potato masher to mash the sweet potatoes before topping them with marshmallows.
Store in an airtight container in the refrigerator for up to 2-3 days.
Nutrition
Calories: 278kcal | Carbohydrates: 44g | Protein: 3g | Fat: 11g | Saturated Fat: 2g | Polyunsaturated Fat: 3g | Monounsaturated Fat: 6g | Trans Fat: 0.1g | Cholesterol: 6mg | Sodium: 88mg | Potassium: 455mg | Fiber: 5g | Sugar: 22g | Vitamin A: 16162IU | Vitamin C: 3mg | Calcium: 60mg | Iron: 1mg
Did You Make This Recipe?
Share it with me on Instagram @crayonsandcravings and follow on Pinterest @crayonsandcravings for even more!