Posts may contain affiliate links, meaning that I may earn a commission if you use a link provided.
Embrace the flavors of Fall with this No Bake Apple Pie, pairing tender cinnamon apples with a buttery graham cracker pie crust for an irresistible, easy-to-make Fall dessert. Perfect for Thanksgiving, Christmas, or even summertime!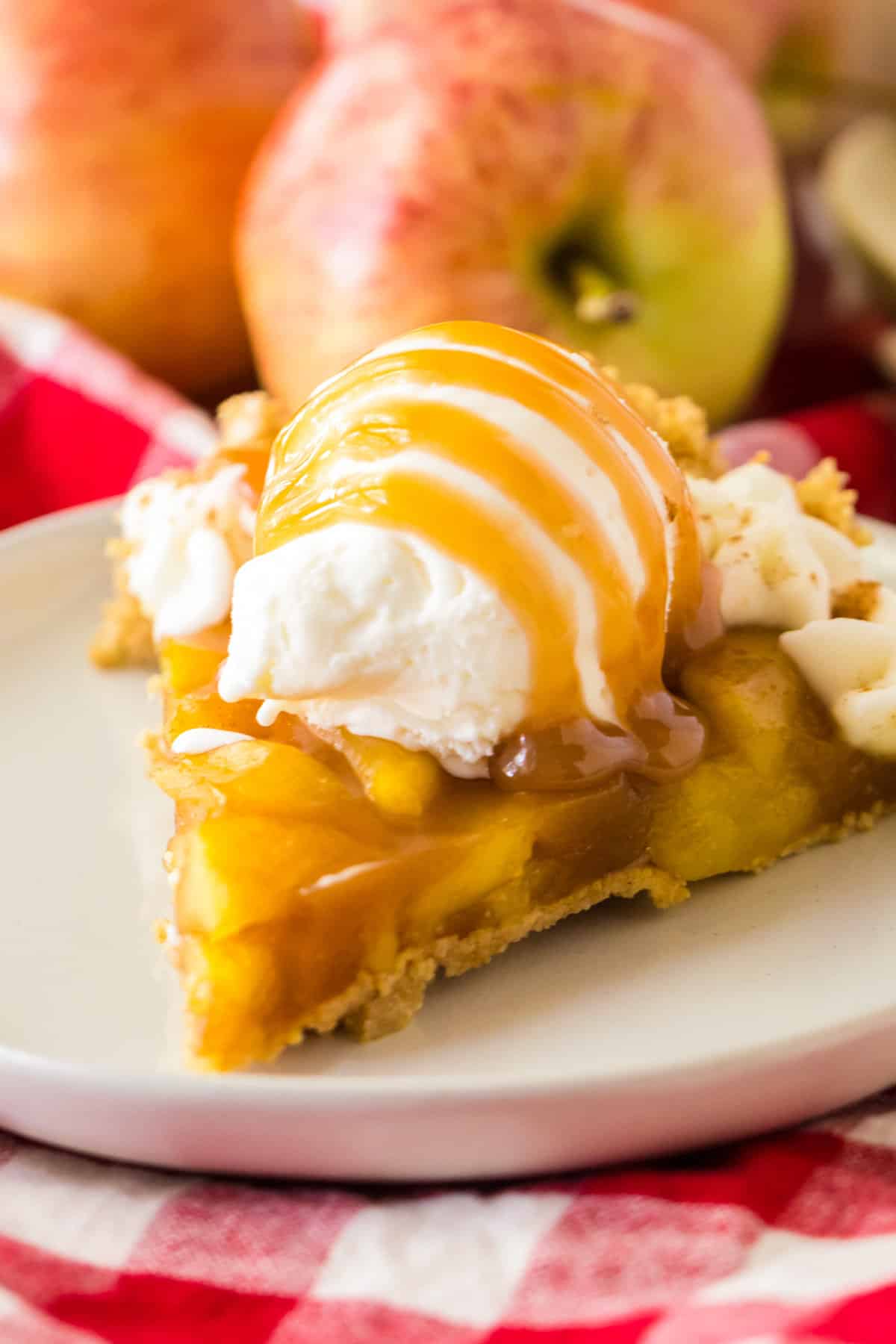 For more apple desserts, make a batch of this homemade apple pie filling to add to some apple pie egg rolls or these small and tasty apple pie filling crescent rolls. Both are perfect for the holidays!
Easy Apple Pie
Craving a slice of homemade apple pie but don't feel like baking? You don't even need to turn on your oven to make this easy apple pie. Really! You'll quick-cook the apple filling on the stovetop, add it to the graham cracker crust, and let it set up in the fridge.
Why you will love this recipe
It's full of classic apple pie flavor and perfect for the holidays.
It's a great way to use fresh apples from apple picking.
While making an apple pie from scratch can seem intimidating, especially for beginners, there's nothing scary or complicated about this recipe.
No mixer, no pie pastry, and no baking!
Ingredients
This section includes ingredient notes and substitution options. Get all measurements, ingredients, and instructions in the printable recipe card at the end of this post.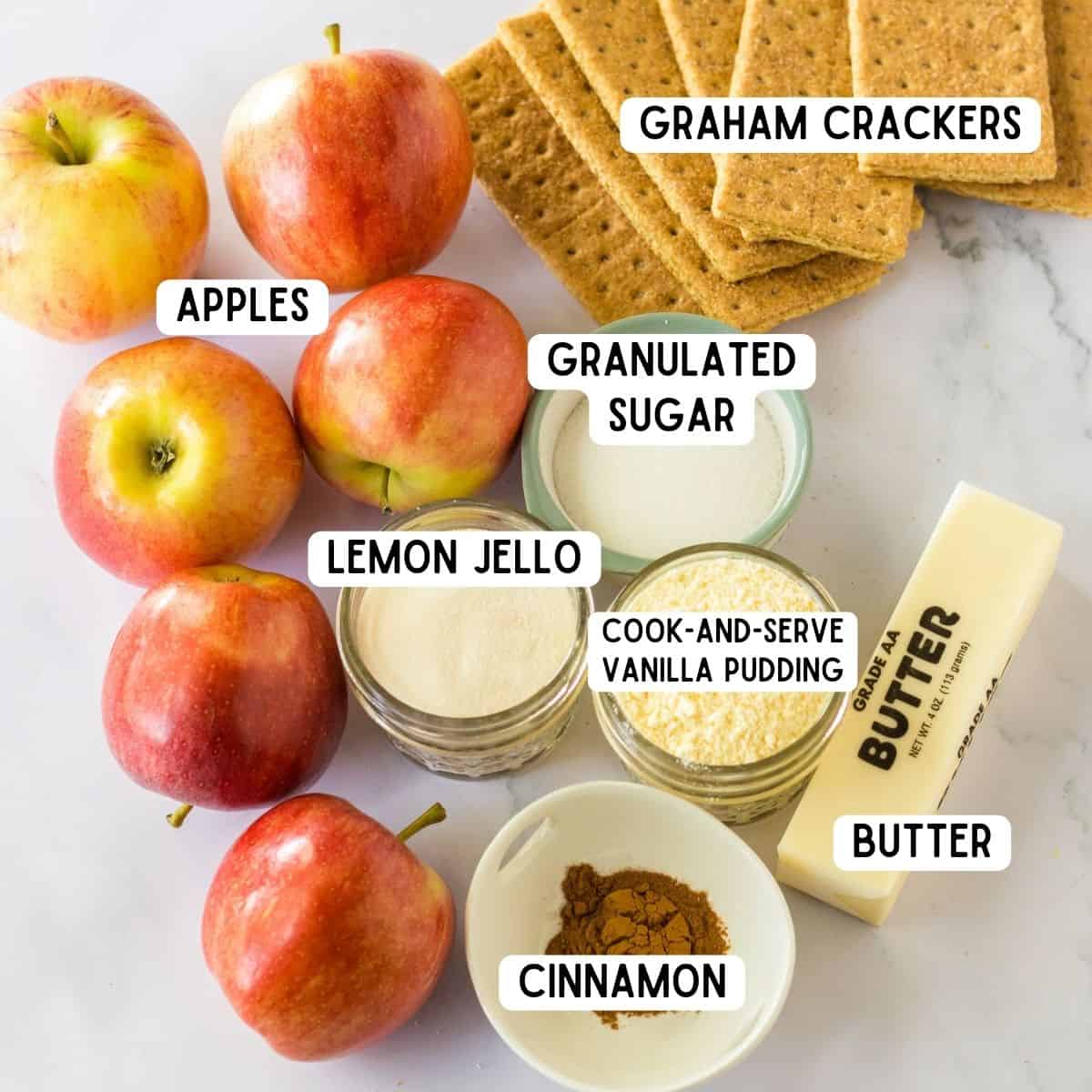 Graham Cracker Crumbs — You can use a box of premade graham cracker crumbs or crush your own using a food processor. You'll need about 10 or 11 whole graham crackers for 1 and 1/2 cups of crumbs.
Butter — Melted butter binds the crust together. Melt butter in the microwave or on the stovetop. For this recipe, I opt for salted butter to balance the sweetness, although unsalted butter would work fine as well.
Granulated Sugar — Combines with the butter and graham cracker crumbs for a delicious graham cracker crust.
Fresh Apples — Use your favorite apple varieties for the delicious filling, and make sure you peel and slice the apples thinly.
Lemon Jello Mix — Lemon gelatin helps set the apple pie filling and gives it a hint of lemon flavor.
Ground Cinnamon — Adds that warm, spiced flavor that apple pies are known for. Kick it up a notch by using apple pie spice instead.
Water — This is used to dissolve the jello and pudding mixes and to cook the apples.
Vanilla Pudding Mix — Thickens the pie filling and gives it a nice creamy texture. Make sure to get Cook-and-Serve pudding mix and not instant pudding mix. Instant will not work for this no bake pie recipe.
Equipment Needed
To make this no-bake apple pie, you'll need the following kitchen tools:
How to Make No Bake Apple Pie
This section shows you how to make the recipe with step-by-step photos and instructions. For the full printable recipe, see the recipe card below.
Step 1: Crumb the graham crackers in a food processor or blender. Mix graham cracker crumbs, sugar, and melted butter in a bowl, then press the mixture firmly into the bottom and up the sides of your pie dish to form the crust. Pop the crust in the refrigerator to chill while you prepare the filling.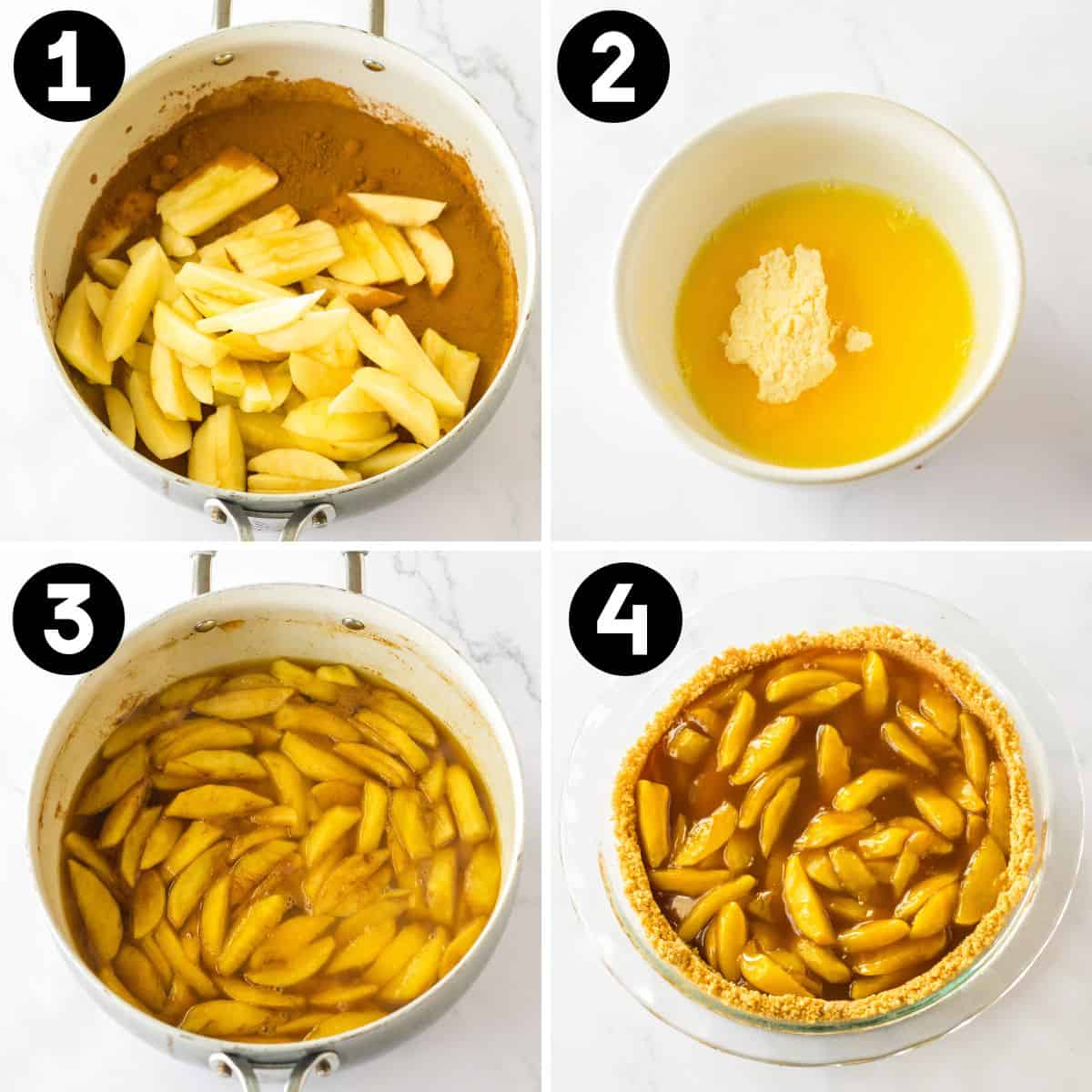 Step 2: In a saucepan, combine lemon jello mix, cinnamon, and 1 1/2 cups of water. Add the apples, and cook covered until tender.
Step 3: In a separate bowl, add the remaining water and the pudding mix. Whisk to combine.
Step 4: Add the pudding mix to the apples and cook until thickened.
Step 5: Pour the sweet filling into the crust, let it cool at room temperature, then chill in the refrigerator overnight or until set (at least 4 hours)
Step 6: Serve chilled or heat briefly in the microwave if you prefer your pie warmed up.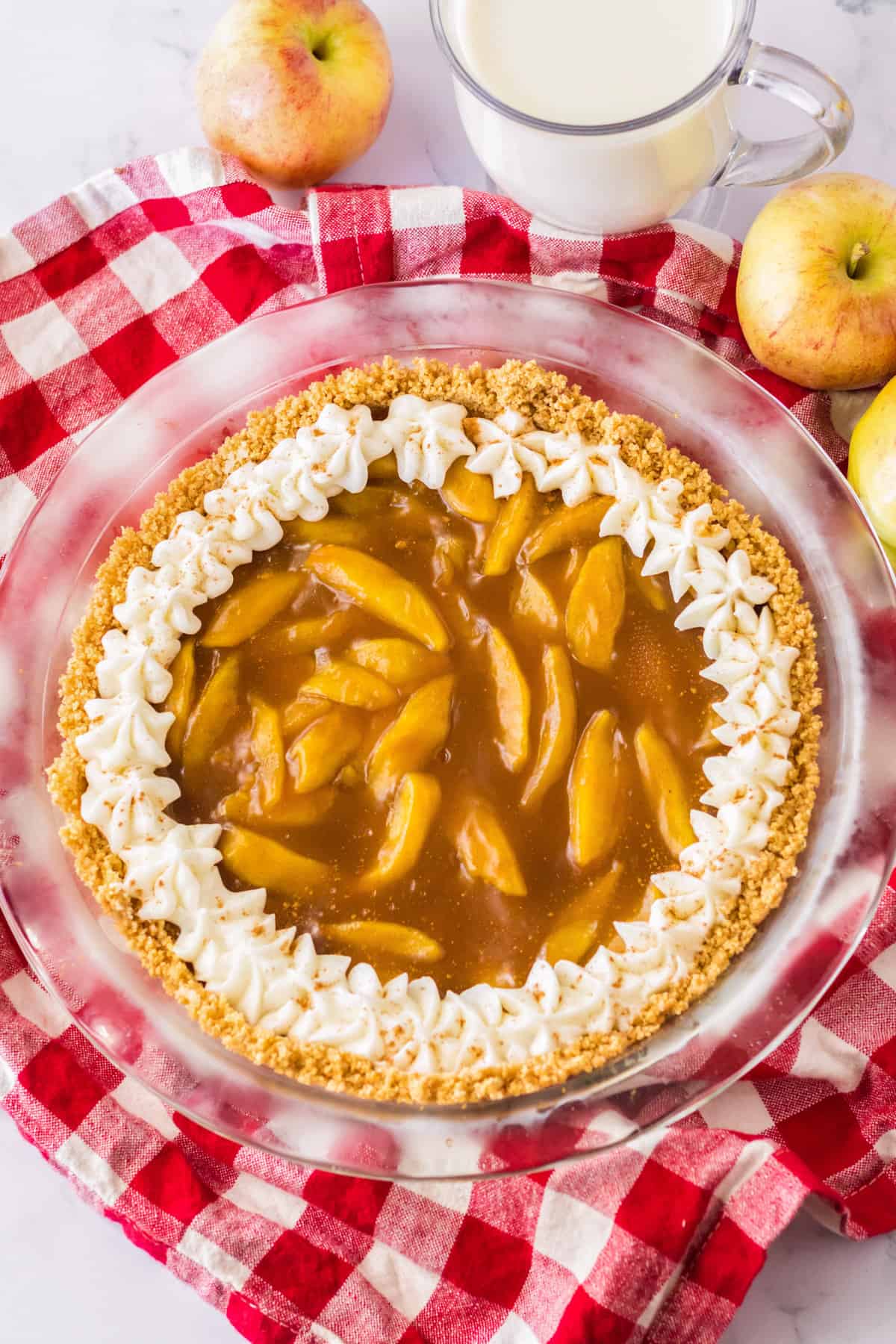 Serving Suggestions
Top this simple apple pie with some homemade Cool Whip and a decadent drizzle of caramel sauce. You can't go wrong with a scoop of ice cream on a slice of warm pie, either! It's the perfect dessert for cozy fall days.
Storage and Freezing
Refrigerator: Cover leftover apple pie tightly with plastic wrap or place in an airtight container and store in the refrigerator for up to 4 days.
Freezer: Wrap the pie in aluminum foil or plastic wrap, then place it in a freezer bag, and freeze for up to 3 months. Don't forget to label it with the date! Thaw the frozen pie in the refrigerator overnight before serving. The texture of the pie may change after freezing and thawing.
Recipe Tips
If you don't have a food processor or blender, you can place the graham crackers in a thick zip-top baggie and roll over them using a rolling pin until they're fine crumbs.
You can also use a pre-made graham cracker crust to save time.
The apple pie filling will thicken and set as it chills in the fridge. That's why you need to wait at least 4 hours before serving (I usually let it chill overnight).
I like to use a combination of sweet and tart apples, such as Granny Smith and Honeycrisp, for a perfect flavor balance.
Additions and Variations
Swap out the pudding flavor. To make it taste like more of a caramel apple pie, substitute the vanilla pudding with cook-and-serve butterscotch pudding.
Add toppings. Dress your pie up with some crushed graham crackers or crushed nuts sprinkled over the top.
Make mini apple pies. Use baked mini phyllo cups or mini graham cracker crusts, and keep the filling the same for tasty mini desserts.
Use different cookies for the crust. Instead of graham crackers, try gingersnaps or vanilla wafers.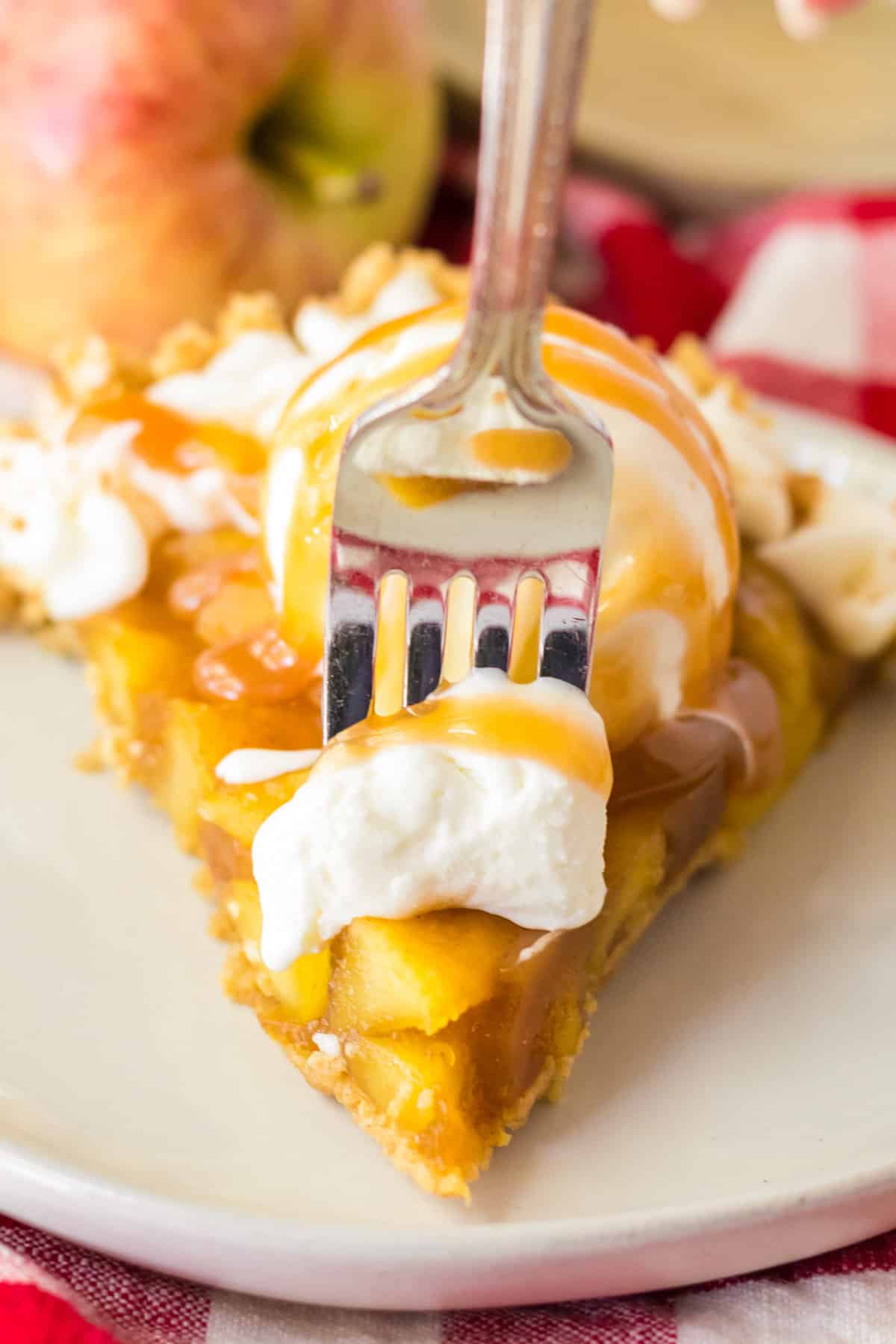 No Bake Apple Pie Recipe FAQ
Do you have to peel apples to make apple pie?
Unpeeled apples can be a bit tough to bite into, so I'd recommend peeling them for this apple pie recipe.
Is it better to slice or chop apples for apple pie?
There's no right or wrong way to cut up apples for a traditional apple pie, but usually, they're sliced rather than chopped. If you do decide to chop them, make sure the cubes are small and evenly sized.
What are the best apples for apple pie?
Firm and crisp apples are ideal for apple pie. Granny Smith, Braeburn, Jonagold, Pink Lady, Honeycrisp, and Golden Delicious apples are all excellent choices. I like to mix 2-3 types of apples for a good variety of flavor and texture.
How thick should the apple slices be?
Slice the apples to about 1/4 inches thick. This makes them easy enough to bite into but leaves them firm enough for cooking and for holding up well in the pie.
Why is my apple pie watery?
If your pie is still warm, it will thicken as it cools and sets up in the fridge. Otherwise, one of the ingredients or measurements is likely off. Also, note that tart apples release less water when cooked, so it is important to choose mostly tart varieties for your pie.
More Delicious Apple Recipes
Can't get enough apple flavor? Here are some of my favorite apple recipes for fall.
Recipe
Recipe
No Bake Apple Pie
This easy No Bake Apple Pie with graham cracker crust is easy to make and packed with delicious apple flavor.
Ingredients
Graham cracker crust ingredients
1 ½ cups graham cracker crumbs
¼ cup granulated sugar
6 Tablespoons butter melted
Apple filling ingredients
Instructions
For the graham cracker crust
In a medium bowl, use a fork to mix and combine the graham cracker crumbs, sugar, and melted butter.

Press the crumb mixture firmly into the sides and bottom of a 9-inch pie dish. Place the crust in the refrigerator to chill while you prepare the filling.
For the apple pie filling
In a large saucepan over medium-high heat, whisk to combine the lemon jello mix, cinnamon, and 1 ½ cup of water. Add the apples and bring to a boil, stirring occasionally. Once the mixture begins to boil, reduce heat to medium-low, cover, and simmer until apples are tender, about 6-8 minutes.

Meanwhile, add the pudding mix and remaining ¼ cup water to a small bowl and whisk to combine.

Stir the pudding mixture into the apple mixture and cook until thickened, about 1 minute, stirring frequently.

Remove the apple mixture from the heat and pour into the prepared graham cracker crust.

Allow to cool for 30 minutes at room temperature and then refrigerate for at least 4 hours before serving.
Notes
Serve pie chilled or heat individual servings in the microwave if you prefer it warm.
Top with whipped cream, vanilla ice cream, or caramel sauce before serving, if desired.
Store leftover apple pie in the refrigerator for up to 4 days.
You can use a premade graham cracker crust to save time.
Nutrition
Calories: 312kcal | Carbohydrates: 55g | Protein: 2g | Fat: 10g | Saturated Fat: 6g | Polyunsaturated Fat: 0.5g | Monounsaturated Fat: 3g | Trans Fat: 0.3g | Cholesterol: 23mg | Sodium: 301mg | Potassium: 156mg | Fiber: 3g | Sugar: 40g | Vitamin A: 324IU | Vitamin C: 5mg | Calcium: 26mg | Iron: 1mg
Did You Make This Recipe?
Share it with me on Instagram @crayonsandcravings and follow on Pinterest @crayonsandcravings for even more!