Mummy hot dogs make for a fun and easy Halloween dinner after a busy night of trick-or-treating.
While it is easy to find Halloween dessert recipes (like these mummy cookies or these ghost doughnuts), I always find it more difficult to come up with good Halloween dinner ideas.
But these mummy hot dogs, made by wrapping hots dogs in crescent rolls, are a fun and easy to make dinner idea for Halloween night.
And they taste just like giant pigs in a blankets. So stinkin' good!
For a delicious crescent dog meal any time of year try this tasty chili cheese dog bake also made with crescent rolls or these pretzel dogs.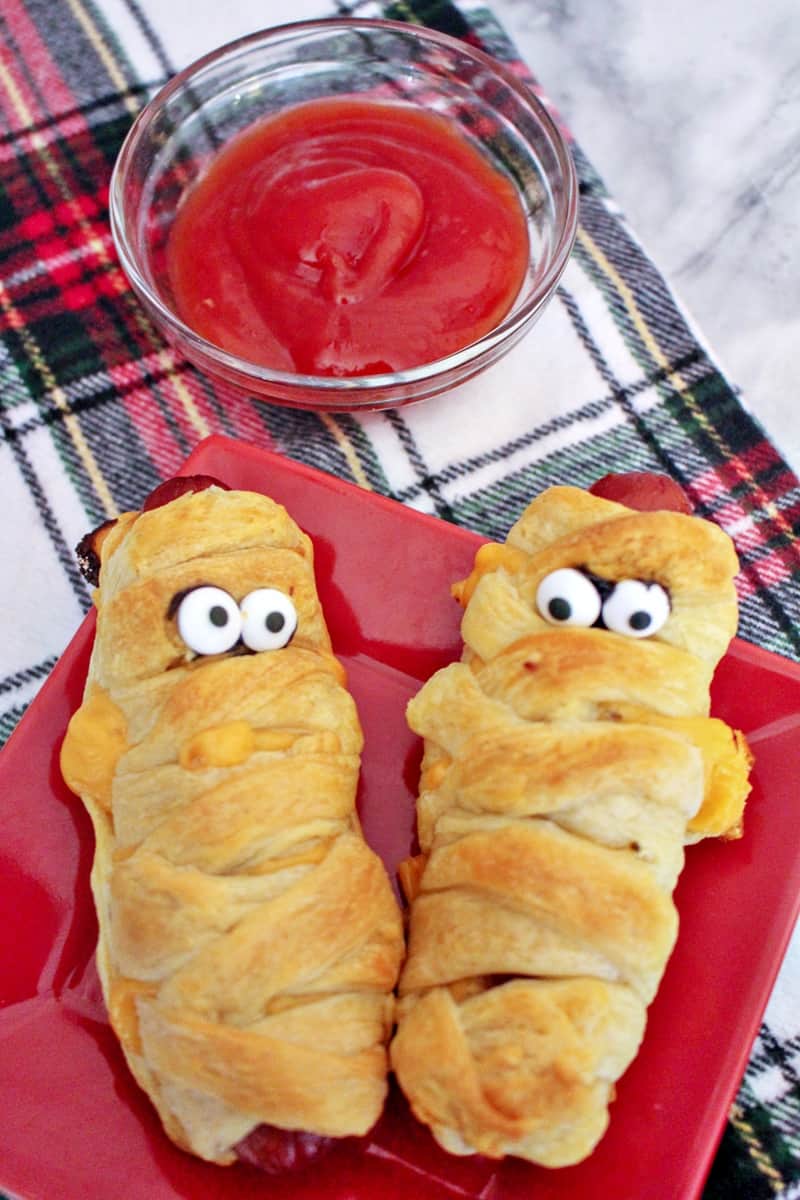 How to Make Mummy Hot Dogs
To make your hot dog mummies, start by gathering all of your ingredients.
You will need a package of refrigerated crescent roll dough, hot dogs, candy eyes, decorating gel, and cheese – if you want to make cheesy mummy hot dogs.
If your grocery store has the crescent roll dough that comes in sheets, that would be perfect. Otherwise, you will simply need to pinch the triangles of your dough together to form your own sheet, as seen in the picture above.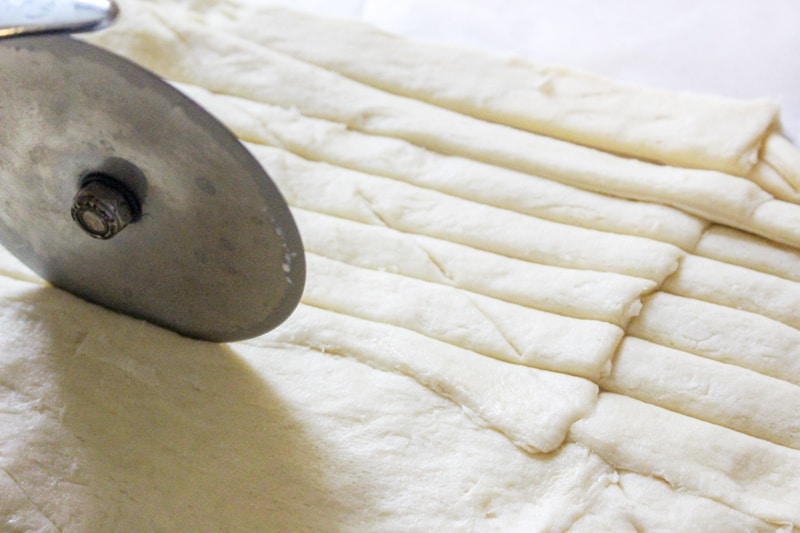 Next, you will slice your dough into thin stips, which will be used as the pieces of fabric that the mummy will be wrapped with.
Now you can make these hot dog mummies with cheese, or without cheese — whatever your family would prefer.
If you do choose to make your mummy dogs with cheese, just be sure to wrap them rather well with the crescent dough. That way the cheese won't ooze out too much.
If you decide to omit the cheese, then feel free to wrap your mummy hot dogs them more sparingly that we did with the dough.
Then, pop your crescent roll hot dog mummies in the oven, remove, and allow to cool down.
Once cool, use the decorating gel to attach the eyeballs and your mummy dogs will be ready to serve.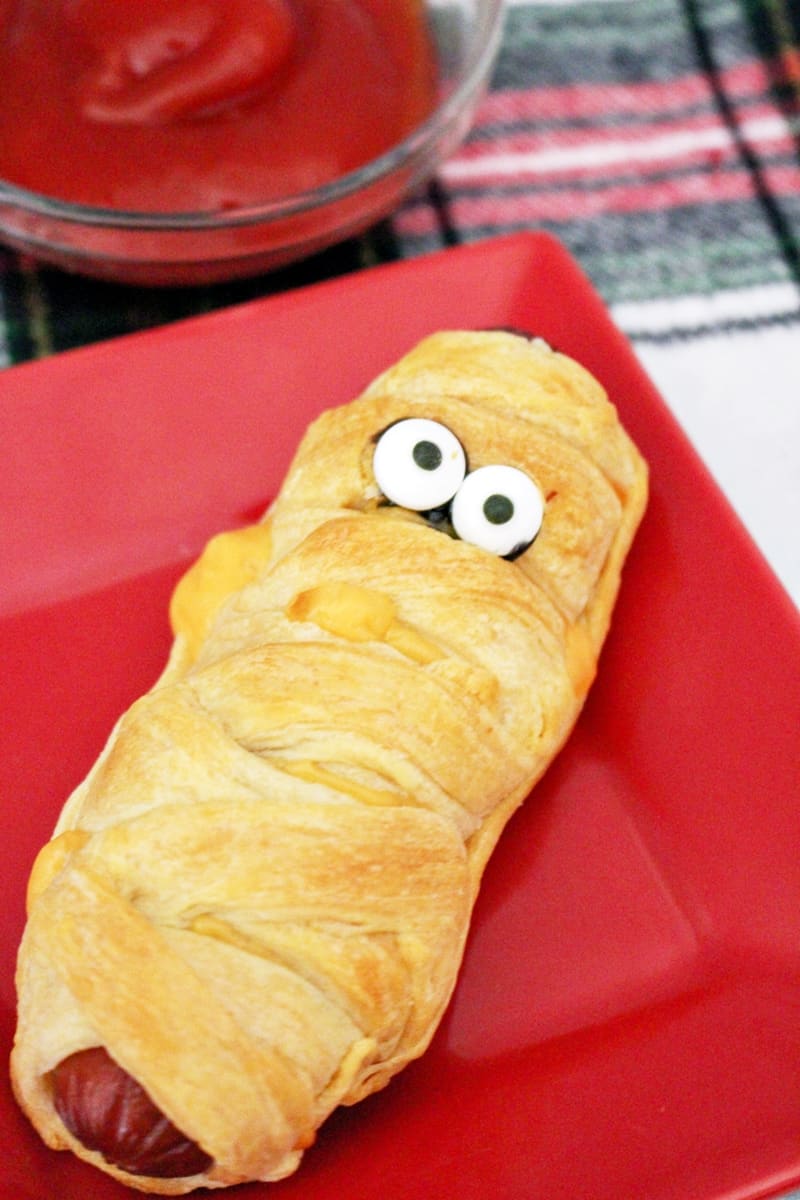 Don't forget dessert! We have plenty of fun Halloween desserts that are sure to be a hit with your family.
I hope you enjoy this fun Halloween dinner idea, and that you and your family have a terrific Halloween.
More Spooky Halloween Dinner Ideas:
Mummy Hot Dogs
Mummy hot dogs make for a fun and easy Halloween dinner after a busy night of trick-or-treating.
Ingredients
refrigerated crescent dough
8 hot dogs
4 cheese slices, cut in half (optional)
candy eyes
decorating gel
Instructions
Preheat oven according to the directions on crescent dough's packaging. Prepare baking sheet with non-stick spray or parchment paper and set aside.
Lay out crescent dough, pinching the seams together to form a single sheet. Using a knife or a pizza cutter, cut the dough into long strips.
Place hotdogs on the baking sheet, with a piece of cheese under each, if desired. Wrap strips of crescent dough around each. (If you are making these with cheese, be sure to wrap well using enough crescent dough to keep the cheese from oozing out. If you are making these without cheese, you can wrap with the crescent dough more sparingly.)
Place wrapped hot dogs back on baking sheet and bake according to the crescent dough's instructions, or until the dough turns light golden brown. Remove from oven and allow to cool.
Use a small dot of decorating gel to stick the candy eyes on the hot dogs.
Serve with ketchup or mustard for dipping and enjoy!
Recommended Products
As an Amazon Associate and member of other affiliate programs, I earn from qualifying purchases.
Pin Hot Dog Mummies for Later: