The Best Bloody Recipes for Your Halloween Party
Posts may contain affiliate links, meaning that I may earn a commission if you use a link provided.
Ten creepy bloody recipe ideas to terrify the guests at your Halloween party.
Planning a blood themed or zombie themed party?
Or looking for some creepy recipes for your Halloween party in general?
If so, you have come to the right place. We have gathered all of the best bloody recipes here to inspire you for your party.
We have bloody cupcakes, brownies, doughnuts, cocktails, and more.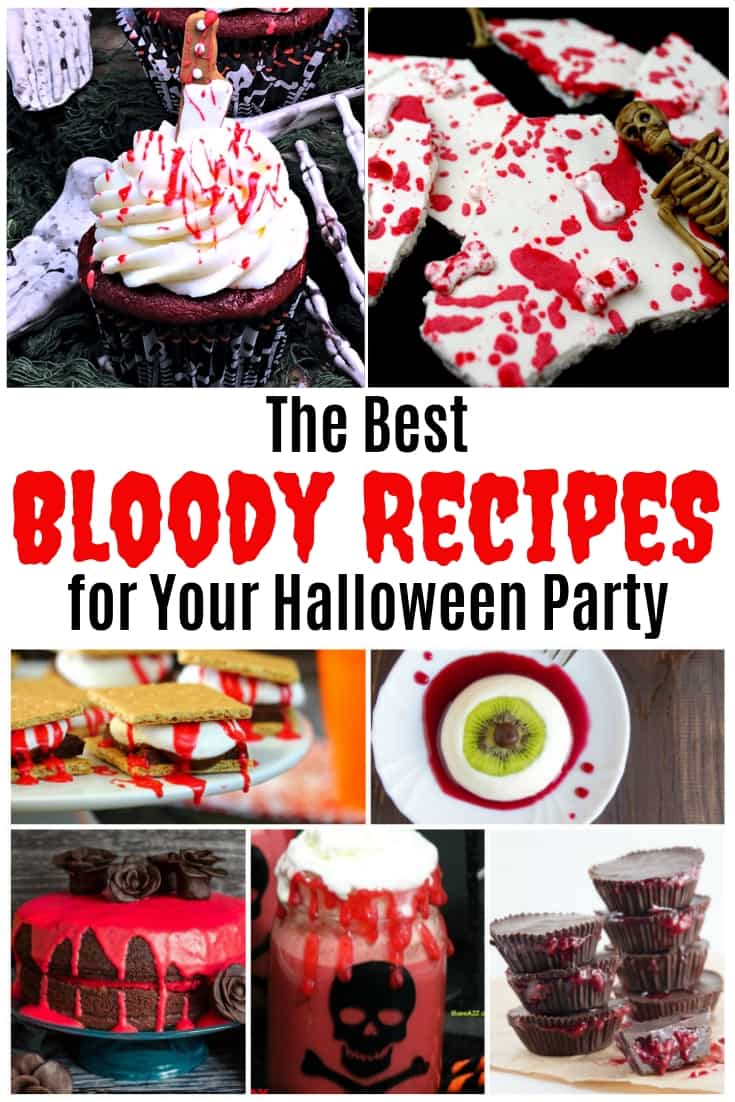 If you find a bloody recipe idea that you would like to try, simply click through to the original blog post to get the recipe for yourself.
I hope that you enjoy these creepy desserts and drinks, and that you have a very Happy Halloween!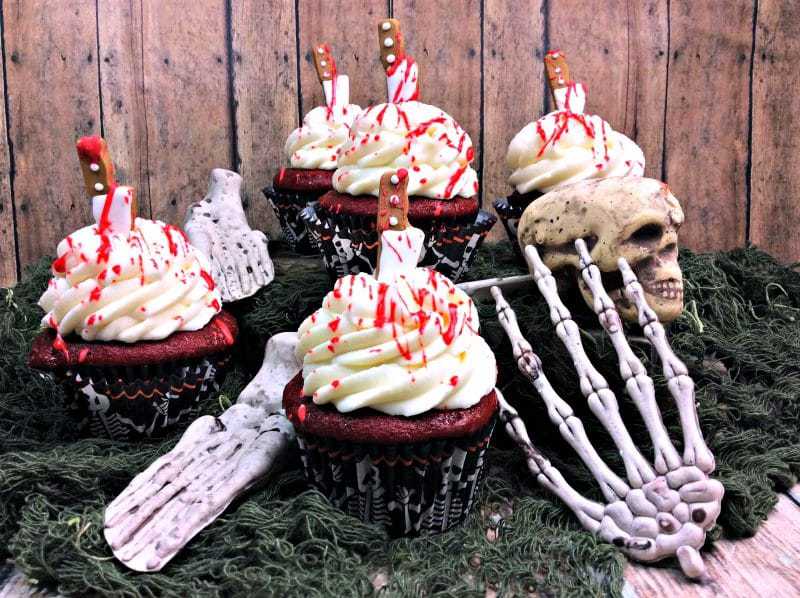 1. Red Velvet Bloody Cupcakes
From Crayons & Cravings
Uh-oh! It looks like someone stabbed these red velvet cupcakes with a knife and left them dripping with blood. No worries though, they are still absolutely delicious — knife and all!
2. Bloody Good Double Chocolate Halloween Cake
If there is one thing that I love more than a chocolate cake, it is a double chocolate cake. This stunning double chocolate cake is dripping with blood, and is sure to be the talk of your Halloween party.
3. Bloody Halloween S'mores
From Cutefetti
Turn your favorite bonfire treat into a festive Halloween treat! These bloody s'mores are super easy to make and will have everyone coming back for seconds.

4. Bloody Good Halloween Bones Bark
From Crayons & Cravings
This blood-spattered vanilla bark is easy to make and will look great on your Halloween buffet table. It would also be great to give this bloody bones bark as a party favor in cellophane baggies.
5. Spooky Slasher Brownies
This clever blogger found a way to make gorgeous bloody brownies without using any food coloring. I love how she made with blood and I bet it tastes amazing!
6. Bloody Chocolate Cups
From Elephantastic Vegan
These chocolate cups may look like peanut butter cups, but don't be fooled. One bite into these chocolate treats you will find them oozing with blood. The best part is how easy these bloody chocolate cups are to make, using just 3 ingredients.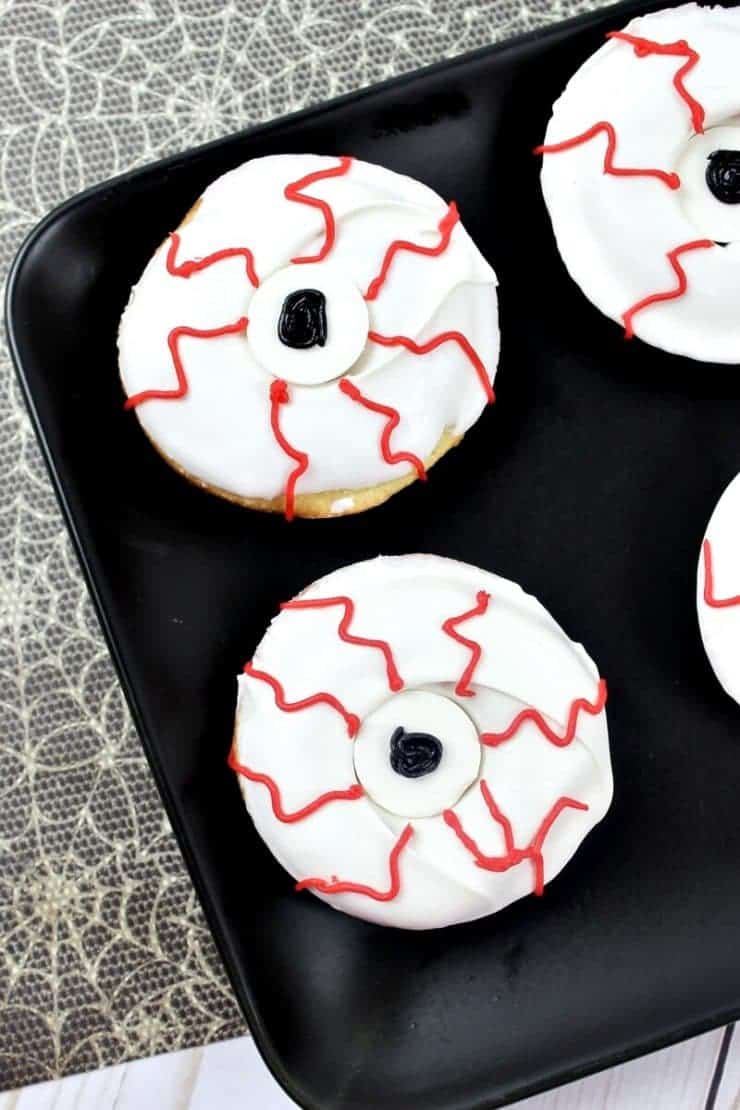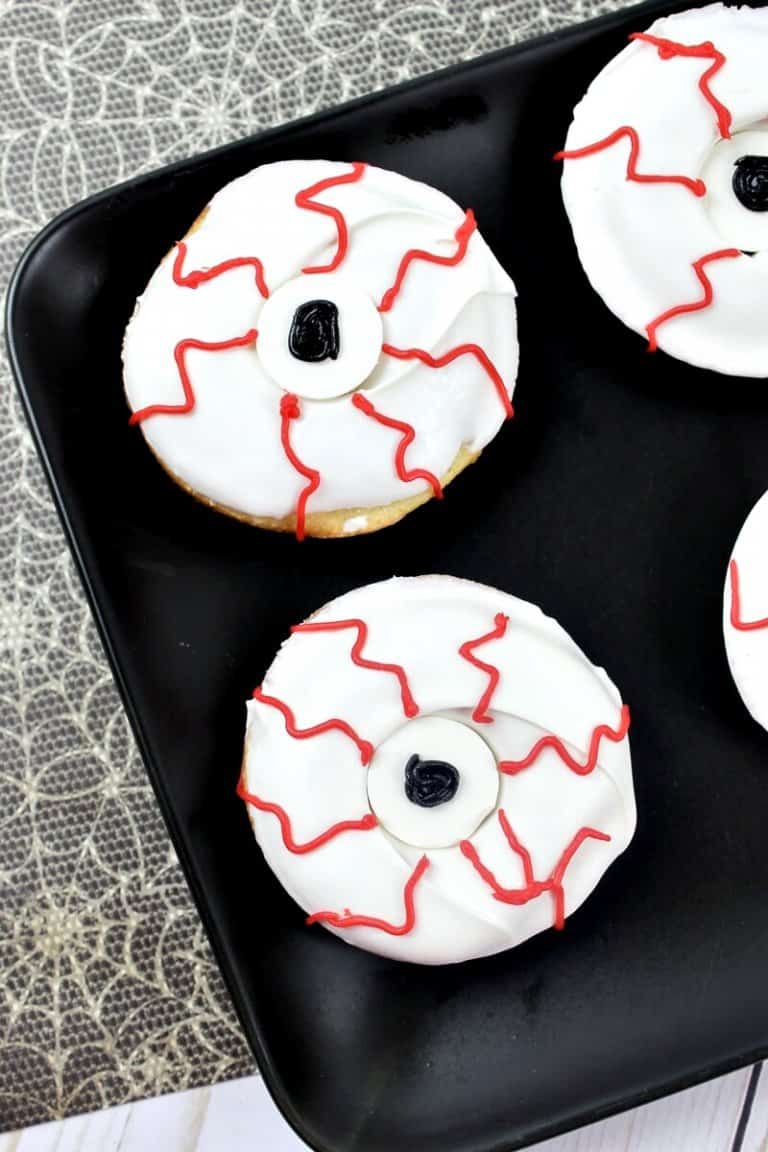 7. Bloodshot Monster Eyeball Doughnuts
From Crayons & Cravings
Monsters go hand in hand with Halloween. That is why these creepy bloodshot monster eyeball doughnuts make a great treat to serve at your Halloween party. Your guests are sure to get a kick out of them. Plus, they will love the doughnuts' rich and delicious icing.
8. Bloody Eyeball Dessert
From Nerdy Mamma
Next up we have another eyeball-themed dessert idea. Nerdy Mamma's bloody eyeball dessert is actually a delicious Vegan Panna Cotta. How clever!
9. Bloody Red Velvet Cocoa
From I Save A to Z
Looking for a bloody beverage idea for your Halloween get together? Your guests will love this rich, creamy, and bloody red velvet hot cocoa. I mean, what is better than a nice mig mug of blood?!
10. Dracula's Kiss Cocktail
Or, if you are looking for a Bloody Halloween cocktail recipe, this Dracula's Kiss cocktail would be an amazing party drink. This cocktail is so easy to make that you could prepare a whole tray of them for your party guests in minutes.
More Halloween Party Ideas:
And Don't Miss These 15 Spooky and Sweet Halloween Treats