Posts may contain affiliate links, meaning that I may earn a commission if you use a link provided.
Enjoy Fall sensory play with the little ones with this taste-safe pumpkin spice playdough recipe made with non-toxic ingredients.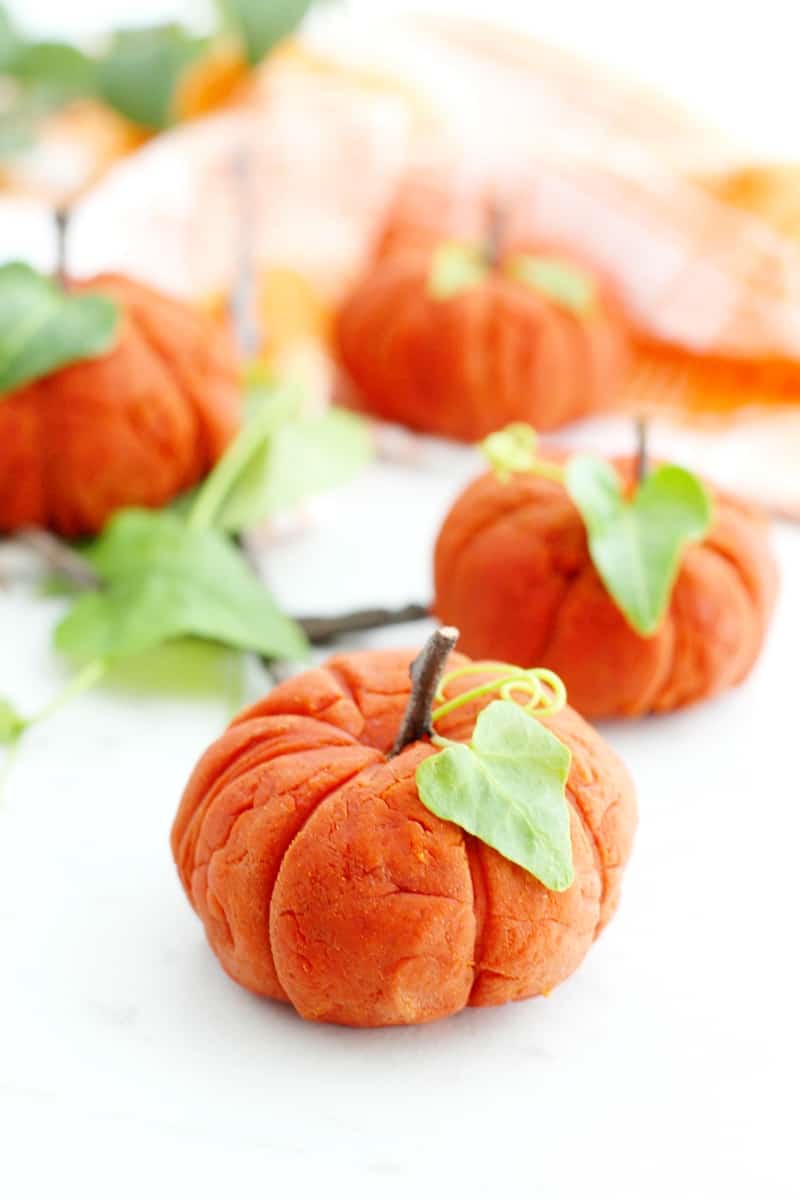 Since our taste-safe apple cinnamon scented playdough recipe was such a huge hit, I wanted to share another great taste-safe playdough recipe with you — pumpkin spice playdough.
Pumpkin Spice Playdough
Made with edible ingredients, this taste-safe pumpkin playdough recipe is perfect for Fall sensory play with the kids. Let the kids form the playdough into pumpkin and decorate their pumpkins with leaves and twigs.
We share all sorts of playdough and slime recipes on Crayons & Cravings, but when it comes to sensory play for the very little ones, I would always recommend choosing a recipe that is non-toxic and taste safe. It just helps to give you a piece of mind that if any of the children try and put the playdough in their mouths, at least you know that it is made with food-based ingredients.
How to Make Pumpkin Playdough
Let's take a look at how to make this fun pumpkin spice playdough.
For your convenience, I also included a printable version of the instructions with step-by-step instructions at the bottom of the post. I hope you find it helpful!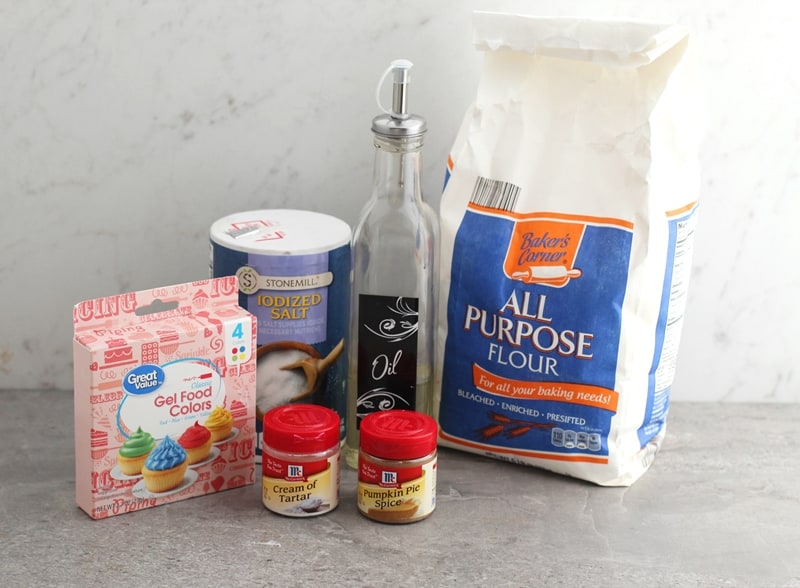 First, you will need to gather the following pumpkin playdough ingredients:
Flour
Salt
Cream of tartar
Pumpkin pie spice
Olive oil
Orange gel food coloring
Then, you will heat the ingredients on the stovetop until they thicken.
Finally, you will knead the cooled playdough a bit.
Now, the pumpkin playdough is ready to be enjoyed by the children.
Pumpkin Playdough Sensory Play Ideas
For even more fun, put some materials out on the table and let the kids use their imagination to turn their lump of orange playdough into a pumpkin.
Sensory Play Material Ideas:
twigs
popsicle sticks
leaves
vines
You could even take a walk outside to have the children collect leaves and twigs themselves.
Either way, the kids will have fun using the popsicle sticks to make lines on their pumpkin.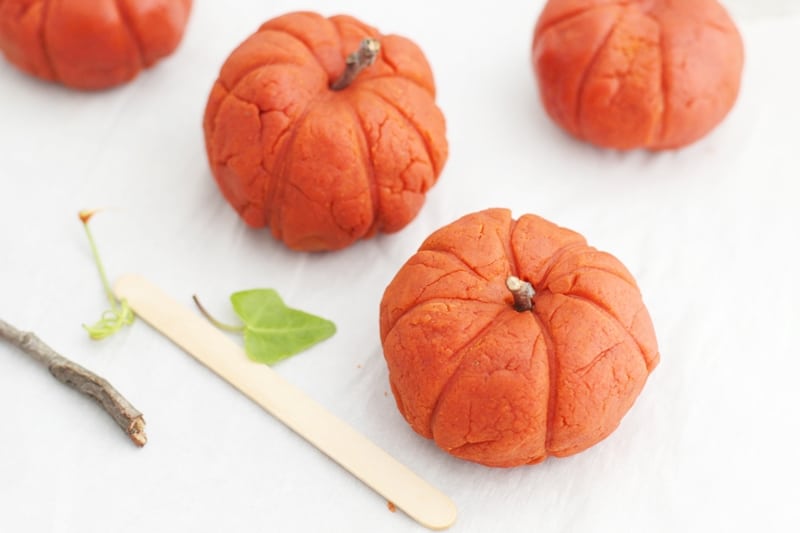 And adding sticks and leaves to their playdoh to make it look even more like a real pumpkin.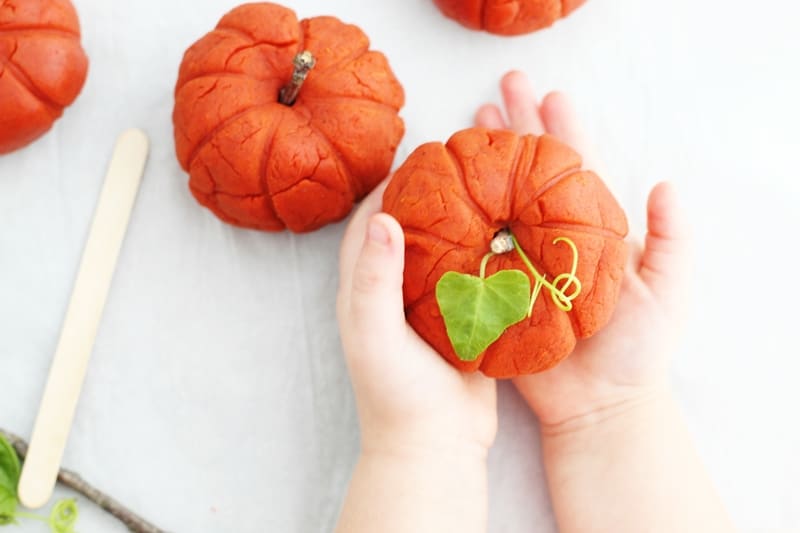 More Fall sensory play ideas:
How-To
How-To
Pumpkin Spice Playdough
Enjoy Fall sensory play with the little ones with this taste-safe pumpkin spice playdough recipe made with non-toxic ingredients.
Supplies
For Playdough:
1 cup all-purpose flour
¼ cup salt
1 tablespoon pumpkin pie spice
1 teaspoon cream of tartar
1 cup water
2 tablespoons olive oil
orange food coloring
Optional Materials for Sensory Play:
popsicle sticks
thin sticks
leaves
vines
Instructions
In a small saucepan over medium heat, add the flour, salt, pumpkin pie spice, and cream of tartar. Stir until well combined.

Add water, olive oil, and food coloring. Stir continually until mixture thickens and starts to pull away from the sides of the pan and form a ball.

Remove from heat and allow to cool for 10 minutes.

Place the cooled playdough on a non-stick surface and knead until the texture is smooth and the color is consistent throughout.
Notes
Store pumpkin spice playdough in an airtight container to prevent drying. If the playdough does start to dry out, add a little olive oil and knead.
Did You Make This Craft?
Share it with me on Instagram @crayonsandcravings and follow on Pinterest @crayonsandcravings for even more!
Pin Pumpkin Spice Playdough for Later