Posts may contain affiliate links, meaning that I may earn a commission if you use a link provided.
A borax-free, cinnamon-scented fall slime recipe perfect as a preschool science activity or for sensory play.
It can be hard to get kids excited for Fall.
After all, fall equals back-to-school season.
Thankfully, there are tons of fun Fall crafts and activities that you can do with the kids to get them excited for the season, like this awesome cinnamon-scented Fall slime.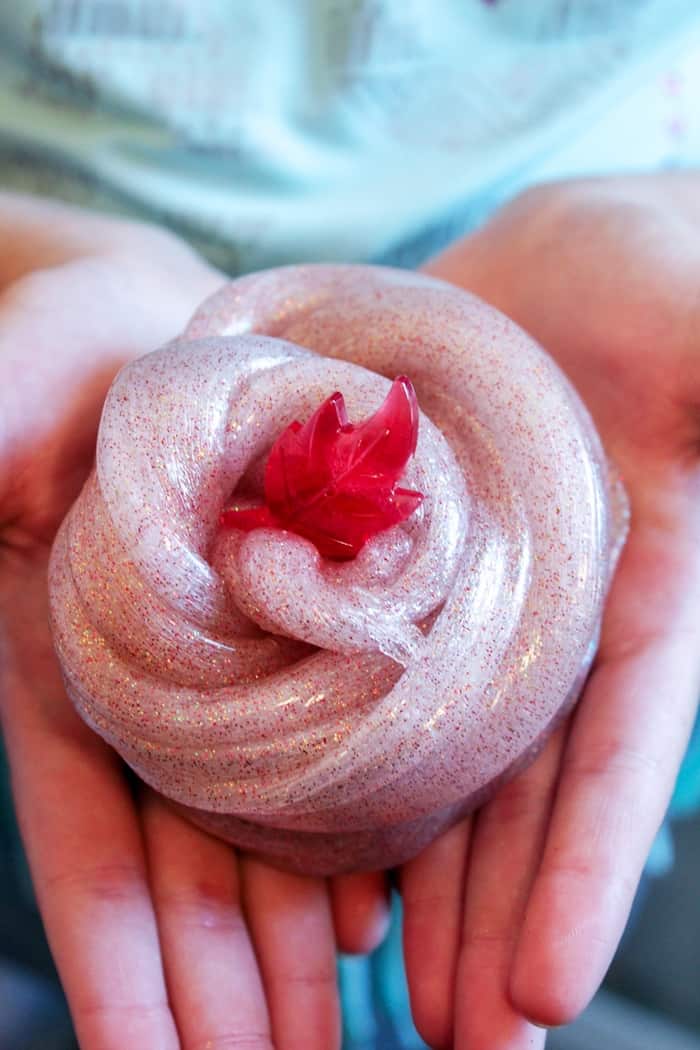 Not only is this Fall slime filled with fun leaf shapes, but it has glitter and an amazing cinnamon scent.
Of course, you really can make this slime smell like anything you want by switching out the essential oil that you use.
Or, omit the essential oil altogether if you prefer a non-scented slime.
There is one important thing to keep in mind whenever you use essential oils — they can cause allergic reactions.
If you are a teacher and planning on making this with your class, it might be best to skip using essential oils just to play it safe.
If you are going to make this slime at home with your children and you would like to include the cinnamon essential oil, it might be smart to test a drop of the essential oils on your kid's skin before using it in the slime. That way, if your child did have any reaction, you would know not to use it.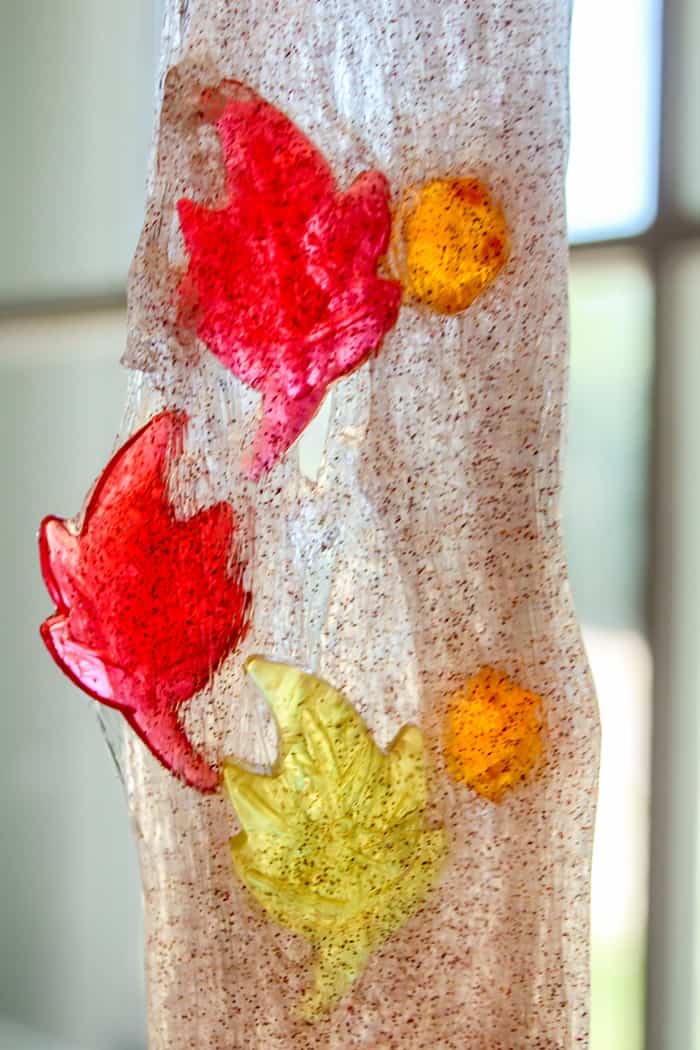 More awesome slime recipes
How-To
How-To
Cinnamon-Scented Fall Slime
A cinnamon-scented glitter slime perfect for a Fall preschool science activity or for sensory play.
Instructions
In a medium-size container, combine glue, water, and baking soda. Stir to mix well.

Add glitter, stir to mix well.

Add a few drops of the cinnamon essential oil. I suggest starting with 1 drop, stirring, and seeing if that gives you enough scent. If not add more 1 drop at a time.

Optional: Add in as much of the fall vase fillers as you would like.

Add saline contact lens solution. The slime will instantly begin to form. It will be very sticky but don't panic. Continue to mix the slime in the bowl until it is more formed. Then, knead the slime until it is no longer sticky.
Notes
Store slime in an airtight container in-between play session to prevent drying.
Did You Make This Craft?
Share it with me on Instagram @crayonsandcravings and follow on Pinterest @crayonsandcravings for even more!