Salt glitter is fun to make and use in arts & crafts projects like this colorful salt glitter Easter egg canvas. Find out how to make homemade salt glitter with this step-by-step tutorial.
Who knew that glitter was so easy to make?! This simple homemade glitter recipe uses just 2 ingredients: epsom salt and food coloring. How simple is that?!
We used our salt glitter to make an art canvas for Easter, but you can use your glitter salt to make anything you want really. Use your imagination!
Gather Your Supplies:
Epsom salt
Food coloring
White school glue
Canvas
Pencil
Bowl
Spoon
Shop Salt Glitter Supplies:
Epsom Salt, 2 lbs.
8 x 10 in. Canvases, Pack of 10
Elmer's School Glue, 2 Bottles
Neon Food Coloring Set
Assorted Food Coloring Set
How to Make Salt Glitter: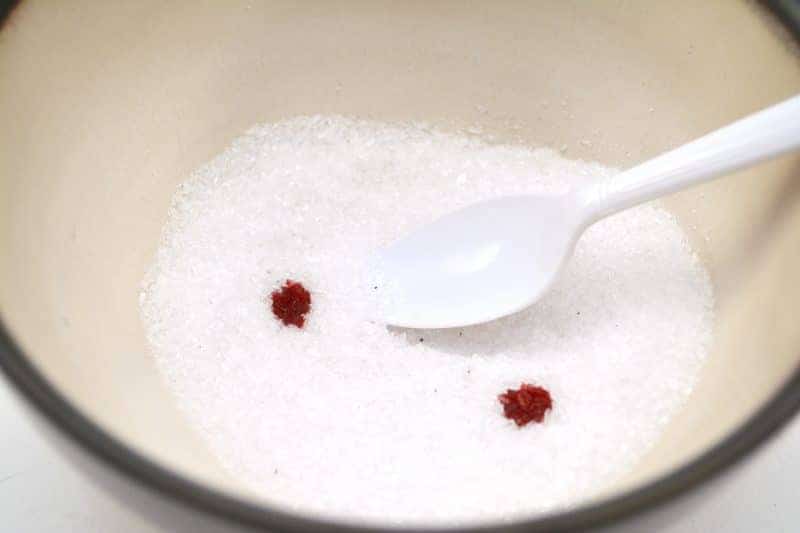 1. Pour epsom salt into a bowl. Add 2 drops of food coloring to the salt. Mix together until blended completely.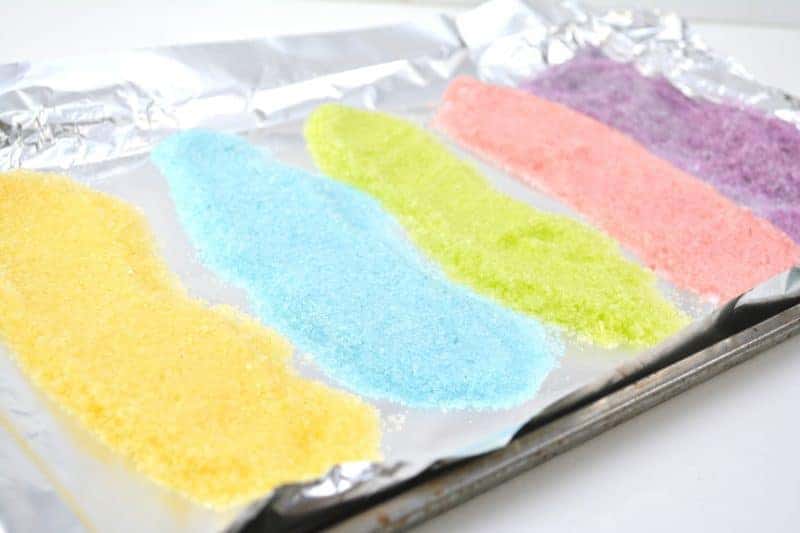 2. Then, pour salt out onto a foil lined baking sheet to dry completely.
3. Repeat the process to make as many colors of glitter salt as desired.
How to Make Easter Egg Canvas:
1. Use a pencil to lightly outline the shape of an egg on the canvas.
2. Cover the area where you would like your first color of glitter salt to go with glue. Be sure to only place the glue on the area where you want that first color to go.
3. Pour the glitter salt on top of the glue and gently press it down with your fingers. Tap the canvas to gently knock off any excess salt and then allow the glue to dry completely. It is important to let the glue dry completely before moving on to the next color so that the colors don't end up mixing.
4. If you wish to make a design other than a straight line (such as the squiggly line above), make the design first and then go back and work on the blank space once it dries. This makes it easier to outline the design with the glue without any salt getting in the way.
5. Repeat the process with each color of glitter salt until all of the Easter egg is colored in, and the glue has dried.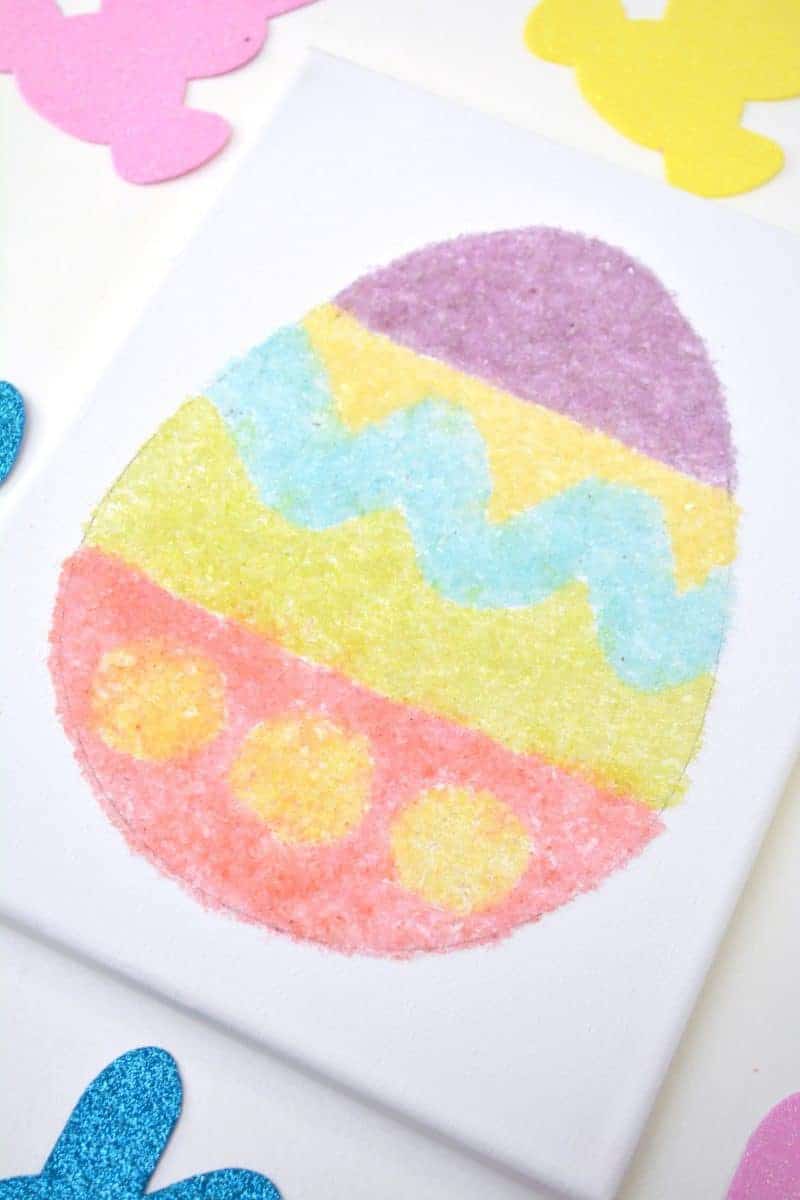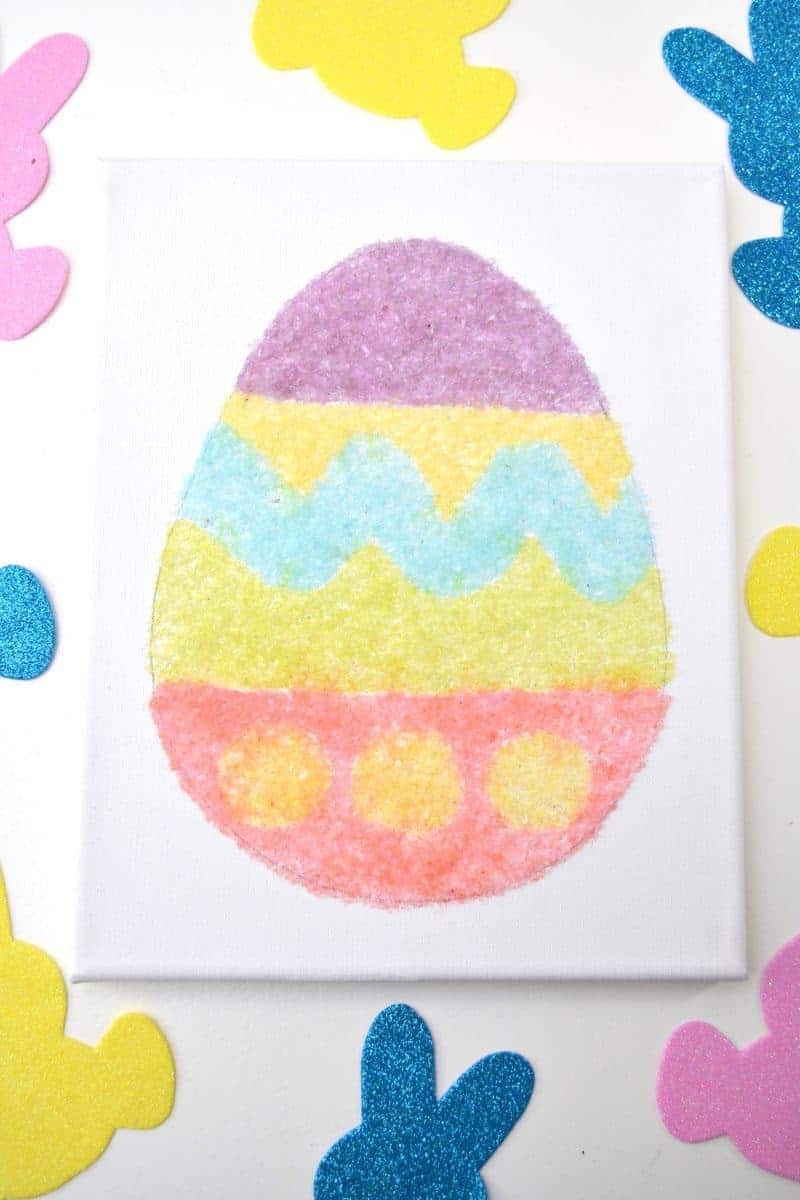 Display your beautiful Easter canvas art and enjoy!
I hope that you enjoyed this fun salt glitter Easter egg art project and that you and your family have a wonderful Easter!
More fun DIY ideas for Kids:
Pin for Later: