Baked pumpkin doughnuts served warm and smothered with glaze are the perfect Fall recipe for breakfast and dessert alike.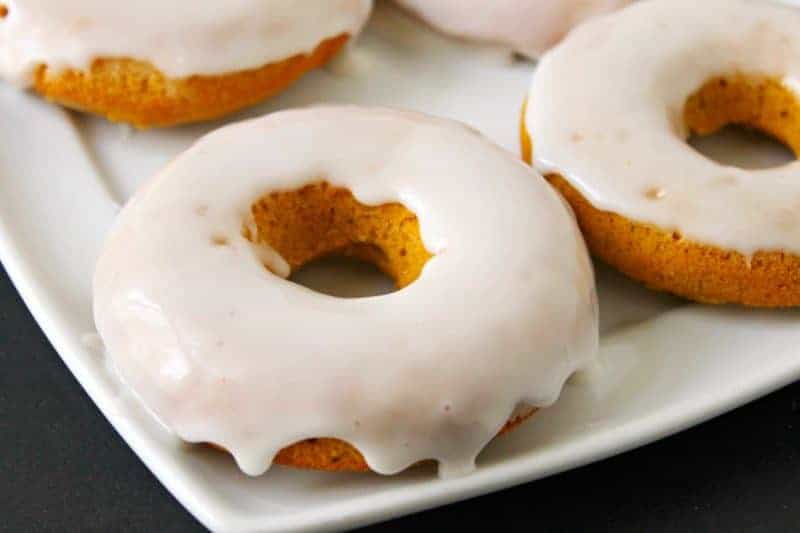 One of the best things about Autumn is pumpkin – pumpkin everything.
Who doesn't love pumpkin pie, pumpkin bread, and soft and chewy pumpkin cookies?
Of course, if you want something more decadent, you can't go wrong with these delicious baked pumpkin doughnuts.
These glazed pumpkin donuts are loaded with the flavors of Fall. Not only do they have the pumpkin, but all those wonderful spices as well.
Looking for a more classic glazed doughnut? Try my irresistible old-fashioned buttermilk donut recipe.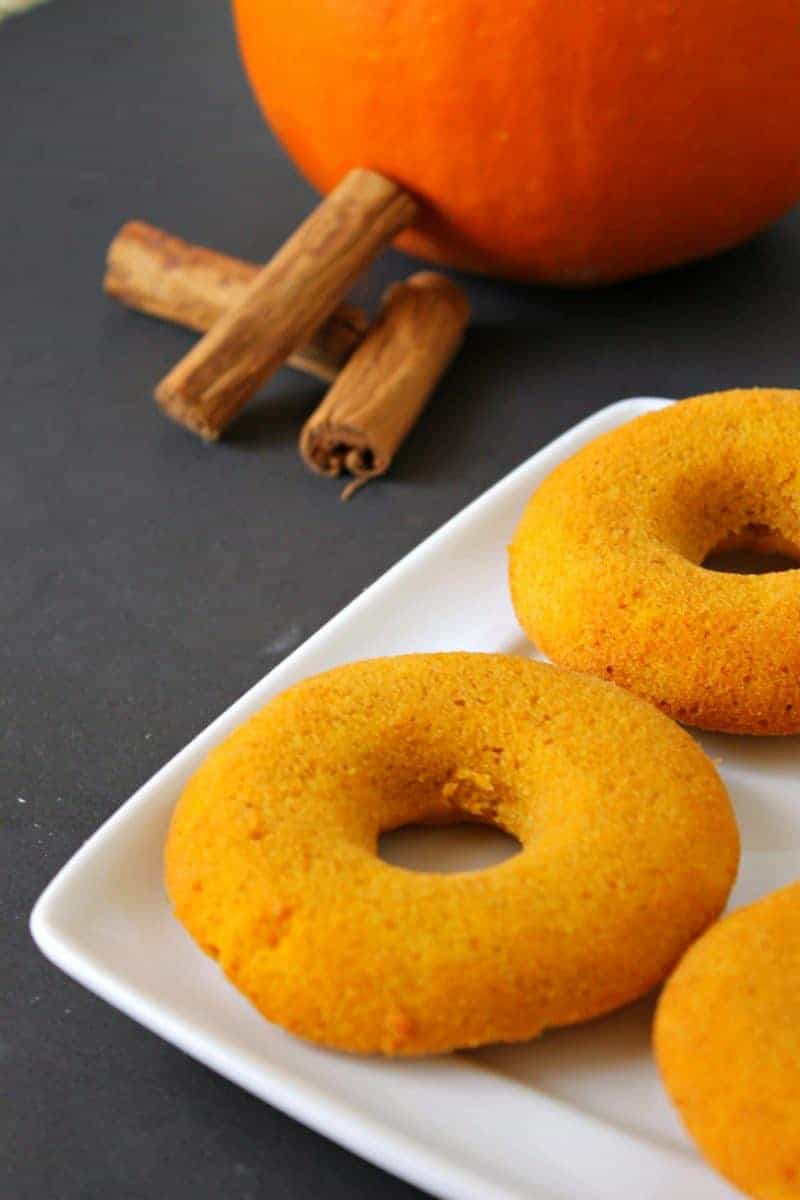 What's great about these baked donuts is that you don't have to stand over a deep fryer, you just pop them in the oven and let them do their thing. That makes them a great recipe to make on Thanksgiving morning when you're busy with everything else.
However, these pumpkin doughnuts would be the perfect breakfast treat for any chilly Fall morning.
Don't miss our glazed soft apple cookies – another one of our favorite Fall breakfast recipes!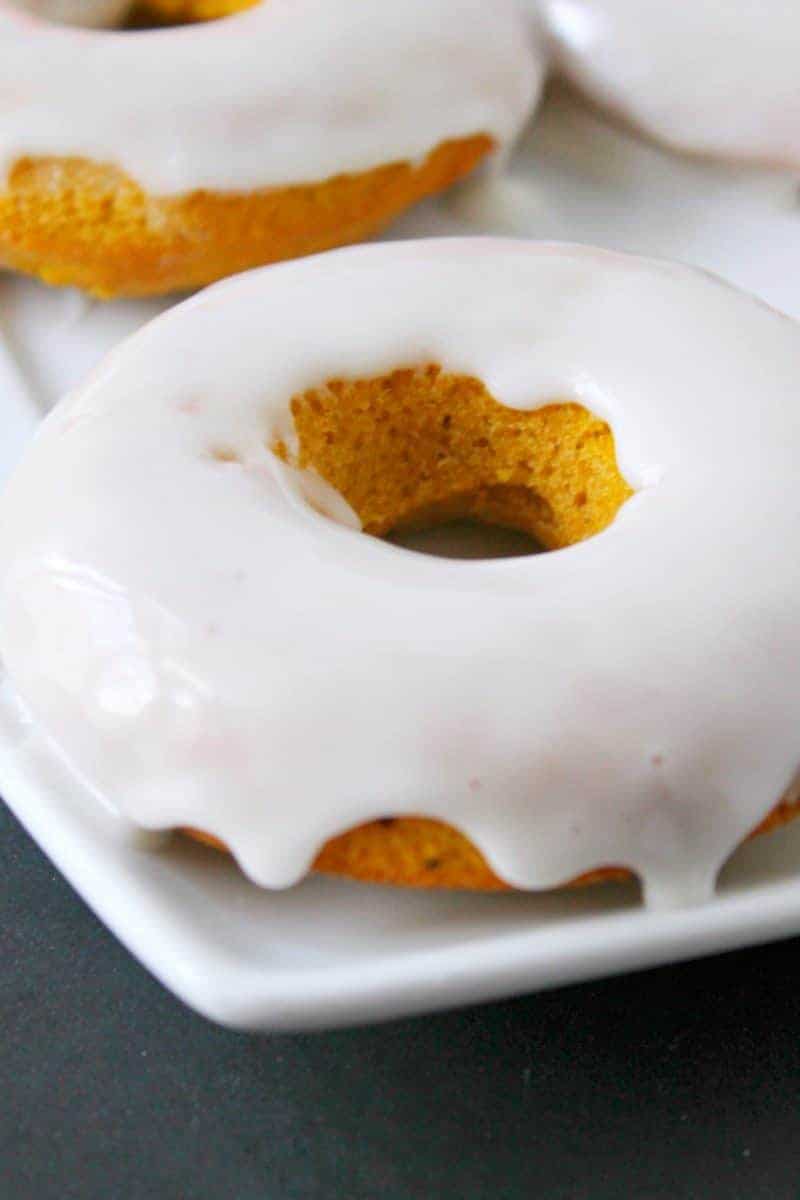 This baked pumpkin doughnut recipe would also be great to make for a Fall bake sale, office party, or potluck. Anytime there's a Fall event, these donuts will be a hit.
And you better believe that these homemade pumpkin doughnuts are better than any fast food donut place.
How to Make Baked Pumpkin Doughnuts
This recipe makes one dozen donuts. If you're making these for Thanksgiving, you may want to make more than one batch.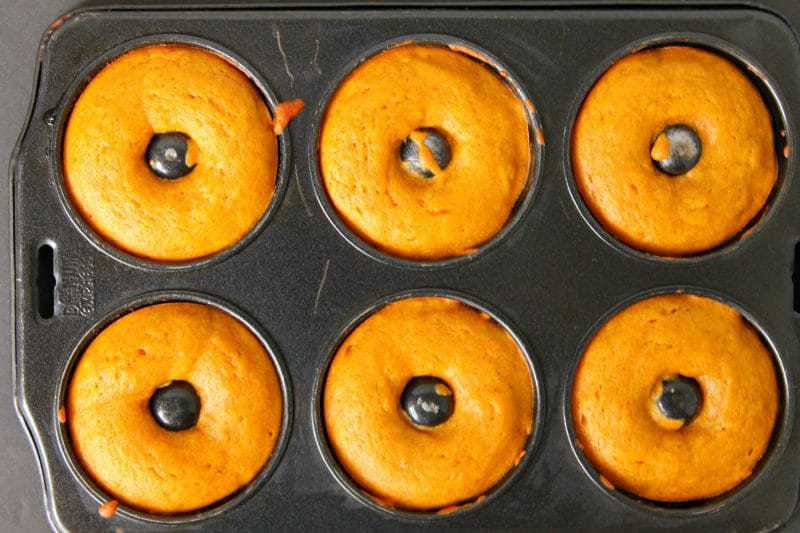 If you want, you can even make your doughnuts ahead of time and freeze them. Then simply allow them thaw out and add the glaze. This will make it so much easier if you're preparing food for and serving a lot of people.
More Pumpkin Recipes for Fall: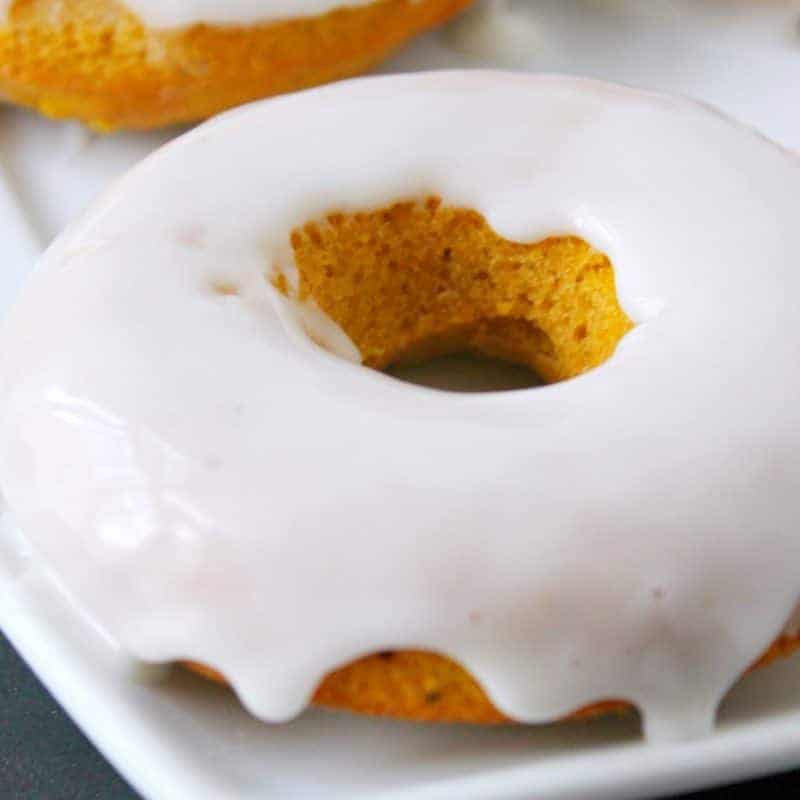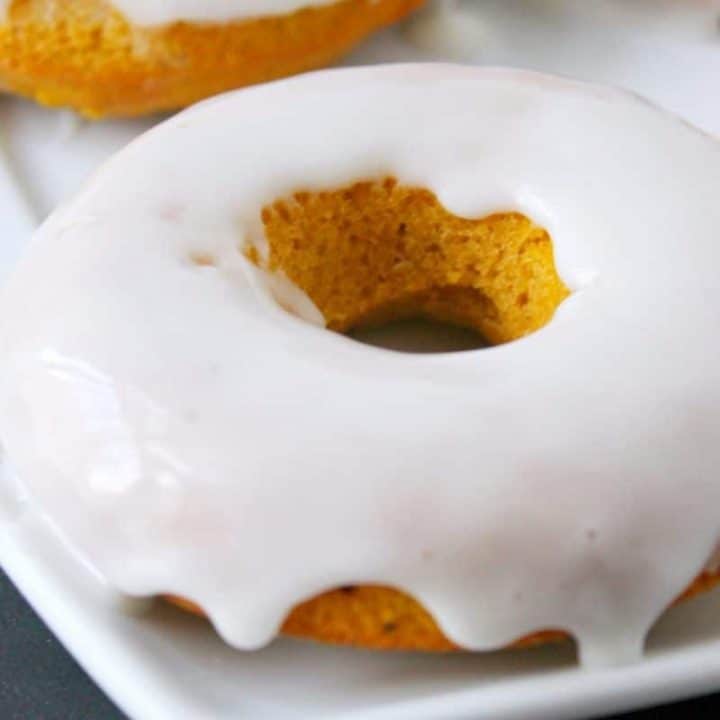 Baked Pumpkin Doughnuts
Baked pumpkin doughnuts served warm and smothered with glaze are the perfect Fall recipe for breakfast and dessert alike.
Ingredients
For the Doughnuts:
3/4 cup white sugar
2 cups flour
1 1/2 teaspoons baking powder
1 1/2 teaspoons salt
3/4 cup packed brown sugar
1 1/2 teaspoons pumpkin spice mix
1 1/2 cup canned pumpkin
1/2 cup melted butter
3 eggs
For the Glaze:
2 tablespoons milk
1 tsp vanilla
2 cups powdered sugar
Instructions
Preheat oven to 350. Grease 2 standard donut pans and set aside.
In a medium mixing bowl, combine all of the dry ingredients. Set aside.
In a large mixing bowl, combine all of the wet ingredients.
Add the dry ingredients to the wet ingredients and stir until well combined.
Using a spoon, distribute the batter between the greased donut pans, filling each donut mold about 3/4 of the way.
Bake for 15 minutes.
Remove from oven. After about a minute, carefully loosen the donuts from the pan and move to a cooling rack.
Mix together the glaze ingredients in a small bowl (adding the powdered sugar gradually) and either dip the tops of the doughnuts into it or pour it over them while they are still on the cooling rack to allow the excess drip off.
Recommended Products
As an Amazon Associate and member of other affiliate programs, I earn from qualifying purchases.
Pin recipe for later: