Stabbed and dripping with blood, Halloween desserts don't get more gruesome than these bloody cupcakes. Also great for a Zombie or Walking Dead party.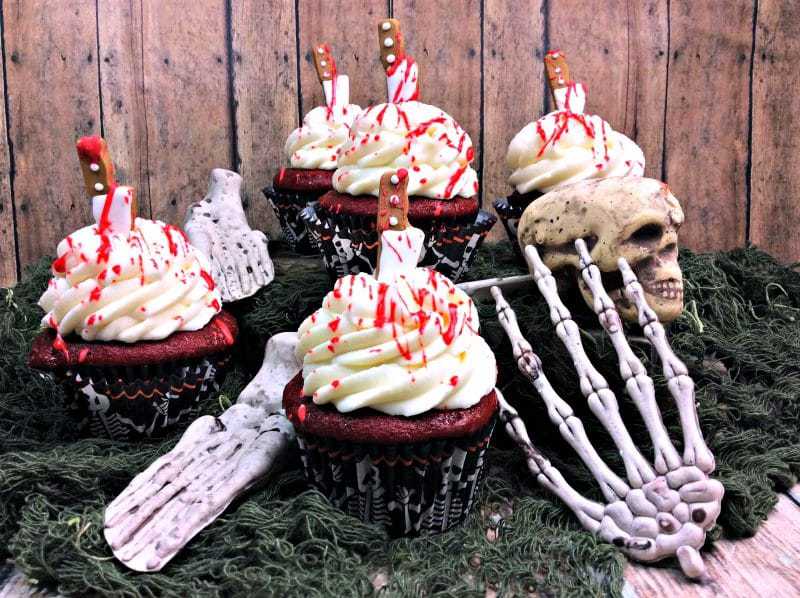 Halloween is right around the corner and it's time to start thinking about parties and all the wonderful Halloween party food that can be served.
If you want something fun, creepy, and delicious, these bloody cupcakes are going to be perfect for you.
Red Velvet Bloody Cupcakes
These cupcakes start with homemade red velvet cupcakes that are topped with cream cheese frosting and ooey gooey blood. Don't worry though, it's just icing.
The finishing touch is an edible knife decoration that it stabbed into the top of each cupcake.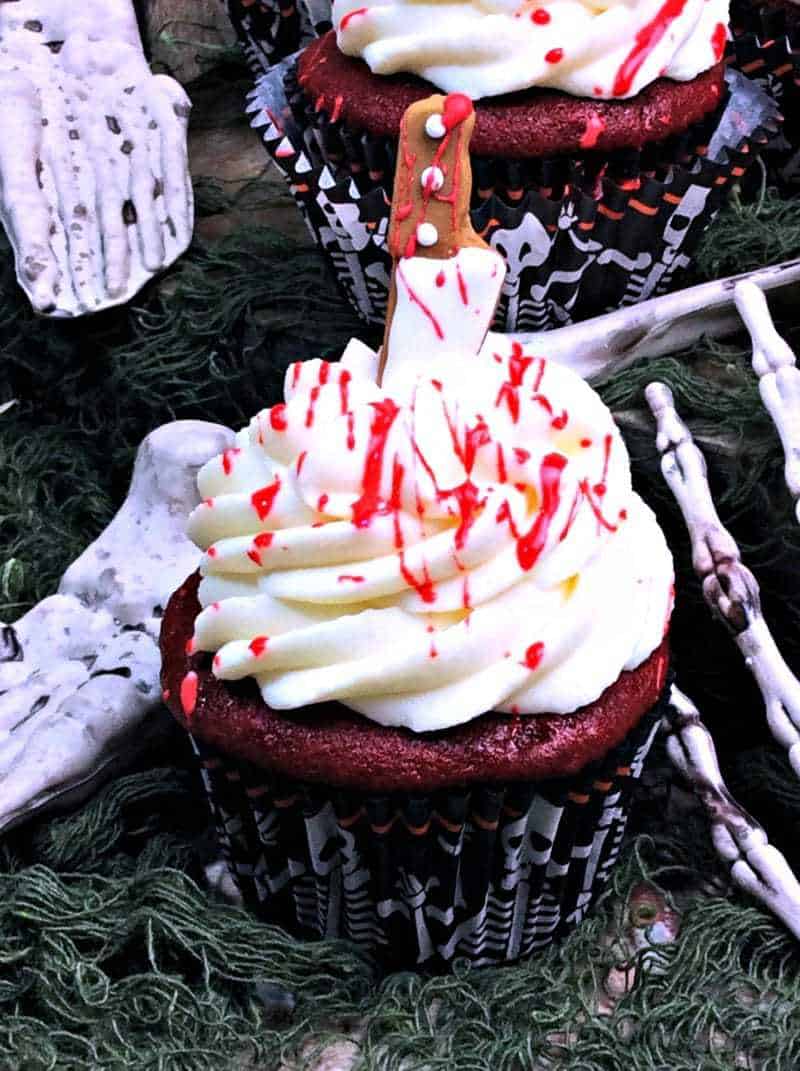 Walking Dead Party or Zombie Party Idea
These cupcakes are not just great for Halloween parties – they are also the perfect dessert for Walking Dead parties or zombie-themed parties.


Make-Ahead Halloween Party Dessert
You can make these bloody cupcakes in advance and freeze them until the big day. Just thaw the cupcakes and then frost and decorate them.
This will make party preparations so much easier.
Cupcake Display DIY
If you want an easy suggestion for displaying your blood splatter cupcakes during the party, you will love this idea.
Visit your local dollar store and purchase a black plate, black saucer, and a glass candlestick holder.
Give everything a good wash and allow to dry.
Next glue the pieces together using E6000 glue with the plate on the bottom, candlestick holder in the middle, and saucer on top.
It's a quick, inexpensive cupcake stand that will work with almost any Halloween theme.
You can also spray paint the candlestick holder to match the plates if you want. You can then take things one step further by pouring Halloween colored candies on the plate and saucer and nestling your cupcakes into the candies.
More bloody delicious recipes to try: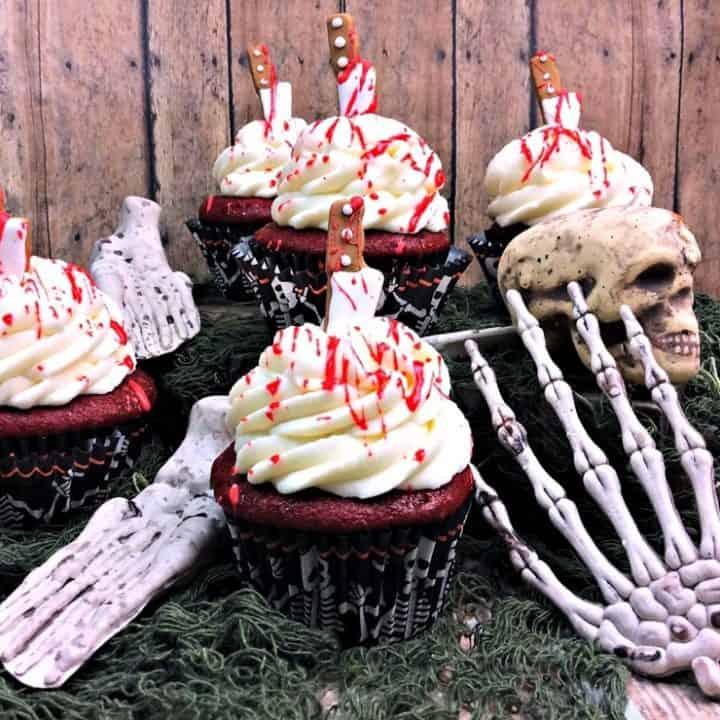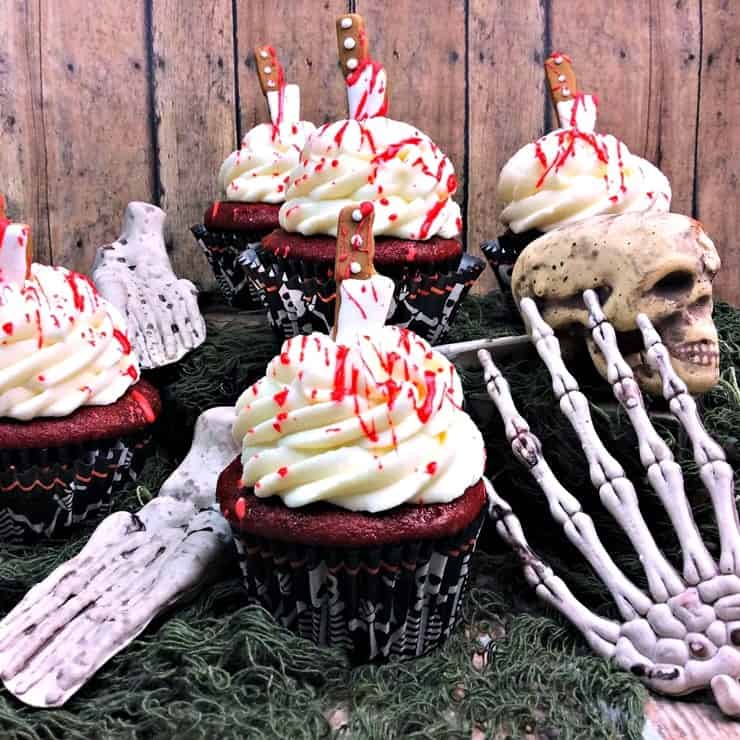 Bloody Cupcakes
These creepy bloody cupcakes are stabbed with a knife and dripping with blood. A perfect dessert for your Halloween, Zombie, or Walking Dead party.
Ingredients
For the Red Velvet Cupcakes:
2½ cups flour
1 tbsp. cocoa powder
1½ tsp. baking soda
½ tsp. salt
½ cup butter, soft, plus 4 tbsp.
¼ cup softened shortening
1 cup sugar
1 egg
1 tsp. vanilla
1 tbsp. Red Velvet extract
1 cup milk
For the Cream Cheese Frosting:
1 cup unsalted butter, softened
1 cup cream cheese, softened
2 tsp vanilla
2 cups powdered sugar
5 tbsp heavy whipping cream
For the Blood:
1 egg white
¼ tsp cream of tarter
¾ cup powdered sugar
¼ tsp vanilla
red gel food coloring
Instructions
Red Velvet Cupcakes:
Preheat oven to 350 degrees. Line cupcake tins with paper liners.
Sift flour, cocoa, baking soda, and salt together. Mix the dry ingredients with a wire whisk for 3 minutes
In a separate bowl, using an electric mixer, beat the butter, shortening and sugar until it is light and creamy.
Add the egg, vanilla, red velvet extract, and red gel food coloring. Mix well.
Add flour mix and milk, ½ portion of each at a time, mix until completely combined.
Spoon the batter into the lined cupcake tins until ⅔'s filled.
Bake at 350 degrees for 20-22 minutes or until an inserted toothpick comes out clean.
Cool for 10 minutes before removing from cupcake tins to a wire rack until totally cooled.
Cream Cheese Frosting:
Cream the butter and cream cheese until creamy.
Mix on low, slowly adding powdered sugar until blended.
Add vanilla and heavy whipping cream. Beat until thoroughly combined.
Scoop frosting into a pastry bag with a large frosting tip. Frost cupcakes.
Place the icing transfer into the center of the cupcake
Blood:
In a standing mixer, combine the egg white, cream of tartar, vanilla and powdered sugar.
Mix until white in color and stiff peaks form (about 7 minutes)
Mix in red food coloring, adding in a few drops at a time to get a deep shade of red
If the icing is too thick add in 1 tsp of water
Place the cupcakes into an area where you won't mind getting 'blood' on items. Dip BBQ brush into the blood and shake the brush towards the cupcakes to give them the blood effect.
Let dry for 10 minutes before serving.
Pin for Later