27 Sweet & Creamy Milkshakes to Cool Your Summer
Posts may contain affiliate links, meaning that I may earn a commission if you use a link provided.
Inside: A long list of tasty milkshake recipes to enjoy this summer.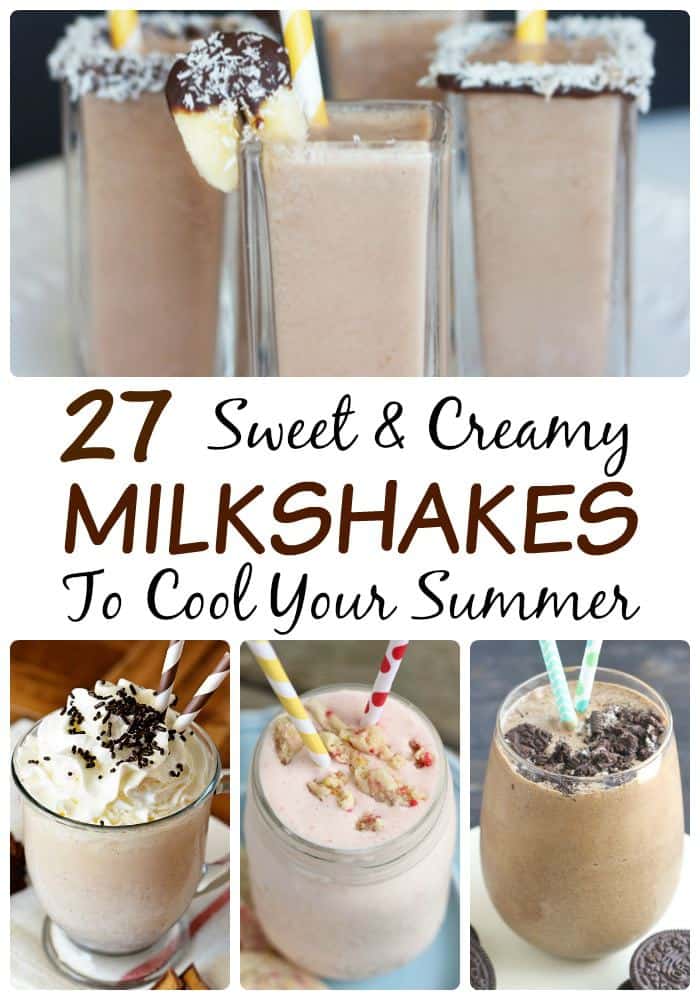 We have been getting hit with super hot and unbearably humid days here in New Jersey.
And I am a firm believer that there is no better way to cool off than with a sweet and creamy milkshake.
Below you will find links to a bunch of irresistible milkshake recipes.
From a classic chocolate milkshake to Girl-Scout-cookie-inspired milkshakes, there really are milkshake recipes on the list for everyone. We have even included gluten-free milkshakes and vegan milkshake recipes so that no one is left out!
Now, let's spend the rest of our summer days sipping on a milkshake by the pool. Who is with me?!
Irresistible Milkshake Recipes
Barefeet in the Kitchen – Caramel Peanut Butter Banana Milkshake Smoothie
Crayons & Cravings – 3-Ingredient Vanilla Frappe
Brown Eyed Baker – Strawberry Pretzel Salad Milkshake
Delish Knowledge – Vegan Chocolate Cherry Milkshakes
Scattered Thoughts of a Crafty Mom – Classic Chocolate Milkshake
Crayons & Cravings – Boozy OREO Milkshake
A Turtle's Life For Me – S'Mores Milkshake
The Kitchen is My Playground – Strawberry-Balsamic Milkshake
Brown Eyed Baker – Fluffernutter Milkshake
Wanna Be A Country Cleaver – Samoa Cookies And Cream Coconut Milkshake
Crayons & Cravings – Shamrock Shake
Delish Knowledge – Chocolate Chai Milkshake (Dairy-Free)
Nerdy Mamma – Vegan Oreo Cookie Milkshake
A Pumpkin and a Princess – Double Chocolate Oreo Milkshake
The Kitchen is My Playground – Vanilla Chai Milkshake
Foodie Crush – Cinnamon Toast Crunch Milkshake
Brown Eyed Baker – Pretzel, Peanut Butter & Chocolate Malted Milkshake
Here Comes the Sun – Thin Mint Milkshake
Nerdy Mamma – Overloaded Vegan & Gluten-Free Cookie Dough Milkshake
A Turtle's Life for Me – Coffee and Cream Milkshake
A Pumpkin and a Princess – Peanut Butter Brownie Milkshake