Strawberry Shortcake Cookies
Posts may contain affiliate links, meaning that I may earn a commission if you use a link provided.
Light, fruity, and sweet, these strawberry shortcake cookies have it all! Made in a single bowl with fresh strawberries and a handful of pantry staples, these 25-minute cookies are perfect to make when you're craving something fresh, bright, and chewy!
For more of our favorite cookie recipes, give these easy chocolate chip cookies, chocolate peanut butter no-bake cookies, or lemon cake mix cookies a try.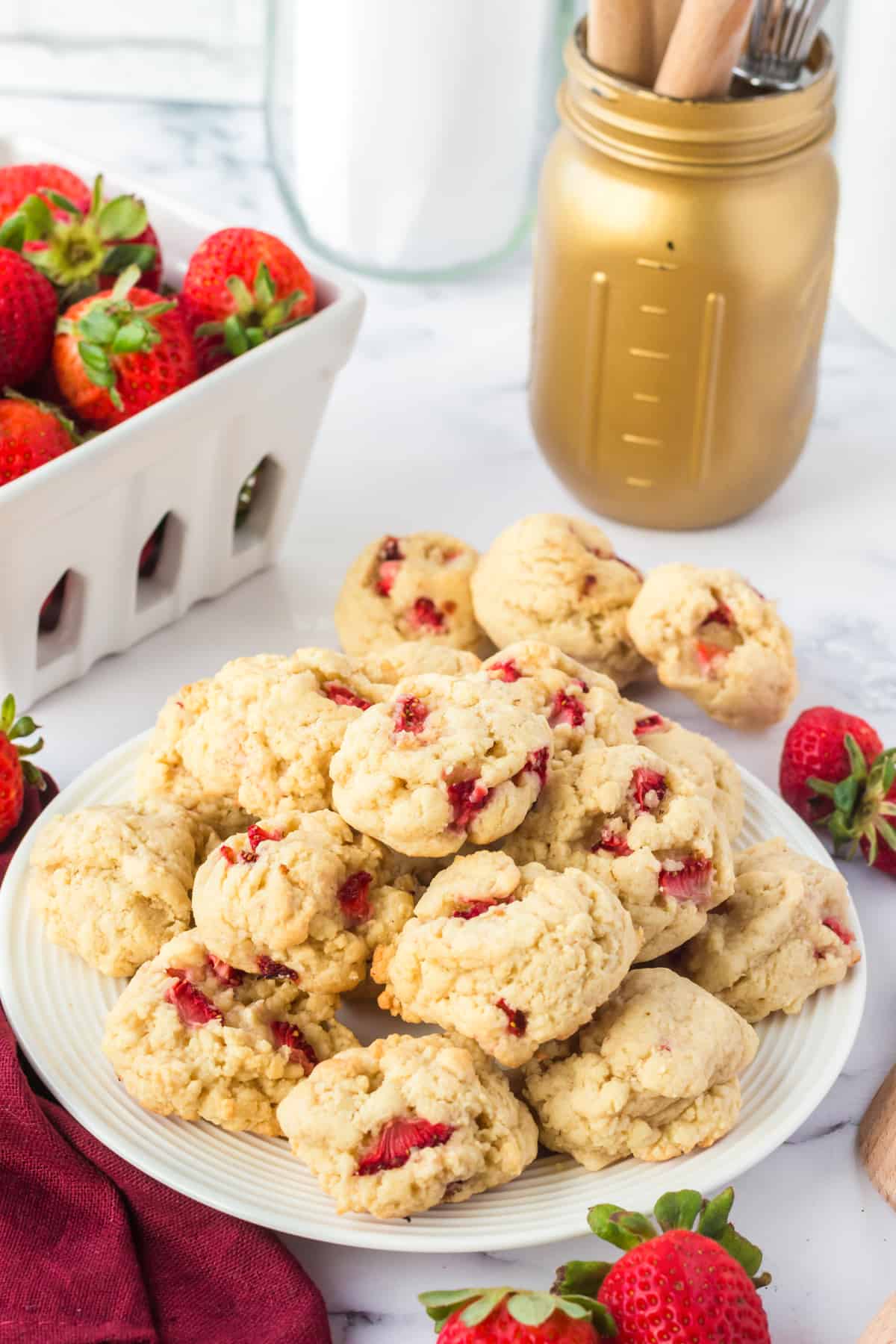 Wondering what to do with that container of strawberries about to go bad in your fridge? Well, have I got the perfect recipe for you!
These soft, fluffy strawberry shortcake cookies are an easy-to-make one-bowl dessert that features bright, refreshing, and juicy strawberries. Just like a classic strawberry shortcake dessert!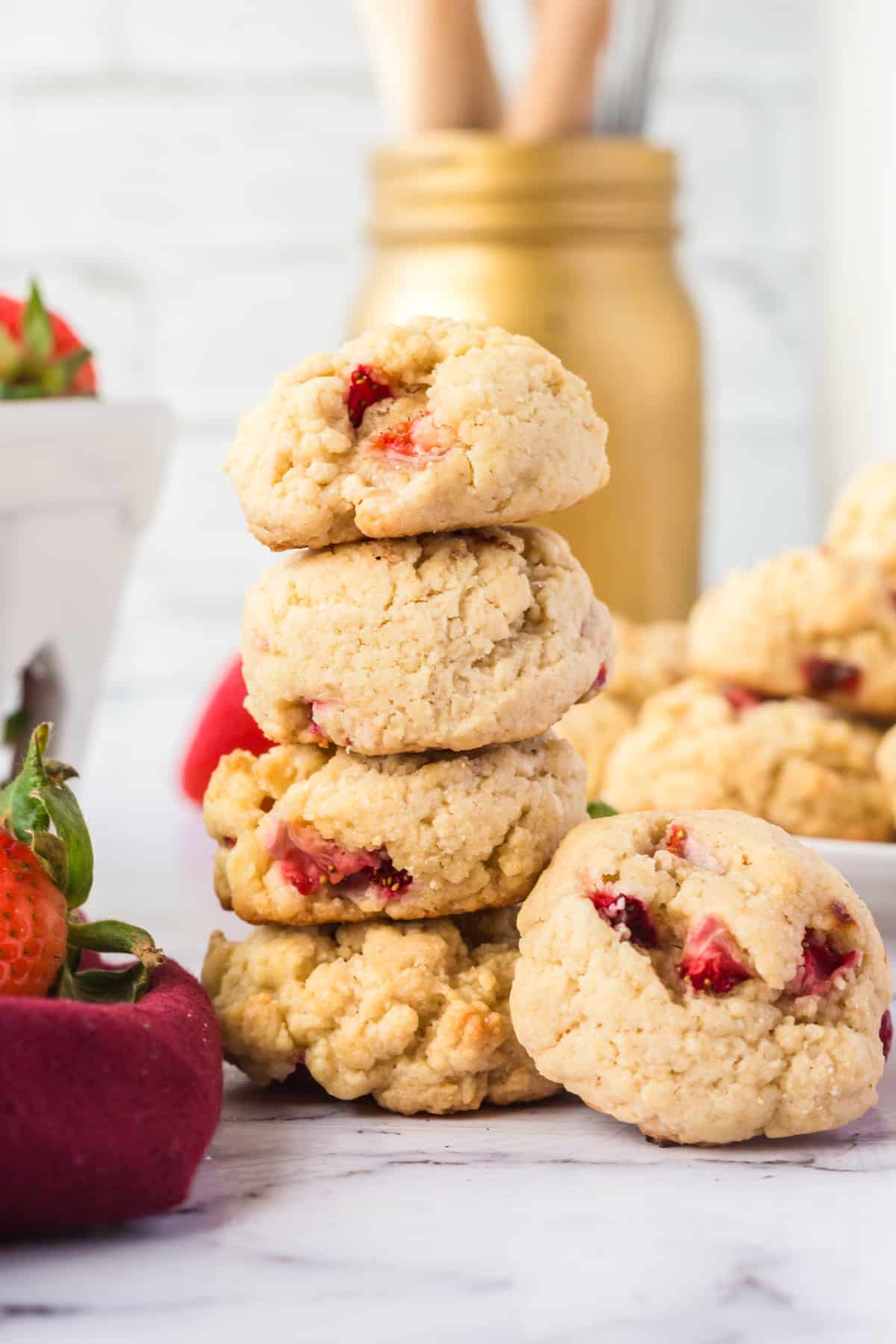 Simply chop up those strawberries and toss them into a basic homemade cookie dough to create a gorgeously simple cookie that's perfect for snacking, sharing, or gifting.
The cookies have a slight crunch on the outside but are soft and chewy on the inside. They resemble the texture of a soft sugar cookie.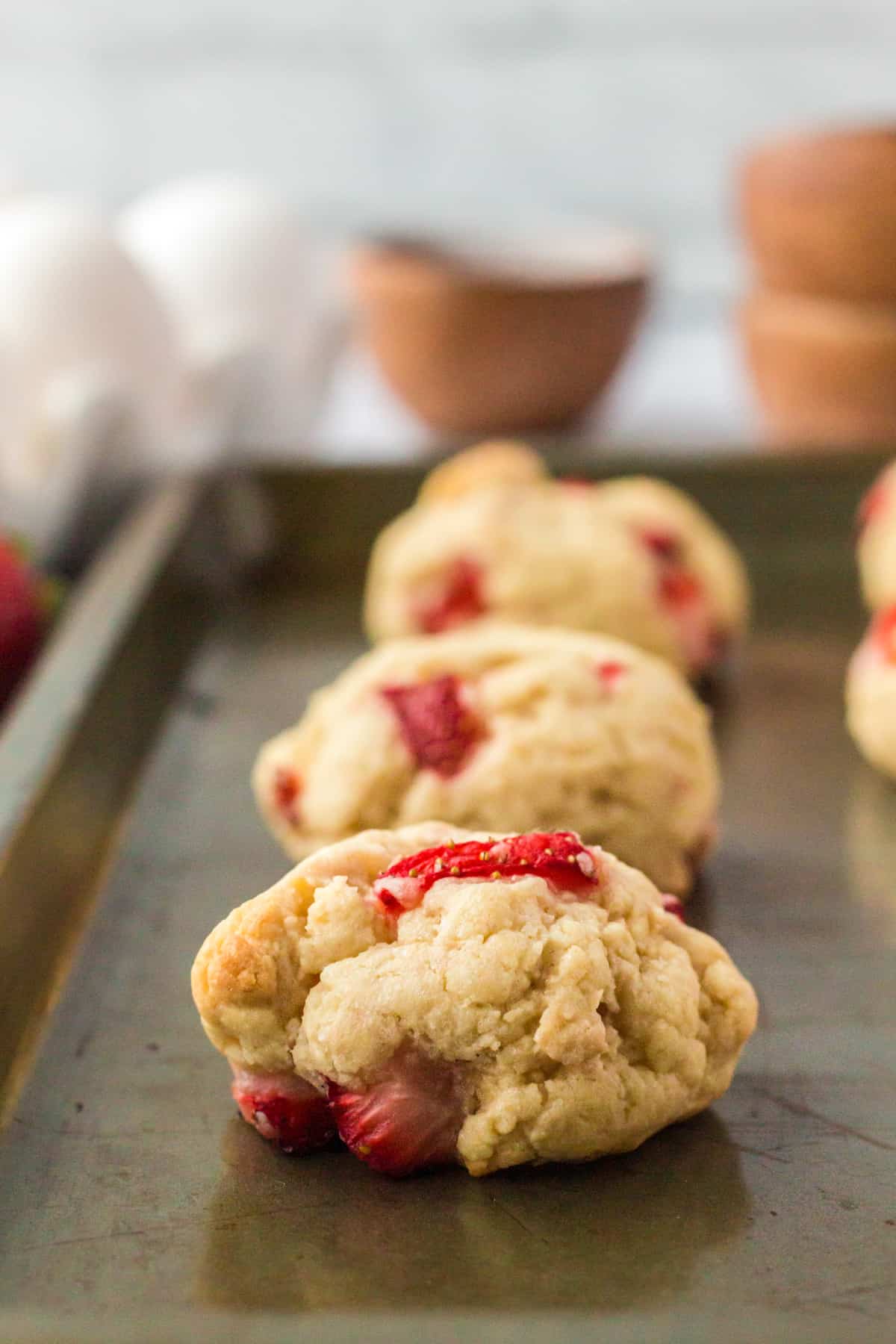 The naturally sweet flavor and beautiful color of these fresh strawberry cookies is sure to add a pop of brightness to your next late winter or early spring get-together. They're sure to be the star of any Valentine's Day party, Mother's Day brunch, Easter dinner, or any occasion.
Trust me, one bite of these thick and chewy strawberry cookies will have your guests begging you for the recipe!
Ingredients
This section includes ingredient notes and substitution options. Get all measurements, ingredients, and instructions in the printable recipe card at the end of this post.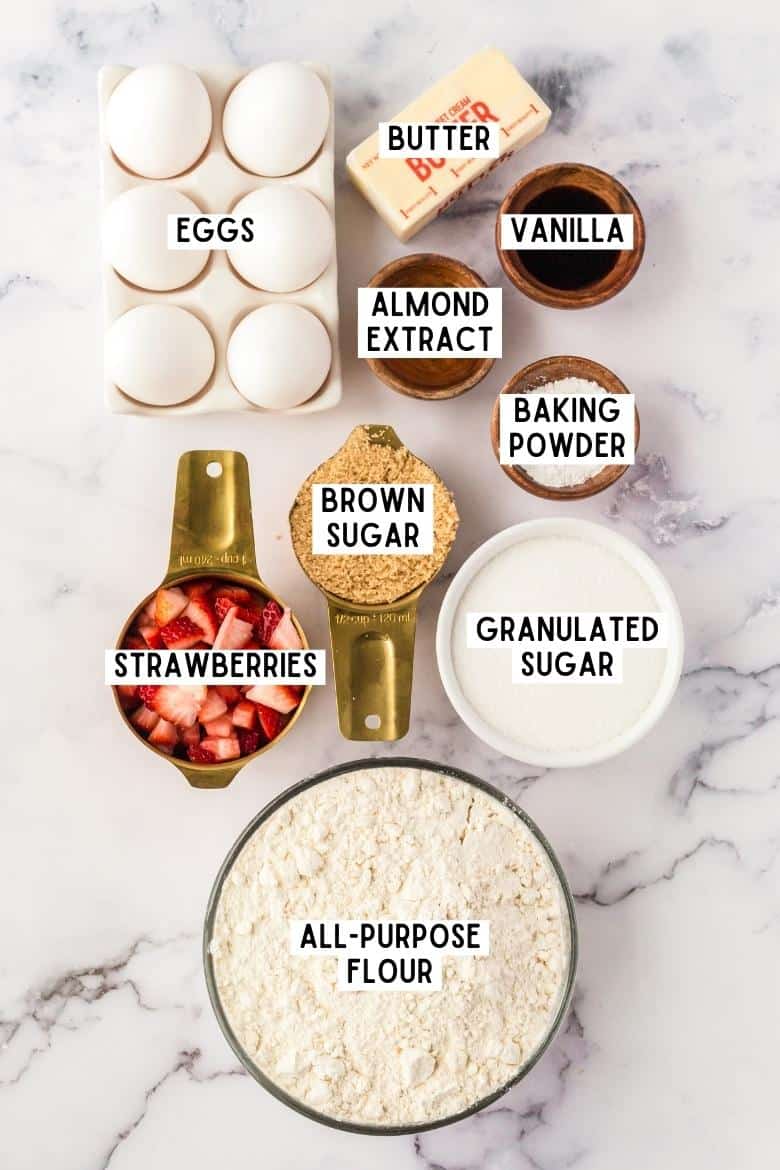 All-Purpose Flour—Acts as a solid base for these sweet and chewy cookies. A gluten free flour blend or whole wheat flour will also work.
Fresh Strawberries—Because you can't have strawberry shortcake cookies without some juicy and sweet strawberries!
Sugars—A mixture of brown and white sugar will give your cookies a soft and chewy texture.
Eggs—A binding agent used to hold all your cookie dough ingredients together.
Salted Butter—Adds rich flavor and just the right amount of salt.
Baking Powder—Gives your cookies a bit of rise and airiness.
Extracts—Vanilla and almond extract combine to add a creamy, almost cherry-esque flavor to these fruity cookies.
Equipment Needed
This simple strawberry cookie recipe is a one-bowl dessert that requires very little equipment to make. All you really need is a large mixing bowl, an electric mixer, some measuring cups and spoons, a cookie scoop, and a cookie sheet.
How to Make Strawberry Shortcake Cookies
This section shows you how to make the recipe with step-by-step photos and instructions. For the full printable recipe, see the recipe card below.
Step 1. In a large bowl, cream together your white sugar, brown sugar, and butter until all the sugar crystals have dissolved.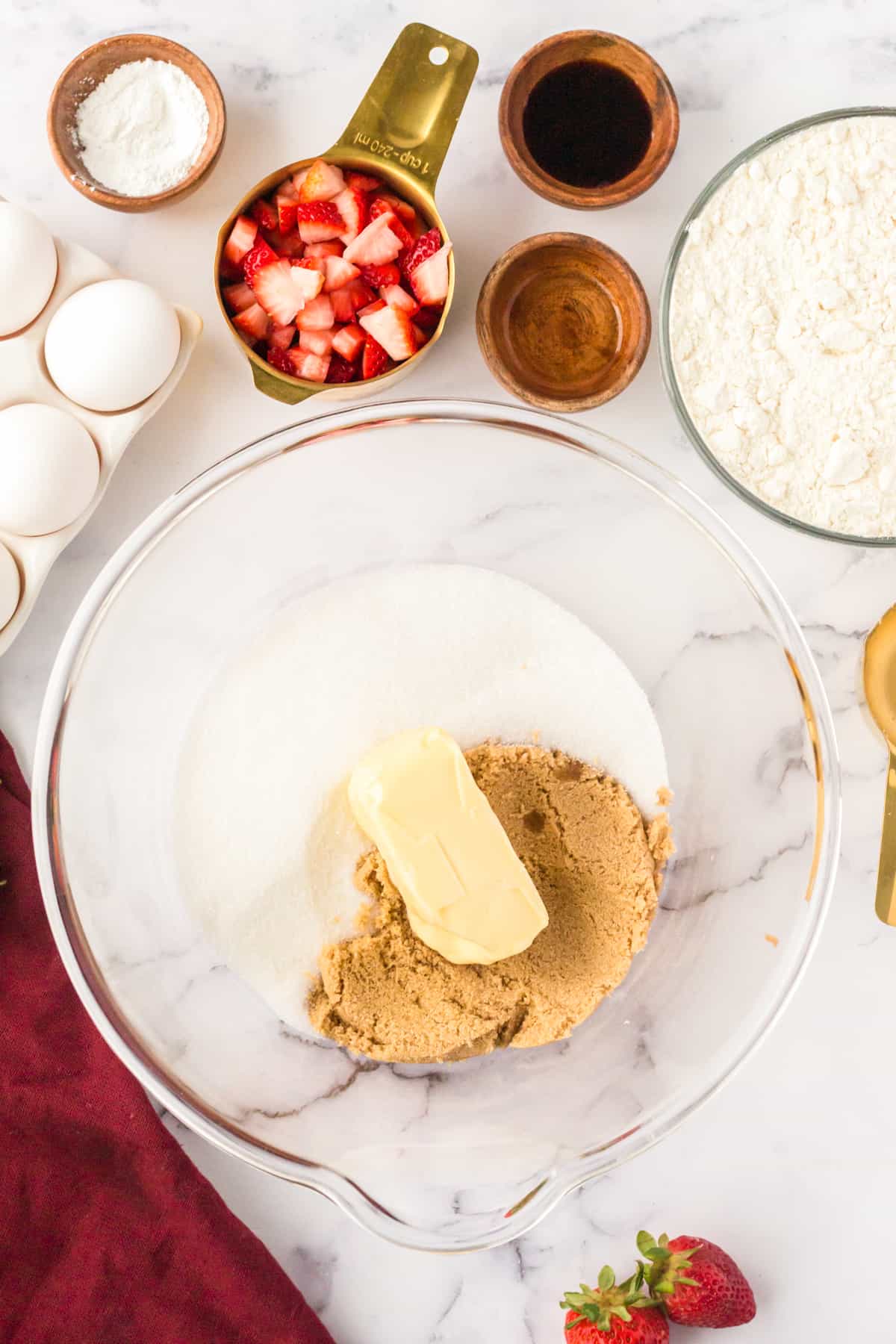 Step 2. Add the almond extract, vanilla extract, and eggs. Mix until everything is fully incorporated.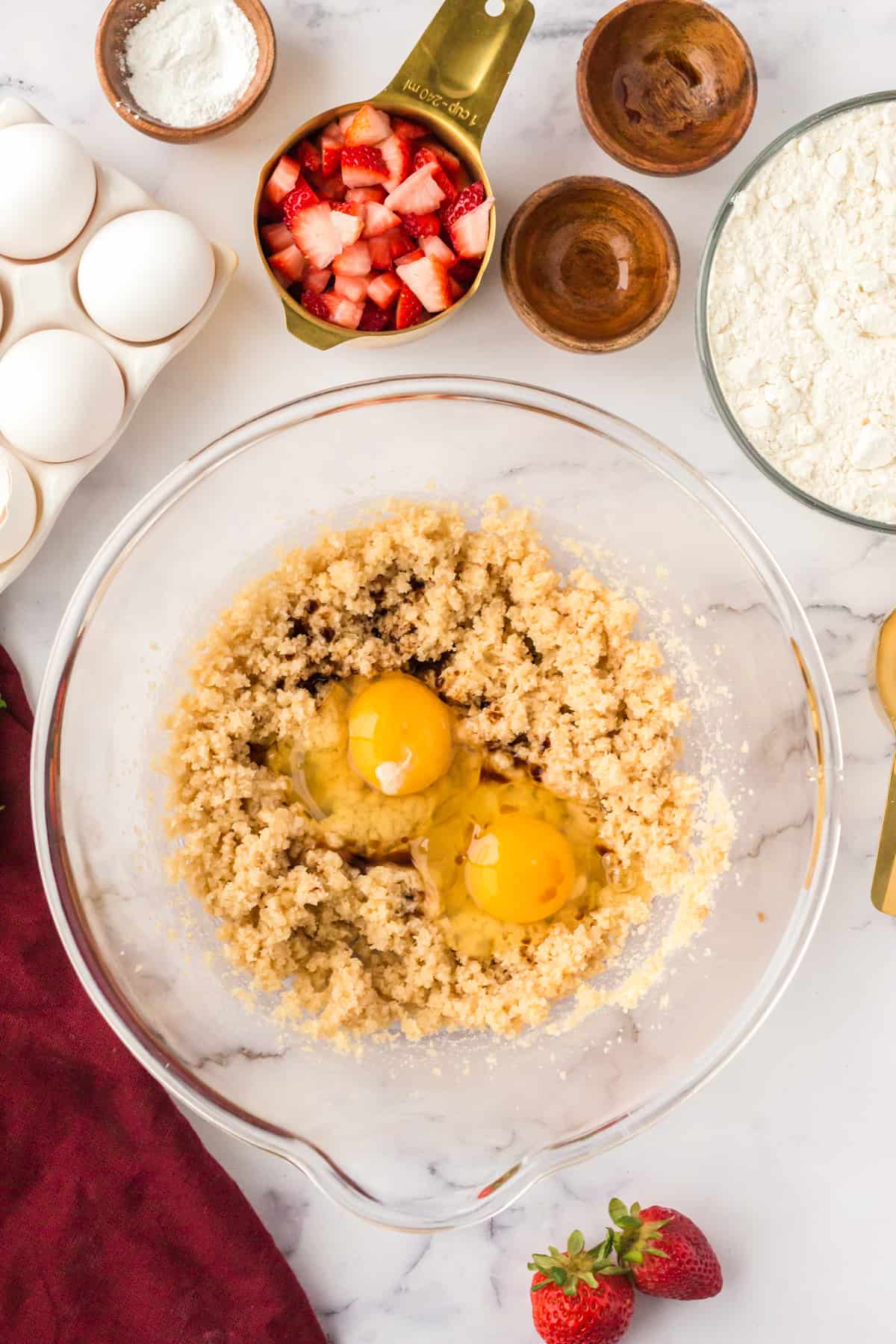 Step 3. Slowly stir your flour and baking powder into your wet ingredients. Keep mixing until there are no more clumps of flour.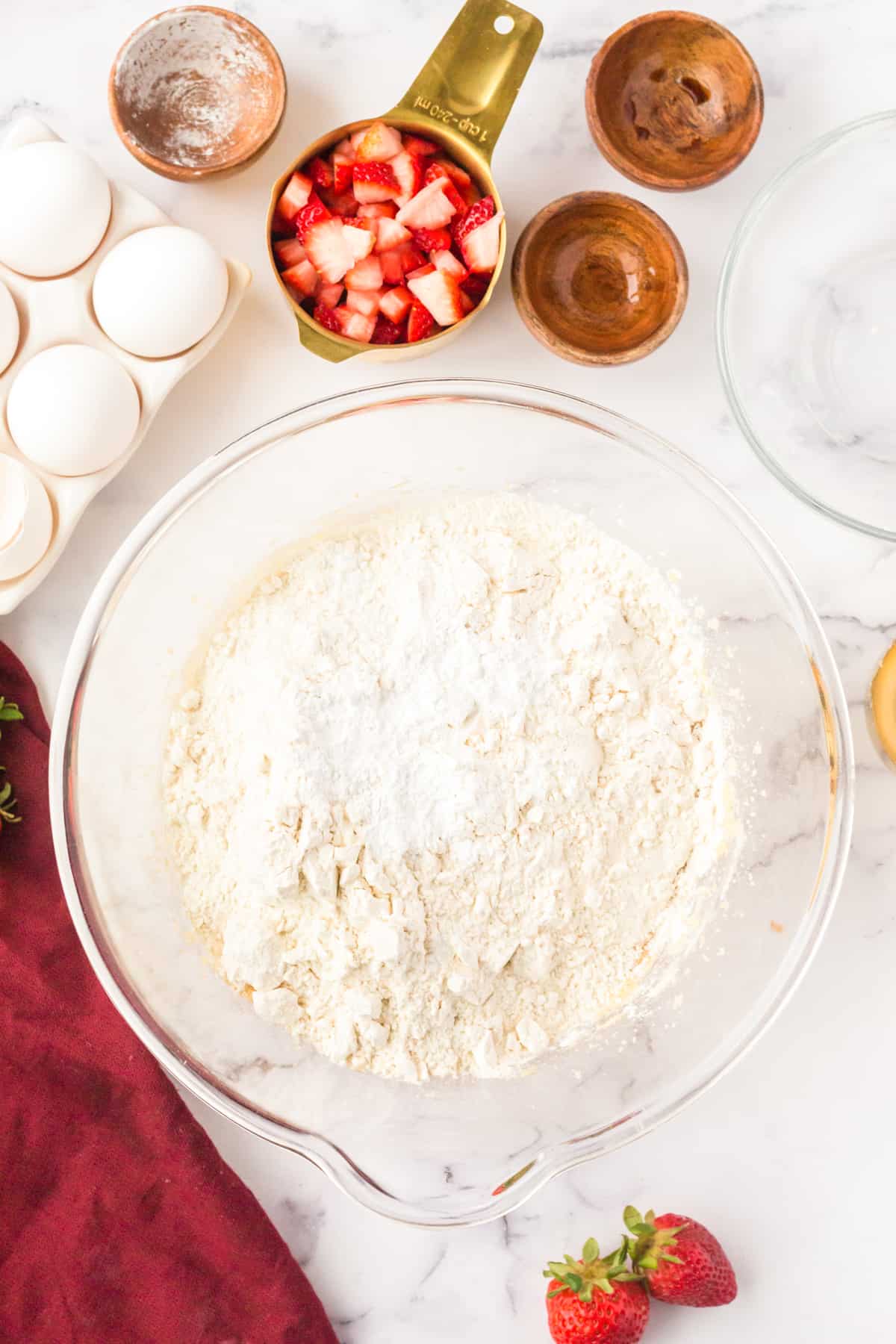 Step 4. Gently fold your diced strawberries into your cookie dough.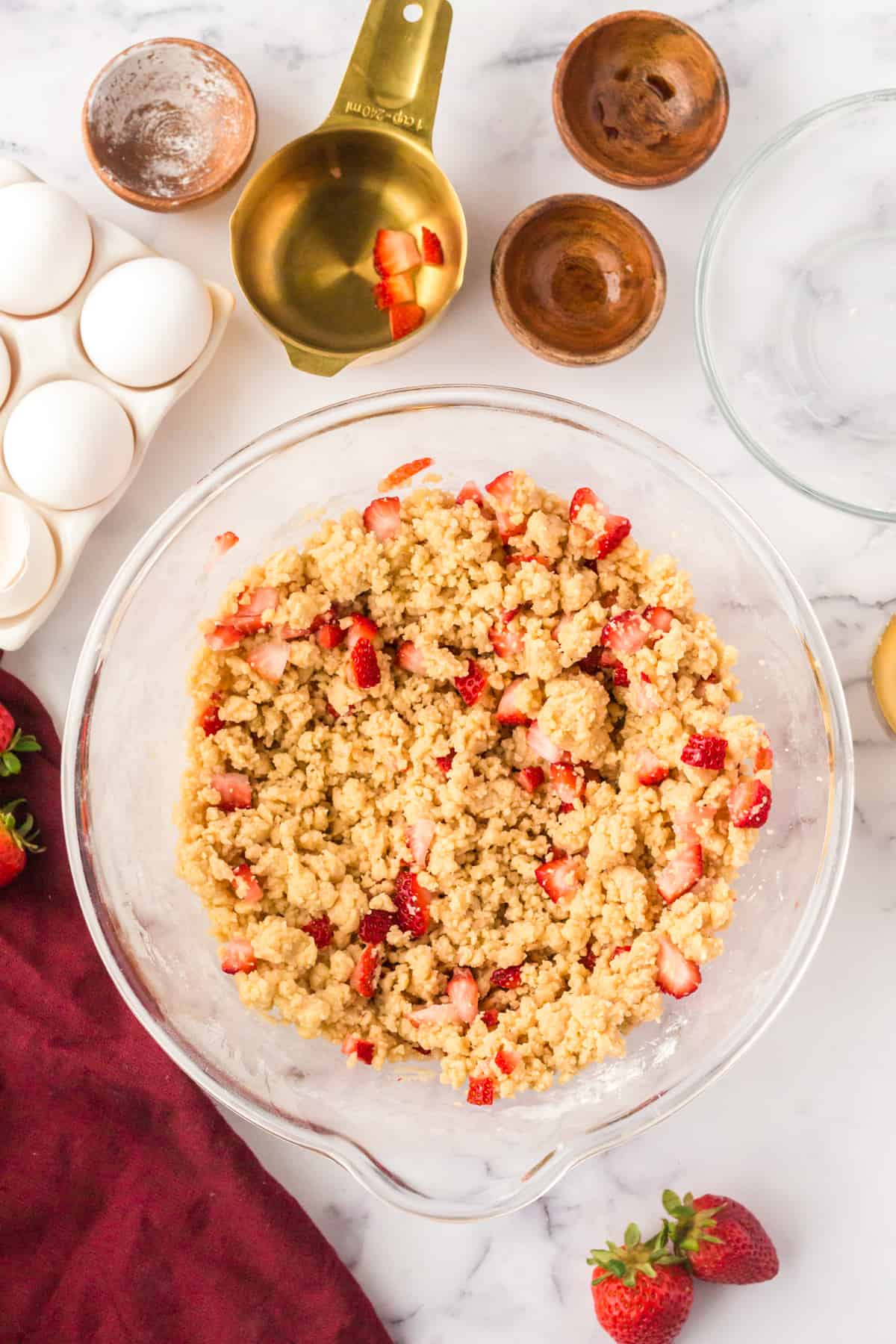 Step 5. Use a small cookie scoop or tablespoon to scoop out your dough and roll it into balls. Place evenly on a lined cookie sheet before popping in the oven.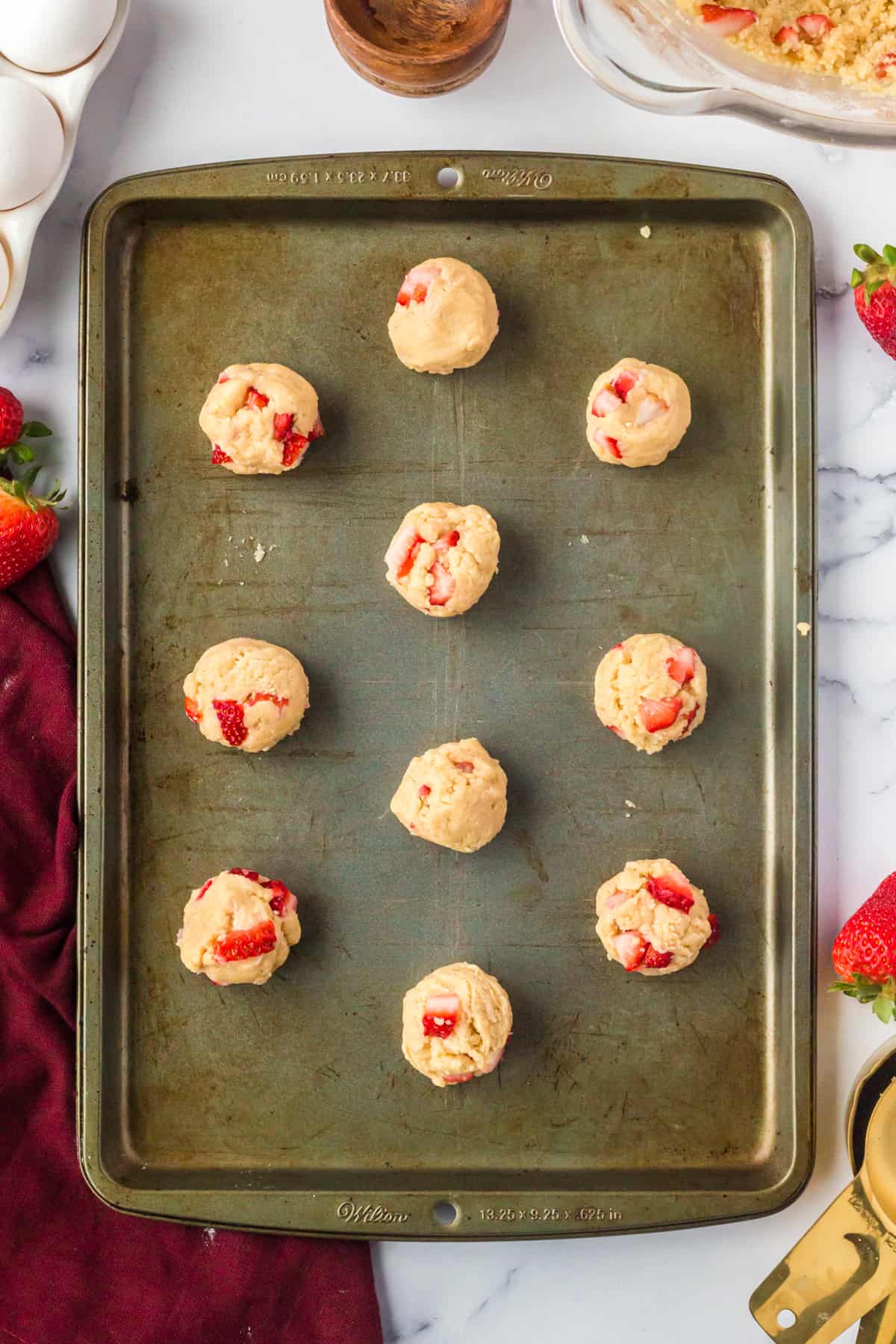 Step 6. Once the edges of your cookies begin to turn golden brown, pull them out of the oven and allow them to cool slightly on the cookie sheet before transferring them to a cooling rack to cool fully. Then enjoy!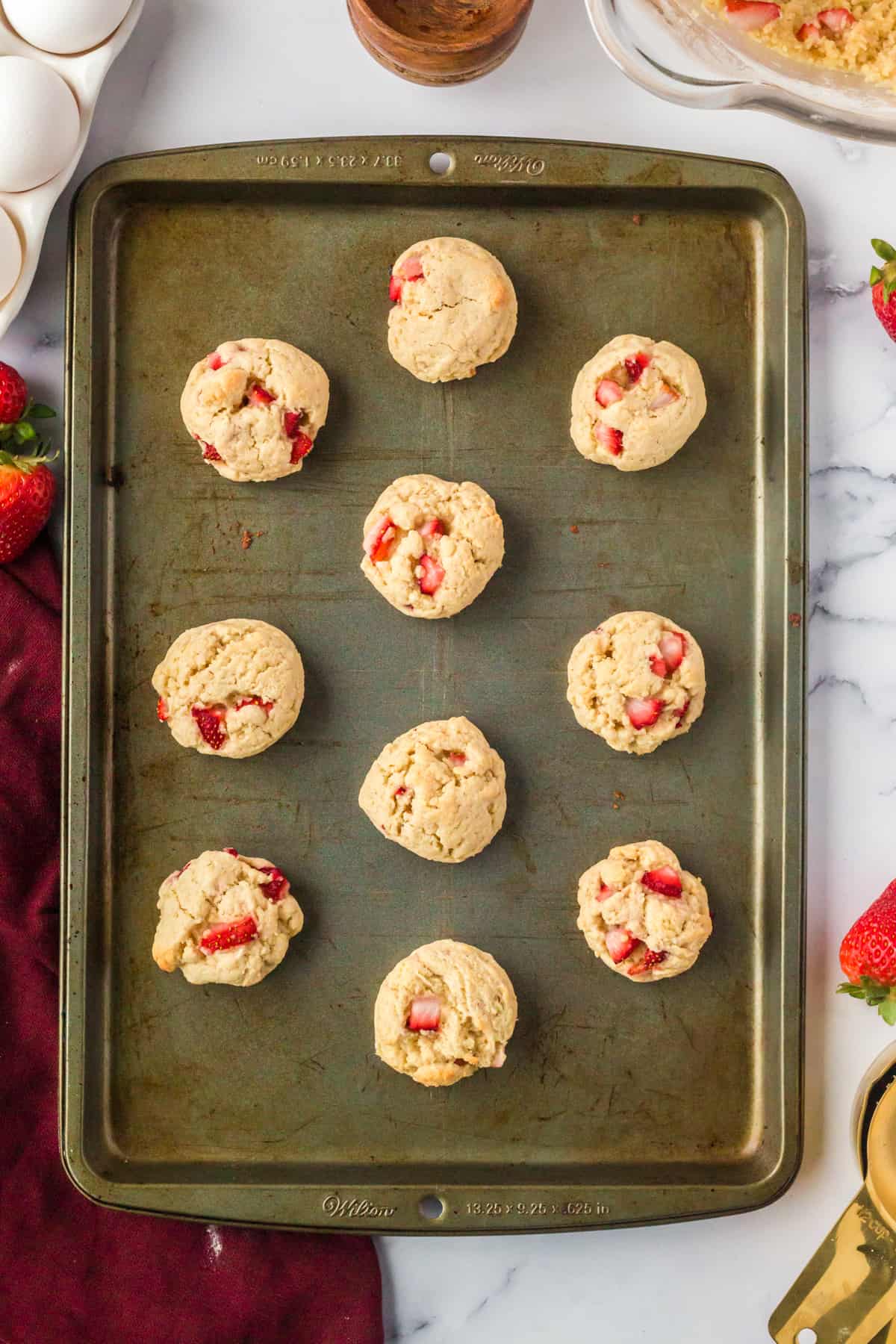 Storage
These cookies will keep for 5-7 days when stored in an airtight container on the countertop or for 2-3 months in the freezer.
Alternatively, you can make your dough ahead of time, shape your cookies, and store your dough balls in the freezer for up to 3 months. When you're ready to enjoy a fresh strawberry shortcake cookie, simply place a ball or two onto a lined baking sheet and bake until golden.
Tips and Tricks
The almond extract gives a flavor that pairs wonderfully with the fresh strawberries. However, if you are not a fan of almond extract you can simply omit it for this recipe.
Because there are so many yummy chunks of strawberries in these cookies, they don't naturally spread very much in the oven. If you like a flatter cookie, try using the bottom of a glass or the back of a spoon to flatten your cookies before putting them in the oven.
Are you a big fan of chocolate-covered strawberries? Try dipping your fresh strawberry shortcake cookies into some milk chocolate before serving.
These pretty white and red cookies make the perfect tea party treat or edible Valentine's Day gift!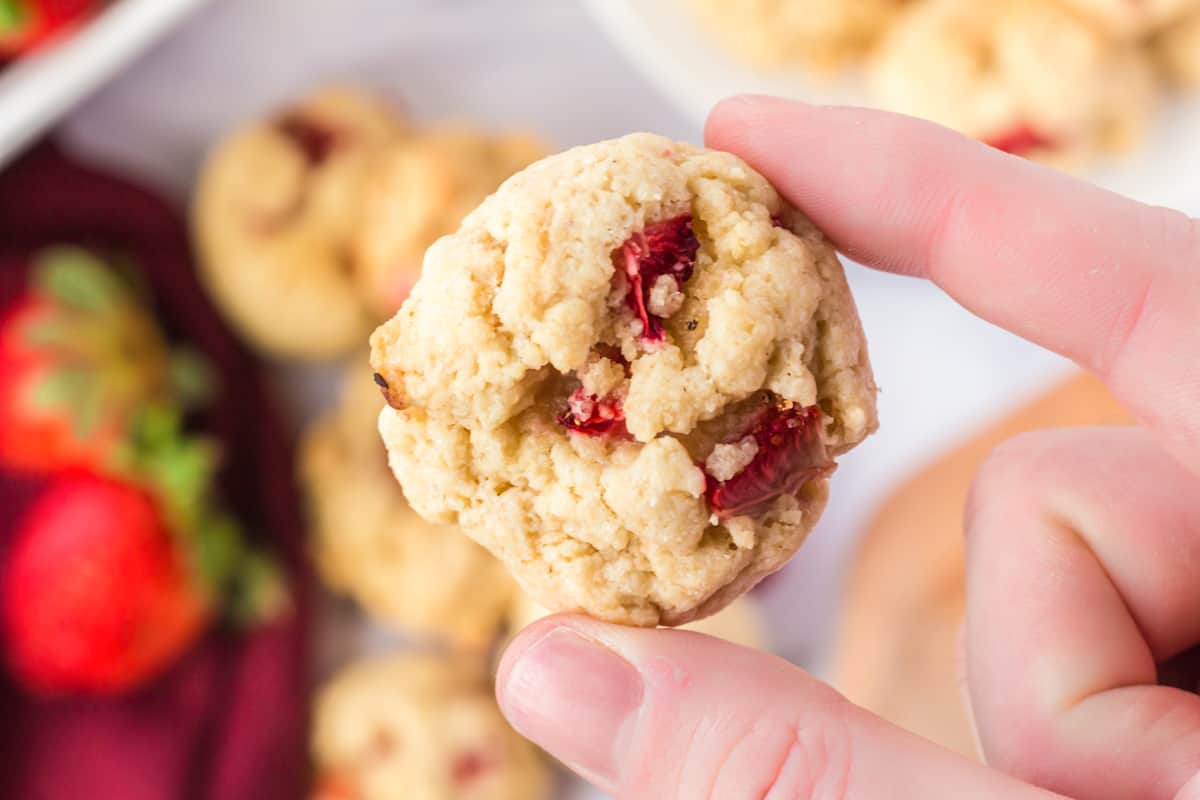 Other Fun Cookie Add-Ins
The delicate sweetness of fresh strawberries pairs well with a wide variety of other cookie add-ins. Some of my favorites are:
White or milk chocolate chips
Dried cherries or cranberries
Chunks of sweetened cream cheese
Swirls of strawberry jam
Lemon zest or juice
Chopped almonds, pecans, or walnuts
Crushed graham crackers
Golden Oreo chunks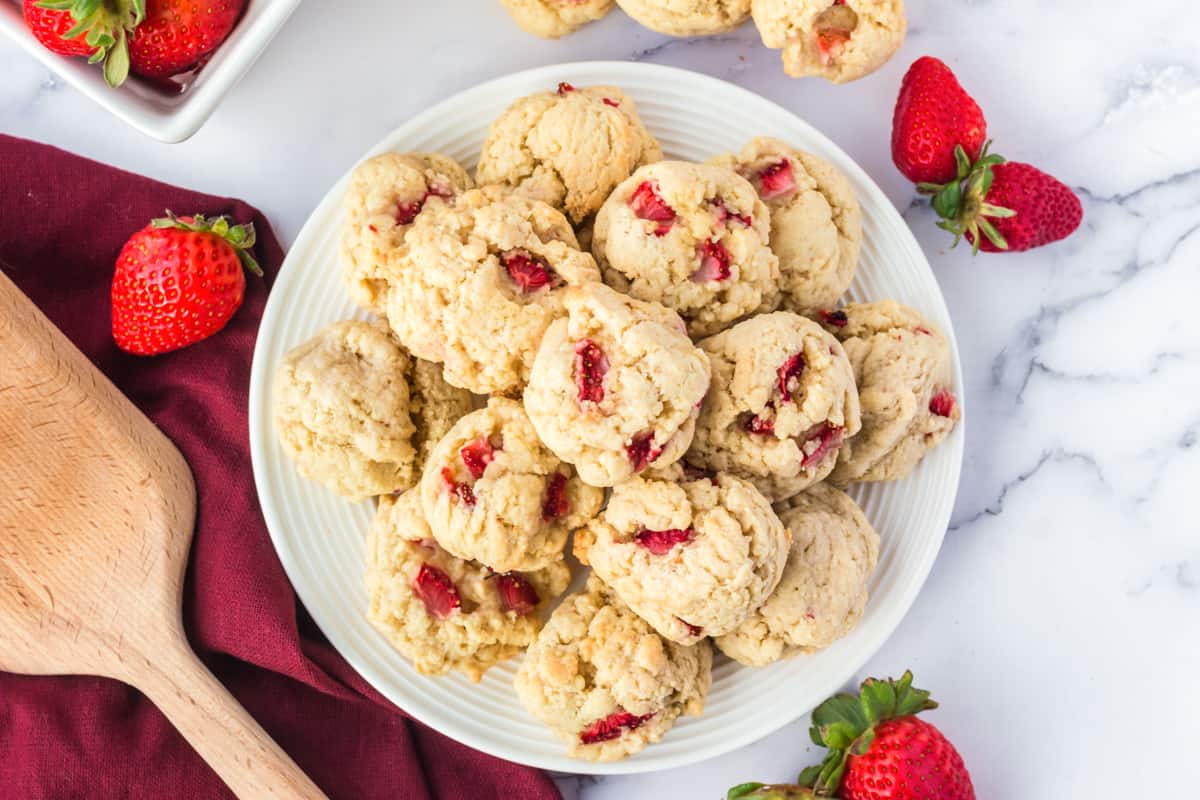 Frequently Asked Questions
Can I use frozen strawberries instead of fresh?
Yes! Frozen strawberries may be a little harder to dice, but they should bake up just fine in these cookies.
Can I frost strawberry shortcake cookies?
Absolutely! I find that these cookies are perfectly flavorful and sweet on their own, but if you really want to turn your strawberry shortcake cookies into something special, try topping them with frosting. Cream cheese, strawberry, white chocolate, or lemon frosting would all be an excellent addition to these cookies.
More Fresh Strawberry Recipes
Looking for more recipes to use up fresh strawberries? Give one of these a try:
Recipe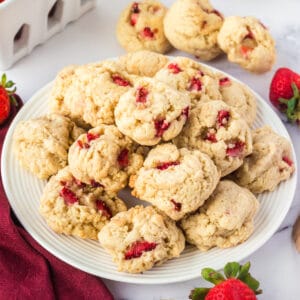 Recipe
Strawberry Shortcake Cookies
Light, fruity, and sweet strawberry shortcake cookies are easy to make in a single bowl with fresh strawberries and a handful of pantry staples.
Ingredients
¾ cup granulated sugar
½ cup brown sugar
½ cup salted butter softened
2 teaspoons vanilla extract
1 teaspoon almond extract
2 large eggs
2 ½ cups all-purpose flour
1 ½ teaspoon baking powder
1 cup diced fresh strawberries
Instructions
Preheat the oven to 375°F. Line two baking sheets with parchment paper and set aside.

Using a stand mixer or hand mixer and a large bowl, cream together the granulated sugar, brown sugar, and butter.

Add the almond extract, vanilla extract, and eggs and stir until the eggs are fully incorporated into the dough and the mixture is smooth.

Add the flour and baking powder, slowly stirring the dry ingredients into the wet ingredients until no clumps of flour remain in the cookie dough.

Gently fold in the diced strawberries until they are evenly distributed throughout the cookie dough.

Using a

cookie scoop

or a heaping Tablespoon, scoop the dough onto prepared cookie sheets, keeping the balls of dough at least 1 inch apart.

Bake for 14-16 minutes, or until the cookies are set. Allow the cookies to cool on the cookie sheet for about 4 minutes, then transfer to a cooling rack to cool fully.
Notes
Store for up to a week in an airtight container at room temperature or for up to 3 months in the freezer.
Nutrition
Serving: 1g | Calories: 104kcal
Did You Make This Recipe?
Share it with me on Instagram @crayonsandcravings and follow on Pinterest @crayonsandcravings for even more!