Homemade Apple Pie Filling
Posts may contain affiliate links, meaning that I may earn a commission if you use a link provided.
Sweet and tart apple slices, sugar, and warming spices come together for this easy and delicious homemade apple pie filling recipe. Use it instead of the canned stuff in your next apple dessert!
With fall (a.k.a. apple season) just around the corner, ideas for all kinds of apple desserts are tumbling around in my head. And while it may be easy to reach for canned apple pie filling, there's no need. It's super easy and affordable to make your own pie filling at home. I'll show you how!
Use your easy apple pie filling to make delectable dishes like my Apple Dump Cake, Apple Pie Crescent Rolls, Apple Pie Egg Rolls, or Apple Pie Cupcakes.
This recipe makes 2 cups, which is about the same amount as a can of apple pie filling.
It's perfectly delicious in everyday foods like oatmeal, yogurt, or on waffles, too. It doesn't have to be a pie-making occasion to enjoy this filling!
It only takes 20 minutes to make, so I recommend that you double or triple the batch to store some in the freezer for later. It's an especially tasty way to preserve some of your bounty after apple picking.
Let's get started! You can whip up your own apple pie filling in a flash.
Ingredients
This section includes ingredient notes and substitution options. Get all measurements, ingredients, and instructions in the printable recipe card at the end of this post.
Apples — Granny smith apples are great for baking! This variety has a good balance of sweet and tart flavor and still stays firm enough when cooking to not turn to mush in your pie. No one likes mushy apples! You can also use one of the other varieties mentioned in the FAQ section below.
Lemon Juice — A couple tablespoons of lemon juice brightens up the flavors and prevents the apples from browning.
Granulated Sugar — For sweetening the apple pie filling.
Brown Sugar — Adds extra sweetness. The darker the brown sugar, the more caramel flavor you'll get.
Cinnamon and Nutmeg — These warm spices marry perfectly with apples. It's that classic fall flavor we all know and love.
Vanilla Extract — Pure vanilla extract adds sweetness and depth of flavor. We like a little vanilla in almost every dessert!
Butter — Adds richness and buttery goodness to the sauce.
Water — Water is combined with cornstarch to make a slurry for the pie.
Cornstarch — The cornstarch slurry is what thickens up the "sauce" that forms while the apples cook in the sugar, butter, and lemon juice.
Equipment You'll Need
Grab your apron and your kitchen tools — let's make some yummy apple filling! Here's what you'll need for this homemade version:
Peeler
Apple corer
Knife
Cutting board
Measuring cups
Measuring spoons
Large saucepan
Whisk
How to Make Homemade Apple Pie Filling
This section shows you how to make the recipe with step-by-step photos and instructions. For the full printable recipe, see the recipe card below.
Step 1: Gather all your ingredients for the homemade filling. Then use an apple peeler to peel the apples. You'll also need to core and slice them. Place the apple slices in a large bowl, and toss apples with lemon juice to prevent browning.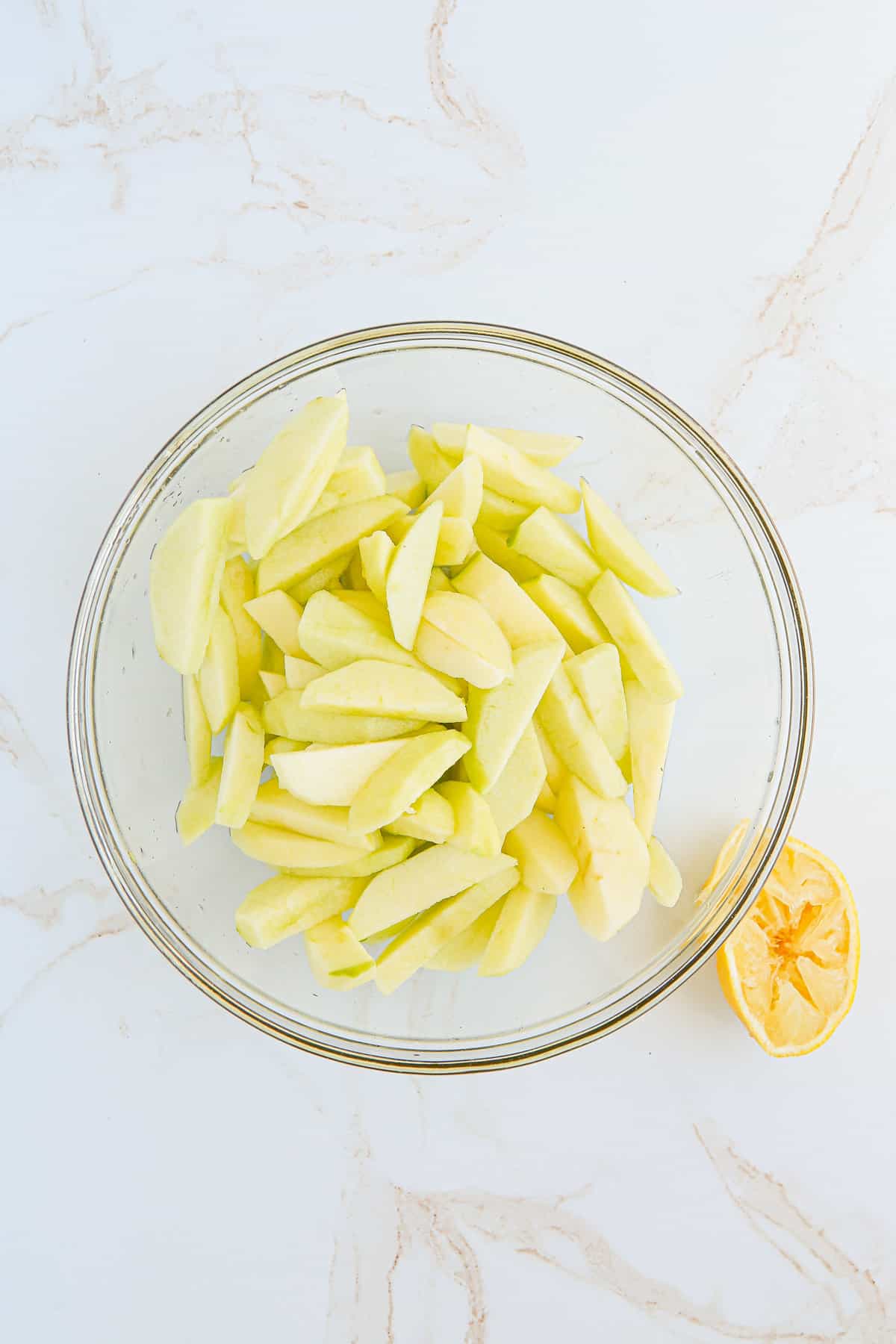 Step 2: Set a large saucepan to medium high heat, and add the apples, white sugar, brown sugar, spices, vanilla, and 3/4 cup of water. Stir to combine.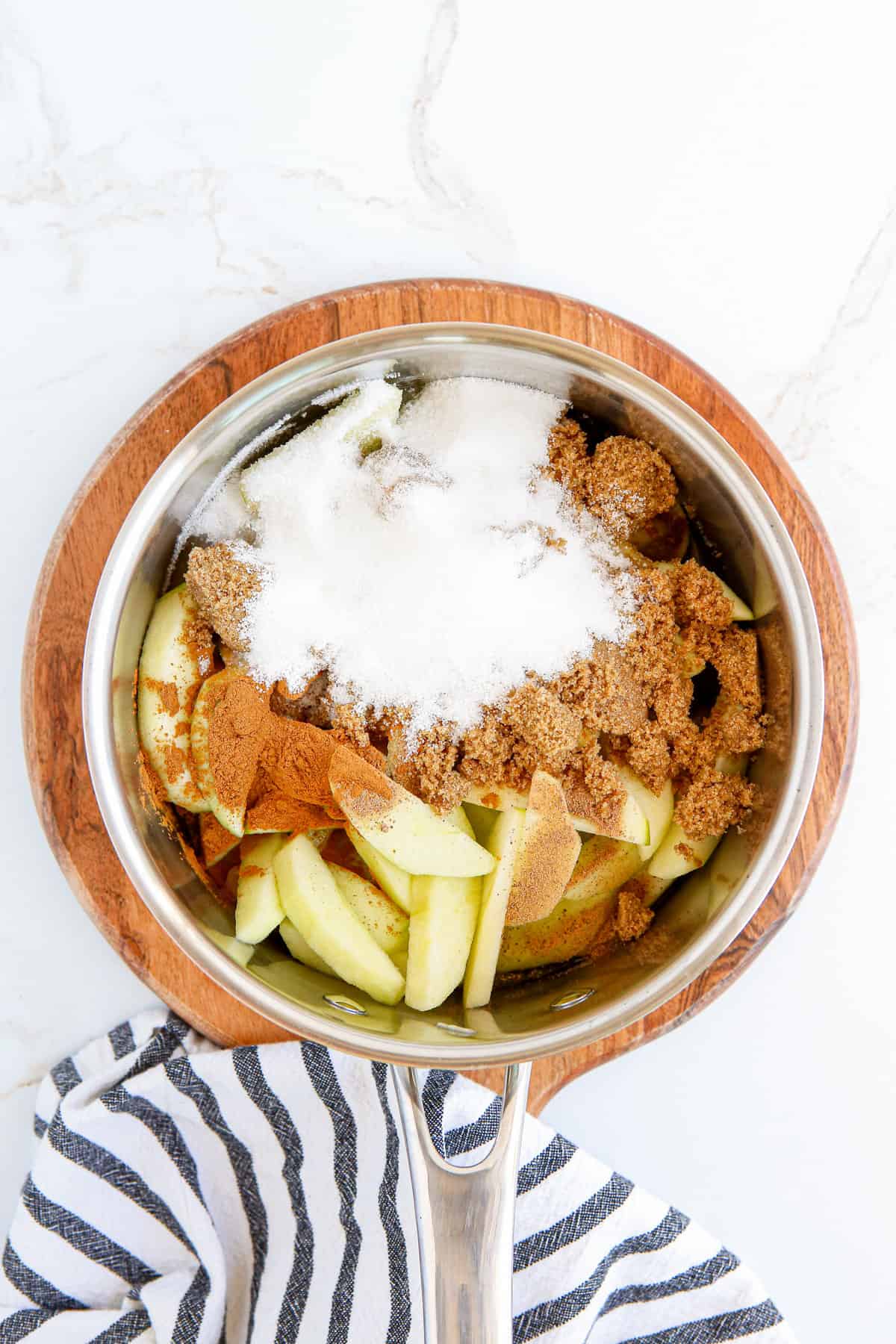 Step 3: When the apple mixture starts boiling, reduce to medium heat and simmer for a 5 minutes, stirring occasionally. Add butter to the pan, simmering until it is melted.
Step 4: In a small bowl, mix together the cornstarch and the remaining water until well combined. Pour into the saucepan. Continue to simmer the apples for 10 more minutes or until the filling thickens, stirring occasionally. Remove the apples from the heat, and allow to cool completely.
Let the apple pie filling cool to room temperature, and store in airtight containers in the refrigerator.
How to Use Apple Pie Filling
After you've made your filling, what next? Perhaps you don't feel like making a pie. Here are a handful of ways to use that delicious apple pie filling.
With a scoop of vanilla ice cream
Stirred into yogurt
In your oatmeal
As cake filling
Over waffles or pancakes
As filling in pastries
Over cheesecake
In an apple crisp or apple cobbler
Storage and Freezing
Store apple pie filling in an airtight container in the refrigerator for 5 to 7 days.
Can I freeze homemade apple pie filling?
Yes! Pour the cooled homemade pie filling into freezer-safe gallon-sized zip-top bags. Store flat in the freezer. The filling will keep for up to 4 months frozen.
Easy Homemade Apple Pie Filling Recipe Tips and Tricks
Use a combination of apple varieties (like Granny Smith and Gala apples) for a more flavorful filling.
You can slice or chop the apples — whichever is your preference. We find that chopped apples are best for hand pies while sliced apples work well in a larger pie.
This makes about 2 cups of filling, which is equivalent to about one can of apple pie filling.
The apple pie mixture gets thicker as it cools, so don't worry if yours seems a tad too thin after cooking.
Additions and Variations
Add pears. Pears pair beautifully with apples, and they're delicious with the same spices. Plus, adding pears adds depth of flavor and texture as well as extra "juice" for making a sauce. Sub up to half of the apples for the same amount of pears.
Increase the spices. This is a "middle of the road" recipe in terms of spices, but if you're a big fan of cinnamon and nutmeg, feel free to increase those spices to get a big punch of that yummy fall flavor.
Substitute apple pie spice. Instead of cinnamon and nutmeg, add the same amount of store-bought or homemade apple pie spice, if you prefer. It's a blend of cinnamon, nutmeg, and allspice and will be delicious in this recipe.
Use only brown or white sugar. Want filling with a lighter color and flavor? Use all white sugar instead of both. Prefer the deeper color and flavor of brown sugar? Use all brown sugar instead.
Swap out the extract. Instead of vanilla, add a teaspoon of apple extract or butter rum extract.
Sub apple cider for the water. Instead of using water in the sauce mixture and cornstarch slurry, use apple cider or apple juice. It adds so much flavor!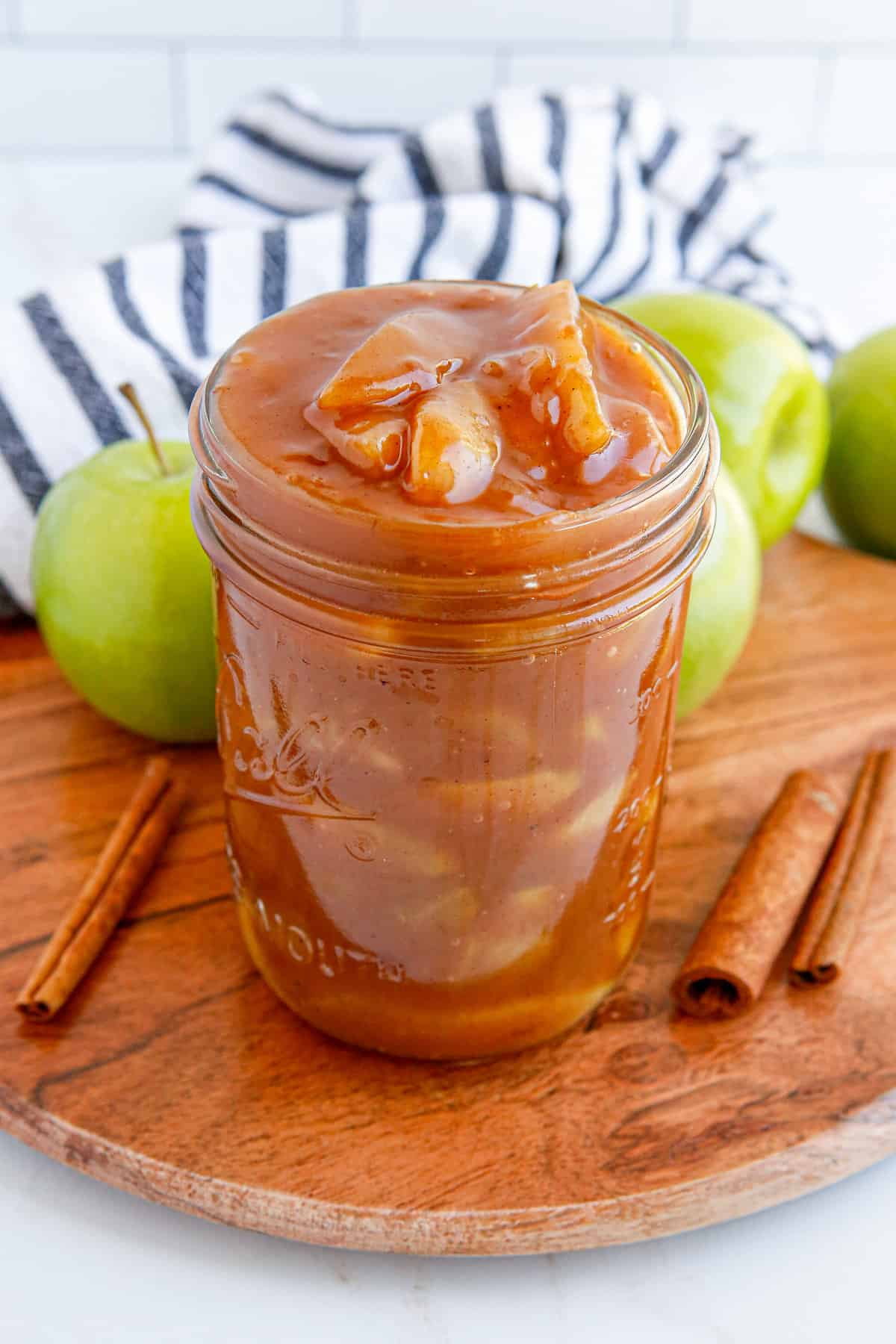 Recipe FAQ
What are the best apples for apple pie?
According to Taste of Home, firmer apples are the best kind of apples for apple pie because they hold up better during cooking. Many of these varieties also have flavors that intensify when cooking. Recommend fresh apples for baking include Braeburn, Crispin, Cortland, Granny Smith, Jonagold, Honey Crisp, Pink Lady, and Winesap. Most of us will be familiar with Granny Smith apples which are available year round.
What are the worst apples for baking?
The worst apples for making apple pie are those that are grainy, mushy, or break down quickly during cooking. Some varieties I avoid are Fuji, Golden Delicious, McIntosh, and Red Delicious. I save those apples for snacking instead.
Is it better to slice or chop apples for apple pie?
There's no right or wrong answer here. Small chunks of apples will break down a little more and be softer while slices or large chunks will be a little firmer. Chop or slice them according to your preference.
How do you thicken apple pie filling?
You can easily thicken apple pie filling by adding cornstarch while it's cooking. Tapioca starch or flour are also good choices, since you likely have at least one of them on hand. If the pie is already baked, let it cool completely to see if it thickens up. If not, pop it back in the oven a while longer, but cover the pie with aluminum foil if there's a top crust to prevent burning. Otherwise, just cover the edges of the pie with foil.
More Delicious Apple Recipes
If you enjoyed our recipe for the BEST homemade apple pie filling, you'll also like these apple desserts:
Recipe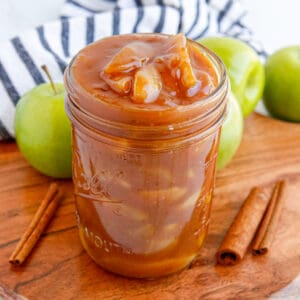 Recipe
Homemade Apple Pie Filling
Ditch the canned stuff. This homemade apple pie filling is chock full of tender apple slices and gooey cinnamon sauce, just the way you like it. Use it right away or store it in the fridge or freezer for later. So delicious in a pie or served over vanilla ice cream!
Ingredients
4 cups apples peeled, cored, and sliced
2 Tablespoons lemon juice
1/2 cup granulated sugar
1/2 cup brown sugar
2 Tablespoons ground cinnamon
1/8 teaspoon ground nutmeg
1 teaspoon vanilla extract
4 Tablespoons unsalted butter
1 cup water divided
4 Tablespoons cornstarch
Instructions
Peel, core, and slice the apples and place in a large bowl. Toss with lemon juice.

Place apples, granulated sugar, brown sugar, cinnamon, nutmeg, vanilla extract, and 3/4 cup water into a large saucepan over medium high heat. Once the mixture begins to boil, reduce heat slightly and simmer for 5 minutes, stirring occasionally. Add the butter and simmer until melted.

Mix together the cornstarch and remaining 1/4 cup of water in a small bowl until well combined, and pour into the saucepan. Continue to simmer the apples for another 10 minutes, stirring occasionally, or until the filling thickens. Remove from the heat and allow to cool completely before using or pouring into storage containers. Enjoy!
Notes
Granny Smith, Honeycrisp, Braeburn, Cortland and Golden Delicious apples are all terrific options for making pie filling. You can slice or chop the apples — whichever is your preference. I find that chopped apples are best for hand pies while sliced apples work well in a larger pie. Homemade apple pie filling can be stored in an airtight container in the refrigerator for up to 5-7 days.
Nutrition
Serving: 1g | Calories: 145kcal
Did You Make This Recipe?
Share it with me on Instagram @crayonsandcravings and follow on Pinterest @crayonsandcravings for even more!