The classic flavors of grandma's peanut butter and jelly bars will be a hit with the kids and have you reminiscing your childhood.
Like old-fashioned peanut butter cookies and chocolate chip cookie bars with peanut butter, these bars would be a perfect treat for back-to-school season or as an after-school snack any time of year.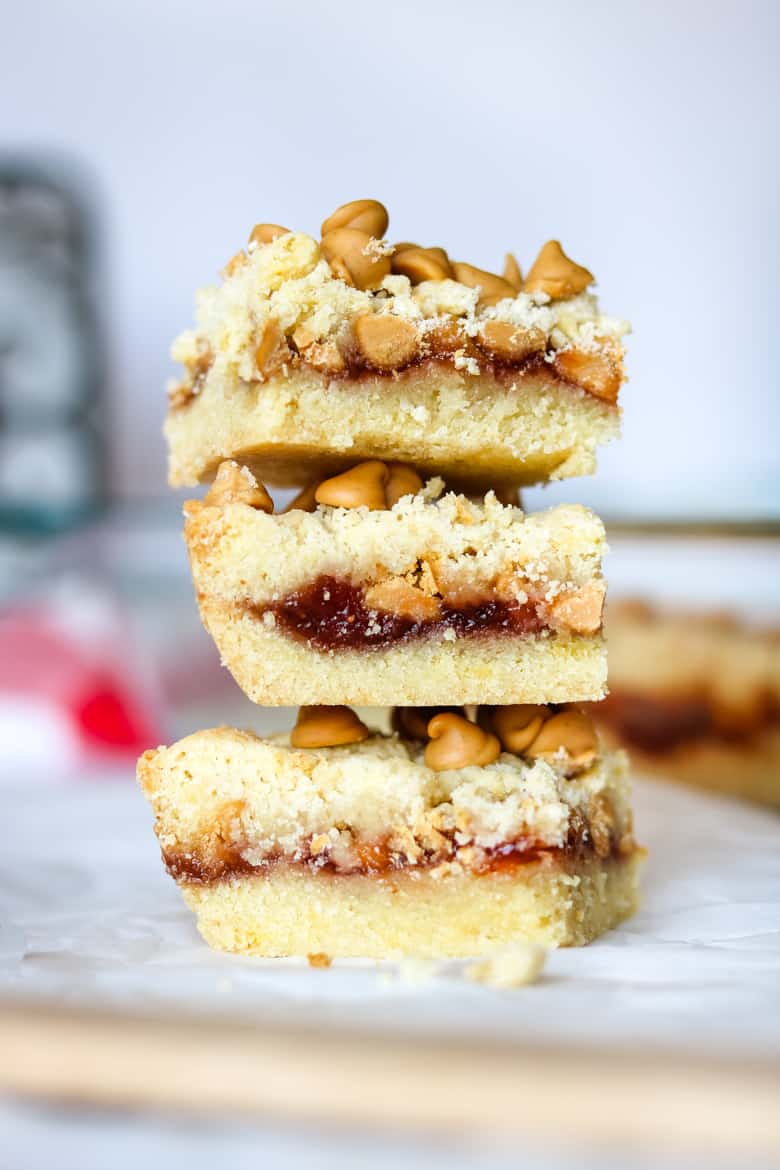 Dreaming of Childhood Treats
I couldn't tell you why, but for some reason these delicious peanut butter and jelly bars with peanut butter chips popped into my mind this week.
Although I hadn't had the bars since I was a child, I couldn't get them out of my mind.
I didn't want the bars — I had to have them.
The problem was, I couldn't remember grandma making them in at least 15 years.
Would she even still remember the recipe?

Grandma Came Through
Because she is the most awesome person in the history of ever, Grandma not only remembered the recipe, but she even text me a photo of the recipe card from her recipe box.
Grandma is the best.
After I made a special trip to the grocery store to pick up the ingredients for the bars, I set out to make them for myself for the first time.
As I placed the baking dish in the oven, I couldn't help but get a little bit anxious.
Would my bars live up to Grandmas? Would they taste as good as I remember?
You guys, they are even better than I remembered.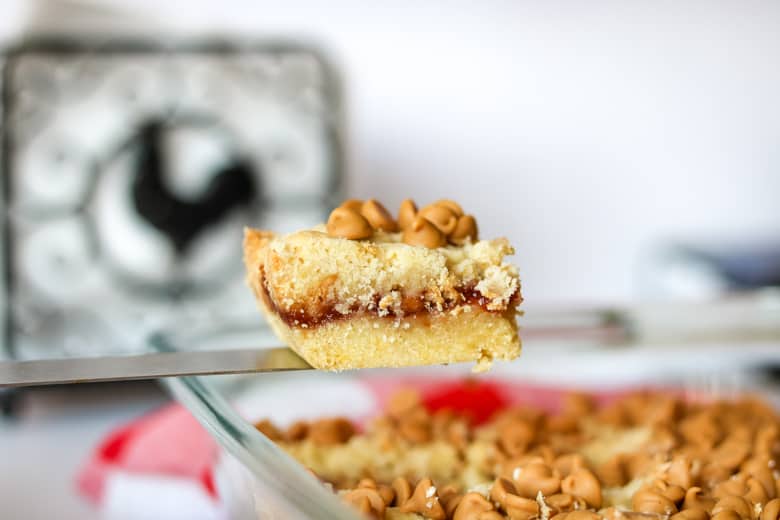 Peanut Butter and Jelly Bars
Packed with peanut butter chips and a layer of jelly, these savory dessert bars have the same flavors as the classic sandwich, but in a delicious dessert form.
As I took my first bite my mind flooded with memories of school lunches and enjoying the treats in the kitchen of my childhood home.
I can't believe I had gone 20-something years without these bars in my life!
Now that I got my hands on Grandma's recipe, I knew I needed to share her recipe here on the blog so you all can also bake a batch of these incredible bars for your family. Plus, with the recipe up on the blog, I know I will never find myself without this amazing recipe again.
Grape Jelly or Strawberry Jam?
Any variety of jelly, jam, or preserves will work.
If you are going for classic PB&J flavors, you may want to opt for grape jelly.
My family loves strawberry preserves, so I choose to use it in this recipe instead.
One thing to keep in mind is the thickness of your jam or jelly. If it is super thick, it may be more difficult to spread out onto the dough. A few vigorous stirs before you spread the jelly should help remedy that though, so no worries.
Either way, I know you and your family will love these incredible PB&J bars!
If you are a fan of peanut butter, you will also love these easy peanut butter desserts: 3-ingredient peanut butter fudge, peanut butter blossom cookies, and no-bake peanut butter cookies.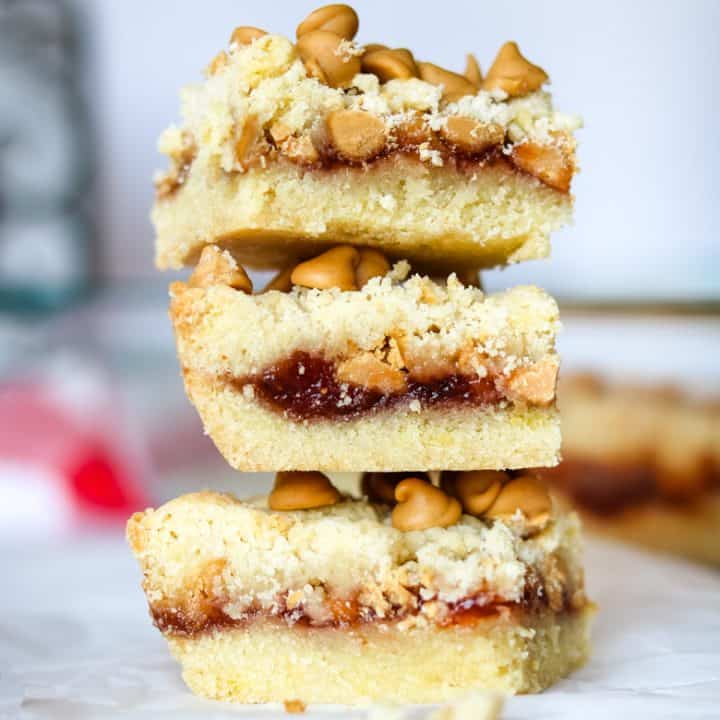 Peanut Butter and Jelly Bars
Packed with classic PB&J flavors, these easy dessert bars will have you reminiscing your childhood.
Ingredients
3 cups all-purpose flour
1 cup sugar
1 ½ tsp baking powder
1 cup (2 sticks) butter, softened
2 eggs, beaten
1 cup strawberry jam (or individual preference)
1 bag (10 oz) peanut butter chips, divided
Instructions
Preheat oven to 375. Prep a 13 x 9-inch pan with a thin layer of non-stick cooking spray.
In a large mixing bowl, stir to combine flour, sugar, and baking powder. Using a pastry cutter or fork, cut in butter until the dough resembles coarse crumbs. Add egg; stir until mixture is smooth.
Press half of dough evenly into bottom of baking pan. Spread jelly evenly over the dough. Sprinkle with 1 cup of peanut butter chips. Crumble remaining dough on top.
Bake for 30 - 35 minutes or until lightly golden brown. Remove from oven; immediately sprinkle with remaining peanut butter chips, pressing chips down slightly. Allow bars to cool fully before slicing and serving.
Nutrition Information:
Yield:

24
Serving Size:

1
Amount Per Serving:
Calories:

209
Total Fat:

9g
Saturated Fat:

5g
Trans Fat:

0g
Unsaturated Fat:

3g
Cholesterol:

36mg
Sodium:

106mg
Carbohydrates:

30g
Fiber:

1g
Sugar:

16g
Protein:

3g
The nutritional information provided is automatically calculated by a third party and intended to serve as an estimate only. Accuracy of nutritional information is not guaranteed.
Pin for Later:
This recipe was added to The Weekend Potluck.