No-Bake Strawberry Jello Pie
Posts may contain affiliate links, meaning that I may earn a commission if you use a link provided.
Delicious strawberry Jello pie is easy to make with Strawberry Jello, Cool Whip, fresh strawberries, and a ready-made graham cracker crust. The no-bake pink strawberry pie is a cool and refreshing summer dessert and is sure to be the star of any family gathering.
I love to spend time in the kitchen baking up a storm during the fall and winter months. But not so much on hot summer days. The last thing I want to do on a scorcher is turn on my oven. No, thank you.
Thankfully, I have a few awesome no-bake dessert recipes with simple ingredients that are my go-tos on hot days like these.
Like my pistachio pudding icebox cake (hubby's fave), blueberry delight, lemon icebox cake, lemon lush, and this light and fluffy no-bake strawberry pie with jello.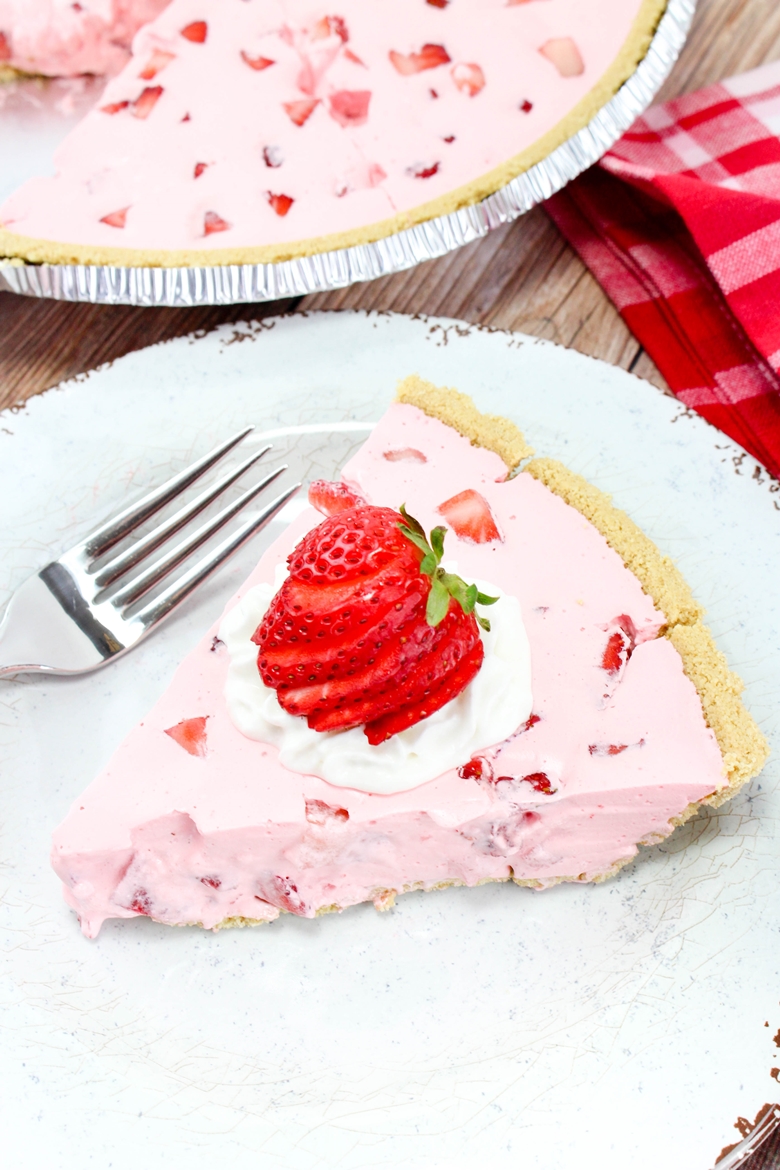 The best part is, this quick jello pie is super simple to make. If you can make gelatin from a box, you can make this easy fresh strawberry pie.
The easy recipe only requires 4 ingredients — plus some water and ice!
Honestly, the toughest part is waiting for the Jello to set.
I like to prepare the no-bake pie in the evening; so that it has plenty of time to set up overnight while we sleep. That way I am not watching the clock and counting down the minutes until I can enjoy it.
Likewise, if I am making no-bake Jello pie for a summer party or barbecue, I make sure to prepare it the night before so that I know it will be good to go on the day of the event. Although it can set in as little as 3 hours, sometimes it can take as many as 6. What gives? Make up your mind, pie!
Ingredients
This section includes ingredient notes and substitution options. Get all measurements, ingredients, and instructions in the printable recipe card at the end of this post.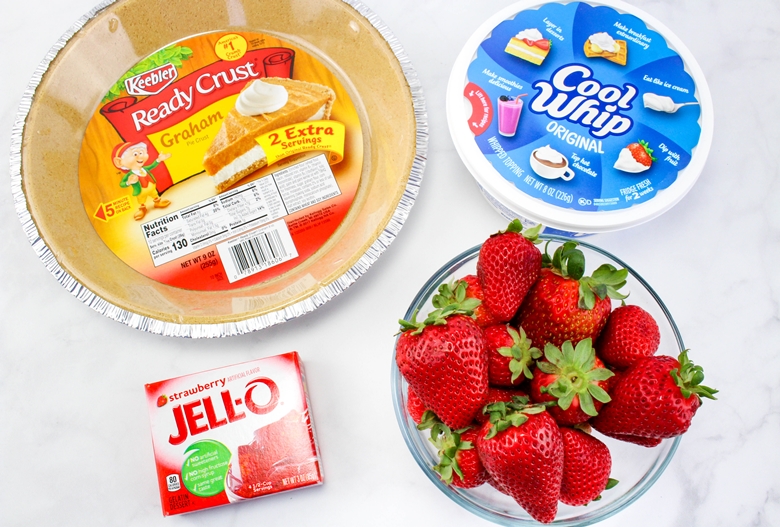 Graham Cracker Crust– Using a premade 9″ or 10″ pie shell makes this strawberry jello pie recipe easy peasy. However, feel free to make your own graham cracker crumb crust or homemade pie crust if you prefer. You could also use two smaller 6″ pie crusts.
Cool Whip– Be sure to thaw your frozen whipped topping in the fridge overnight before beginning.
Strawberry Jello– Use regular as the sugar free jello has been known to not set up properly in this easy pie recipe.
Fresh Strawberries– Chopped into bite-sized chunks. For best results use fresh in-season strawberries.
How to Make a Strawberry Pie with Jello
This section shows you how to make the recipe with step-by-step photos and instructions. For the full printable recipe, see the recipe card below.
Step 1: Dissolve jello mix in boiling water, stir in ice water to cool it down then let it sit for 10 minutes to thicken.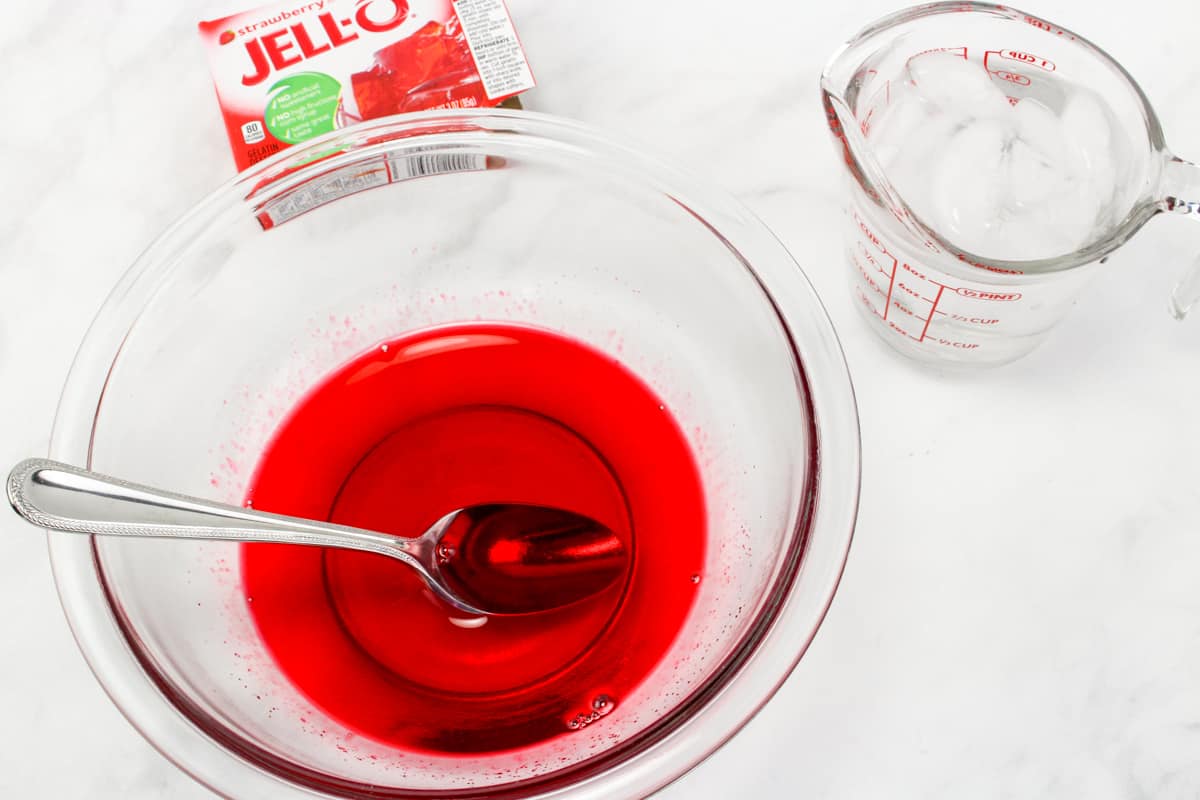 Step 2: Mix the whipped topping into the gelatin mixture then fold in diced strawberries.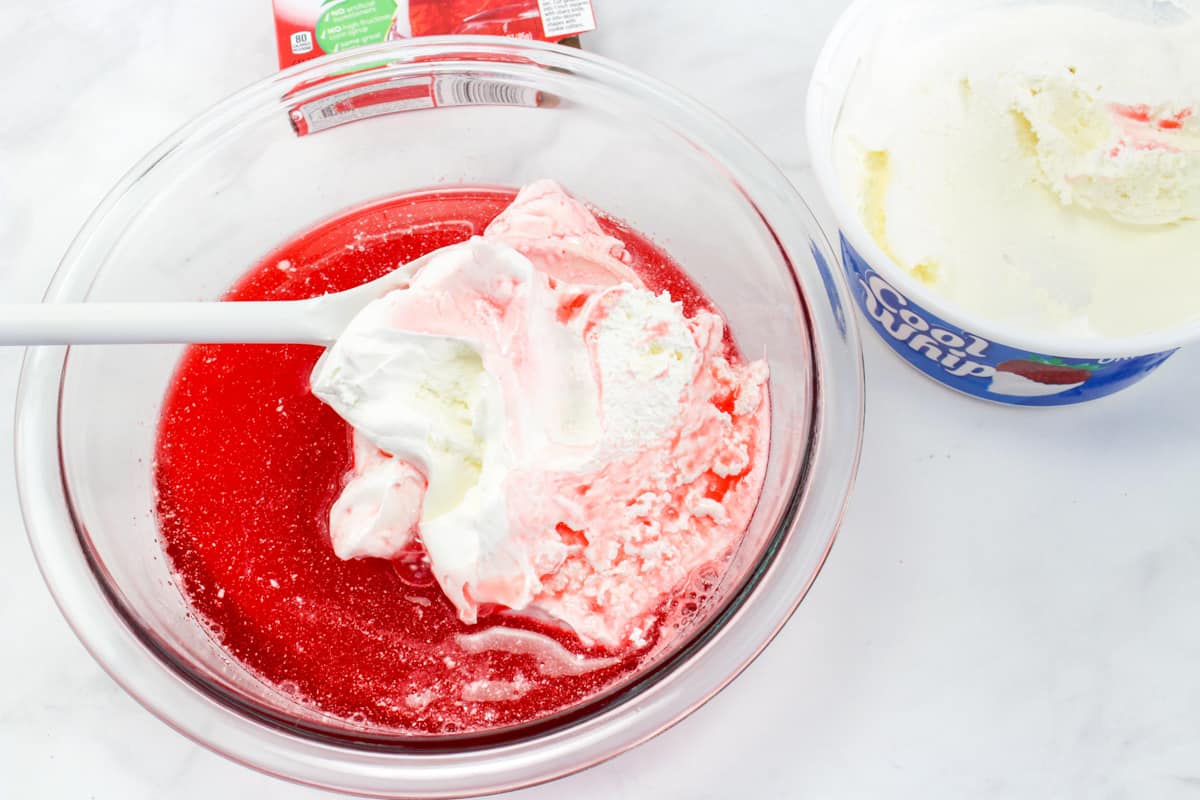 Step 3: Transfer the jello filling to the prepared pie shell. Cover and chill for at least 3 hours, or until set.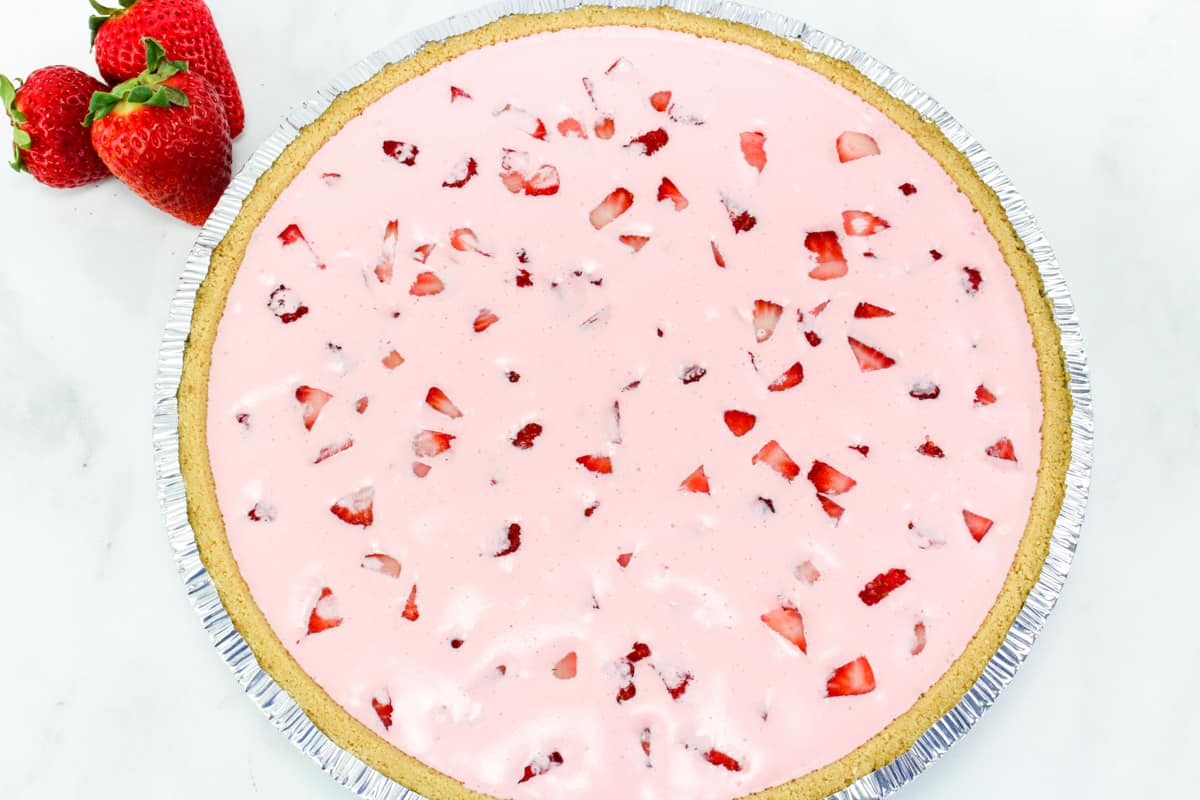 Step 4: Slice, serve, and enjoy! Top with a dollop of whipped topping and a sliced strawberry if you are feeling fancy.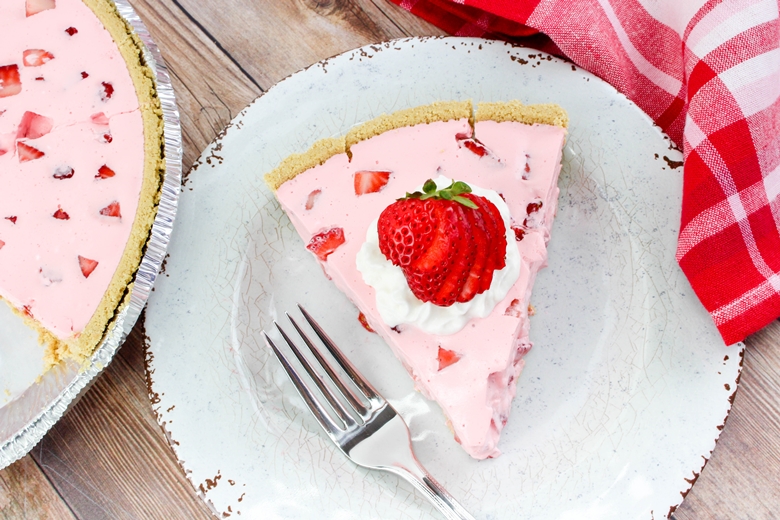 Storage
Leftover strawberry jell-o pie can be refrigerated for up to three days.
Frequently Asked Questions
How much ice should be in the ice water?
Aim for about half water and half ice. I like to pour ½ cup of cold water into a measuring cup and add ice cubes until the water fills up to the one-cup mark.
Can I make the pie ahead of time?
Absolutely! You can make this delicious pie up to 24 hours before your party and chill it until serving. However, I would recommend waiting until just before serving to garnish each slice.
Can you freeze strawberry pie made with jello?
I do not recommend freezing jello pie because I have found that jello desserts do not freeze well.
Why do I have extra pie filling?
This easy recipe will give you a little bit more filling than needed to fill your pie crust. Luckily extra filling is better than not enough filling, right? Simply can pour any extra filling into a bowl and let it set up in the fridge then enjoy it with a spoon. Yum!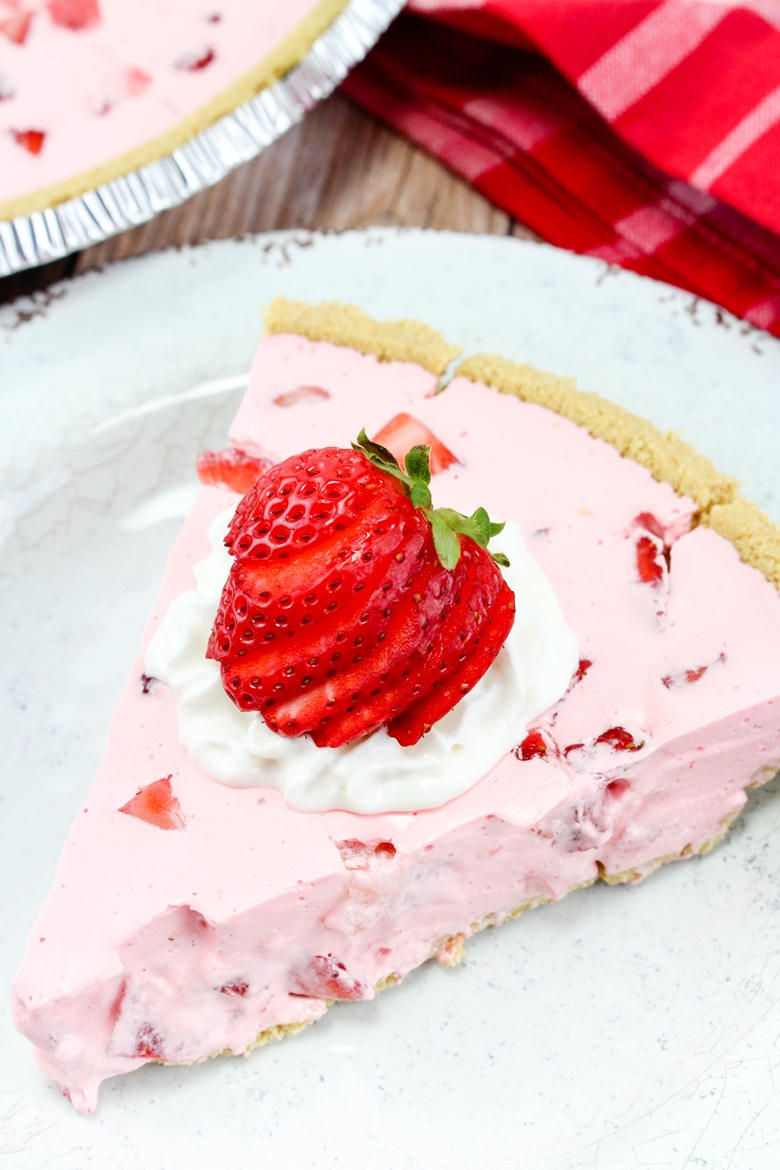 I hope that you enjoy this quick and easy no-bake jello strawberry pie. Not only is it perfect for satisfying your sweet tooth in the summer without having to turn on the oven, but the beautiful pink pie makes a delicious, easy dessert any time of year.
More Strawberry Dessert Recipes
Have leftover strawberries after making your jello no-bake strawberry pie? Use them to make one of these tasty strawberry desserts.
Recipe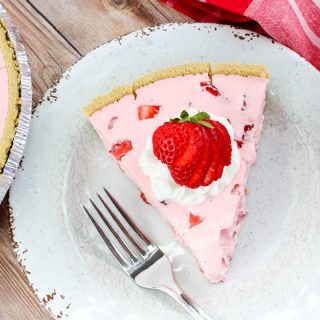 Recipe
Strawberry Jello Pie
No-bake strawberry Jello pie is easy to make using Cool Whip, graham cracker crust, fresh berries, and Strawberry gelatin.
Ingredients
1 package 3 ounce strawberry Jello
⅔ cup boiling water
1 cup ice water
1 package 8 oz whipped topping (Cool Whip), thawed
2 cups strawberries diced
1 premade graham cracker crust 10 in.
additional whipped topping and strawberries for topping if desired
Instructions
Add jello mix and boiling water to a large bowl. Whisk together for 2 minutes or until dissolved.

Add ice water; stirring well until all ice has melted. Allow the mixture to sit at room temperature for 10 minutes to allow the gelatin to thicken.

Whisk in whipped topping. Fold in 1 ½ cup of the diced strawberries.

Spoon filling into graham cracker pie crust. Sprinkle with remaining diced strawberries.

Refrigerate for at least 3 hours, or until set (I like to let it chill overnight).

Slice and serve. Top slices with whipped topping and/or additional strawberries, if desired.
Notes
For the ice water: put the ½ cup of cold water into a measuring cup and put ice cubes into it until the water fills up to the one cup mark. You can use one 9- or 10-inch crust or two 6-inch crusts. Cover leftover pie with plastic wrap and store in the refrigerator for up to 3 days.
Nutrition
Serving: 1g | Calories: 180kcal | Carbohydrates: 29g | Protein: 2g | Fat: 6g | Saturated Fat: 2g | Polyunsaturated Fat: 4g | Sodium: 161mg | Fiber: 2g | Sugar: 16g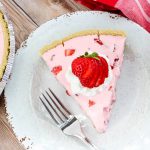 Did You Make This Recipe?
Share it with me on Instagram @crayonsandcravings and follow on Pinterest @crayonsandcravings for even more!