Slow Cooker Boneless Turkey Breast
Posts may contain affiliate links, meaning that I may earn a commission if you use a link provided.
Cooking a turkey for the first time or just want a smaller holiday meal? This slow cooker boneless turkey breast with cranberry sauce is the perfect recipe for you! Just 5 minutes of prep, and you'll have a tender, juicy turkey breast smothered in cranberry sauce in 4 hours.
Crockpot Turkey Breast Recipe
Roasting a turkey in the oven is time consuming and can be intimidating. No one wants to serve a dry turkey to their family, especially during the holiday season. So, if you're looking for a completely foolproof way to cook turkey to ensure it's tender, juicy, and full of flavor every single time, you're in the right place. The slow cooker is your best friend.
Just pop your thawed boneless turkey into the slow cooker, and smother it in cranberry sauce mixed with a bit of orange juice, onion soup mix, brown sugar, and seasonings. The meat is so mouthwatering and flavorful and looks beautiful on your holiday table along with your favorite side dishes. Plus, it's the perfect size for feeding a smaller crowd, even for a weeknight meal.
It's so handy being able to make the turkey breast in the slow cooker because it leaves your oven free to make these delicious mashed potato rolls or this creamy baked mac and cheese.
Ready to make this easy slow cooker turkey breast recipe? Let's do it!
Ingredients
This section includes ingredient notes and substitution options. Get all measurements, ingredients, and instructions in the printable recipe card at the end of this post.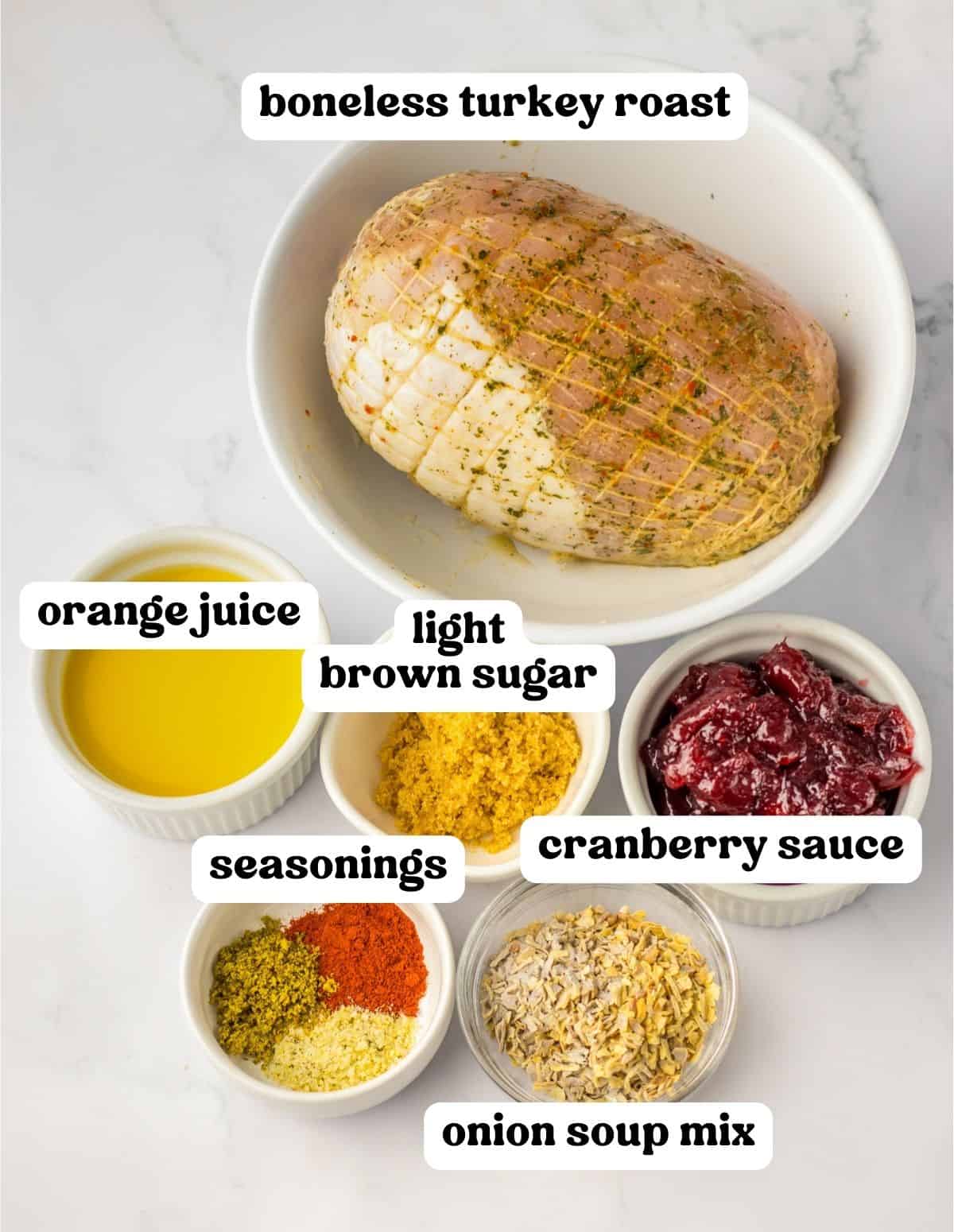 Boneless Turkey Roast — Using a boneless breast roast (I have seen these labeled either as turkey roast or boneless turkey breast) lets you get more bang for your buck and makes slicing and serving it so much easier. You'll need a 3lb. turkey breast for this recipe. Make sure the turkey is thawed before slow-cooking.
Cranberry Sauce — Canned cranberry sauce is poured over the top to add sweet flavor to the savory turkey. Use whole cranberry sauce or jellied cranberry sauce — it's up to you! You can also use your favorite homemade cranberry sauce, if you have one.
Orange Juice — The flavor of the orange juice complements the cranberry sauce and really brightens the whole dish.
Dry Onion Soup Mix — Add this for a savory, seasoned element.
Brown Sugar — For an extra touch of sweetness to balance out the seasonings.
Seasonings — Add a little paprika, poultry seasoning, and garlic powder to give the turkey a little extra oomph.
Fresh Parsley and/or cranberries — These are optional, but makes the dish look pretty when you put it on the platter for serving.
Equipment Needed
To make this juicy turkey breast in the crock pot, you'll need these kitchen tools:
How to Cook a Turkey Breast in a Crock Pot
This section shows you how to make the recipe with step-by-step photos and instructions. For the full printable recipe, see the recipe card below.
Prepare Sauce. In a mixing bowl, stir together the cranberry sauce, orange juice, onion soup mix, brown sugar, paprika, poultry seasoning, and garlic powder.
Add to Slow Cooker. Place the turkey breast in the bottom of the slow cooker. Pour the cranberry mixture over the turkey in the slow cooker.
Cook. Put the lid on the slow cooker and set it to low heat. Let it cook 4-5 hours or until the center of the turkey reaches 165°F on an instant read thermometer. Begin checking right at 4 hours to make sure you don't overcook the turkey.
Rest and Serve. Remove the turkey from the slow cooker, and cut away any netting. Let the turkey rest for 10-15 minutes before slicing. Serve topped with the cranberry sauce from the slow cooker.
Serving Suggestions for Crock Pot Turkey Breast
We love this Thanksgiving turkey with cranberry sauce over mashed potatoes, stuffing, or a big pile of rice. It's great with any of your favorite holiday sides, like these crockpot glazed carrots or grandma's old fashioned cream corn.
Storage and Freezing
Refrigerate leftover turkey meat for up to 3 days in an airtight container.
You can safely freeze leftover turkey for up to 6 months, but it's best eaten within 3 months, according to the National Turkey Federation.
Recipe Tips and Tricks
Thaw the turkey first. Place it in the fridge about 24 hours before you plan to cook it.
Don't remove the netting from the boneless turkey roast until the meat is done. It helps it hold together during cooking.
Use a slow cooker liner for easy cleanup. If you don't have one, spray the crock pot with nonstick cooking spray before adding the turkey and the rest of the ingredients.
A standard 6-quart slow cooker is the perfect size for a turkey breast this size, but it should work in a slightly smaller one, too.
Always check the internal temperature at the thickest part of the breast to ensure it's fully cooked. The thermometer should read 165°F.
If you're cooking a skin-on turkey breast, pop it under the broiler for a few minutes once it's fully cooked if you want golden, crispy skin on the outside. Not all turkey breasts come with the skin on, though, so if yours is skinless, skip this step.
Let the turkey rest before slicing into it. This helps the juices redistribute through the meat.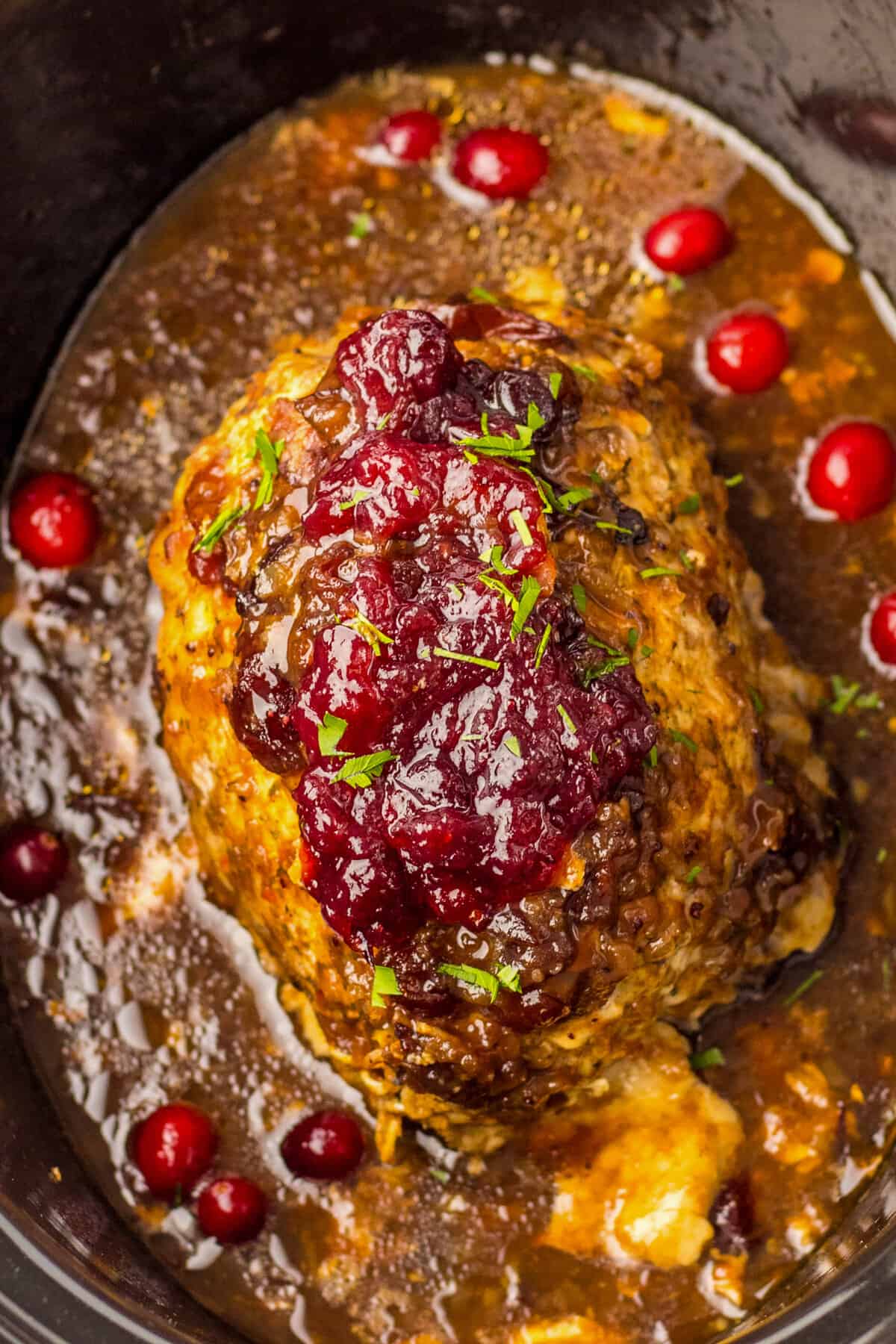 Additions and Variations
Spice it up. For those who enjoy a little heat, add a pinch of cayenne or red pepper flakes to the cranberry mixture before cooking. It'll add just the right amount of spice and will be delicious with the sweet flavors.
Add zest. A little orange zest added to the cranberry sauce will add more flavor and color to the mixture.
Add vegetables. Want to add some veggies along with this delicious turkey? Root vegetables like carrots or parsnips or some small potatoes would be a perfect addition. Put them in the slow cooker about 2 hours before the turkey is done to keep them from getting too mushy. Alternatively, you can add the usual aromatics (carrots, celery, and onion) to the slow cooker at the beginning of the cooking process to let all those flavors meld together.
Make it smoky. Instead of regular paprika, try smoked paprika instead. It'll give your slow cooker boneless turkey breast a hint of smoky flavor.
Swap out the meat. Not a fan of turkey? Swap it out with the same amount of chicken breasts (3 lbs.). It's yummy that way, too.
FAQ for Crockpot Boneless Turkey Breast Roast
What is the best way to cook a boneless turkey breast?
If you want a hands-off turkey dinner that leaves the oven free for other things, the slow cooker is the way to go! This low-and-slow method makes for a juicy turkey every time. Cook it on the low setting for 4-6 hours with the cranberry sauce mixture until it reaches an internal temperature of 165°F.
How many will a 3 lb turkey breast feed?
This boneless turkey breast recipe feeds 4 and is perfect for a small Thanksgiving dinner, Christmas celebration, or an easy meal any day of the week.
How long to cook 3 lb Butterball boneless turkey breast?
It'll take 4-6 hours on the low setting to make this slow cooker boneless turkey breast. I don't recommend cooking it on the high setting since that may make for a dry turkey.
Can I put frozen turkey in the crockpot?
No, it's not safe to cook a frozen turkey breast in the crockpot. You should make sure it's completely thawed before cooking. A 3lb turkey breast should thaw completely in about 18-24 hours in the refrigerator or in about 2-3 hours if using the cold water thawing method.
Can I use a bone-in turkey breast?
Yes, absolutely. If it weighs the same (3 pounds), you don't need to make any adjustments. But if it weighs more, you'll need to add to the cook time. A crockpot with a built-in meat thermometer will take the guess work out of it for you.
Side Dishes to Go With Turkey Breast
Looking for some crowd-pleasing sides to go along with this slow cooker boneless turkey breast? Complete your Thanksgiving menu with a couple of these easy recipes.
Recipe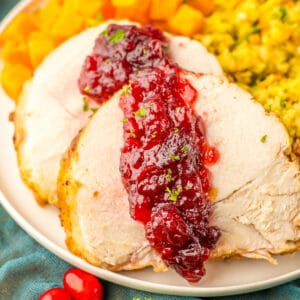 Recipe
Slow Cooker Boneless Turkey Breast
This recipe for slow cooker boneless turkey breast is perfect for a small holiday gathering or a Thanksgiving-style family dinner any day of the year.
Ingredients
3 pound boneless turkey roast
1 can cranberry sauce 14 ounces
½ cup orange juice
1 envelople onion soup mix 2 ounces
2 teaspoons light brown sugar
1 teaspoon paprika
1 teaspoon poultry seasoning
1 teaspoon garlic powder
fresh parsley optional garnish
Instructions
In a mixing bowl, stir to combine the cranberry sauce, orange juice, onion soup mix, brown sugar, paprika, poultry seasoning, and garlic powder.

Place turkey roast into the bottom of the slow cooker. Pour the cranberry mixture into the slow cooker over the turkey.

Cover and cook on low for 4-6 hours, or until the center of the turkey roast reaches 165℉ on an instant-read thermometer.

Remove the roast from the slow cooker and cut away the netting. Allow the turkey to rest for 10-15 minutes. After the turkey rests, slice and serve with the sauce from the slow cooker.
Notes
Fully thaw the turkey before slow cooking.
Use jellied cranberry sauce or whole berry cranberry sauce — your choice!
Refrigerate leftovers for up to 3 days.
Nutrition
Calories: 592kcal | Carbohydrates: 61g | Protein: 76g | Fat: 6g | Saturated Fat: 1g | Polyunsaturated Fat: 2g | Monounsaturated Fat: 2g | Trans Fat: 0.04g | Cholesterol: 184mg | Sodium: 1847mg | Potassium: 1046mg | Fiber: 3g | Sugar: 41g | Vitamin A: 439IU | Vitamin C: 17mg | Calcium: 83mg | Iron: 3mg
Did You Make This Recipe?
Share it with me on Instagram @crayonsandcravings and follow on Pinterest @crayonsandcravings for even more!