How to Poach Chicken for Shredding
Posts may contain affiliate links, meaning that I may earn a commission if you use a link provided.
Learn how to poach chicken for shredding with this simple recipe. This boiled shredded chicken is always juicy, delicious, and perfect for making chicken salad, using in casseroles, and other delicious dinner creations.
When I find chicken on sale, I like to stock up and batch cook it either in my crockpot or on the stovetop using this recipe.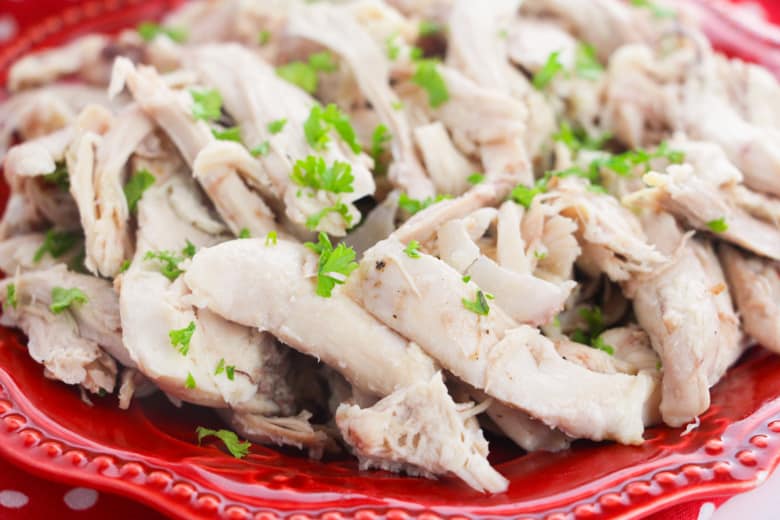 Then, I portion out the shredded chicken into individual meal sizes and store in the freezer. This simplifies dinner time for me as a busy mom.
I then use my poached shredded chicken to make Ritz Chicken Casserole, Chicken and Rice Casserole, Chicken and Dumpling Casserole, Chicken Salad with Grapes and Pecans, or another shredded chicken recipe.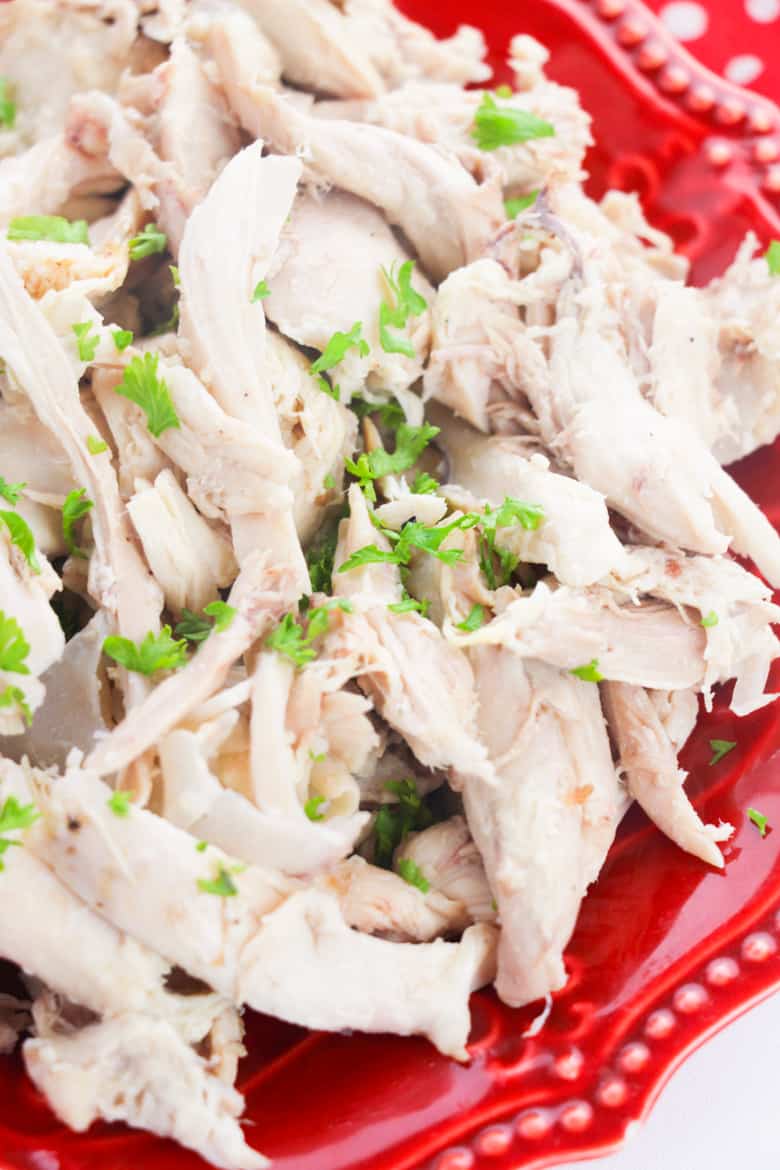 Poached chicken leg quarters, breast, tenderloins, all work for this recipe on how to cook the chicken. I will walk you through all the steps, and help answer some common questions.
Ingredients
Chicken Quarters – For this recipe, you can use any cut of chicken–I opted for quarters. Just alter the cooking time as needed depending on how large or small the chicken pieces are.
Bay Leaves – I love using bay leaves when I am working with chicken. It adds a nice flavor to the chicken. Don't forget to remove them thouugh once the meat is done.
Garlic – You will crush the garlic. Crushing garlic is going to help release the oils and flavor of the garlic to infuse into the chicken as it cooks.
Salt
Water
How to Make
Here is how to make shredded chicken with just a few ingredients. Simple but perfect juicy and tender pulled chicken every single time.
Step 1: Add your raw chicken, garlic, and seasonings in your Dutch oven. Add water to cover the chicken.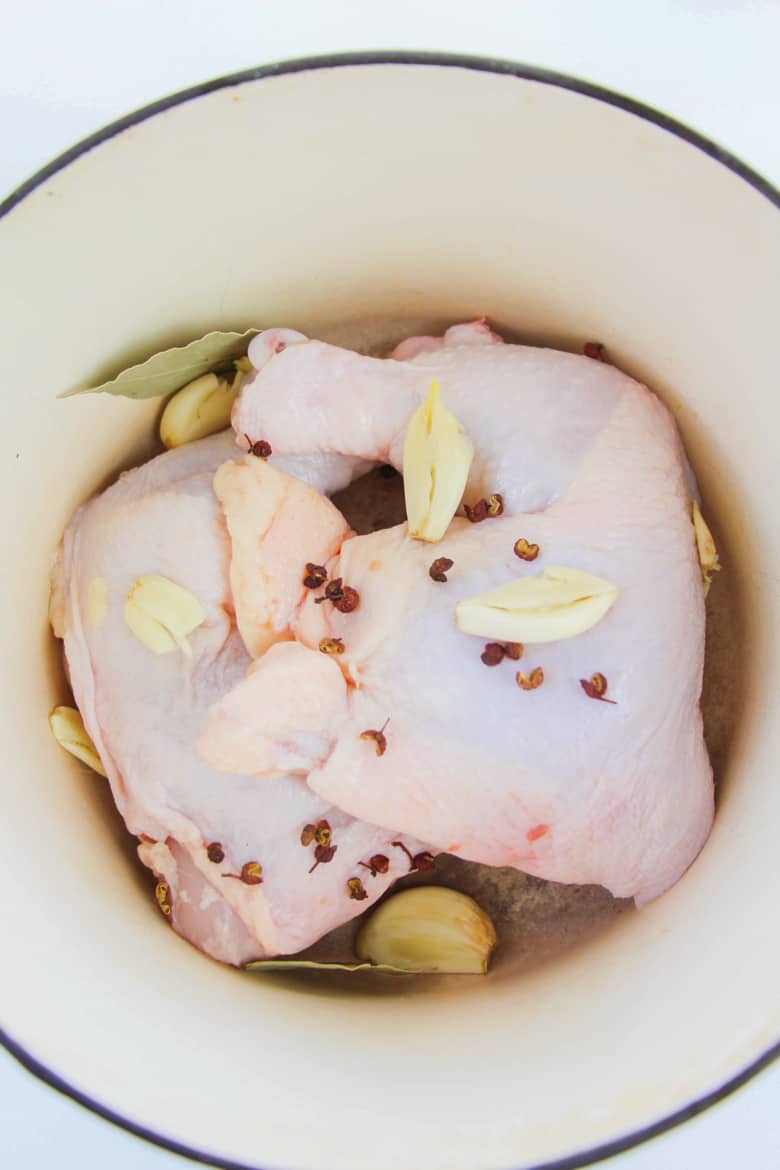 Step 2: Bring the water to a full boil. Once it boils, place lid on the pot, and reduce the heat. Allow the chicken to simmer for around 30 minutes.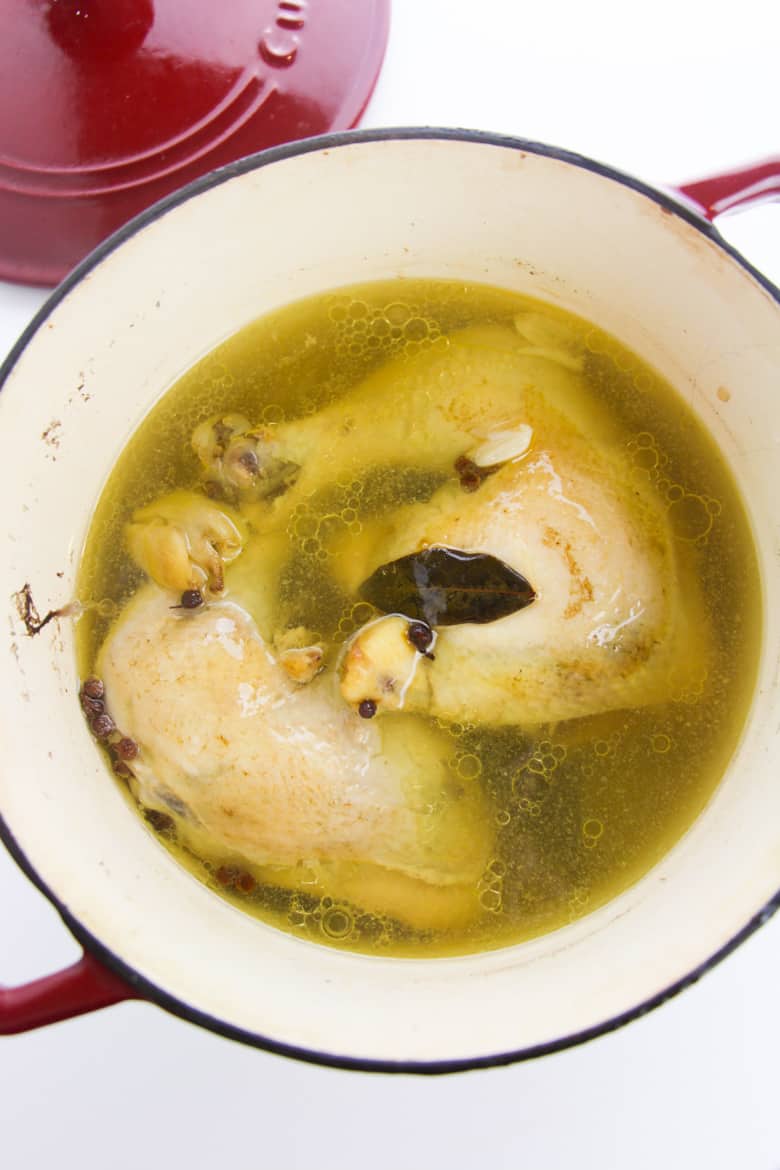 Step 3: Once the chicken is fully cooked, remove and allow the chicken to cool for 10 minutes.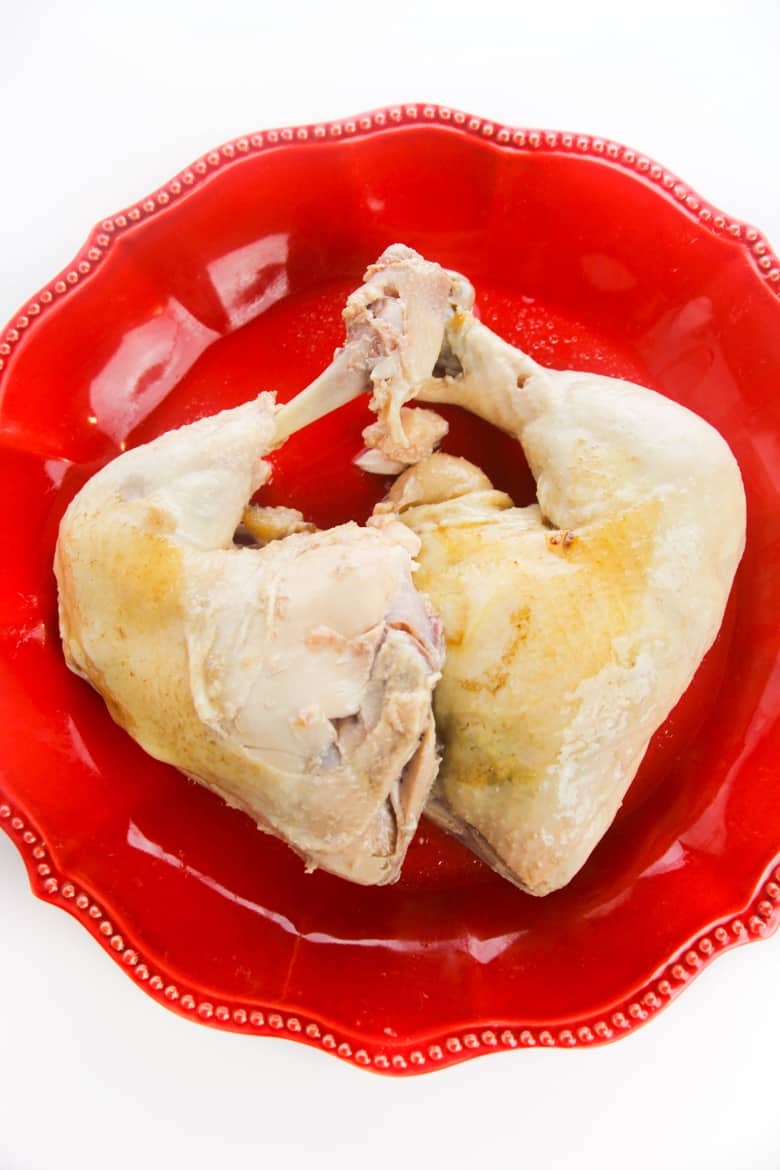 Then shred with two forks or meat claws.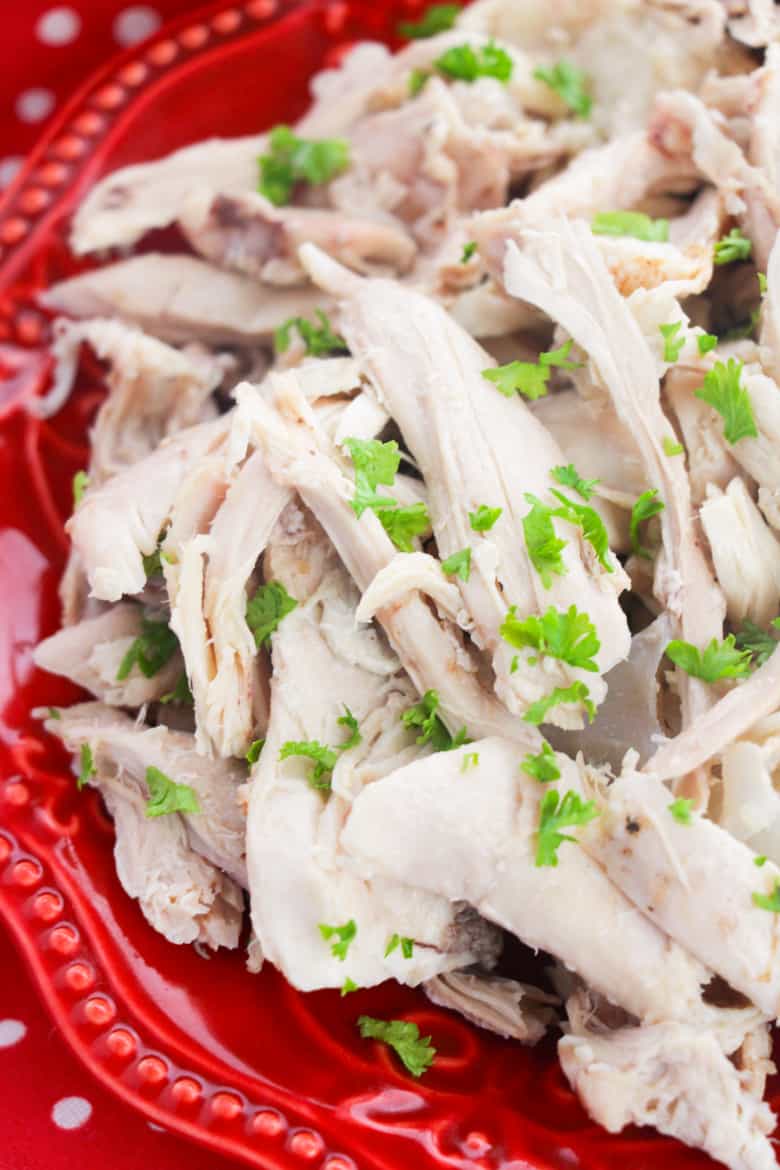 Storage
In the fridge: You will want to store your cooked chicken in an airtight container in the refrigerator for up to three days.
In the freezer: You can also freeze the chicken if you would like. Use a freezer container, sealable freezer bag or vacuum seal system. The chicken can freeze for 3-4 months, or longer if you use a vacuum sealer.
Recipe FAQs
What is poached chicken?
Poaching chicken means to cook your chicken in water. It is an easy way to cook chicken without overcooking it, as you would cooking in a skillet like pan frying.
Why do you let chicken rest once cooked?
Allowing chicken to rest once it is cooked, is important as it locks in the juices of the chicken. If you were to slice right into the chicken you can find it dries out the chicken very easily.
How to know when chicken is fully cooked?
Grab a meat thermometer and make sure it reaches 165° F. If you are cooking chicken with a bone, make sure to not touch the bone with the thermometer as it can give a false reading.
Shop Recipe Supplies
More Chicken Recipes To Try
Recipe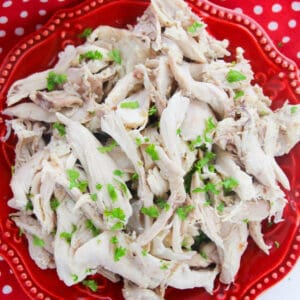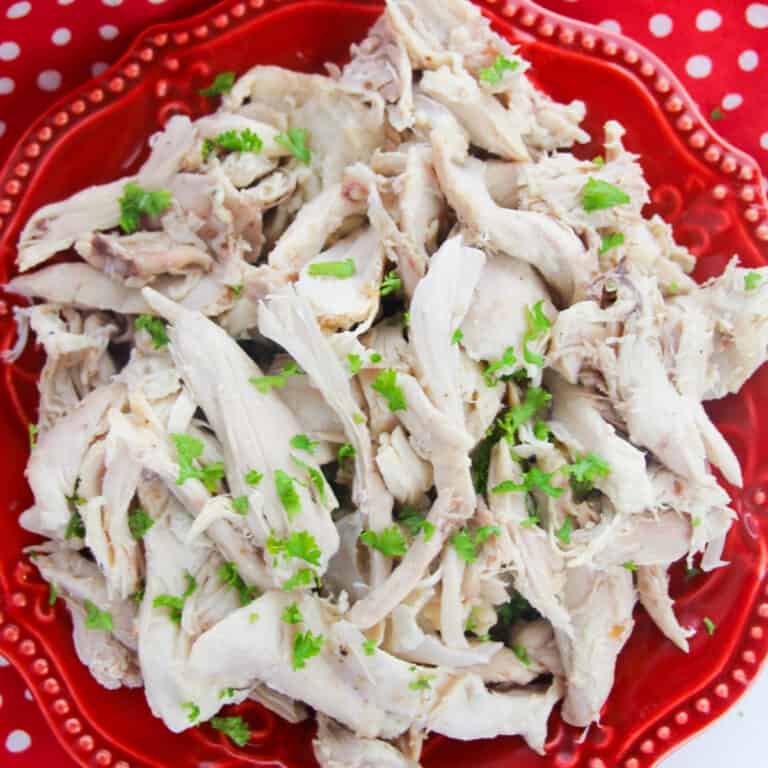 Recipe
How to Poach Chicken for Shredding
Learn how to poach chicken for shredding. This boiled shredded chicken is always juicy, delicious, and perfect for shredded chicken recipes.
Ingredients
2-3 chicken quarters can use large chicken breasts
2 bay leaves
4-6 crushed garlic cloves
½ Tablespoon peppercorns
Salt to taste
3 cups water or enough to cover the chicken
Instructions
Place chicken, garlic, and seasonings in a dutch oven or large pot. Add enough water to cover the chicken.

Bring to a boil over high heat. Once boiling, cover and reduce heat to medium-low. Allow the chicken to simmer for about 25-30 minutes, until an inserted meat thermometer reads 165° F.

Remove the chicken from the pot and let rest for 10 minutes. Use two forks to pull chicken away from the bone and shred.
Nutrition
Serving: 1g | Calories: 196kcal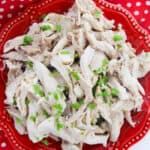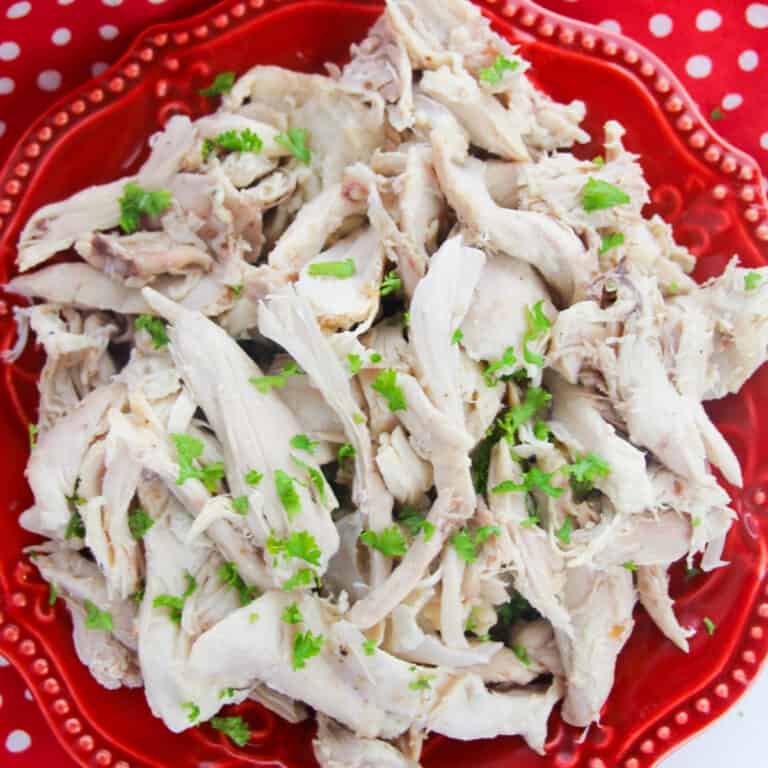 Did You Make This Recipe?
Share it with me on Instagram @crayonsandcravings and follow on Pinterest @crayonsandcravings for even more!