Cornflake Chicken Tenders
Posts may contain affiliate links, meaning that I may earn a commission if you use a link provided.
Cornflake chicken tenders are crispy baked chicken tenders battered and coated with crushed cornflakes and seasoning.
For more family-friendly dinner ideas try my crunchy Ritz Chicken Casserole or Tater Tot Casserole. Both are favorites in our house.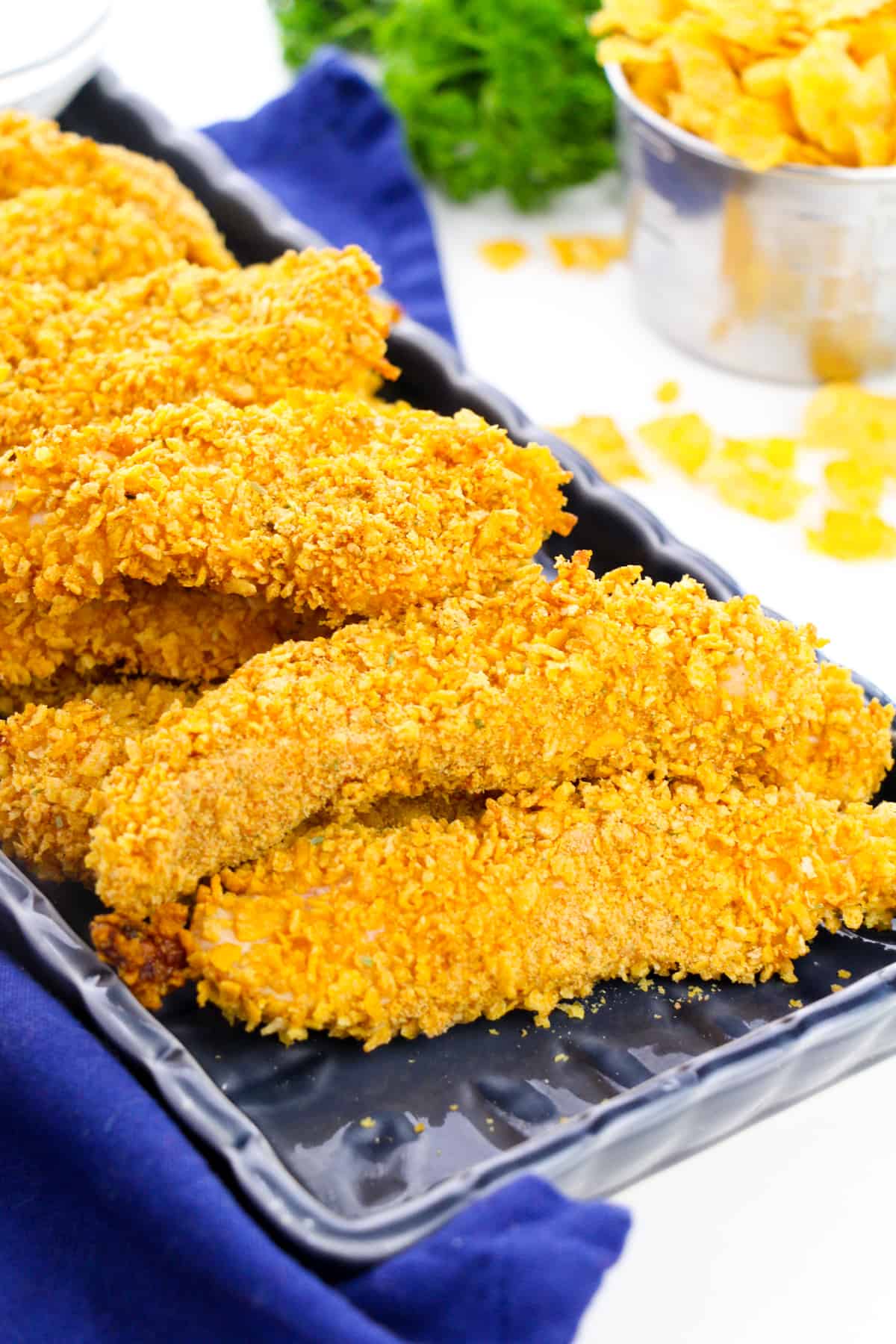 Whether you are looking for an easy lunch or dinner, these dippable cornflake baked chicken tenders are a must make.
Pair with your favorite dipping sauce, and ring that dinner bell.
Kids and adults alike will love these crispy chicken fingers!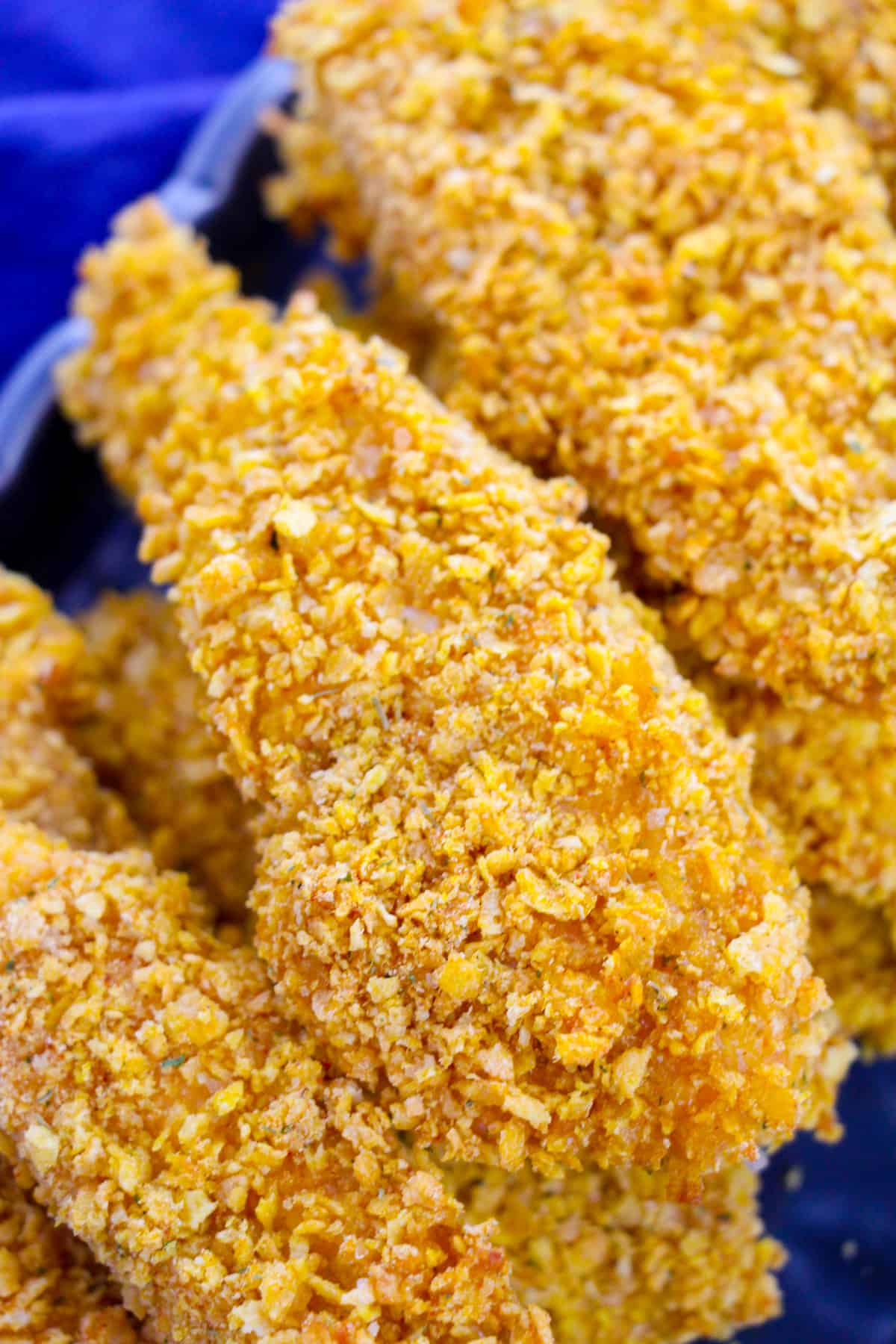 Plus, these crispy cornflake chicken strips are a healthier chicken finger option as you bake rather than fry.
The best part is that even when you bake these cornflake tenders, they come out crispy and delicious every time.
Ingredients Needed
Chicken Tenderloins – I used tenderloins but you can cut down the chicken breast to make it into strips. The key is to have similar-sized pieces for even cooking.
Cornflakes – Reach for plain not sugar-coated cornflakes for this recipe.
Seasonings – Dry ranch, sweet paprika, and salt and pepper.
Milk
Egg
How to Make
Step 1: Preheat your oven as directed in the recipe card below. Then use your food processor to chop up the cornflakes and spices into coarse crumbs.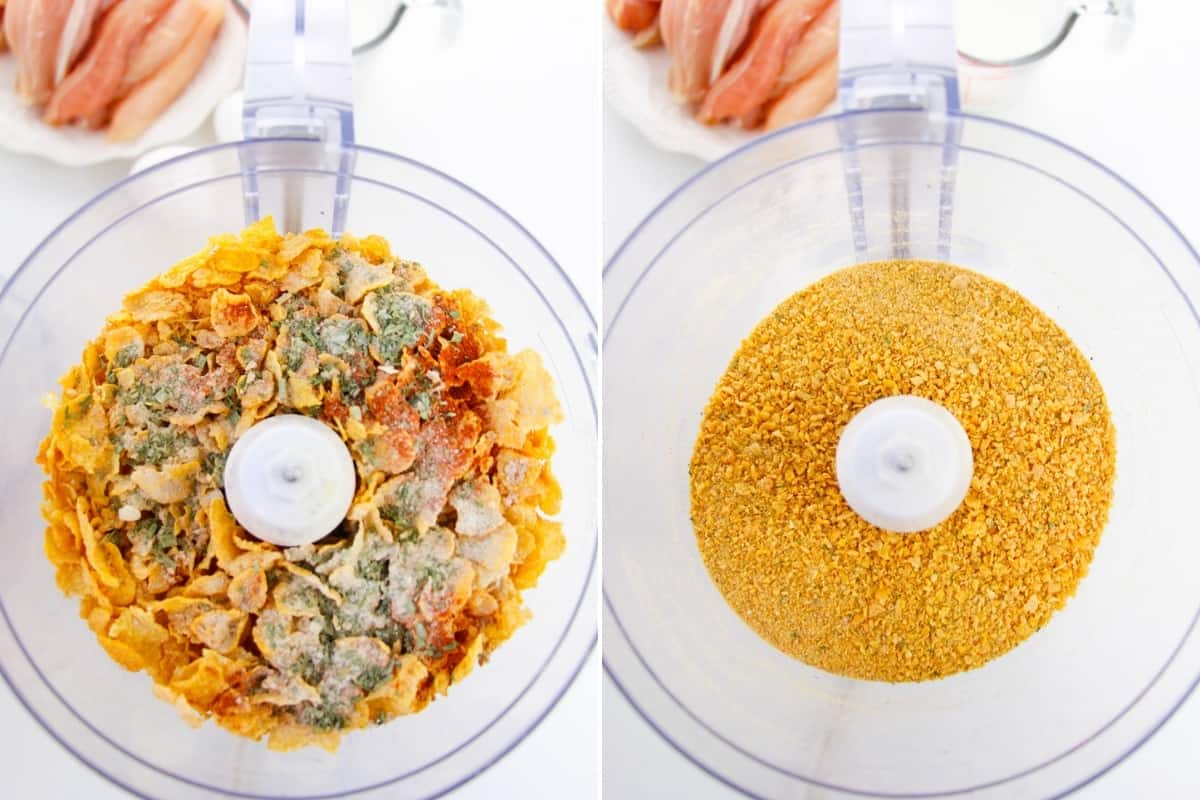 Step 2: Mix your eggs and milk in another bowl, whisking it up.
Step 3: Then you will begin dipping your chicken. Start with wet, then move to the crumbs, coating all over the chicken. Once dredged, place on the baking rack.
Step 4: Bake as directed, and once done serve and enjoy.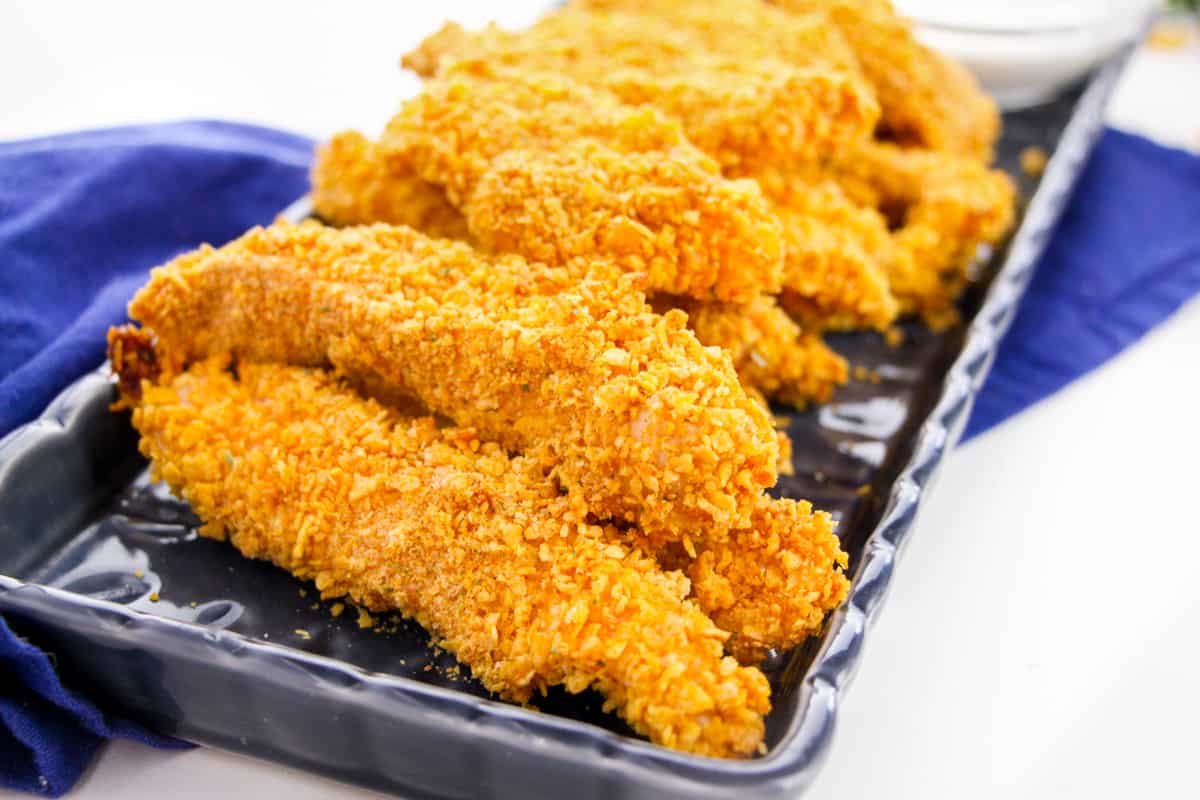 How to Store
In the fridge: Store leftovers in the refrigerator for up to 3 days. Then reheat in the microwave, oven, or air fryer.
In the freezer: Freeze cornflake baked chicken tenders for up to 3 months. Reheat from frozen for a quick and easy dinner.
Recipe FAQs
How to know chicken is done?
Grab your meat thermometer and check to ensure your chicken is fully cooked. Place the thermometer into the chicken at the largest part, and make sure it reads 165° F internal temperature. If you work with bone-in chicken, make sure to not touch the bone, or it may give a false reading.
What to serve with chicken tenders?
Pair your tenders with potatoes, macaroni and cheese, pasta salad, steamed or roasted veggies, etc. Essentially your chicken can be paired with almost any of your favorite side dishes.
What if I don't own a food processor?
Place your corn flakes and the spices in a sealable gallon bag. Then, use a rolling pin to crush up the cereal into crumbs. It is a bit more work than with a food processor, but it will achieve the texture you want.
More Chicken Recipes To Try
Recipe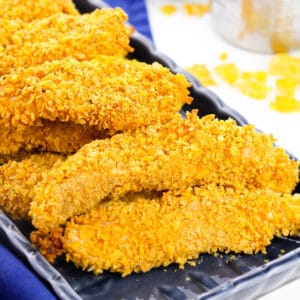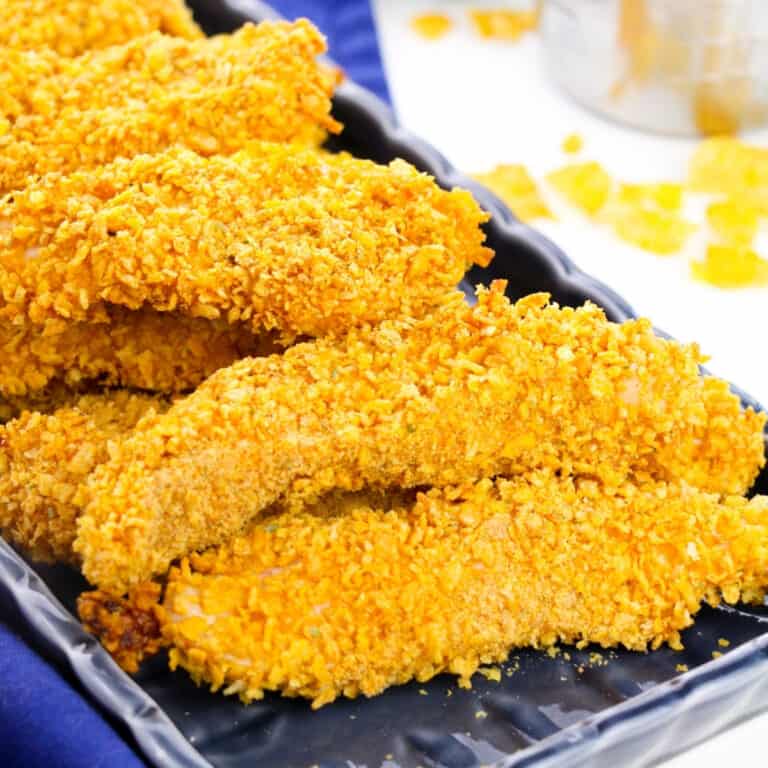 Recipe
Cornflake Chicken Tenders
Crispy baked chicken tenders battered and coated with crushed cornflakes and seasoning.
Ingredients
1 ½ pound chicken tenders or boneless skinless chicken breasts cut into strips
½ cup milk
2 large eggs
4 ½ cups cornflakes
½ teaspoon sweet paprika
2 teaspoons ranch seasoning
Salt and pepper to taste
Instructions
Preheat oven to 400° F. Line a baking sheet with foil and then place an ovenproof wire rack overtop. Set aside.

Place the cornflakes, paprika, ranch seasoning, salt, and pepper in a food processor and pulse until coarse crumbs form (like breadcrumbs). Transfer the crumb mixture into a shallow bowl.

In a second shallow bowl, whisk to combine the milk and eggs.

Dip each chicken tender in the wet egg batter, then in the crumbs, turning to coat both sides. Place the crumb-coated chicken tenders on the prepared baking sheet.

Bake for 18-22 minutes, until chicken tenders reach an internal temperature of 165° F.
Notes
Leftovers can be stored in the fridge for up to 3 days. No food processsor? Place the cereal and spices in a zip-top baggie and crush with a rolling pin.
Nutrition
Serving: 1g | Calories: 683kcal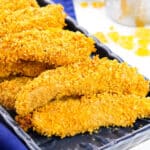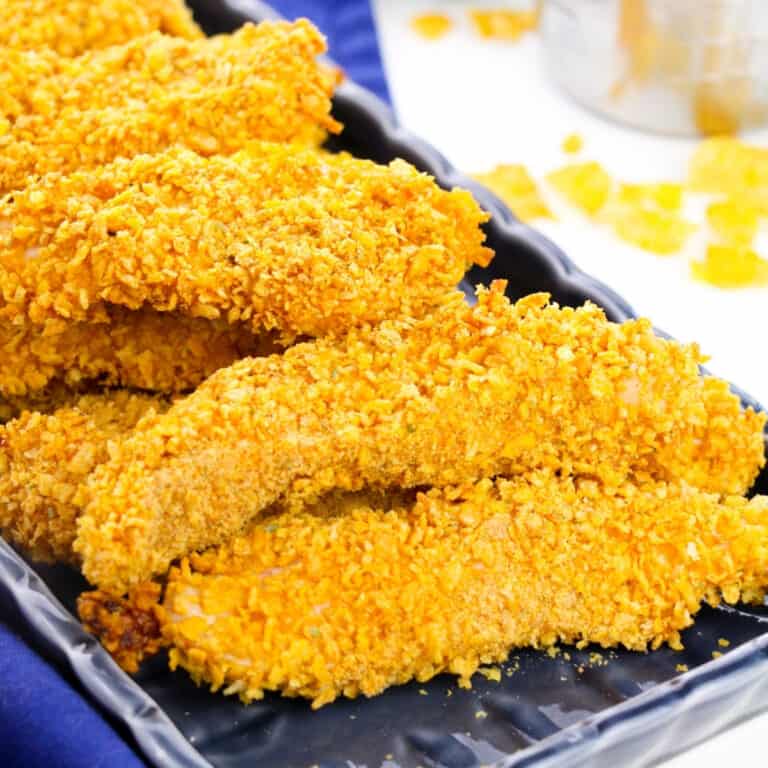 Did You Make This Recipe?
Share it with me on Instagram @crayonsandcravings and follow on Pinterest @crayonsandcravings for even more!