Posts may contain affiliate links, meaning that I may earn a commission if you use a link provided.
This creamed spinach recipe is so rich and delicious that you will forget you are even eating spinach!
It is a wonderful spinach side dish to serve up during the holiday season–or any time of year really.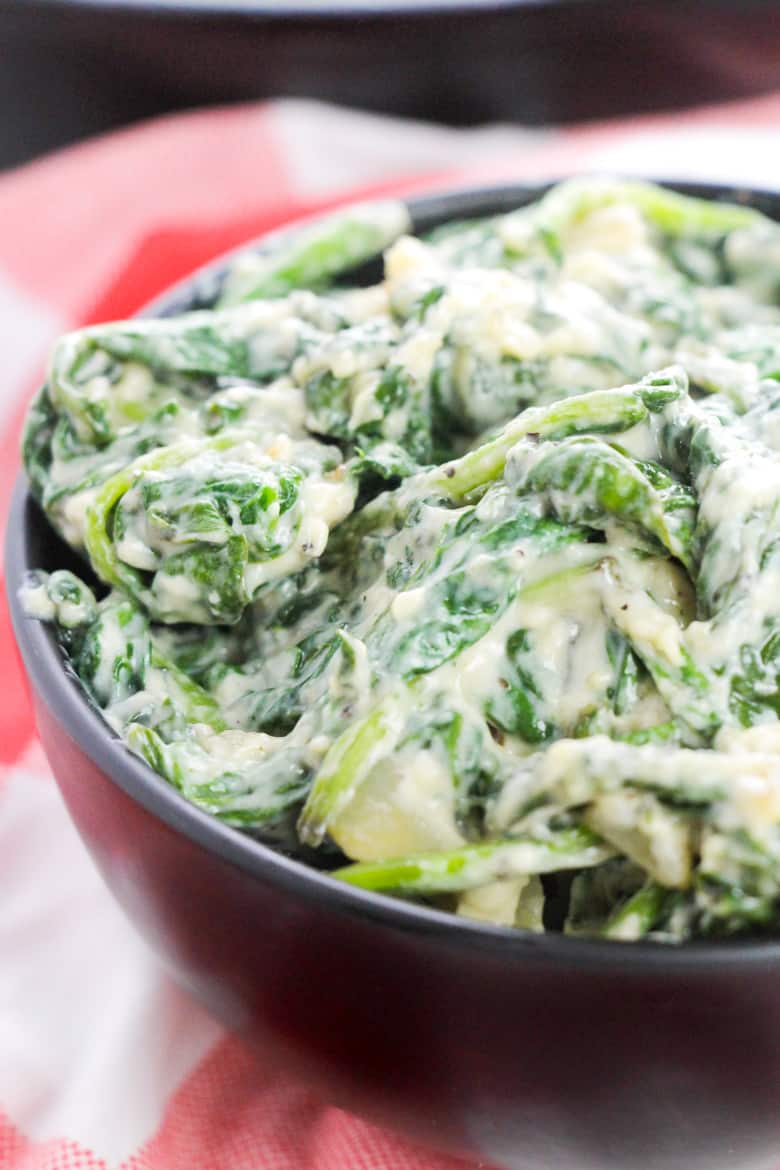 Like creamed corn, this easy side dish is perfect to make and serve with any of your favorite main dishes.
Creamed spinach with creamed cheese really helps to add such rich flavor to the recipe. I love the flavor and it is great paired with chicken, pork tenderloin, or even meatloaf or steak.
Creamed Spinach
If you are craving something different, I recommend this easy spinach side dish. I have served this up all year round, and I love the tang from the parmesan cheese in it.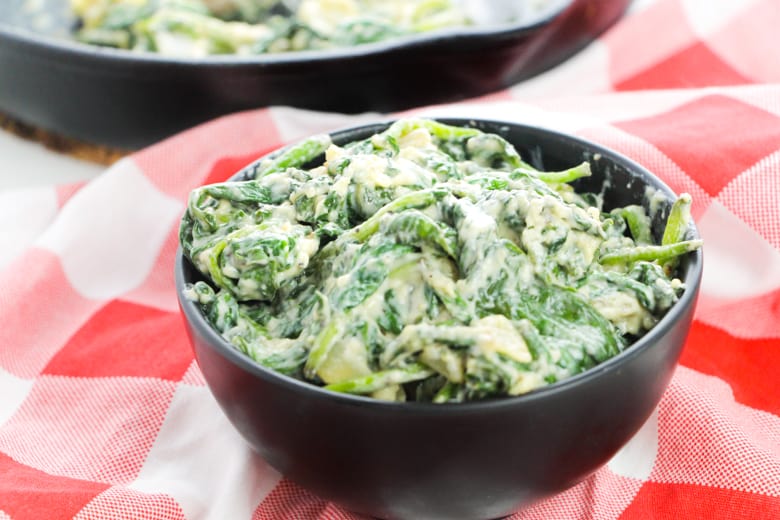 What is creamed spinach?
Creamed spinach is fresh spinach leaves that get wilted in a pan on the stove and paired with a homemade creamy sauce. I used butter, onions, cream cheese, parmesan cheese, and more for the best-creamed spinach recipe ever. It is so rich and incredible, but so easy to whip up.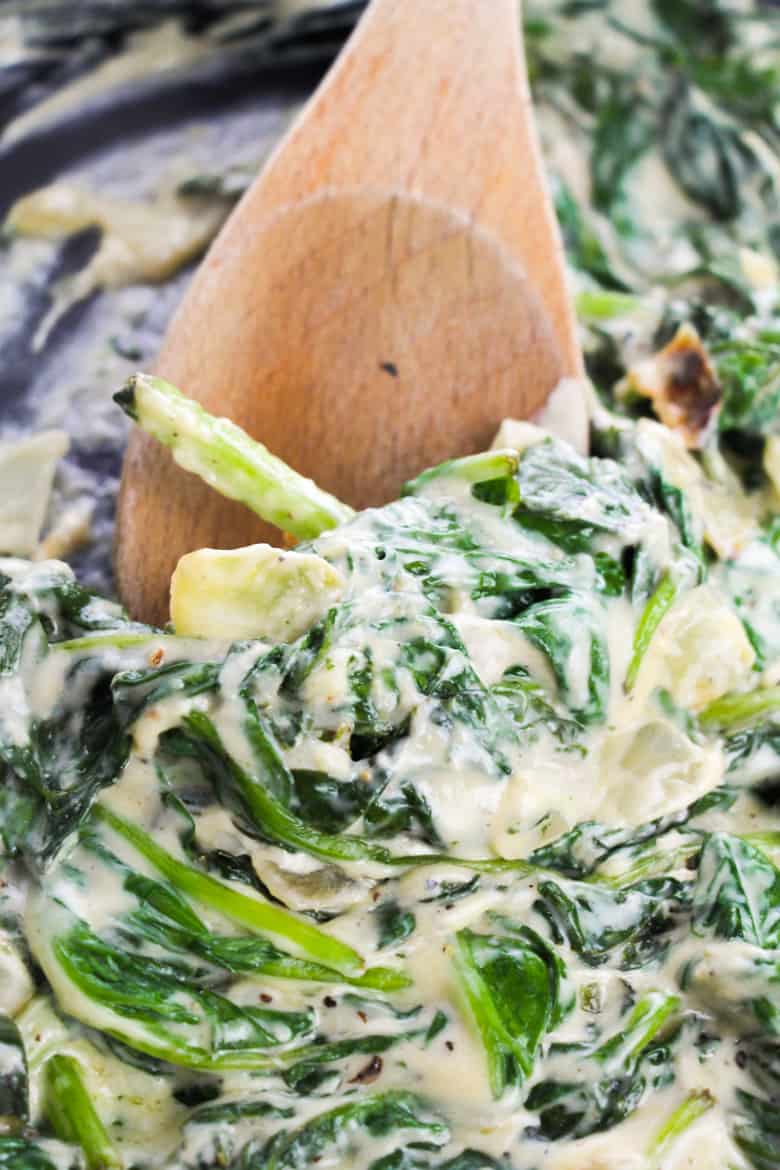 How to make creamed spinach
To make this, all you need to do is grab a large skillet and toss your butter in and let it melt down on medium heat. Then add in your diced onions and cook until softened and translucent in color.
Now add in your garlic and give a quick stir until nice and fragrant.
Then in the microwave, you will want to heat your milk in the microwave just enough to warm it up. Then whisk in the cornstarch, and then pour the mixture into the skillet stirring.
It will thicken, add in your cream cheese, salt, pepper, and parmesan cheese. Then stir in the spinach and let it wilt down a bit. Once it is fully creamed and wilted, serve, and enjoy.
How to make creamed spinach using frozen spinach
If you have frozen spinach on hand and want to use that in replace of fresh go right ahead. Just thaw your spinach and then squeeze off the excess liquid. If you skip this step it will water down your sauce.
Once it is thawed, you will stir in at the end of the cooking of the cream sauce. Then just heat until warmed, and then serve just like it was fresh spinach.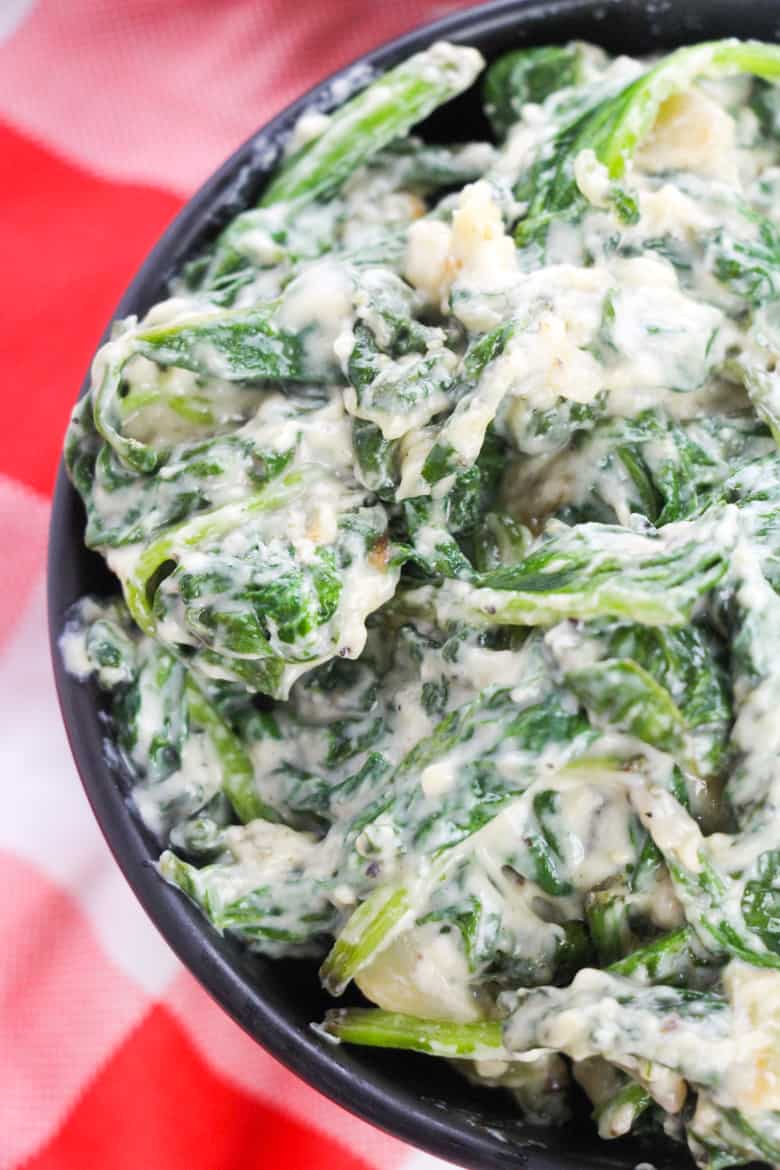 Can you make creamed spinach ahead of time?
Personally, I prefer creamed spinach fresh. You will find it offers the best texture and flavor. If you want to make ahead of time, you can do so. Just know that when you go to reheat it will have a softer spinach texture that is more broken down.
Go ahead and make it, and then store leftovers in the fridge until ready to serve. Then reheat in the skillet until warm. If the sauce is too thick add in a little chicken stock to help thin out the sauce as you reheat.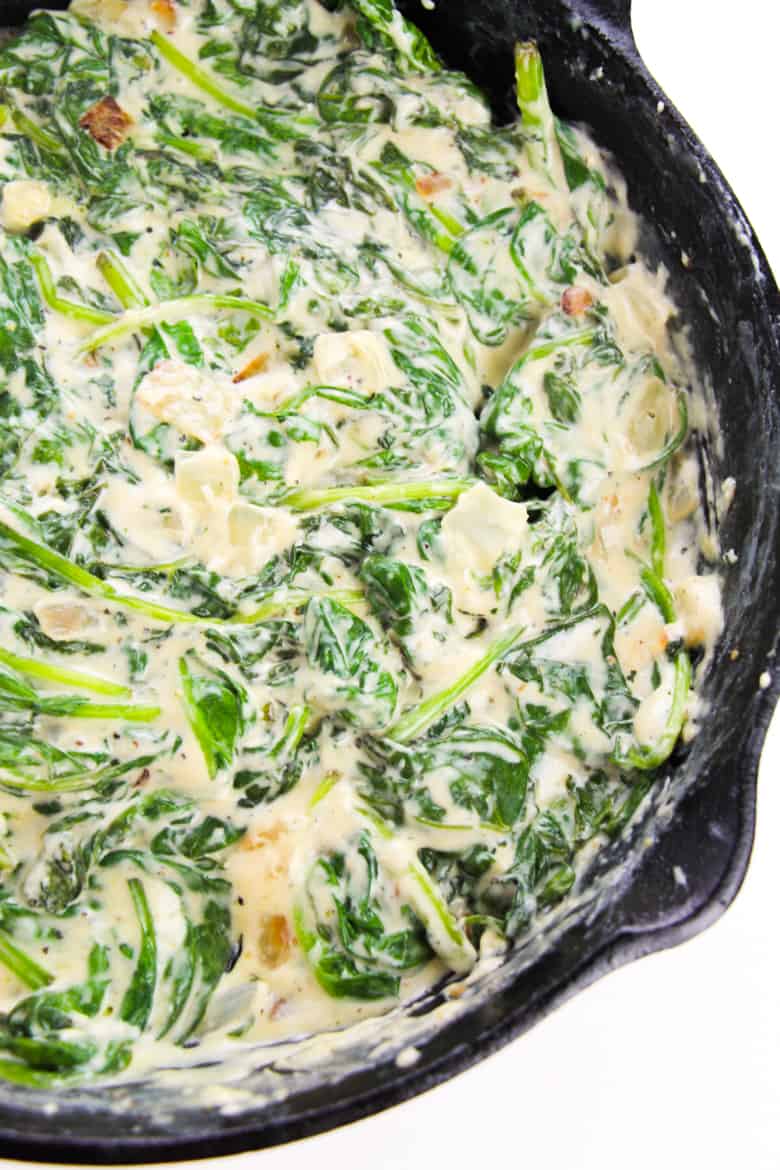 How long does creamed spinach last
You are more than welcome to store this for up to three days in the fridge. Make sure you store in an airtight container. Always use your best judgment in terms of quality. When in doubt, toss it out.
What to serve with creamed spinach
You can serve creamed spinach with so many things. From the classic Thanksgiving or Christmas feast to meatloaf, steak bites, pork, or chicken. While great for the holidays, this spinach side dish is so versatile, and we eat it all year round. Just like these crockpot glazed carrots.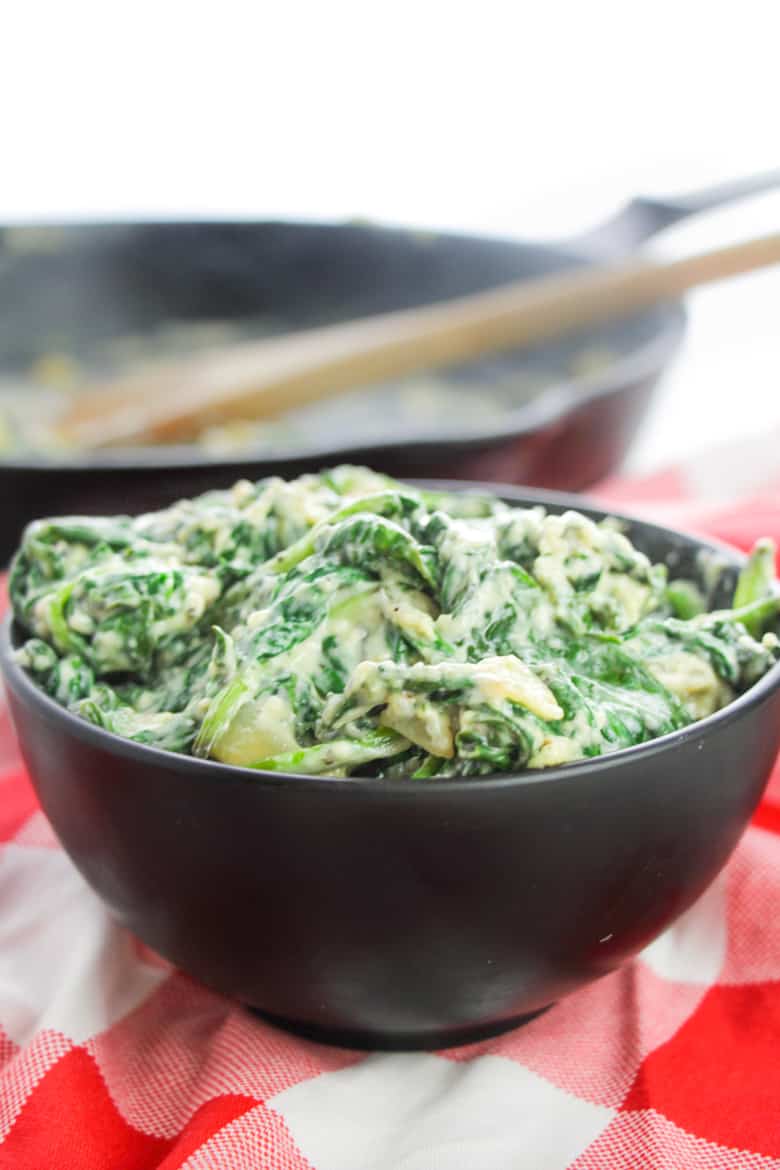 Expert Tips
Use half and half in replace of whole milk for a thicker and creamier texture
Or reach for heavy cream for a richer flavor overall
Feel free to add 1/2 teaspoon of nutmeg for even more flavor
You can double the recipe if you plan to serve a crowd
More Delicious Side Dishes
Recipe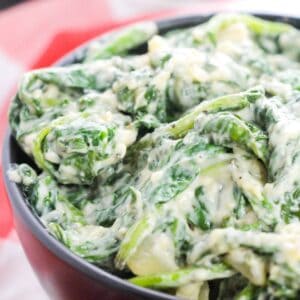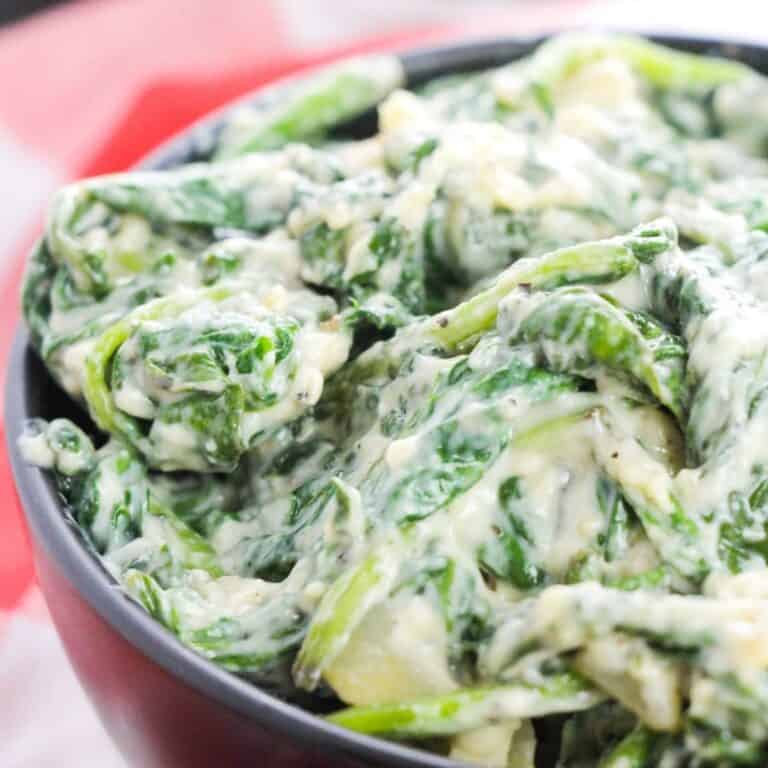 Recipe
Creamed Spinach
Creamed spinach - a classic spinach side dish with a rich and creamy sauce.
Ingredients
1 Tablespoon butter
1/2 small onion diced
2 cloves garlic smashed and sliced
3/4 cup whole milk
1-2 Tablespoons cornstarch
1 teaspoon salt
1 teaspoon black pepper
2 ounce cream cheese
2 Tablespoons Parmesan cheese
12 ounce spinach washed and dried
Instructions
In a large skillet, melt butter over medium heat. Add onion and cook, stirring often, until translucent (about 3 minutes). Add garlic and cook an additional 2 minutes, stirring often.

Heat the milk in a microwave for 25 seconds; whisk in the cornstarch. Pour mixture to skillet.

Add salt, pepper, cream cheese, and Parmesan cheese to skillet; whisk until well combined.

Stir in the spinach, coating the spinach completely in the cream mixture. Serve warm.
Notes
You can use frozen spinach in place of fresh. Just thaw and squeeze to remove as much liquid as possible before adding to the skillet in step 4.
Nutrition
Serving: 1g | Calories: 156kcal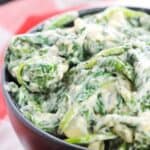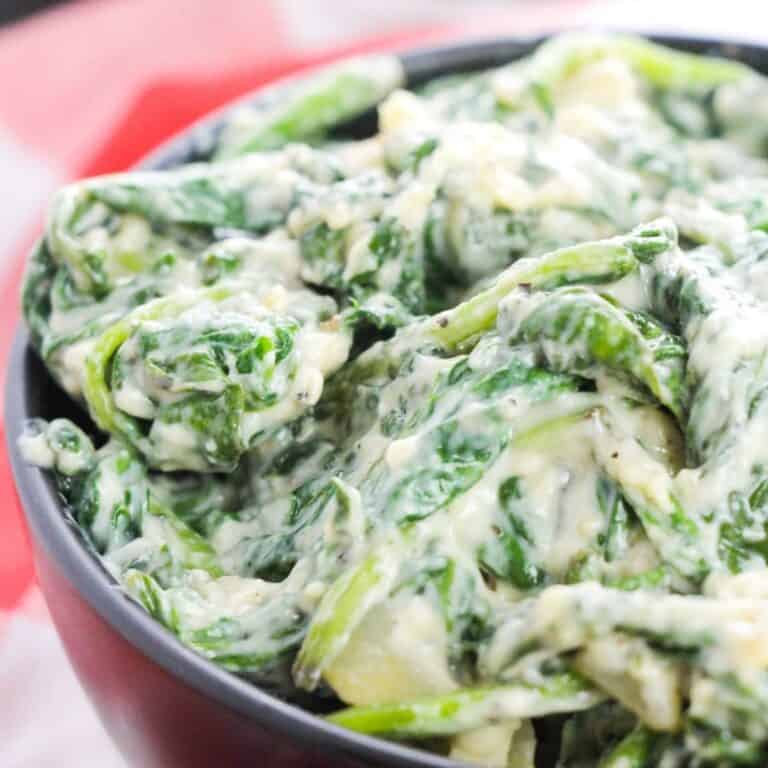 Did You Make This Recipe?
Share it with me on Instagram @crayonsandcravings and follow on Pinterest @crayonsandcravings for even more!
Pin for Later: