Peanut Butter Cornflake Cookies
Posts may contain affiliate links, meaning that I may earn a commission if you use a link provided.
Sweet and crunchy no-bake peanut butter cornflake cookies are super easy to make in just 15 minutes with only 5 ingredients!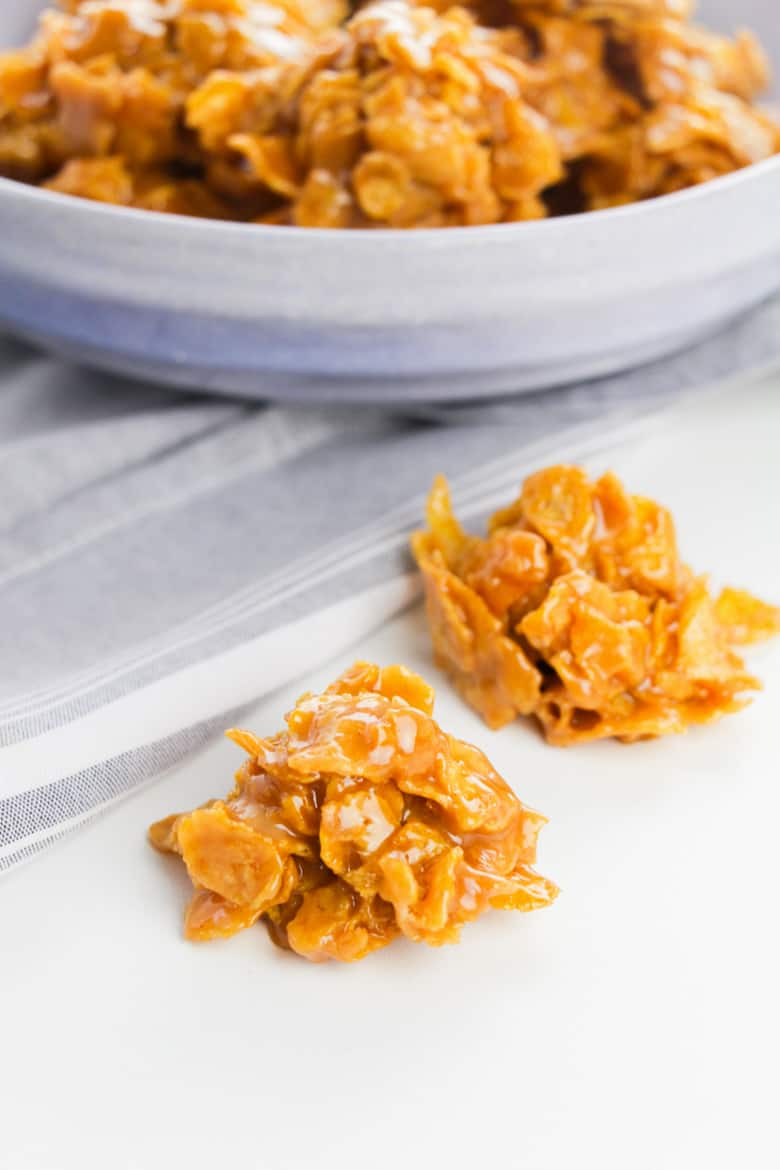 Cornflake Cookies
Have you ever made no-bake cornflake cookies?
We like to make these tasty cornflake cookies along with our chocolate peanut butter no-bake cookies and nutella no-bake cookies during the holiday season. Easy no-bake Christmas cookies?! Yes, please!
But we also make them several other random times throughout the year.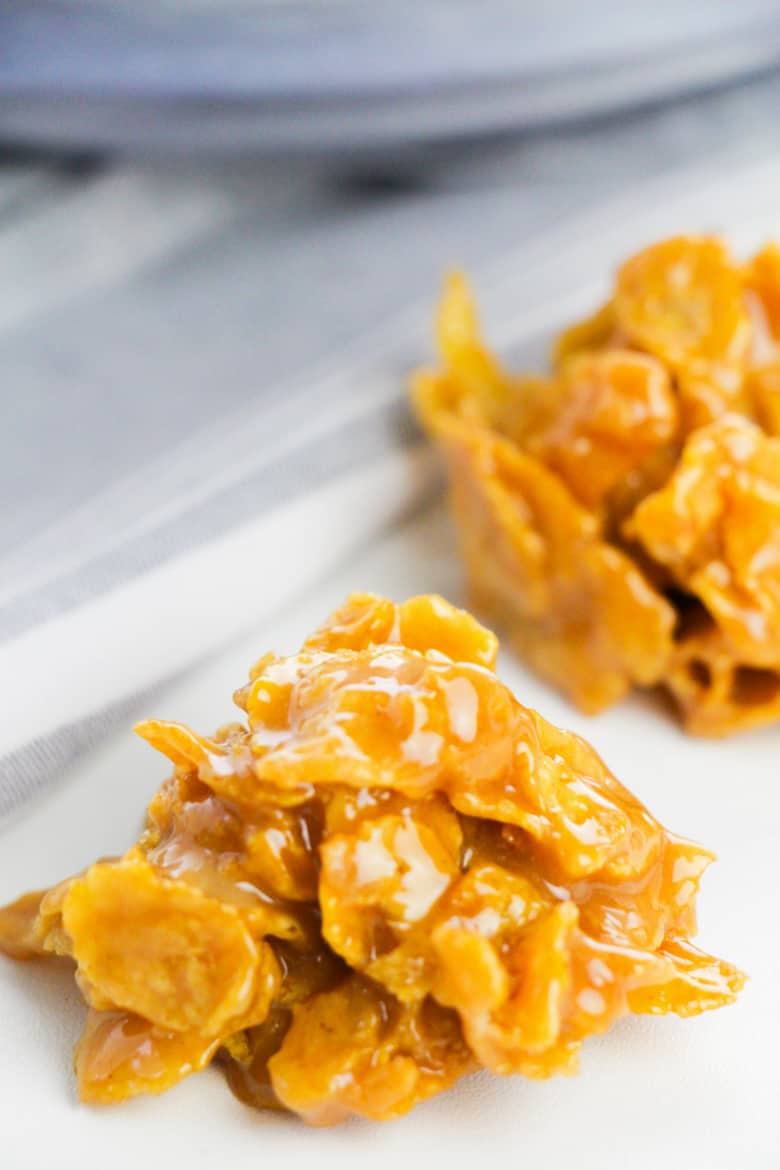 Come to think of it, whenever we have Cornflakes on hand I end up whipping up this cornflake cookie recipe!
They are just perfect when I am craving something peanut-buttery and delicious but don't feel like turning on the oven to make peanut butter chocolate chip cookie bars, peanut butter blossom cookies or peanut butter and jelly bars.
Ingredients
Cornflakes | For this recipe you want to use a plain cornflake. The frosted cornflakes will be a bit too sweet in my opinion.
Sugar | Reach for granulated sugar. You will mix this in, and it will help to add a nice sweetness to the cookies. It does meltdown as it heats so there will not be a crunch texture.
Corn Syrup | To get the perfect sticky and gooey texture of the sauce, corn syrup and sugar are the perfect pair.
Peanut Butter | Like with old-fashioned peanut butter cookies, for this cookie recipe you will want to reach for creamy peanut butter. The crunchy can work but it will change the texture of the cookies quite a bit.
Vanilla | While it can be omitted in a pinch, a splash of vanilla will give these cookies even more amazing flavor. There is something about peanut butter and vanilla that just works perfectly together.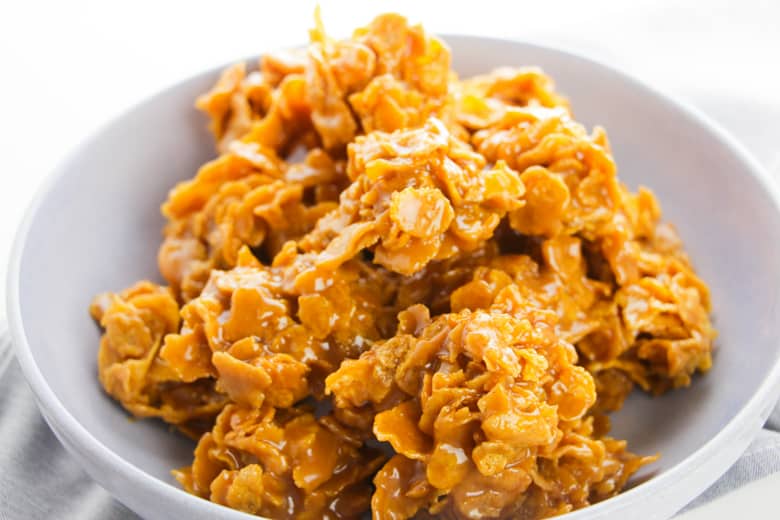 How to Make Cornflake Cookies
In a pan on the stove, you will add in your corn syrup, sugar, and peanut butter. Stir constantly until the mixture becomes well melted. This will ensure your sugar melts down and doesn't leave a gritty taste.
When your mixture comes to a boil, remove from heat and stir in the corn flakes and vanilla. Then scoop cookie mix onto wax paper or a silicone baking mat (I like to use one of these).
Let the cookies set up and enjoy!
How Long Does It Take Cornflake Cookies To Set Up
You need to allow your no-bake cookies to set up on the counter for about an hour. Once set they will be firmer in texture and not sticky.
Otherwise, if you try to eat right away, the cornflake cookies will fall apart in your hands. Plus, they would be very hot!
Can You Freeze Cornflake Cookies?
Yes! These easy cornflake cookies do freeze nicely for up to 3 months. Just place the cookies in a single layer in a container. If you want to stack then lay a piece of wax paper in between the layers to prevent them from sticking to each other.
When ready to enjoy remove from the freezer and allow to thaw to room temp on the counter.

Tips for making the Best Cornflake Cookies
You can use any brand of peanut butter. But in terms of nut butter and natural peanut butter, I am not sure as I have only tried the recipe with regular old peanut butter. They do have a different texture so I am not 100% sure it will mix up properly.
Try adding in 1/4 cup of butterscotch chips for a fun twist of flavor.
Melt up some chocolate chips and drizzle over the cookies for a bit of chocolate goodness.
More easy no-bake desserts to make
Recipe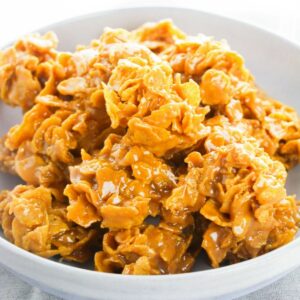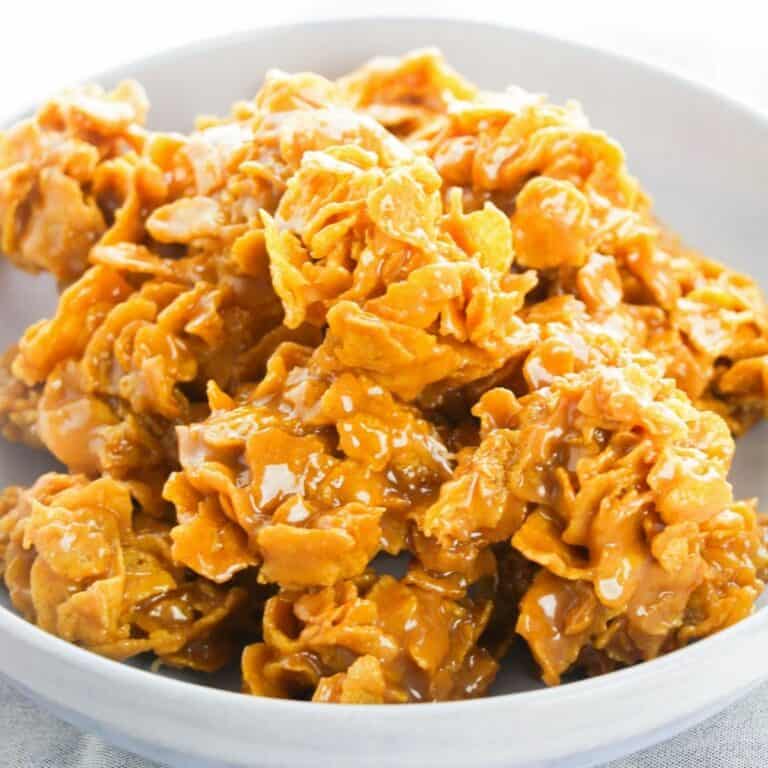 Recipe
Peanut Butter Cornflake Cookies
No-Bake peanut butter cornflake cookies are fun and easy to make with just 5 ingredients!
Ingredients
1 cup granulated sugar
1 cup light corn syrup
1 cup creamy peanut butter
2 teaspoons vanilla extract
6 cups cornflakes
Instructions
Line two baking sheets with wax paper or silicone baking mats and set aside.

In a large saucepan, combine the sugar, corn syrup, and peanut butter over medium heat. Stir often until the mixture comes to a boil then remove from heat. Stir in vanilla and cornflakes until evenly coated.

Immediately drop cookies onto the prepared baking sheets using a cookie scoop or large spoon.

Allow cookies to set at room temperature (30-60 mins) before serving or storing.
Notes
Store in an airtight container at room temperate for up to 1 week or freeze for up to 3 months. Try adding 1/4 cup butterscotch chips to the mix or drizzling the top of cookies with melted chocolate for a bit of added flavor.
Nutrition
Serving: 1g | Calories: 216kcal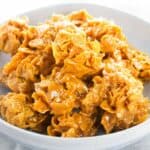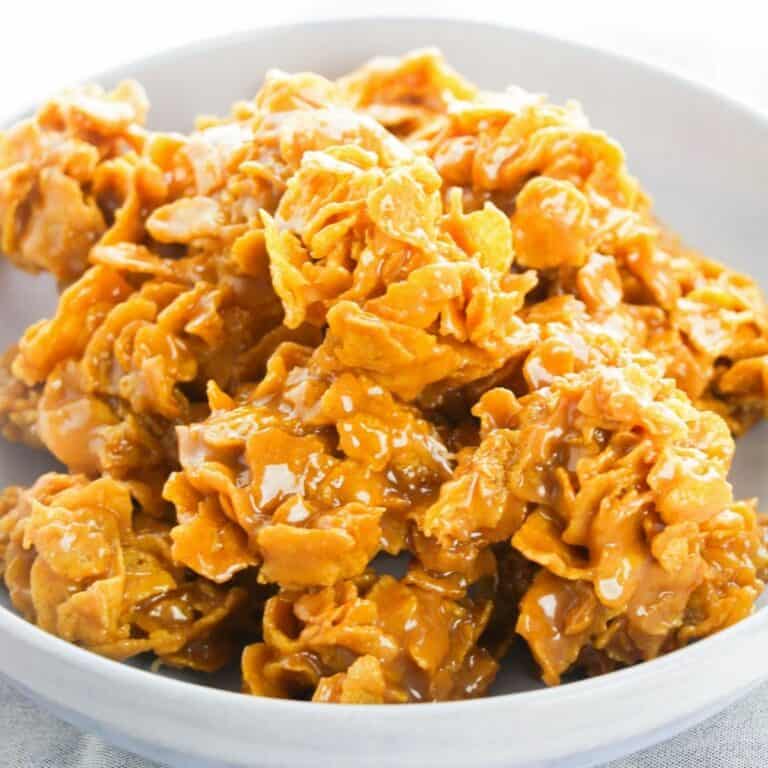 Did You Make This Recipe?
Share it with me on Instagram @crayonsandcravings and follow on Pinterest @crayonsandcravings for even more!
Pin for Later: