Melting Ice Cream Cone Cupcakes
Posts may contain affiliate links, meaning that I may earn a commission if you use a link provided.
Melting ice cream cone cupcakes are easy to make and designed to look like an ice cream cone that fell upside down and is beginning to melt.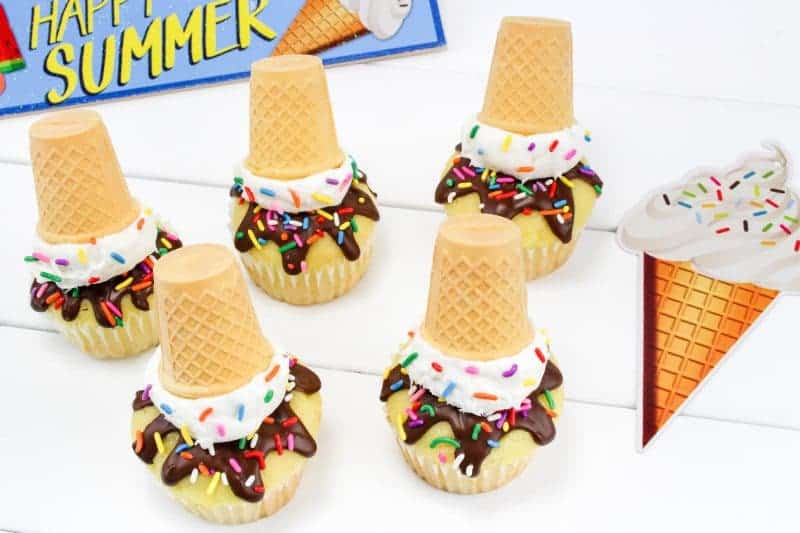 I haven't been able to stop with the bright and colorful summer desserts lately.
From watermelon rice krispie treats to clam shell cookies, we are on a summer dessert roll over here.
Today I have a super fun treat to share with you — melting ice cream cone cupcakes.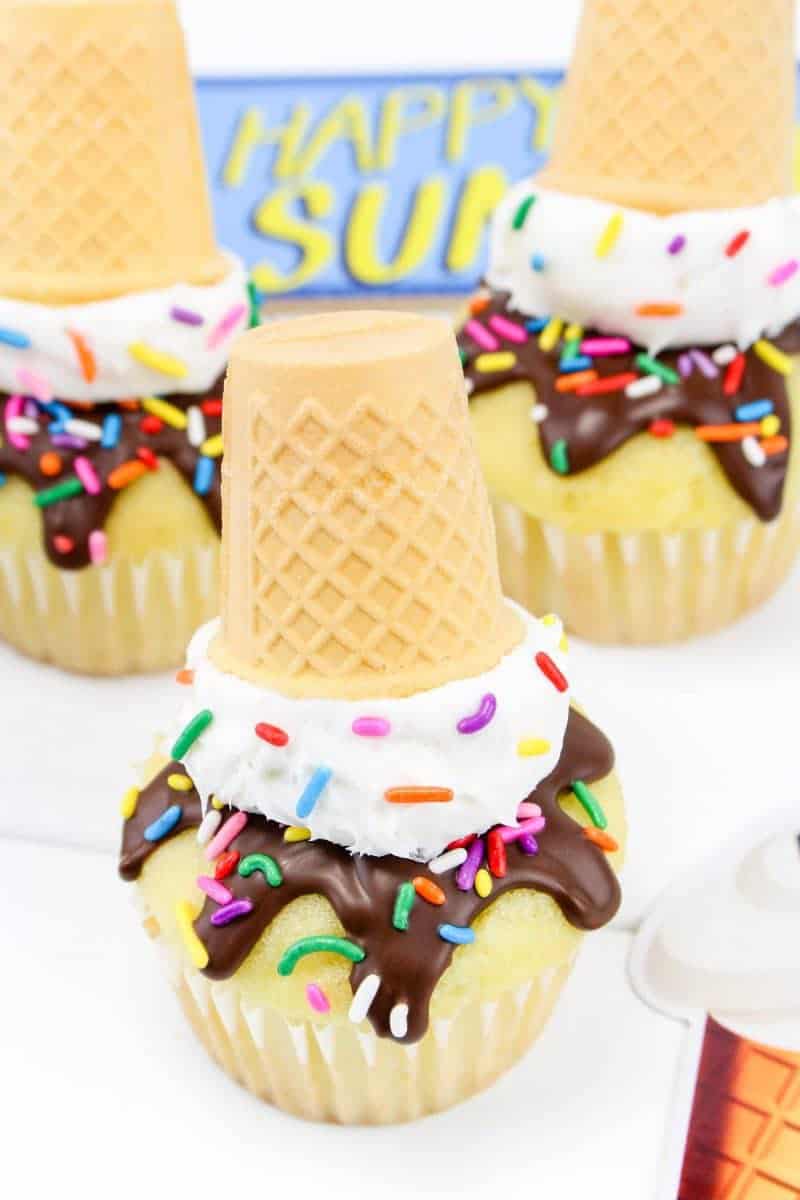 Nothing is worse than getting a nice, big, ice cream cone, only to drop it on the ground. Ugh!
But these cupcakes — designed to look like dropped ice cream cones — are far from the worst. In fact, they are pretty darn adorable if I do say so myself.
Melting Ice Cream Cone Cupcake Ingredients & Supplies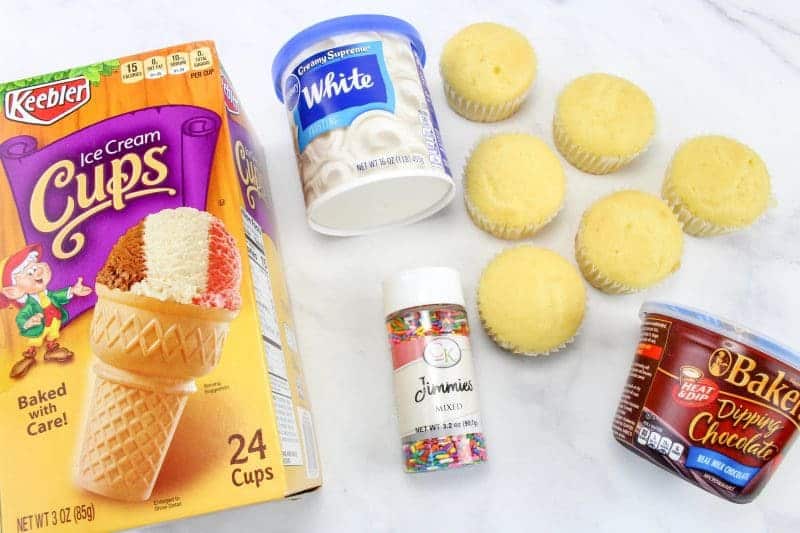 Perfect for all your summer parties, ice cream cone cupcakes are easy to put together starting with your choice of vanilla cupcakes. If you want to get fancy you can make your cupcakes from scratch, but it is not necessary. Boxed cupcake mix will work just fine.
You will also need the following ingredients:
Dipping chocolate
Sprinkles
Ice Cream Cones
and the following supplies:
sharp knife
cutting board
spoon
toothpick
cookie dough scoop, small
How to Make Melting Ice Cream Cone Cupcakes
The hardest part of this recipe is cutting the rim off of the ice cream cones, since you have to be careful not to crack or crush your cones. Easy does it!
Once your cones are ready, simply top your plain vanilla cupcakes with melted chocolate.
We used microwavable Baker's dipping chocolate for our cupcakes, but you could just use the melting chocolate of your choice.
Use a toothpick to work the chocolate a bit and give it that drippy, melted, look.
Add sprinkles.
Then, scoop on the white frosting which will serve as your "ice cream".
Finally, press ice cream cones down into the frosting and add more sprinkles. Because you can never have enough sprinkles.
Wasn't that simple?!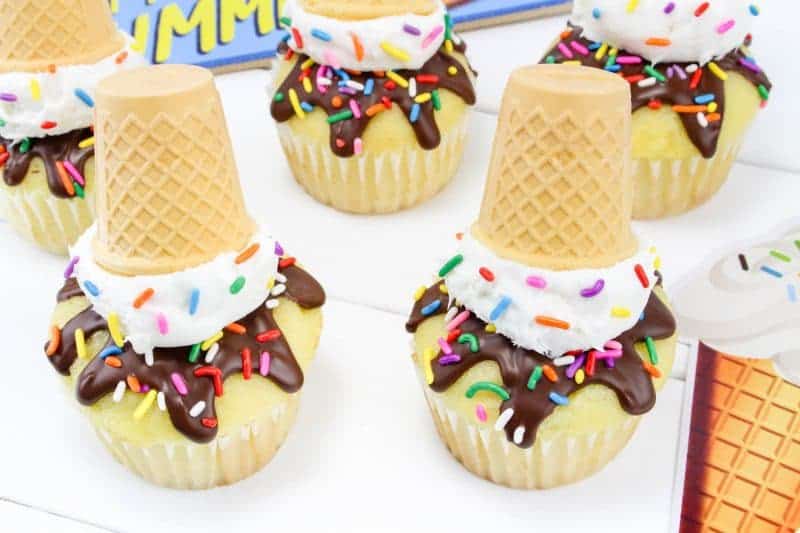 If you are thinking of planning an ice cream party, these would be a great dessert option to serve along-side your ice cream.
I know it is unbelievable, but there are in fact some people out there who don't like ice cream. Crazy as it seems, it is true. So, these cute ice cream cupcakes would be a great dessert option for those anti-ice cream partygoers.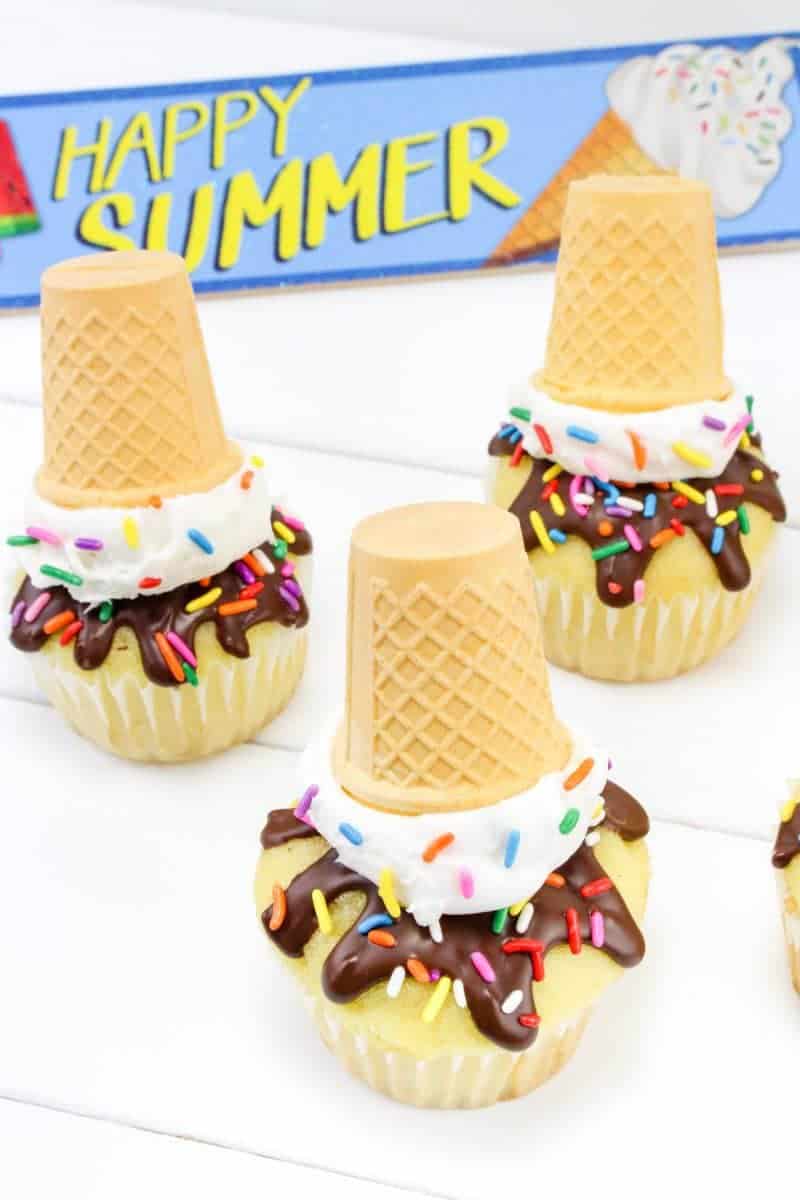 More Fun & Easy Summer Party Treats
Recipe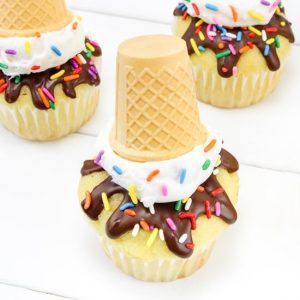 Recipe
Melting Ice Cream Cone Cupcakes
Melting ice cream cone cupcakes are easy to make and designed to look like a ice cream cone that fell upside down and is beginning to melt.
Ingredients
6 unfrosted vanilla cupcakes prepared according to directions on package
6 ice cream cones
1 container dipping chocolate microwavable
Rainbow sprinkles
1 tub white frosting
Instructions
Using a sharp knife, carefully remove the top rim of each ice cream cone. Discard the rims, as you will be only using the bottoms for this recipe.

Melt chocolate per package instructions. Using a spoon, pour a small amount of chocolate onto the top of each cupcake. Use a toothpick as needed to help spread the chocolate out and into "drips" going down the side of cupcakes.

Add sprinkles immediately, before the chocolate begins to set.

Allow cupcakes to set until the chocolate hardens (about 20 minutes).

Using a small cookie dough scoop, add a scoop of frosting on top of the chocolate on each cupcake.

Gently press an ice cream cone into each cupcake, on top of the scoop of frosting.

Finish by adding a few sprinkles to the frosting.
Did You Make This Recipe?
Share it with me on Instagram @crayonsandcravings and follow on Pinterest @crayonsandcravings for even more!
Pin for Later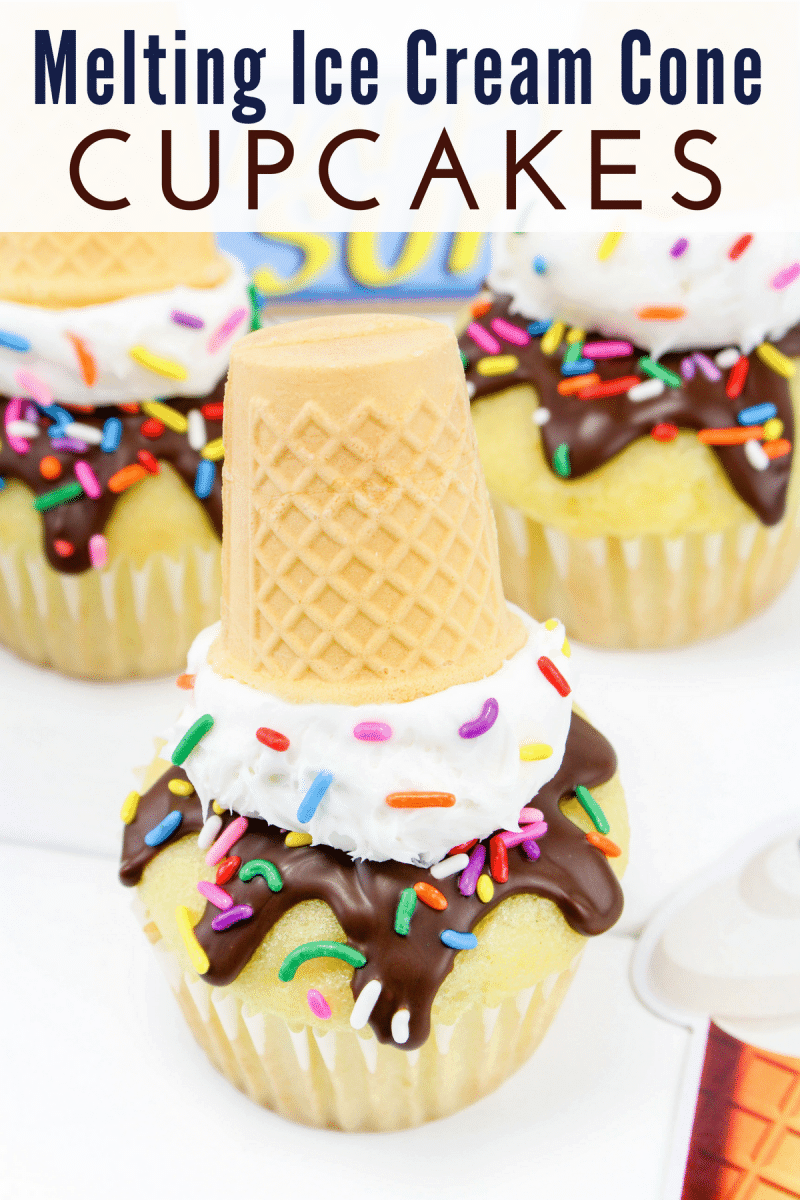 This fun summer cupcake recipe was shared on Meal Plan Monday and The Weekend Potluck!