Posts may contain affiliate links, meaning that I may earn a commission if you use a link provided.
Everyone loves banana pudding and poke cakes, and this Banana Pudding Poke Cake recipe combines them both into one amazing dessert. Yellow cake (made from a box mix) is poked and filled with a creamy mixture of banana pudding, cream cheese, and sweetened condensed milk. Add a Cool Whip layer and 'Nilla wafers on top for an incredible dessert that's perfect for potlucks and holidays!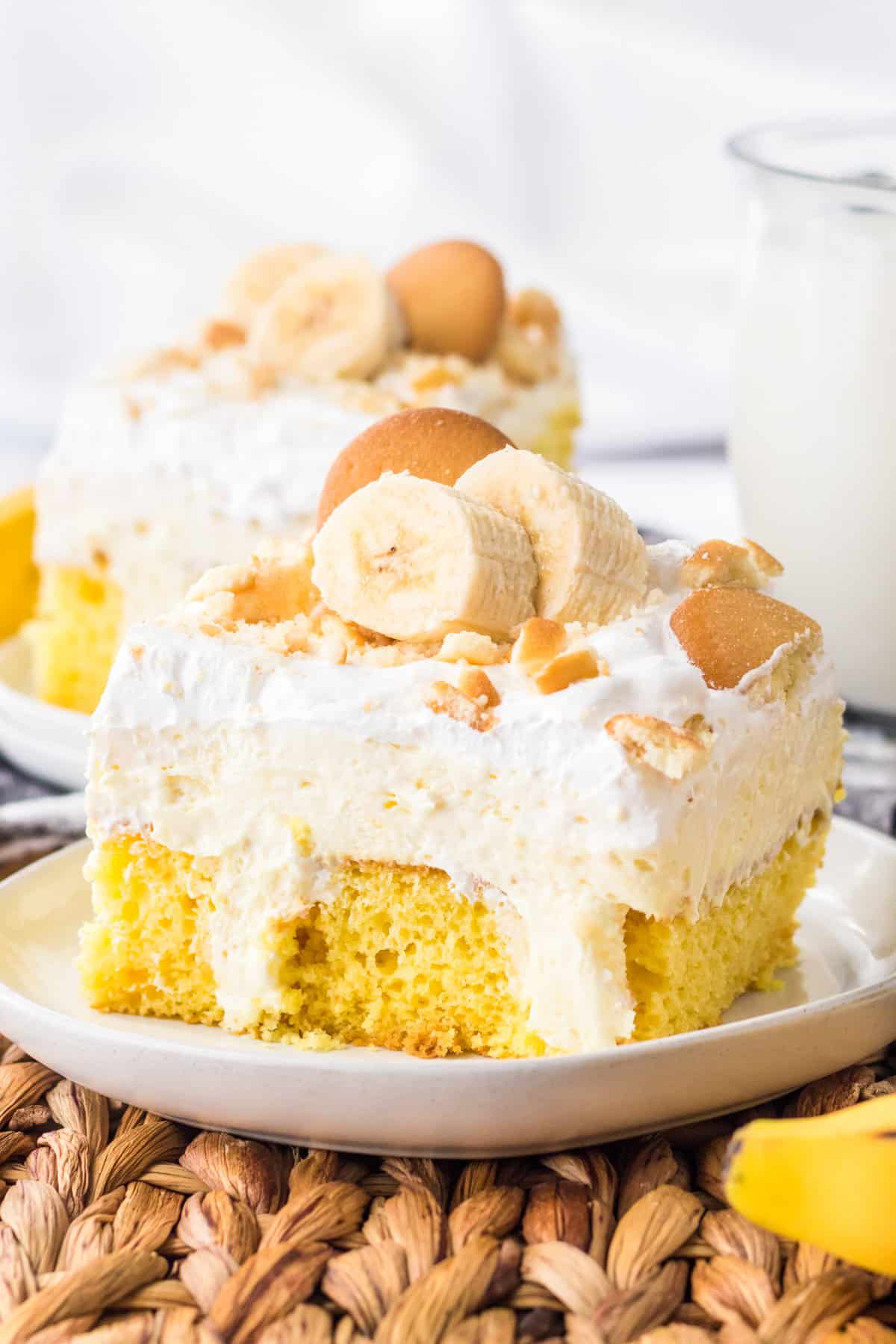 This delicious banana pudding poke cake combines the classic comfort of banana pudding with the fun surprise of a filled cake. And it's a great make-ahead recipe because the flavors and texture only get better when you prepare it the day before and let it chill overnight.
If you're looking for a failproof dessert to take to a party or potluck, this is it. Seriously, it disappears in no time!
The best part? It is so darn easy. Start with a box cake mix, bake the cake, poke it with holes, and fill it with creamy banana pudding combined with cream cheese, sweetened condensed milk, and whipped topping. Your friends and family will be begging you for the recipe!
If poke cakes are your weakness, you don't want to miss my other recipes. Lemon Jello Poke Cake and Strawberry Jello Poke Cake are terrific summertime desserts with their bright, fruity flavors. This Snickers Poke Cake is super decadent with loads of chocolate and caramel flavor. And my Baileys Poke Cake is packed with creamy, chocolate-y goodness.
For now, let's get started on this irresistible banana poke cake with pudding.
Ingredients
This section includes ingredient notes and substitution options. Get all measurements, ingredients, and instructions in the printable recipe card at the end of this post.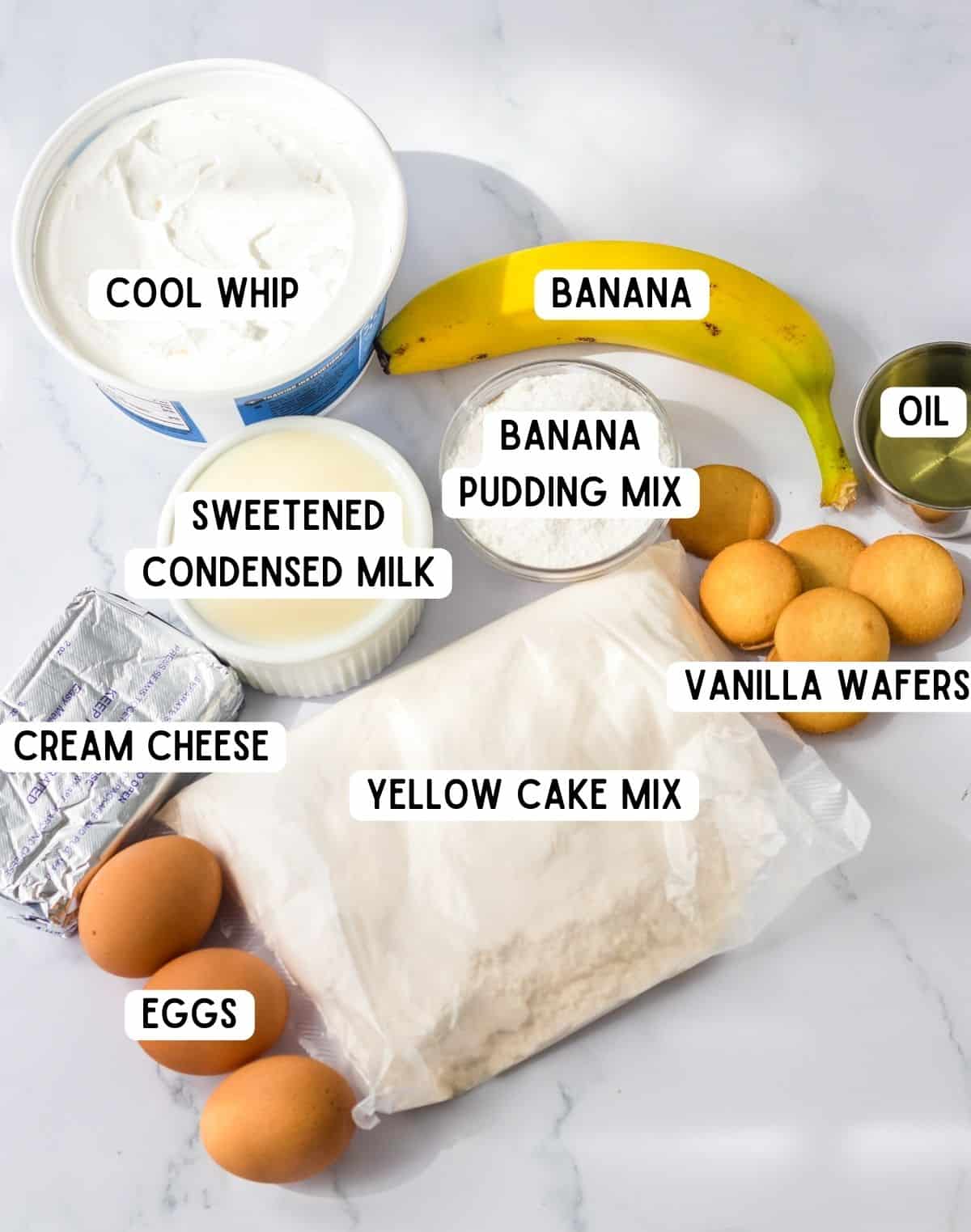 Yellow Cake Mix — Use your favorite brand of yellow cake mix. Read the box instructions on the back to find out many eggs and how much oil and water to use to bake it.
Cream Cheese — Let it soften to room temperature. It adds a bit of a tangy flavor to the pudding mixture to help balance out the sweetness.
Sweetened Condensed Milk — This sweetens and smooths the filling.
Whipped Topping — Cool Whip makes the filling lighter and fluffier. Use any brand of frozen whipped topping you like, but let it thaw first in the fridge.
Instant Banana Pudding Mix — For that sweet banana pudding flavor! Get the big 5.1 ounce box and make sure it's instant pudding mix, not the cook and serve kind.
Milk — Combine whole milk with the pudding mix to make the filling pourable and creamy.
Vanilla Wafers — You can't have a banana pudding-themed dessert without these crunchy cookies!
Fresh Bananas — They're optional, but for that authentic banana pudding feel, top your cake with fresh sliced bananas right before serving.
Equipment You'll Need for This Delicious Poke Cake
To make this easy banana pudding poke cake, you'll need the following kitchen tools:
Measuring cups
Mixing bowls
Wooden spoon
Hand mixer
Whisk
Rubber spatula
How to Make Banana Pudding Poke Cake
This section shows you how to make the recipe with step-by-step photos and instructions. For the full printable recipe, see the recipe card below.
Step 1: Whip up your yellow boxed cake mix in a large mixing bowl as instructed on the box, and bake it in a 9×13 baking dish. Once it's baked, let the warm cake cool down for about 15 minutes.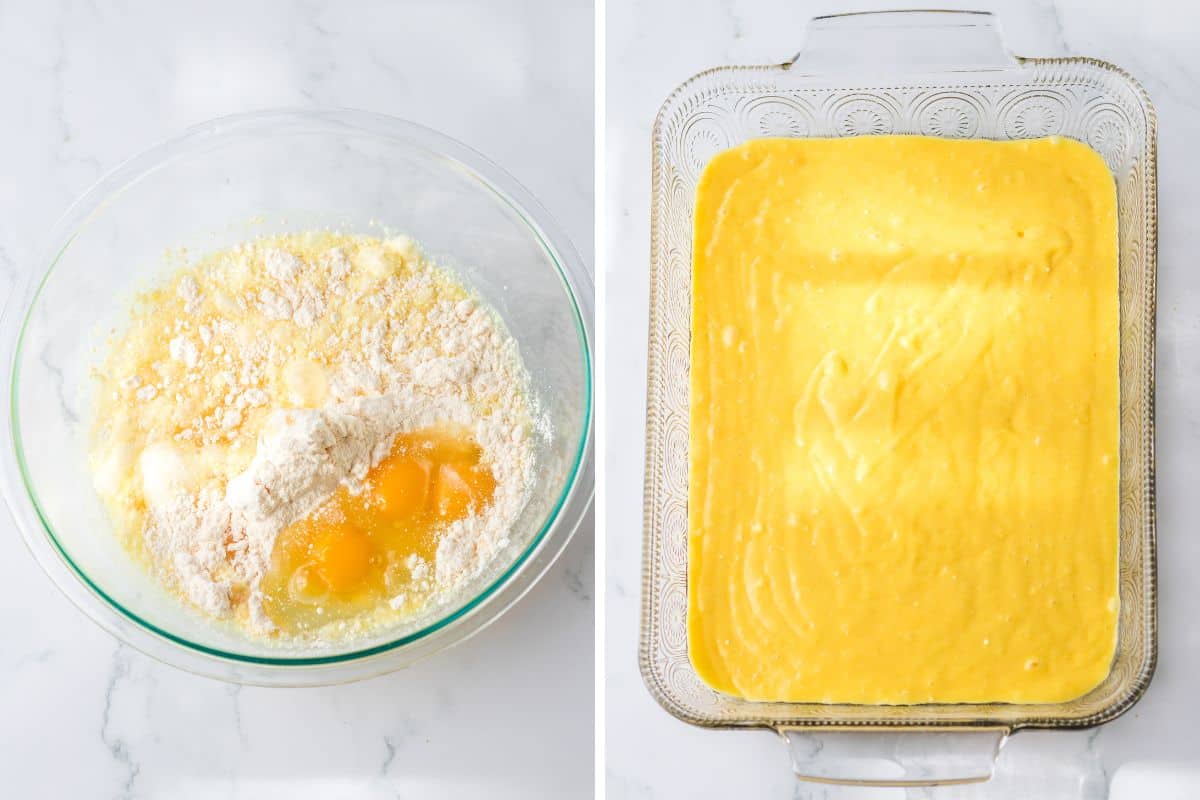 Step 2: Grab a wooden spoon and use the wooden spoon handle to poke some nice, big holes all over the top of the cake. Give the spoon a little wiggle to make sure the holes are big enough and ready for that delicious filling.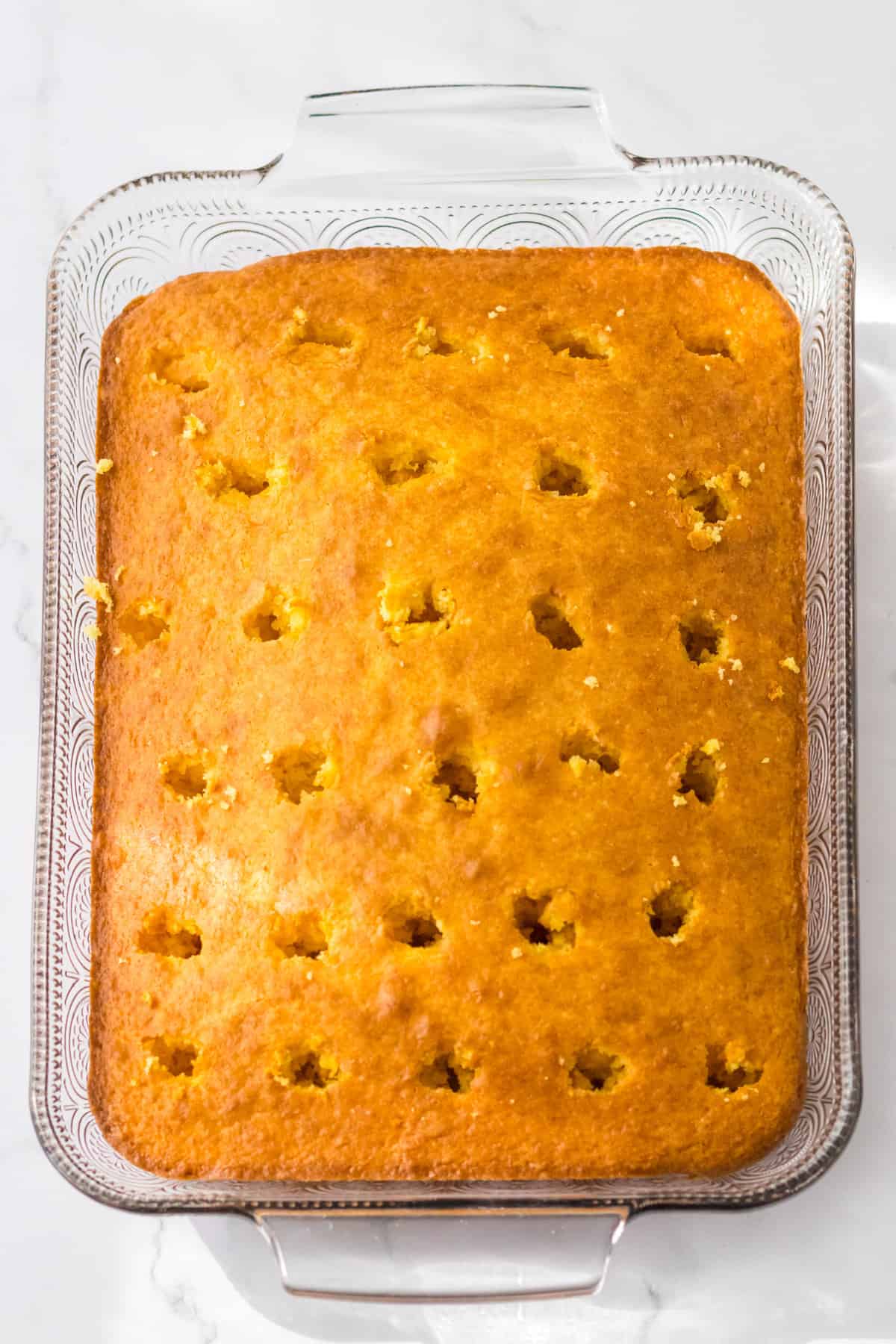 Step 3: In a large bowl, whisk the banana pudding mix with the milk. Fold in a third of the Cool Whip to make it extra fluffy. Set aside.
Step 4: In another bowl, beat the cream cheese and sweetened condensed milk together until they're smooth and well combined. Add the pudding mixture to the cream cheese mixture and stir to combine.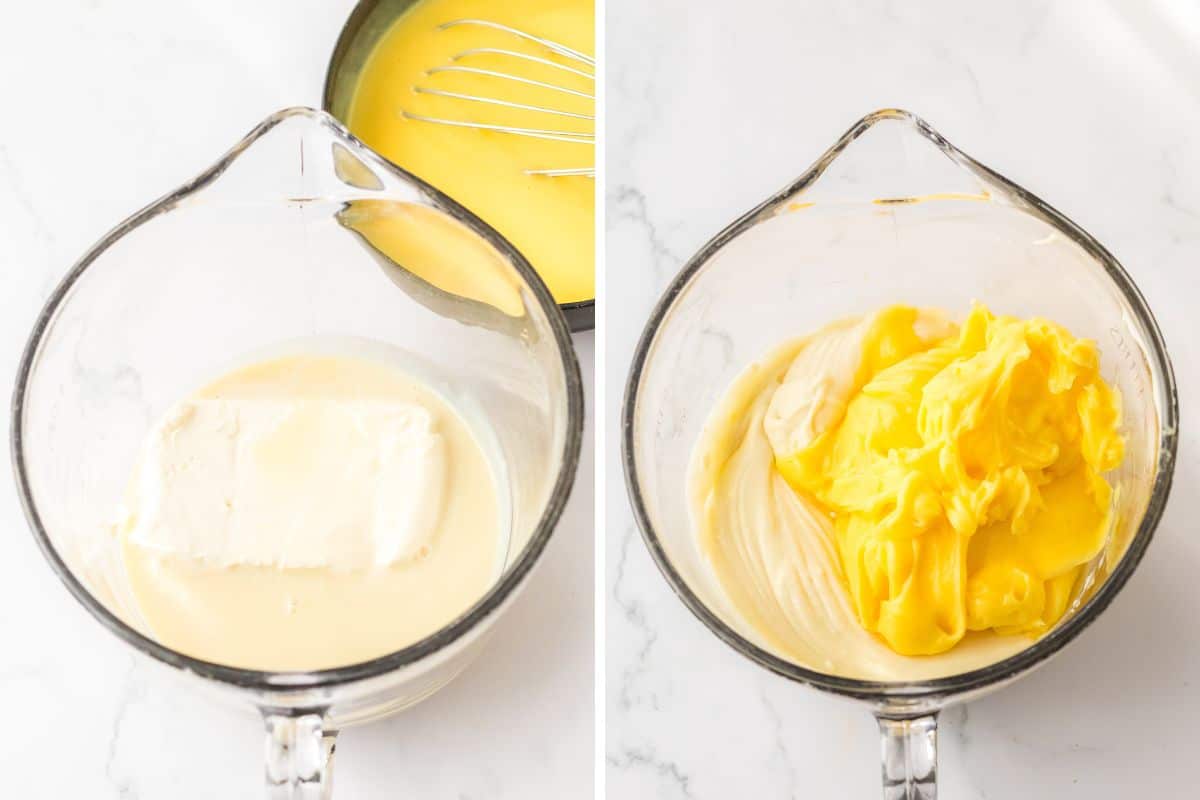 Step 5: Pour the pudding and cream cheese mixture over the cake. Use a spatula to gently push the filling into the holes and spread the pudding layer evenly across the cake.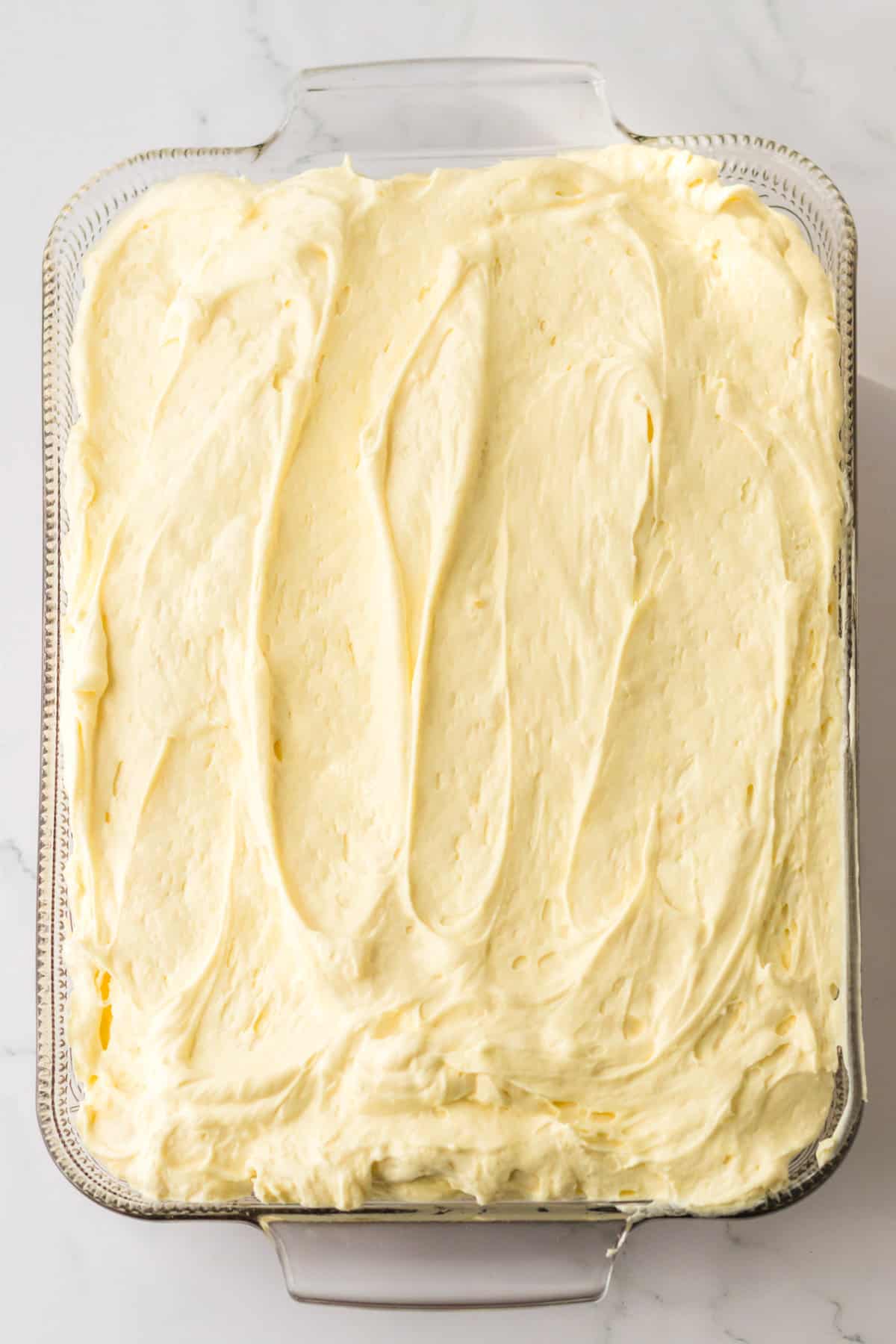 Step 6: Dollop the rest of the whipped topping over the cake, gently spreading it to create a smooth layer. Top with whole vanilla wafers or sprinkle some crushed vanilla wafers on top for that extra crunch.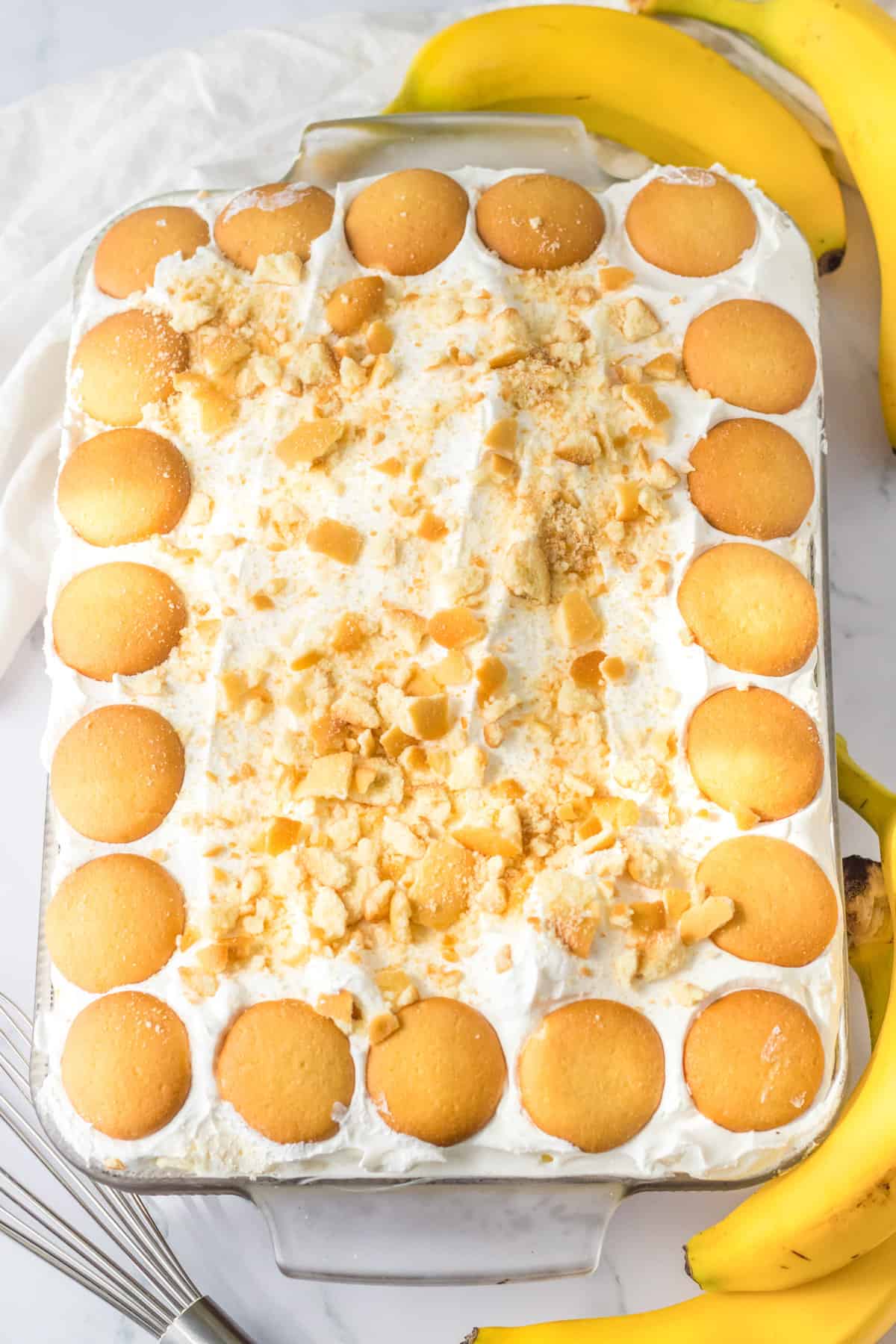 Step 7: Pop the cake in the fridge for at least two hours (or overnight) to let it chill and set. Add slices of banana on top of this delicious cake just before serving, if desired. Enjoy!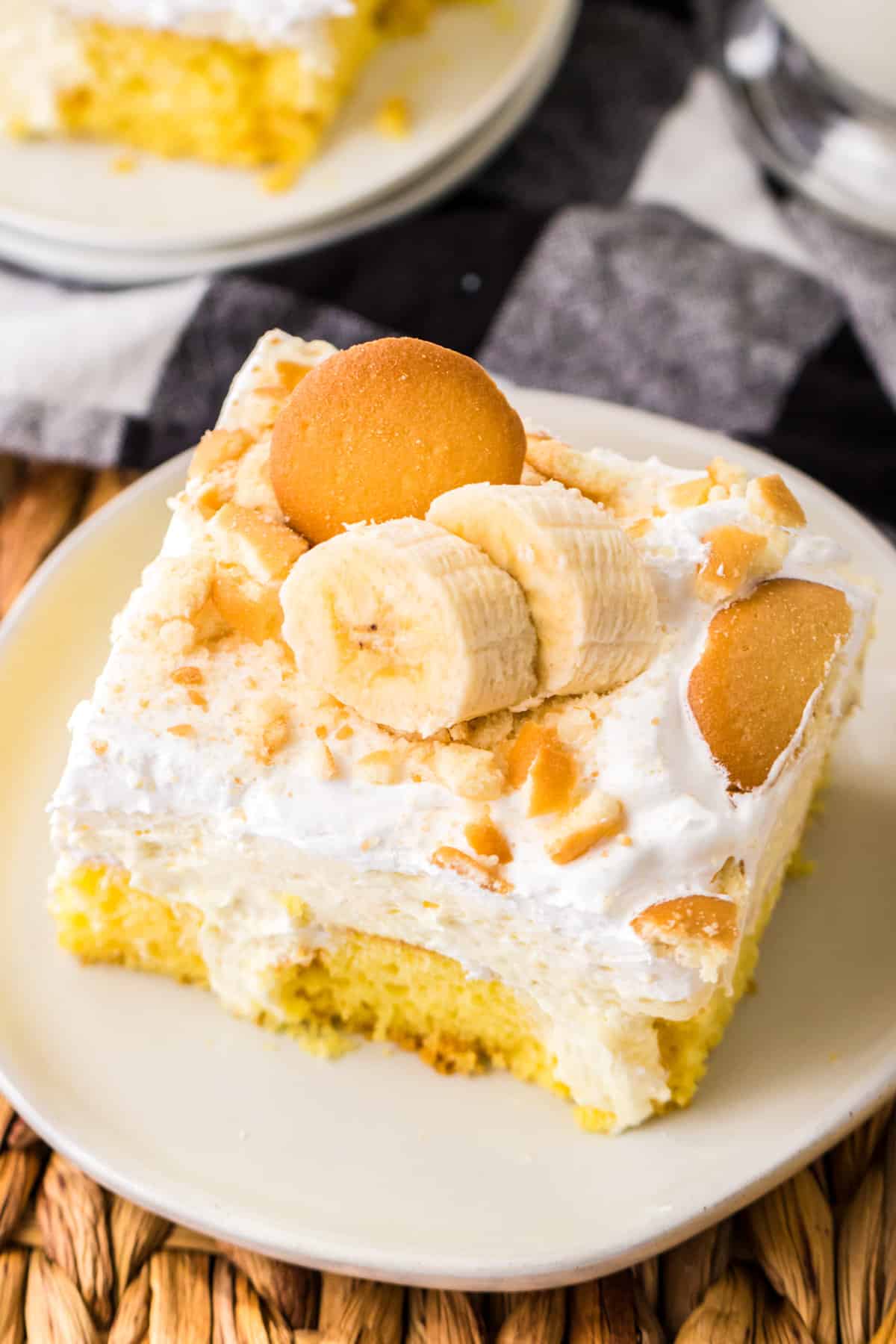 Storing and Freezing Banana Pudding Cake
Refrigerator: Keep any leftover banana pudding poke cake tightly covered in the refrigerator for up to 3 days to maintain its freshness and prevent it from drying out.
Freezing instructions: Do not add the whipped topping layer or vanilla wafers to the top of the cake if you plan on freezing it. Just prepare the cake up to the point of adding the pudding mixture. Refrigerate the cake for a couple of hours before wrapping in plastic wrap and freezing.
If you're going to freeze individual slices of cake, cut it into slices first, and then flash freeze the cake for 2 hours. Wrap the frozen cake in plastic wrap and then place in a freezer-safe container, freezer bag, or wrap in aluminum foil. It will keep this way for up to 3 months.
Tips and Tricks for the Ultimate Banana Cream Poke Cake
When poking holes in the cake, make sure they're evenly distributed so the filling reaches every part of the cake for consistent texture and flavor.
Softened cream cheese blends more easily with the other ingredients. Take it out of the refrigerator about 30 minutes before starting the recipe.
To prevent browning, add fresh banana slices as a garnish right before you serve the cake.
If you adore Cool Whip, feel free to double up on the amount, using one container for the filling and another for the topping.
Can't find a 6-serving size box of pudding mix? Use two 3.4-ounce boxes and increase the milk to 3 cups for the right consistency.
To crush the vanilla wafers, put them in a zip-top baggie and roll it with a rolling pin to crush the cookies. You can also use a rubber mallet or food processor to crush them.
Use a banana cake mix instead of yellow if you really want to amp up the banana flavor.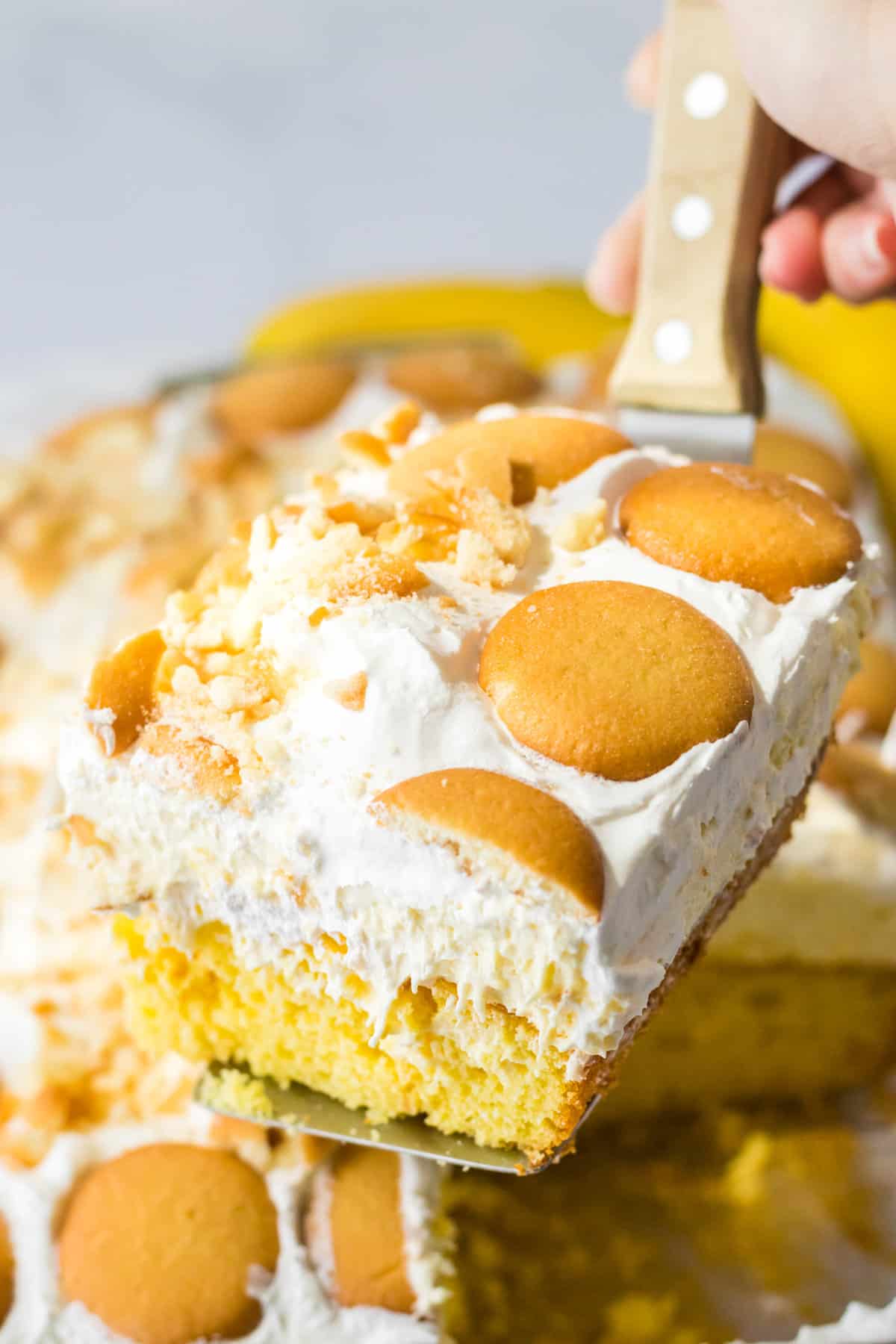 Additions and Variations
Make it with chocolate cake. Swap out the yellow cake mix with a chocolate one to get that classic chocolate-banana flavor combination.
Add nuts. Top the cake with chopped walnuts or pecans for extra crunch.
Sprinkle with chocolate chips. Make it extra sweet by sprinkling mini chocolate chips over the Cool Whip layer.
Drizzle with caramel. Bananas and caramel are so good together. Try a drizzle of caramel sauce over your cake!
Add some spice. Add a little cinnamon or nutmeg to the cake batter to give it a nice banana bread flavor.
Banana Pudding Poke Cake Recipe FAQ
Why is it called poke cake?
Poke cake gets its name from the process of poking holes into the baked cake. These holes are then filled with a glaze or creamy filling, which then seeps into the cake to create a moist, tender texture and infuse it with flavor.
Why is my poke cake soggy?
A poke cake may get soggy if the filling has too much liquid or if too much filling is poured over the cake. To avoid this, make sure you're using the correct amount of filling specified in the recipe and that you've measured your liquids correctly using a liquid measuring cup.
How many holes should you poke in a poke cake?
There is no specific number of holes to poke in a poke cake. It will vary depending on the size of your cake and the type of filling you're using. Try to make the holes evenly spaced, about 1 inch apart so the filling gets evenly distributed throughout the cake.
Can you make poke cake a day ahead of time?
Yes, you can make this banana poke cake recipe a day in advance. In fact, that will help the filling to set properly and let the flavors meld together. Just make sure to store the cake in the refrigerator, tightly covered, until you're ready to serve it. Don't add the bananas until last minute.
What's the best way to poke holes in a poke cake?
I find using the handle of a wooden spoon works best. It creates holes that are perfectly sized for a thicker filling like pudding. However, if you're making a poke cake with a glaze, use a wooden skewer to poke holes instead.
Can I use homemade whipped cream instead of Cool Whip?
Yes, you can use whipped cream instead of Cool Whip but keep in mind that it doesn't keep as well. I prefer Cool Whip because it's stabilized and stays light and fluffy for days. If using homemade whipped cream I recommend that you either stabilize it or prepare the cake the same day that you will be serving it.

More Banana Pudding Desserts
Can't get enough of that banana pudding flavor? Me either! Here are even more sweet treats to get your banana pudding fix:
Recipe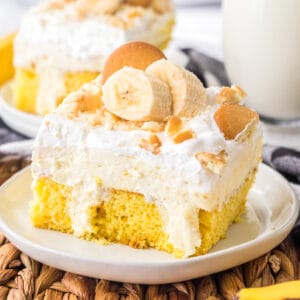 Recipe
Banana Poke Cake
All the flavor of banana pudding in one amazing dessert. This Ultimate Banana Pudding Poke Cake is the perfect Spring and Summer dessert. Yellow cake is poked and filled with a filling of banana pudding, cream cheese, sweetened condensed milk, and whipped topping. Topped with whipped topping and crushed vanilla wafers, this is such an incredible dessert!
Ingredients
15.25 ounce yellow cake mix
3 large eggs or as called for on the box
1 cup water or as called for on the box
½ vegetable oil or as called for on the box
5.1 ounce instant banana pudding mix
2 ¼ cups milk
8 ounce frozen whipped topping thawed and divided (we used cool whip)
8 ounce cream cheese room temperature
14 ounce sweetened condensed milk
vanilla wafers as desired, for topping
bananas optional topping
Instructions
Prepare and bake yellow cake in a 9×13 baking dish as directed on the box. Allow the cake to cool for about 15 minutes.

Using the end of a wooden spoon, poke holes throughout the top of the cake. Wiggle the spoon after placing into the cake to make sure the holes are nice and large so that the filling can go down into them.

In a large bowl, whisk to combine the pudding mix and milk. Fold a third of the Cool Whip into the pudding mixture. Set aside.

In another bowl, use a hand mixer or stand mixer to beat the softened cream cheese and sweetened condensed milk together until smooth and combined.

Combine the cream cheese mixture with the pudding mixture.

Pour the mixture over the cake. Use a spatula to gently press the filling down into the holes and spread it into an even layer.

Spoon dollops of the remaining whipped topping over the top of the cake and gently spread them out to cover the top of the cake.

Top with vanilla wafers or vanilla wafer crumbs.

Chill in the refrigerator for at least two hours (or overnight).

Garnish with fresh banana slices just before serving, if desired.
Notes
Wait until just before serving to add the banana slices so that they do not brown.
Keep leftovers covered tightly in the fridge for up to 3 days.
Love Cool Whip? Use double – one container in the filling and another to top the cake.
Don't want the cake to be too sweet? Use half a can of sweetened condensed milk.
Can't find a large 6-serving size box of pudding mix? Use 2 of the smaller 3.4 ounce sized boxes and increase the milk to 3 cups.
Nutrition
Calories: 467kcal | Carbohydrates: 72g | Protein: 9g | Fat: 16g | Saturated Fat: 10g | Polyunsaturated Fat: 1g | Monounsaturated Fat: 4g | Trans Fat: 0.1g | Cholesterol: 77mg | Sodium: 612mg | Potassium: 309mg | Fiber: 1g | Sugar: 53g | Vitamin A: 496IU | Vitamin C: 2mg | Calcium: 266mg | Iron: 1mg
Did You Make This Recipe?
Share it with me on Instagram @crayonsandcravings and follow on Pinterest @crayonsandcravings for even more!