No-Bake Banana Pudding Pie
Posts may contain affiliate links, meaning that I may earn a commission if you use a link provided.
Whip up this creamy, dreamy no bake banana pudding pie in minutes! It's the perfect summer dessert since you don't need your oven AT ALL, but your family will beg you to make it for holidays and potlucks. Seven simple ingredients and 10 minutes are all you need to prep this pie.
Banana cream pudding, cream cheese, half and half, Cool Whip, Nilla wafers, and fresh sliced bananas all come together in a pre-made graham cracker crust for the easiest, most delicious dessert EVER. Get all that classic banana pudding flavor in the convenience of a pie (or cake)!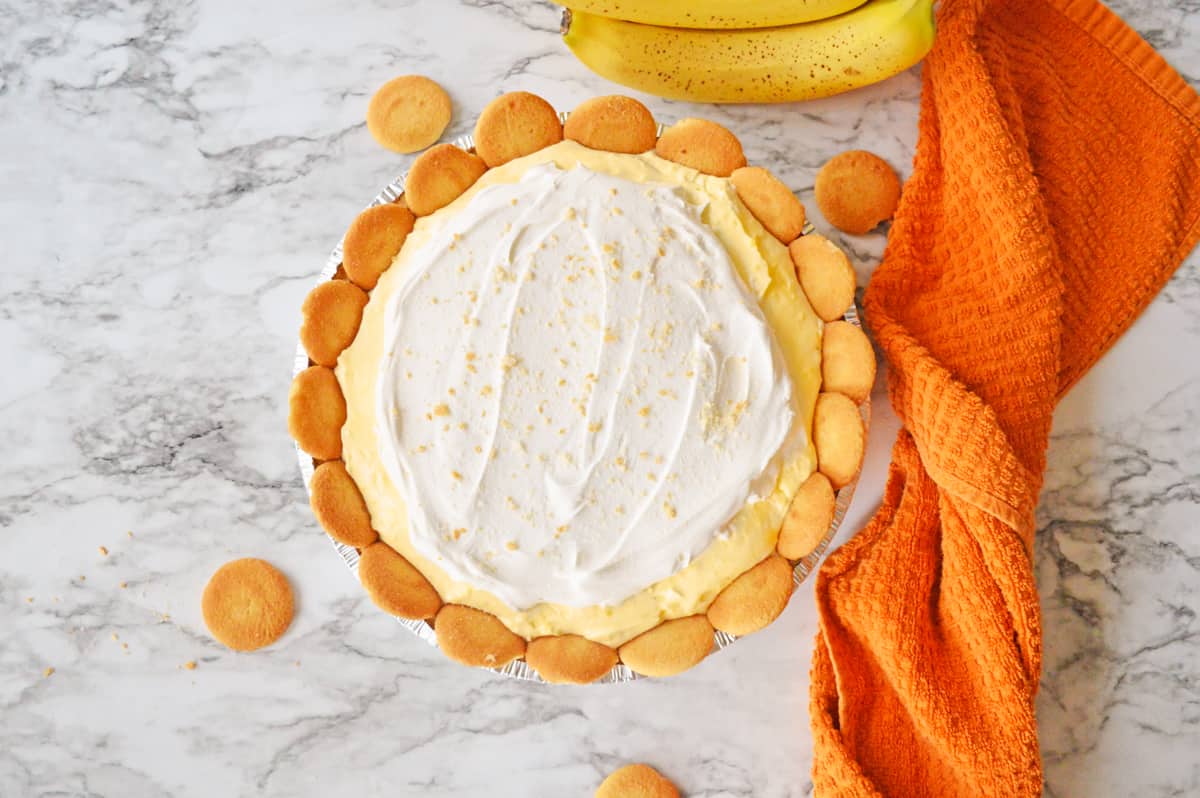 Let it chill overnight, slice and serve with a big dollop of Cool Whip for a cool and refreshing way to satisfy your sweet tooth.
And let's face it — no one wants to heat up a kitchen when the temperatures are sweltering. 'Tis the season of no bake desserts like my Cherry Kool Aid Pie, No Bake Strawberry Cheesecake, Lemon Icebox Pie, and Strawberry Jello Pie. All the deliciousness, none of the heat.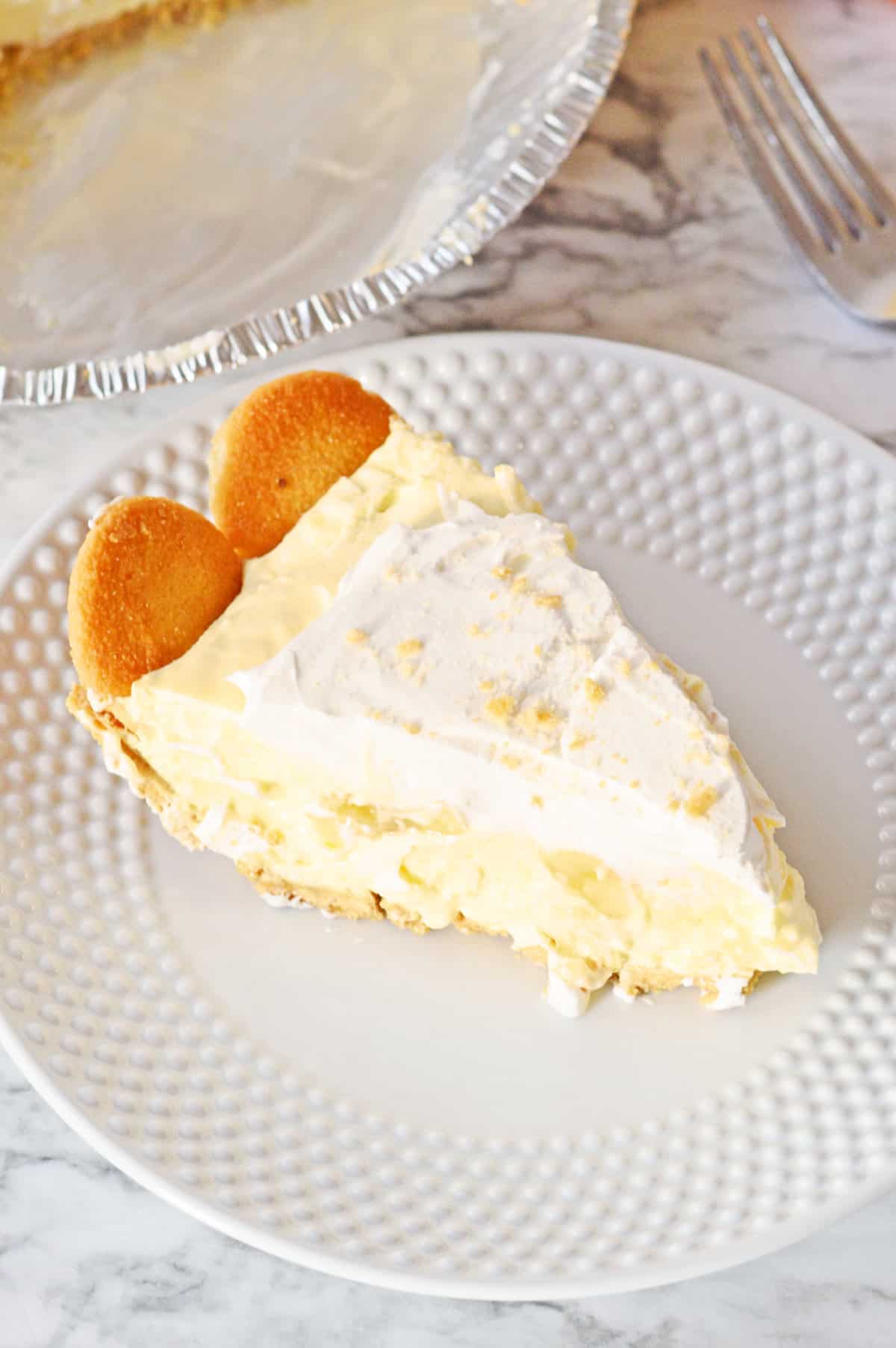 But you came here for a banana pudding cream pie, so let's get to it! Check out some of my other banana inspired desserts at the bottom of the post.
Ingredients
This section includes ingredient notes and substitution options. Get all measurements, ingredients, and instructions in the printable recipe card at the end of this post.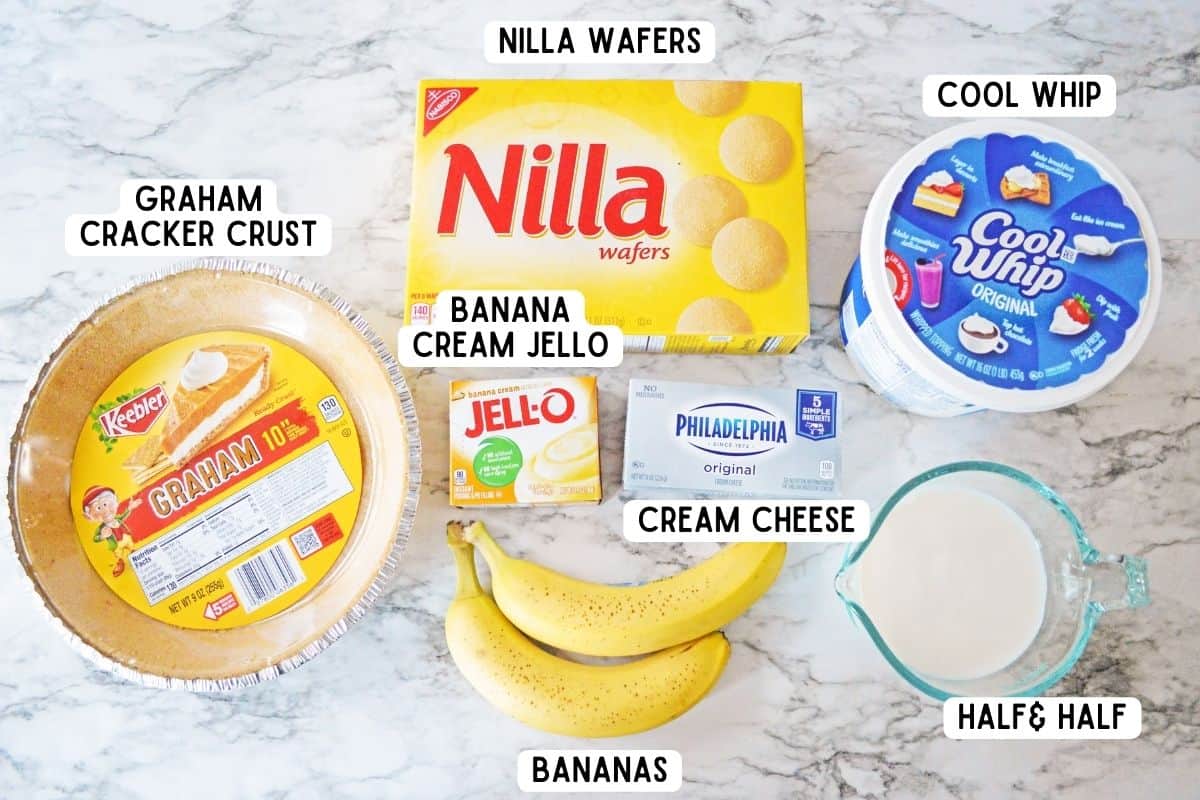 Graham Cracker Crust — Use a 10-inch pre-made graham cracker crust of your choice to keep things fast and simple. Plus, it comes with the handy lid that's perfect for keeping your pie fresh in the fridge. However, if you want to make your favorite homemade crust with graham crackers, go for it!
Instant Banana Pudding Mix — Grab a 3.4 ounce box of instant banana cream pudding mix to amp up the banana flavor in this pie. If you like a subtler flavor, you can use vanilla instant pudding mix instead.
Half and Half — Instead of regular milk, we use half and half for a rich, sweet pie that's thick and creamy! You can substitute with whole milk or 2% if needed.
Cream Cheese — This cream cheese gives the pie a cheesecake feel and thickens up the filling for a pie that slices easily once it's chilled. Let it soften at room temperature before beating the cream cheese.
Cool Whip — Use Cool Whip or your favorite tub of whipped topping. If it's frozen, make sure you thaw it first in the fridge before adding the whipped topping to the pie. Homemade Cool Whip can be used, too.
Nilla Wafers — You can't have a banana pudding dessert without these classic vanilla wafer cookies.
Fresh Bananas — Slice two bananas to fold into this creamy pie. See the recipe tips below for a trick to keep the bananas from browning.
Equipment You'll Need
Here's everything you'll need to make no bake banana pudding pie:
Large mixing bowl
Electric hand mixer or stand mixer
Rubber scraper / spatula
Measuring cup
How to Make No Bake Banana Cream Pie
This section shows you how to make the recipe with step-by-step photos and instructions. For the full printable recipe, see the recipe card below.
Step 1: Add your softened cream cheese to a large bowl. Use a stand mixer or hand mixer to beat the cream cheese on medium-high until smooth.
Step 2: Add the pudding mix to the cream cheese, and slowly add half and half, mixing the ingredients as you go. Continue to mix for 2 to 3 minutes or until ingredients are fully combined.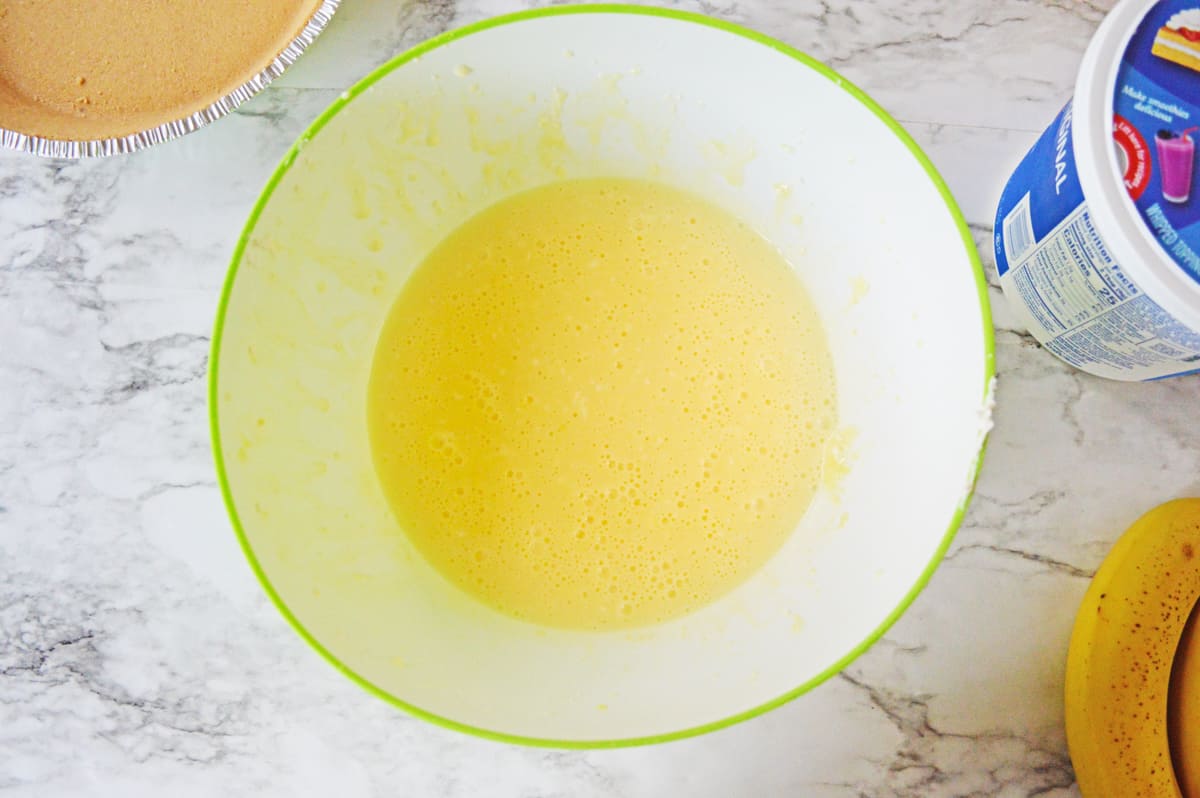 Step 3: Add 8 ounces of Cool Whip and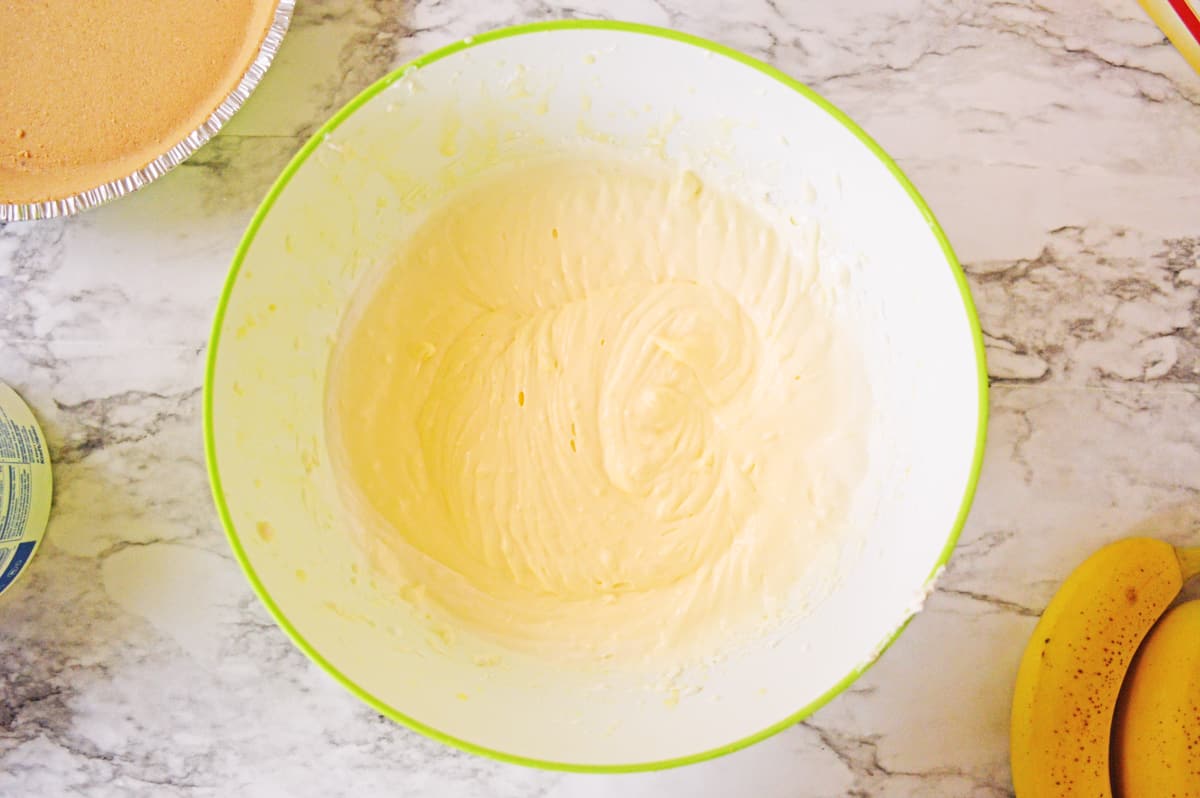 Step 4: Fold in your sliced bananas gently to avoid deflating the pudding mixture. Don't overmix; you don't want the bananas to get mushy.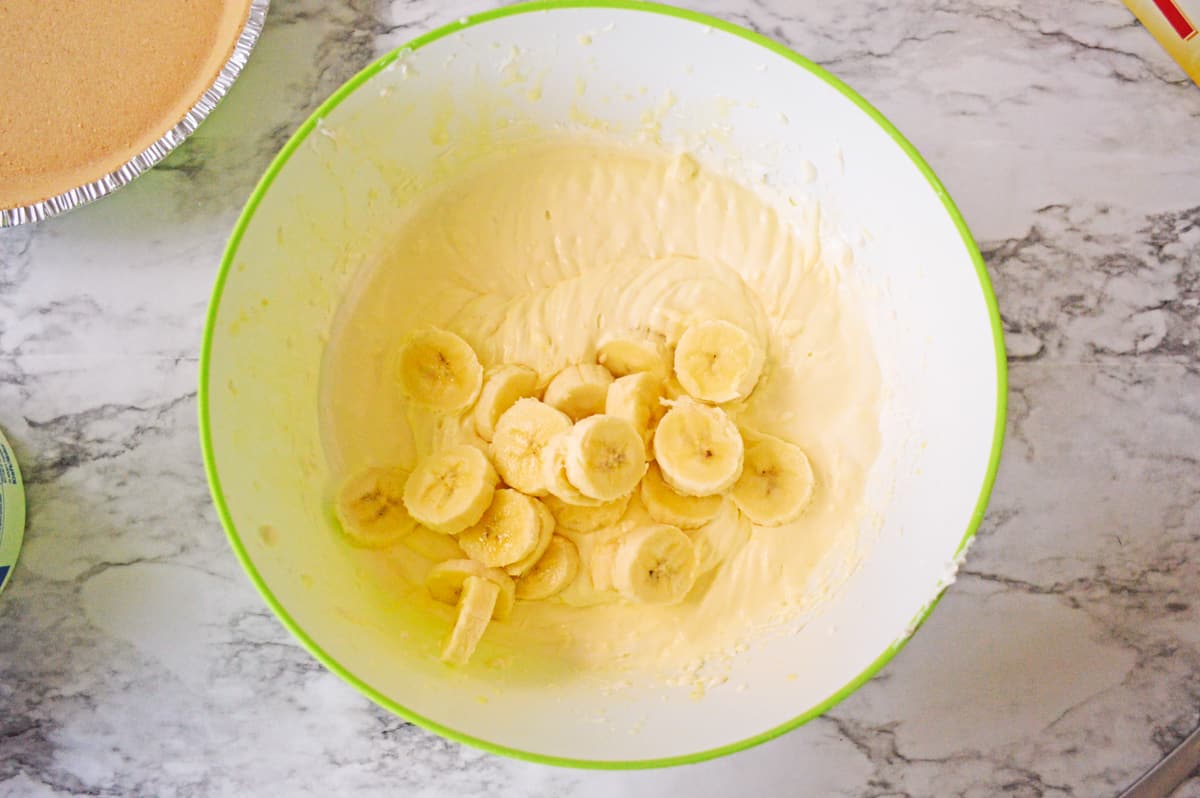 Step 5: Pour the filling into the prepared graham cracker crust. Use a scraper or spatula to spread the mixture evenly in the crust, smoothing out the top.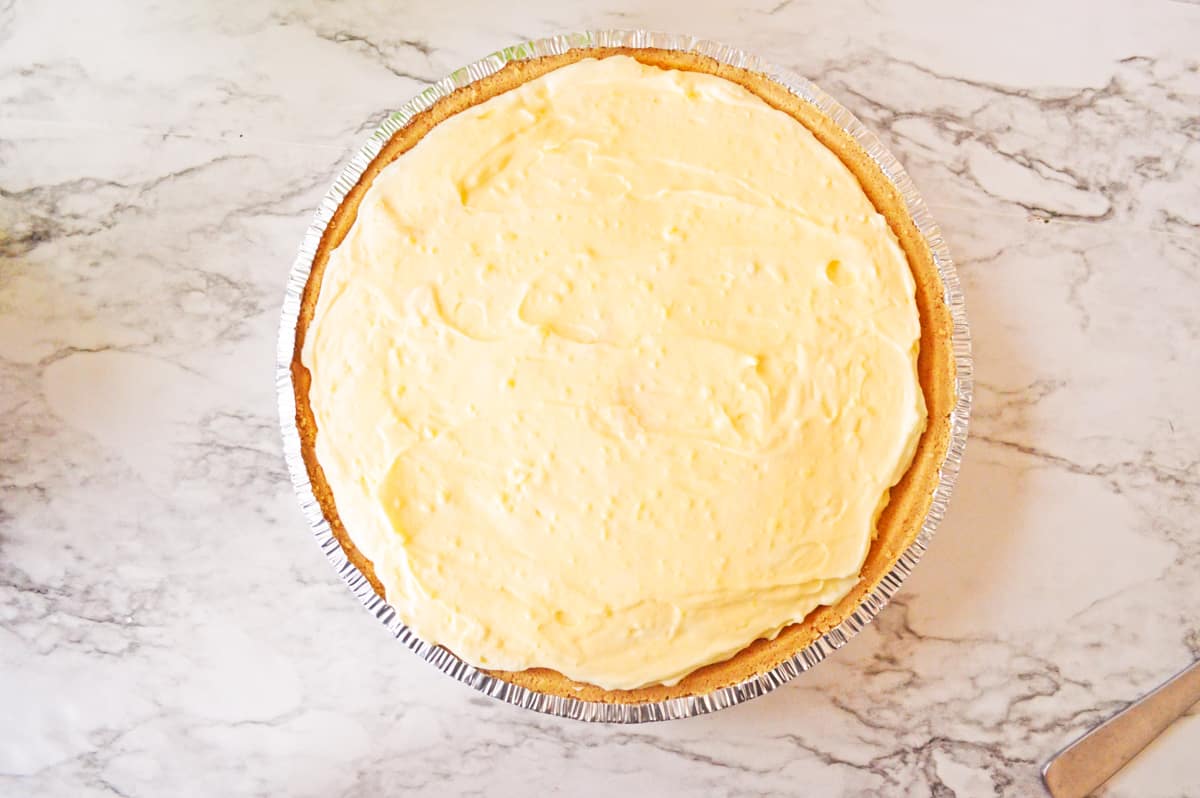 Step 6: Press Nilla wafers gently around the edge of the top of the pie. Just slide them in between the crust and the filling, creating sort of a flower look.
Step 7: Cover and place the pie in the refrigerator, letting it chill for at least 2 hours, or until firm. I usually let it chill overnight.
Step 8: Before serving the pie, add the remaining whipped cream on top. Sprinkle a handful of crushed Nilla wafers over the top. Enjoy!
Serving Suggestions
If you want to top the pie with fresh banana slices, wait until right before serving to keep them nice looking.
Storage and Freezing
For best results enjoy your delicious banana pudding pie within one day. After that, the banana will start to brown.
I do not recommend freezing this pie.
Banana Pudding Pie Recipe Tips and Tricks
Add a teaspoon of vanilla extract to the pudding mixture in step 2 for extra sweetness and depth of flavor.
Not a fan of brown bananas? Toss the banana slices with a small bit of lemon juice to prevent them from browning in this no-bake pie. You don't need a lot of lemon juice at all. Simply brushing the bananas with lemon juice will work, too.
Choose bananas that are ripe, but not too ripe, to add to the pie. Bananas that are overripe will break down faster.
Make sure you use the amount of half and half called for in the recipe card for the pudding mixture. Do not prepare the mix according to the package directions, as this will result in a mixture that's way too thin.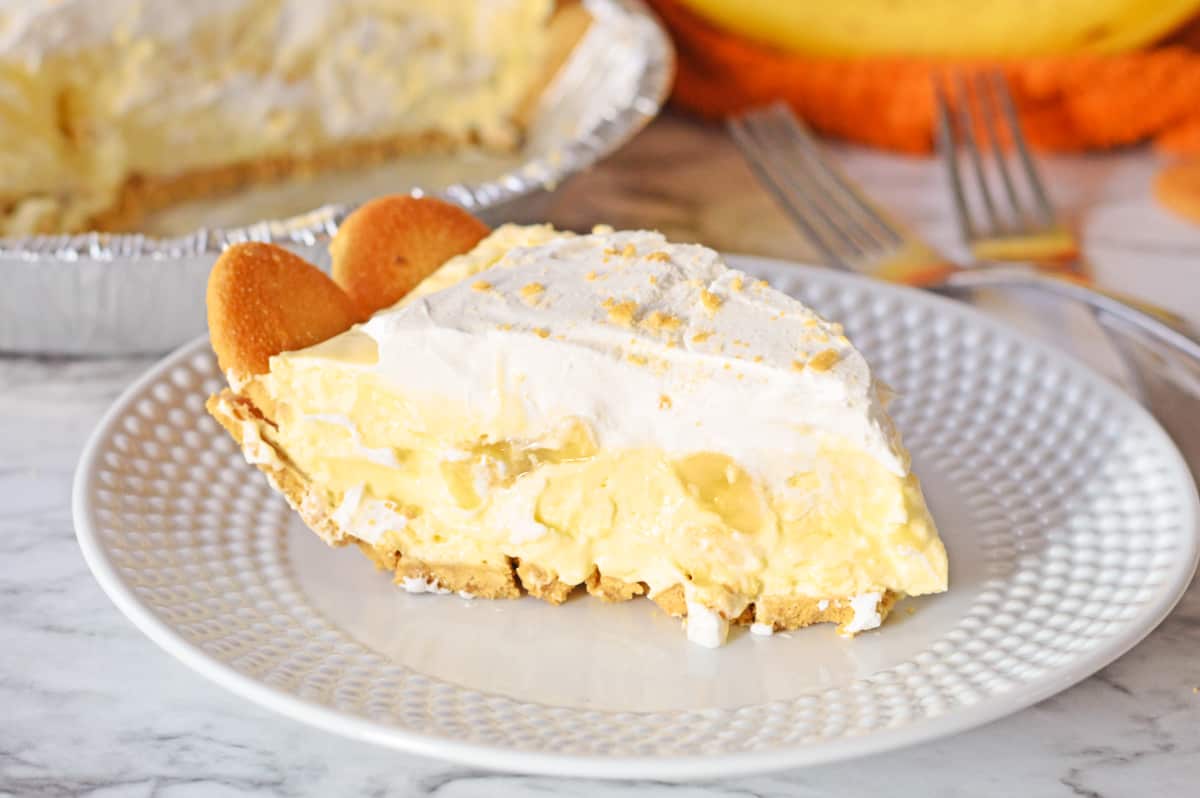 Additions and Variations
Chocolate cream pie: Make a decadent chocolate version of this easy no-bake dessert by trading the banana cream pie pudding for chocolate pudding and swapping out the graham cracker pie crust for an Oreo crust. Skip the bananas and Nilla wafers, adding chocolate sandwich cookies around the rim of the pie instead. Some chocolate shavings over top would look (and taste) amazing!
Lemon cream pie: Use lemon pudding mix in place of the banana variety. Keep the graham cracker crust, and try lemon wafers instead of Nilla wafers around the pie.
Make a low sugar version: Watching your sugar intake? Swap out the pudding with no-sugar pudding mix, and switch to zero-sugar Cool Whip to lighten this easy banana cream pie recipe. Of course, you'll still have sugar in the Nilla wafers and crust, but this will cut down on the amount.
Top with crushed graham crackers: You can skip the vanilla wafer cookies altogether if you prefer to top your pie with crushed graham crackers instead.
Recipe FAQ
How do you keep bananas from turning brown in banana cream pie?
The bananas turning brown in the pie isn't a food safety issue, but it doesn't make for the prettiest presentation. To prevent browning, toss the banana slices in a little lemon juice before folding into the pudding mixture.
Do I need to cook the banana pudding?
No, you don't. This recipe is super easy and uses instant pudding that requires no cooking at all. Your pie doesn't need to spend any time in the oven, either.
Do I follow the directions on the box of pudding mix?
No, do not prepare the pudding according to the package directions. Just follow the instructions in the recipe card to get your no bake banana pie absolutely perfect.
More Banana Dessert Recipes
Looking for more easy recipes with delicious banana flavor? Try one of these mouthwatering desserts.
Recipe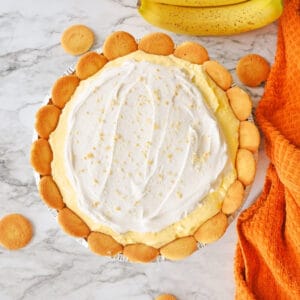 Recipe
No-Bake Banana Pudding Pie
This no-bake banana pudding pie will become your new favorite holiday dessert. Creamy pudding, a graham cracker crust, and loads of bananas and Nilla wafers — you get all the yummy flavors of banana pudding in an easy-to-serve pie form. Only 10 minutes to prep!
Ingredients
1 premade graham cracker crust
1 3.4 ounce box banana cream pudding
2 cups half and half
8 ounces cream cheese softened
12 ounces Cool Whip thawed and divided
25 Nilla wafers divided
2 bananas sliced
Instructions
In a large mixing bowl, beat the cream cheese until smooth.

Add pudding mix, and slowly add half and half, mixing as you go. Continue to mix for 2-3 minutes.

Add 8 ounces of Cool Whip and mix for 1-2 minutes more.

Fold in sliced bananas.

Transfer the pudding mixture into your prepared pie crust. Spread evenly and smooth out the top.

Place about 20 Nilla wafers around the edge of the pie, sliding them between the crust and the pudding mixture.

Chill the pie in the refrigerator for at least 2 hours, or until firm.

Before serving, top with the remaining Cool Whip and a sprinkle of crushed Nilla wafers.
Notes
Cover and refrigerate for up to one day.
Nutrition
Serving: 1g | Calories: 540kcal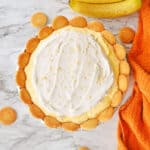 Did You Make This Recipe?
Share it with me on Instagram @crayonsandcravings and follow on Pinterest @crayonsandcravings for even more!