Posts may contain affiliate links, meaning that I may earn a commission if you use a link provided.
This banana bundt cake strikes the perfect balance between sweet, caramelly, and fruity flavors. Every bite of this moist cake is coated in a homemade brown butter glaze making it a dessert that is truly unforgettable.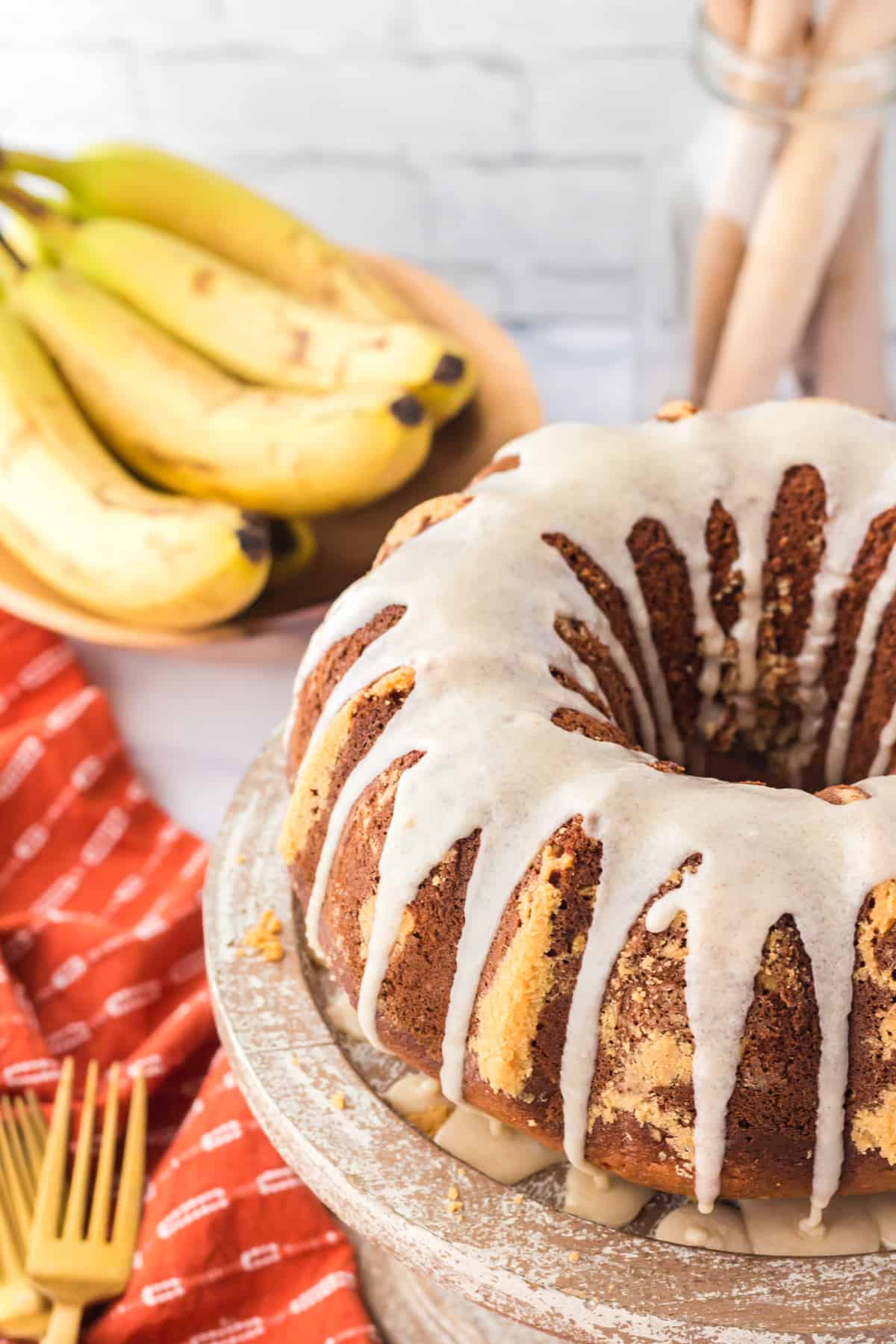 Did you accidentally overbuy bananas again?
I've been there!
The kids always swear they will eat them, but in reality, that bunch of bananas has been ignored for a few days too long.
Never fear! This moist and delicious banana bundt cake recipe has come to save the day!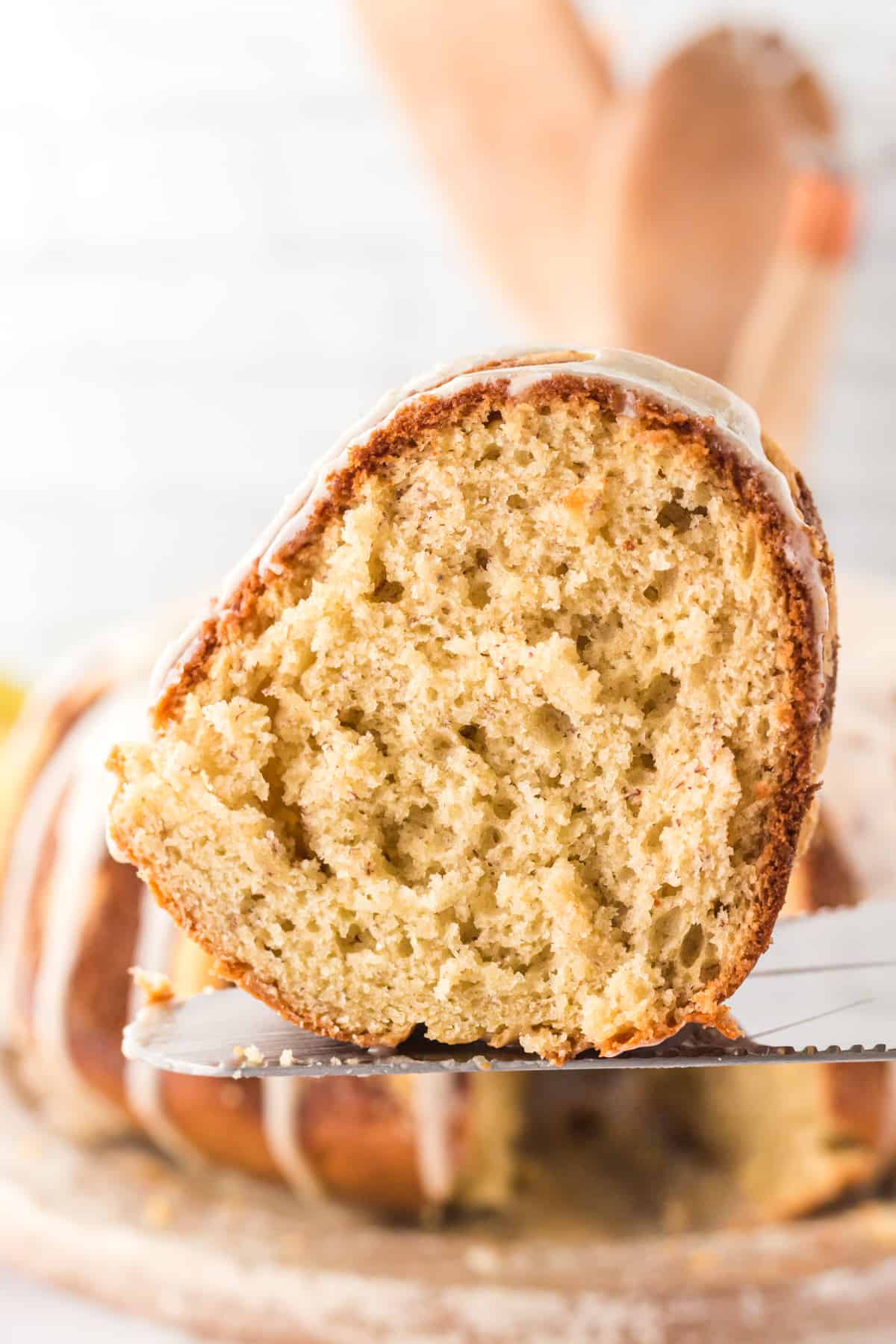 Still need more recipes to use up bananas? Whip up a batch of these delicious double chocolate chip banana muffins and these banana blueberry oatmeal breakfast cookies. Or try this banana pudding cookie recipe.
The lighter, more elegant, and slightly sweeter cousin of banana bread, this banana cake is the perfect treat to serve at your next formal dinner or tea party!
Ingredients And Possible Substitutions
This section includes ingredient notes and substitution options. Get all measurements, ingredients, and instructions in the printable recipe card at the end of this post.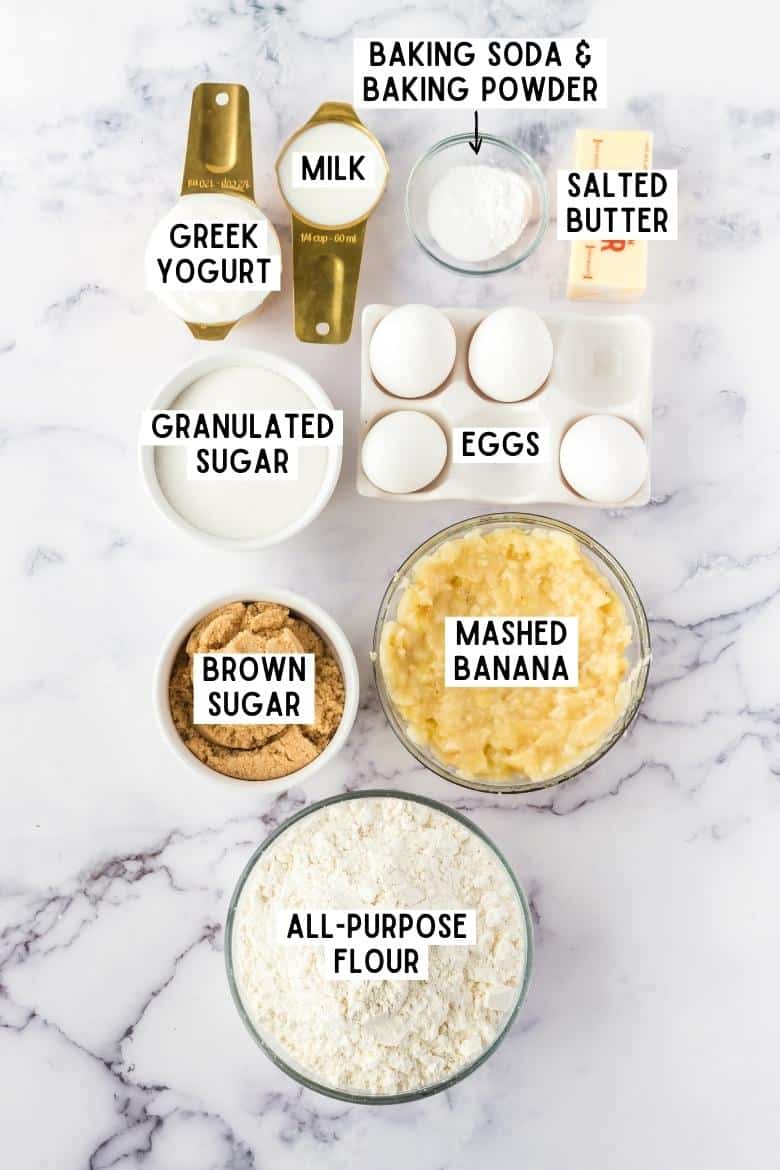 All-Purpose Flour—Your favorite gluten-free flour blend or whole wheat flour would also work well.
Mashed Bananas—The riper, the sweeter and the sweeter, the more flavorful!
Sugars—A mixture of white and brown sugar adds a light caramelly flavor.
Greek Yogurt—Keeps your cake from drying out in the oven. Sour cream would also work in a pinch.
Salted Butter—Adds a rich, decadent flavor. Coconut oil would be the best substitute here.
Eggs—Help to hold all your other ingredients together. They also create a lovely spongy texture in your finished cake.
Whole Milk—Adds richness and smooths out your cake batter. You can substitue with any other cow's milk or plant-based milk.
Leaveners— A combination of baking soda and baking powder gives this homemade banana cake the perfect rise.
Brown Butter Glaze—A heavenly mixture of browned butter, whole milk, and powdered sugar.
How to Make the Best Banana Bundt Cake
This section shows you how to make the recipe with step-by-step photos and instructions. For the full printable recipe, see the recipe card below.
Step 1: In a large mixing bowl, beat together the granulated sugar, brown sugar, and butter until light and smooth.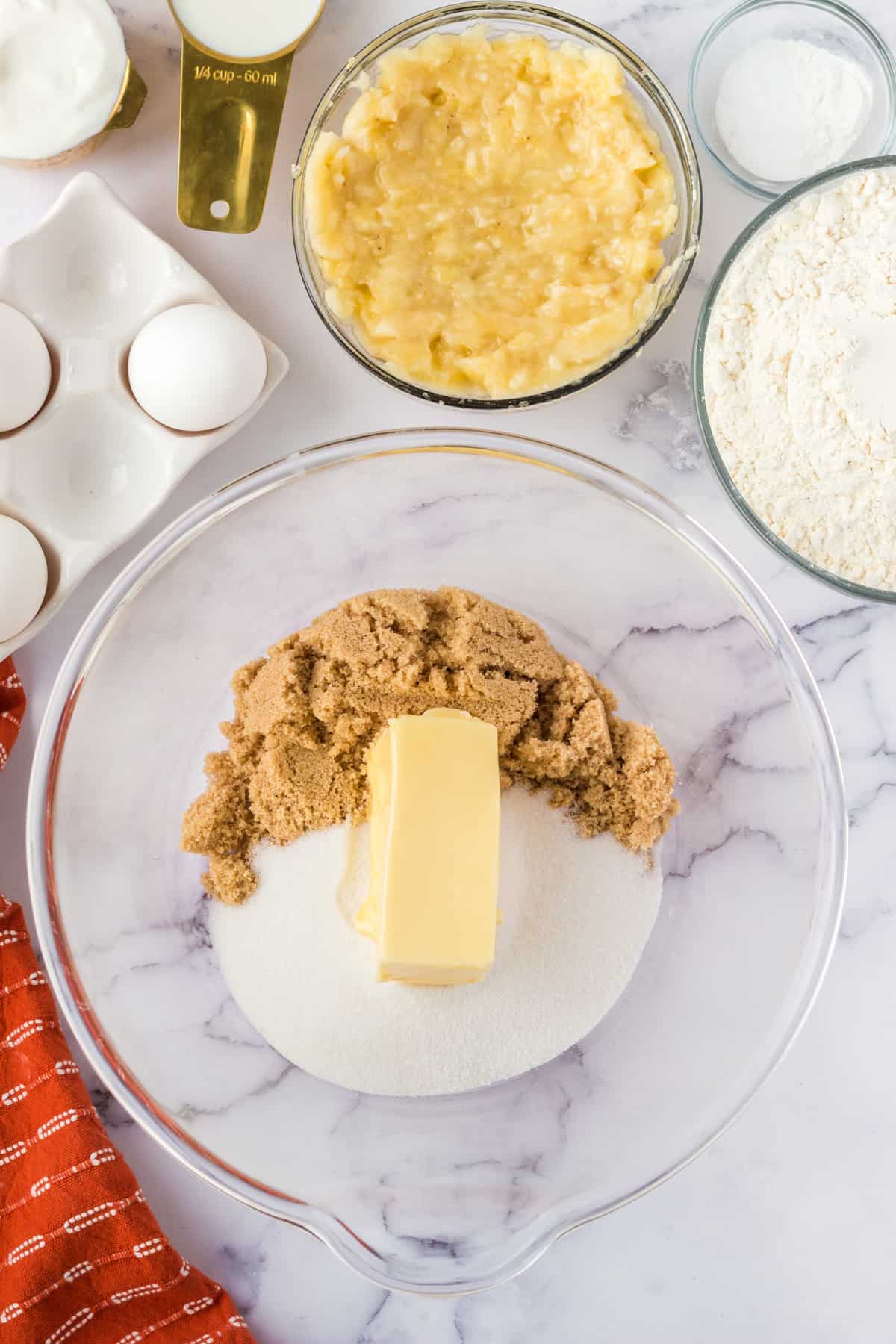 Step 2: Add your eggs, milk, yogurt, and bananas. Mix until all the ingredients are well incorporated.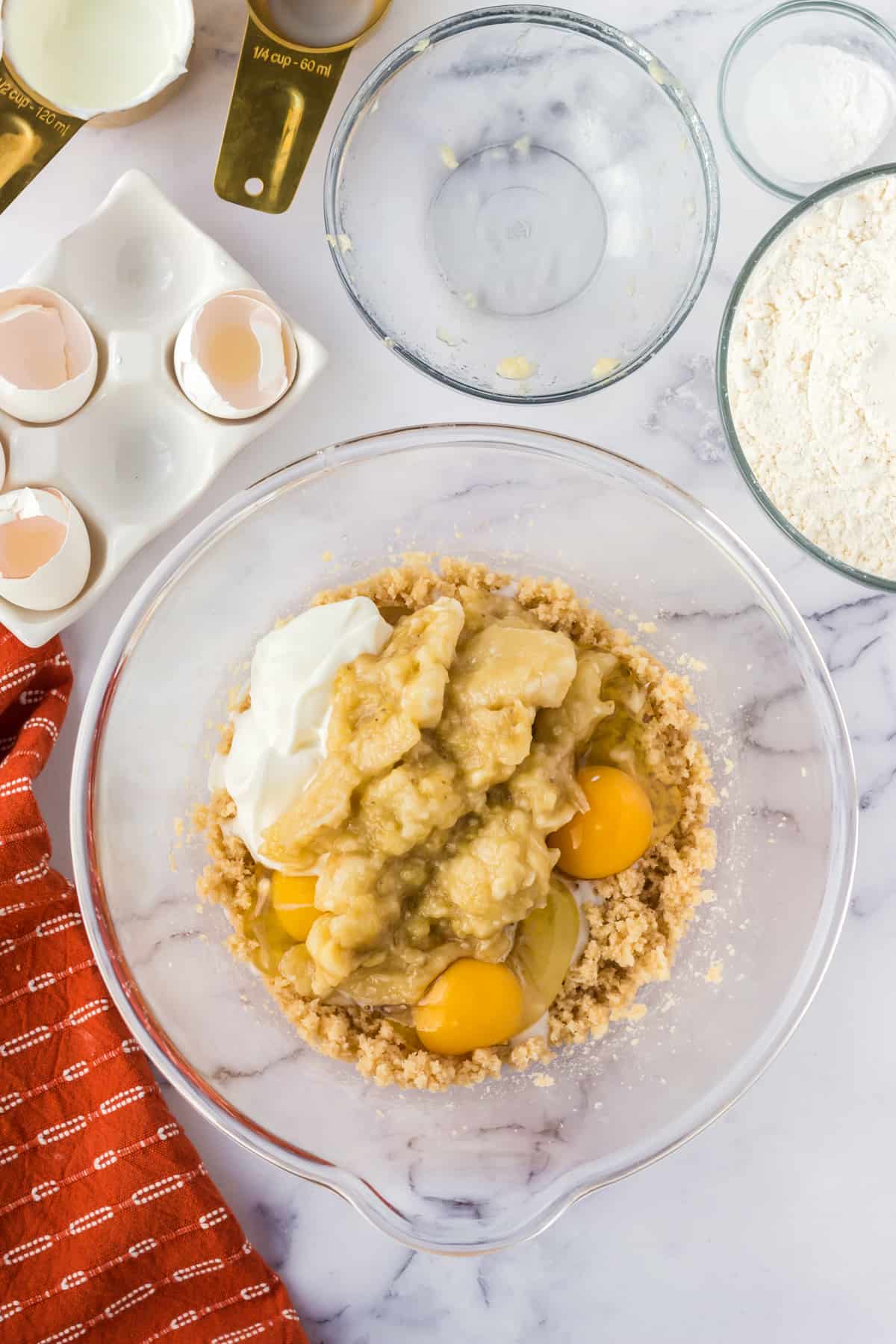 Step 3: Gently stir in your baking soda, baking powder, and all-purpose flour. Use a rubber spatula to scrape the bottom of your mixing bowl, ensuring that no pockets of flour are left behind.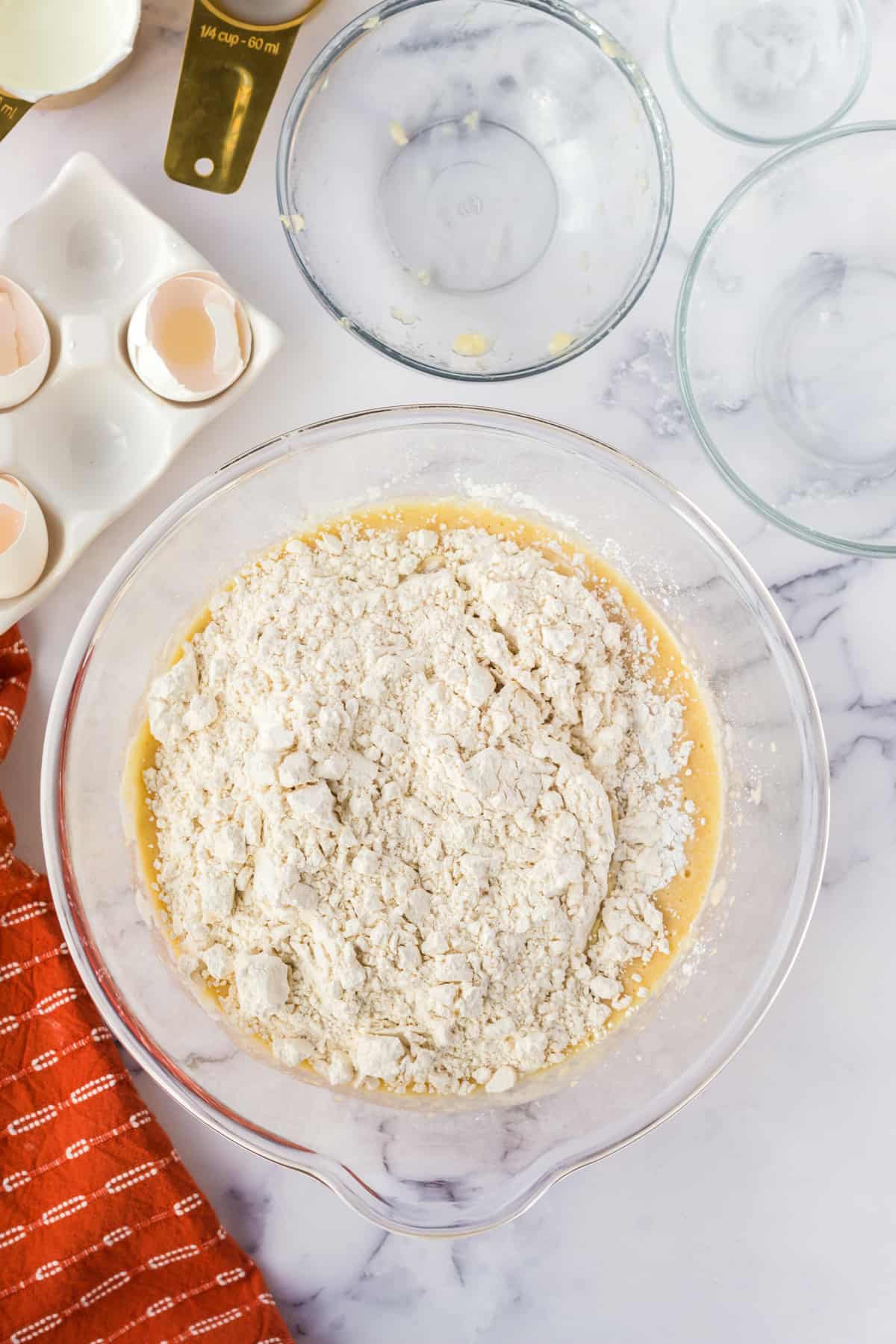 Step 4: Pour the batter into a prepared 10" bundt pan.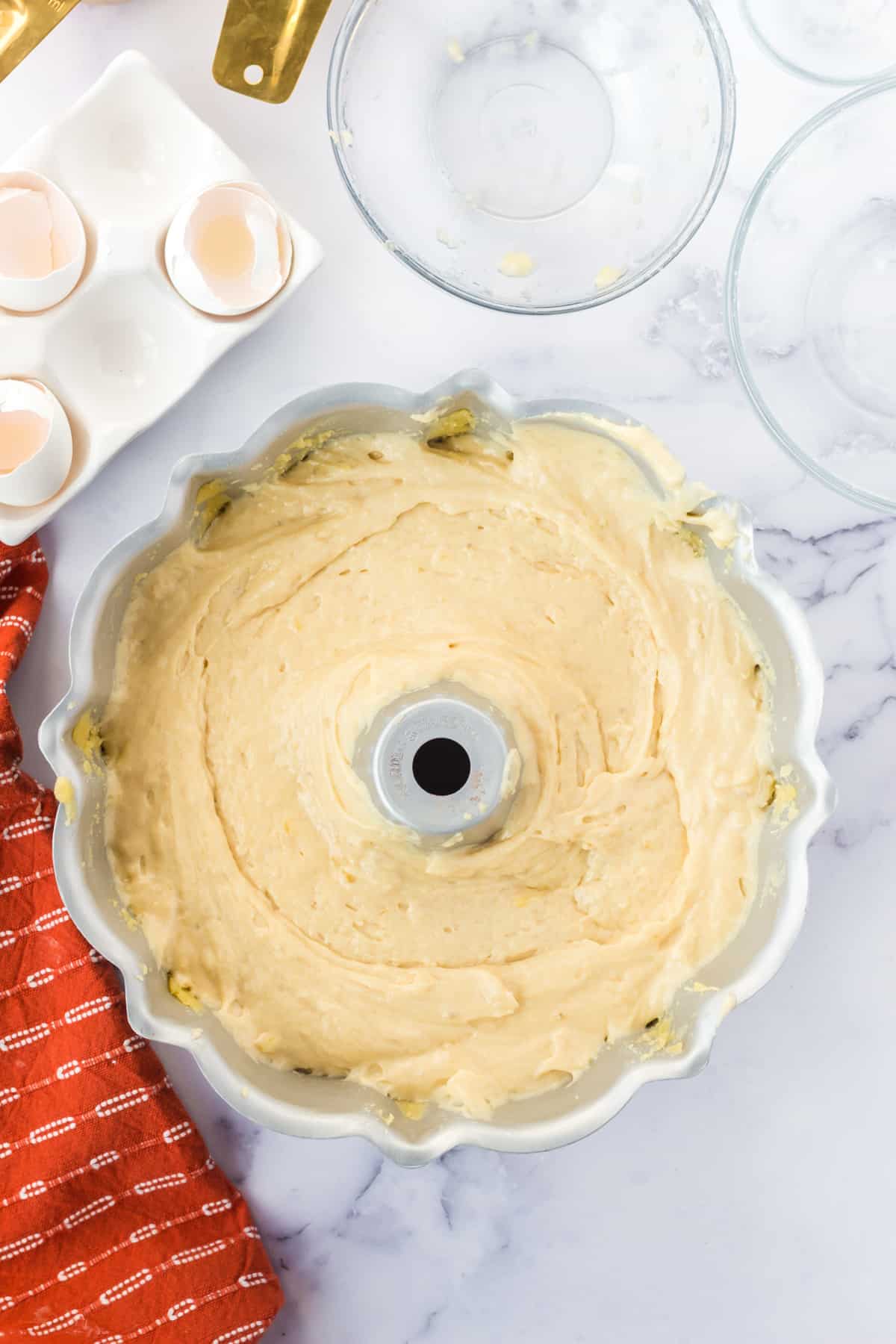 Step 5: Bake your banana cake until a cake tester or toothpick inserted into the thickest part of the cake comes out clean. Allow your cake to cool slightly before removing it from the pan.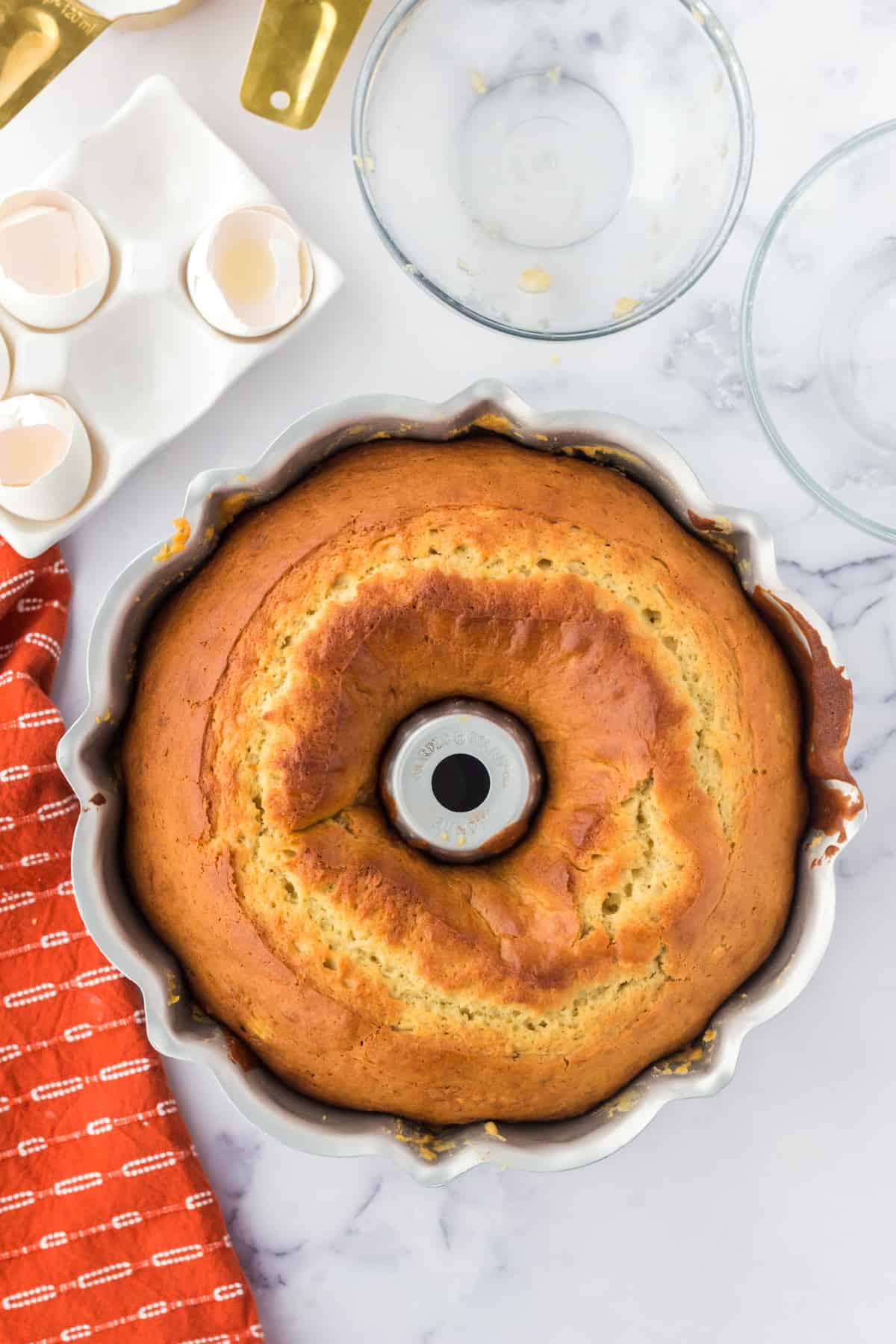 Step 6: While your cake is cooling, brown some butter in a small saucepan. When the butter is golden brown, remove from the heat and whisk in confectioners sugar and milk. Top your cooled banana cake with the brown sugar glaze, serve, and enjoy!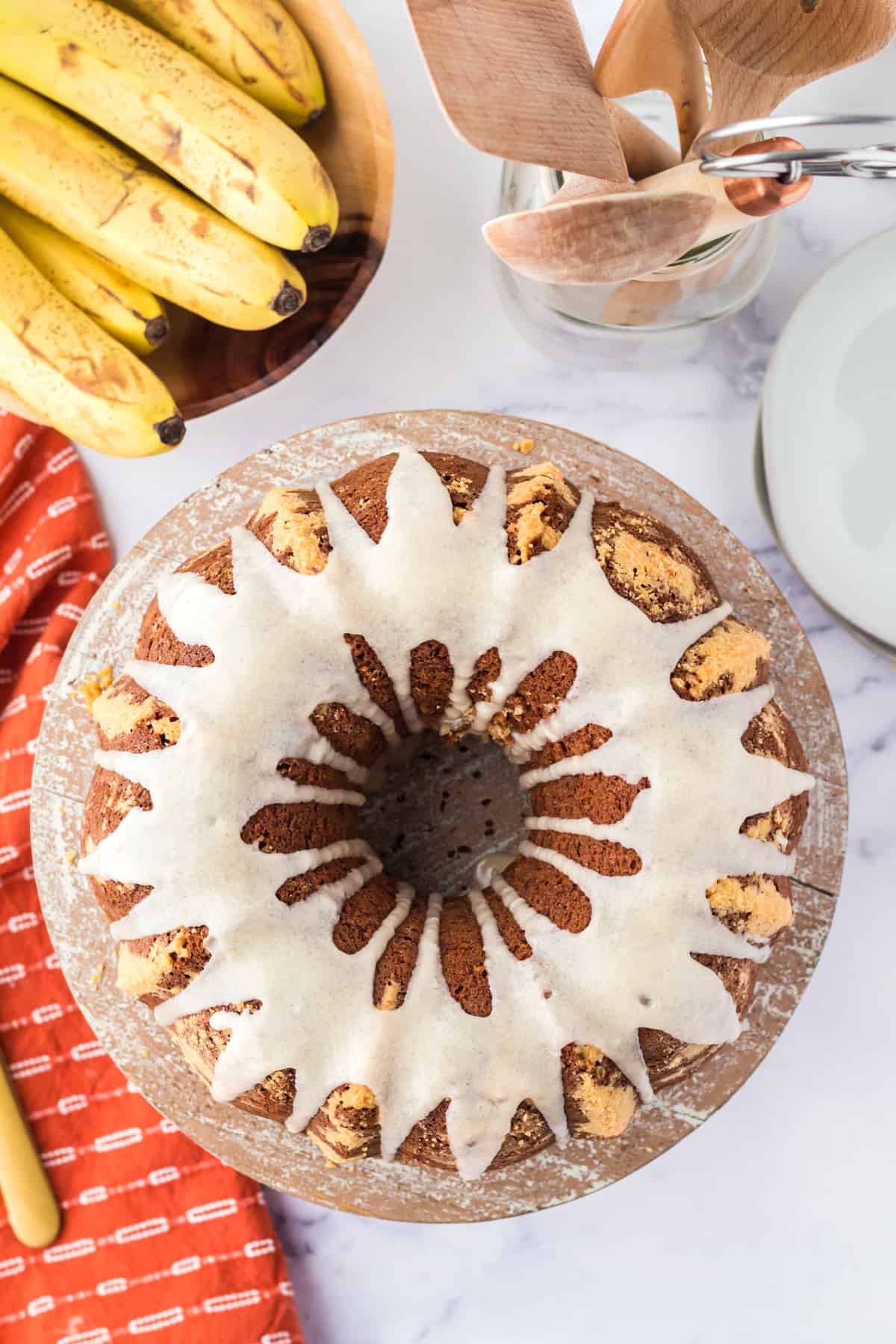 How to Store Leftover Banana Brown Sugar Bundt Cake
Leftover banana bundt cake will stay good in an airtight container in the fridge for up to 4 days or in the freezer for up to 3 months. For best results freeze before glazing the cake.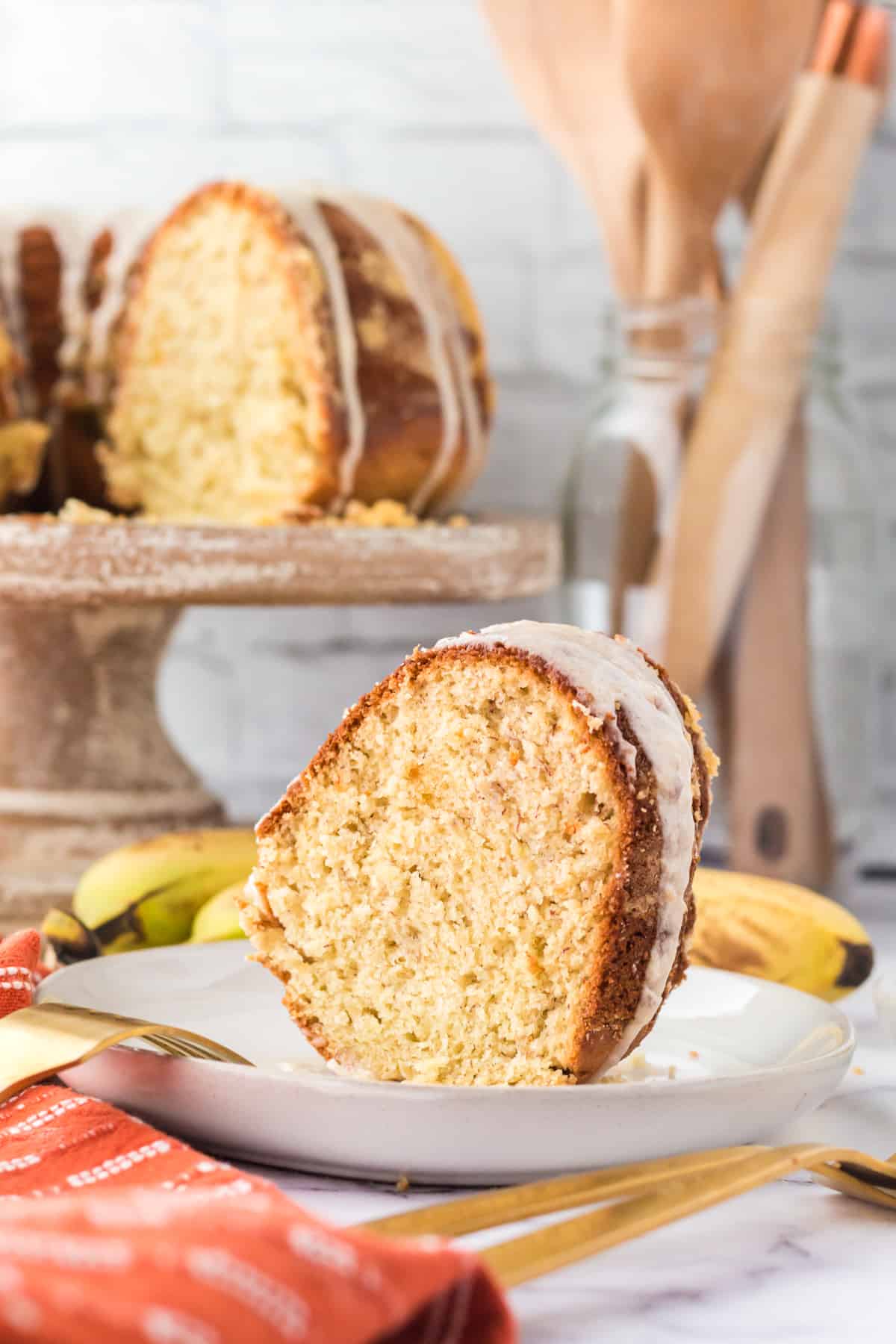 Expert Tips and Tricks
Mashing the bananas before adding them to the cake batter will ensure that they distribute evenly throughout the cake.
Alternatively, if you like chunks of fruit in your cake, you can swirl in a few additional big bits of banana before baking.
If you don't have time to wait for your bananas to ripen, you can use yellow bananas in this cake and compensate for the lack of natural flavor by adding banana extract.
Out of brown sugar? You can use all white sugar and add molasses to your batter instead.
Make the brown butter glaze thinner by adding more milk or thicker by adding more powdered sugar.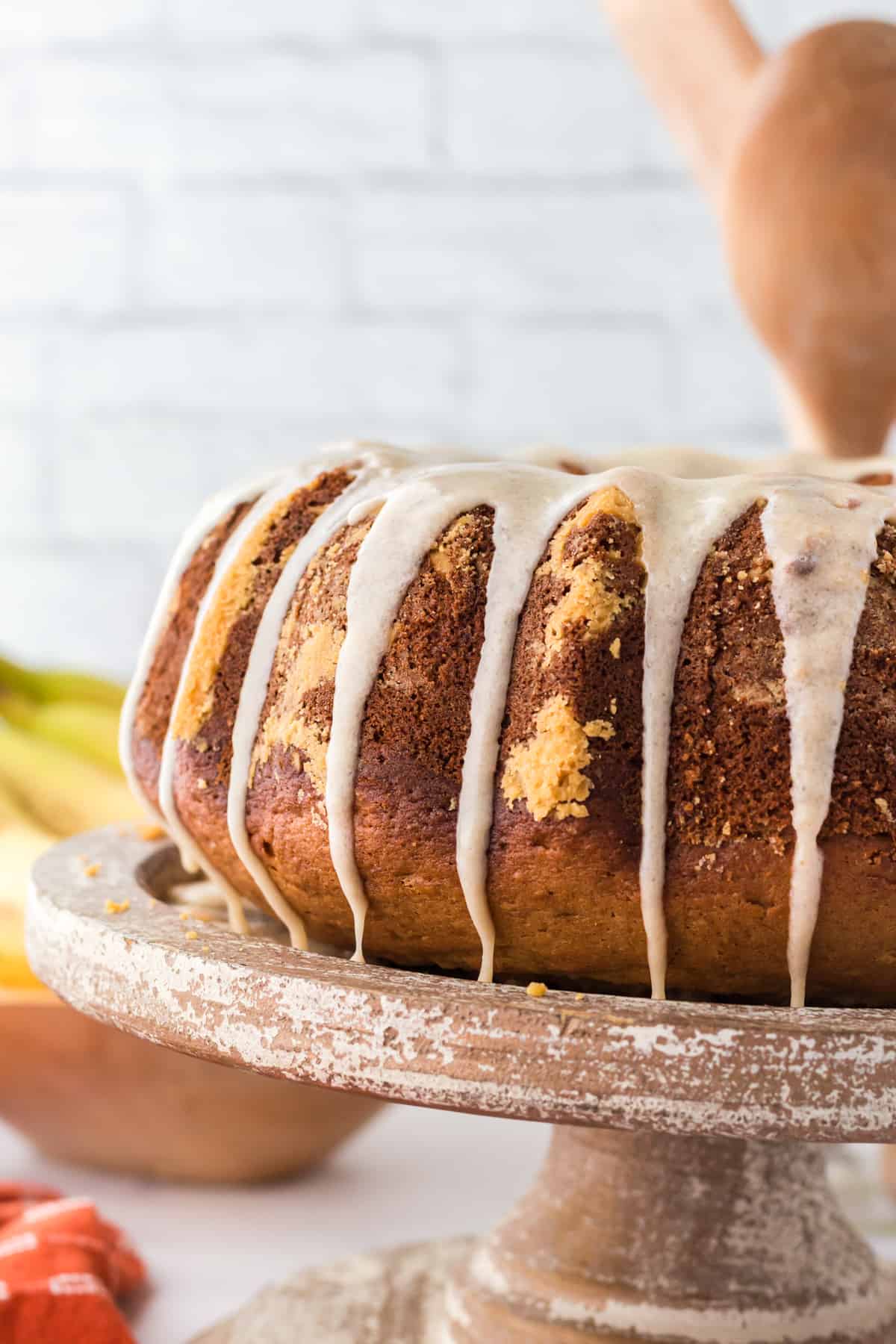 Recipe Variations
The caramelly, nutty, and sweet flavors of this banana bundt cake can be totally elevated by switching up the glaze or throwing in some fun mix-ins!
Frosting/toppings ideas:
Maple glaze
Chocolate ganache
Cream cheese frosting
A simple powdered sugar glaze
Melted white or melt chocolate drizzle
Fresh whipped cream
Mix-in ideas:
Semi-sweet or white chocolate chips
Chopped walnuts, pecans, cashews, or almonds
Crushed graham crackers or vanilla wafers
Swirls of peanut butter or chocolate hazelnut spread
Fresh blueberries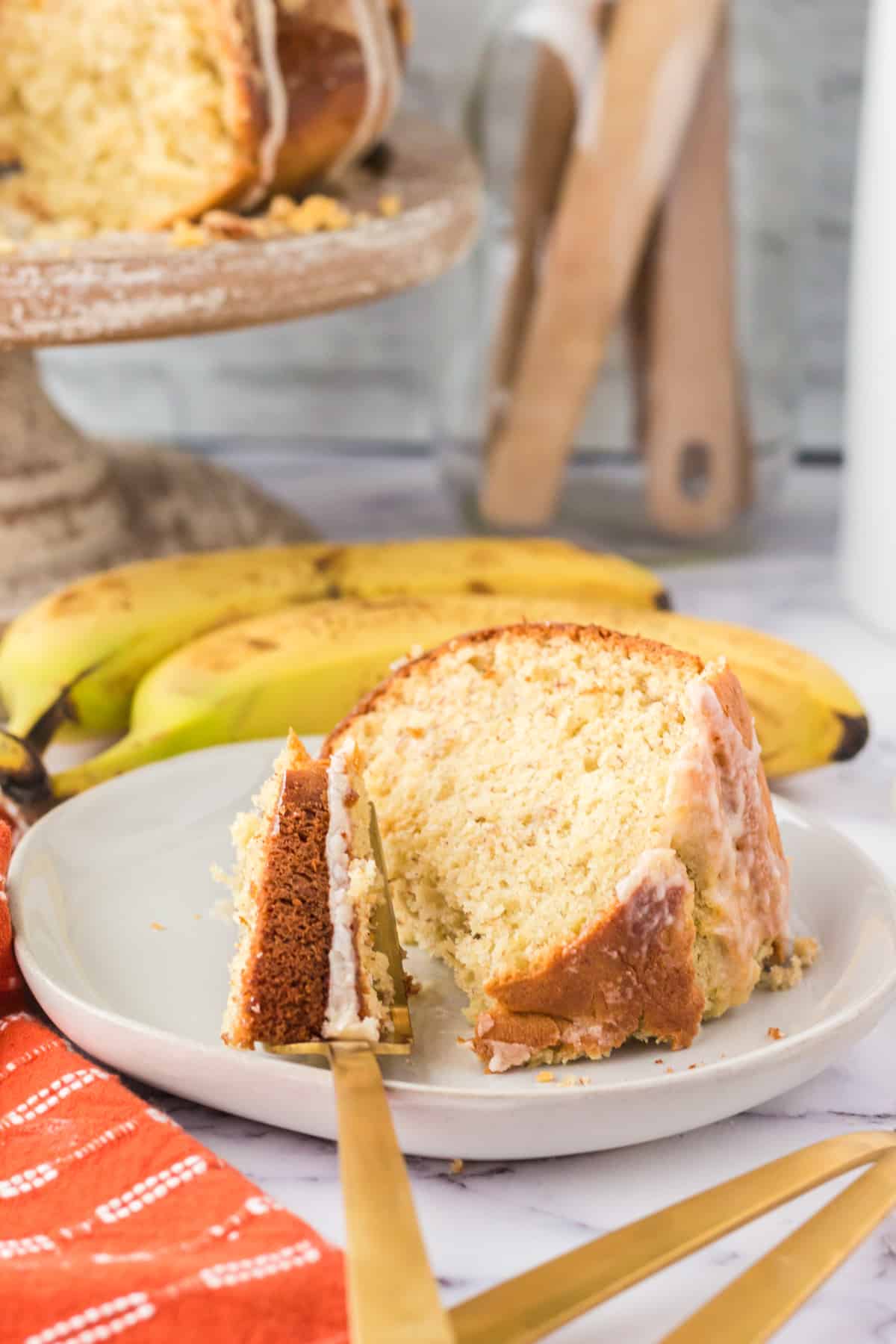 Frequently Asked Questions
What is the difference between banana bread and banana cake?
Banana cake tends to be light, fluffy, and sticky-sweet, whereas banana bread is more moist, dense, and easier to slice. Additionally, banana cake is typically topped with a glaze or frosting while banana bread is more likely to have add-ins such as chocolate chips or chopped nuts.
Is banana cake unhealthy?
This really depends on your definition of "healthy." Sure, this cake has fruit and Greek yogurt in it, but it also has refined sugar, white flour, and butter. At the end of the day, this cake is meant to be a fun and indulgent dessert, not a super healthy snack or breakfast.
Why does my banana cake not taste like banana?
This is most likely because you used bananas that weren't very ripe. Green or yellow bananas are far less sweet than brown bananas and therefore won't add a ton of banana flavor to your cake.
Can bananas be too ripe to use for banana cake?
Not really! The browner and spottier your bananas, the better!
More sweet and fruity dessert recipes
Recipe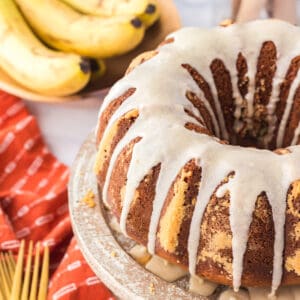 Recipe
Banana Bundt Cake
This banana bundt cake recipe with brown sugar glaze is easy to make with overripe bananas and strikes the perfect balance between sweet, caramelly, and fruity flavors.
Ingredients
Cake:
½ cup salted butter room temperature
¾ cup brown sugar
¾ cup granulated sugar
4 large eggs
¼ cup whole milk
½ cup plain Greek yogurt
3 ripe bananas mashed
1 teaspoon baking powder
1 teaspoon baking soda
3 cups all-purpose flour
Glaze:
2 Tablespoons salted butter
1 ½ cups confectioners sugar
2 Tablespoons whole milk
Instructions
Preheat your oven to 375° and coat a 10-inch Bundt pan in butter and flour.

In a large bowl, use a mixer to cream the butter, brown sugar, and granulated sugar together until fluffy and well-combined.

Add the eggs, milk, yogurt, and mashed bananas. Mix the ingredients together until smooth and combined.

Add the flour, baking soda, and baking powder. Mix until just combined. Use a spatula to scrape the bottom of the bowl to ensure there are no pockets of dry flour.

Pour the batter into the bundt pan and bake for about 45 minutes. Test for doneness with a

cake tester

or toothpick: Insert in the center of the cake, if it comes out clean the cake is done.

Allow the cake to cool in the cake pan for 15-20 minutes before turning over onto a plate or cake stand. Allow the cake to cool further while you prepare the brown butter glaze.

Heat the butter in a small saucepan over medium heat, swirling the pan or stirring occasionaly. Once the melted butter is golden brown, remove the saucepan from the heat and whisk in the confectioners sugar. Then whisk in 1-2 Tablespoons of whole milk to reach the desired consistency. Pour the glaze over the cooled bundt cake.
Notes
If your glaze is too thin, mix in additional powdered sugar until you reach the right consistency. If it is too thick, add additional milk a little at a time. Store leftover cake in an airtight container in the refrigerator for up to 4 days.
Nutrition
Calories: 497kcal | Carbohydrates: 87g | Protein: 8g | Fat: 14g | Saturated Fat: 8g | Polyunsaturated Fat: 1g | Monounsaturated Fat: 4g | Trans Fat: 0.5g | Cholesterol: 97mg | Sodium: 281mg | Potassium: 245mg | Fiber: 2g | Sugar: 54g | Vitamin A: 486IU | Vitamin C: 3mg | Calcium: 80mg | Iron: 2mg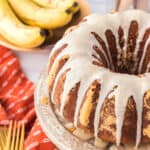 Did You Make This Recipe?
Share it with me on Instagram @crayonsandcravings and follow on Pinterest @crayonsandcravings for even more!