Individual Chicken Pot Pies
Posts may contain affiliate links, meaning that I may earn a commission if you use a link provided.
An easy individual chicken pot pie recipe made with pie crust, diced chicken, and frozen mixed vegetables.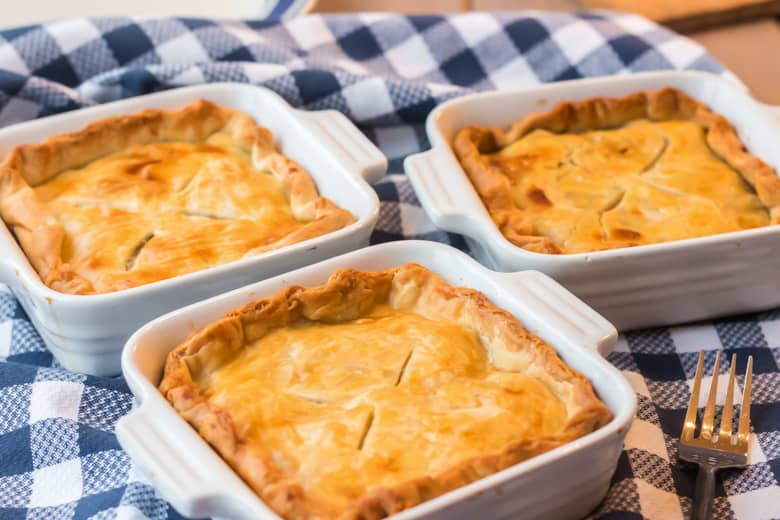 When it comes to comfort food, it is hard to beat chicken pot pie.
Hearty and delicious, chicken pot pies are a go-to dinner in our house. Truth be told, we enjoy them at least twice a month.
The best part is how quick and easy they are to make thanks to a handy little shortcut–pie crust!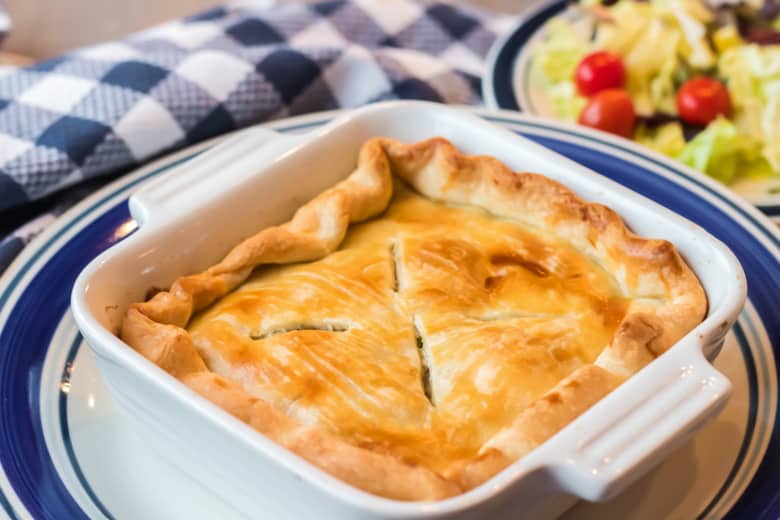 Individual Chicken Pot Pie Recipe
Thanks to using store-bought pie crust dough, this easy chicken dinner recipe can be on the table in under an hour.
Start by gathering your ingredients.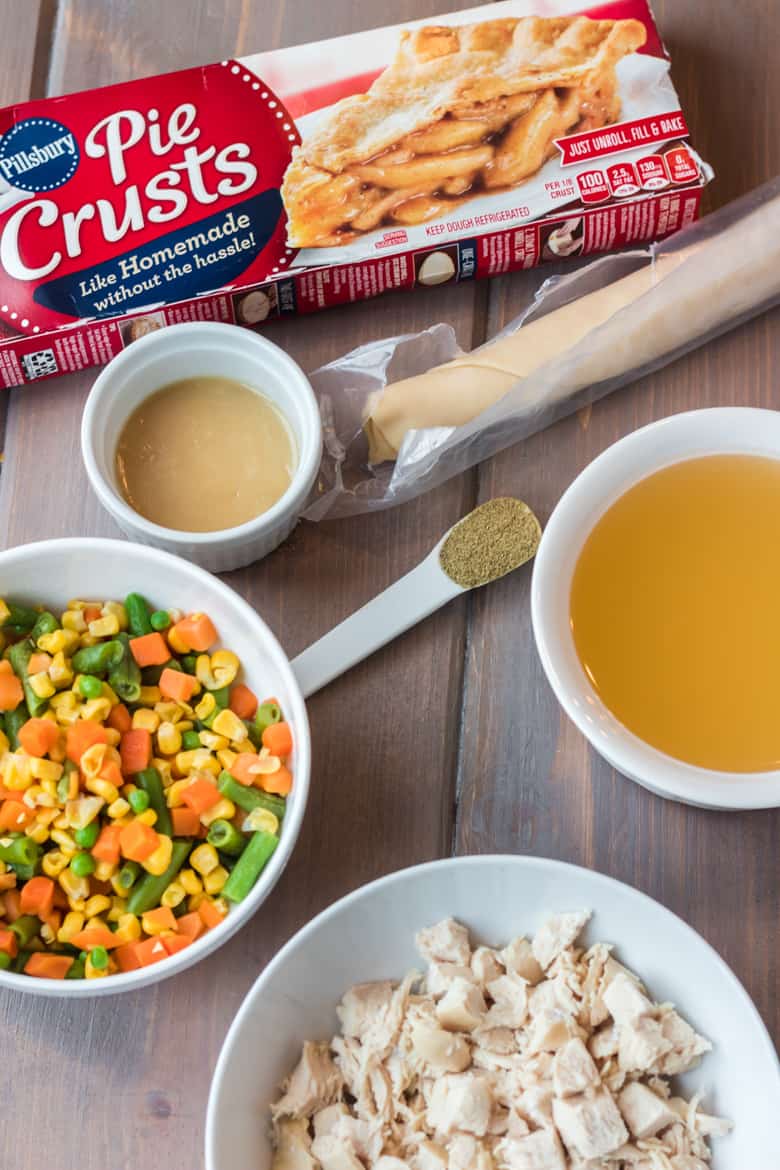 Ingredients:
diced cooked chicken
frozen mixed vegetables
chicken broth
refrigerated pie crusts
butter
flour
milk or half and half
thyme
poultry seasoning
salt
egg
You will also need three 6-inch baking dishes and non-stick cooking spray.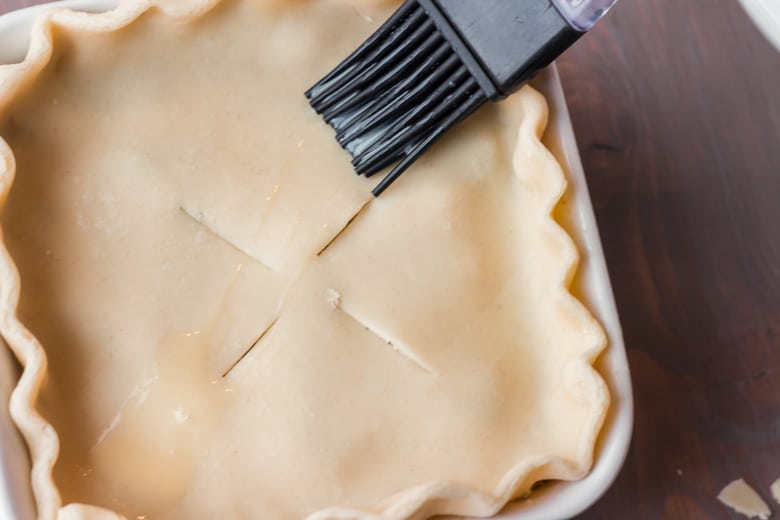 How to Make Chicken Pot Pie
MAKE FILLING: Prepare the sauce on the stovetop, then add the chicken, veggies, and seasonings.
PREPARE PIE CRUST: Cut pieces of dough to fit the top and bottom of your pie dishes.
ASSEMBLE POT PIES: Place dough in bottom of prepared baking dishes, add chicken filling, and top with pie crusts. Fold top pieces under onto itself and crimp the edges. Brush the surface of the tops with egg wash. Cut an "X" in the tops to allow steam to escape.
BAKE: Bake at 425 F for 30-35 minutes or until golden brown. Let stand 10 minutes before serving.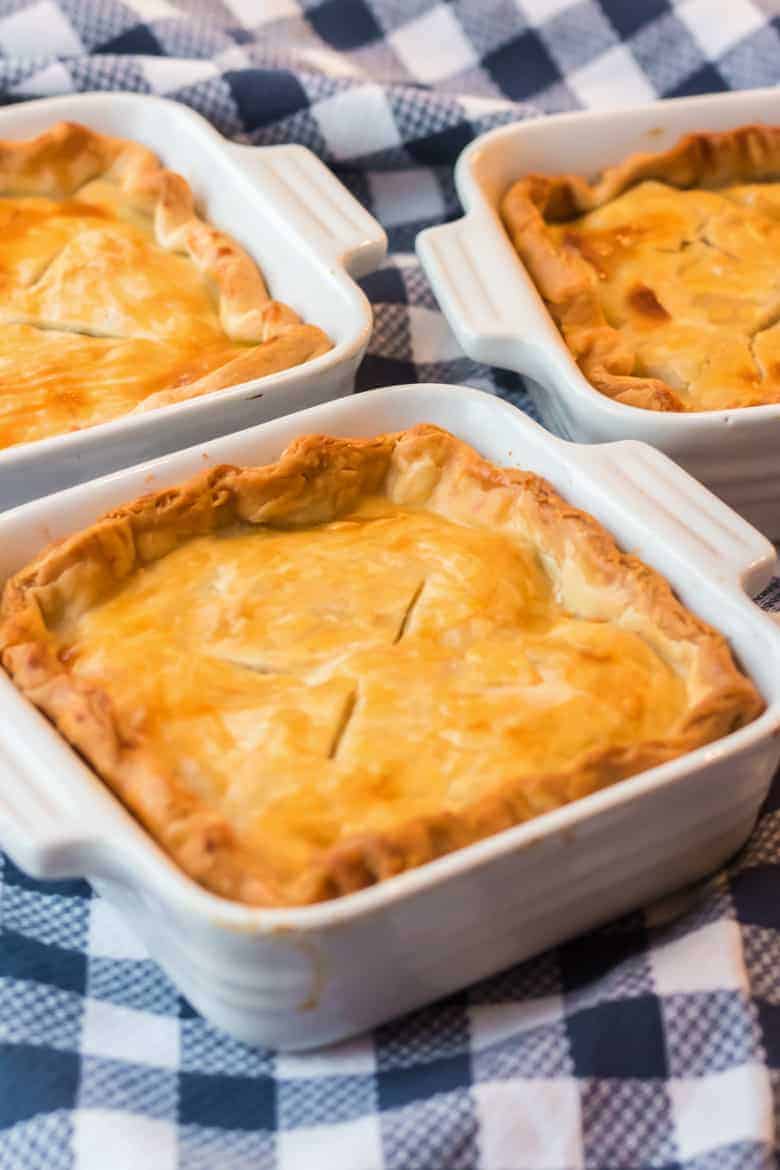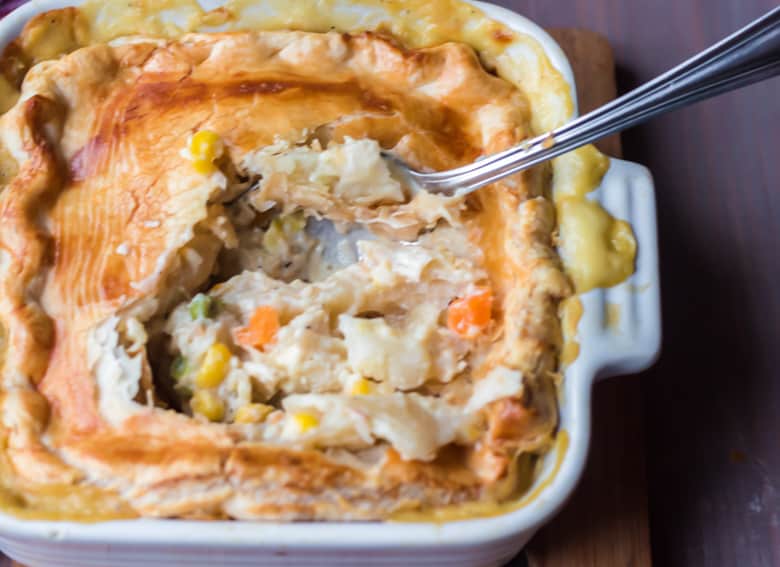 Enjoy!
Can I make one larger pot pie instead of individual chicken pot pies?
You sure can! This recipe will also make a larger 9″ pot pie. Simply cut your dough to fit a 9″ baking dish instead of the smaller dishes.
More Comforting Chicken Dinner Ideas:
Recipe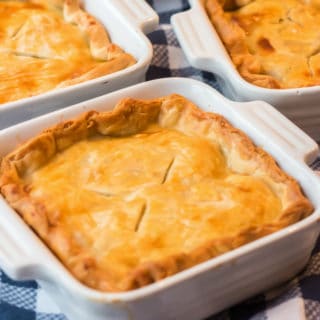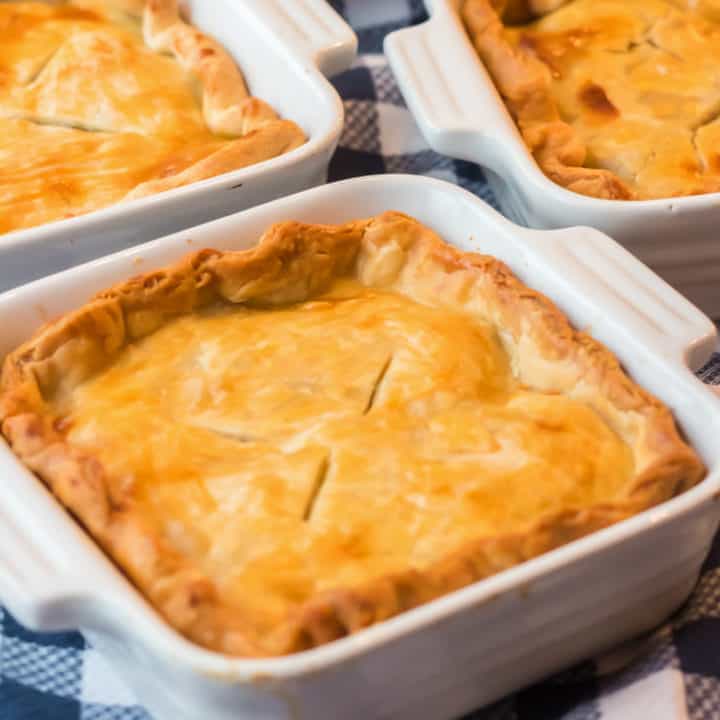 Recipe
Individual Chicken Pot Pies
Individual chicken pot pies are easy to make using pre-made pie crust, diced chicken, and frozen mixed vegetables.
Ingredients
4 Tablespoons butter
4 Tablespoons all-purpose flour
1-3/4 cups chicken broth
1.5 cups half and half or milk + 1 Tbsp milk divided
2 cups cooked chicken diced
2. cups frozen mixed vegetables thawed
½ tsp. poultry seasoning
½ tsp. salt
¾ tsp. thyme
1 box 2- 9" circles refrigerated pie dough, room temperate
1 large egg
Instructions
Preheat oven to 425 F. Spray sides and bottom of baking dishes with non-stick cooking spray.

Melt butter in a small pot over low heat. Stir in flour to make a smooth paste (this is called a roux).

In a separate pan, bring chicken broth to a boil. Lower heat to medium-high. Add roux, a tablespoon at a time, to the chicken broth, continually whisking. Continue whisking until the mixture is thickened.

Add milk, a little at a time, and continue stirring over heat until the mixture is smooth and has a pudding-like consistency. Do not allow to it get too thick as it will continue to thicken as it bakes in the crust. You can add more milk if it becomes too thick.

Add chicken, mixed vegetables, poultry seasoning, salt, and thyme. Stir and set aside.

Unroll the pie dough onto a floured surface. Roll dough out lightly. Using one of the dishes you are baking in as a template, cut the shape of the bottom of the dish out of the pie dough. You may need to gather pieces and reroll dough as you cut. Place a piece of dough in the bottom of each dish.

Cut pieces out of dough to fit the top of each dish plus one extra inch all the way around.

Fill each dish about ¾ full with the chicken filling.

Create an egg wash by mixing an egg and 1 Tbsp milk with a fork, whipping lightly. Brush around edges of each top piece. Flip pieces over onto the tops of the filled dishes.

Fold top pieces under about 3/4 inch onto itself and crimp the edges. Brush the surface of the tops with egg wash. Use a knife to cut an "X" in the tops to allow steam to escape.

Bake on center rack of the oven for approx. 30-35 min. or until golden brown.
Nutrition
Serving: 1g | Calories: 1124kcal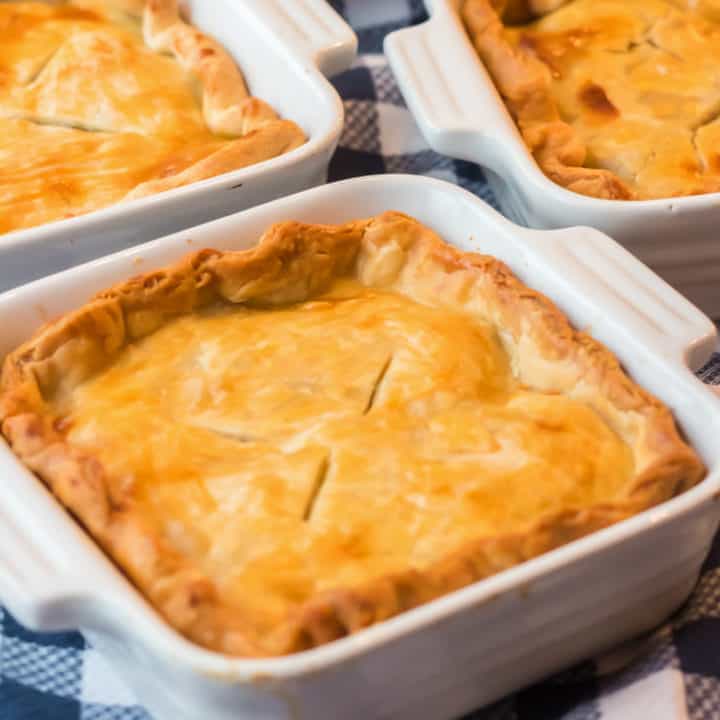 Did You Make This Recipe?
Share it with me on Instagram @crayonsandcravings and follow on Pinterest @crayonsandcravings for even more!
Pin for Later: