Posts may contain affiliate links, meaning that I may earn a commission if you use a link provided.
Homemade hot cocoa mix is the perfect warm treat for a cold winter day. It is also a great gift for friends, teachers, postal workers, or your neighbors this holiday season.
If you've never made your own hot cocoa, you're really missing out. My slow cooker caramel hot chocolate, white hot chocolate, and pink velvet hot chocolate recipes are all more creamy, flavorful, and delicious than any of the hot chocolate mixes you get at the store.
All you have to do is add some hot milk and you'll be sipping on some delectable homemade hot cocoa in no time, just like using hot chocolate bombs.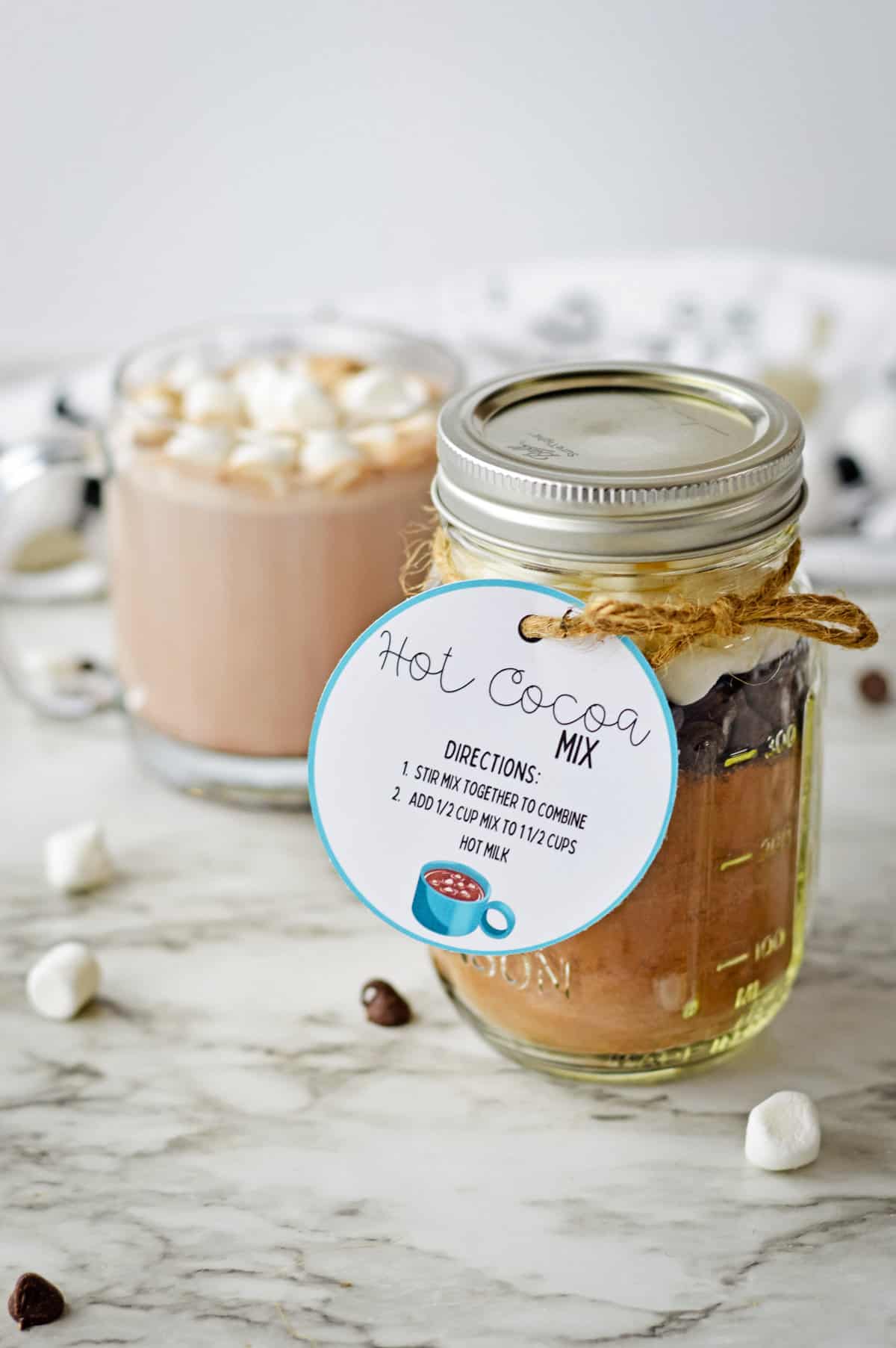 You can share the gift of a rich and creamy cup of hot cocoa by making–and gifting–this delicious mason jar hot cocoa mix. No need to worry if you're not the crafty type! This recipe gives instructions on how to package up this layered hot cocoa mix so that it looks pretty and is ready to be delivered to all your friends and family.
Plus, the included hot cocoa tag printable has all the instructions they will need to turn their cocoa mix into steaming hot mugs of rich and chocolatey hot cocoa.
When it comes to Christmas treat making, it doesn't get much easier than this homemade gift. Read on for the easy recipe and free printable gift tag.
Ingredients
This section includes ingredient notes and substitution options. Get all measurements, ingredients, and instructions in the printable recipe card at the end of this post.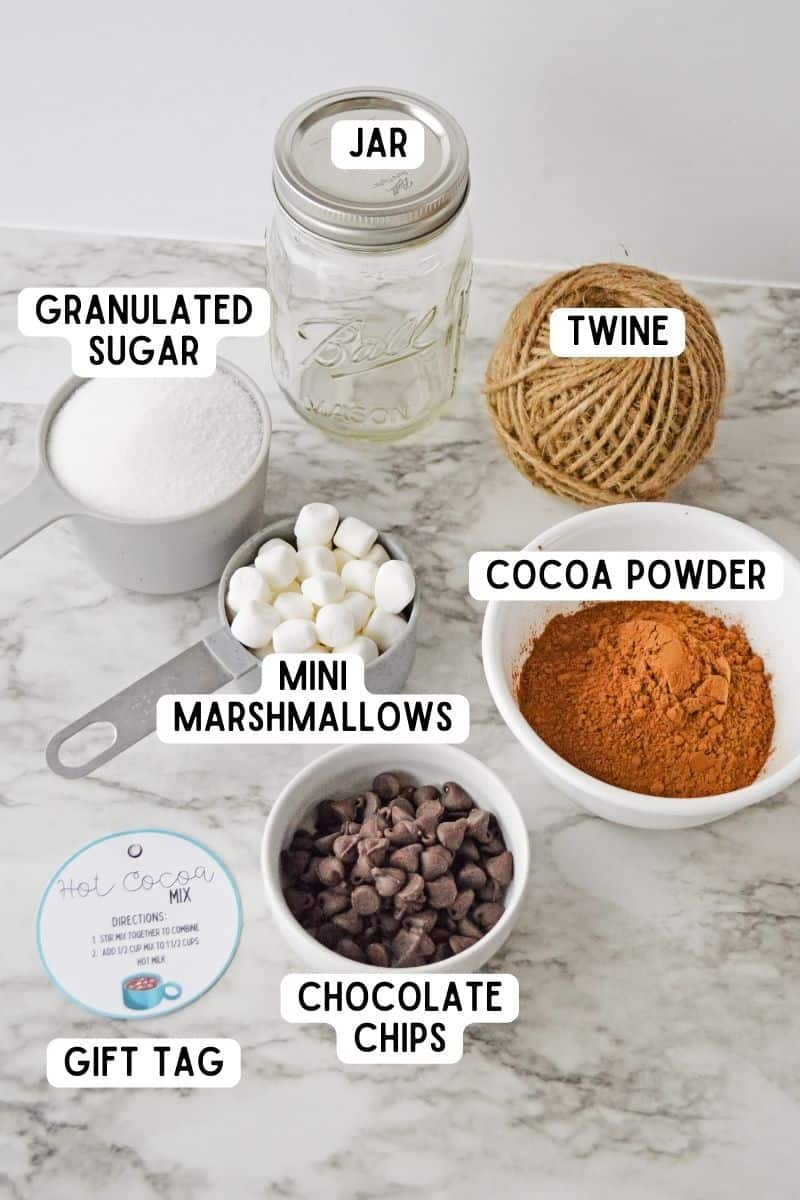 Supplies
You will also need a few things to get your homemade cocoa mix gift-ready.
How to Make Hot Cocoa Mix without Powdered Milk
This section shows you how to make the recipe with step-by-step photos and instructions. For the full printable recipe, see the recipe card below.
In a medium-size bowl, whisk together the cocoa powder, sugar, and salt.
Transfer the cocoa mixture to a clean mason jar.
Top the mix with the chocolate chips and then the mini marshmallows. Don't mix!
Tightly screw on the lid and use some twine to tie your printable tag around the jar.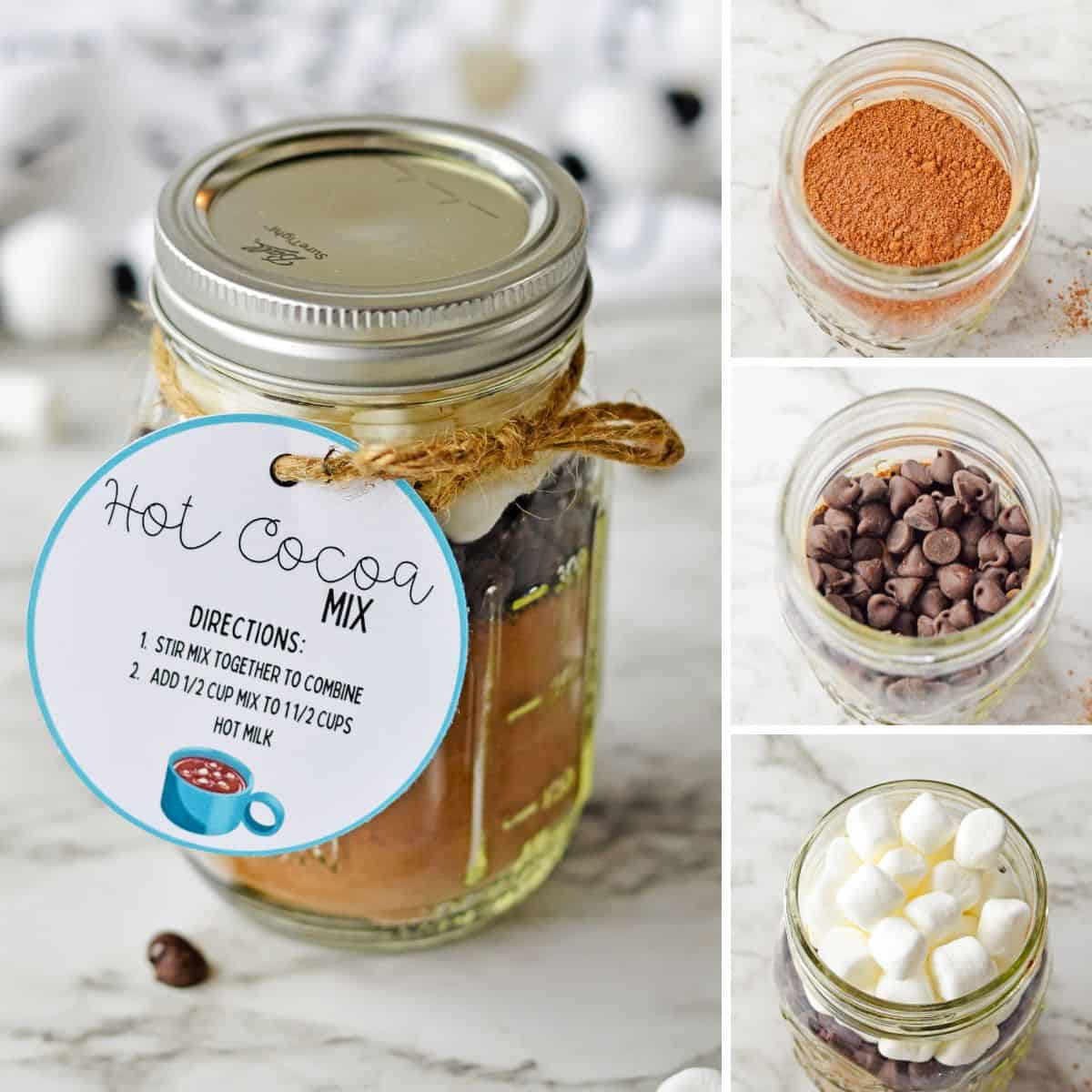 Storage
Store the mix in an airtight container at room temperature for up to 3 months.
The length of time the mix will stay fresh really depends on the expiration date of the marshmallows so be sure to use the freshest marshmallows possible to prolong the life of your mix.
How to Use Homemade Hot Cocoa Mix
Give the hot cocoa mix a stir to mix up the ingredients.
Stir together ½ cup of the cocoa mix with 1 and ½ cups of hot milk.
Optional: Top with whipped cream, chocolate shavings, or extra marshmallows.
Tips for the Best Homemade Hot Chocolate Mix
Homemade Hot Cocoa Mix-Ins
Marshmallows and chocolate chips aren't the only mix-ins that you can add to your mason jar hot cocoa mix. Try tossing in some crushed candy canes, caramel bits, pumpkin pie spice, crushed Oreo cookies, holiday sprinkles, or instant coffee powder.
Homemade Hot Chocolate Mix Recipe: FAQs
What is the difference between hot cocoa and hot chocolate?
Technically speaking, hot chocolate is made by combining melted chocolate with hot milk whereas hot cocoa is made by combining a powder mix with hot milk (or hot water). However, many people use the two terms interchangeably.
What is hot cocoa mix made of?
The store-bought mix is typically made of cocoa powder, sugar, powdered milk, preservatives, and other additives. The beat thing about making your own hot cocoa mix is that you can control what goes in it so you get the classic hot chocolate flavor you love while cutting out some of the extra ingredients.
Is homemade hot cocoa good for you?
Although this homemade hot cocoa recipe may be better for you than the store-bought version, I wouldn't go as far as to say that it is good for you. I like to think of hot chocolate as an indulgent treat that is okay for enjoying from time to time.
Free Printable Hot Cocoa Mix Gift Tag
Pair this hot cocoa mix recipe with this cute printable gift tag for the ultimate easy homemade holiday gift.
The printable gift tags are available only to members of the C&C community. Membership is entirely FREE. Sign up below for instant access to the printable!
For best results, print your hot cocoa gift tags out on cardstock. Cardstock is thicker and stronger than regular printer paper.
More homemade food gift ideas
Recipe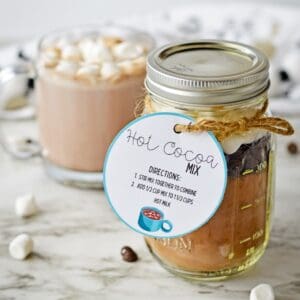 Recipe
Homemade Hot Cocoa Mix
The best homemade hot cocoa mix! Easy to make in 5 minutes and makes a rich and decadent cup of hot chocolate.
Ingredients
¾ cup unsweetened cocoa powder
1 cup granulated sugar
¼ teaspoon salt
4 Tablespoons semi-sweet chocolate chips
½ cup mini marshmallows
Instructions
In a large bowl, whisk to combine the cocoa powder, sugar, and salt.

Transfer the mix to a 16-ounce jar.

Top with chocolate chips, then the marshmallows. Do not mix.

Place the lid on the jar. Use twine to attach the printable gift tag, if desired.
Notes
The mix will keep for up to 3 months if stored in an airtight container at room temperature.
Each jar has enough mix to make 4 cups of hot chocolate.
To prepare hot cocoa:
Mix up the ingredients in the jar to combine everything.
Stir ½ cup mix into 1 ½ cups hot milk.
Nutrition
Serving: 1g | Calories: 327kcal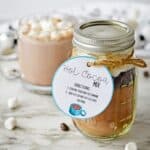 Did You Make This Recipe?
Share it with me on Instagram @crayonsandcravings and follow on Pinterest @crayonsandcravings for even more!