DIY Upcycled Sweater Wreath
Posts may contain affiliate links, meaning that I may earn a commission if you use a link provided.
I love hanging up wreaths during the Winter and Christmastime. They're so festive and fun to make — plus they look beautiful hanging on your door.
This year we made a beautiful DIY upcycled sweater wreath using an old sweater and some supplies from the Dollar Tree that I just can't wait to share with all my fellow crafters!
Dollar Tree Christmas Wreath
If you love DIY Dollar Tree projects, you are going to love this Dollar Tree wreath! It's so inexpensive to put together since nearly every supply can be purchased at the Dollar Tree! In fact, the supplies for this Dollar Tree wreath should only set you back about $5!
When you make lots of projects as we do, there isn't much better than a Dollar Tree project. The more money we can save, the better, am I right?
Sweater Wreath DIY Project
Speaking of saving money, this project also involves an upcycled sweater. Instead of throwing out sweaters that you or other family members have outgrown, you can use them for this fun sweater wreath DIY project.
But if you don't have any sweater lying around, that's okay too. You can stop by the nearest thrift store to get one for just a few bucks.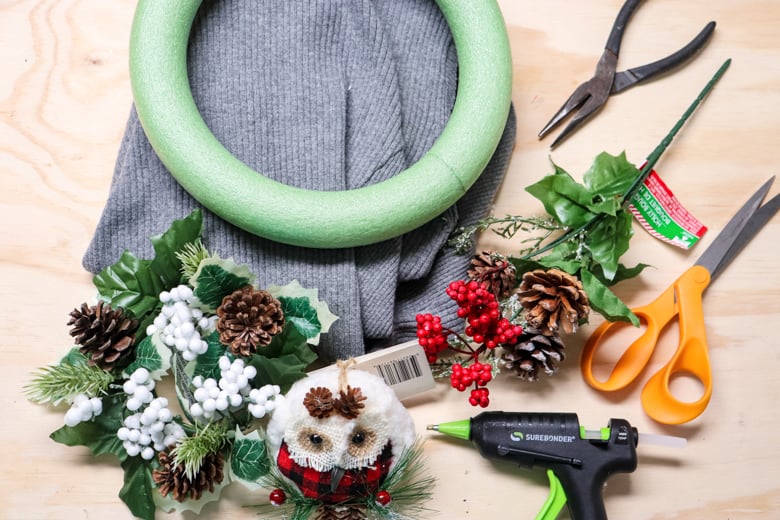 Supplies needed:
owl plush ornament
candle ring florals
pine cone florals
sweater
scissors
Most of the supplies used in this sweater wreath project can be found at the dollar store (hooray inexpensive projects!).
If you don't have an old sweater, you'll want to check your local thrift store.
The hot glue gun and wire cutters can be found at Hobby Lobby or on Amazon if your dollar tree doesn't have them.
How to make an Upcycled Sweater Wreath
CUT AND WRAP SWEATER: To get started, cut the sweater horizontally along the bottom to fit around the foam wreath. Wrap it so that the seam is only visible at the back and then glue into place.
ADD FLORALS: Cut the candle ring florals in half, removing any unnecessary plastic and tie to the wreath with floral wire (you can also glue it in place instead!). It looks especially nice when it is added to just one side of the wreath, allowing the sweater to show.
ADD MORE ACCESSORIES: Continue gluing the owl, pine cones, and any additional floral sprigs to your liking.
CREATE HANGER: Create a hanger by wrapping floral wire around the sweater, getting in between ribbing to hide the appearance and tie the hanger in place.
What is the best kind of sweater to use?
For this project, I would recommend using a thin cheap sweater that you'd find at a local thrift store. I'm sure you have one in your closet that you can upcycle too! A sweater made of thinner materials will be easier to work with.
What other ways can I decorate this Christmas wreath?
I love exploring the Dollar Tree and seeing what I can find. They have many different florals, accessories, and Christmas ornaments that would look great with this project!
Hobby Lobby is also a haven for craft supplies. Be careful though, you just might walk out with a whole cartful!
How do you hang a Christmas wreath?
It's most common to hang a Christmas wreath on your front door, but you can hang them inside too. Pick up some adhesive or over-the-door hooks and easily hang it on the hook. If you have a glass door or window that you'd like to hang your wreath on, they even make hooks on suction cups that you can use. For metal doors, these magnetic wreath hangers are pretty handy.
If you'd like to decorate inside, you have many options there as well. They look great over windows, used as centerpieces, on mirrors, used as wall art, and so much more. There are actually quite a few different ways to decorate with Christmas wreaths indoors!
Don't Miss These Christmas DIY projects:
How-To
How-To
DIY Upcycled Sweater Wreath
This DIY Sweater Wreath is a fun Dollar Tree project perfect for Christmas! Easy to make and looks beautiful!
Equipment
Scissors

hot glue gun

wire cutters
Supplies
foam wreath
owl plush ornament
candle ring florals
pine cone florals
sweater
floral wire
Instructions
Cut your sweater horizontally along the bottom and wrap it around the foam wreath.

The seam should only be visible at the back; glue into place.

Cut the candle ring florals, being sure to remove any unnecessary plastic. Tie to the wreath with floral wire or hot glue. For a nice visual appearance, add to just one side of the wreath so you can see the sweater.

Glue on the owl and additional floral sprigs until you're pleased with the result.

If desired, create a wire hanger for your wreath by wrapping floral wire around the sweater, getting in-between the ribbing to hide the wire and tie the hanger into place.
Did You Make This Craft?
Share it with me on Instagram @crayonsandcravings and follow on Pinterest @crayonsandcravings for even more!
Pin for later