Posts may contain affiliate links, meaning that I may earn a commission if you use a link provided.
If you're ready for some sweet Christmas candy, you are going to love these sugar cookie truffles! They're so easy to make, so sweet, and the perfect treat for your holiday parties.
With the holidays coming up, I like to dig out all my best recipes for Christmas candy. I especially love making crockpot candy, reindeer chow, and truffles–both my no-bake brownie truffles and sugar cookies truffles!
Sugar Cookie Truffles
Truffles are a truly underrated treat if you ask me. They are the perfect texture and amount of sweetness you'd want in your Christmas candy (truffles count as candy, right?).
But if you want to devour a recipe of these, have at it! With the holiday chaos, we all know we deserve at least one binge session! Plus, you couldn't have a more perfect candidate for that.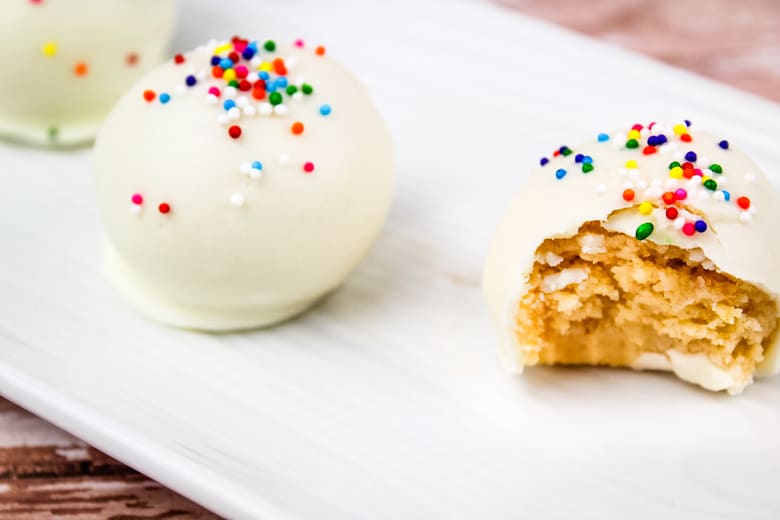 Easy Truffle Recipe
While fudge, candy crack, and peanut butter balls are delicious and fun to make, you can't forget about a good ol' truffle recipe. If you're looking to make some Christmas candy, they are truly a must!
What you'll especially love about this recipe, is that it's an easy truffle recipe, like these biscoff cookie truffles. There are only a few super-simple steps to complete and then you have a batch of delicious treats!
It is a busy time of year so the easier, the better, am I right?
Ready for the sugar cookie truffle recipe? Let's get to it!
You will need:
sugar cookie mix + ingredients called for on the package
cream cheese
vanilla frosting
white chocolate chips or almond bark
How to Make Sugar Cookie Truffles
BAKE COOKIES: Make sugar cookies according to package directions and let them cool completely.
MIX DOUGH: Turn those cookies into crumbs using a food processor or a zip-top baggie and your hands. Combine the crumbs with the cream cheese and vanilla frosting, mixing well.
ROLL INTO BALLS: Roll the mixture into balls and chill in the refrigerator for about 15 minutes.
DIP COOKIE BALLS: Melt white chocolate in the microwave and dip each sugar cookie ball into the melted chocolate.
CHILL AND SERVE: Top with sprinkles and chill until set.
Do I have to use sugar cookie mix or can I use something else?
You absolutely can use something else! If you'd prefer, you can use store-bought cookies or refrigerated cookie dough. You can even make sugar cookies from scratch if you're feeling up to it.
How long will these homemade truffles last?
Typically, truffles will last a few days stored at room temperature in an airtight container. However, they can last several weeks if stored in the fridge.
Can you freeze sugar cookie truffles?
Yes! However, this can be unnecessary depending on why you want to freeze them. If you're making them ahead of time for a party, placing them in the fridge should suffice. But if you ended up with a large amount you don't know what to do with… store them in the freezer until ready to eat as they will last a few months.
Can I customize these truffle candies?
You sure can! To make it more fun, you can add a bit of texture to these. Instead of immediately adding sprinkles, pipe some more chocolate onto them in fun patterns and then adding different themed sprinkles. There are so many out there to choose from nowadays, so you can have lots of variety with your truffles if you choose!
Christmas Candy Makes a Great Gift
One of my favorite things to do during the holidays is to make delicious Christmas cookie recipes or Christmas candies to give as gifts. Loading up your loved ones with tasty homemade treats is the best feeling. Everyone loves them! They are inexpensive, thoughtful, clutter-free, and delicious!
If you like these sugar cookie truffles, try our Sugar Cookie Bars and Christmas sugar cookie cake as well!
Recipe
Recipe
Sugar Cookie Truffles
These sugar cookie truffles are the perfect Christmas candy. Easy to make and so deliciously sweet!
Ingredients
1 1lb 5oz package sugar cookie mix, plus required ingredients for baking
3 ounce cream cheese softened

1/4 cup vanilla frosting 

14 ounces almond bark or white chocolate chips
Instructions
Bake sugar cookies according to package directions; cool completely.

Add cooled cookies to a food processor and pulse until fine.

Add cream cheese and vanilla frosting; mix well.

Roll into 1-inch balls and place on a cookie sheet lined with parchment paper; freeze for 15 minutes.

Melt chocolate in the microwave for 45 seconds and stir.

Continue heating in 15-second intervals until melted, stirring in between each time.

Dip cookie balls into the melted chocolate with a fork and allow excess to drip off.

Top with sprinkles and then chill until set. Store in the fridge until ready to serve.
Notes
As a shortcut, you can use store-bought sugar cookies or refrigerated sugar cookie dough.
Nutrition
Serving: 1g | Calories: 239kcal | Carbohydrates: 25g | Protein: 3g | Fat: 15g | Saturated Fat: 8g | Polyunsaturated Fat: 5g | Cholesterol: 15mg | Sodium: 72mg | Sugar: 24g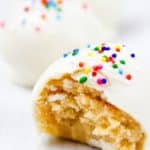 Did You Make This Recipe?
Share it with me on Instagram @crayonsandcravings and follow on Pinterest @crayonsandcravings for even more!
pin it for later!