Firecracker Strawberry Pops
Posts may contain affiliate links, meaning that I may earn a commission if you use a link provided.
Firecracker strawberry pops are a fun and festive 4th of July treat made by coating strawberries with candy melts and then dipping them in sanding sugar.
In addition to the fourth of July, this red, white, and blue no-bake dessert would also be a great option for Memorial Day, Flag Day, or any patriotic celebration.
For more no-bake 4th of July dessert ideas try this patriotic berry trifle or these 4th of July Jello cups.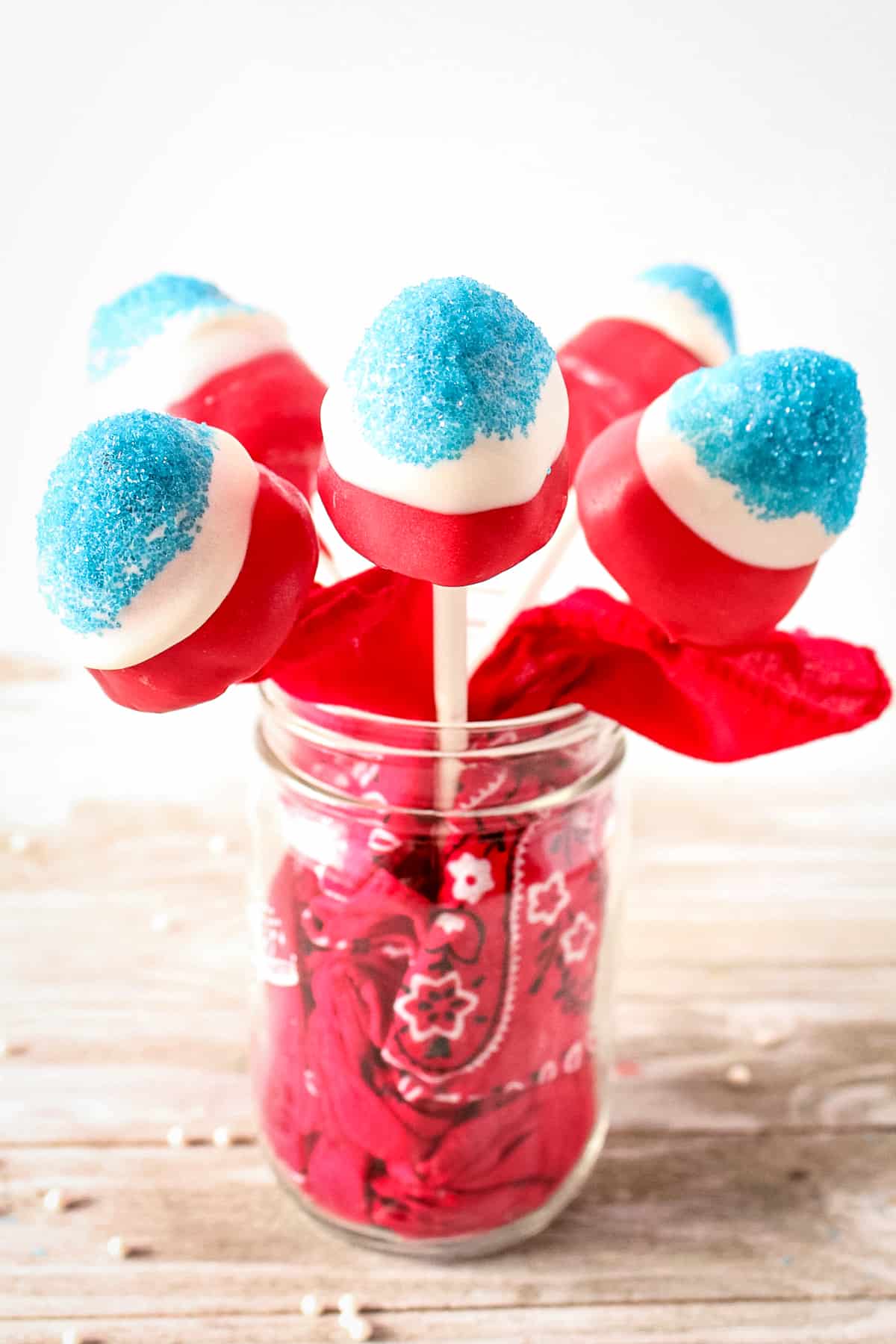 Summer is just around the corner! We are getting ready for summer by sharing all of our favorite summer recipes from homemade popsicles, to yummy pasta salads, to patriotic desserts like these firecracker strawberries.
Ingredients and Supplies
This section includes ingredient notes and substitution options. Get all measurements, ingredients, and instructions in the printable recipe card at the end of this post.
Strawberries: Fresh strawberries, washed and well-dried. Slightly under-ripe is better than overripe. Only use fresh strawberries, not frozen.
Candy Melts: One bag each of red candy melts and white candy melts. Alternatively, you can use white chocolate melting wafers or almond bark and add red gel food coloring to color a portion of it red.
Blue Sugar: Blue sugar sparkles or blue sanding sugar. We used more of a sky blue but you can opt for a darker blue if you would prefer.
Sticks: I recommend 6-inch lollipop sticks, they are the perfect size for strawberry pops.
Step by Step Instructions
This section shows you how to make the recipe with step-by-step photos and instructions. For the full printable recipe, see the recipe card below.
Stick: Press a stick through the end of each strawberry.
Red: Dip each strawberry into melted red candy, covering it entirely.
White: Once the red candy has set, dip each strawberry into the white candy, covering about 2/3 of the berry.
Blue: Dip the end of each strawberry in blue sanding sugar.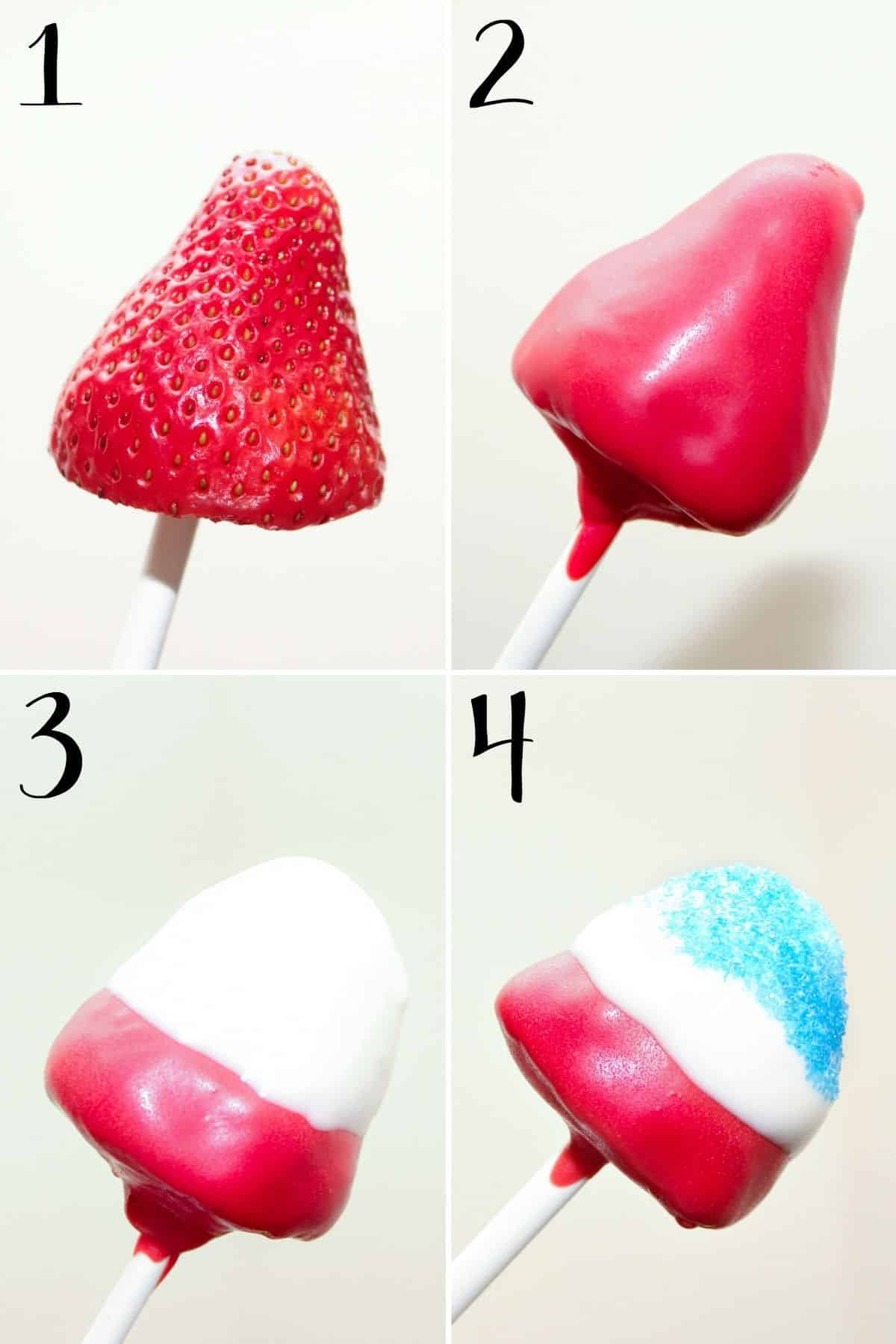 Allow the strawberry pops to set fully then enjoy.
Storage
Store your firecracker strawberry pops in the refrigerator for up to 2 days.
Recipe Tips
I highly recommend using a block of styrofoam, cake pop stand, or cardboard box with holes poked in it to hold your strawberry firecrackers upright while they set. You could lay them down on parchment or wax paper but that will cause them to have one smooshed side.
If you want to kick these 4th of July treats up a notch, you can use blue Pop Rocks in place of the blue sanding sugar. You will feel like you have fireworks going off in your mouth!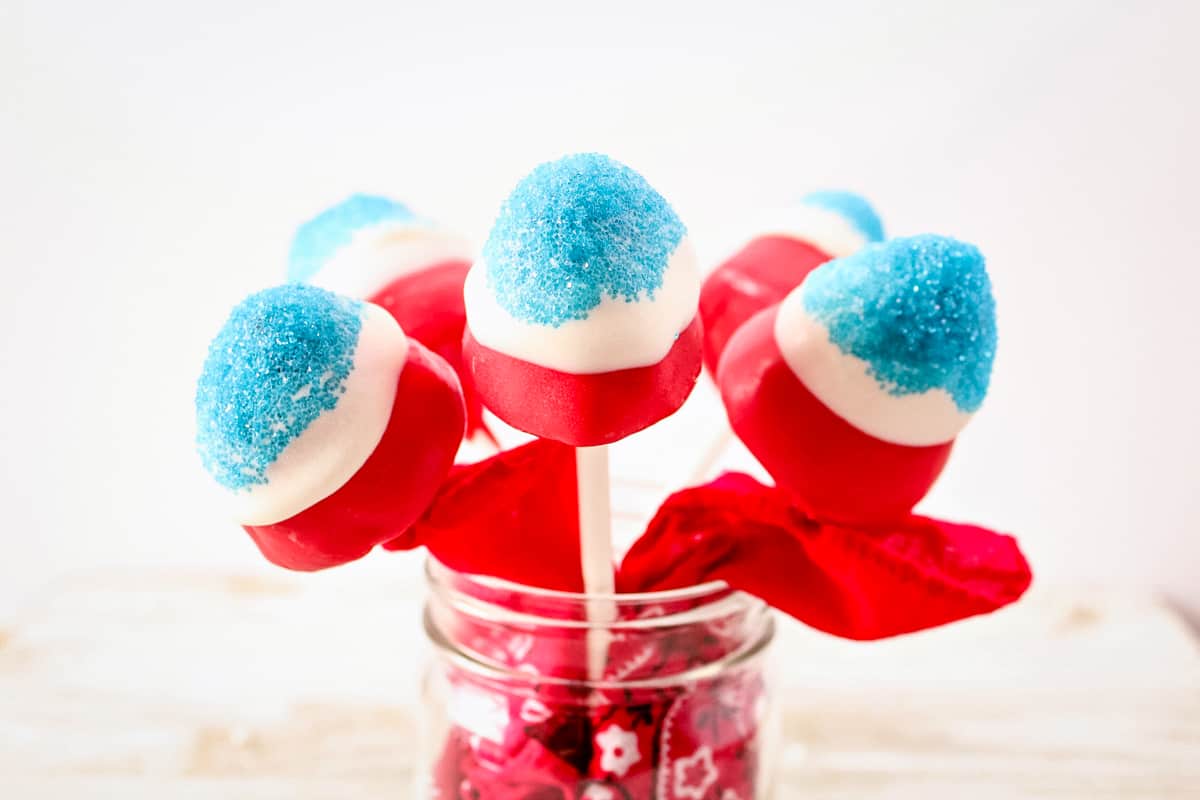 Strawberry Pop FAQ
Why aren't my strawberries staying on the sticks?
Overripe, soft strawberries may fall off sticks. For that reason, I recommend using the freshest strawberries possible. Another tip is to dip the entire berry, including a little bit of the stick, to help lock it into place.
Why won't the candy melts stick to my strawberries?
If your strawberries have any moisture on them it can cause the chocolate to not stick. Make sure to dry the fruit very well before dipping it.
More Red, White & Blue Treats
Recipe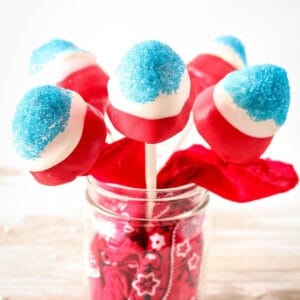 Recipe
Firecracker Strawberry Pops
Firecracker strawberry pops are a fun and festive 4th of July treat made by coating strawberries with candy melts and then dipping them in sanding sugar.
Ingredients
12 fresh strawberries with the stem and leaves removed
1 bag Red Candy Melts
1 White Candy Melts
blue sugar sprinkles
cake pop sticks
Instructions
Press a stick through the end of each strawberry.

In a microwave safe dish, microwave red Candy Melts for 30 second and stir. Continue microwaving in 30 second intervals and stirring until melted.

Dip each strawberry into the melted red candy until it is covered all the way down to the stick (to help hold it in place).

Once the red candy has set, repeat the process to melt the white Candy Melts.

Dip each strawberry in the melted white Candy Melts, to cover it a little more than half way down.

Allow white candy to cool slightly (make sure it is still somewhat melted) and then dip the end of each strawberry in blue sugar.

Allow strawberries to set before serving.
Nutrition
Serving: 1g | Calories: 135kcal
Did You Make This Recipe?
Share it with me on Instagram @crayonsandcravings and follow on Pinterest @crayonsandcravings for even more!