Do you love the flavor combination of chocolate and mint? What about Andes Mints or chocolate mint cookies? These Andes Mint Grasshopper Cookies put all other grasshopper cookies to shame.
Andes Mint Grasshopper Cookies are a must for anyone that loves to get in the kitchen and bake. From the cookies to the frosting, everything in this recipe is made from scratch. The chocolate cookies feature pieces of delicious Andes Mints and are topped with mint flavored frosting, chocolate, and more Andes Mints.
Once you clean the drool off your keyboard, head to the store to get the ingredients you'll need and get baking. Chances are you'll be making these cookies over and over again.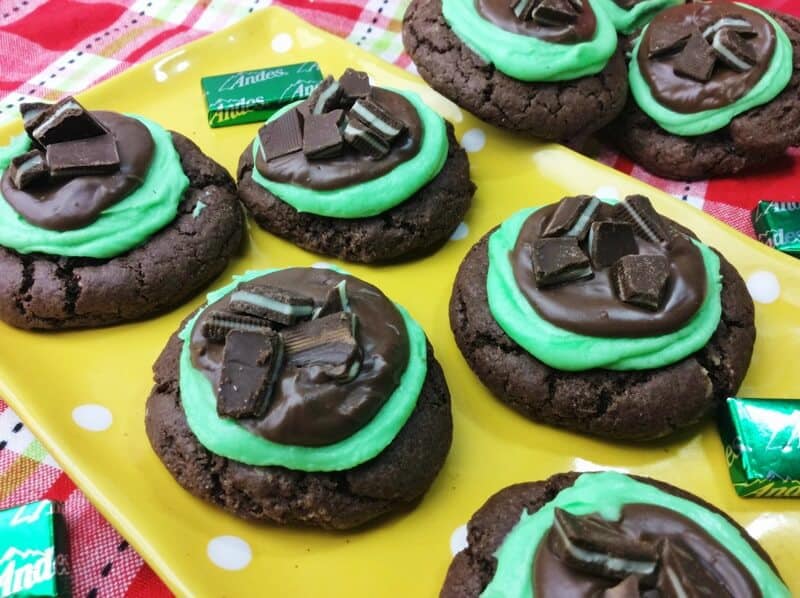 The bright green icing makes these mint-chocolatey Andes Mint Grasshopper Cookies a perfect St. Patrick's Day treat. Additionally, these tasty cookies are a great treat for your holiday cookie exchange. To be honest, no matter what time of year these cookies are certain to be a big hit.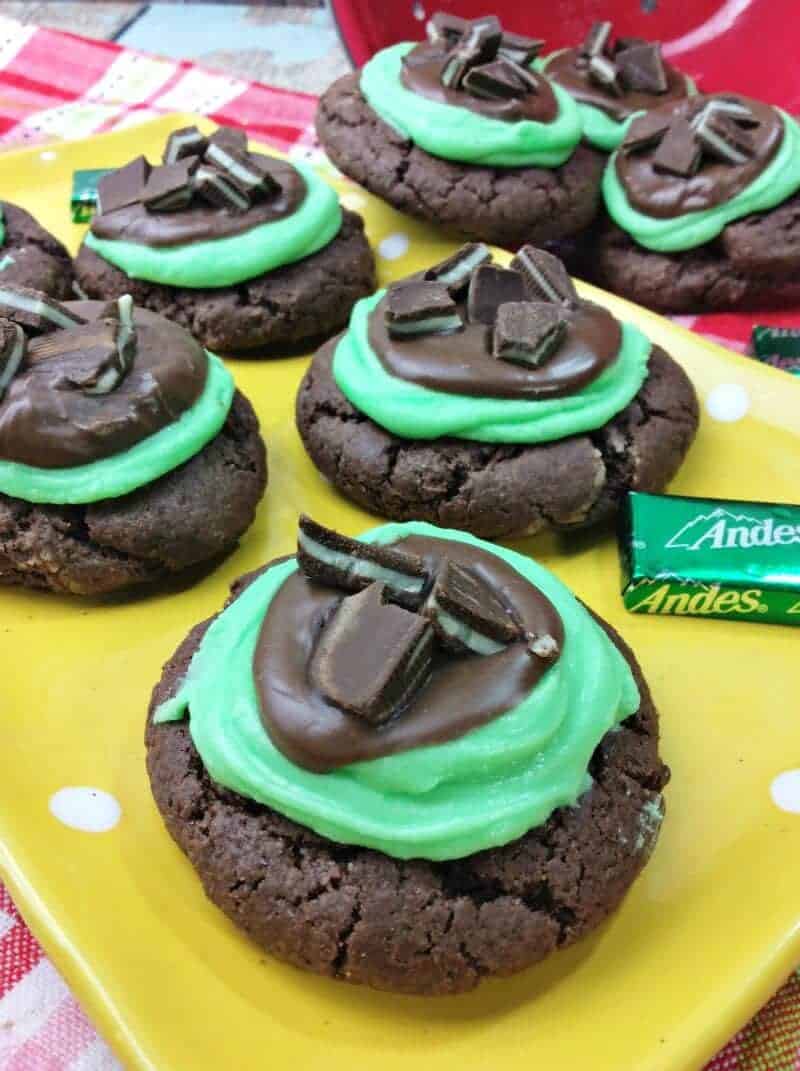 More candy-inspired dessert recipes:
Andes Mint Grasshopper Cookies
Do you love the flavor combination of chocolate and mint? These delicious Andes Mint Grasshopper Cookies put all other grasshopper cookies to shame.
Ingredients
Cookie Ingredients:
2 1/2 cups flour
3/4 cups unsweetened cocoa powder
1 tsp baking soda
1 cups white sugar
1 cups packed brown sugar
1 cups unsalted butter, room temp
2 tsp vanilla
2 eggs, room temp
1 package Andres Mint candies
Frosting Ingredients:
4 cups powder sugar
1/2 cups unsalted butter, room temp
1 tsp mint extract
4 TBSP whole milk
Chocolate topping:
1 bag chocolate melting wafers (use Ghiradelli for best results)
Instructions
Preheat oven to 375 degrees. While oveN heats, line a cookie sheet with parchment paper and unwrap 1/3 of the Andre Mints and chop into small pieces.
Whisk together flour, cocoa powder, and baking soda. Set aside.
Using an electric mixer, beat both sugars and butter in a large bowl until smooth and creamy. Add vanilla and eggs; beating well. Slowly add flour mixture one tablespoon at a time, stirring well. Stir in the chopped Andre mint candy pieces.
Using a small ice cream scoop measure out dough for each cookie. Place dough onto the lined cookie sheet, about 2 inches apart.
Bake for 7-10 minutes or until cookie is slightly cracked. Allow the cookies to cool on cookie sheet for about 2 minutes before transferring to a wire rack to cool completely.
Using a stand mixer, cream the butter with 1 1/3 cup powdered sugar. Slowly add the mint extract, 2 tbsp milk, and the rest of the powder sugar into the bowl. Blend well. Gradually add one tablespoon of milk at a time until the desired consistency is reached. Spread a thick layer of frosting on each cookie. Set aside.
Chop the remaining Andre Mints in half. Set aside.
Using a double boiler, stirring constantly, melt the chocolate wafers. Set aside to cool slightly. After the melted chocolate has cooled/thickened slightly place a dollop on top of each cookie using a tablespoon. Top each cookie with the cut halves of the Andre Mint candies.
I hope you enjoyed this tasty recipe! Be sure to let us know in the comments below how yours come out if you decide to give the recipe a try!