25+ FREE Printable Word Searches
Posts may contain affiliate links, meaning that I may earn a commission if you use a link provided.
Huge list of 25+ free printable word searches you can download, including seasonal, holiday, and many more themes of word search printable puzzles.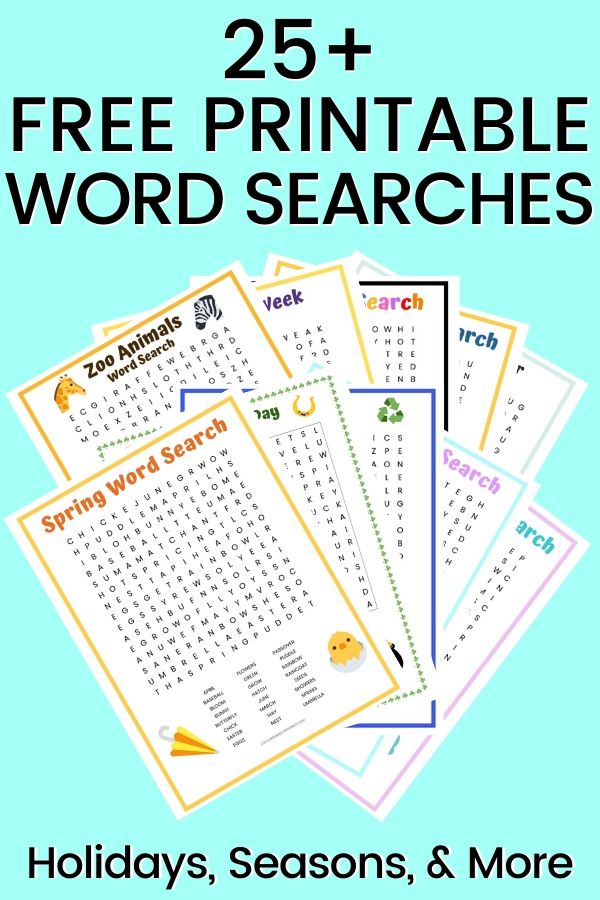 Whether you are a teacher looking for word searches for the classroom, a parent looking for word searches for the kids to complete on rainy days, or an adult who just enjoys completing word search puzzles, you have come to the right place.
We have over 25 free printable word search puzzles available for download.
Season Word Searches
Holiday Word Searches
Various Topic Word Searches
What is a Word Search?
A word search is an activity where you find specific words hidden within a grid of letters.
If you hear someone mention a word find or word seek, those are usually the same thing.
Why Do Word Searches?
Doing word puzzles such as word searches are a fun way of exercising your brain.
While solving the puzzles won't necessarily make you smarter or increase your IQ, I believe that there are still many reasons to do them.
There is no doubt that solving word searches require focus and concentration.
I think that it is a great idea to use them as an activity to help reinforce spelling and vocabulary words.
Many word searches have decoy words hidden within them, just a few letters off from the actual word that needs to be found. These decoy words help make it essential to really focus and know the correct spelling of the word that needs to be found.
Another reason some people do word finds is simply that they enjoy doing them. Finding each word is like a small victory, and completing the entire word search gives a sense of accomplishment.
I have found that they are also a great way to unwind and clear your mind. Word finds require such concentration and focus it is difficult to think of much else. So next time you need to get your mind off of something, try doing a word search!
How can I get a Free Word Search?
Browse the list of free printable word searches available below. Click on the specific one that you would like to download. This will open a new page.
Scroll down on the page and click "download here" to download the PDF file to your computer.
Open the file on your computer, and print on a regular sheet of 8.5″ x 11″ paper.
Free Printable Word Searches
25+ Free printable word searches for kids or adults.
Want more free printable word searches?
I really enjoy creating word searches and would love more ideas of printables to make and share with you all.
If you have any suggestions for what I should make next, please leave me a note in the comments below.