Veterans Day Word Search Free Printable
Posts may contain affiliate links, meaning that I may earn a commission if you use a link provided.
This free printable Veterans Day word search has 20 hidden words to find and is a fun and educational activity for the classroom or at home.
Looking for a printable Veterans Day activity? If so, you have come to the right place.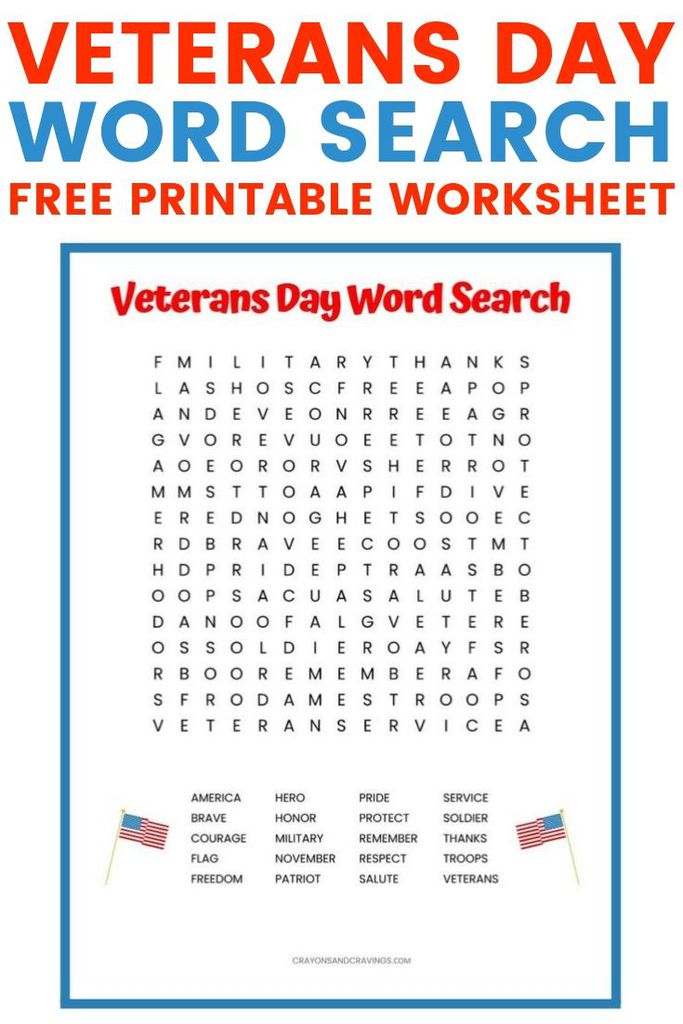 I made this word search puzzle as an activity for children to complete either at home or in the classroom in honor of Veterans Day (originally known as Armistice Day).
>> Related: Memorial Day Word Search
This word find is a fun way to reinforcing spelling skills and what the kids have learned about Veterans Day. If some of the words are new to the children, discuss the word meanings with the children, and how they relate to this US federal holiday.
Veterans Day Word Search Puzzle
With 20 words to find, this is a challenging word search.
The hidden words can be found horizontally, vertically, and diagonally. No words will be hidden backward — only forward.
Words to find:
America
brave
courage
flag
freedom
hero
honor
military
November
patriot
pride
protect
remember
respect
salute
service
soldier
thanks
troops
veterans
How to Download the Word Search PDF
Simply enter your first name and email address below to get the free printable PDF sent right to your inbox as a thank you for signing up for my e-mail newsletter.

Looking for more free printable word searches?
Click here for the list of all the word search printables I have available for download. There are well over 25!