Grinch Punch (Non-Alcoholic)
Posts may contain affiliate links, meaning that I may earn a commission if you use a link provided.
This non-alcoholic Grinch Punch recipe made with Hawaiian Punch, Sprite, and lime sherbet is a perfect drink for the kids on Christmas.
Why not start a new family tradition this Christmas season? Family holiday movie nights!
Pop on How The Grinch Stole Christmas and serve this fun holiday drink up with a plate of Grinch Cookies, Grinch Rice Krispie Treats, and Grinch Caramel Pretzel Bites for a festive spread of Grinch awesomeness.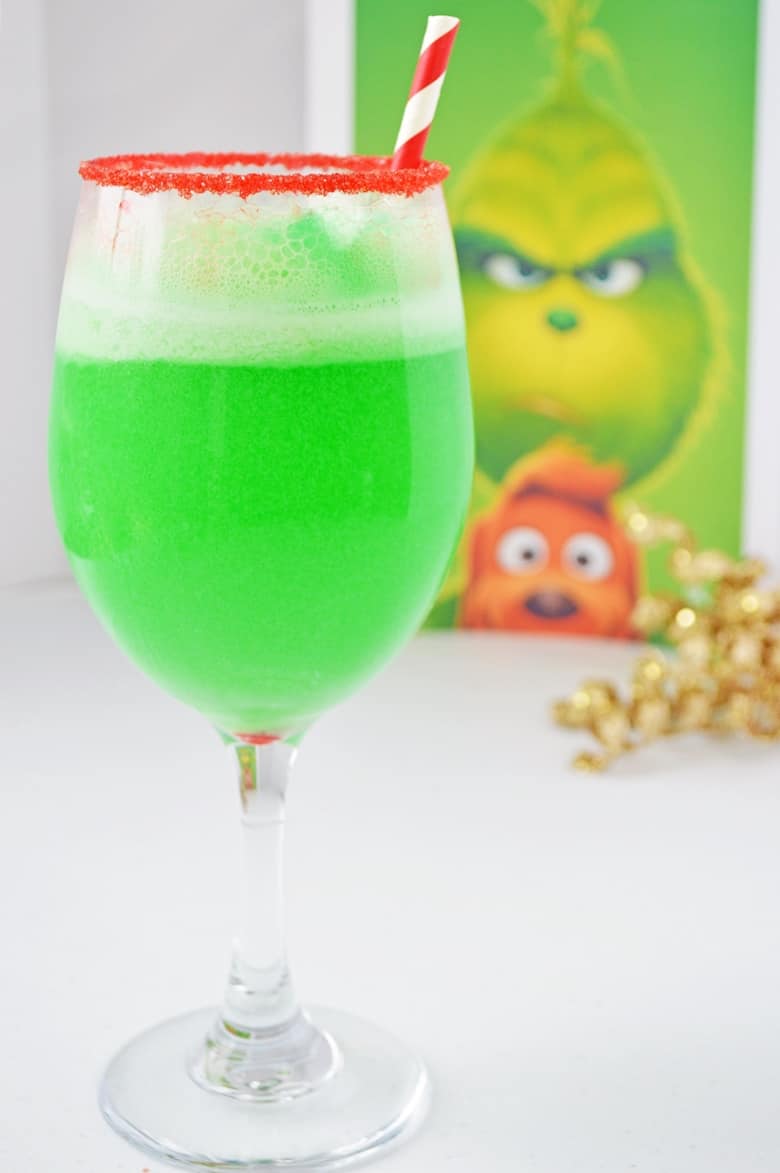 Growing up, I was always jealous of the Champagne punch that the adults got to enjoy at holiday parties. I wondered why the adults got to have all the fun fizzy sherbet drinks. I loved sherbert! (And still do!)
So why not make the kids their own special Christmas punch this holiday season?
And with fancy sanding sugar rimmed glasses and a special straw, the kids will be excited to have their own festive lime sherbet punch to enjoy at the holiday party.
In fact, the fun holiday drink might even make the adults jealous!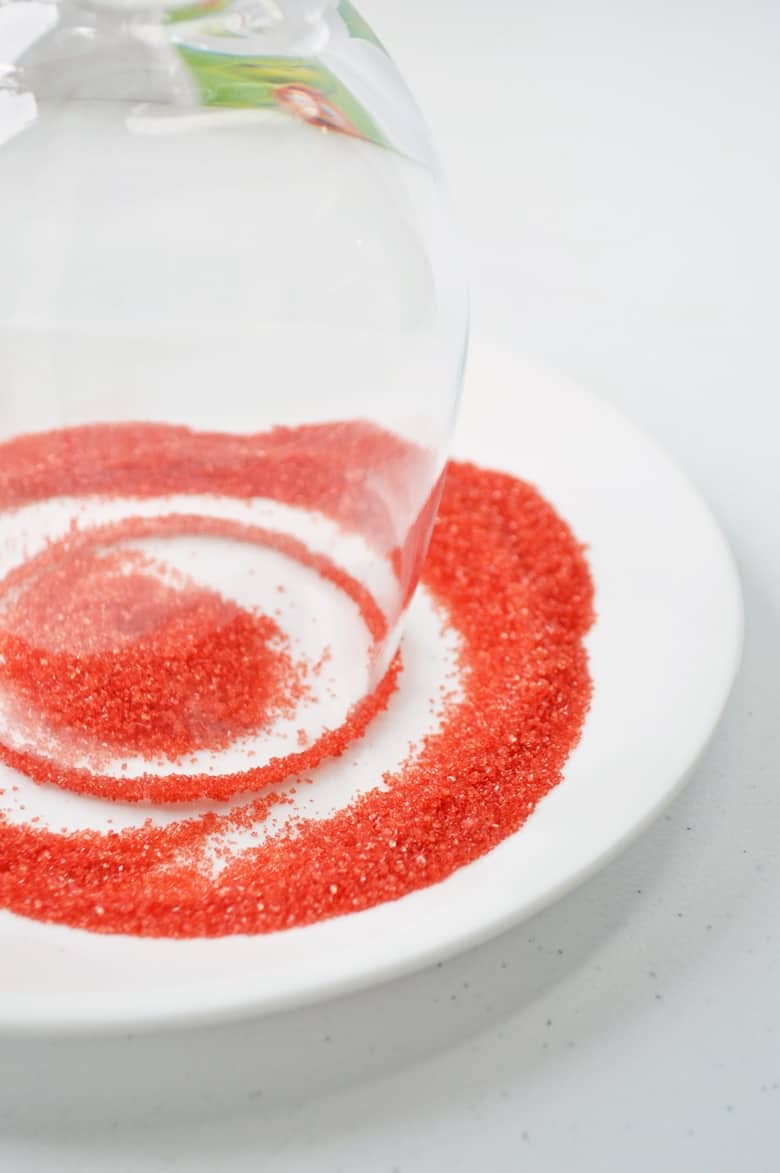 One thing is for sure— This easy Grinch punch recipe is a festive drink the kids will be asking for year after year.
Whether you want to make a small batch for enjoying with Christmas dinner or a large punch bowl full for your next holiday party, I got you. I will share the measurements for both options in the recipe card below.
Grinch Punch Ingredients
This section includes ingredient notes and substitution options. Get all measurements, ingredients, and instructions in the printable recipe card at the end of this post.
Hawaiian Punch Green Berry Rush— The kiwi strawberry flavored juice drink has a bright green color that is perfect for making grinch punch. You should be able to pick up a jog at Walmart or your local grocery store. If you are having a hard time finding it you can substitute it with lemon-lime kool aid.
Sprite— Feel free to use ginger ale, 7up or your favorite lemon-lime soda instead.
Lime Sherbet— While lime is perfect for keeping with the green color scheme, rainbow punch would work as well.
Green food coloring— optional, for added color
Red sanding sugar & corn syrup— for the red sugar rim. Water can be used in place of the corn syrup in a pinch.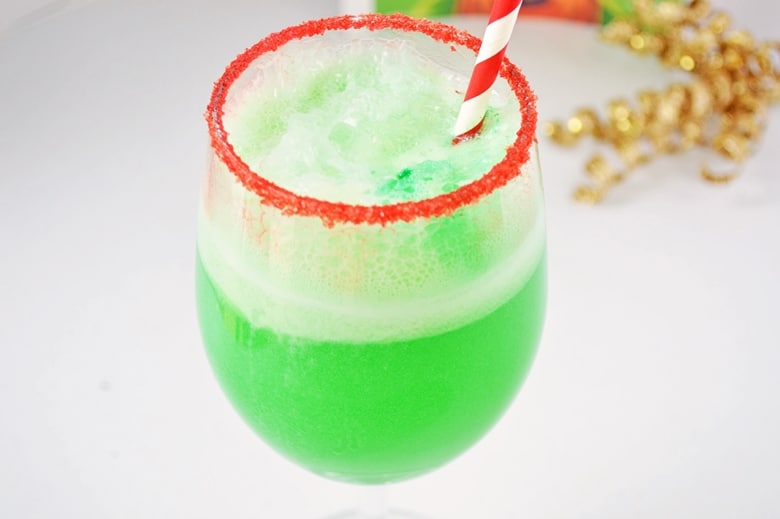 I hope your little ones enjoy this fun green Grinch drink and that you and your family have a very Merry Christmas!
Looking for a warm Grinch drink idea? Give this thick and creamy Grinch hot chocolate recipe a try!
Recipe Tips
Try adding pineapple juice to the punch for a touch of tropical flavor. Or orange juice for a fun twist.
Serve the green punch recipe in these neat unbreakable wine glasses to give them an extra fancy-schmancy vibe!
Use a spring-loaded ice cream scooper for perfect sherbet scoops.
Looking for a boozy grinch punch recipe for your next Christmas party? You can use this recipe and add vodka, to taste. Or make the adults at the party a batch of grinch jello shots instead.
More Christmas Treats for Kids
Recipe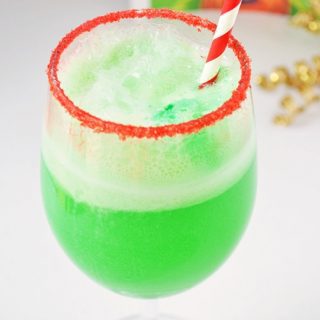 Recipe
Grinch Punch
This non-alcoholic Grinch Punch recipe made with Hawaiian Punch, Sprite, and lime sherbet is a perfect drink for the kids on Christmas.
Ingredients
For the Punch:
2 scoops lime sherbet
1 cup Hawaiian Punch Green Berry Rush
½ cup Sprite
2-3 drops green food coloring optional, for color
Instructions
To rim the glasses: Pour a thin layer of red sanding sugar onto a plate or shallow bowl. Do the same with the corn syrup. Dip the rim of a glass into the corn syrup, being sure to coat the entire rim. Then, dip the rim into the red sanding sugar. Repeat with both glasses.

Place a scoop of lime sherbert in each glass.

Add Hawaiian Punch, Sprite, and green food coloring (if using). Stir gently to disperse food coloring evenly throughout.
Notes
For a large batch:
1 (48 ounce) lime sherbet
1 gallon Hawaiian Punch
1 (2 liter) Sprite
Spoon sherbet into a pitcher or punch bowl.
Pour the Hawaiian punch and Sprite over the sherbet. Add food coloring and stir.
Serve with rimmed glasses and enjoy.
*Depending on the size of your punch bowl or pitcher you might need to halve the recipe.
Nutrition
Serving: 1g | Calories: 323kcal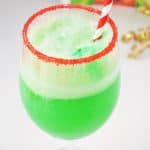 Did You Make This Recipe?
Share it with me on Instagram @crayonsandcravings and follow on Pinterest @crayonsandcravings for even more!