How to Set Up a Flavored Soda Station for Your Party
Posts may contain affiliate links, meaning that I may earn a commission if you use a link provided.
This post has been sponsored by SheSpeaks, Inc. and The Coca-Cola Company. All thoughts and opinions are my own.
Set up a flavored soda station for your holiday party with these beverage station tips and free printable soda station sign and syrup bottle labels.
It is no secret that I love the holiday season. From sitting by the warm fireplace on chilly nights to wrapping gifts, the holiday season is simply the best time of the year.
My very favorite part of the holiday season is spending time with loved ones at holiday parties. I especially love catching up with family and friends that we do not get to see often throughout the year.
With all of the holiday parties coming up, I wanted to share one of my favorite tips for holiday entertaining with you today.
Setting up a beverage station, also referred to as a drink station, dirty soda bar, or beverage bar, gives your guests the ability to choose their own drink and return for refills as they desire throughout the event.
This makes getting a drink easier for your guests. Plus, not having to offer drinks and refill glasses gives you more time to mingle with guests and focus on your other hosting duties.
Setting up a beverage station for your party doesn't have to be complicated. Check out this fun and easy flavored soda station that I set up for our latest party.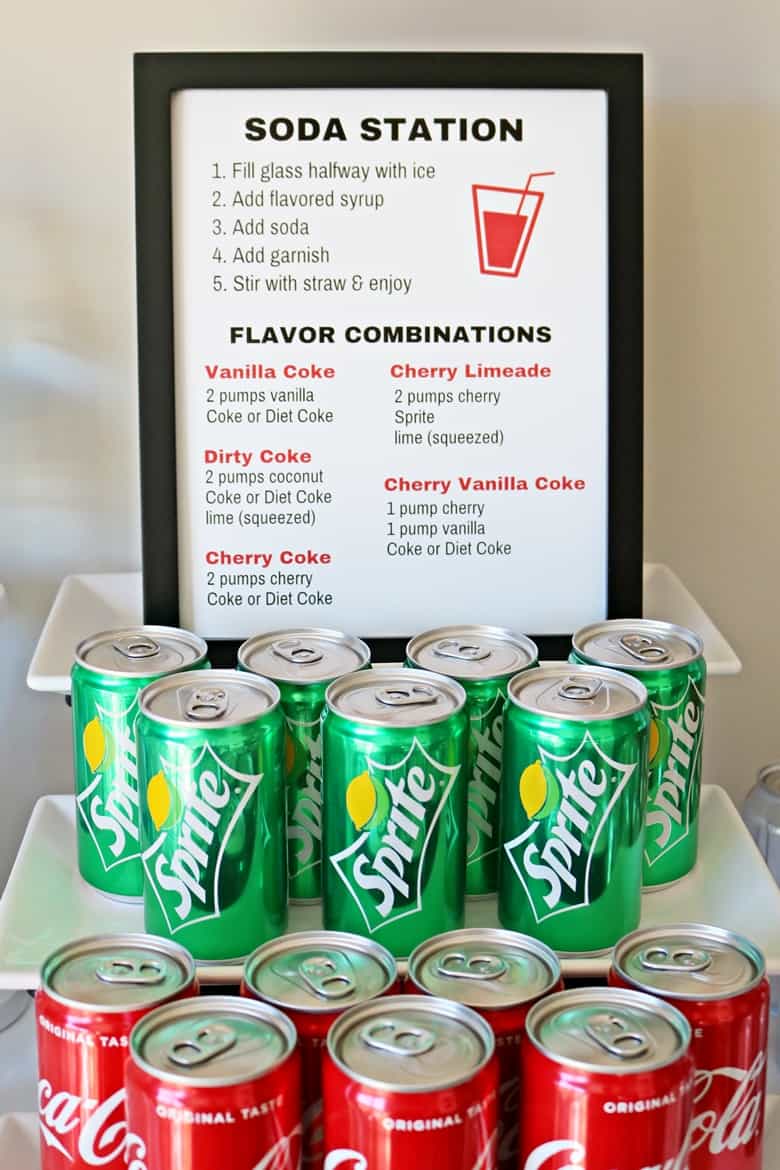 Flavored Soda Station
For this fun beverage station, I offered guests a selection of our favorite sodas — Coca-Cola®, Sprite®, or Diet Coke®. I also included Dasani® as an additional option for guests who would prefer a glass of water.
I purchased club size packages of Coca-Cola® Mini Cans, Sprite® Mini Cans, Diet Coke®, and Dasani® at Sam's Club so that I could be sure I would have enough beverages for my guests throughout the party.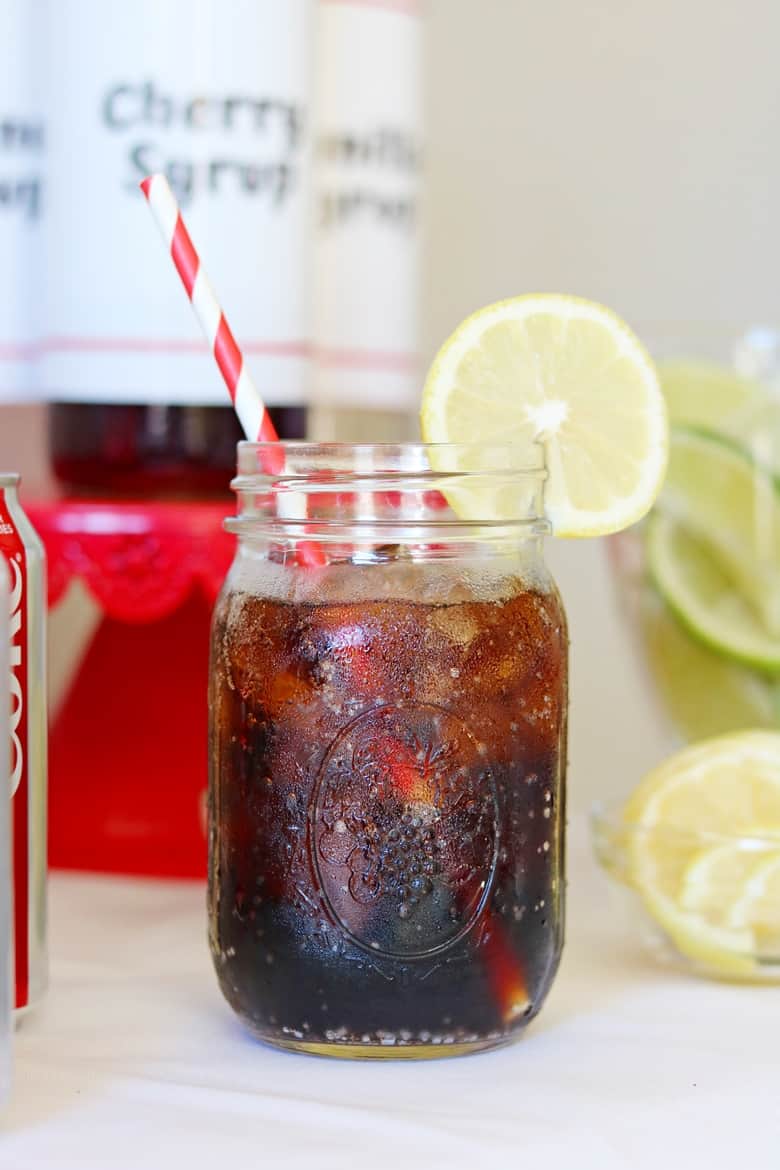 Mason jars with paper straws served as simple, but visually appealing, glasses.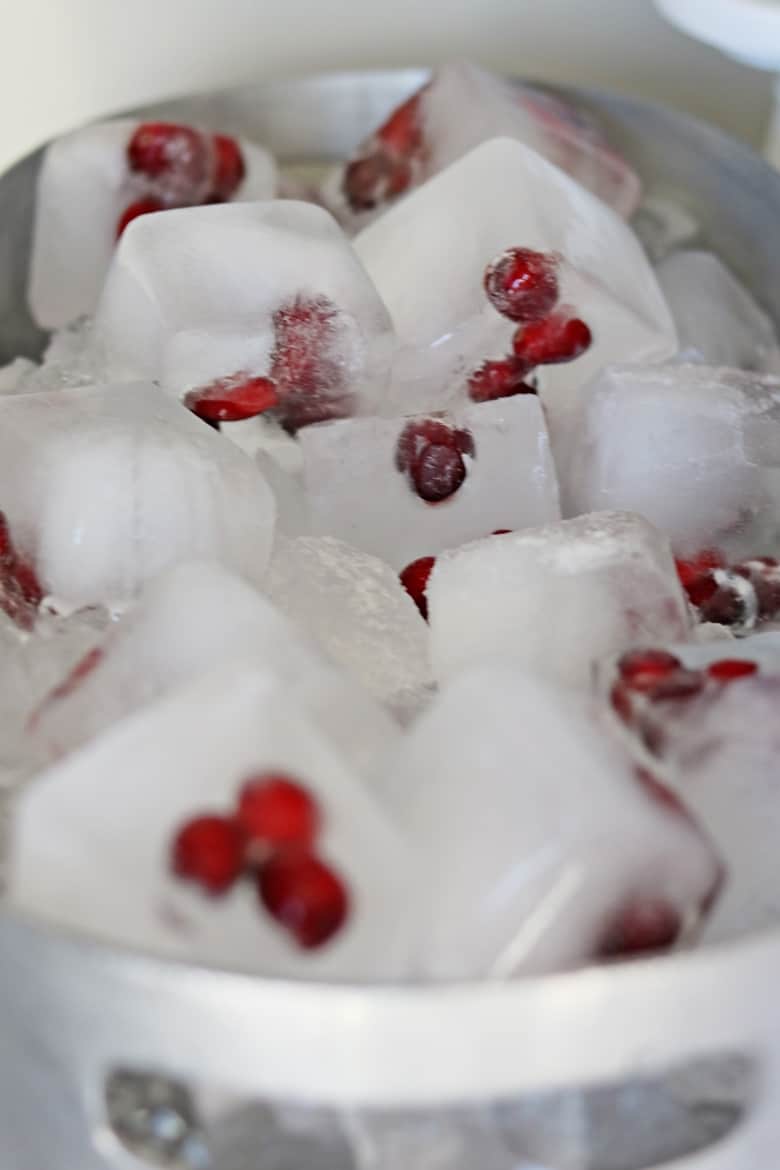 I filled a beverage bucket with ice for guests to add to their glasses. To give the ice cubes a bit of color I added cranberries to my ice cube trays.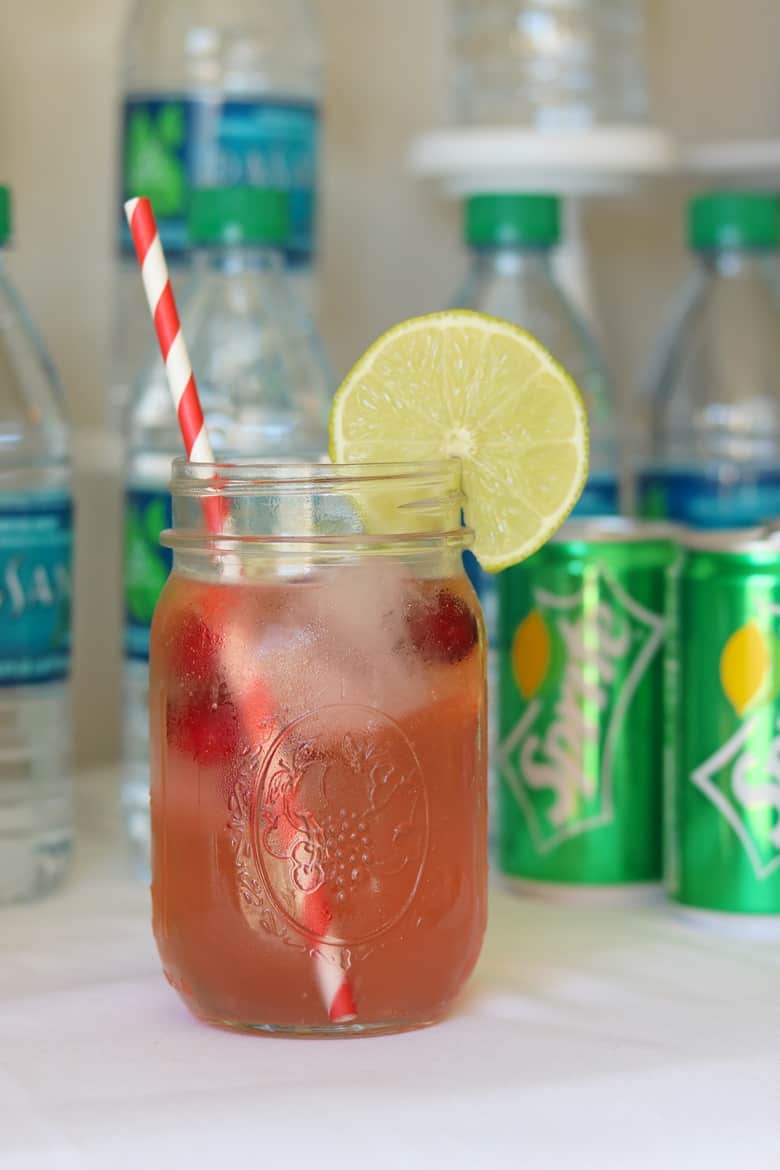 These cranberry ice cubes looked beautiful, especially in glasses of Sprite® or Dasani®. They are such an easy way to add a seasonal touch to your beverage station table.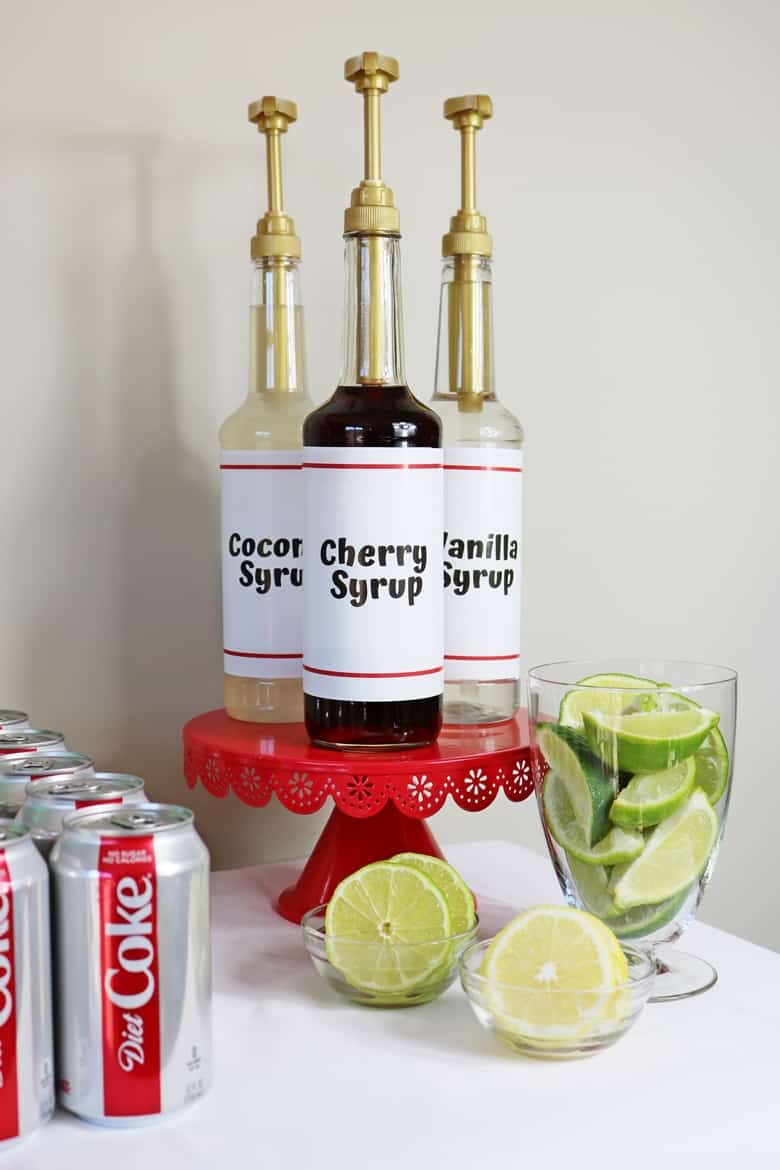 I also provided guests with 3 flavored syrup options to add to their soda:
cherry syrup
vanilla syrup
coconut syrup
And I set up bowls with lemons and limes for guests to garnish their drinks.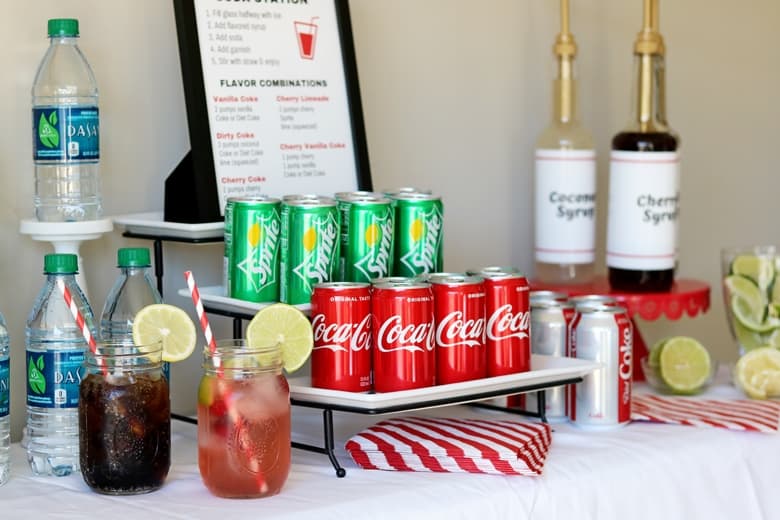 I made a sign for the soda station with directions and flavor combination ideas so guests could make their own flavored sodas easily (printable sign available for download at the end of the post).
Soda + Syrup Flavor Combinations:
vanilla Coca-Cola®
dirty Coca-Cola®
cherry Coca-Cola®
cherry limeade
cherry vanilla Coca-Cola®
To give the soda station a cohesive look I made matching printable labels for the syrup bottles (also available for download at the bottom of this post).
For another tasty variation check out this Shirley Temple dirty soda recipe.
Beverage Station Tips & Tricks
Choose a Theme
Choosing a theme helps to bring your beverage station's whole look together. From seasonal and holiday themes to simple color themes, there are so many different looks you can go for with a beverage station.
My theme was simple: the colors red and white. I paired a white tablecloth with lots of little pops of red such as the cranberries, paper straws, napkins, cake stand, soda station sign and syrup bottle labels to help bring the look together.
No Need to Buy a Beverage Cart
There is no need to splurge on a beverage cart in order to set up a beverage station for your party.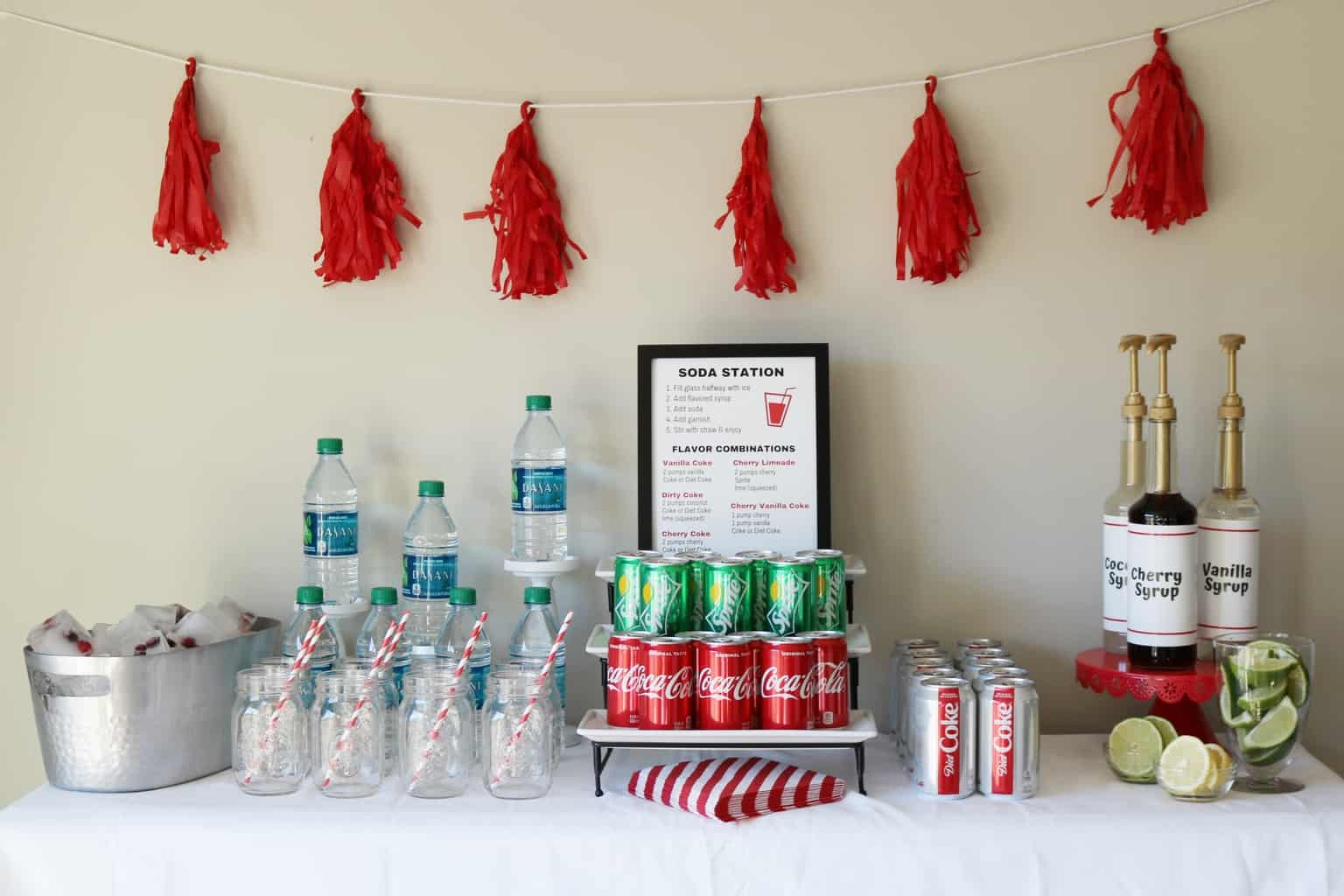 I set my soda station up on the sidebar in our dining room, but you can use your kitchen counter, a folding table, a desk, or even a dresser to set up your soda station.
"Shop" Around the House
You might be surprised how many items that you already have could double as display items for your beverage bar.
I used some items from around the house to bring a bit of height and style to the soda station. I used a 3-level appetizer server to display the soda station sign, Coca-Cola® Mini Cans, and Sprite® Mini Cans. A red cake stand I had was perfect for holding the flavored syrup bottles. A few candle stick holders I was using on my mantle proved to be perfect for holding up some of the Dasani® bottles as well.
Use Club Pickup at Sam's Club
Sam's Club is my go-to when shopping for holiday entertaining. They stock all of our favorite beverages: Coca-Cola®, Sprite®, Gold Peak® Sweet Tea, Dasani®, and Diet Coke®.
Aside from getting a great value, shopping at Sam's Club also makes shopping super convenient with their Club Pickup service. Club Pickup is perfect for heavy items such as cases of beverages for entertaining. Simply place your order online and Sam's Club will have everything ready for you when you arrive. This service is such a time saver, especially during the busy holiday season!
Soda Station Printables
I am happy to share the printable soda station sign and syrup bottles labels that I created for this flavored soda station with you so that you too can use them for your beverage station.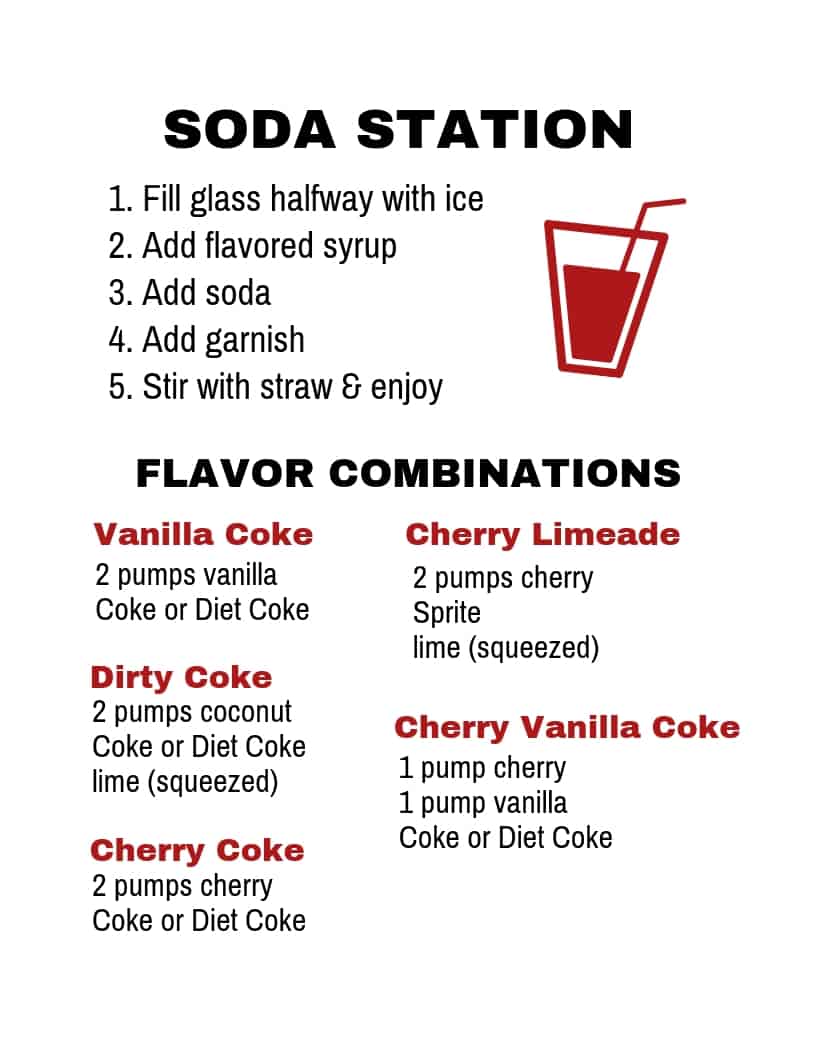 Simply download the PDF files and print them out of your home computer.
The quality will be best if you use photo paper or cardstock (I used photo paper). But regular paper would work in a pinch as well.
Download the flavored syrup labels here and the soda station sign here.
I hope you enjoy your flavored soda station and that you have a very happy holiday season!
Click here to learn more about the products used in this soda station!
Pin this DIY Soda Station Post for Later: