Posts may contain affiliate links, meaning that I may earn a commission if you use a link provided.
Spring Carrot Patch Brownies are a chocolatey, ooey-gooey, OREO-crumble-covered, delicious Spring treat. These cute garden brownies are great to make for dessert on Easter, or for any Spring gathering.
I am a total sucker for a good brownie recipe, and these babies really gained my approval.
You can't get much more chocolate packed into one little treat than with these carrot patch brownies or a batch of homemade cosmic brownies.
You will start with a rich chocolate brownie, slather it in creamy chocolate buttercream icing, top it with OREO cookie crumbles, and then finish it off with even more icing. Oh my! How can you not love these things?!
How to Make Spring Carrot Patch Brownies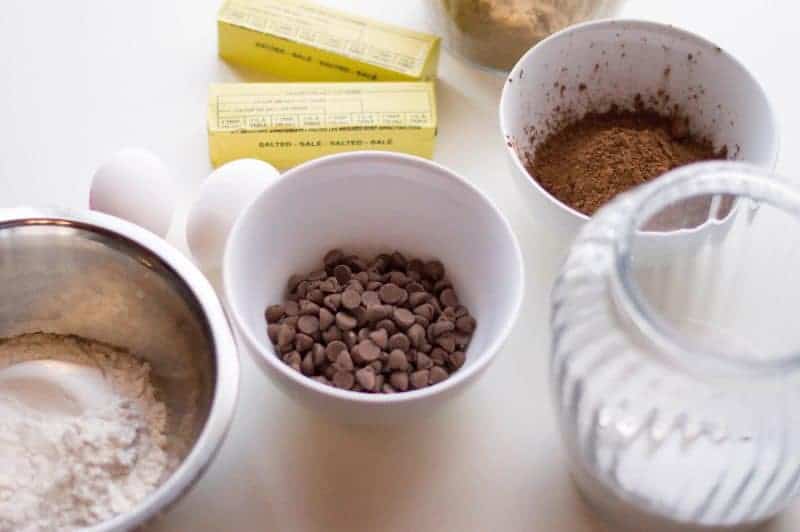 We made our Spring carrot patch brownies from scratch, but if you would like so save some time you can certainly make your brownies from a boxed mix instead.
In that case you will simply start off at step 5, icing your brownies.
Whether you use boxed mix or make the brownies from scratch, the important part is really those decorating steps anyway!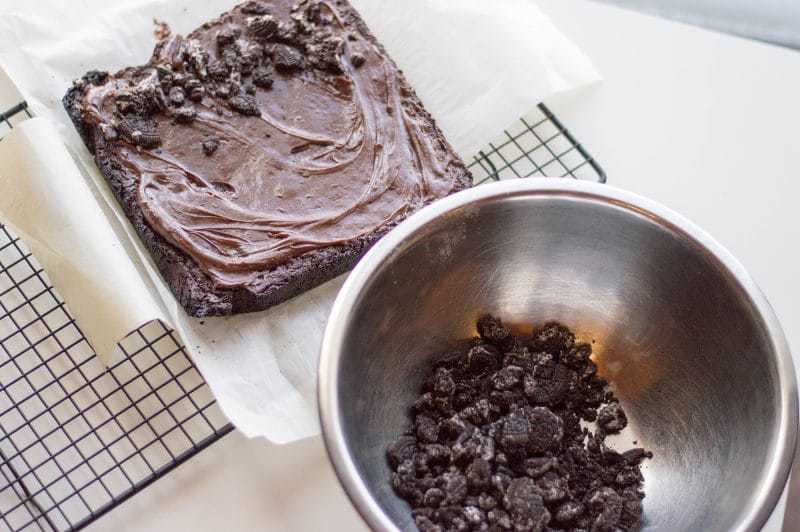 The OREO cookie crumbles help to give the tops of the brownies a dirt-look, which is perfect to serve as the base of your carrot patch.
Then, the orange and green colored icing come together to form the tops of the carrots sticking out of the ground.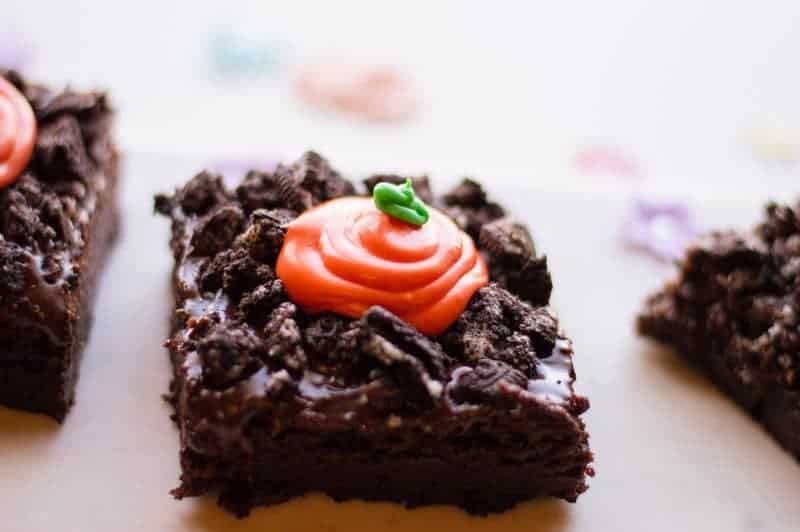 I hope that you and your family enjoy this tasty Spring dessert recipe!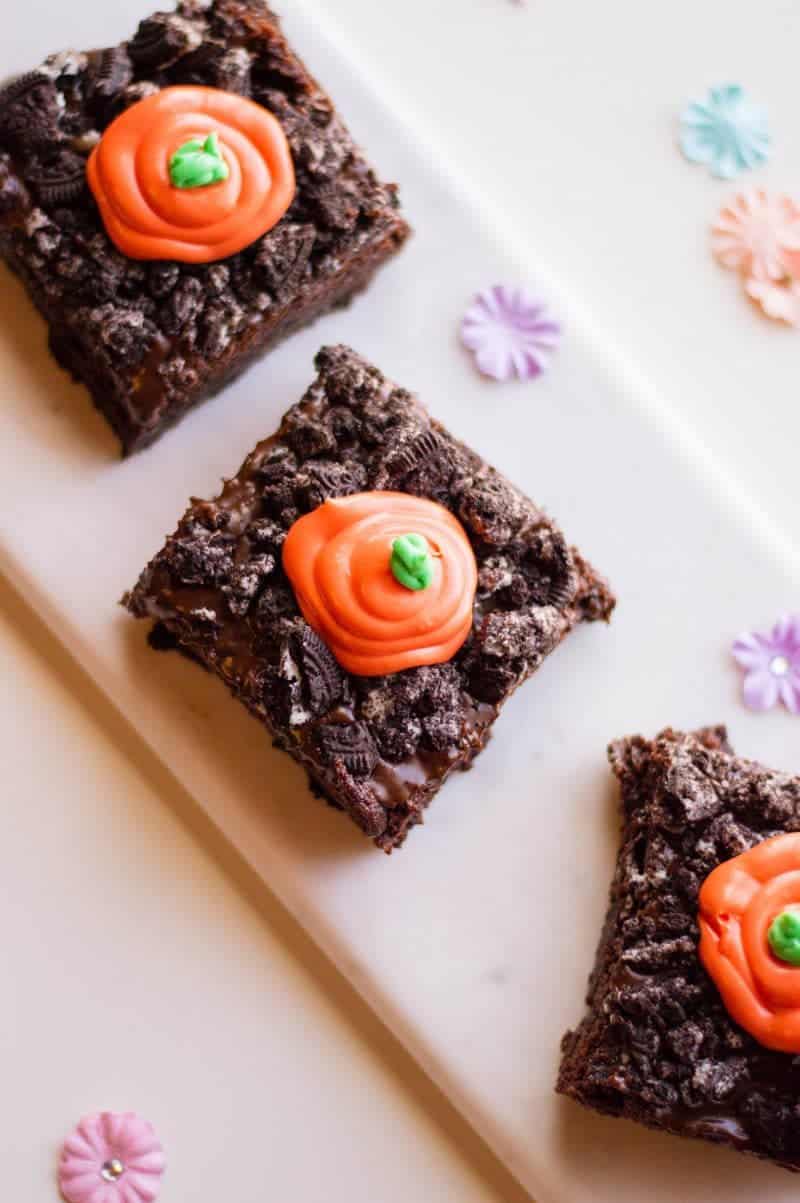 Shop Supplies For This Recipe
Wilton Icing Colors, Set of 12
Wilton 46-Piece Deluxe Cake Decorating Set
Wilton Nonstick Cooling Grid, 16x 10 in.
Wilton Square 9 x 9 in. Covered Pan
More Spring Desserts That You Might Enjoy:
Recipe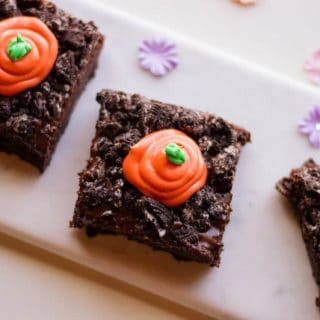 Recipe
Spring Carrot Patch Brownies
Spring Carrot Patch Brownies are a chocolatey, ooey-gooey, Oreo crumble-covered, Spring treat. These cute garden brownes are perfect to make for dessert on Easter, or for any Spring gathering.
Ingredients
2 sticks butter salted
½ cup semi-sweet chocolate chips
½ cup unsweetened cocoa powder
Pinch salt
1 cup granulated sugar
1 cup packed brown sugar
1 cup all-purpose flour
2 large eggs
2 cups ready-made chocolate buttercream
2 cups Oreos crushed
2 cups ready-made vanilla buttercream
Yellow and red food coloring
Instructions
Line a square pan (9x9) with parchment paper with an overhang (for easy removal of brownies once baked) and set aside. Set oven to 350 degrees.

In a medium-sized saucepan over medium heat, melt butter and chocolate chips. Once melted, add cocoa powder and salt. Stir.

Add both sugars into your chocolate mixture and stir until completely melted. Add this mixture into a large bowl that contains your flour. Mix and add your eggs, one at a time.

Pour batter into your lined pan and bake for 20-25 minutes or until your brownies pass the toothpick test. Remove from oven and let sit for 10 minutes then remove from pan. Allow to cool completely before decorating.

Once cooled, frost the top of the brownies with your chocolate buttercream. Add crushed Oreos. Cut into squares.

Mix yellow and red food coloring for a deep orange color in about 1 ½ cups of your vanilla buttercream. Using a piping bag, pipe onto each brownie square so that it looks like the top of a carrot.

Color the rest of your vanilla buttercream with green food coloring and pipe it on top of the orange buttercream to give it its final touch. Enjoy!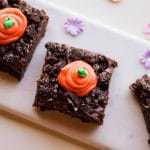 Did You Make This Recipe?
Share it with me on Instagram @crayonsandcravings and follow on Pinterest @crayonsandcravings for even more!
Pin for Later: