If Cadbury Creme Eggs are your favorite Easter treat you are going to go crazy for these 20+ amazing Cadbury Creme Egg recipe ideas. From Cadbury Creme Egg cupcakes to Cadbury Creme Egg Gelato, you will find lots of tasty Cadbury Egg recipes for you to try this Easter.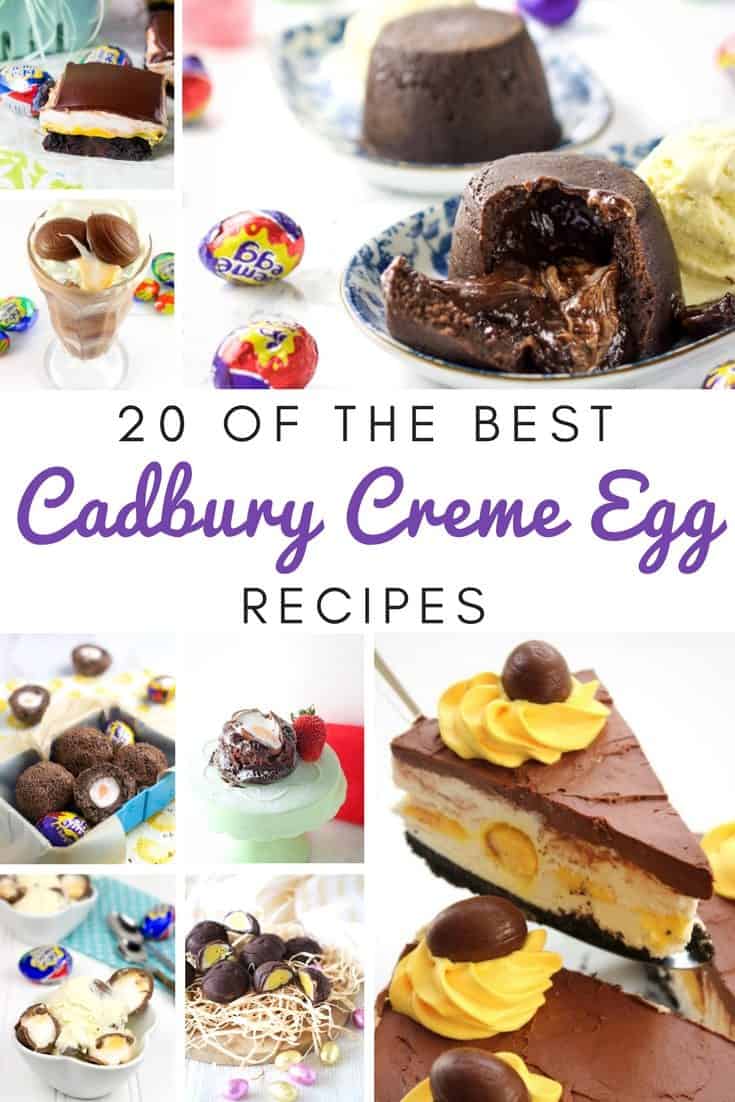 If you ask me, Easter is just not Easter without Cadbury Creme Eggs. The combination of milk chocolate and creamy fondant is absolute perfection. This Easter, why not try one of these decadent Cadbury Egg recipes?
Some of these Creme Egg recipe ideas use actual Cadbury Creme Eggs, while others are Cadbury Egg inspired. Either way, one thing is for sure: They are ALL amazing.
Cadbury Creme Egg Recipes
1. Easter Candy Cake – Crayons & Cravings
2. Cadbury Creme Egg Milkshake – Homemade in the Kitchen
3. Cadbury Egg Brownies – Spicy Southern Kitchen
4. Scotch Creme Eggs – Easy Cheesy Vegeterian
5. Cadbury Creme Egg Cupcakes – My Baking Addiction
6. Cadbury Creme Egg Gelato – Goodie Godmother
7. Easy Cadbury Creme Egg Martini Recipe – A Fork's Tale
8. Cadbury Creme Egg Cake – Liv for Cake
9. Caramel Creme Eggs – Be Good Organics
10. No-Bake Cadbury Creme Egg Chocolate Lasagna – The Soccer Mom Blog
11. Cadbury Creme Egg Nachos – Recipes From a Pantry
12. Cadbury Creme Egg Ice Cream – Spiced
13. Creme Egg Chocolate Drizzle Cake – Lavender and Lovage
14. Cadbury Creme Egg Stuffed Cookies – Buns in My Oven
15. No-Bake Cadbury Egg Cheesecake – Cincy Shopper
16. Cream Egg Cupcakes – Spaceships and Laser Beams
17. Instant Pot Creme Egg Lava Cakes – Every Nook & Cranny
18. Creme Egg Chocolate Mug Cake – My Fussy Eater
19. Homemade Cadbury Creme Egg Mini Cups – Leanne Bakes
20. Cadbury Creme Egg No-Churn Easter Ice Cream Cake – Elizabeth's Kitchen Diary
21. Cadbury Creme Egg Chocolate Lava Cakes – Culinary Ginger
Need even more Easter dessert options? Check out this huge list of easy Easter desserts.
I hope that you and your family have a happy Easter!
If you decide to give it a go and make one of these yummy Cadbury Creme Egg recipes, let us know how you liked it in the comments below!