30+ Easy Easter Dessert Ideas for Kids
Posts may contain affiliate links, meaning that I may earn a commission if you use a link provided.
Over 30 adorable and easy Easter desserts for kids. These cute Easter dessert recipes include cupcakes, cookies, cakes, brownies, and more.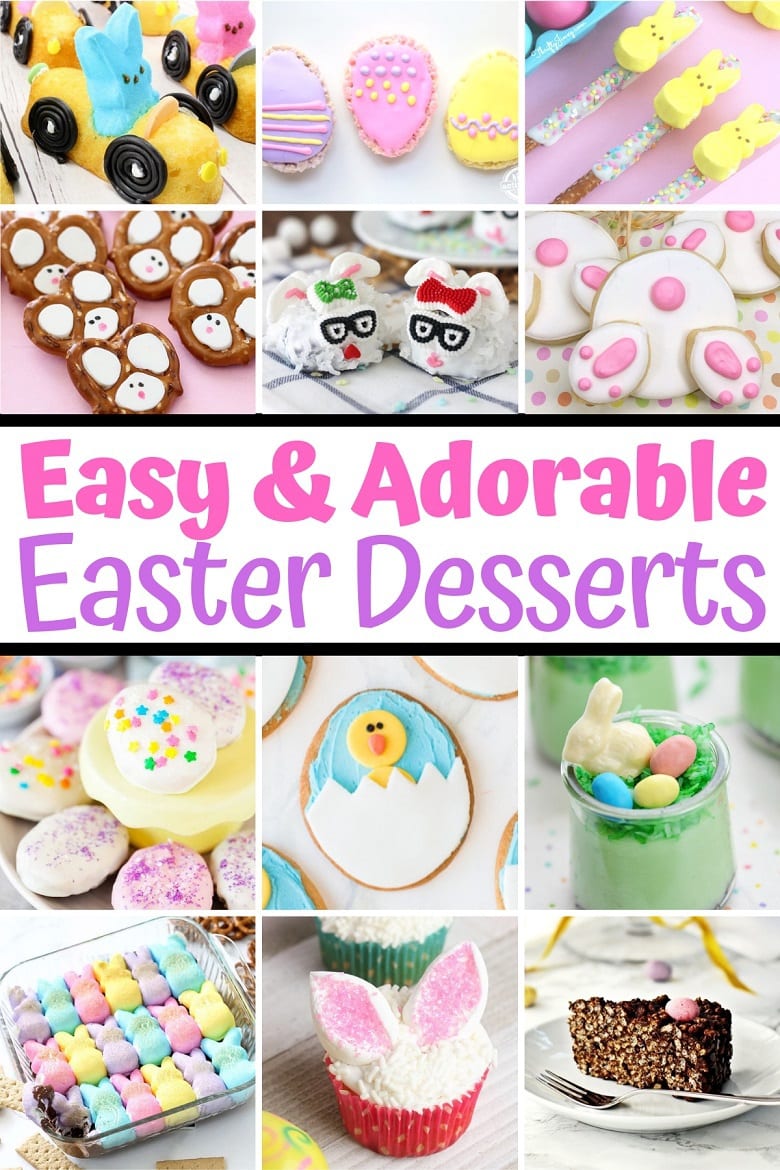 There is so much to love about Easter desserts. They are typically bright and colorful, and of course sweet.
I am always on the lookout for new Easter dessert ideas. So with Easter coming up, I decided to gather up all the best Easter dessert recipes and list them for you (and for myself!) in this post.
Easy Easter Desserts for Kids
These Easter desserts all have 2 things in common: They are easy to make, and great for kids.
But don't get me wrong — adults will love these easy Easter desserts too. You don't need to be a child to love fun Easter goodies.
Kid-Friendly Easter Desserts
Many of these recipes are kid-friendly too. So bring the kids into the kitchen and have them join in and help prepare them.
Cooking with the kids in the kitchen is such a great way to make memories that will last a lifetime.
30+ Easy Easter Desserts for Kids
Below you will find over 30 cute and easy-to-make Easter desserts for kids. They don't call for a ton of ingredients, and many are even no-bake recipes as well.
Check out my easter dessert ideas story as well.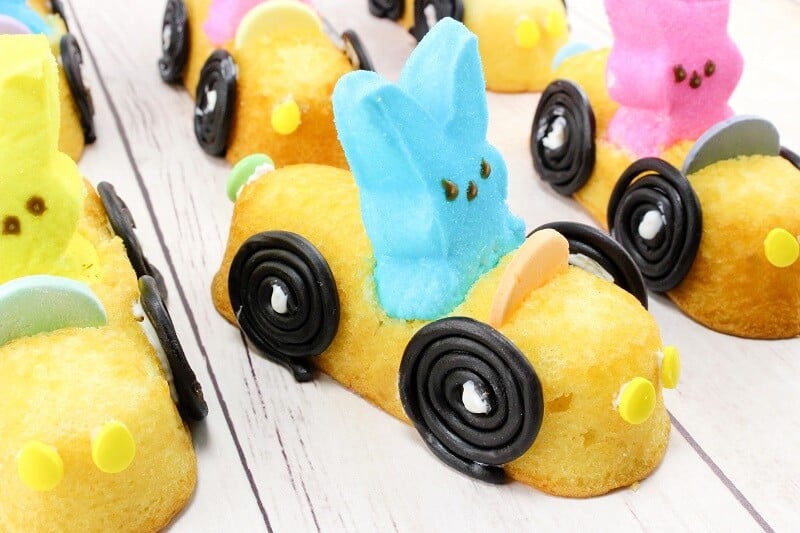 No list of Easter desserts would be complete without a few Peeps treats. And it doesn't get much cuter than these Peeps Bunny Mobiles.
Made using Twinkies, Peeps, licorice, Necco wafers, M&Ms and sprinkles, they are more of a fun food craft than an actual recipe. With no actual cooking or baking necessary — aside from microwaving candy melts — these are one of my favorite no-bake Easter desserts.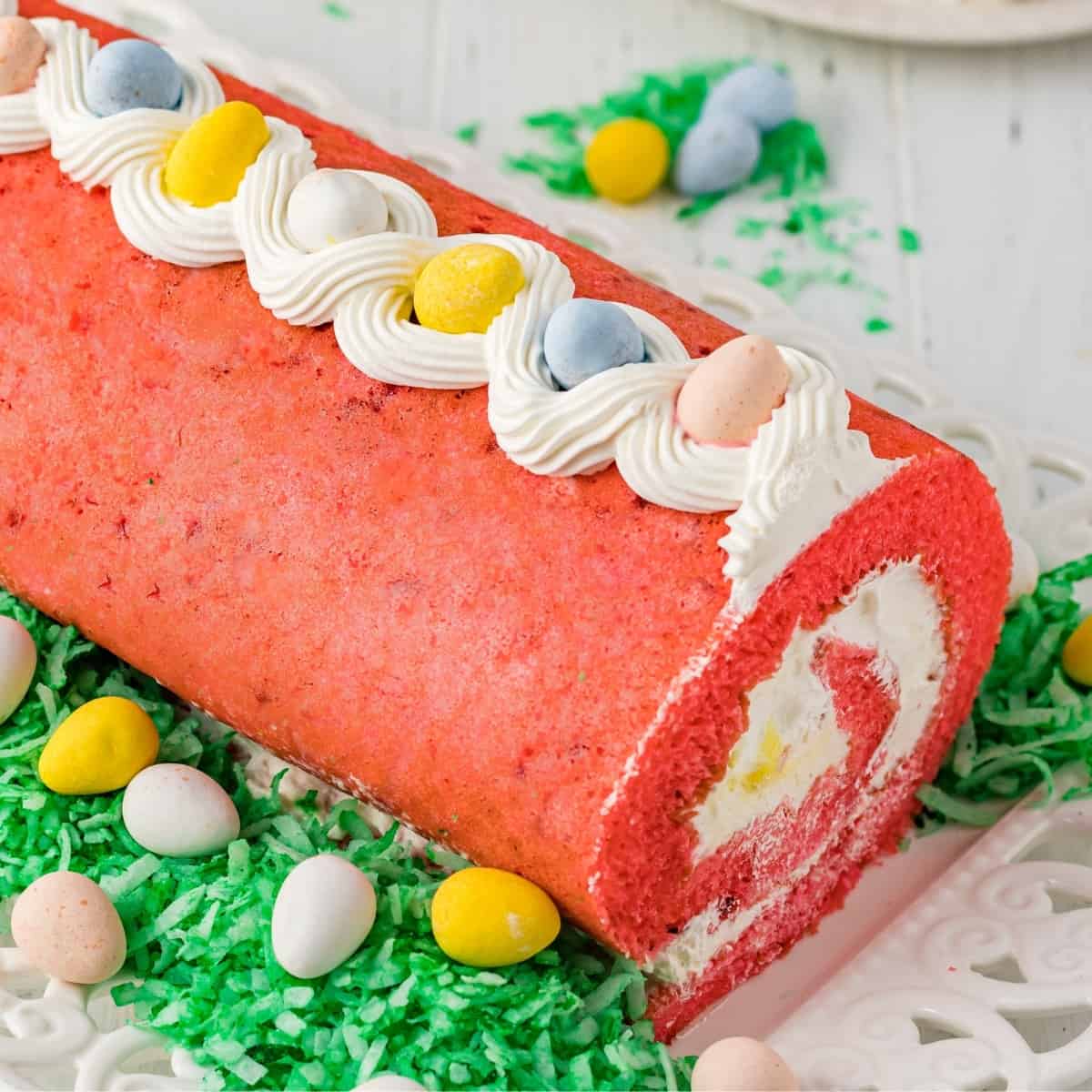 This bright and festive Easter cake roll is a sweet and fruity Easter cake filled with a whipped cream filling and surprise sprinkling of mini egg chocolate candies.
Make this beautiful Easter cake in just 30 minutes by using a strawberry boxed cake mix as your base.
From Kids Activity Blog
Turn a batch of classic Rice Krispies Treats into colorful Easter eggs with this easy Easter recipe.
Have the kids decorate their own Easter Egg Treats for even more fun!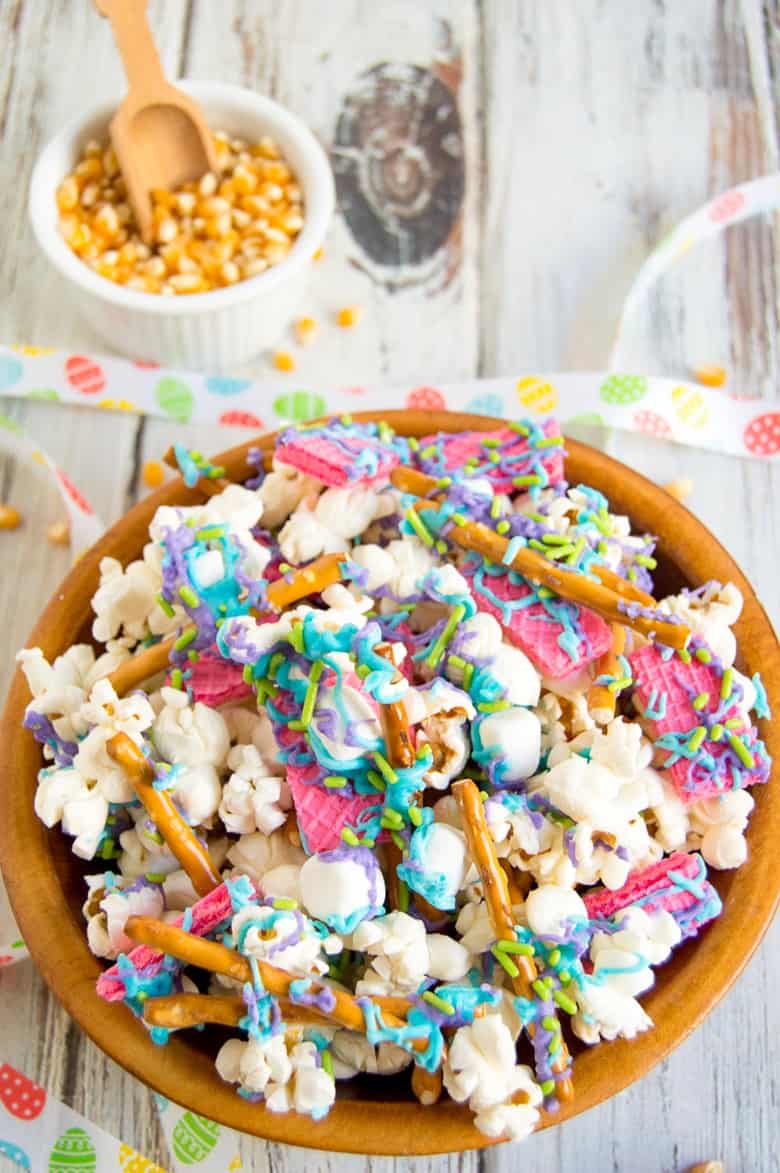 Kids and adults alike will love this this "bunny bait" popcorn snack mix.
It's loaded with bright spring colors and is the perfect combination of sweet and salty.
If you would prefer a snack mix made without popcorn, try this tasty puppy chow version.
Don't forget to leave some out for the Easter Bunny!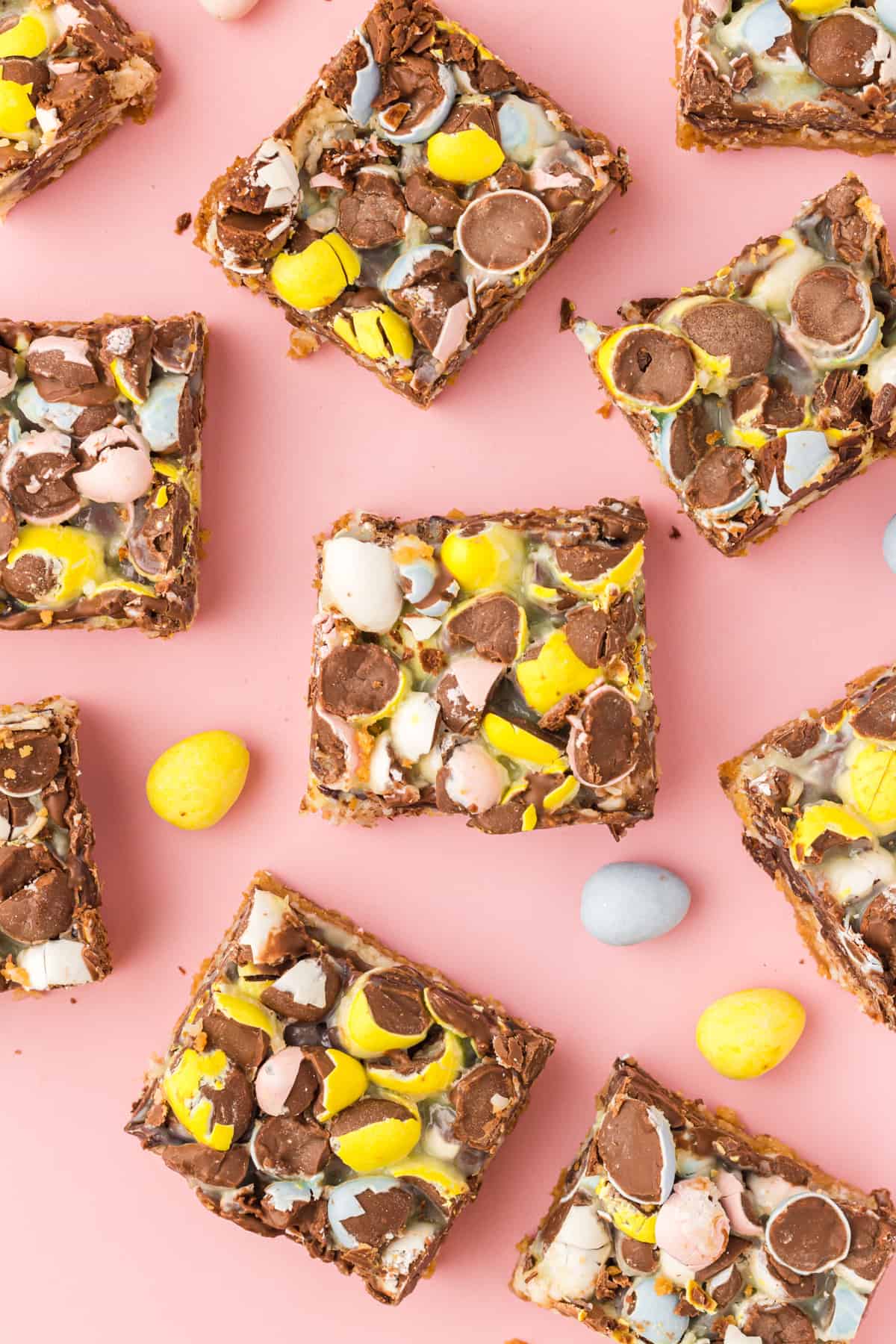 Easter Magic Cookie Bars are a heavenly, gooey Easter dessert made with a golden oreo cookie crust, sweetened condensed milk, and layers of shredded coconut, chocolate chips, and mini eggs.
The chewy easter cookie bars are easy to make, packed with flavor, and always a hit at Easter parties.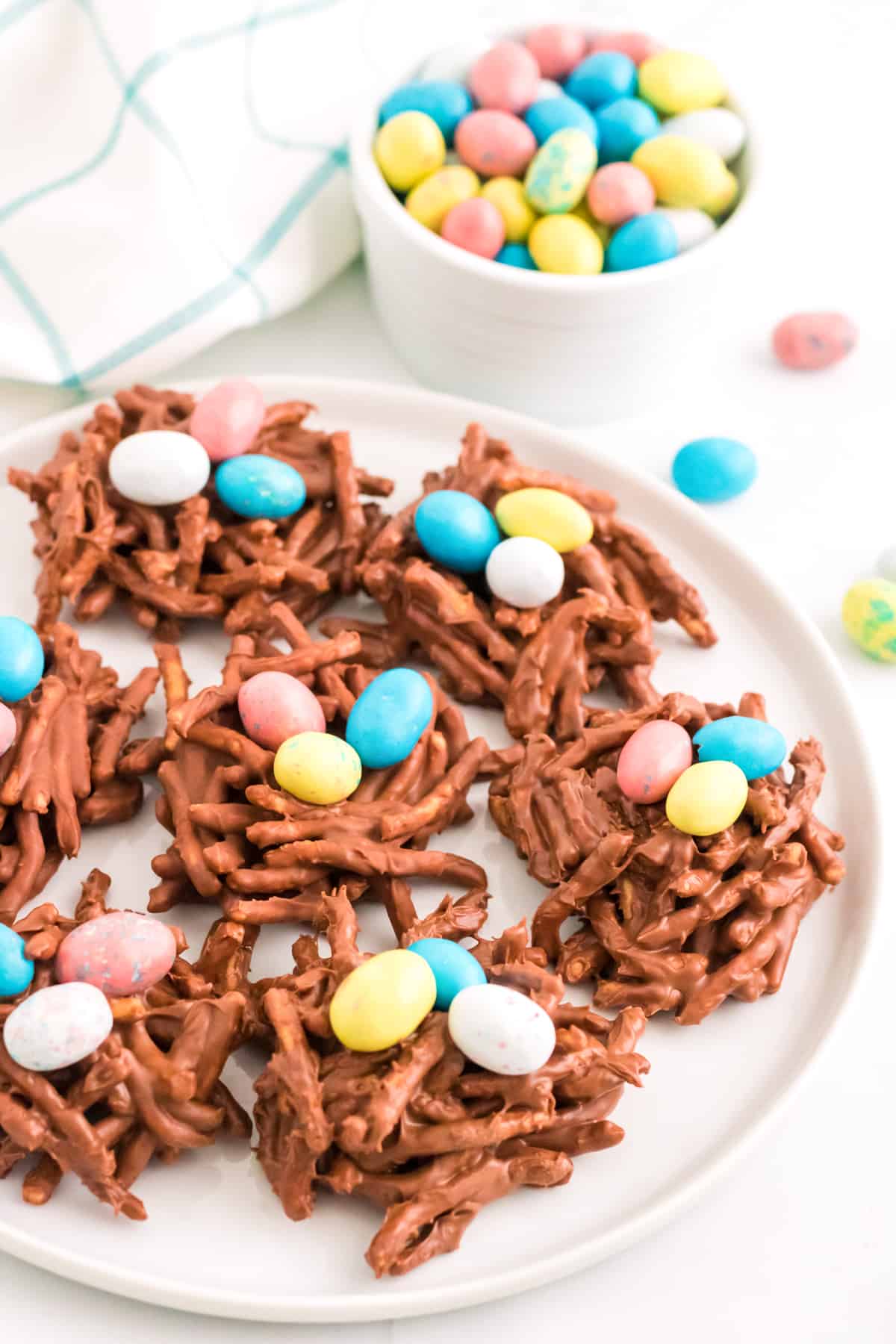 Birds nest cookies are an easy no-bake Easter treat made in just 20 minutes with just four simple ingredients: chow mein noodles, chocolate chips, butterscotch chips, and mini egg candies.
They taste like crispy, chocolatey perfection!
From Simple Everyday Mom
These may just be the most adorable Easter cookie for kids. EVER!
This easy recipe will show you, step-by-step, how to transform store-bought sugar cookie dough into these cute Easter chick cookies.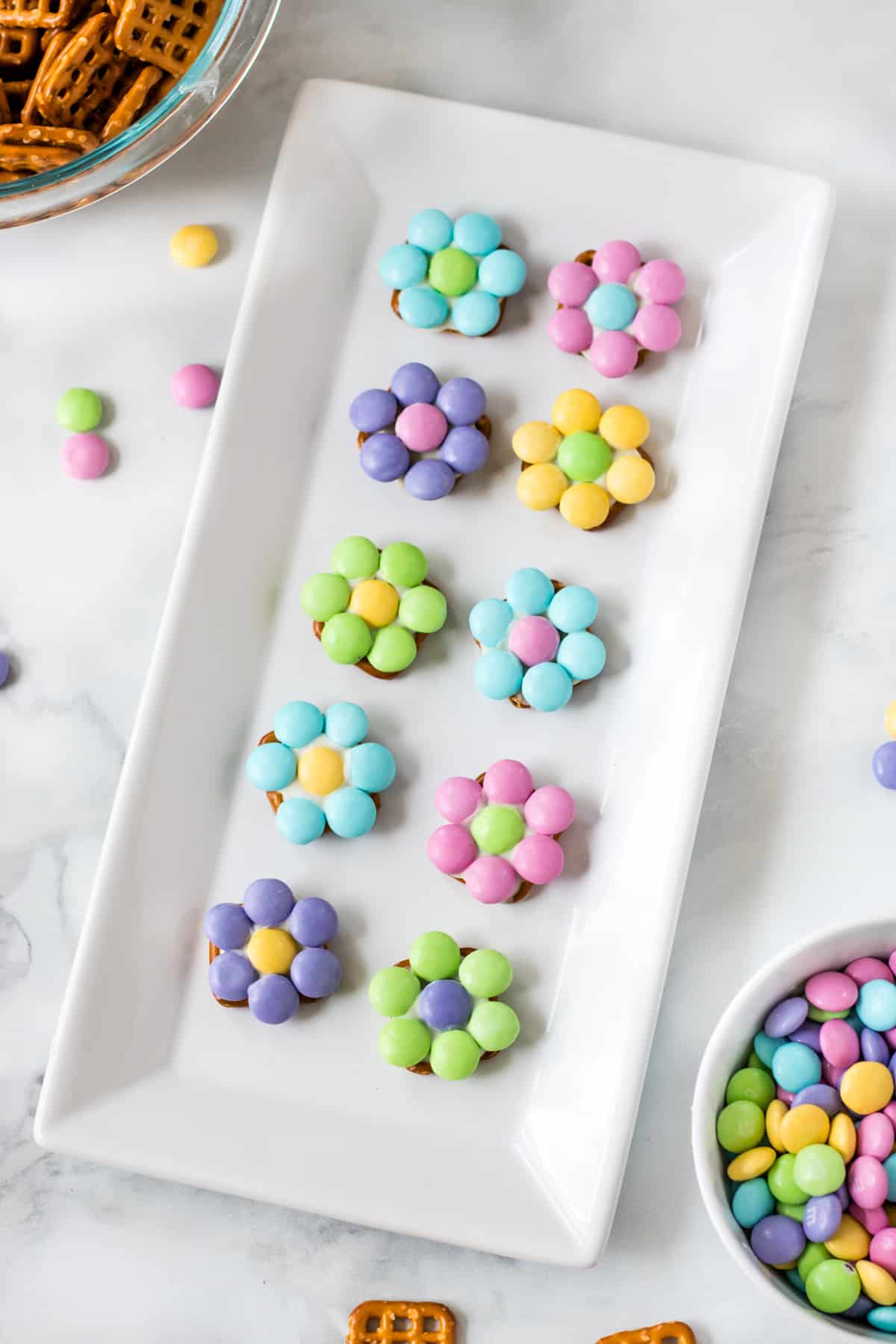 These beautiful pretzel flower bites are easy-to-make using just 3 ingredients: snap pretzels, white chocolate melting wafers, and Easter M&Ms.
The pastel colors make these salty-sweet treats perfect for Easter.
Who says that chocolate bark is just for Christmas?
Made with pretzels, candy eyes, candy ears, pink jelly beans, and white chocolate melts, this adorable Easter bunny bark makes a perfect Easter dessert.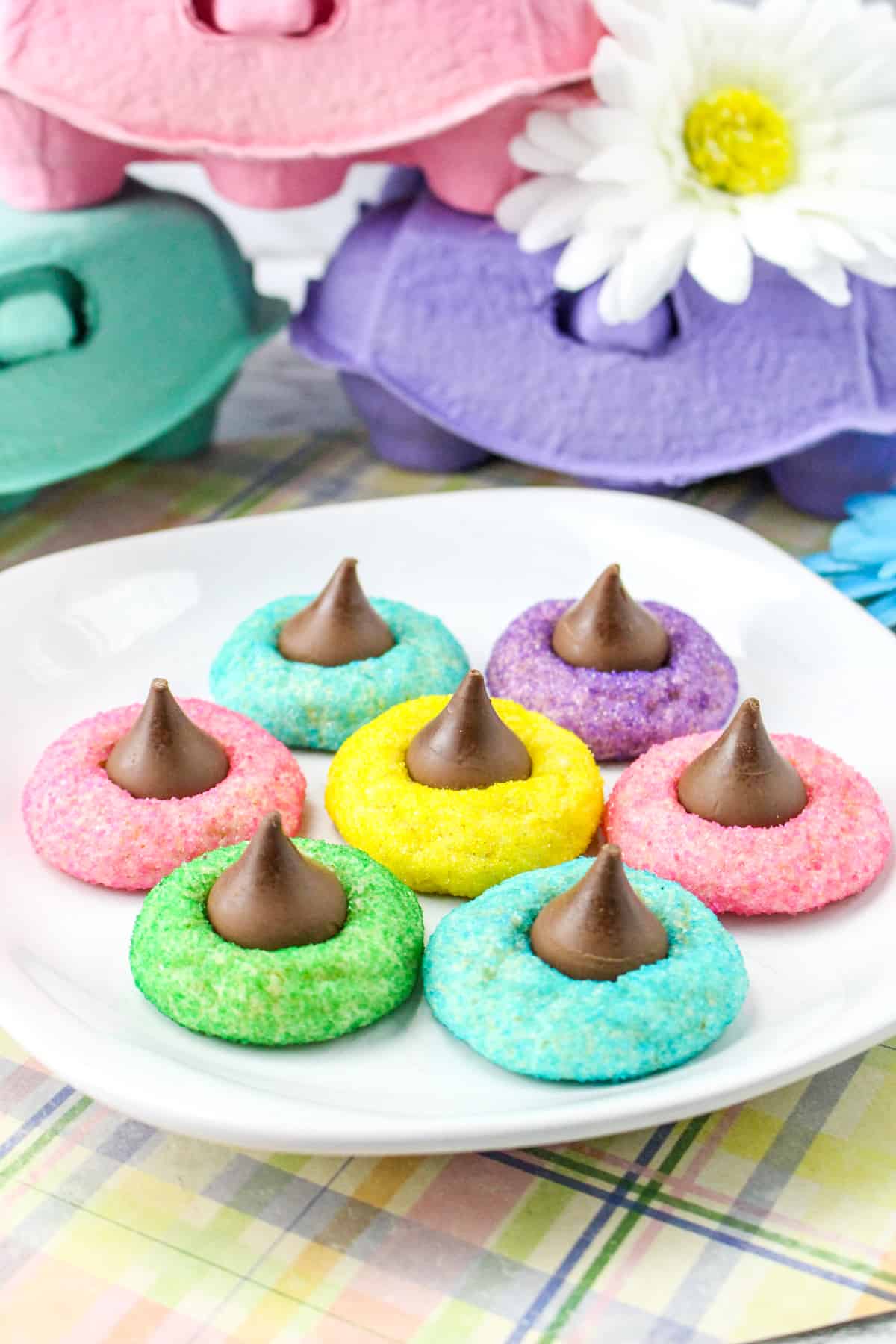 These beautiful pastel cookies are a colorful, festive twist on classic blossom cookies.
A soft and chewy sugar cookie base is rolled in colorful sugar, baked to perfection, and topped with a Hershey's kiss to create these beautiful and tasty Easter cookies.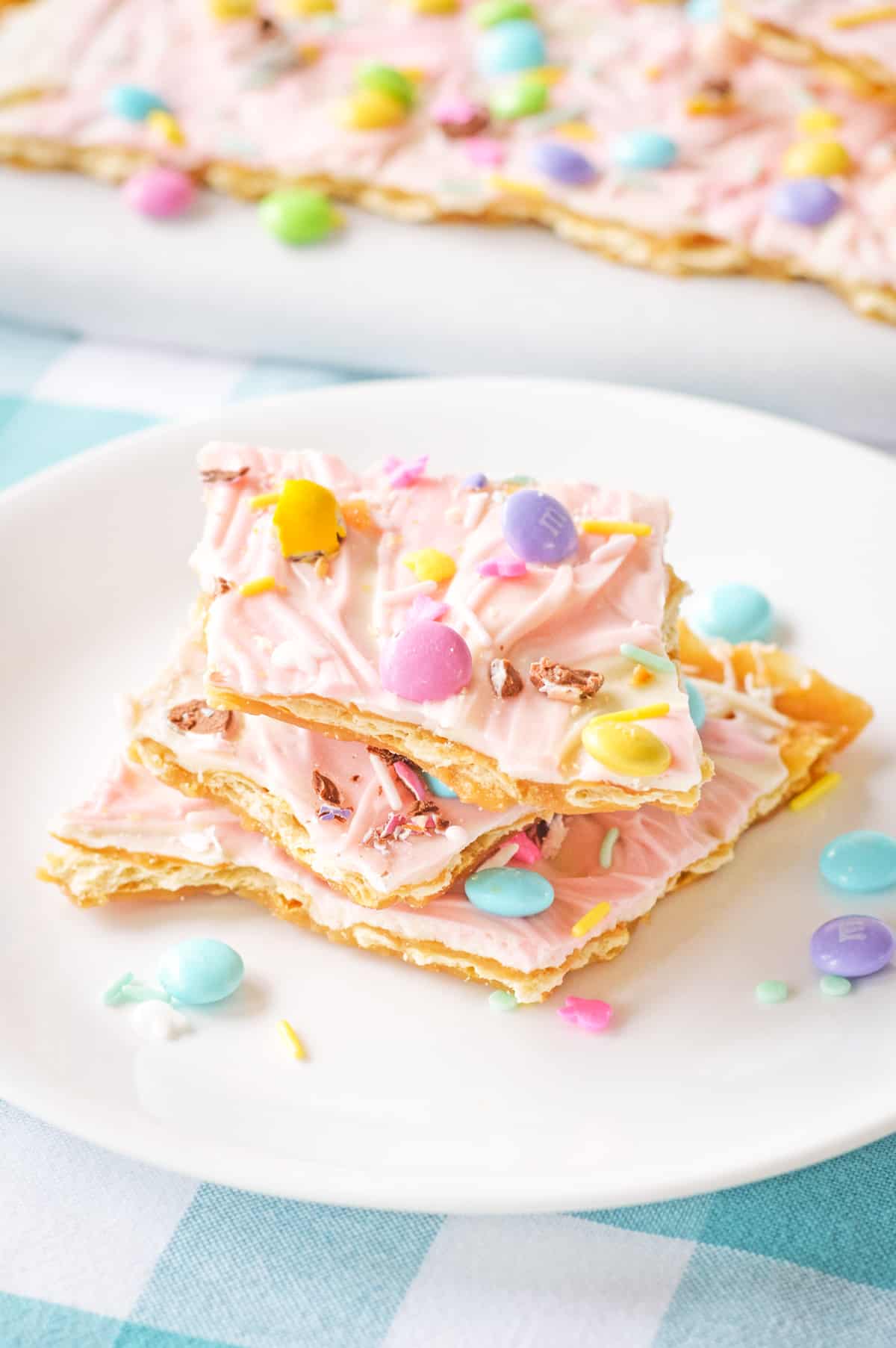 This pretty pink bark is an Easter twist on classic saltine toffee made with white chocolate and topped with Easter M&Ms, mini eggs, and festive sprinkles.
Everyone will love this salty-sweet and festive easter treat, and you will love how easy it is to make.
Easter Muddy Buddies are the perfect homemade Easter snack mix. Chex cereal, pretzels, white chocolate, Funfetti cake mix, and colorful Easter candies come together to make this sweet and salty treat.
Plus, the kids will love getting in the kitchen and helping make the easy no-bake recipe.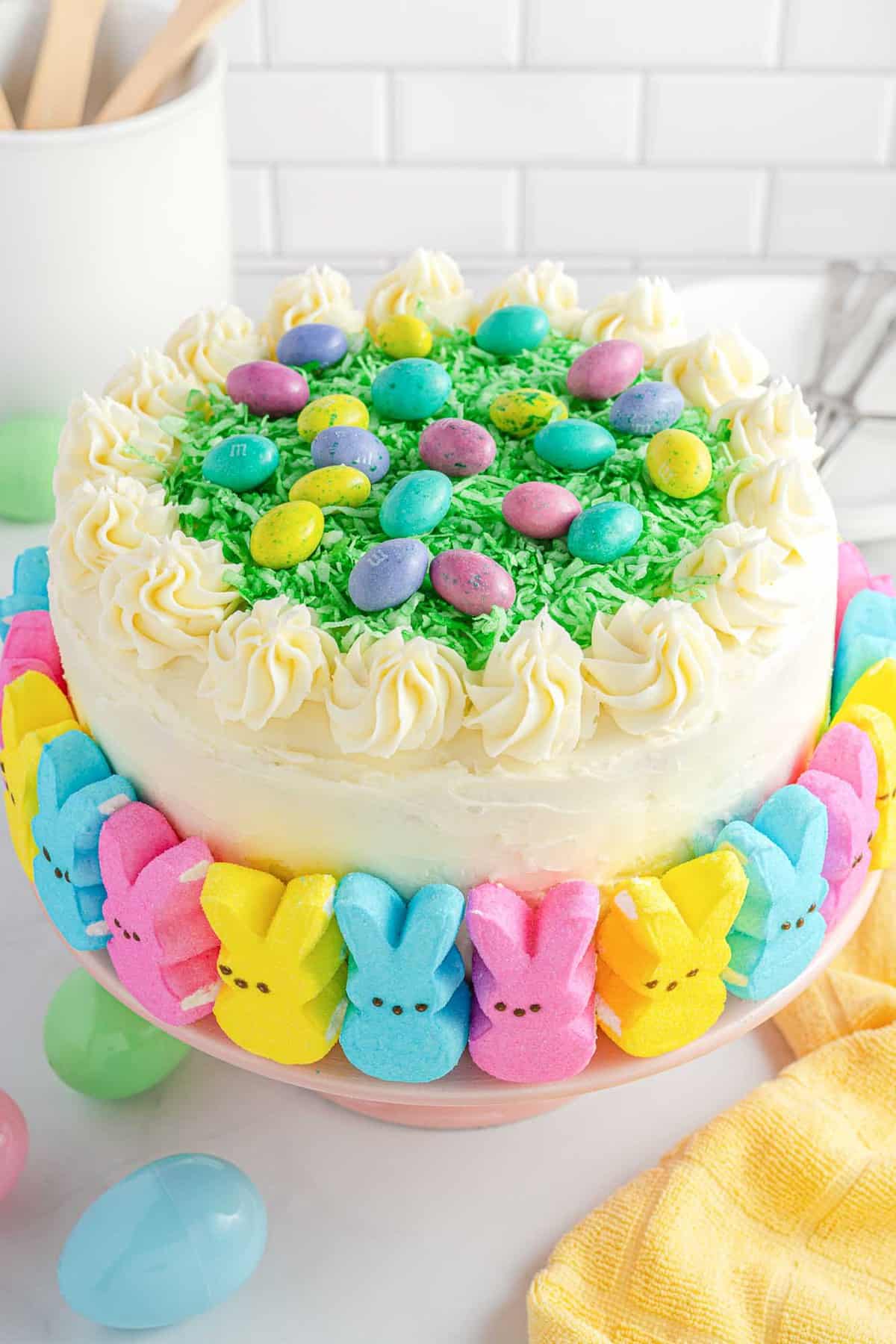 This beautiful Easter layer cake will be the start of your desert table. It is almost too beautiful to eat!
Not only is the three layer cake decorated with green shredded coconut, colorful Peeps, and candy eggs, but it also has a colorful surprise inside that you will only see once the cake is sliced.

From Squirrels of a Feather
Kids love Jello. It is colorful, jiggly, and tastes yummy. These bright and colorful Jello eggs are going to be loved by all the littles at your Easter celebration.
No egg mold? No problem! The recipe also shows you how to make your own egg mold step by step.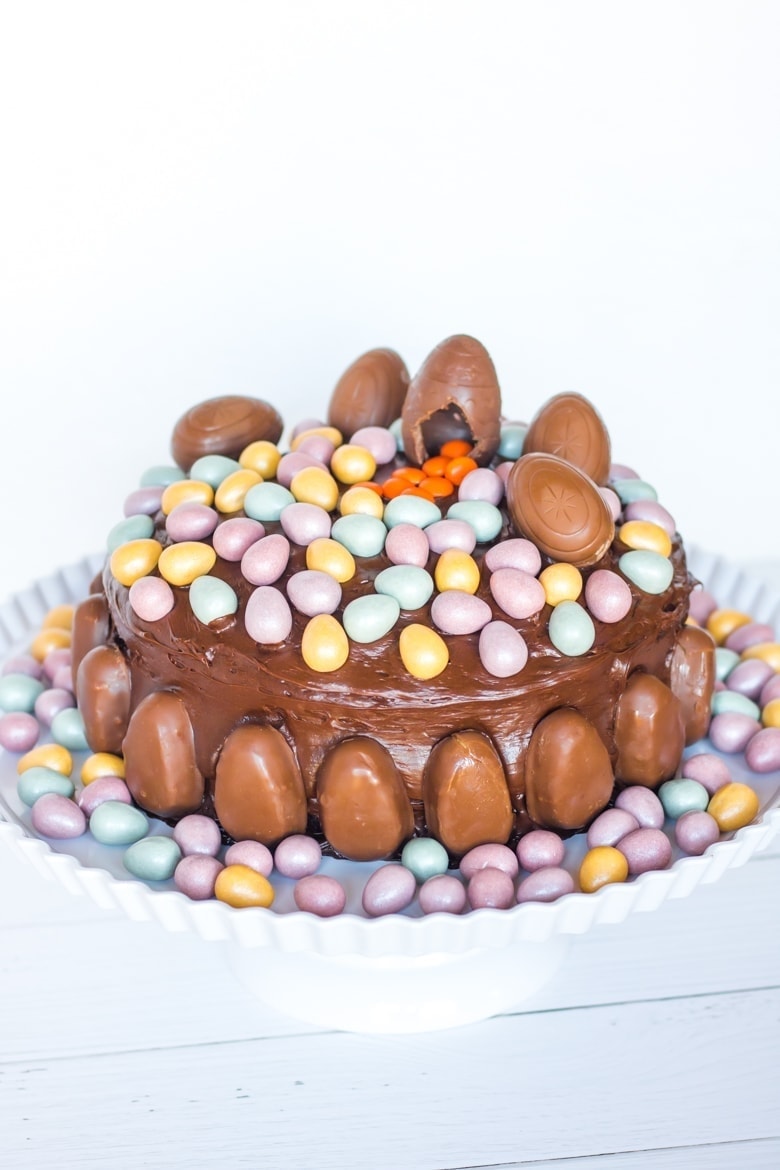 A delicious chocolate layer cake topped with all your favorite Easter candy: Cadbury Eggs, REESE'S Eggs, and Cadbury Shimmer Mini Eggs. Yum, yum, and yum!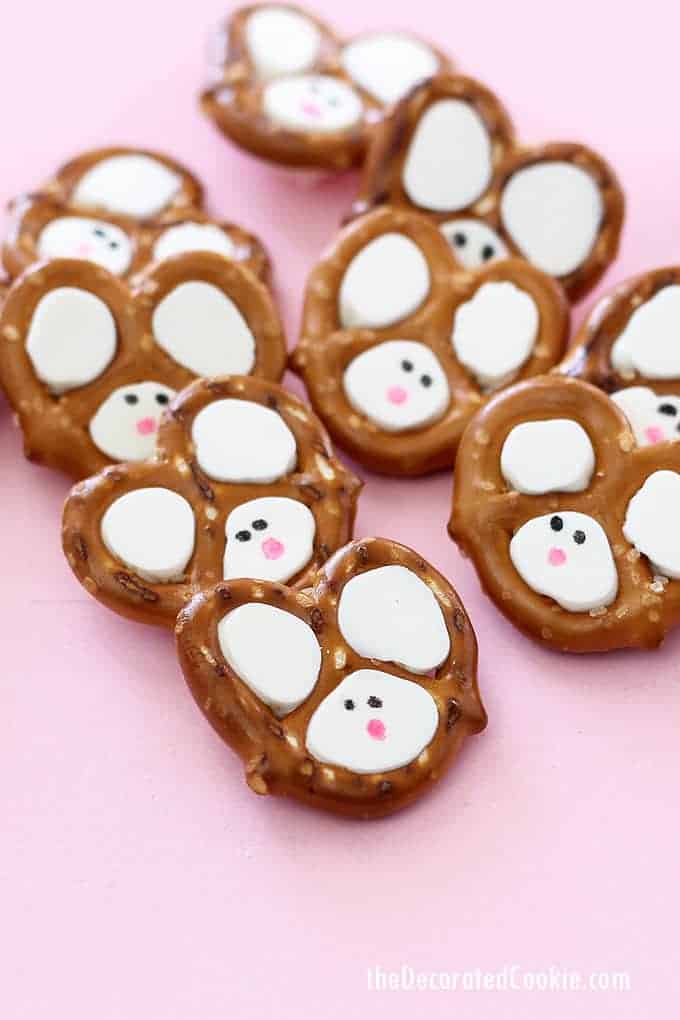 From The Decorated Cookie
These bunny pretzels aren't simply easy — they are SUPER EASY. And super cute, too.
Plus, they have that salty sweet combo that everyone loves.
I can assure you that the kids and adults will be coming back for seconds once they get a hold of these sweet Easter treats.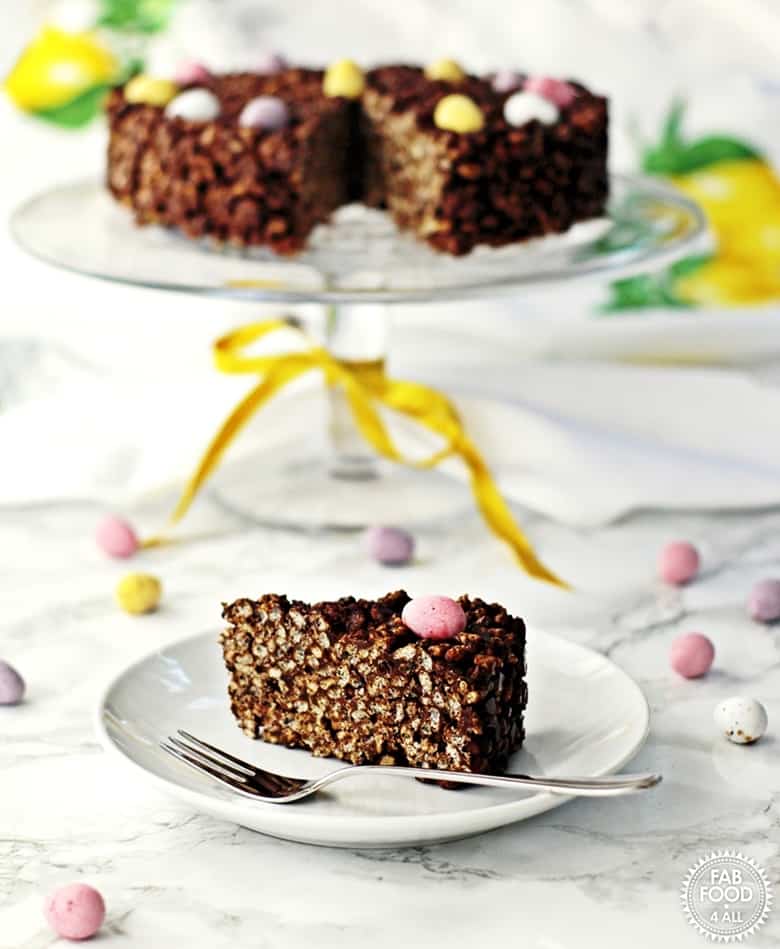 From Fab Food 4 All
This beautiful cross between rice crispy treat and cake will be the star of your dessert spread on Easter Sunday.
Plus, this Easter cake is no-bake and easy to make as well!
How stinkin' cute are these vanilla cupcakes with colorful Peeps bunnies popping out like they are playing peek-a-boo? These cupcakes have been a reader favorite here at Crayons & Cravings for years.
You can make the cupcakes from scratch, or use a box mix for a short cut. Then it is as simple as decorating your cupcakes with green frosting, candy flowers, and of course Peeps!
From Down Red Bud Drive
Chocolate covered OREO cookies have always been a favorite of mine. SO GOOD.
These chocolate covered OREOs are cleverly transformed into Easter Eggs with a little bit of decorating.
How fun would it be to make a tray and let the kids decorate their Easter Egg OREO cookies themselves?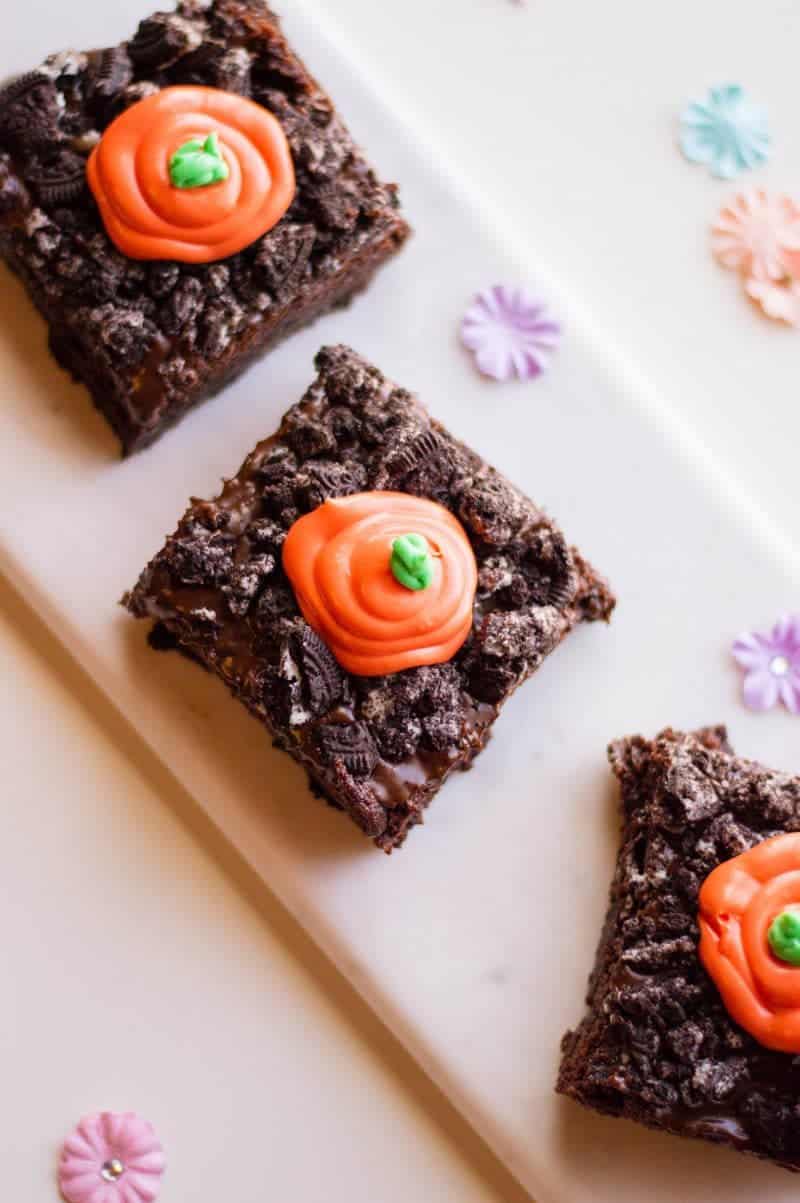 Carrot Patch Brownies are a chocolatey and delicious Easter treat. They are perfect to make for dessert on Easter, or for any Spring gathering.
Instead of making the brownies from scratch as the recipe is written, you can easily use a store bought brownie mix instead to make the recipe even easier.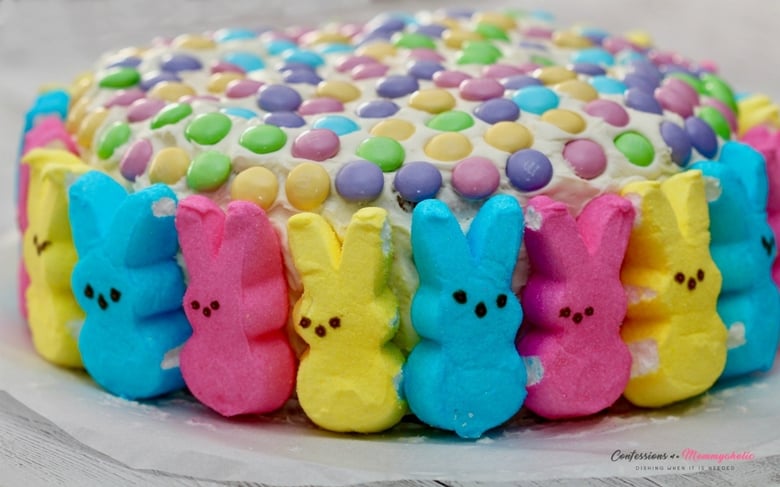 From Confessions of a Disney-Aholic Mom
I love how bright and colorful this Peeps cake is — totally perfect for Easter. Plus with only 4 ingredients, it is truly simple to max.
This cake is an example of how a little bit of decorating can transform a regular cake to a festive Easter cake in no time.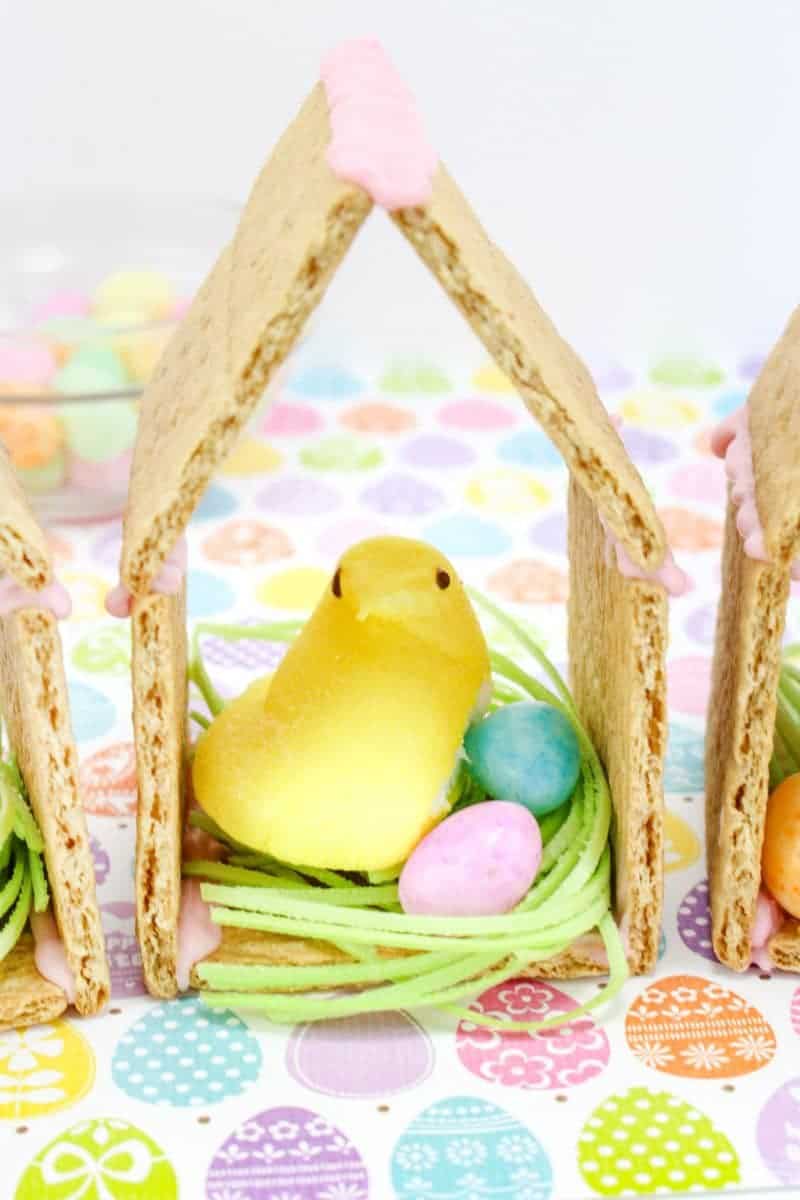 Peeps chicks houses are another easy no-bake Easter treat idea.
Made using Peeps Chicks, graham crackers, egg candies, and edible grass, this cute Easter desserts are perfect to make with the little ones.
From Beyond Frosting
I can't wait to make these super cute Easter bunny brownie truffles.
They are the kind of Easter dessert that is perfect to make for the kids at your Easter party. These Easter brownies are decorated to look like adorable fluffy bunny rabbits — how cute!
While not actually a recipe at all, this Easter treat is essentially a craft.
Made using store-bought pudding cups, these Easter pudding cups are a fun Easter craft to make with the kids. You could even make them to hand out in the classroom or to line up on the dessert table at your Easter party.
From Snappy Gourmet
Bark doesn't have to be reserved for Christmas. This delicious bark recipe combines two kinds of chocolate and malt Robin Eggs for a treat that any chocolate-lover will approve of.
And with only 3 ingredients, it really doesn't get any simpler!
Adorable iced sugar cookies that are made to look like a bunny' behind!
Make these fun Easter cookies using store bought sugar cookie dough to save some time and make the recipe easy peasy. You can even find pre-made royal icing in more grocery stores as well. Gotta love a good shortcut!
From The Decorated Cookie
Dessert dips are always a hit at parties, and this Peeps bunny dip will be no exception.
With just 2 ingredients, it doesn't get much easier than this Peeps s'more dip!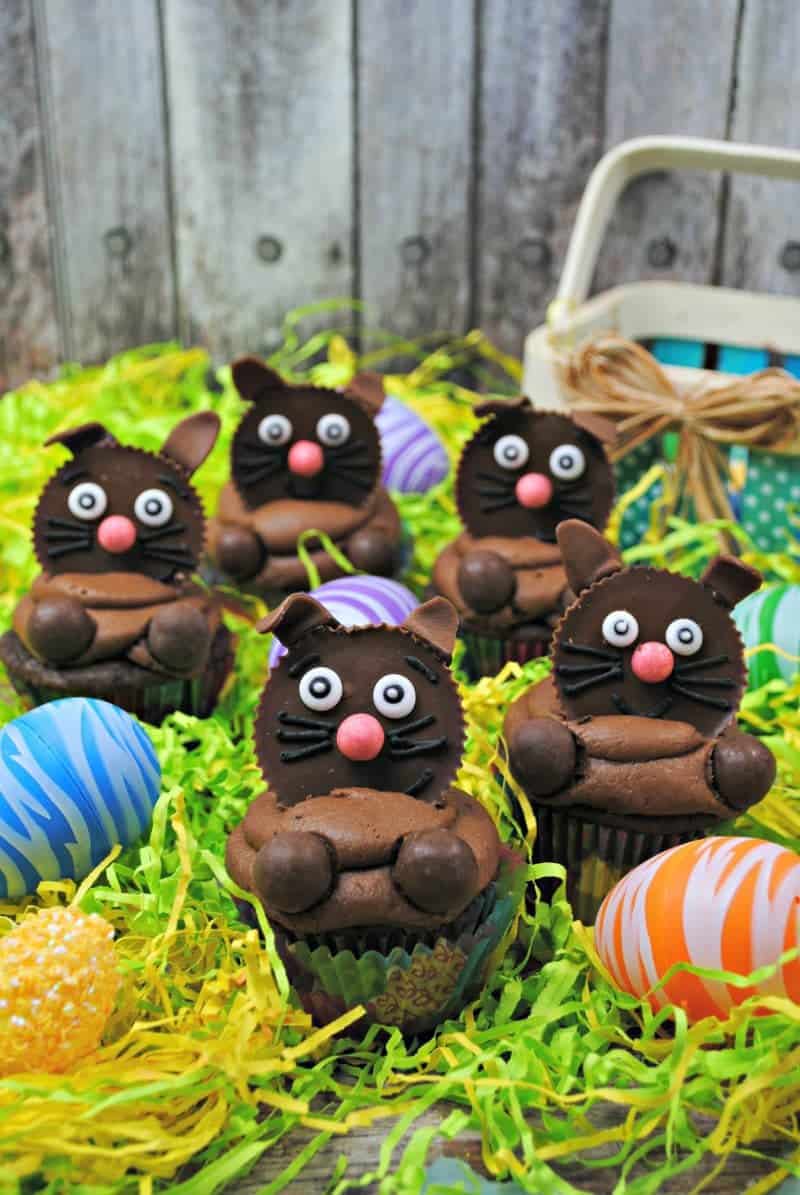 Oh my goodness, those little bunny faces are almost too cute.
These fun Easter bunny cupcakes are one of the first Easter recipes I shared on this blog, and they have since been a hit with readers each year when Easter rolls around.
Use a boxed chocolate cake mix and store-bought icing to make this Easter cupcake recipe sure simple. Gotta love a good shortcut!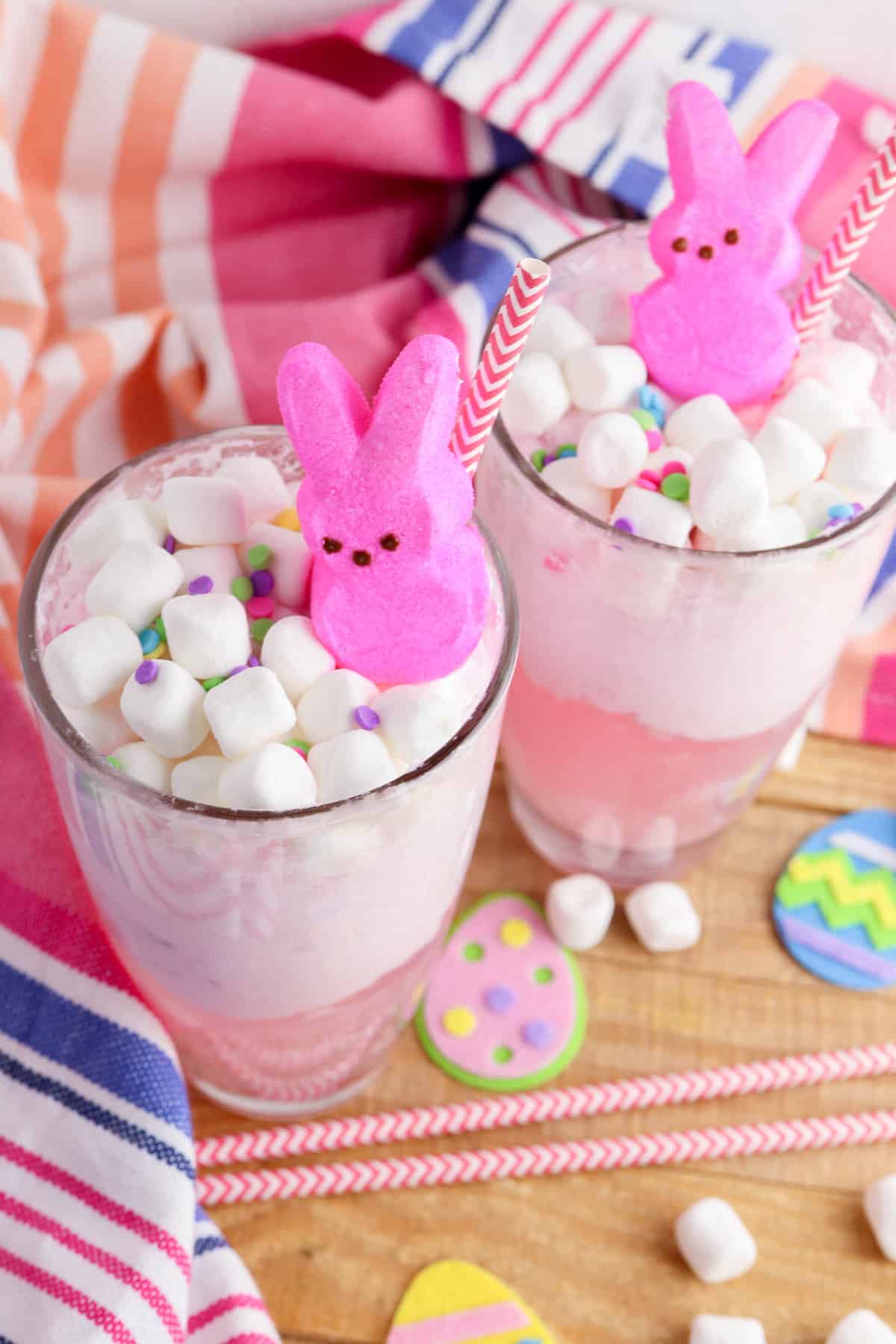 This festive Easter punch is made with ice cream, marshmallows, and peeps so I think it is safe to consider it both a beverage and a dessert. Sort of like an Easter version of a root beer float.
The easy recipe combines sweet strawberry lemonade, creamy strawberry ice cream, and fizzy soda and then tops the pretty pink drink with mini marshmallows, sprinkles, and a colorful peeps bunny.
Give the festive drink a try– it is the perfect dessert drink for Easter celebrations!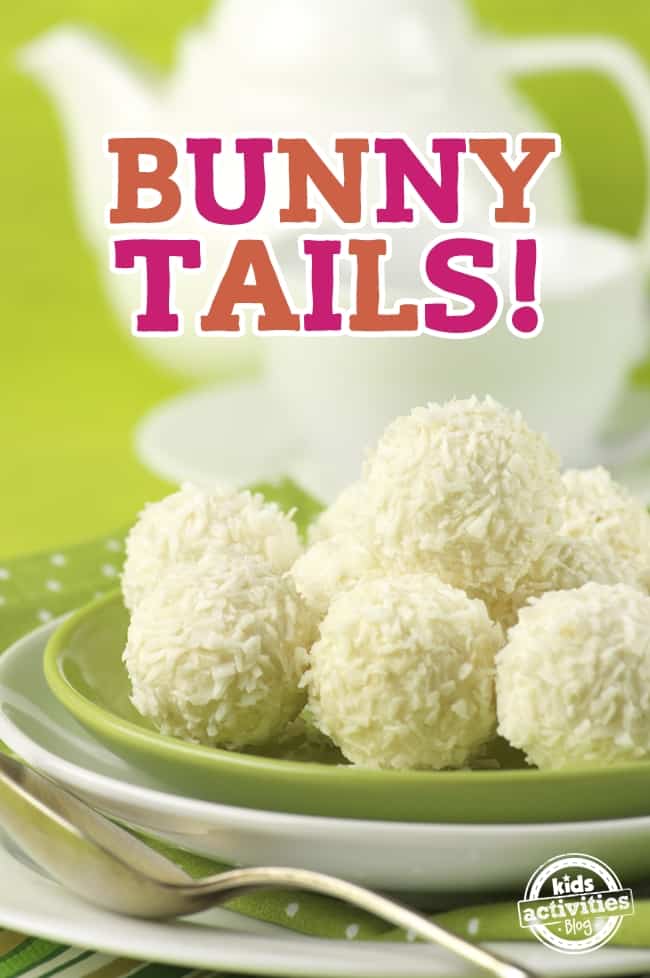 From Kids Activity Blog
These fudgy lemon coconut flavored treats are designed to look like bunny rabbit tails. SO CLEVER!
This kid-friendly bunny tails recipe will get the kids involved in the kitchen making these tasty treats.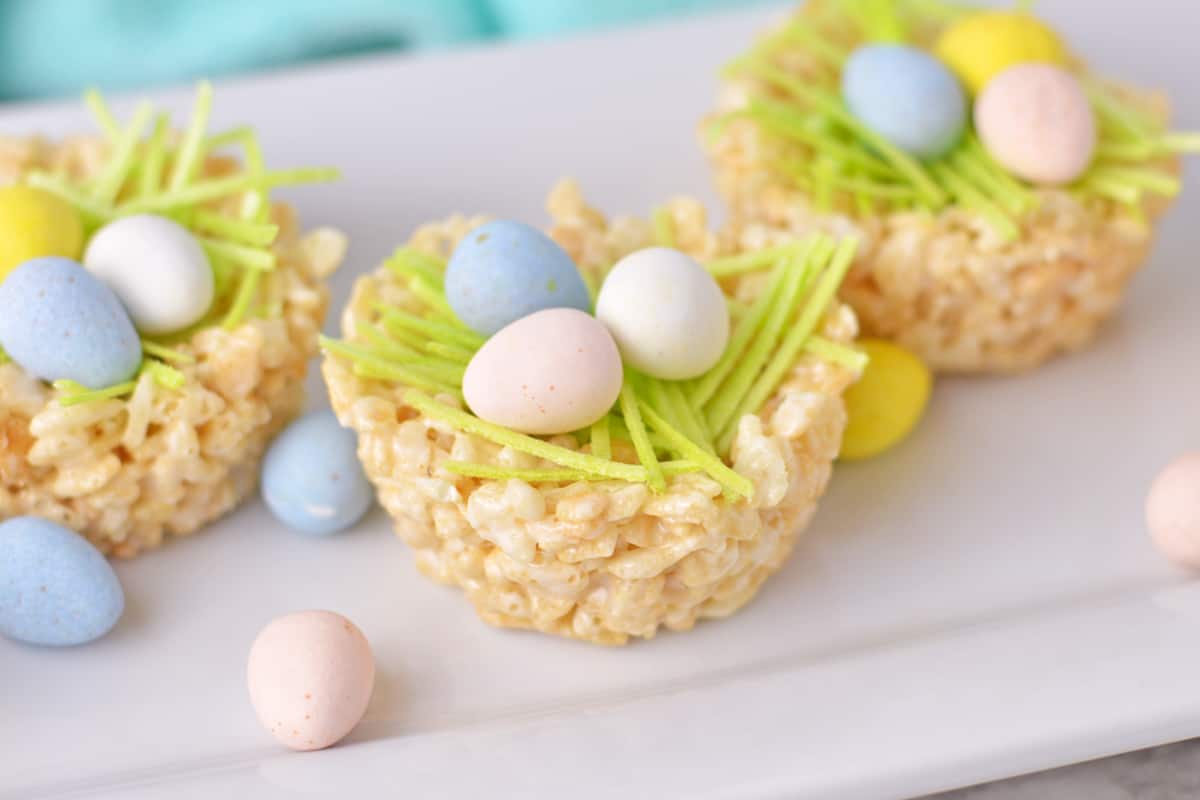 Easy no-bake Easter nests make a perfect Easter dessert. And you can't deny how super adorable they are!
We filled our birds nests with green edible grass, but you could also fill them with green icing like Almost Supermom does here.
From Thrifty Jinxy
These chocolate covered pretzels are topped with Peeps bunnies for a truly adorable Easter treat. And you can't beat how easy this Easter treat is to make — no oven required.
From Savvy Mama Lifestyle
With little "carrots" poking out of the top, the children will get a kick out of these chocolate pudding cups. And you will love how easy they are to make, with no baking required.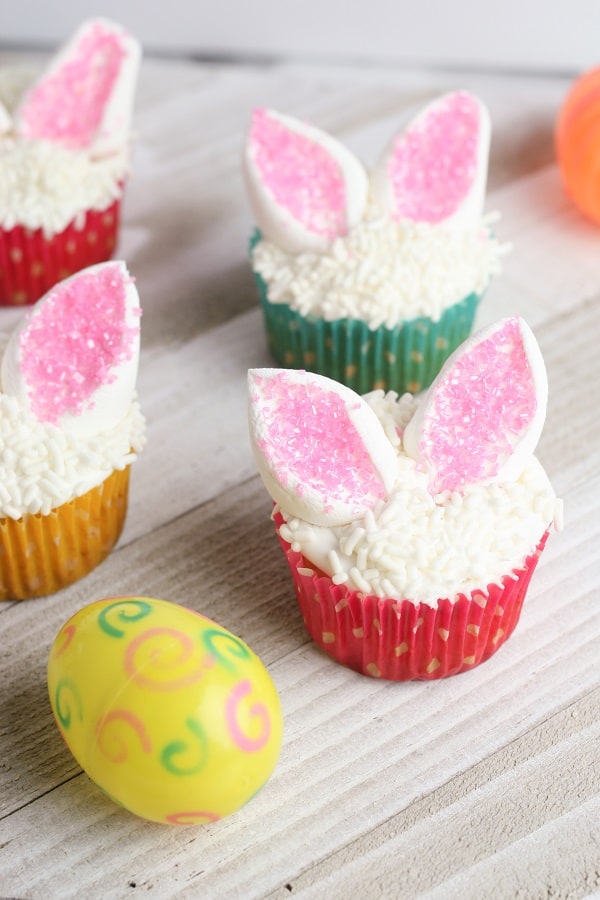 From Moore or Less Cooking
Everyone will love these sweet bunny ear cupcakes. Made using store bought cake mix and icing, they are nice and easy to make. They key is the decorating, which only requires 3 ingredients!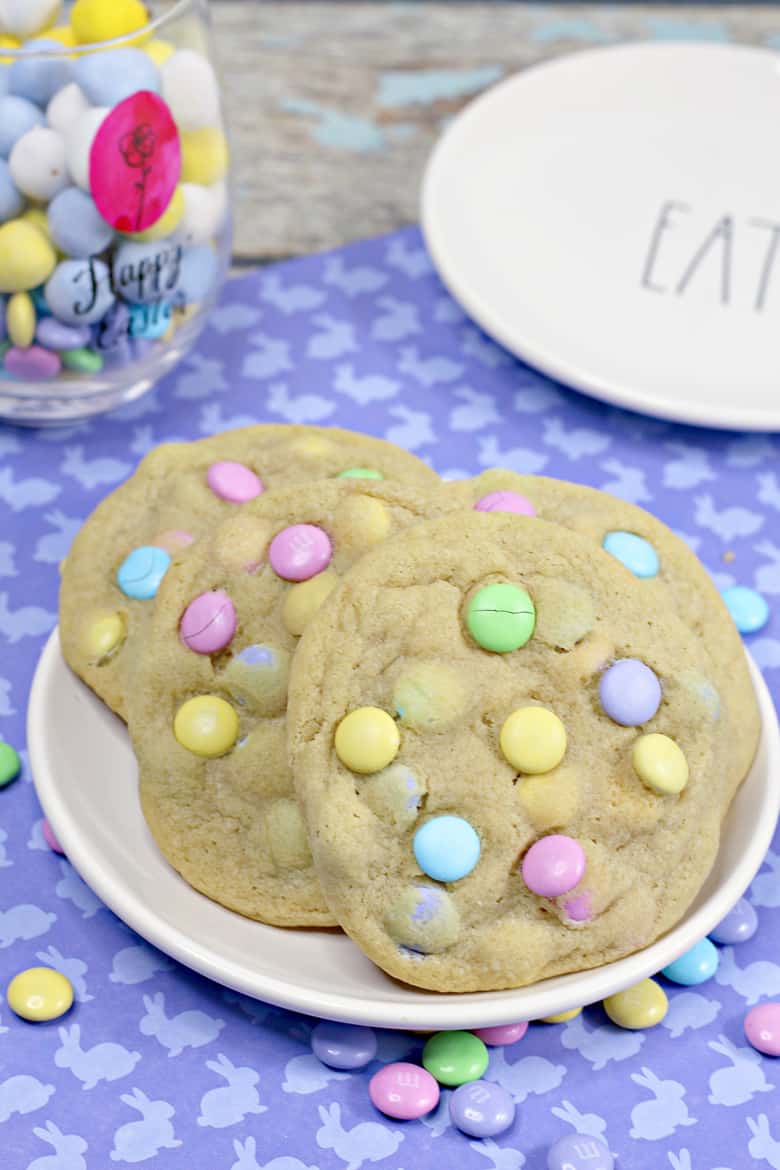 The combination of milk chocolate M&Ms and chewy cookies is hard to resist. You can choose to make these jumbo cookies from scratch using the recipe provided or use premade sugar cookie dough as a shortcut.
From Slap Dash Mom
These Easter Basket cupcakes are another great example of how a little bit of decorating and transform a cupcake into a festive holiday dessert.
I am actually thinking of making these cute Easter basket cupcakes for my family this year — they are so cute that I can't resist!
From Building Our Story
If you are looking for an Easter treat that is a bit more nutritious, you should consider making these chocolate covered strawberries.
These berries are transformed into adorable little carrots by dipping them in orange chocolate.
This is the kind of Easter dessert that the adults will love as much as the little ones — I mean who doesn't love chocolate covered strawberries?
From Finding Zest
How cute are these little pudding parfait Easter desserts? They are simply precious!
This no bake Easter dessert will be raved about by the kids and grown-ups on Easter.
From This N' That With Olivia
Who can resist that cute bunny face?
This recipe is pretty kid-friendly as well. The kids can help use cookie cutters to cut the sugar cookies out of the dough. Then after they are baked, they can help decorate their cookies as well.
From Thrifty Jinxy
As someone who has a thing for butterflies, I knew that I have to include these pretty butterfly cupcakes in my list of the best Easter desserts.
These cute butterfly cupcakes are yet another great example how with a little bit of decorating, plain 'ol cupcakes can be transformed into festive holiday desserts.
From Grits and Pinecones
This no-bake cheesecake dip is easy to make, and great for the kids on Easter. The kids will love dipping graham crackers or cookies into this fun and festive Easter dip.
From DIY Candy
Another cheesecake-flavored goodie for all my cheesecake-lovers out there.
These tasty and beautiful Easter egg cheesecake desserts will look great on your dessert table this Easter.
From My Heavenly Recipes
Turn a box mix cake into an adorable Easter bunny cake with this easy recipe. The kids will love helping to decorate their Easter bunny cake.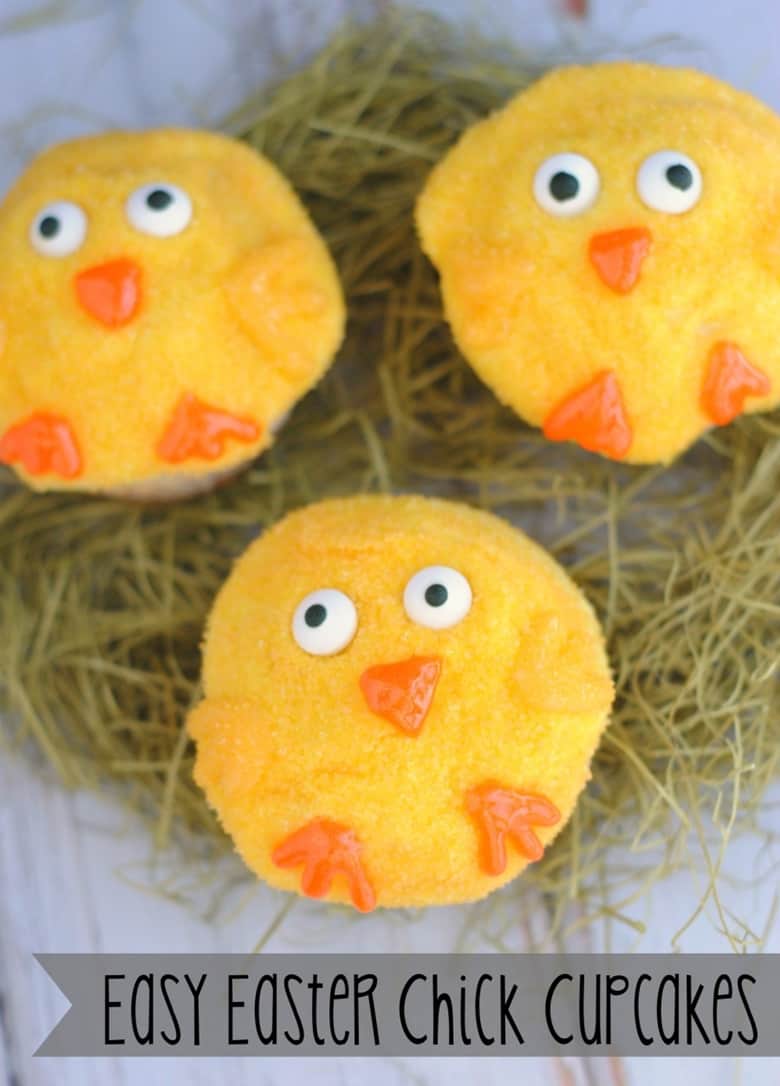 From Not Quite Susie Homemaker
No one at your Easter party will be able to resist these cute little chick faces.
These easy Easter cupcakes for kids are made using boxed mix and packaged frosting. Then, they are decorated to look like little chicks with just a few common ingredients.
From Not Quite Susie Homemaker
Yes, another rice treat Easter idea… but this time topped with Peeps chicks! So fun!
From Totally the Bomb
This Peeps-pack trail mix is perfect for Easter. With only 5-ingredients, it is nice and easy to make as well.
From Almost Supermom
I have another easy Easter dessert idea made using Rice Krispies for you. These colorful Easter eggs can be filled with jelly beans or other candies as a fun surprise that the kids will get a rick out of.
From Almost Supermom
These copycat Reese's Peanut Butter Cup Easter Eggs are sure to be a hit. Who can deny that classic peanut butter and chocolate combination? I know I can't!
From Almost Supermom
Ice cream cone desserts are always fun, but these 5-ingredient bunny cones are super awesome. The kids will be excited to find a secret surprise at the bottom of the cones.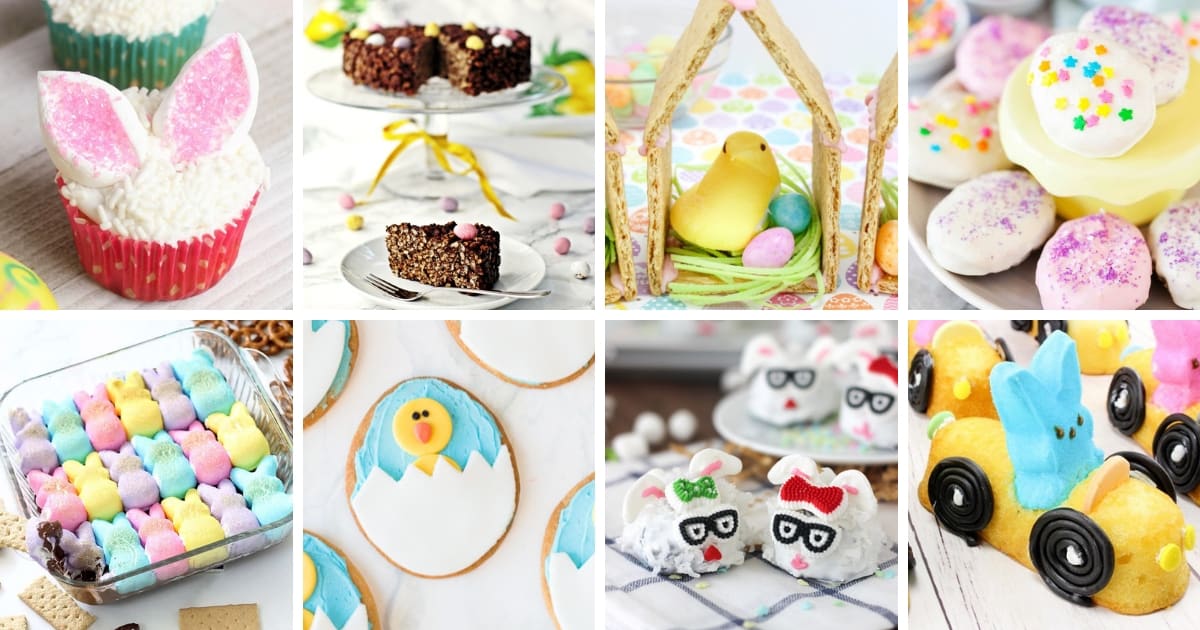 I hope that you will love these easy and adorable Easter desserts as much as I do.
Enjoy and have a very happy Easter!
First Published: March 21, 2016.
Updated: March 23, 2019.