These vanilla Peeps cupcakes make the perfect Easter dessert recipe. The little ones are sure to love this Easter bunny inspired treat!

Peek a Boo Peeps Easter Cupcake Recipe
I can't believe that Easter is already just around the corner. How did that happen?!
Today I wanted to share this super cute Peek-a-Boo Peeps Easter Cupcake recipe with you.
The kiddies will love these cupcakes, as I am sure they will get a kick out of the colorful bunnies playing peek-a-boo with them.
If you want to make the recipe even easier, you can opt to use a boxed cake mix for the cupcakes rather than make them from scratch. The choice is entirely yours and it won't make a huge difference either way.
Also, I went ahead and added links for those more difficult to find / specialty items right below the recipe in case you want to order them.
I hope that you are the kids enjoy these fun Peeps cupcakes! They are seriously one of my favorite Easter dessert recipes!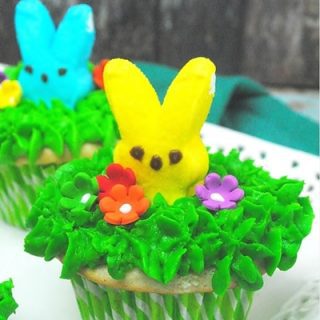 Peek-a-Boo Peeps Easter Cupcakes
These vanilla Peeps cupcakes make the perfect Easter dessert recipe. The little ones are sure to love this Easter bunny inspired treat!
Ingredients
Vanilla Cupcakes:
1 cup sugar
1 ¾ cup flour
1 ½ tsp baking powder
½ tsp baking soda
½ tsp salt
1 stick unsalted butter, room temperature
2 eggs, room temperature
⅓ cup sour cream
1 tbsp vanilla
⅔ cup whole milk, room temperature
Frosting:
1 cup unsalted butter, softened
4+ cups powdered sugar
4 tbsp heavy whipping cream
Easter Marshmallow Peeps Bunnies
Green gel food coloring
Wilton Icing Decorating Tip – small flower
Wilton Royal Icing Flower Decorations
Instructions
Vanilla Cupcake Directions:
Preheat oven to 350 degrees. Line cupcake pan with paper liners.
Beat sugar, cake flour, baking powder, baking soda, and salt in a mixing bowl with an electric mixer for about 1 ½ minutes or until well mixed.
Add butter, mixing on medium to low speed for 2 additional minutes or until batter has an appearance of small crumbly pieces.
Whisk eggs, sour cream, and vanilla together until texture is smooth.
Pour the liquid mixture in with the dry ingredients, beating until combined on medium speed.
Reduce speed to low while gradually adding milk to the above mixture. Batter may be thin and watery.
Spoon batter into paper liners until ⅔ of the way filled.
Bake on 350 degrees for 18-20 minutes or until an inserted toothpick comes out clean.
Take out of oven and cool for 5-10 minutes while still in cupcake pan.
Transfer the cupcakes to a wire rack to cool completely.
Once completely cooled, use a small spoon to dig a hole in the center of each cupcake.
Grass Frosting Directions:
Cream butter and powdered sugar until light and creamy. If it doesn't cream add several drops of the heavy whipping cream as needed until it creams.
Test to see if the frosting can form and hold a stiff peak by taking a spoonful of frosting and turning the spoon upside down. If the frosting stays on the spoon it is ready if not then add more powdered sugar ½ cup at a time.
Add several drops of green gel food coloring to achieve the appropriate color. Mix well to blend color throughout frosting.
Scoop frosting into a pastry bag with a flower tip.
Twist the open end of the pastry bag to push the frosting to the tip.
Start by frosting on the outside edge of the cupcake working in towards the center.
Frost around the hole in the center of the cupcake.
Place a peep into the hole so that its head sticks out of the cupcake.
Position a couple flower decorations on the frosted cupcake.
Recommended Products
As an Amazon Associate and member of other affiliate programs, I earn from qualifying purchases.