Black Widow Venom Moonshine
Posts may contain affiliate links, meaning that I may earn a commission if you use a link provided.
Both sweet and spicy, this black widow venom moonshine is sure to be a hit when it comes to flavor, but it also has a look that screams Halloween.
For more tasty Halloween cocktail ideas try our Witches Brew and Demon Juice Cocktails.
Or for more flavored moonshie ideas check out these 11+ Amazing Flavored Moonshine Recipes.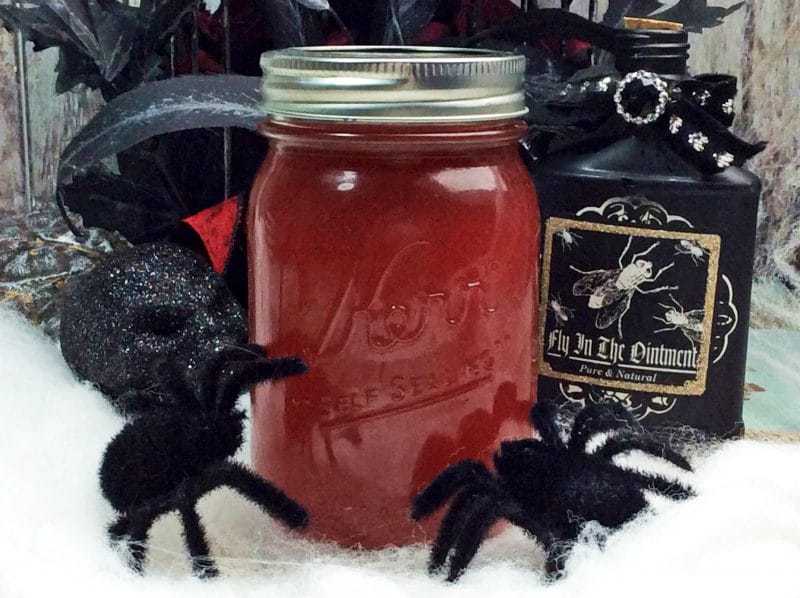 Who said Halloween was just for kids?
If you're having an adult Halloween party – or just an evening with the ghouls – uh, girls – you're definitely going to want a drink that captures the spirit of Halloween.
This tasty Halloween moonshine is sure to be a hit among those that love a unique drink.
The flavor combination of cinnamon and strawberries may not be one that you have considered, but you won't believe how well the flavors work together.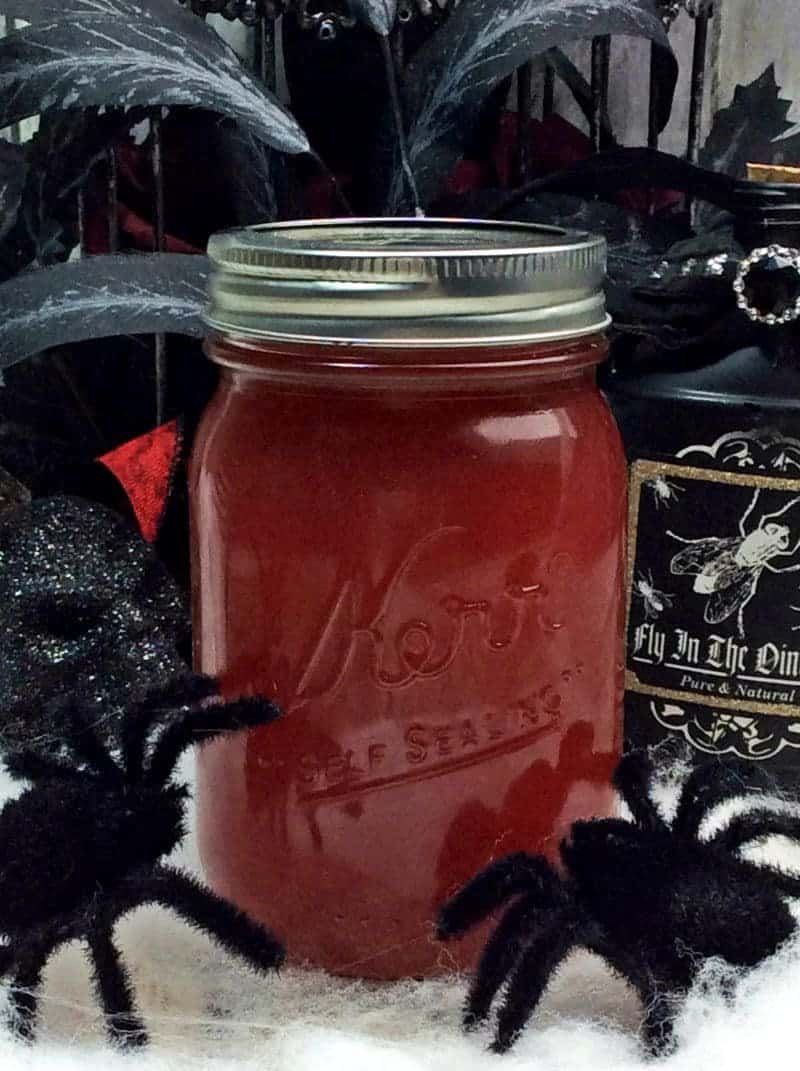 Now the recipe calls for letting this moonshine sit for 1 week.
But, if you don't have that sort of time, no worries!
It's basically a "the longer, the better" sort of thing to let the flavors mix.
If you are looking for a good dessert to pair with this black widow venom moonshine, check out these spooky spider rice krisipe treats or spiderweb cupcakes.
Homemade Halloween Gift for Adults
This recipe makes quite a bit of moonshine.
However, it would make an excellent gift for friends or Halloween party favor. For example, what parent wouldn't want to leave a crazy Halloween party for their kids with a jar of this delicious flavored moonshine in their hands?
If you're giving the jars of moonshine as a gift, consider making labels that have the name of the drink along with a decorative font and background. This will take the gift completely over the top.
If you're late on getting the drink to the right infusion stage, just tell your gift recipients how to store the drink until it's ready to be served.
Drink responsibly and have a very Happy Halloween!
Don't miss our other tasty moonshine recipes
Recipe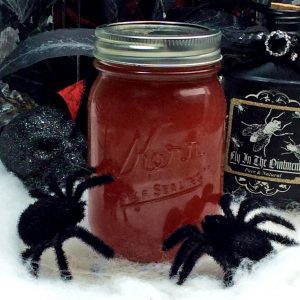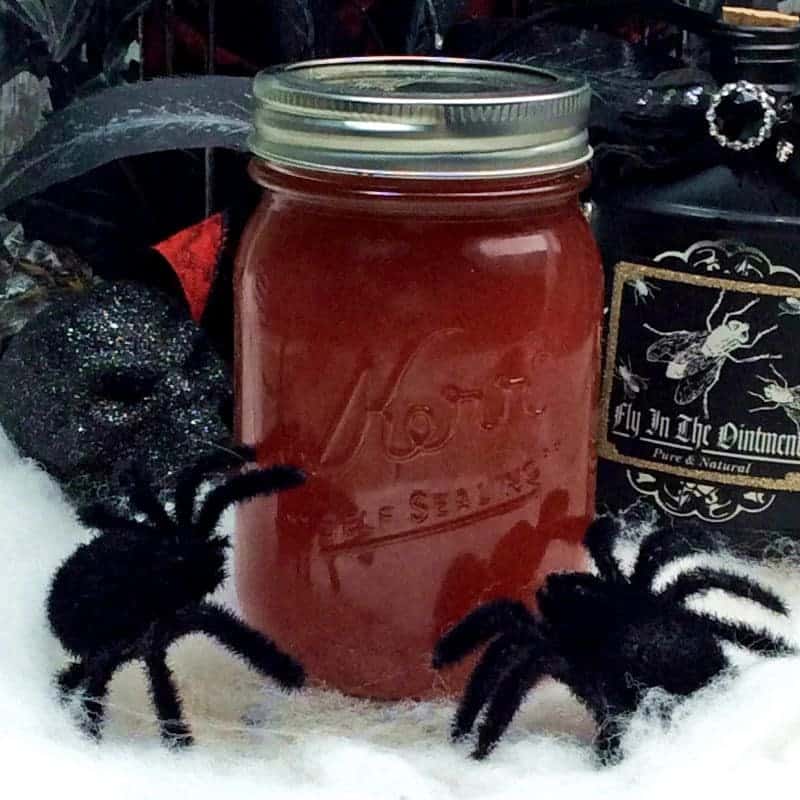 Recipe
Black Widow Venom Moonshine
Both sweet and spicy, this black widow venom moonshine is sure to be a hit when it comes to flavor, but it also has a look that screams Halloween.
Ingredients
1 ½ cups water
½ cup granulated sugar
4 cups of strawberries sliced
40 Hot Tamales candy
4 cups Everclear
4 drops red food coloring
Instructions
To make a simple syrup: Bring water to a boil in a saucepan over medium heat. Add the sugar, and stir until it dissolves and a syrup liquid forms. Remove from heat and allow to cool.

Place strawberry slices in a large bowl. Use a cocktail muddler (or fork or the back of a wooden spoon) to muddle the strawberries. Divide muddled strawberries evenly into 4 mason jars.

Divide simple syrup, hot tamales, and Everclear evenly into the mason jars. Add 1 drop red food coloring to each. Shake jars to combine ingredients.

Place in the refrigerator for about 1 week, shaking the jars every 2 days to help with the infusion process.

When ready to enjoy, strain through a cheesecloth or fine mesh strainer to remove any remaining candy and strawberry pieces. Pour back into jars and chill until serving.
Notes
To add a sparkle shimmer add 1 teaspoon of silver shimmer powder to each jar.
Store in refrigerator for up to 30 days.
The recipe yields approximately 48 ounces.
Everclear is very strong (190 proof) and I do not recommend drinking this "homemade moonshine" straight. I like to about 1 ounce to a glass of soda. However, you choose to enjoy it, be careful and do not consume more than is safe.
Nutrition
Serving: 1ounce | Calories: 142kcal | Carbohydrates: 5g | Protein: 0.1g | Fat: 0.1g | Saturated Fat: 0.002g | Polyunsaturated Fat: 0.02g | Monounsaturated Fat: 0.01g | Sodium: 1mg | Potassium: 22mg | Fiber: 0.3g | Sugar: 4g | Vitamin A: 2IU | Vitamin C: 8mg | Calcium: 3mg | Iron: 0.1mg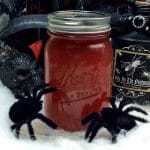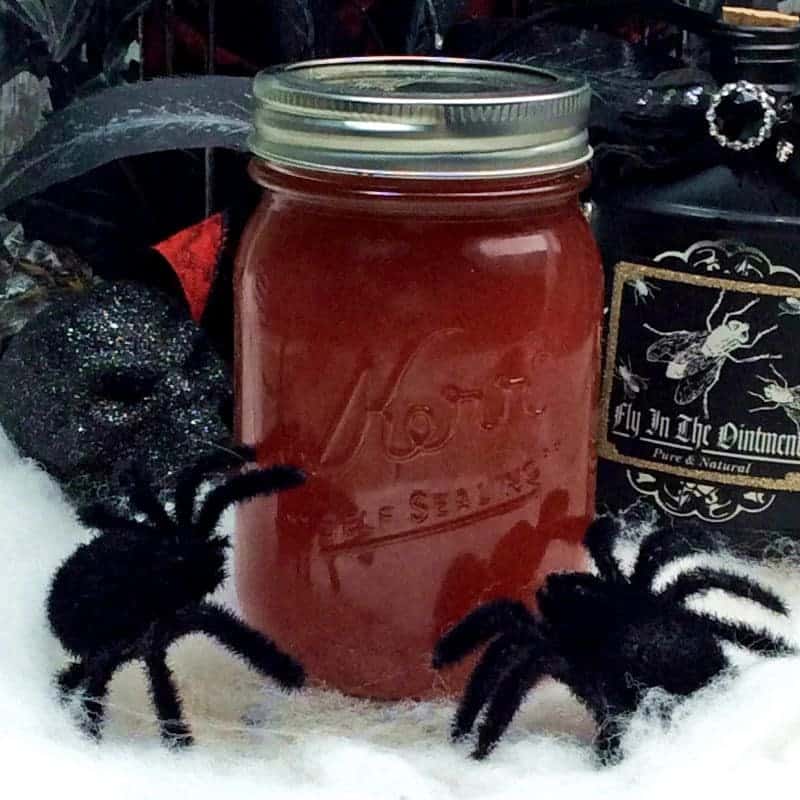 Did You Make This Recipe?
Share it with me on Instagram @crayonsandcravings and follow on Pinterest @crayonsandcravings for even more!