Posts may contain affiliate links, meaning that I may earn a commission if you use a link provided.
This bright and colorful Heirloom tomato salad with feta makes the perfect summer salad side dish.
If you are on the hunt for heirloom tomato recipes, this heirloom tomato salad recipe is a total show-stopper.
It has become my go-to side dish lately.
The variety of acidity in all the tomatoes adds an incredible dimension of flavor to the salad.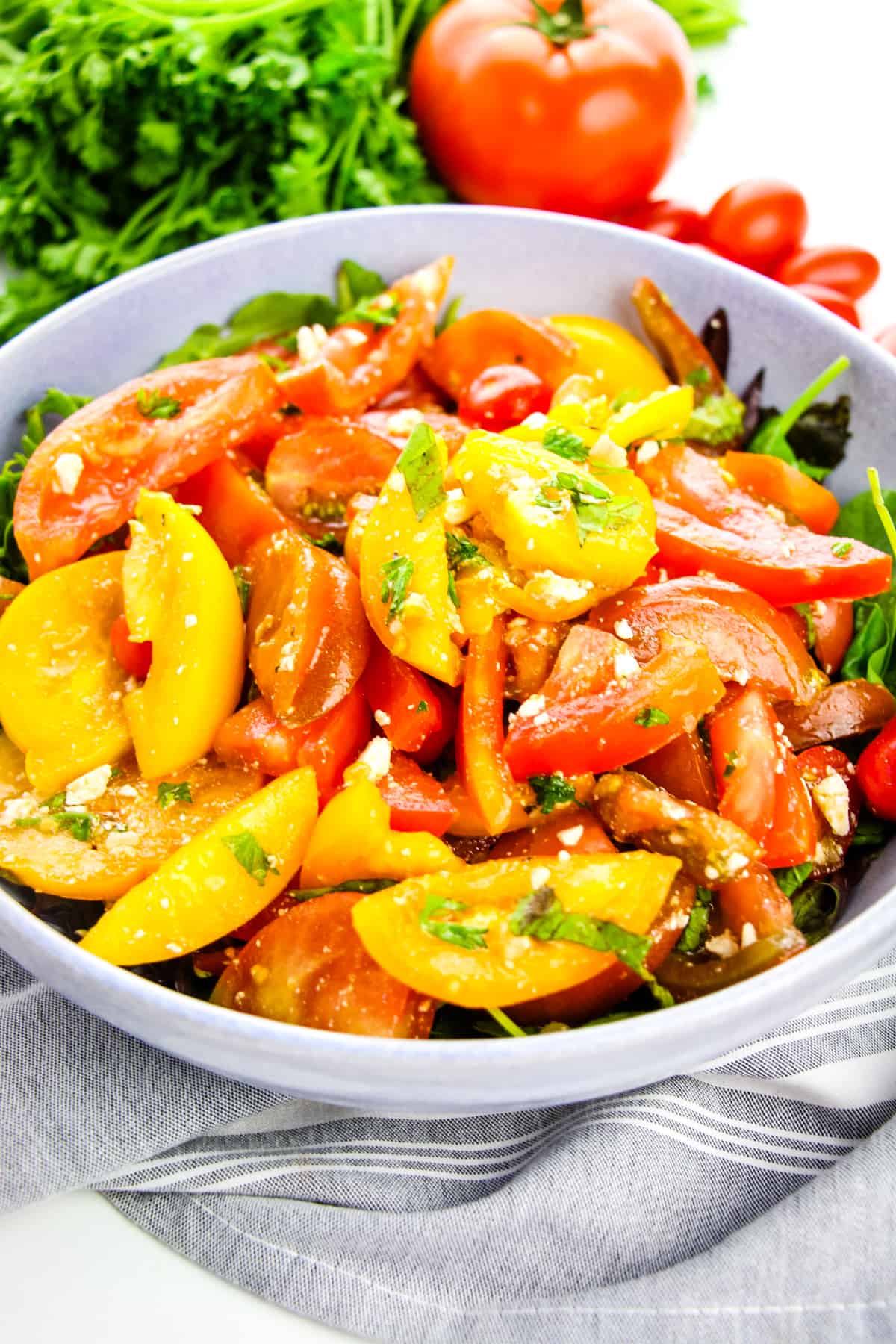 Right now you can find the colorful tomatoes at the farmer's market and possibly even in your local grocery stores.
So grab a few of those delicious multi-colored tomatoes and create a dish that will wow your family.
Ingredients Needed
Here are the ingredients you need to whip up this dish!
Heirloom Tomatoes – rinse well and slice up so all the juices release into the salad.
Cherry Tomatoes – grape tomatoes work too
Olive Oil
Balsamic Vinegar – This is the base of the dressing, paired with the oil and seasonings.
Parsley
Basil
Feta – Feta offers a really rich and creamy texture. If you don't have or care for it, reach for a mozzarella, or other white cheese.
Salt and Pepper
Helpful Tips and Variations To Recipe
Feel free to change up the type of tomatoes used, if you happen to not have heirloom tomatoes on hand. The variety of red and yellow tomatoes does really elevate the flavor. But it can be made with other varieties of tomatoes.
If you try the salad and find you want a bit more balsamic flavor, go ahead and drizzle on a bit more.
Goat cheese or Cotija are another two options for sprinkling on top of the salad. You will find feta and goat cheese can be interchanged in a lot of recipes.
Sea salt is great to sprinkle on this salad as well. The salt really helps to release a lot of natural flavors in the tomatoes giving it a bolder flavor.
Toss in other ingredients to the salad. Fresh cucumbers, sliced red onions, bell peppers, etc. Other veggies will help add more flavor if you would like.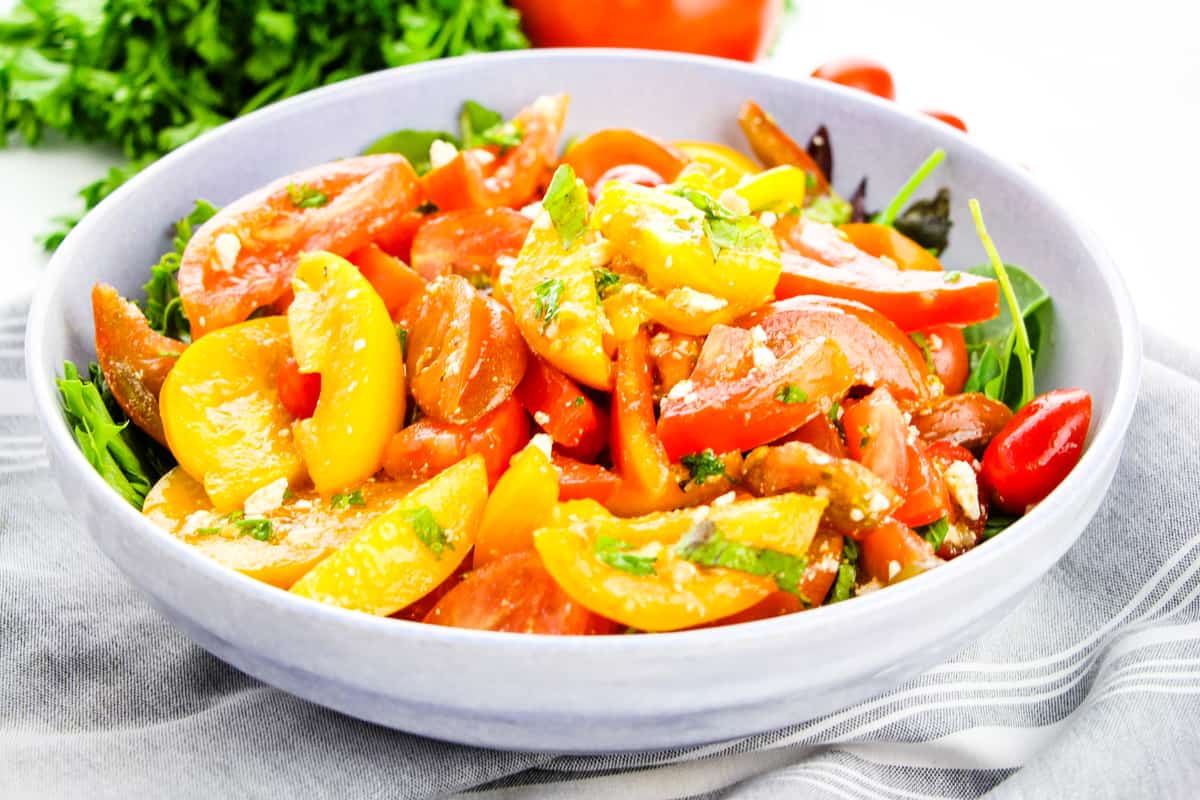 Storage
This tomato salad is best when served right after it is made. You will find that the tomatoes will begin to break down pretty quickly once the vinegar and oil are added.
Therefore, I would not recommend preparing the salad more than a few hours in advance.
If you have leftovers you can store them in an airtight container in the fridge for 1-2 days.
Recipe FAQs
What are heirloom tomatoes?
Heirloom tomatoes are non-hybrid tomatoes that come from seeds that are passed on for several generations and fertilized through open pollination. The u0022purebredu0022 tomatoes taste incredible and can be found in a variety of colorsu002du002dorange, red, yellow, and even purple!
What is the best knife for cutting tomatoes?
You will find that a serrated knife is best for cutting tomatoes. It breaks through the skin of tomatoes easier and without tearing the tomato.
How do I cut the tomatoes for the salad?
First, cut the top of the tomato off (where it was connected to the vine). Then slice, quarter, or dice the tomato, depending on the size of the tomato. I personally liked the look of cutting them in a variety of different ways, but you can chop them all to the same size and shape if desired.
More Salad Recipes to Try
Recipe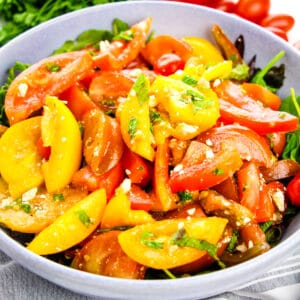 Recipe
Heirloom Tomato Salad
This bright and colorful Heirloom tomato salad with feta and balsamic vinegar makes the perfect easy summer salad side dish.
Ingredients
1 ½ pounds heirloom tomatoes sliced
1 cup grape or cherry tomatoes halved
½ Tablespoon olive oil
½ Tablespoon balsamic vinegar
6 leaves basil chopped
2 Tablespoons parsley chopped
¼ cup crumbled feta cheese
salt and pepper to taste
Instructions
In a bowl, add tomatoes and drizzle with olive oil and balsamic vinegar. Gently toss to coat.

Season to personal taste with salt and pepper.

Top with chopped parsley, basil, and crumbled feta. Gently toss, then serve immediately.
Notes
Sliced red onions, cucumbers, and other veggies make great additions to this salad as well. Store leftovers covered in the refrigerator for up to 2 days.
Nutrition
Serving: 1g | Calories: 67kcal
Did You Make This Recipe?
Share it with me on Instagram @crayonsandcravings and follow on Pinterest @crayonsandcravings for even more!