Posts may contain affiliate links, meaning that I may earn a commission if you use a link provided.
Valentine Bingo is a fun Valentine's Day game for kids to enjoy at home, in the classroom, or at a Valentine's Day party. Download the free printable bingo cards and calling cards here!
I am in love with these adorable bingo cards! They feature heart-shaped sunglasses, heart-eyes emojis, Valentine's Day candies, and many more cute images.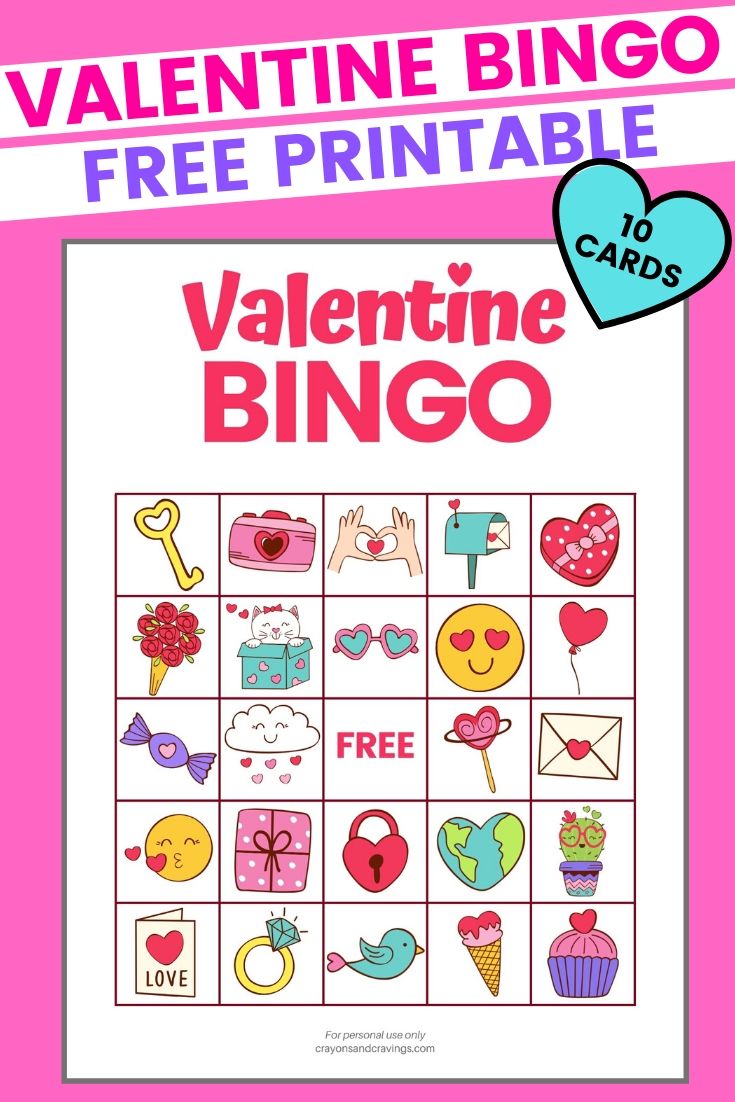 Simply print out the cards for a fun and easy Valentine's Day game!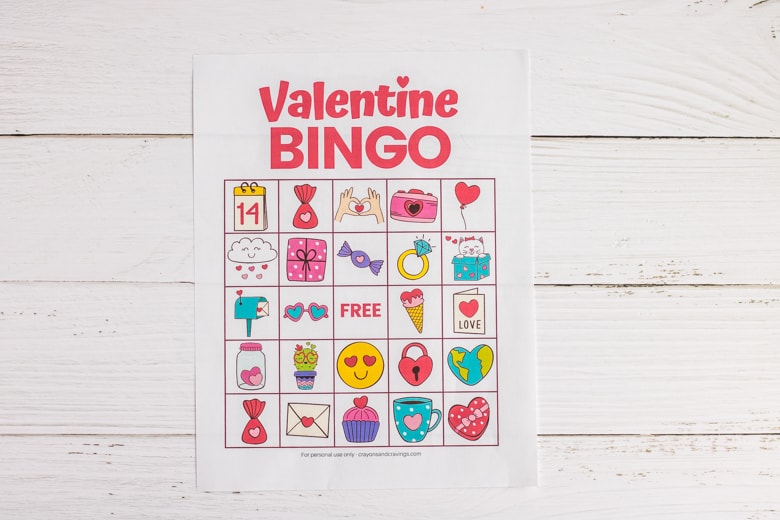 Valentine Bingo
This printable bingo game comes with a set of calling cards as well as 10 bingo cards.
Each bingo card will print on a separate page of 8.5 x 11 paper.
The calling cards will print out on the last page. Cut out the calling cards and place them in a bowl or baggie. Pick out one card at a time and hold it up for the kids to see. Then, if a child has the same picture on their BINGO board, they can mark off the square.
Kids can mark off squares with:
marker or crayons
bingo chips
conversation hearts
other small candies
Helpful tips
Winning the game: Before beginning, explain to the children what they need to get to win the round of BINGO. You can play full-card BINGO for a longer game, or a line of 5 squares in a row for a quicker game. And make sure that they know to shout "BINGO!!!" when they get a bingo!
Print on Cardstock: For the best results, I suggest printing on cardstock. Cardstock is thicker than regular printer paper and will hold up better.
Make it last: If you would like your Valentine bingo game to last as long as possible you can laminate the bingo cards and calling cards or use these handy erasable sleeves. This way the kids can use dry-erase markers to mark the game boards and you can just wipe them off after. The game should last for years to come!
Or make it disposable: On the other hand, if you don't need the game to last long you can go ahead and print on regular printer paper. They will be just fine for a round or two of bingo.
Download your free printable
The printable bingo game is only available to members of the C&C community. Membership is entirely FREE. Sign up below for instant access to the printable!
More Valentine's Day Freebies
Don't miss these free Valentines printables for kids: