Valentine's Day Coupons for Kids
Posts may contain affiliate links, meaning that I may earn a commission if you use a link provided.
The kids will love these fun Valentine's Day coupons! Download the free printable Valentine coupons and give them individually or turn them into a coupon book!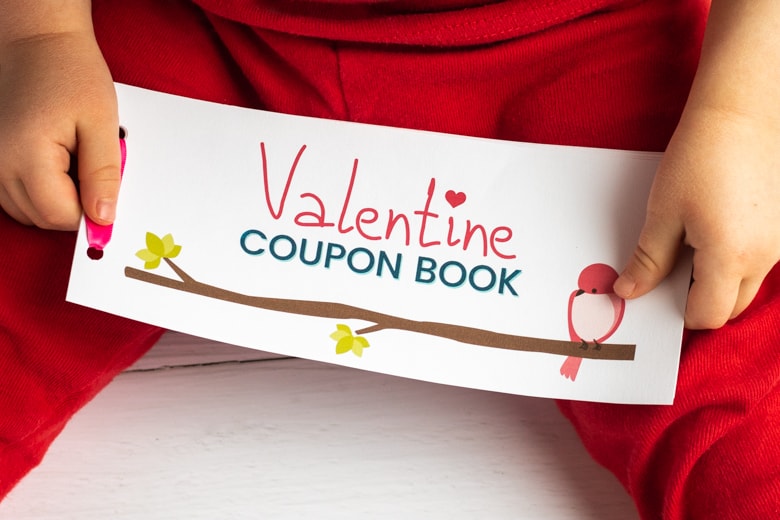 If you are looking for an extra special gift for your child this Valentine's Day, these coupons will be perfect. They each feature a fun treat, special outing, or other event for the kids to enjoy.
Looking for Valentine's Day coupons for adults? Get them here!
This set of printable coupons for kids includes a Valentine coupon book cover, 14 pre-written coupons, and 3 blank coupons. The blank coupons are useful if you want to add some of your own coupons.
Valentine's Day coupons included are each "good for one"…
lunch date – at any restaurant you want!
picnic in the park
trip for ice cream – with all the toppings you want!
breakfast in bed
family game night – you pick the games!
extra bedtime story
you pick dinner
skip a chore of your choice
breakfast for dinner
trip to the park
family movie night – your choice of movie!
stay up one hour past bedtime
slumber party
pizza party
If any of the coupons are not a good fit for your family, just leave those ones out. No worries!
DIY Valentine Coupon Book
To make your coupons into a little booklet perfect for gifting follow the simple instructions below.
Or if you are short on time you can simply place the coupons in an envelope or gift bag for easy gifting.
No matter how you give these kids coupons, one thing is for certain– the kids will love them!
Pin for Later: