Posts may contain affiliate links, meaning that I may earn a commission if you use a link provided.
Have a little unicorn lover at home? Learn how to make this beautiful borax-free, glittery and fluffy unicorn slime at home. The kids will love it!
Unicorns are all the rage right now.
While unicorns have never really gone out of style, kids are OBSESSED with them right now. Not gunna lie, I am pretty unicorn-obsessed myself, if you haven't noticed by all the unicorn goodies I have been sharing lately.
Speaking of things that kids are crazy about these days, another kids' fave is making slime.
From mermaid slime to galaxy slime, there are slime recipes for every little one's interest these days.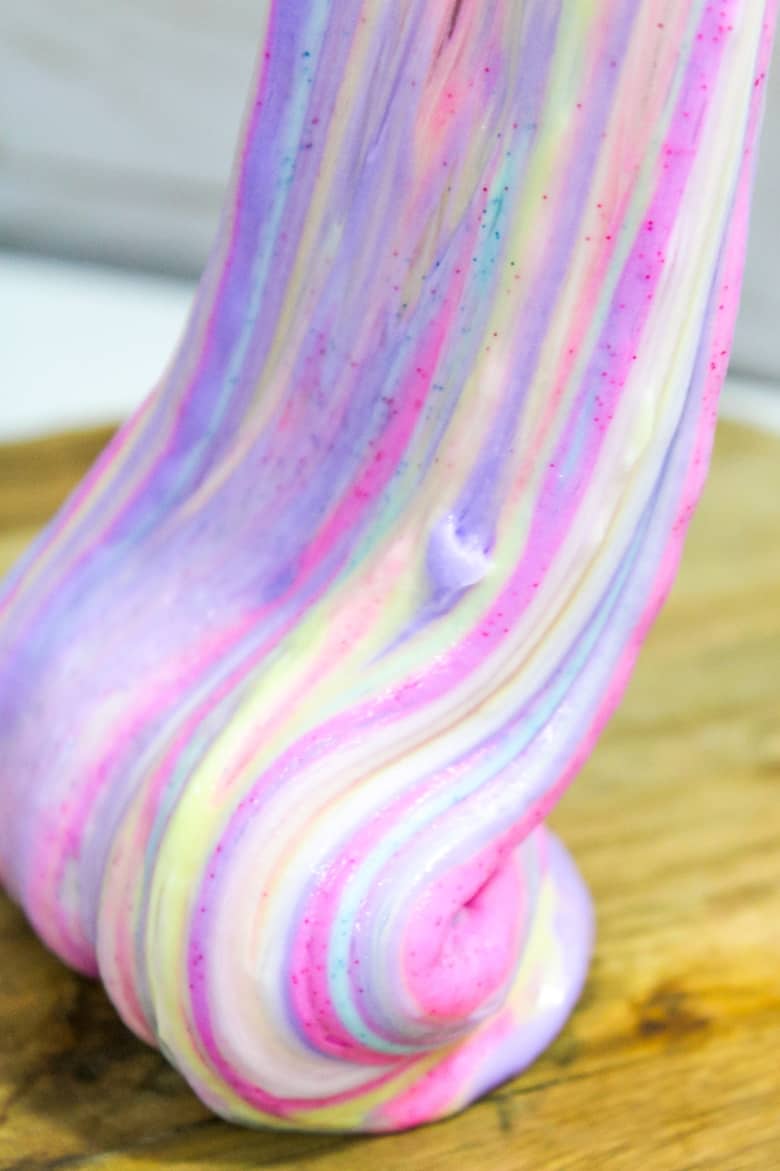 Combine the two and you've got unicorn slime — a rainy or snowy day activity that kids are going to love.
Let's face it, this fluffy and glittery unicorn slime (a.k.a unicorn poop slime) would be fun for kids of all ages. Even adults that love unicorns are going to love this slime.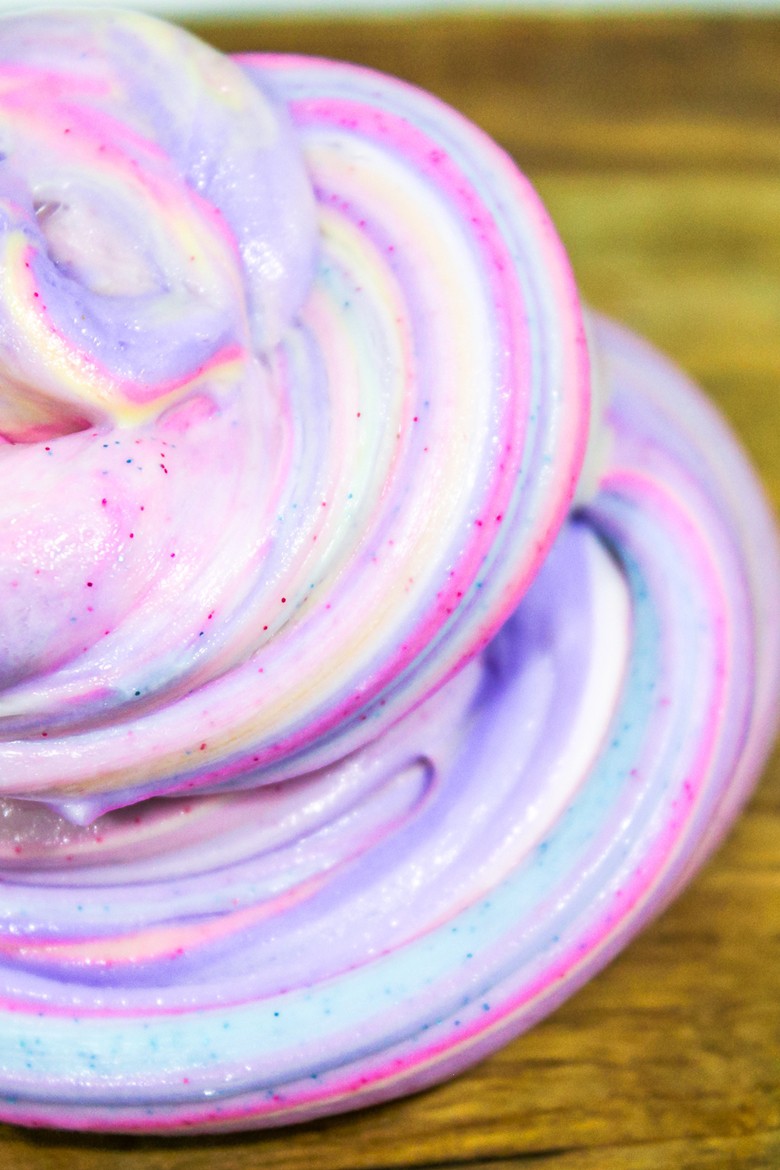 It is made with so many pretty colors, plus it has glitter. It's every little (and big) kid's dream.
This homemade fluffy slime would be awesome if you're throwing a unicorn party. The kids could have fun making the slime, and then enjoy playing with it. You could even hand out these slime storage containers so that they can take their slime with them as a party favor.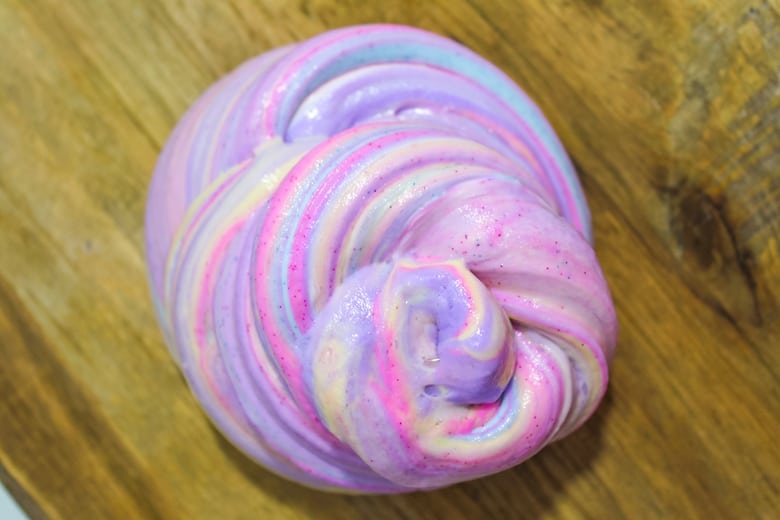 How Do You Make Unicorn Slime?
To make this slime you have to make 5 different color glitter slimes, then twist them together at the end.
What colors do you need to make unicorn slime?
You will have 5 colors total:
pink
purple
teal
yellow
white
I promise you that sounded more complicated than it really is!
Start by gathering everything that you will need.
What Do You Need For Unicorn Slime?
food coloring (pink, purple, teal and yellow)
glitter (pink, purple, teal, yellow and iridescent)
white glue
shaving cream
foaming hand wash
cornstarch
body lotion
baking soda
saline contact solution
View and print out the ingredient list and step-by-step instructions using the "recipe card" below.
Shop Supplies:
Contact Lens Saline Solution
Extra Fine Glitter Set
Storage Containers with Lids
Gel Food Color Set
White Glue
How-To
How-To
Unicorn Slime
Beautiful, borax-free, glittery and fluffy unicorn slime.
Equipment
5 medium size bowls / containers

spoon for mixing
Supplies
2.5 cups white glue divided
2.5 cups shaving cream divided
2.5 cups foaming hand wash divided
2.5 tsp cornstarch divided
Pink purple, teal and yellow food coloring
Pink purple, teal, yellow and iridescent glitter
2.5 tsp body lotion divided
2.5 tsp baking soda divided
3 3/4 Tablespoons - 5 tbsp saline contact solution divided
Instructions
Mix 1/2 cup glue and 1/2 cup shaving cream together in a bowl.

Add 1/2 cup forming hand wash, mixing well to combine.

Add 1/2 tsp cornstarch, 1/2 tsp lotion, 1-2 drops food coloring, glitter, 1/2 tsp baking soda, and 3/4 tbsp saline solution. Stir well to mix it together.

Then, get your hands in there and knead the slime. It will be super sticky at first but as you continue to knead is should get less sticky. If it remains too sticky, add a drop more saline solution.

Once you are finished kneading, set slime aside and repeat steps 1 -4 with the next color. You will need 5 colors total: pink, purple, teal, yellow and white.

When all colors have been made, twist them together to create a beautiful unicorn slime.
Notes
Store slime in an airtight container.
Did You Make This Craft?
Share it with me on Instagram @crayonsandcravings and follow on Pinterest @crayonsandcravings for even more!
Pin for Later: