Sparkly Mermaid Slime (without Borax)
Posts may contain affiliate links, meaning that I may earn a commission if you use a link provided.
Borax-free sparkly mermaid slime is an easy kids activity perfect for your mermaid party!
For more borax-free slime recipes try this gingerbread slime or this frozen slime.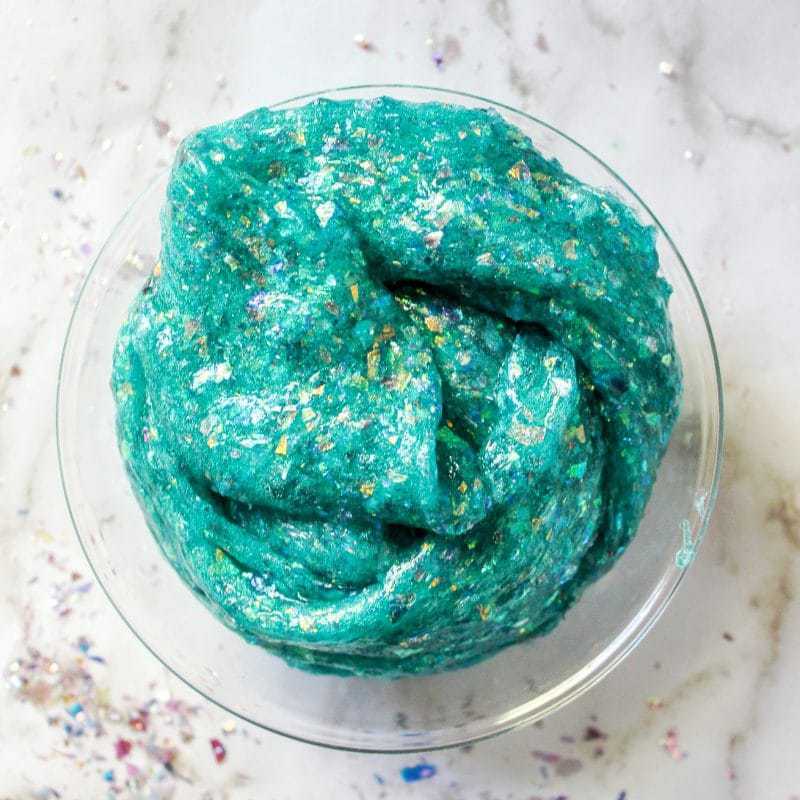 We had such a blast making our under-the-sea slime that we wanted to try another ocean themed slime recipe as well.
So we thought…
What are two things that little kids are totally into right now?
That's right: slime and mermaids.
What could be more fun that combining the two to make Mermaid Slime?
This glittery teal slime is going to be a huge hit with all the kids, not only the little girls.
You can color the slime any color you would like, but I've included instructions on how to achieve the color found in the photos.
Also, it is important to note that this beautiful mermaid slime is made without borax.
As you will see, this slime recipe calls for saline solution (contact lens solution) instead of borax.
If you are looking for a slime recipe that uses borax, check out this pom pom slime recipe instead.
This would be the perfect activity to do with the kids at a mermaid slumber party or mermaid birthday party. How cute would that be? You could put a little bit of mermaid slime in a small container for each child so that they can take some home with them as their party favor.
For even more fun, you could try making several batches using different colors.
Whether you need a mermaid party activity or just a fun new recipe for slime, this mermaid slime is sure to be a big hit.
Mermaid Slime Supplies: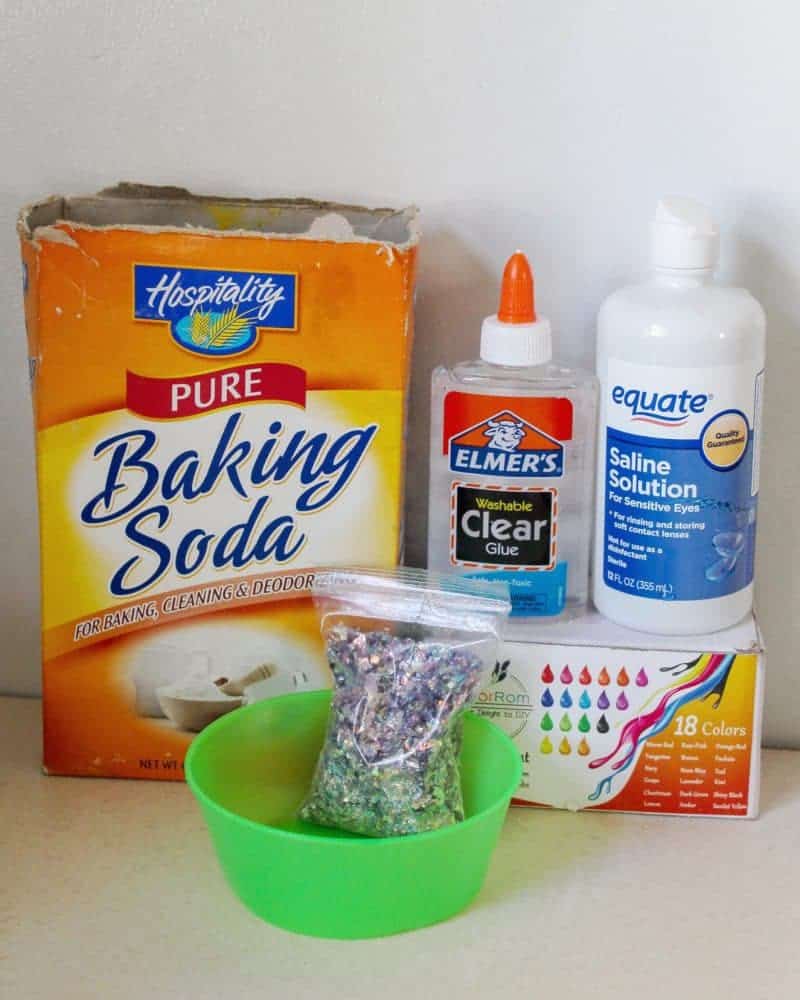 Small bowl
Clear glue (5 oz bottle)
½ cup water
½ tsp baking soda
1 tbsp saline solution
Soap colorant (we used a mix of neon blue, kiwi green, and teal)
Glitter
Airtight container
For the coloring, you will notice that we used soap colorant. You can use food coloring or soap colorant, and either will work. I choose to use soap colorant simply because the box includes lots of great color choices and I have found that it doesn't leave any color behind on your hands. But really, either coloring will work!
How to Make Mermaid Slime:

1. Add water,
glue,
and baking soda to a small bowl. Stir to combine.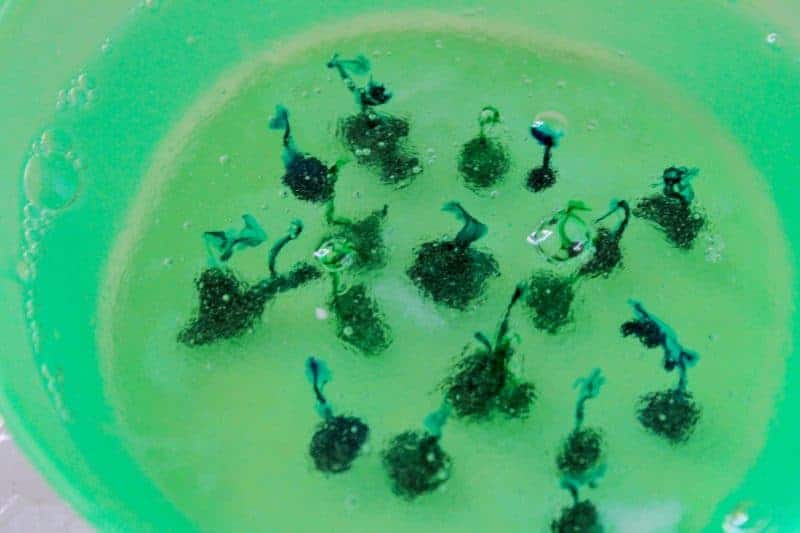 2. Add a few drops of coloring (we used a few drops each of neon blue, kiwi green, and teal).
Stir to mix well and add in additional drops of coloring if desired.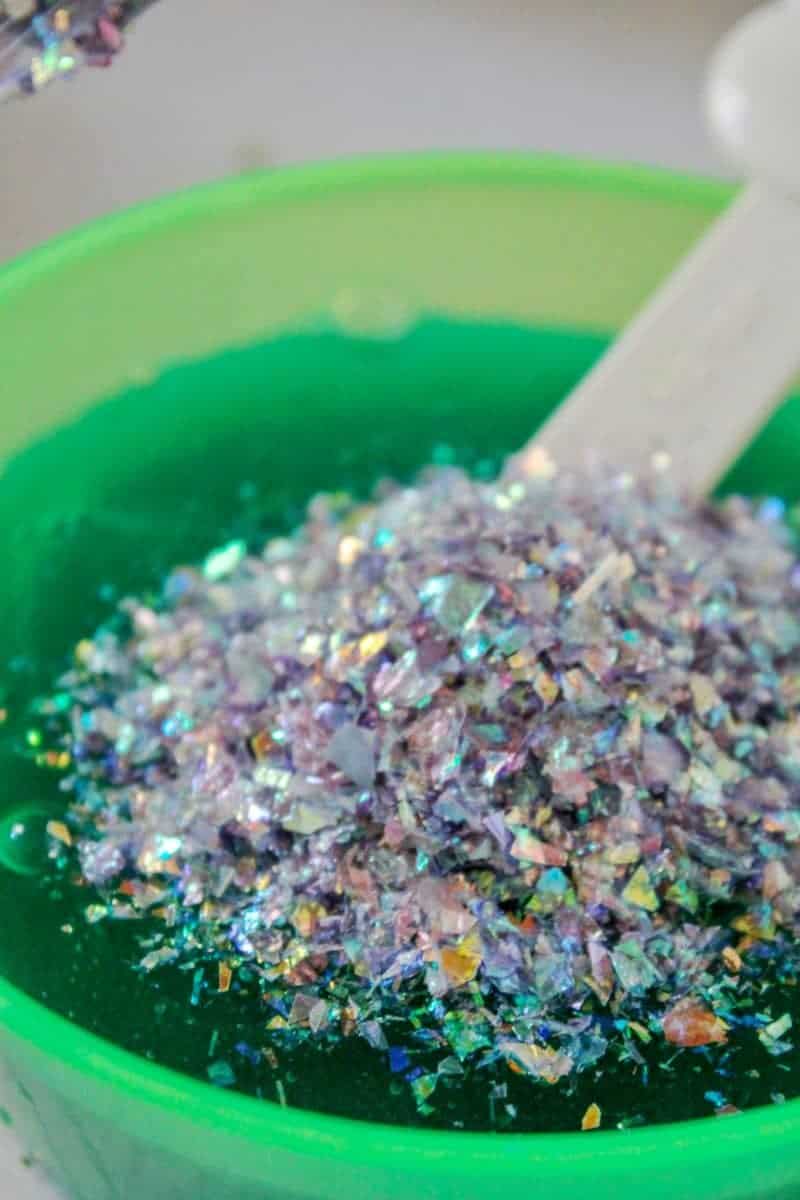 3. Next, add glitter. We used the Mermaid Glitter from this glitter kit.
4. Then, add saline solution. You will see the slime instantly begin to form.
5. At this point the slime will be very sticky– but don't panic! Just continue to mix the slime in the bowl until it becomes better formed. Then, knead the slime until it is no longer sticky.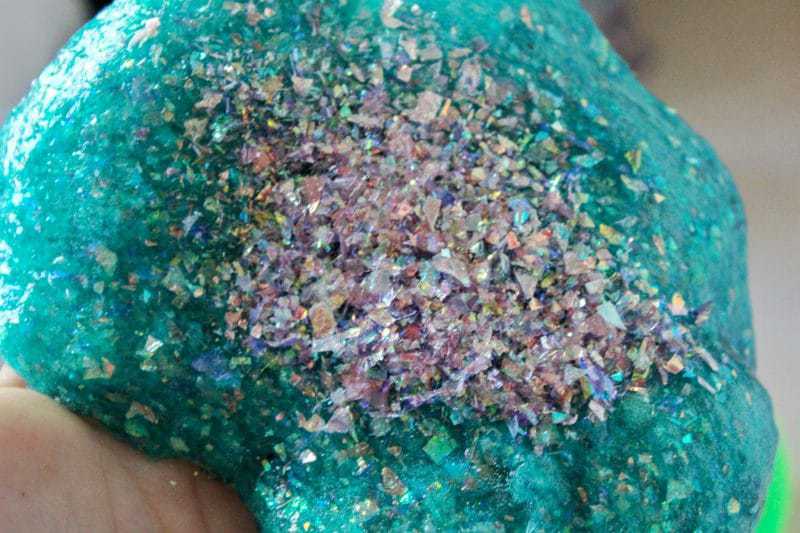 6. Add additional glitter until you get the look that you are going for.
When the little ones are done playing with their mermaid slime store it in an airtight container.
Shop Under the Sea Ocean Slime Supplies
Soap Colorant 18 Color Set
ARM & HAMMER Baking Soda
16 oz Storage Containers
Elmer's Clear Glue
Equate Saline Solution
107 Pack Slime Kit
Pin for later
More homemade slime ideas for the kids to enjoy