This 4-ingredient pom pom slime features brightly colored pom poms suspended in a clear slime for a bright, colorful, and fun sensory activity for kids.
Oh have I got a treat for you today.
Your kids are going to love this bright and colorful homemade slime activity.
It has to be one of the coolest DIY slime recipes out there. (Although unicorn slime and galaxy slime are pretty awesome as well.)
Yes, there are other clear slime recipes. But, this slime has something special… it has Pom Poms in it. Pom poms!
Best of all, pom pom slime is super simple to make. It is made with only 4 ingredients – clear glue, borax, water, and Pom Poms. Easy peasy, as you will see in the pom pom slime recipe below.
Looking for a slime recipe that doesn't call for borax? Check out this slime recipe without borax.
Pom Pom Slime Supplies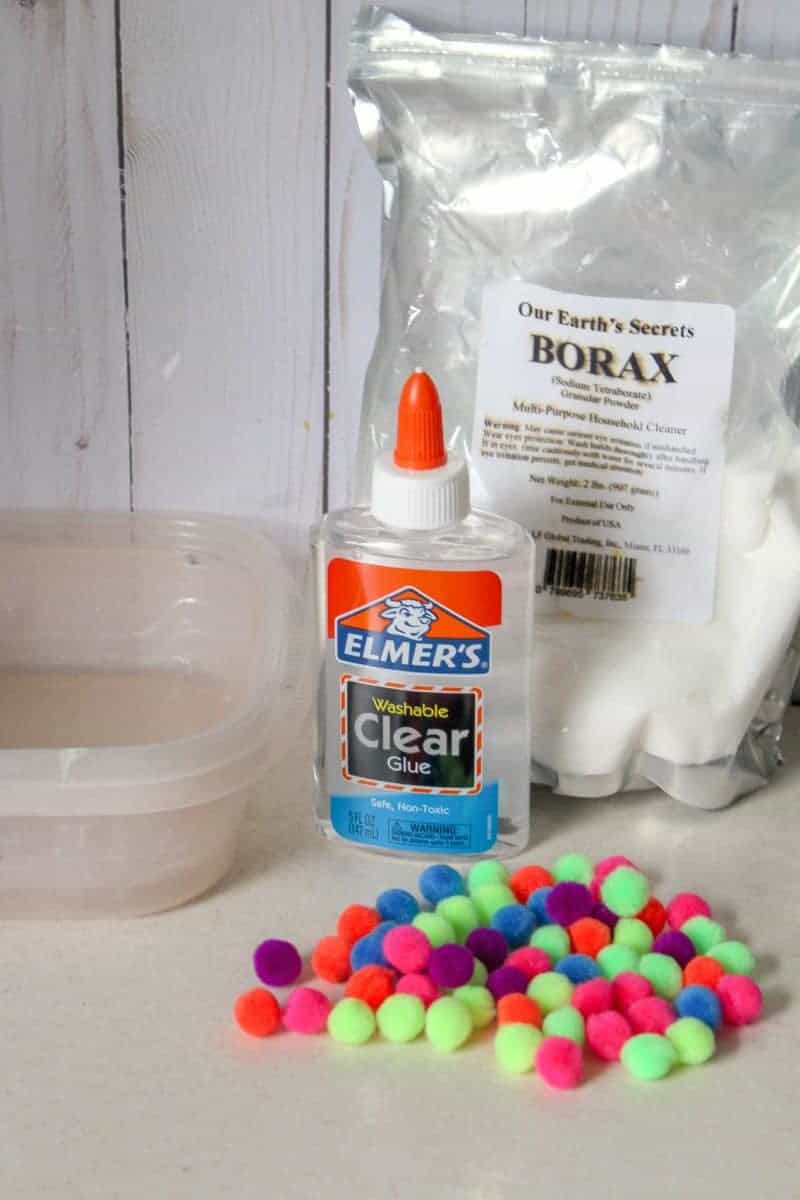 5 oz clear glue
1 cup hot water
⅓ tsp borax
¼ cup room temperature water
Mini pom poms
Shop Pom Pom Slime Supplies
Borax Powder
Elmer's Clear Glue
Assorted Pom Poms
Customizable Your Slime
You can use this basic clear slime recipe in so many different ways.
Holiday Slime
Looking for a slime idea for an upcoming holiday? Simply switch up the color of pom poms.
Add red and green pom poms for a Christmas slime. Or use black, orange, and purple pom poms for a Halloween slime. You could truly make this slime to match any holiday just by switching up the color of pom poms.
Try Different Add Ins
After you try making pom pom slime, you can even use the same basic slime recipe and add in something other than pom poms. Get creative and try adding a variety of add-ins to the slime to get different sensory effects.
Slime Add Ins Ideas:
Googly eyes (like we did here)
Glitter
Buttons
Sequins
Beads
Fishbowl beads (like we used in our ocean slime)
How to Make Pom Pom Slime
1. In a medium-sized bowl, combine hot water and borax, stirring well to combine.
2. In a second bowl, add room temperature water, clear glue, and pom poms. Mix well to combine.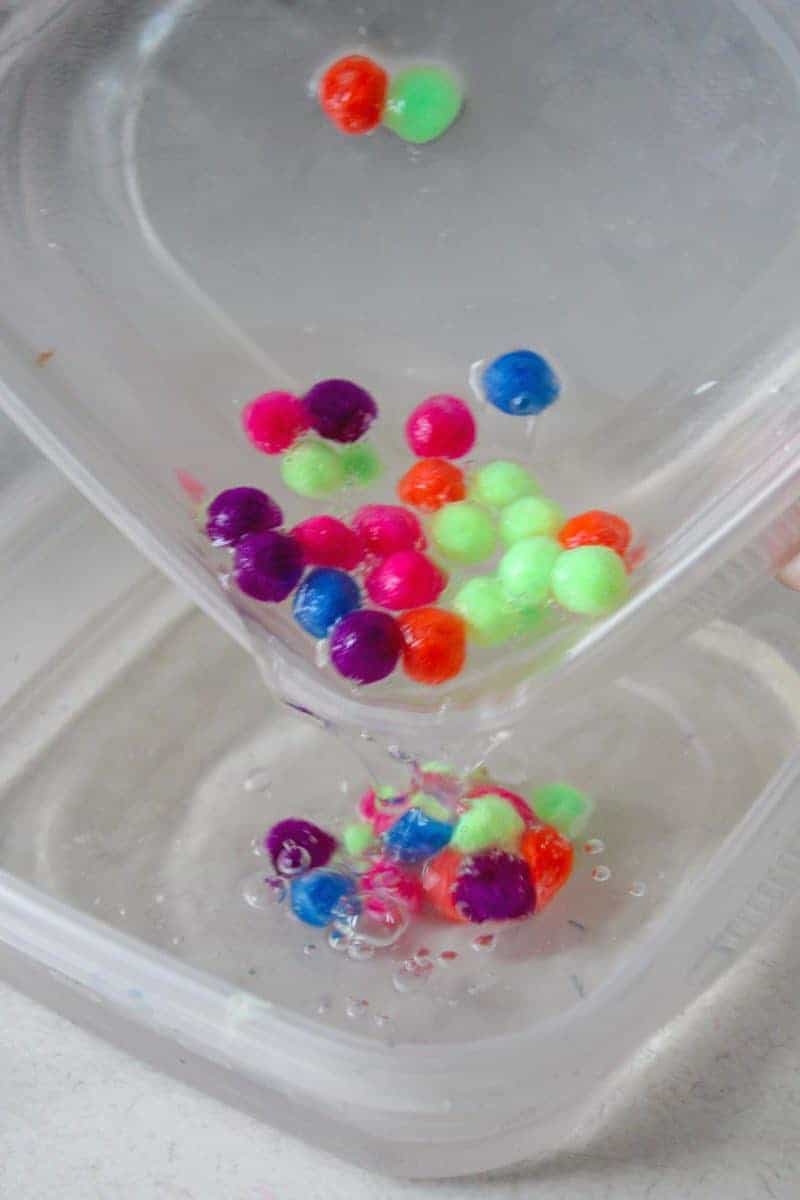 3. Pour 2nd bowl (water, glue, and pom pom mixture) into 1st bowl (borax and water mixture). You will see the slime begin to form immediately. Allow the slime to sit for about a minute. Meanwhile, use a paper towel is wipe out the inside of the empty bowl.
4. Pick slime up from the water and borax mixture and transfer it to the empty bowl. It will be very sticky at first. Knead the slime to help it thicken up and finish forming.
If the slime remains too sticky, splash a small amount of the borax water onto it and continue kneading. The pom pom slime will appear a bit cloudy at first, but the cloudiness should clear right up once you begin to play with it.
Store slime in an airtight container.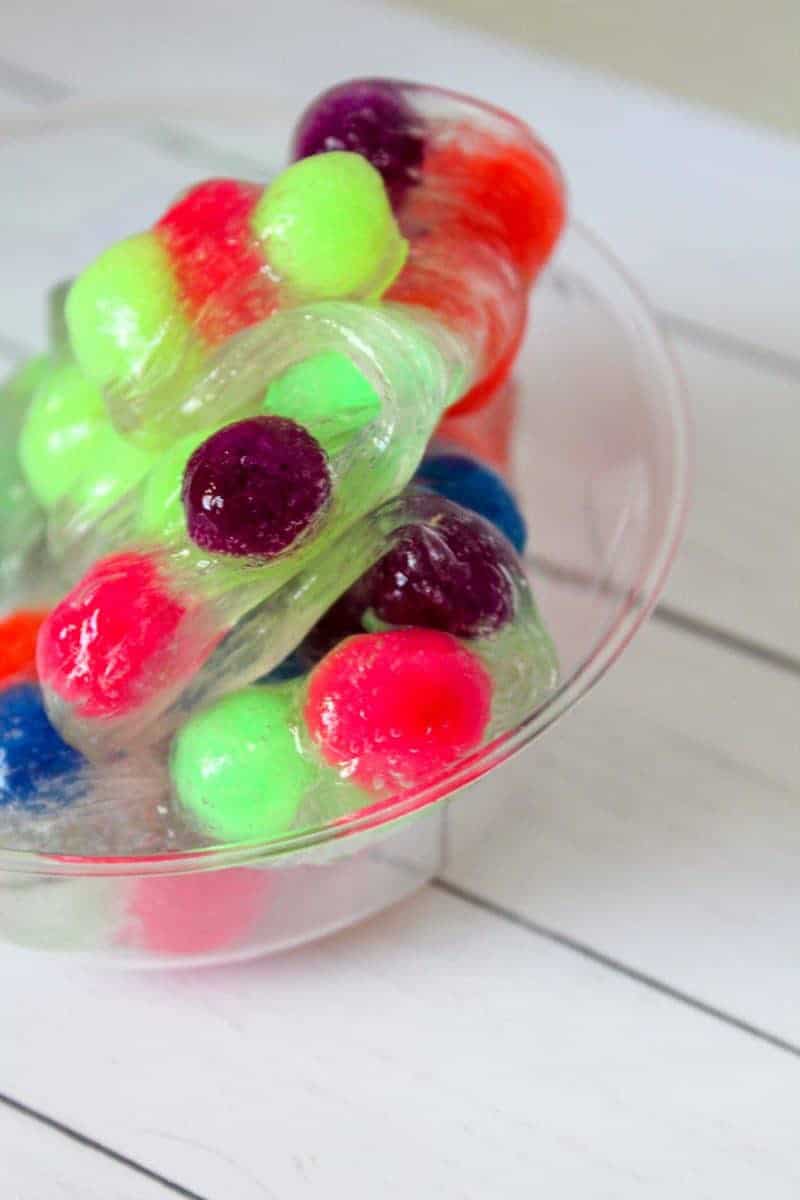 I hope that you and the little ones enjoy this easy pom pom slime.
Pin Pom Pom Slime for Later: